February, 10, 2011
2/10/11
9:00
AM ET
Now it's time to look at spring quarterback competitions in the MAC. There should be plenty of intrigue here, especially at Toledo and Miami (Ohio), where starters are returning from injury but finding they are not going to be shoo-ins to get their jobs back.
Ball State
Who's competing:
Kelly Page
and
Keith Wenning
will compete once again in the spring. They are no strangers to competing against each other -- Wenning won the starting job from Page in 2010 as a true freshman. With new coach Pete Lembo set to install his no-huddle offense, both players are going to have to audition for that job. Keep in mind, Page and Wenning are the only two scholarship quarterbacks on the roster.
Buffalo
Who's competing:
The Bulls did plenty of quarterback shuffling last season under first-year coach Jeff Quinn, but nobody seemed to stick as the starter. So the competition is open once again headed into the spring between
Jerry Davis
,
Alex Zordich
and
Alex Dennison
. Davis will be a junior, while Zordich and Dennison will be sophomores. Davis started the majority of games last season, but Zordich did start a handful as a true freshmen. Neither put up stellar stats as they tried to learn the spread offense.
Kent State
Who's competing:
Spencer Keith
returns, but he was wildly inconsistent last season, throwing for 2,212 yards, eight touchdowns and 11 interceptions. But with a new coach in Darrell Hazell, nobody is guaranteed of keeping their starting job. Expect a competition with
Giorgio Morgan
in the spring as Hazell installs more of a traditional offense. Morgan has been a career backup.
[+] Enlarge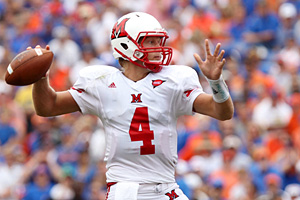 Kim Klement/US PresswireMiami Redhawks quarterback Zac Dysert will be battling for the starting job in 2011.
Miami (Ohio)
Who's competing:
This is going to be a tremendous competition between
Zac Dysert
and
Austin Boucher
, two quarterbacks equally capable of leading this team. Dysert started the first 10 games of the season before injuring his ribs and sitting out the rest of the way. In came Boucher, who had only thrown 14 career passes to that point. But Boucher closed the season 4-0, with a come-from-behind win in the MAC championship game and then a win the GoDaddy.com Bowl against Middle Tennessee. Dysert threw for 2,406 yards, 13 touchdowns and 12 interceptions, and completed 65 percent of his passes. Boucher threw for 1,120 yards, six touchdowns and three interceptions, and completed 64 percent of his passes. With a new head coach on Don Treadwell, both go in with clean slates and an opportunity to impress.
Ohio
Who's out:
Boo Jackson
Who's competing:
Jackson and Phil Bates Bates have been involved in quarterback competitions themselves, so being in this position is nothing new for Bates. But this is opportunity to prove once and for all why he deserves to be the starter after taking a back seat to Jackson last season. He is a senior and the most experienced quarterback on the roster. But two will push him --
Kyle Snyder
and
Tyler Tettleton
. Snyder redshirted as a true freshman last season, and Tettleton also redshirted and will be a sophomore. Tettleton attempted 23 passes in 2009.
Temple
Who's competing:
Chester Stewart
began last season as the starter before then-coach Al Golden decided on a switch and put
Mike Gerardi
into the starting lineup during the Bowling Green game in October. Gerardi started the rest of the way, but it wasn't enough to get the Owls into the MAC championship game. With new coach Steve Addazio taking over, both are in contention to become the starter. There is one more player in the mix --
Chris Coyer
, a 6-foot-3 dual-threat, left-handed quarterback who has drawn comparisons to Tim Tebow. Addazio coached Tebow at Florida. Coyer's bio says he worked out with Tebow in high school. Plenty of connections there for him to make a serious run at the starting job.
Toledo
Who's competing:
Another intriguing competition here between
Austin Dantin
, who began 2010 as the starter, and
Terrance Owens
, who filled in quite nicely down the stretch. Dantin injured his shoulder/collarbone at the end of October and missed the final four games of the season. Owens went 2-2 as a starter, but he ended up with a better quarterback rating than Dantin and threw 13 touchdowns to seven for Dantin.
December, 19, 2010
12/19/10
12:15
AM ET
Troy easily beat Ohio
48-21
in the R + L Carriers New Orleans Bowl on Saturday night. That makes three blowouts in three games to open bowl season. Here is a quick instant analysis of the Trojans' win:


How the game was won:
Tempo, tempo, tempo. Troy devastated Ohio with is quick-strike, spread offense, and the Bobcats simply could not keep up. Not on the line, not in the secondary, not with substitutions. At one point, Ohio coach Frank Solich screamed to the officials that his team was not given the proper amount of time to get in substitutions. But that was far from the problem. Ohio simply had no answers. Troy scored on its first eight possessions and did not have a punt until the fourth quarter. Meanwhile, the Troy defense put major pressure on
Phil Bates
and
Boo Jackson
and did a good job against the run. Despite trailing early and not having much success on the ground, Ohio stuck with the run way too long. With its methodical offense, falling behind so badly made it impossible to come back. Ohio remains winless in five bowl appearances.
Stat of the game:
0. Troy had zero penalties, zero punts and zero turnovers in the first half, en route to a 38-7 lead.
Player of the game:
Corey Robinson
. What can you say about the game the redshirt freshman quarterback had? Robinson completed 23 of 29 passes for 285 yards and four touchdowns. By halftime. He ended with the New Orleans Bowl record for passing yards with 387, completing 32 of 42 passes without an interception.
Unsung hero of the game:
Troy defensive end Jonathan Massaquoi. The Trojans dominated on the defensive front, and Massaquoi was a big reason why. He piled up eight tackles, including three for a loss, and a New Orleans Bowl record 2.5 sacks. Scary part -- he just finished his redshirt sophomore season.
Second guessing:
Bates got the start at quarterback for Ohio, but he was ineffective. Jackson has the much better arm, but Solich continued to stick with Bates. Perhaps it was because Jackson had academic problemsto clear up and joined the team late in New Orleans. Solich eventually went with Jackson, but by that time, Ohio trailed badly and the deficit was too large to overcome.
Record performance:
Troy scored the most points and gained the most yards in the 10-year history of the New Orleans Bowl. It also was the most points the Trojans have scored in their five bowl appearances. Hard to believe this same team lost to ULM and UAB this season.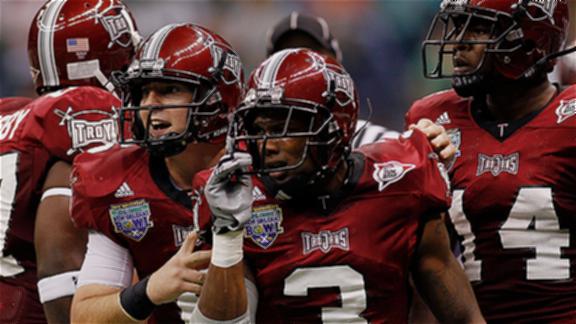 December, 17, 2010
12/17/10
10:00
AM ET
Troy won a share of the Sun Belt Conference championship for the fifth straight season and is in a bowl game for the fifth straight year, taking on Ohio in the R+L Carriers New Orleans Bowl on Saturday. Meanwhile, Ohio missed a chance to play for the MAC championship after losing to Kent State in the regular-season finale. The MAC has a 2-1 edge in bowl games against the Sun Belt in the last four years.


WHO TO WATCH:
Troy receiver
Jerrel Jernigan
. One of the best all-purpose players in the country, Jernigan can do it all. He ranks No. 7 in the country in all-purpose yards, averaging 165 yards a game. He lines up in the Wildcat formation, he starts at receiver and returns punts and kickoffs. Jernigan also has a touchdown pass this season. We are not talking about a one-hit wonder, either. Jernigan holds the school and Sun Belt records for career receptions, receiving yards and all-purpose yards.
WHAT TO WATCH:
Ohio running back
Vince Davidson
versus Troy run defense. Ohio struggled big time trying to run the ball against Kent State. Davidson only had 19 yards rushing, a week after getting 100 in a big win over Temple. Troy has had difficulty stopping the run at times this season, giving up an average of 171 yards a game. Davidson is not the only one who can run -- when backup quarterback
Phil Bates
is in the game, he is known to scramble, too.
WHY TO WATCH:
Yes, this game has been universally panned as one of the least interesting in bowl season. But Troy is usually fun to watch in bowl games. The Trojans have gone to overtime in their past two bowl appearances -- losing to Central Michigan last season 44-41 in a thrilling double-overtime game in the GMAC Bowl, and dropping a 30-27 contest to Southern Miss in the New Orleans Bowl in 2008. There is also some history that could be made -- Ohio is 0-4 all-time in bowl games.
PREDICTION:
Ohio 30, Troy 24. Troy was not as strong as it usually is this season, and has struggled at times behind
Corey Robinson
and on defense. Yes, Ohio blew a chance to play for the MAC title game, but the Bobcats should be able to run on Troy and control time of possession.
November, 16, 2010
11/16/10
9:00
AM ET
A familiar story line will unfold Tuesday night in Philadelphia: Ohio and Temple will play with a spot in the MAC title game on the line.
The two teams are in a three-way tie atop the East with Miami (Ohio). But if either the Owls (8-2, 5-1) or the Bobcats (7-3, 5-1) win out, then they get a spot in the league championship game, most likely against Northern Illinois.
Last season, the two teams also met in the second-to-last game of the season. Temple came in with a nine-game winning streak and unbeaten record in league play. But Ohio won 35-17 as the Owls struggled in the passing game.
Chester Stewart
and Vaughn Charlton completed a combined 11 passes and threw three interceptions.
The Bobcats later lost to Central Michigan in the MAC title game.
"We would have all liked to have left the film there," Temple coach Al Golden said of going back and watching last season's game. "They played better than we did. They were the tougher team. We've learned a lot about our team. We've learned a lot throughout the course of this year, but we wouldn't be doing our job if we didn't learn from last year. It should be a great matchup. That's what we're in the business for -- to be in meaningful games in November."
The big question is what will happen at quarterback for Ohio. Starter
Boo Jackson
has played well lately, but he sustained a concussion in a fight outside a bar and hasn't been involved in practice. Coach Frank Solich said Monday that Jackson was doubtful to play.
Phil Bates
, who has split time with Jackson this season, took reps this week in practice but he's been hobbled with a shoulder injury. Freshman
Kyle Snyder
has also gotten reps, but Ohio hopes to hold him out because it wants to redshirt him.
"(Bates is) not 100 percent, but been playing on and off at not 100 percent, so we'll just wait and see," Solich said. "He's practiced well and felt good during practice. We think he'll be able to start the game and hopefully be able to hold up."
Bates presents a different style than Jackson. He is more of a runner than a passer, and leads the team with 423 yards on the ground.
As for Temple, the Owls have gotten a huge lift since
Mike Gerardi
replaced Stewart in the starting lineup. In three starts, Gerardi has gone 54-of-81 for 871 yards and eight touchdowns. But there has been shuffling along the offensive line, and Golden wants to make sure his team is just as physical as Ohio.
"They've been more explosive than we have been on offense," Golden said. "That's the challenge. They really put it to us a year ago in terms of the offensive side of things and didn't allow any big plays. Frank has always had a physical team, has always had a rugged team and that's what they pride themselves on. They are certainly that."
November, 8, 2010
11/08/10
2:00
PM ET
Let's take a look at the good and the bad for the non-AQs in Week 10.
The good:
Boise State and TCU remained in the national title hunt with big wins this weekend. Though their offenses made headlines -- the Broncos racked up a school-record 737 yards and TCU had more than 500 yards -- both defenses played something fierce. They both held their opponents to fewer than 200 yards of total offense. Now they are the top two teams in the country in total defense and scoring defense. TCU is No. 1 in both categories. … Meanwhile, New Mexico won its first game of the season, 34-31 over Wyoming. Quarterback
Stump Godfrey
made his first career start as
B.R. Holbrook
sat out because of an injury and went 16-of-20 for 211 yards with two touchdowns. The Lobos, which had been giving the ball away as if it was a Christmas present, forced four turnovers. It was just the second time all season they won the turnover battle in a game. … How about Nevada racking up 844 yards of total offense? Not only did
Colin Kaepernick
have 300 yards passing, the Wolf Pack had three 100-yard rushers: Mark Lampford,
Mike Ball
and
Vai Taua
.
The bad:
Western Michigan controlled its own bowl destiny heading into its game against Central Michigan. None of the four opponents left on its schedule had a winning record, so finishing up 7-5 or 6-6 seemed realistic. But the Broncos lost for the fifth straight time to their in-state rivals -- even though the Chippewas went into the game with just two wins. Backup RB
Brian Fields
fumbled 2 yards from the end zone with 1:37 remaining, the fourth lost fumble of the game for Western Michigan and the Chippewas held on 26-22.
The heartache:
The
Akron Zips
are now the only winless team in the country, but missed out on a great opportunity in a 37-30 double-overtime loss to Ball State. After tying the score late to send the game into overtime, the Zips and Cardinals traded touchdowns in the first overtime. Ball State went ahead in overtime No. 2. But all hopes were lost for Akron when
Patrick Nicely
was intercepted on third down by Joshua Howard to end the game. Akron had more first downs and more rushing yards than Ball State and won the turnover battle as well. … Tulane had Southern Miss on the ropes heading into the fourth quarter. The two teams were tied at 30, but the Golden Eagles scored 16 unanswered points in the fourth quarter to win 46-30. Tulane (402) outgained Southern Miss (358) and had 11 more first downs.
[+] Enlarge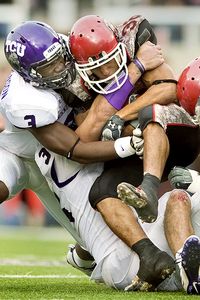 Douglas C. Pizac/US PresswireTCU shut down the high-powered Utah offense.
The off-balance:
Utah and Hawaii went into their respective games as some of the highest-scoring teams in the country. But each were held to just a touchdown. Utah had been averaging 45.2 points a game, tied for No. 3 in the nation. Hawaii had been averaging 39. 2 points a game. … Meanwhile, BYU exploded offensively for the first time all season, posting more than 300 yards passing and 200 yards rushing and a season-high 55 points against UNLV. The Cougars are 39-0 since 1972 and 5-0 under current head coach Bronco Mendenhall when passing for 300 and running for 200.
A few more helmet stickers:
FIU WR
T.Y. Hilton
had 291 all-purpose yards and four touchdowns in a 42-35 double-overtime win over ULM. He became the first Panther to score a touchdown three different ways in the same game, as he caught two touchdowns, ran for one and returned a kick for a score. … Central Michigan LB Armond Staten had 11 tackles, 1.5 tackles for loss, one sack and three forced fumbles in an upset win over Western Michigan. … San Diego State LB Miles Burris had a career-high 10 tackles, four tackles for loss (minus-39 yards), two sacks and two forced fumbles in a 24-19 victory over Colorado State.
A few injury items to note:
Ohio quarterback
Boo Jackson
is questionable for the Nov. 16 game against Temple after reportedly getting into a
fight outside a bar and sustaining serious injuries to his face
. Coach Frank Solich would only say that Jackson is questionable for the game. Backup
Phil Bates
has been slowed by a shoulder injury, leaving the possibility that Ohio could burn the redshirt of true freshman
Kyle Snyder
. "We're going to have to talk about it some more and look at it from different angles and make a decision about a player being brought out of redshirt if he needs to be," Solich said. … Kent State star LB Cobrani Mixon is doubtful for Saturday's game against Army with a shoulder injury, and starting quarterback
Spencer Keith
injured his thumb and is day-to-day. … BYU TE
Marcus Mathews
is out for the season with a lacerated spleen.
Week 11 look ahead:
TCU plays San Diego State (7-2) in a classic letdown game. Will the Horned Frogs suffer an emotional low after an emotional high over Utah? Boise State has a big rivalry game against Idaho, perhaps made even bigger after comments during the offseason where school president Bob Kustra slammed Vandal culture as "nasty" and "inebriated." Southern Miss travels to UCF in a big East Division game. The Knights, ranked for the first time in school history, control their destiny. We can't forget about the big Tuesday night game between MAC West Division leaders Toledo and Northern Illinois.
October, 11, 2010
10/11/10
3:30
PM ET
Here are your players of the week from all the non-AQ conferences:
Conference USA
Offense: UTEP WR
Kris Adams
. Had five catches for 134 yards with three touchdowns in a 44-24 win over Rice. He tied his career high for touchdown catches and also extended his streak of games with a reception to 30.
Defense: UCF FS Kemal Ishmael. Made seven tackles, had an interception and forced a fumble to lead UCF's defense to a 42-7 win over UAB.
Special teams: Southern Miss K Danny Hrapmann. Made a school-record five field goals (tying the C-USA mark), hitting them from 28, 39, 39, 49 and 49 yards in a loss to East Carolina. He has now converted 16-straight field goal attempts dating back to last season.
MAC
East Division
Offense: Ohio QB
Phil Bates
. Ran for 142 yards and two touchdowns on 11 carries also completed a 47-yard pass to
Donte Foster
for 191 yards of total offense in a 49-25 win over Bowling Green.
Defense: Kent State DL Roosevelt Nix. The freshman had five tackles, 3.5 sacks, 3.5 tackles for loss, a forced fumble and a pair of hurries in a 28-17 win over Akron. His 6.5 sacks and 10.0 TFL on the year both rank in the top 10 in the nation.
Special Teams: Kent State P Matt Rinehart. Averaged 41.2 yards on nine punts in a 28-17 win over Akron. Six of the nine kicks were downed inside the 20 yard line, including a season-long 64-yarder.
West Division
Offense: Northern Illinois QB
Chandler Harnish
. Had 282 yards of total offense with 211 yards passing and 71 rushing in a 31-17 win over Temple. Harnish had a season-high 20 completions in 25 attempts and threw touchdown passes of 10 and 4 yards.
Defense: Western Michigan DB Lewis Toler. Intercepted Ball State QB
Keith Wenning
and ran 24 yards for the Broncos' second TD in the first minute of the game in a win over Ball State.Toler has three interceptions in the past three games.
Special Teams: Western Michigan K John Potter. Made five field goals, six extra points and scored a touchdown on a fake field goal in the win over Ball State.
Mountain West
Offense: Utah QB
Jordan Wynn
. Led Utah to its highest point total in 27 years in a 68-27 road win over Iowa State. In three quarters of play, Wynn went 23-of-31 for 325 yards and two touchdowns.
Defense: Air Force CB Reggie Rembert. Made a season-high seven tackles, had an interception, three pass breakups and a fumble recovery in a 49-27 win over Colorado State.
Special Teams: Utak PR/KR
Shaky Smithson
. Returned five punts for 145 yards and finished the game with 261 all-purpose yards. He had the longest punt return of his career, going 78 yards down to the Iowa State 2-yard line.
Sun Belt
Offense: Troy QB
Corey Robinson
. Went 26-of-37 for 259 yards and three touchdowns in a win over Middle Tennessee.
Defense: Troy LB Kanorris Davis. In his first collegiate start, Davis led the team with nine tackles, including three for losses. His first quarter sack and forced fumble led to the Trojans' second TD of the game.
Special Teams: North Texas K Zach Olen. Made all five of his kicks against Arkansas State, going 4-of-4 on field goals and 1-for-1 on extra points. No North Texas kicker has been perfect in at least four attempts since North Texas returned to FBS in 1995.
WAC
Offense: Nevada RB
Vai Taua
. Ran for 196 yards and three touchdowns on 16 carries in a 35-13 win over San Jose State. It was his fifth straight 100-yard game.
Defense: New Mexico State DE Donte Savage. Had nine tackles, including two sacks, forced two fumbles and broke up two passes in a 16-14 win over rival New Mexico. His forced fumble late in the game set up the winning field goal.
Special teams: New Mexico State K Tyler Stampler. Made three field goals, including a 22-yarder with 1:56 left to win the game.
August, 31, 2010
8/31/10
4:00
PM ET
The MAC has traditionally turned out pretty good quarterbacks, but now there are many new faces set to start at the all-important spot. The two biggest names who are gone: Dan LeFevour of Central Michigan and Tim Hiller of Western Michigan.
Don't know what to expect from their replacements? Here is a quick primer:
Central Michigan
.
Ryan Radcliff
replaces LeFevour, the MAC's all-time leader in passing yards (12,905) and TD passes (102). The sophomore has a totally different style from LeFevour, who could run nearly as well as he could pass. Radcliff is more of a classic drop-back passer with a strong arm.
"He's got good feet, great arm strength, great touch, very smart," coach Dan Enos said. "I wouldn't say he's going to impress anybody running the ball down the field, but he can create with his legs and move the chains if need be."
On replacing someone as successful as LeFevour, Enos said: "We've discussed that with Ryan since we've arrived. We said don't be him, don't try to be him. [Radcliff's] a good enough player and has enough skills that we think he can be a very good player here. We've tried to explain to him he doesn't have to win the game on his own."
Western Michigan
. Sophomore
Alex Carder
takes over for Hiller, who left as the school's career passing and total offense leader. Carder also is a different quarterback, especially in his demeanor.
"He's an excitable guy -- he wears it all on his sleeve," coach Bill Cubit said. "We have to hope he is an even-keel guy."
On how he is different from Hiller, Cubit said: "Tim is more of a drop-back guy, very cerebral. You never knew if he was upset or thrilled to death. Alex, his emotions are a little bit different. He's more outgoing in terms of talking on the field. That's a little bit different for the kids. He's inexperienced, but at this stage in his career and Tim's stage, they're very comparable in terms of production."
Four other teams have new starters at quarterback, too.
Buffalo
.
Jerry Davis
replaces Zach Maynard in the new spread offense coach Jeff Quinn has installed.
"[Jerry's] played games, he's been in the fights and I think it's really important that we keep that theme that guys that earn the spot should be rewarded for that position," Quinn said. "He's really picked up the offense and been able to make the plays in practice."
Bowling Green
. Redshirt freshman
Matt Schilz
takes over for Tyler Sheehan, a three-year starter. "It's a little bit easier when guys around you have played," said coach Dave Clausen, whose running back and receivers are all seniors. "I'm hopeful that transition will help us."
Toledo
.
Austin Dantin
officially replaces
Aaron Opelt
, although Dantin played as a true freshman last season when Opelt got hurt. "He's a leader, done a great job for us and we look forward to seeing what he does with our offense," coach Tim Beckman says.
Ohio
.
Boo Jackson
has started for the Bobcats, but he goes into the season
sharing the job
with
Phil Bates
, a transfer from Iowa State. Coach Frank Solich said: "Phil's by far the best rusher we've got. Boo, when he's scrambling, has a unique way of finding guys in the open field. They bring something a little different to the table, so it probably makes sense for us not to announce that to allow preparation for a specific type of quarterback."
Also of note
:
Chester Stewart
becomes the full-time starter at Temple, having started several games last season. Eastern Michigan plans on playing both
Devontae Payne
and
Alex Gillett
.
August, 30, 2010
8/30/10
12:00
PM ET
Ohio coach Frank Solich said on the MAC conference call Monday that he will play quarterbacks
Phil Bates
and
Boo Jackson
in the season opener Saturday against Wofford. Though he has told the players who will start, he said he did not want to make the announcement public because he wanted to keep his opponent guessing.
Solich said both quarterbacks give his team a different look, making it harder for the opposition to game plan.
"Phil's by far the best rusher we've got. Boo, when he's scrambling, has a unique way of finding guys in the open field," Solich said. "They bring something a little different to the table, so it probably makes sense for us not to announce that to allow preparation for a specific type of quarterback. Right now one will start, another will come in at some point during the game, and it will be an evaluation process throughout the early part of the season. If we feel like there's a reason to play two guys, we'll work it that way."
Bates, at 6-foot-2 and 224 pounds, is an Iowa State transfer and hasn't played in a game since 2008. Jackson, 6-1 and 202 pounds, took a medical redshirt last season because of a shoulder injury. He started 10 games for Ohio in 2008, passing for 2,355 yards -- the second-highest single-season total in school history.
Solich said Jackson was still working through the shoulder injury during fall camp and got tired at times. He said both players understand they will play and everyone was on the same page.
But eventually, Solich would like to settle on a starter.
"We could go the season playing two if it calls for it -- again that's not what I'm interested in doing," Solich said. "I would like one guy to take it and go, but both guys have ability and there could be a time and place for both of them in a game to use that ability. It would be extremely difficult to prepare for the two quarterbacks with the same game plan. They shine at different things, and yet theyr'e good at the other things. We feel maybe we can have the best of both worlds there. I don't want to project what's going to happen. We'll start it off, see how they play and make decisions based off of that."
March, 3, 2010
3/03/10
6:14
PM ET
As spring football begins to hit its stride (most teams will open this month), it's important to look at some of the key contributors that were sitting on the bench last year. I'm talking about the transfers, the guys who left schools from automatic qualifying conferences to help a non-AQ find success.
There are a lot of major transfers on non-AQ teams that are eligible to play this season, but none are more important than the quarterbacks. Several teams are looking to replace starters or just get some new blood under center.
Here's a look at my top five quarterback transfers from AQ teams:
Wesley Carroll, FIU:
Carroll comes to FIU after a pretty fantastic start at Mississippi State and is the favorite to replace graduated starter
Paul McCall
. Carroll started nine games as a true freshman in 2007 (played in all 13) and was named SEC freshman first-team. He started four games as a sophomore for the Bulldogs before deciding to transfer after he lost his job to junior college transfer
Tyson Lee
. During the FIU spring game last year, Carroll completed 11-of-17 passes for 110 yards and a touchdown. FIU had a down year in 2009, mostly because of injuries, but with a couple key transfers and two strong recruiting classes, this could be the year the Golden Panthers reverse their fortunes.
Taylor Cook, Rice:
The Owls will actually have two transfers vying for the starting quarterback position this year. Cook came over from Miami last year and sat out, and
Nick Fanuzzi
, who started eight games last season, transferred from Alabama after the 2007 season. Fanuzzi put up nice numbers last year, but didn't have a lot of help. Cook enters the spring with a nice pedigree but doesn't have any collegiate experience. Cook actually entered Miami's 2009 spring practices as the No. 2 quarterback before opting to transfer.
Phil Bates
, Ohio:
Bates came over from Iowa State and was actually a wide receiver as a true freshman before switching to quarterback his sophomore year. He completed 14-of-24 passes for 137 yards, two touchdowns and one interception, and he ran 24 times for 166 yards. He's the type of dual-threat quarterback coach Frank Solich likes in his system and the battle with
Boo Jackson
, who missed last year with an injury, will be interesting. Bates' versatility (he did catch five passes for 73 yards) will make it tough to keep him off the field.
Willy Korn, Marshall:
Korn was a surprise pick up for new head coach Doc Holliday. Korn is graduating in May and will have two years of eligibility remaining. Since he won't be around until the fall, it will be hard for him to wrestle the starting role away from
Brian Anderson
. Anderson threw for more than 2,600 yards and 14 touchdowns, but he also had 13 interceptions. In three seasons at Clemson, Korn completed 46-of-66 passes for 406 yards and three touchdowns. He also battled a shoulder injury.
Cannon Smith, Memphis:
Smith was a big pickup for Memphis, especially since the Tigers graduated three senior quarterbacks. Cannon played in one game as a true freshman at Miami in 2008, but was injured and ultimately took a medical redshirt. Smith will challenge sophomore
Tyler Bass
, who played in four games and had three starts last year, and sophomore
Will Gilchrist
. The starting role will probably come down to Smith and Bass.