May, 23, 2012
5/23/12
9:13
AM ET
Leaving one's job can be pretty awkward. For college football coaches, it usually is. Rarely do we see an amiable mutual parting in these situations.
As we continue to take a look at the coaches we love to hate this week, we're looking at SEC coaches who have left their respective schools in a lurch.
We already discussed Bobby Petrino's
more than awkward departure at Arkansas
, so we're going with three other recent departures that happened unexpectedly.
Let the bad memories return:
[+] Enlarge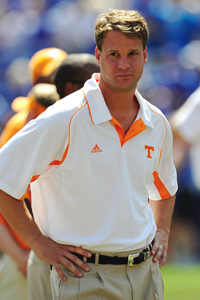 Sam Greenwood/Getty ImagesLane Kiffin was 7-6 in his one season at Rocky Top and was cited for failure to monitor an atmosphere of compliance within the Vols program.
Lane Kiffin, Tennessee:
He left for USC in 2010 after one season at Tennessee. Kiffin replaced longtime Tennessee coach Phil Fulmer in 2009 and was immediately confrontational with other SEC coaches, and that sort of arrogance was something that had to be a little attractive to Tennessee's fan base. However, his lack of production on the field made his pompous attitude laughable. Through all the chirping, he delivered a 7-6 season, which might go down as the most celebrated 7-6 season in SEC history. He talked so much about all the good things he'd do at Tennessee, but whined about not having enough talent. Then he built up his first signing class, but it eventually turned into nothing more than a paper tiger. Kiffin suddenly left Tennessee for USC just three weeks before national signing day in 2010. During his uncomfortable news conference, in which he announced his departure, Tennessee fans showed up in droves to wish him a not-so-safe trip to Cali. Kiffin left under the protection of police and left Tennessee with an NCAA cloud hanging over its head, which got the school a visit from the NCAA infractions committee. Kiffin and his staff's recruiting practices prompted an investigation that resulted in two years of probation for Tennessee. The NCAA found that Kiffin and his staff had committed 12 secondary violations, but Kiffin wasn't penalized. Derek Dooley took over for Kiffin in 2010 and has dealt with a laundry list of player and attrition issues. He has gone 11-14 in his two years.
Urban Meyer, Florida:
He announced that he'd be stepping away from coaching in 2010, but is now coaching at Ohio State. There was no question that Meyer was one of the best coaches to swing through Gainesville. During his six-year tenure, he won two national championships and took the Gators to three SEC championship games. But it was the way he left that sent Gator Nation into a frenzy. First, he announced his retirement for health reasons a couple of weeks after the loss to Alabama in the 2009 SEC championship game. His retirement barely lasted 24 hours, but Meyer and Florida were never the same. The 2010 season was a major step back, as Florida went 8-5, and Meyer stepped away again after the regular season concluded. Meyer said he was taking time off because of his health and his desire to spend more time with his family. Then, he took over at Ohio State (one of his dream jobs) for the fired Jim Tressel. But it wasn't just leaving Florida for a Big Ten school barely a year later that upset Florida fans. It was the fact that he left new coach Will Muschamp with what Meyer himself deemed a broken program. Muschamp dealt with discipline and attrition issues during his first season, in which he went 7-6. While Meyer was the king of winning the recruiting ranking game, he too often missed on character.
Tommy Tuberville, Ole Miss:
He left Ole Miss after the 1998 season for Auburn. Tuberville took over a struggling Ole Miss program in 1995 and helped the Rebels to three winning seasons in four years. But four years wasn't what the Ole Miss faithful expected to get from Tuberville; he made it seem that he would be there for much longer when he uttered those now-infamous words: "They'll have to carry me out of here in a pine box." That pine box apparently had to be filled with money, as just a couple days after he emphatically stated that he wanted to stay in Oxford and be the Rebels' coach, he took a pay raise that doubled his salary and headed off to Auburn. Soon after Tuberville left without so much as telling his players, Ole Miss fans donned T-shirts inspired by the movie "Liar, Liar" with Tuberville's face on them instead of Jim Carrey's. Tuberville went 7-3 against his old team during his time at Auburn. David Cutcliffe, Tuberville's replacement, guided Ole Miss to five winning seasons in his six years, including a 10-win season that ended with a Cotton Bowl victory.
November, 16, 2009
11/16/09
1:30
PM ET
Jim Tressel may go on to win another national championship at Ohio State.
He'll likely win more BCS bowl games and more Big Ten titles. When he's finished coaching, he might enter politics or open his own sweater vest manufacturing company.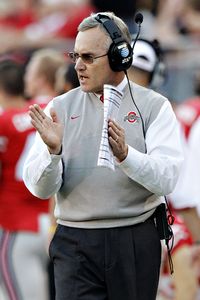 AP Photo/Jay LaPrete
Ohio State coach Jim Tressel is going for his sixth straight win against rival Michigan.
But when we look back on Tressel's place in college football history, he will always be remembered for this week. Michigan week.
No one does it better.
Head coaches of national powerhouses are judged primarily on their ability to win games in early January, and Tressel is no exception. But their records against archrivals aren't taken lightly, either. Tennessee's Phil Fulmer got the axe last year largely because of his struggles against rivals Florida, Georgia and Alabama. Florida's Urban Meyer wins national titles, but he also pleases fans by
beating rivals Georgia, Tennessee, Miami and Florida State
.
You can knock Tressel for his three-game losing streak in BCS bowls, his consecutive double-digit losses in the national title game, his management of quarterback
Terrelle Pryor
or his conservative play-calling. On those topics, swing away.
But when it comes to the Ohio State-Michigan game, Tressel is king. He boasts a 7-1 mark against Michigan, including wins in each of the last five games. He has beaten Michigan when Ohio State is the better team (2008, 2007, 2005, 2002) and even when Michigan might be the superior squad (2001, 2004). He beat Michigan in the most hyped regular-season game in recent years, the No. 1 vs. No. 2 matchup in 2006 at Ohio Stadium.
Tressel is one of the reasons Lloyd Carr no longer coaches the Wolverines. Carr went 1-6 against The Vest. In Rich Rodriguez's first game against Tressel, Ohio State spanked Michigan 42-7.
And it's not just the record. Tressel plays up this rivalry the right way. He makes it a big deal without inciting the opponent. He doesn't need unique circumstances -- like Justin Boren's transfer from Michigan or Pryor's flirtation with Rodriguez -- to get his players motivated.
"It's an exciting week," Tressel said last year at the start of Michigan week. "Our guys can feel the excitement on the campus and in the community. It's the reason many of them chose to go to Ohio State or to go to Michigan was so they could be a part of this game for four or five years and it's just a little bit different feeling. It's a hard one to explain unless you've been there."
You can feel it at Ohio State.
Seven months before The Game, you walk into the office of co-defensive coordinator Jim Heacock. On the wall, Heacock has a sign that reads, "No Ohio State team has defeated Michigan 5 times in a row."
The 5 is crossed out and replaced with a 6.
Tressel puts this game on a pedestal, and it trickles down throughout the rest of the program. Ohio State already has a Rose Bowl berth essentially locked up, but if you think the Buckeyes will come out with any less fire Saturday at Michigan Stadium (ABC, noon ET), remember who coaches them.
After Saturday's overtime win against Iowa, Tressel said his players could enjoy the win until midnight.
"When the clock strikes 12, we know what week it is," he said, "and that's exciting."
November, 6, 2008
11/06/08
8:12
AM ET
Posted by ESPN.com's Tim Griffin
The prime topic of conversation this morning across the Big 12 was the abrupt dismissal of Kansas State coach Ron Prince after a coaching tenure of less than three seasons.
Jeffrey Martin of the Kansas City Star/Wichita Eagle broke the story Wednesday afternoon. The Wildcats' 52-21 loss to Kansas last week, he writes, played a significant role in his ouster.
Another factor was Prince's inability to be a factor in a North Division that is perceived to be at its weakest level ever. Two different North teams -- Nebraska and Missouri -- represented the division in the championship game in Prince's tenure. Cross-state rival Kansas is tied for the lead with Missouri heading into the this week's games.
"The reality is, if you coach in this business long enough, you understand this is a business where you're hired to win championships and to graduate your players," Prince said. "We had moments where we were very good and showed promise.

"We just were unable to win the North. That's ultimately what the expectations are for us and our ambition was coming here, and we were unable to achieve that."
And juicy rumors about the potential return of Bill Snyder after three seasons away from football held for the most speculation.
Jason Whitlock of the Kansas City Star writes that the return of Snyder to the sidelines of Bill Snyder Family Stadium makes sense. He says that Snyder, 69, is rejuvenated after his three-season sabbatical. He's 13 years younger that Joe Paterno and 10 years younger than Bobby Bowden and could be itching for a return to the spotlight, Whitlock wrote.
Veteran Wichita Eagle columnist Bob Lutz wrote that the strange timing of the dismissal by Kansas State athletic director Bob Krause made him dubious about the move, even if it was the right one.
"Bob Krause has a plan. My immediate reaction, upon hearing that news, was to hide and cover myself with pillows and blankets," Lutz wrote.
Kansas State quarterback Josh Freeman told Martin earlier this week that he would like to play all four seasons for the Wildcats and not turn pro early. That dismissal, Martin wrote, could change Freeman's mind about returning.
The Kansas City Star's Blair Kerkhoff breaks down the likely list of replacements for Prince, whose two-plus year tenure is second-shortest in Big 12 history behind only Dave Roberts of Baylor.
Kerkhoff mentions potential replacements like Tommy Bowden, Phil Fulmer, Dennis Franchione, Tom Amstutz and Tyrone Willingham as potential hires, considering Krause's stated intention of hiring a head coach with experience to the job before the end of the season.
Austin Meek of the Topeka Capital Journal writes that Prince's legacy will include higher graduation rates, a bowl trip in his first season and two victories over top-10 Texas teams in his first two seasons.
"We're proud of going to a bowl game in our first season, which only four coaches have done in Big 12 history, inheriting a team with a losing record," said Prince, who is 16-18 at K-State. "That 7-5 record occurred despite being predicted preseason last place in the North.

"And finally, we understand how our 34-game record fits into the greater K-State history and how it matches up among our closest Big 12 peers in their early years."
But Meek also wrote about how pressure from fans and Kansas State boosters have complicated fund-raising efforts for the school's $70 million facilities expansion.
Omaha World-Herald Big 12 beat writer Lee Barfknecht wrote of how Prince's arrogance turned off many high-school and junior-college coaches in the area. He also said that Prince struggled with in-game transitions as evidenced by his 0-17 record in games when his team was trailing at the half.
Prince brought lofty expectations to the program and keeps them in place even as he's leaving the Kansas State program.
"Our objective is to go out, with the few days remaining, continue our preparation toward Missouri, go 6-6 and become bowl eligible," Prince said.
Whether the Wildcats would take that bowl trip and whether Prince would be coaching the team remains to be seen. But he's still focused on that goal as he finishes his tenure with the school.
August, 27, 2008
8/27/08
11:32
AM ET
Posted by ESPN.com's Ted Miller
Happy College Football Eve!
July, 30, 2008
7/30/08
9:26
AM ET
Posted by ESPN.com's Chris Low
Some of what they're writing and saying around the SEC:
* Phillip Fulmer's Knoxville attorney, Jeff Hagood, says the Vols' coach will fight the subpoena he was served at SEC media days last week. Hagood tells Ray Melick of the Birmingham News that the whole thing is nothing more than an attempt to "harass" Fulmer.
* Joe Person of The State newspaper in Columbia writes that suspended quarterback Stephen Garcia has applied for early reinstatement to the university and could be at the Gamecocks' first practice on Friday.
* New South Carolina defensive coordinator Ellis Johnson tells Ron Morris of The State that the Gamecocks' talent on defense this season is as good as any he's been around.
* Bobby Petrino acts swiftly and suspends two Arkansas players for the first two games following arrests.
* The Hogs' most-experienced defensive lineman is facing drug and firearm charges.
* Ole Miss coach Houston Nutt warns the Rebels' fans not to expect miracles right away from Jerrell Powe, who's been cleared to play this season after first signing with Ole Miss nearly three and a half years ago.
* Don't feel sorry for Vanderbilt and who the Commodores lost. Coach Bobby Johnson likes the talent that returns. The Commodores open practice on Thursday.
* Once Tailback U., Auburn is putting in a new kind of spread on offense.
July, 29, 2008
7/29/08
10:56
AM ET
Posted by ESPN.com's Adam Rittenberg

Midwesterners are generally regarded as nice people, not the types to be categorized as haters. But one football program has rankled this normally genial crowd for most of the last decade. One program has earned the title as the Big Ten's most hated team, or, as Ohio State would put it, The Big Ten's Most Hated Team.
The hate for Ohio State can't be pigeonholed.
Despite the Maurice Clarett saga and several other off-field stains, this isn't Miami. Jim Tressel is lampooned for his sweater vests, more suited for professors or politicians than football coaches. In many ways, he's the anti-Woody Hayes -- composed, reserved, even bland at times -- but he projects an image seen by some as arrogant and inauthentic. Still, Tressel doesn't stoke the fire like the Head Ball Coach, Phil Fulmer or, more recently, Charlie Weis. Ohio State's fans, regarded by some as crude and classless, probably heighten the hate more than anything else. The rioting after the 2002 game against Michigan certainly didn't help the image of Buckeye Nation. But there's more to it.
Success breeds contempt and Ohio State is enjoying more of it than any other Big Ten program. Since 2002, the Buckeyes are 66-11 with a national championship, four shared or outright Big Ten titles and three national title game appearances. The program has produced a Heisman Trophy winner in Troy Smith and dozens of NFL players. As annoying as it is to hear former Buckeyes introduce themselves as coming from "The Ohio State University" on Monday Night Football, it's also a testament to the program's ability to recruit and develop talent.
Ohio State has been condemned nationally for its flops in the last two BCS title games, and cries of "Overrated!" can usually be heard when the Buckeyes are brought up. But in the Big Ten, Ohio State continues to dominate, losing just two league games in the last three years. The Buckeye vitriol has undoubtedly increased among Michigan fans, accustomed to seeing their team as the Big Ten's best, and, consequently, the most hated. But after four consecutive losses to Ohio State and six in the last seven seasons, Michigan, like its Big Ten brethren, is looking up at the Buckeyes. Michigan used to be the league's most arrogant team. Now the Buckeyes have earned the right to that title.
For the Buckeyes to get knocked off their perch atop the hate-o-meter, the rest of the Big Ten has to catch up. Ohio State has consistently recruited better than any other league team, culminating this spring with the signing of quarterback Terrelle Pryor, who botched the school's official title ("University of Ohio State") and left out the all-important definite article before the name. Rich Rodriguez's arrival at Michigan could shift the league's power balance, and Illinois' recent recruiting surge puts it closer to Ohio State. But for now, the Buckeyes are the clear choice.