April, 30, 2012
4/30/12
4:30
PM ET
WACO, Texas -- Enough already about Robert Griffin III and the impact his loss will have on the Baylor Bears football program. That's ground traveled and tread by now. What about the guy who snapped the ball to Griffin the past two seasons?
Bears coach Art Briles' eyes widen when Philip Blake's name comes up in conversation.
"That's right," Briles says, nodding. "The center, Philip Blake ... that's like a quarterback in our offense."
So, although most would know and note who the second overall pick in this past weekend's draft was, they likely missed Blake -- the Bears' "other QB" -- going to the Denver Broncos in the fourth round.
Click here

for the rest of Travis Haney's column.
March, 20, 2012
3/20/12
9:00
AM ET
WACO, Texas -- Baylor practiced for about two hours in shoulder pads and shorts on Monday, and I got a chance to see the new-look Bears up close and personal.
I'll be writing about this in detail in the coming weeks, but first things first: the quarterbacks.
It was a windy day with what I'd say were easily 30-40 mph gusts, so the Bears moved inside for the second half of practice, but even in the wind, quarterback Nick Florence looked really good. Throwing into the wind, he hit Terrance Williams and Tevin Reese on consecutive deep balls down the field in one-on-one drills. Reese and Williams, by the way, looked great ... but you already knew that.

Bryce Petty is a step above Florence when it comes to physical skills, but Florence isn't that far behind. Petty has a bigger arm and a bit more velocity, but both quarterbacks can definitely "make all the throws," as they say. We've seen Florence do it in game action, but ultimately, it's hard to see Florence losing this job. He's been in this system since 2009, and it shows. He's decisive. He's got a quick release. He makes moving the ball in pass skeleton or 11-on-11 look effortless at times and he takes care of the ball.

[+] Enlarge

Sarah Glenn/Getty ImagesEarly indications from spring practice shows Nick Florence will be Baylor's starter this fall.

I've said it before and I'll say it again: Florence will be a well above average quarterback in this league, but Petty could already start for a handful of Big 12 teams. Bottom line is I think this plays out like most think. This is Florence's team in 2012. Baylor can feel good about that. In 2013 and 2014, this is Petty's team. Baylor can feel really, really good about that. Art Briles has to sleep easy at night when it comes to worrying about quarterbacks.

I'll have more on him today, too, but hyped transfer Lache Seastrunk looks like he's bulked up a whole lot. It shows in his shoulders and calves, especially. He's much thicker, which I have to think he understood he needed after an unproductive stop at Oregon before transferring to Baylor. His development will be fun to watch. Right now, he's getting some reps with the first team, but Jarred Salubi was getting the majority of first-team reps. Surpassing him will be tough, but I think Seastrunk will get a decent chunk of touches this year. He's got an explosiveness and shiftiness that's rare; it's easy to see why he was so highly recruited. But will that mean production? We'll see. Late in practice, he disappeared in the pile during 11-on-11 drills, but broke outside and outran everybody down the left side for what would have been an 80-yard touchdown run.

That wowed the defenders on the sideline. "He's been hanging out with one of the best backs around, LaMichael James," exclaimed defensive end Tevin Elliott on the sidelines, to no one in particular. "That must be where he gets some of his swag from."

That said, don't let the hype from Seastrunk distract from what looks like a strong effort by Salubi to win this job ahead of Glasco Martin as well. He's running hard inside the tackles and showcasing a physical style we didn't see much of last year. Terrance Ganaway provided that all last season, and the Bears need someone to duplicate it. Salubi looks like he wants to answer the call and be known for more than shiftiness on the outside.

One scary thing to watch for, Bears: Replacing center Philip Blake. I don't recall many bad snaps last year, but the first two to Florence during 11-on-11 drills on Monday were bad, and I counted at least six through the rest of the practice. Four with the first unit. There's a lot of time to fix that, but center is one of those positions people don't quite appreciate until they don't have a good one.

A rough day for the defense. The athletes are there for the Bears, but the offense moved the ball at will in most of the team drills. Such is life going up against a high-powered set of skill players like the ones the Bears have. You couldn't get much of a feel for the physicality, however, because players were only wearing shoulder pads.

Baylor's one of the most fun teams in the league when it comes to trick plays; the Bears successfully executed quite a few in wins over TCU and Oklahoma. They've got some more fun ones drawn up along the goal line; plays we didn't see in 2011 and ones I haven't seen anyone duplicate. Detailing those is a good way to make sure you don't ever see a practice again, but I'll say this: They'll be fun when Baylor busts them out.

With Baylor's pro day looming on Wednesday, lots of the team's departing seniors were on hand at Monday's practice, back from training for the combine and pro day. Quarterback Robert Griffin III was on the field and for the first half and in the huddle for some of that period talking with Briles and various players. Receiver Kendall Wright and Ganaway were also on hand, and stuck around to watch the second half of practice indoors.

We'll have some more from Griffin later today, but don't be surprised if he busts out some bright cleats at his pro day showcase on Wednesday. He showed up Monday toting cleats reminiscent of the "Electricity" uniforms Baylor's basketball team wore this postseason. Scott Drew would be proud.
January, 24, 2012
1/24/12
9:00
AM ET
Signing day is coming fast. Next Wednesday, the next round of players will sign up for their respective programs and start what could be storied careers.
Here's what each team across the Big 12 needs. You'll find Texas A&M and Mizzou on the SEC blog and West Virginia on the Big East Blog.

BAYLOR
Quarterback:
This one's pretty simple.
Robert Griffin III
is taking his talents to the NFL early.
Nick Florence
is waiting to take over, and the Bears have
Bryce Petty
behind him, but more reinforcements at quarterback are needed. Dual-threat quarterbacks, ideally.
Defensive tackle:
Baylor already was one of the nation's worst teams (102nd nationally) at stopping the run. Now it'll need to replace both its interior linemen,
Nicolas Jean-Baptiste
and
Tracy Robertson
.
Offensive linemen:
Baylor's offensive line, meanwhile, has been solid. It loses junior college transfer and two-year starter
Robert T. Griffin
, as well as All-Big 12 center
Philip Blake
.
John Jones
, a reserve guard, also has exhausted his eligibility.

IOWA STATE
Receiver:
This has been a weak spot for the team for several years, and its top overall talent,
Darius Reynolds
, is gone.
Darius Darks
is, too.
Aaron Horne
and
Josh Lenz
will be the team's best weapons in 2012, but the pair of shifty slot guys will be seniors. This position needs reinforcements.
Defensive back:
The DBs have been a quiet strength for ISU, especially in 2011. Cornerback
Leonard Johnson
and safety
Ter'Ran Benton
both have exhausted their eligibility, though, and defensive backs coach Bobby Elliott left for Notre Dame. You'll see plenty of new faces in the Cyclones' secondary next year.
Defensive line:
Experienced starters
Stephen Ruempolhamer and Jacob Lattimer are both gone, and Iowa State has struggled to stop the run consistently the past few seasons.

KANSAS
Quarterback:
Kansas landed high-profile transfers
Dayne Crist
(Notre Dame) and
Jake Heaps
(BYU), but this is still a huge position of need. Last year's starter,
Jordan Webb
, left the team.
Quinn Mecham
is out of eligibility. Heaps is sitting out his NCAA-mandated year after transferring. Crist is the starter, but he badly needs a backup, especially if
Brock Berglund
's transfer appeal allows him to leave.
Wide receiver:
Kansas lacks a big threat at this position. It needs a talent upgrade in a big way. Oklahoma transfer
Justin McCay
is joining the team, but he's no guarantee to a) be granted immediate eligibility or b) become an impact player.
Defensive tackle:
Kansas is thin here, too. Richard Johnson,
Patrick Dorsey
and
Michael Martinovich
are gone, and Kansas couldn't stop much of anything on defense. Some push up front could help make everything look better. A late addition to the 2012 class from a junior college seems like a no-brainer. The Jayhawks need physically mature players to contribute immediately.

KANSAS STATE
Offensive line:
K-State's offensive line was much better in 2011 and could be again in 2012. It needs help replacing All-Big 12 lineman
Clyde Aufner
, though. Starter
Colten Freeze
is also gone.
Defensive line:
Kansas State is bringing back about as many starters as anyone in the Big 12, but the biggest losses are along the defensive line. Kick-blocking specialist (five in 2011) Ralph Guidry is gone, along with tackle
Ray Kibble
. Juco transfer
Jordan Voelker
exploded onto the scene this year, but he's gone, too.
Defensive backs:
Cornerback
David Garrett
leaves a huge hole behind.
Tysyn Hartman
may not be as talented as teammate
Ty Zimmerman
, but his experience leaves a big hole. Zimmerman will have to mentor a younger safety in the near future.

OKLAHOMA
Receiver:
The Sooners are thin here in a big way. That was obvious late in the season when
Ryan Broyles
' storied college career ended a few weeks early with a knee injury. The team also lost Justin McCay (transfer) to Kansas.
Jaz Reynolds
and
Kenny Stills
are the likely top two targets, but they need help.
Tight end:
This position inspired a bit of panic at the end of the season. Seniors
James Hanna
and
Trent Ratterree
are gone.
Austin Haywood
wasn't allowed back on the team, and two more tight ends left the team for various reasons. That left the Sooners suddenly without a scholarship player at the position returning in 2012.
Offensive line:
Starting tackle
Donald Stephenson
must be replaced, as will guard
Stephen Good
, who moved in and out of the starting lineup throughout his career. The Sooners bring back a lot of talent and aren't dying for depth there, but those two will leave holes. Three more offensive line starters will be seniors in 2012.

OKLAHOMA STATE
Offensive line:
The Cowboys need a whole lot of help here to fill in behind young players stepping into the starting lineup. Starters
Levy Adcock
,
Nick Martinez
and
Grant Garner
are gone. Backup center
Casey LaBrue
is gone, too. Those are two All-Big 12 linemen who leave big shoes to be filled.
Receiver:
Justin Blackmon
surprised no one by leaving a year early, and
Josh Cooper
leaves with perhaps the most underrated career of any receiver in school history. In OSU's offense, there's always room for depth here. Nine receivers had at least 19 catches in 2011. Blackmon and Cooper combined for 192, though.
Defensive ends
: The pass rush was solid for Oklahoma State this year, but both starters,
Jamie Blatnick
and
Richetti Jones
, are gone. Replacing both is a necessity.

TEXAS
Receiver:
Texas lacks a true game-changer at the position, though
Jaxon Shipley
and
Mike Davis
may develop into that role in 2012. Former blue-chip recruit
Darius White
left for Missouri, too.
Quarterback
:
David Ash
and
Case McCoy
didn't show a ton of potential at quarterback this year, though Ash may grow with an offseason to prepare as starter. Garrett Gilbert got a big chunk of the work in the spring, summer 7-on-7 and fall preseason camp. Even if Ash does grow, the Longhorns need reinforcements at the position.
Linebacker:
Two senior impact players are gone. Texas is left trying to replace
Emmanuel Acho
and
Keenan Robinson
, though
Jordan Hicks
may mature into a star in 2012.
TCU
Offensive line:
TCU's offensive line is headed for some major turnover. OT
Robert Deck
, OG
Kyle Dooley
and OG Spencer Thompson are gone. Two more starters, OG
Blaize Foltz
and C
James Fry
, will be seniors in 2012.
Defensive linemen:
TCU isn't losing a lot at this spot, but
Ross Forrest
and
D.J. Yendrey
will be seniors in 2012. The Horned Frogs would be well-served to prepare, and offer some depth next year.
Specialists:
TCU will have to break in a pair of new starters on special teams next season. Kicker
Ross Evans
and punter
Anson Kelton
have exhausted their eligibility.
TEXAS TECH
Receiver:
The Red Raiders' offense requires a lot of depth here.
Tramain Swindall
is the only loss at the position, but three more (
Alex Torres
,
Cornelius Douglas
,
Darrin Moore
) will be seniors. Douglas moved to cornerback this year after the team was racked with injury, but we'll see whether he moves back this offseason.
Offensive line:
Tech has a huge need here. Four players won't be returning in 2012.
Lonnie Edwards
,
Mickey Okafor
and center
Justin Keown
must be replaced.
Defensive linemen:
Tech's
Donald Langley
and
Scott Smith
are both out of eligibility, and juco transfer
Leon Mackey
will be a senior.
January, 13, 2012
1/13/12
11:00
AM ET
Here's the All-Bowl team from the Big 12, recognizing the best single-game performances from this year's bowls.
QB:
Brandon Weeden
, Oklahoma State:
Weeden threw for 399 yards and three touchdowns (it could have been four if a game-winning TD pass to Colton Chelf hadn't been overturned) on 29-of-42 passing. His first pass was intercepted, but he had an otherwise solid night and ran for his first career touchdown in the 41-38 win against Stanford.
[+] Enlarge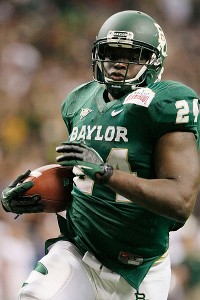 AP Photo/Darren AbateBaylor's Terrance Ganaway rushed for five TDs in the Alamo Bowl.
RB:
Terrance Ganaway
, Baylor:
The Big 12 rushing champion ran for 200 yards and five touchdowns in the Bears' 67-56 win against Washington in the Alamo Bowl.
RB:
Ben Malena
, Texas A&M:
Malena stepped in for the injured
Cyrus Gray
and
Christine Michael
and had a solid game in the Aggies' 33-22 win against Northwestern in the Meineke Car Care Bowl of Texas. He finished with 77 yards and two touchdowns on 23 carries, showcasing his physical running style. He also caught six passes for 36 yards.
FB:
Trey Millard
, Oklahoma:
Millard carried the ball four times for 21 yards but also helped pave the way for three
Blake Bell
touchdowns from the Belldozer formation.
WR:
Ryan Swope
, Texas A&M:
Jeff Fuller
had better numbers in the bowl, but it was aided by big catches late. Swope kept the Aggies offense humming for most of the game, with eight catches for 105 yards in the win against Northwestern.
WR:
Justin Blackmon
, Oklahoma State:
Blackmon was the best offensive player in the Big 12 bowls, spearheading Oklahoma State's offense in the Fiesta Bowl win with eight catches for 186 yards and three touchdowns.
WR:
Colton Chelf
, Oklahoma State:
Chelf made two huge catches over the middle early and a third nearly won the game, but his touchdown was overturned. Still, OSU doesn't win its first BCS bowl without Chelf's 97 yards on five catches.
TE:
Michael Egnew
, Missouri:
By Egnew's standards, it was a quiet game, but he played well with a 25-yard grab and three catches for 39 yards in Mizzou's win.
OL:
Grant Garner
, Oklahoma State:
Oklahoma State's offensive line is keyed by Garner, who helped the Cowboys handle Stanford's blitzes well and give Weeden plenty of time in the Fiesta Bowl win.
OL:
Philip Blake
, Baylor:
Baylor ran for 482 yards and scored 67 points in its win against Washington in the Alamo Bowl. Blake's the man who keyed it all.
OL:
Levy Adcock
, Oklahoma State:
Adcock's the best overall talent on OSU's line, and he showed it in the win against Stanford.
OL:
Dan Hoch
, Missouri:
Missouri rolled over one of the nation's best rush defenses, North Carolina, for 337 yards on the ground.
OL:
Luke Joeckel
, Texas A&M:
The Aggies' offense was potent for most of its win against Northwestern, and Joeckel was solid in run and pass blocking for the balanced attack.
DEFENSE
DL:
Jackson Jeffcoat
, Texas:
Jeffcoat made five tackles, two sacks and 2.5 tackles for loss in the Longhorns' 21-10 win against Cal. The Texas defense dominated, and the defensive line's play was the catalyst. He did it all with a torn pectoral muscle, too. He'll miss the spring after having it surgically repaired this week.
[+] Enlarge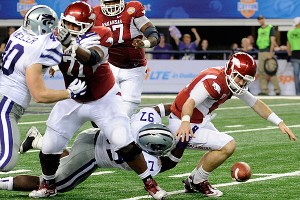 AP Photo/Matt StrasenKansas State defensive end Adam Davis, 97, had two sacks and forced this first-half fumble by Arkansas QB Tyler Wilson in the Cotton Bowl.
DL:
Adam Davis
, Kansas State:
Davis sacked Arkansas'
Tyler Wilson
twice and had three tackles for loss with a forced fumble in the loss to the Razorbacks.
DL:
R.J. Washington
, Oklahoma:
With
Ronnell Lewis
ineligible, Washington showed up big in the win against Iowa. He had two sacks and made three tackles.
DL:
Tony Jerod-Eddie
, Texas A&M:
Jerod-Eddie made eight tackles and had a sack in the win against Northwestern.
LB:
Damontre Moore
, Texas A&M:
Moore was a monster in the season finale for the Aggies, making nine tackles and forcing a fumble on his lone sack.
LB:
A.J. Klein
, Iowa State:
Klein flew around for the Cyclones, making 15 tackles in a physical game against Rutgers, though the Cyclones lost.
LB:
Jordan Hicks
, Texas:
Could this be a big piece of momentum heading into 2012? Hicks starred with seven tackles, 1.5 sacks, 2.5 tackles for loss and a pass breakup in the win against Cal.
CB:
Jamell Fleming
, Oklahoma:
Fleming was the Big 12's best defensive player of the bowls and the best player on the field in the Insight Bowl, making seven tackles, intercepting a pass and returning it 21 yards. He also broke up three passes.
CB:
David Garrett
, Kansas State:
Garrett made 10 tackles and had two tackles for loss in the loss to Arkansas.
S:
Kenny Vaccaro
, Texas:
He hates the nickname Machete, but Vaccaro was hacking away at Cal. He made three tackles, including two for loss and a sack.
S:
Markelle Martin
, Oklahoma State:
Even if it was illegal (it was), Martin had the hit of the bowl season with a huge blast on Stanford's
Ty Montgomery
that took Montgomery's helmet off on the opening drive. He finished with nine tackles and a tackle for loss, with a fumble recovery.
SPECIALISTS
P:
Tress Way
, Oklahoma:
Way averaged 50 yards on his six punts, including a 67-yarder.
PK:
Randy Bullock
, Texas A&M:
Bullock made all four of his field goal attempts, including two from beyond 40 yards.
PR:
Dustin Harris
, Texas A&M:
Harris looked the part of the Big 12's best, returning a punt 35 yards and finishing with 54 yards on his four returns.
KR:
Justin Gilbert
, Oklahoma State:
Gilbert had a 50-yard return and returned his four kicks for a total of 136 yards.
January, 3, 2012
1/03/12
10:00
AM ET
Three
Baylor Bears
are headed to Mobile, Ala., to showcase their talents for NFL scouts at the Senior Bowl.

Receiver
Kendall Wright
, running back
Terrance Ganaway
and center Philip Blake have accepted Senior Bowl invitations.
The game is Jan. 28 in Mobile's Ladd-Peebles Stadium. The game and all practices will be televised live by NFL Network.
The game, though, is usually secondary to what are highly scrutinized practices that can make or break players' draft stock. Ganaway and Blake have a lot to gain as two of the Big 12's most overlooked talents, and Wright should be an interesting player to watch.
He's projected as around second-round pick, but as an undersized player at his position, he'll have a chance to prove he can compete against future NFL defensive backs and still be productive.
In college, that's the one thing you can't argue with about Wright. He led Baylor in receiving every year, and increased his production every year, leading the Big 12 in receiving this season, despite the league having two Biletnikoff finalists in Oklahoma State's
Justin Blackmon
and Oklahoma's
Ryan Broyles
.
December, 9, 2011
12/09/11
10:30
AM ET
Editor's Note: Tune into the "AT&T ESPN All America Team Show" on Saturday (ABC, 1:30 p.m. ET) to see who ESPN's writers and experts selected.
It's been a fun season across the Big 12, with a few big names who didn't play as well as we thought, and lots of unknowns who became household names by the end of the season.
I'll offer my comments below, but here's our All-Big 12 team for 2011.
OFFENSE
[+] Enlarge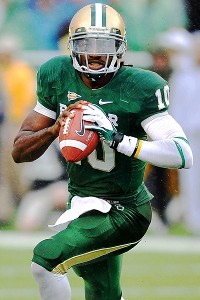 Jerome Miron/US PresswireThe heroics of Robert Griffin III got Baylor to 9-3 and made him a Heisman Trophy finalist.
QB:
Robert Griffin III
, Baylor
All-purpose:
Collin Klein
, QB, Kansas State
RB:
Terrance Ganaway
, Baylor
RB:
Henry Josey
, Missouri
FB:
Trey Millard
, Oklahoma
WR:
Kendall Wright
, Baylor
WR:
Justin Blackmon
, Oklahoma State
WR:
Ryan Broyles
, Oklahoma
TE:
Michael Egnew
, Missouri
C:
Grant Garner, Oklahoma State
OL:
Kelechi Osemele, Iowa State
OL:
Levy Adcock, Oklahoma State
OL:
Gabe Ikard, Oklahoma
OL:
Luke Joeckel, Texas A&M
DEFENSE
DE:
Frank Alexander, Oklahoma
DT:
Dominique Hamilton, Missouri
DE:
Alex Okafor, Texas
DE:
Jamie Blatnick, Oklahoma State
LB:
Sean Porter, Texas A&M
LB:
Jake Knott, Iowa State
LB:
Emmanuel Acho, Texas
NB:
Tony Jefferson, Oklahoma
CB:
Nigel Malone, Kansas State
CB:
Carrington Byndom, Texas
S:
Kenny Vaccaro, Texas
S:
Markelle Martin, Oklahoma State
SPECIALISTS
P:
Quinn Sharp, Oklahoma State
PK:
Randy Bullock, Texas A&M
PR:
Dustin Harris, Texas A&M
KR:
Tyler Lockett, Kansas State
Finally, a few notes and explanations:
I loved the media's idea to craft an all-purpose spot to accomodate Collin Klein. The Big Ten did the same for Michigan's Denard Robinson last season. I followed suit, and did so on the defensive side of the ball with a nickel-back spot for Oklahoma's Tony Jefferson. Two players that missed first-team designation by the coaches, but clearly deserve to be recognized.

Additionally, I prefer the teams to reflect the Big 12 style of play, so the nickel back fits. Each team doesn't have 11 players, but there were deserving linebackers. The same with Egnew and Millard. Does every team use a fullback or a tight end? No, but both are standout performers. They'd rotate in anyway, just as Jefferson would in a theoretical package.

Tough call to leave Philip Blake from Baylor off my team, but Garner's been better. Blake is very, very close, though.

Hated to leave off Brodrick Brown and E.J. Gaines, but I went with a more traditional two corners and two safeties, rather than four corners like the media's team.

Steven Johnson and Arthur Brown would have been right behind my three linebackers. That race was probably closer than at any other position, except maybe cornerback. Difficult to leave either of those guys off my first team, but the three on the team were better. I gave Brown my Newcomer of the Year nod, though.

I don't like going with three defensive ends and one defensive tackle, but there wasn't a defensive tackle who deserved the honor more than Okafor, my third defensive end. Okafor was a defensive tackle last year anyway, so that's close enough, right? He moved from tackle to end before spring practice earlier this year. In the Big 12, an additional pass rusher is necessary, too, right?

I made a similar move with my offensive line. Went tackle-heavy, but the guards didn't have quite as many standouts.
July, 20, 2011
7/20/11
12:54
PM ET
We'll move on to the cornerbacks today in our position rankings across the Big 12.
Here's what we've covered so far:
This group is subject to more change during the season than perhaps any other position. You never quite know how chemistry will develop, and in these rankings, you really have to rely heavily on experience, similar to quarterbacks. It's not the only factor, but you have to acknowledge that it's a major one.
So, here's how I rank them:
[+] Enlarge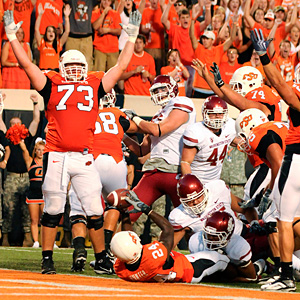 AP Photo/Brody SchmidtOklahoma State's Levy Adcock, 73, is among the Big 12's best returning offensive linemen.
1. Oklahoma State:
This is a no-brainer. The Cowboys broke in four new starters last season, but became a big reason why OSU's offense was one of college football's best. Despite throwing 532 passes, third-most in the Big 12, the group surrendered just 10 sacks. All five starters return, too. Running back Kendall Hunter also rushed for more than 1,500 yards. Right tackle Levy Adcock headlines the unit as the league's best overall lineman.
2. Baylor:
The Bears might be a bit of a surprise here, but Baylor's strong skill-position talents wouldn't look nearly as good without this group, which lost a first-round pick at left tackle in Danny Watkins. However, Philip Blake is one of the league's best centers and four starters return from a line that helped Baylor finish second in the Big 12 last season in yards per carry, just behind Nebraska but nearly a half-yard more than Oklahoma State, the third-place team.
3. Missouri:
The Tigers suffered a big loss in center Tim Barnes, a three-year starter and the offensive line's leader, but they return four starters from last season line and have the most career starts on the line of any team in the Big 12, with 105, which ranks 11th nationally.
4. Texas A&M:
A&M's rising sophomore tackles, Luke Joeckel and Jake Matthews, had to learn on the go last season, but their development should be fun to watch this season on an offensive line blocking for the Big 12's best overall collection of skill-position talents. The line returns four starters, replacing only center Matt Allen.
5. Oklahoma:
The Sooners' goal-line problems last season cost them a game at Texas A&M, but this line was very solid the rest of the season and has plenty of upside. Likely starter Jarvis Jones won't be available until perhaps October, so the Sooners will turn to touted redshirt freshman Daryl Williams at right tackle in the interim. Center Ben Habern and tackle Tyler Evans add a lot of experience.
6. Texas Tech:
Tech boasts one of the Big 12's best guards in Lonnie Edwards, but don't be surprised if Mickey Okafor grabs the Big 12's first-team spot at right tackle by season's end. The Red Raiders return all five starters, and will have to play well to support new faces at every skill position on offense.
7. Kansas:
Four of the Jayhawks' starters are juniors and another is a senior, and for all of KU's struggles last season, it did have some success running the ball in spots, even though its 1,615 total rush yards were the fewest in the Big 12.
James Sims
(742 yards, 9 TDs) returns and KU adds a possible home-run threat in Darrian Miller, but the offensive line returns 97 total starts, 15th-most in college football and second-most in the Big 12. That has to pay off eventually, if not this season.
8. Iowa State:
The Cyclones boast the league's best left tackle, Kelechi Osemele, but center Ben Lamaak is gone and ISU might turn to redshirt freshman Tom Farniok as his replacement. Brayden Burris is solid at right tackle, but sophomore Ethan Tuftee, who has very little experience (just five appearances total), enters fall camp as the starter at right guard.
9. Texas:
No, I don't know how this happens. But it's hard to deny. Run blocking has been a struggle for Texas, and new position coach Stacy Searels will have to change that for the Longhorns, who have kept quiet about any real depth-chart developments throughout the spring and into fall camp. Tray Allen's health is a concern, but Mason Walters played well in 2010 and David Snow has a lot of experience at center with 19 starts and 39 appearances. If this group can't ascend in these rankings during the season, Texas' turnaround from last season 5-7 campaign will not happen. Texas, though, has the fewest career starts in the Big 12, with 36, which ranks 105th nationally.
10. Kansas State:
Kansas State has had the Big 12's leading rusher the past two seasons, but he's gone and so are three offensive linemen, including the unit's best blocker, guard Zach Kendall. Center Wade Weibert and guard Kenneth Mayfield also are gone, leaving gaps in the interior. Senior Zach Hanson joins Manese Foketi and Clyde Aufner on a unit that returns just 42 career starts, second-fewest in the Big 12 and 97th-most in college football.