NCF Nation:

Phillip Price
January, 4, 2012
1/04/12
9:59
PM ET
MIAMI -- Clemson left tackle Phillip Price is out of the game with a knee injury and won't return, according to an announcement here in the press box. Price is a redshirt senior. Brandon Thomas, a redshirt sophomore, is his backup.
December, 1, 2011
12/01/11
10:15
AM ET
There's only one game to watch in the ACC this week, but there are plenty of storylines within the game. Here's a closer look at what to keep an eye on during the Dr Pepper ACC championship game on Saturday night:
1. The quarterbacks.
They have been the focus leading up to this game, and they will be the difference-makers in the outcome of it. Clemson's
Tajh Boyd
has struggled recently, throwing four touchdowns and seven interceptions since the eight-game winning streak ended, and Virginia Tech's
Logan Thomas
has accounted for 23 touchdowns and just two turnovers since the Hokies last lost to Clemson.
[+] Enlarge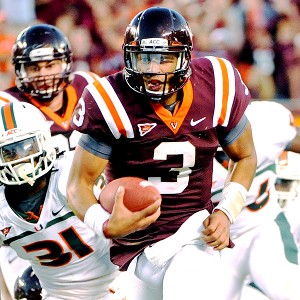 AP Photo/Don PetersenLogan Thomas' performance helped vault the Hokies back into the Coastal Division race.
2. Third downs.
Clemson's defense hasn't been stellar this year, but it's been stingy on third downs. The Tigers are No. 1 in the ACC and No. 9 in the FBS in third-down defense, holding opponents to 31.52 percent. Virginia Tech, however, has converted 46.55 percent of its third downs this season, good for third in the ACC and No. 22 in the country. The last time these teams played, Virginia Tech was just 4-of-16 on third downs.
3. Clemson's pass protection.
The Tigers have allowed 11 sacks in the past two games, and Virginia Tech is No. 8 in the country and leads the ACC with 3.08 sacks per game. The absence of veteran left tackle Phillip Price, who has been out with an injury, hasn't helped, and his status is still in question for Saturday. Boyd was sacked five times last week in the loss to South Carolina.
4. Turnovers.
They have been an issue for Clemson over the past four weeks, with 12 in four games. It wasn't the reason the Tigers lost to South Carolina, but they were major factors in the losses to NC State (four) and Georgia Tech (four). Virginia Tech enters the game leading the country in turnover margin. The Tigers were plus-nine in turnover margin in the season's first eight games and minus-10 in the next four.
5. The all-purpose stars.
This game will feature two of the nation's top five leaders in all-purpose yardage in Virginia Tech's Wilson and Clemson receiver
Sammy Watkins
. Watkins averages 174.55 yards per game to rank fourth in the nation, while Wilson is fifth at 173.58 yards per game. Watkins has 1,920 yards rushing/receiving and in kick returns in 11 games. He missed the NC State game due to injury. Wilson has 2,083 yards in 12 games for his 173.58 average. Both have a higher all-purpose average than Alabama Heisman candidate
Trent Richardson
, who averages 164.67 yards per game.
November, 29, 2011
11/29/11
9:00
AM ET
The Clemson team that will face Virginia Tech on Saturday in the Dr Pepper ACC championship game is not the same Clemson team that beat the Hokies 23-3 earlier this year.
That Clemson team was ranked No. 13 in the country and undefeated.
This
Clemson team is ranked No. 20 and has lost three of its past four.
"I feel like ever since obviously Virginia Tech's only loss, ever since that game they've been -- the sky's the limit for them they've been doing nothing but great things," said Clemson offensive lineman Landon Walker. "Every game they've played their offense has just gotten better every game.
[+] Enlarge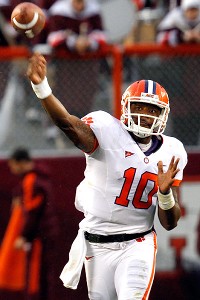 AP Photo/Steve HelberClemson needs Tajh Boyd to return to his early-season form if it hopes to knock off Virginia Tech.
"And it seems like we were going that way until about three weeks ago. Georgia Tech kind of was a downfall for us. We didn't play as good as we wanted to at Wake and obviously NC State and South Carolina. We haven't been ourselves the last three, four weeks."
There is only one game left for Clemson to determine which team it wants to be, and it's no mystery where the Tigers have come unraveled in the past month. It started with turnovers, as Clemson had 11 during a three-game span against Georgia Tech, Wake Forest and NC State. Turnovers, though, didn't entirely explain the program's third straight loss to rival South Carolina. Pass protection was a bigger factor, as quarterback
Tajh Boyd
was sacked five times. Three of those were the fault of the offensive line, which has allowed 11 sacks in two games and struggled without injured starter and senior left tackle Phillip Price, whose status is still questionable for Saturday.
"We're missing some plays, we're not protecting quite as well, and there's a combination of things, got a few guys that aren't playing quite as well as maybe they played earlier in the season," coach Dabo Swinney said. "But big-picture wise, again, we certainly didn't finish the way we wanted to, but we did finish with the second-best record in this league, and we're 9-3, and we've earned the right to play for the league title, and that's what we're focusing on, these four quarters."
Clemson's most complete performance of the season remains its 23-3 win over Virginia Tech on Oct. 1. The defense hasn't come anywhere near that kind of domination since, allowing an average of 35.5 points per game over the past six games. The only time one of Clemson's opponents hasn't scored more than 30 points during that span was in the win over Wake Forest, which lost 31-28 on a last-second field goal. The defense has also allowed an average of 420.3 total yards and 246 rushing yards in the three losses.
The focus, though, has been on Boyd, who earlier in the season had played his way into the Heisman Trophy conversation. Through the first eight games, Boyd had 24 touchdowns and three interceptions and the Tigers were undefeated. Since the win over North Carolina on Oct. 22 -- the last of the eight-game winning streak --Boyd has four touchdown passes to seven interceptions.
"I would say he's not playing with the confidence that he was at that time," Swinney said. "I think just the pressure and the sacks, quarterback pressure and the sacks, have been a problem, and then the turnovers. You know, all of those things affect especially a young player. He's a first-year starter and everything was going perfect for him, and then all of a sudden he's had some mistakes, and he's got to fight his way through it. That's his part of the growing pains of having a young quarterback. It's disappointing, but we've got to do a good job this week of making sure we give him a chance and make sure our protection is shored up."
That's not going to be easy against a Virginia Tech defense that is No. 8 in the country with 3.08 sacks per game.
Clemson has a lot of work to do if it's going to beat Virginia Tech twice this year, but if it does, the mistakes of the past four weeks will be overshadowed by the program's first ACC title since 1991.
"One of our goals was to win the state championship and beating South Carolina," tight end
Dwayne Allen
said. "But a bigger one, one that comes after that, is to win the ACC championship. And winning the championships, which is something that hasn't been done here in over 20 years, will wipe away the aches that we've been having with the taste of defeat the past couple of weeks."
There's only one championship left to win.