NCF Nation:

pittsburgh spring
April, 28, 2010
4/28/10
4:02
PM ET
PITTSBURGH -- There are a few former standout high school basketball players on Pitt's football team, including defensive end Greg Romeus and receivers
Mike Shanahan
and
Greg Cross
.
So I asked
Jonathan Baldwin
, himself a former star on the hardwood, who would win a one-on-one tournament among the Panthers. Calmly and without any show of arrogance, Baldwin replied simply, "I would win."
[+] Enlarge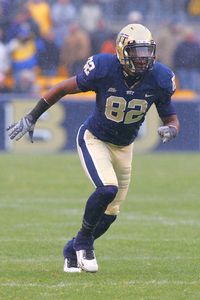 Charles LeClaire/Getty ImagesJonathan Baldwin caught 57 passes for 1,111 yards and eight touchdowns last season.
That's the thing about Pitt's junior wideout. He's got a quiet confidence about himself and his abilities, and who could blame him for that?
At 6-foot-5 with great hands and a 40-plus-inch vertical, Baldwin is as gifted as any receiver in the country. And now that he's grown comfortable in doing everything a receiver must do, there appears to be little that can stop him.
"He's unique in his physical skills," Pitt coach Dave Wannstedt said. "He'll play a long time on Sundays. He makes a catch almost every day in practice that you just don't see very often."
Todd McShay, the director of scouting for ESPN's Scouts Inc., recently released his top offensive and defensive prospects for the 2011 draft. He ranked
Baldwin as No. 9
among offensive guys. Baldwin will enter the season as a leading Biletnikoff Award candidate, perhaps joining the tradition of superstar Pitt receivers like Antonio Bryant and Larry Fitzgerald.
Not that Baldwin thinks about much of that stuff.
"I'm doing the best I can, and that's all I really can say," he said. "If I work hard, all that stuff will take care of itself."
Sometimes, players with tremendous physical gifts aren't given credit for their hard work, as fans assume the natural talent does the job on its own. But quarterback
Tino Sunseri
says that's not an assumption you should make about Baldwin.
"People don't realize what a hard worker JB is," Sunseri said. "They see the great plays, but they don't understand he's in here every morning working on all that stuff, the over-shoulder catches and one-hand grabs."
Baldwin has steadily improved over his career. As a true freshman, he almost solely ran fly routes and post patterns as a deep threat. It was a job he did well, averaging 22.4 yards per catch. But he vowed to become a more complete receiver as a sophomore and worked at getting better on all the routes.
The result was a 1,111-yard season with eight touchdowns. Only two receivers in the country last year topped 1,000 yards while averaging more than Baldwin's 19.5 yards per catch. So what's next for Baldwin?
"My goal this year is to get better at my yards after catch," he said. "I want to run my routes crisper. And destroy defenders when I block them."
Other teams will certainly game plan around him, but if they roll coverage to him, that opens up things for other receivers like Shanahan. That's what happened in the Meineke Car Care Bowl, when Baldwin was held to just three catches for 31 yards, but Shanahan grabbed five passes for 83 yards.
"Pick your poison," Baldwin said. "Do you want to get beat my Mike or do you want to get beat by me?"
Trying to cover Baldwin with just a cornerback is asking for trouble, especially in the Big East where most corners are going to surrender at least five or six inches to him. And he's so big that it's hard to jam him at the line.
"On film, it doesn't look like I'm as fast as I am because my legs are so long," he says. "If you try to do that stuff, I'll beat the press and run right by you."
There's that self-confidence again, but it's delivered in a calm, quiet way. And why wouldn't Jonathan Baldwin be confident in himself?
April, 26, 2010
4/26/10
4:28
PM ET
PITTSBURGH --
Ray Graham
heard the question from fans around town and even via text messages from friends.
"When are you going to leave and go somewhere else?" they'd ask.
[+] Enlarge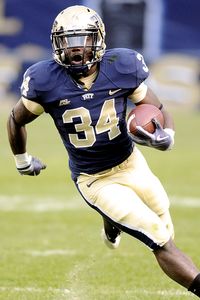 Jeanine Leech/Icon SMIRay Graham rushed for 349 yards on 61 attempts as a Pitt freshman.
It was a logical query. After all, Graham came to Pitt as heralded tailback recruit last summer, only to discover that a superstar from his own class had beat him to the punch.
Dion Lewis
, who enrolled during the winter while Graham was still in high school, ran for 1,799 yards as a freshman to win the Big East offensive player of the year award. Lewis carried 325 times in 2009, compared to just 61 attempts for Graham. So why wouldn't Graham want to transfer somewhere else?
The thing is, no one who was close to Graham had to ask him that question.
"Leaving never crossed my mind," he said. "I'm a competitor, and I just feel my chance is going to come."
While it's foolish to suggest that Graham will beat out Lewis as the Panthers' top ballcarrier, it would be similarly unwise to underestimate Graham's potential role in this year's offense. The Elizabeth, N.J., native turned heads this spring with his big-play ability. Pitt wants to find a way to use both runners.
"I think we've got a good 1-2 punch," head coach Dave Wannstedt said.
Graham actually averaged more yards per carry than Lewis (5.7 to 5.5), but he found himself far behind his classmate in both conditioning and understanding of the offense. Wannstedt said there were many times last year when the coaches would have liked to give Lewis a break and put Graham in the game, but they didn't want to risk putting the less advanced guy on the field in a close contest.
Now, though, Graham has had a full offseason to digest the playbook and work on his technique. He's also bulked up considerably, going from 170 pounds when he reported to campus to a sturdy 194 this spring.
"I'm not second-guessing myself now," he said. "When I hear the call on a play, I'm like, 'OK, I know that. I know my reads.' And now, I can run through people to get where I'm going."
Where Lewis excels in bouncing off tackles, Graham is more of a home-run threat with a great stutter step who thrives in open space. Picture them both in the backfield at the same time. Then picture a nervous defense.
"Teams can't just focus on one type of running back because we're both different kinds of runners," Lewis said. "That's going to help us out a lot."
There's no question who the No. 1 tailback is, but Graham is staying patient for his turn in that role. It could happen as soon as next year, since Lewis will be eligible to enter the 2011 draft because he attended prep school. Wannstedt has told him to have faith, because his time will come.
The Panthers don't have to worry, though, about Graham going somewhere else.
"I'm here to stay," he said. "Pitt is like my family."
April, 20, 2010
4/20/10
9:00
AM ET
PITTSBURGH -- Greg Romeus hadn't watched any film from Pittsburgh's 45-44 loss to Cincinnati in last year's regular-season finale until earlier this month. Throwing the tape on almost made him throw up.
"It was disgusting," he said.
Dion Lewis
has viewed the game a couple of times and says it makes him "sick to my stomach."
[+] Enlarge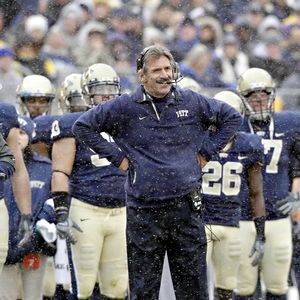 AP Photo/Keith SrakocicDave Wannstedt and his Pitt Panthers were stunned by last season's 45-44 loss to Cincinnati.
The nausea from that defeat lingers for the Panthers, who let a three-touchdown first-half lead and a 14-point fourth-quarter edge evaporate against the Bearcats. A missed extra point and a touchdown pass by
Tony Pike
to
Armon Binns
in the final minute decided the Big East title.
"It's hard just to think about it," Pitt senior left tackle Jason Pinkston said. "We're up 21 points, and then there's a bad play by the offense here and a bad play by the defense there and the next thing you know it's 45-44 and we're like, 'What the heck just happened?' We should have been in the Sugar Bowl."
Actually, Pittsburgh could have won the last the two Big East titles. The Panthers have arguably had the most overall talent in the league, but they couldn't beat Cincinnati either year.
The program has steadily climbed under Dave Wannstedt, reaching the Top 10 last November, winning 10 games for the first time in more than a quarter of a century and beating North Carolina in the Meineke Car Care Bowl. But the Meineke Car Care Bowl is a long way from the BCS. And with the Bearcats going through a coaching change this season, the timing couldn't be better for a breakthrough year.
"We're a team that expects to win the Big East," quarterback
Tino Sunseri
said. "We know what it's like to see Cincinnati celebrating on our field. We understand how close we've been and what we need to do to go the extra step."
There aren't many excuses for Pitt this year. Lewis, the Big East's reigning offensive MVP and rookie of the year, returns after running for 1,799 yards and 17 touchdowns as a freshman. Romeus, the Big East's co-defensive MVP last year, decided to wait on the NFL draft and come back for his senior year.
Jonathan Baldwin
, a 6-foot-5 athletic freak who had 1,111 yards receiving last year, should challenge for the Biletnikoff Award this season.
"If you look all around the country, you can't think of too many teams that last year had a receiver go over 1,000 yards and a running back go over 1,700 yards," Baldwin said. "Teams don't know what to expect, whether we're going to pound the ball down your throat or throw it."
The spring raised questions about the interior offensive line, tight end and cornerback, and Sunseri will try to replace fifth-year senior
Bill Stull
under center. A difficult nonconference schedule awaits, including a trip to Utah for the opener and games against Miami and Notre Dame.
But Wannstedt has recruited scores of athletes and boasts depth and skill all over the roster. One thing he knows: this team is hungry to get over the hump. Wannstedt hasn't even had to mention the Cincinnati game during the offseason.
"Those experiences are something you can't talk about or read out of a magazine," he said. "I think guys have got to feel that. Our guys have, and they know that we're capable. If we don't [win the Big East], it won't be for a lack of focus or a lack of want to. I just hope we can come along at some positions and be good enough."
Until that happens, the nausea won't go away.
"Nobody on this team is going to forget," Lewis said. "It's going to eat away at people until we win a Big East championship."