NCF Nation:

Poinsettia Bowl-2012
December, 20, 2012
12/20/12
11:21
PM ET
BYU beat San Diego State
23-6
in the offensively challenged San Diego County Credit Union Poinsettia Bowl on Thursday night. Here is a quick rundown of how it happened:


It was over when:
The BYU defense took the scoring into its own hands. The Cougars and Aztecs slogged it out for three quarters, combining for three field goals. The turning point came early in the fourth quarter, when BYU scored 20 points off San Diego State turnovers. It all started when monster BYU linebacker
Kyle Van Noy
rushed quarterback
Adam Dingwell
in the end zone, forcing a fumble and recovering it for a touchdown. The Cougars recovered another fumble by Dingwell on San Diego State's next possession, and
Jamaal Williams
scored on a 14-yard run. Van Noy later returned an interception for a score. So BYU got a 20-point swing thanks to three takeaways from its exceptional defense, ranked No. 3 in the nation headed into the game.
Game ball goes to:
Van Noy. What more can we say about Van Noy, who has been an absolute force the entire season? He added to his school record with his sixth forced fumble of the season -- the turning-point play in the game. Not only that, he also had a blocked punt earlier in the contest, and iced everything with his pick-six. BYU had only one defensive score all year headed into the game. Van Noy is thinking about leaving school early for the NFL draft. If he does, his final performance will be one to remember.
Stat of the game:
2. Van Noy scored more touchdowns than anybody on the field. Yes, you read that right. The most valuable defensive player was the most valuable offensive player, too. And BYU needed every bit of his offense, considering how badly Cougars quarterback
James Lark
and his teammates struggled to generate much of anything. BYU, a program that has developed one elite quarterback after another, has had major problems at the position for three consecutive seasons. It's head-scratching to say the least.
December, 20, 2012
12/20/12
11:00
AM ET
Three things to watch in today's San Diego County Credit Union Poinsettia Bowl between San Diego State and BYU:
1. The BYU starting quarterback is ...
Coach Bronco Mendenhall has been coy all week about who will start this game:
James Lark
or
Riley Nelson
. Mendenhall said Nelson is questionable for the game as he recovers from a rib injury sustained against San Jose State. Lark started the season finale against New Mexico State, throwing for 384 yards and six touchdowns in a 50-14 win. Lark has gotten more reps during bowl practices, and Mendenhall has not ruled out the possibility of using both quarterbacks in the game. Stay tuned.
2. Keep an eye on Kyle Van Noy.
San Diego State must be aware of the standout BYU linebacker at all times because he is a disruptive force on what has been an excellent defense. Van Noy leads the Cougars with 11.5 sacks and 18.5 tackles for loss, and he set a school record with five forced fumbles. If the Aztecs hope to have any success running the football against this stingy defense, they are going to have to get Van Noy blocked and keep him out of the backfield. One other note: Van Noy also plays on special teams and has a blocked punt this season.
3. Streaks.
San Diego State is in the middle of an unprecedented run of success, making a bowl game for the third straight year. That is the longest streak in school history. There are plenty of other streaks on the line in this game, as well: San Diego State is aiming for a 10-win season for the first time since 1977. The Aztecs are also hoping to win their eighth straight game. The last time the Aztecs won eight straight games in a single season was 1975. San Diego State also is hoping for its first win over BYU since Oct. 1, 2005, a losing streak that spans five games.
December, 20, 2012
12/20/12
10:30
AM ET
San Diego State (9-3, 7-1 Mountain West) vs. BYU (7-5)


WHO TO WATCH:
Defensive end
Ezekiel Ansah
. There is probably nobody rising faster and higher on NFL draft boards than Ansah, a revelation for the Cougars this season. He has only lived in the United States for a few years, leaving his native Ghana with the hope of playing basketball for BYU. But he was cut twice after tryouts and then found his way to football. Ansah began the season on the bench and only became a starter in Week 5. But when he did, he showed what a force he can be -- and now, Scouts Inc. lists Ansah as the No. 19 player available for the draft.
WHAT TO WATCH:
San Diego State's run game versus BYU's defense. The Aztecs have had plenty of success running the ball this season behind
Adam Muema
, who has 1,355 yards rushing and 16 touchdowns. But the Cougars have been outstanding all season on defense -- ranking No. 3 in the nation in total defense and No. 2 in rushing defense. BYU allowed five rushing touchdowns all season and just 2.71 yards a carry, so this matchup will be one of the biggest keys to the game.
WHY TO WATCH:
These teams have a bit of history between them, as former conference rivals. BYU holds a 27-7-1 edge in the series and won the last time the teams played in 2010. Also, BYU coach Bronco Mendenhall and San Diego State coach Rocky Long coached together at two programs. Mendenhall served as defensive coordinator when Long was head coach at New Mexico from 1998-2002. He also worked with Long at Oregon State in 1995 as a defensive line coach when Long was the Beavers' defensive coordinator.
PREDICTION:
BYU 20, San Diego State 17.
December, 20, 2012
12/20/12
9:00
AM ET
SAN DIEGO, Calif. -- When the BYU Cougars declared their independence and left the Mountain West Conference following the 2010 season, it ended a conference association with San Diego State that began in 1978. Now fate -- and bowl tie-ins -- have reunited the teams when they meet tonight in the Battle of Coolest Coaches First Names Bowl (Rocky and Bronco), also known as the San Diego County Credit Union Poinsettia Bowl.
In the decades these teams squared off in the WAC and Mountain West, more often than not the Cougars walked away victorious. They owned a 27-7-1 record against SDSU, and that left the folks on Montezuma Mesa feeling a bit, well, emasculated over the years. As a result, a bitter rivalry was forged -- even if it was only recognized by the Aztecs.
"It seems like a lot of teams and programs view us as a rival," said BYU coach Bronco Mendenhall. "I think that stems from the old WAC and Mountain West, the more history there is, and especially with as a strong of a tradition that BYU has, if you've had a lot of success then you become the team to beat or the team that's disliked. I think coach [LaVell] Edwards did a great job of having an excellent program and BYU is viewed as that wherever you go."
Which is a polite way of saying the Cougars saw San Diego State the same way they saw Wyoming, Colorado State, New Mexico and every other conference opponent. BYU has one rival, and it plays in the Pac-12.
[+] Enlarge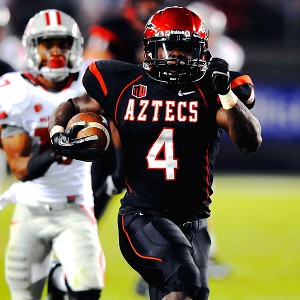 Christopher Hanewinckel/USA TODAY SportsSan Diego State's Adam Muema, averaging 6.4 yards per carry, faces a BYU defense allowing 2.7.
As for rekindling that "rivalry" tonight, Aztecs head coach Rocky Long isn't going to dig deep into his bag of motivation. Because the truth is, what's the point of trying to motivate players for a phantom rivalry?
"It would just be wasted talk for me to explain it to them," said Long, whose team enters the contest riding a seven-game win streak. "It doesn't mean a darn thing. And I don't think either team feels the rivalry. A rivalry was built up with BYU and everybody else because BYU was so good and so dominant. I think at San Diego State and my former university (New Mexico), those fans always felt there was a rivalry. I bet if you ask Bronco, there is one rivalry in BYU's vocabulary and that's Utah."
That's not to say the two programs didn't share some memorable moments during their three-plus decades as conference opponents. There was the greatest/worst tie ever (depending which colors you wear) in 1991, when Ty Detmer tossed six touchdowns and threw for 599 yards in helping BYU erase a 45-17 deficit. The teams tied 52-52, which gave BYU the WAC crown.
In their final Mountain West meeting in 2010, a potentially game-changing fumble wasn't overturned by replay officials -- and it was later revealed that two members of the instant-replay team in Provo were BYU alums and one was a paid school employee. While it was ultimately ruled as a technical error, it ignited both fan bases and prompted the Mountain West to change its policies regarding alumni in the replay booth.
It didn't help either that during basketball season, San Diego State's student section, "The Show," wore white dress shirts and bike helmets whenever BYU would come to town.
But none of that matters. Two years removed from being conference foes, it's ancient history.
"These guys don't remember it, nor do they really care," Mendenhall said. "And until you mentioned it, I didn't remember it. There is so much that goes into every year. There are certain folks that have an exceedingly vibrant passion for looking for something to invest their energy and emphasis in and those are the ones who keep it alive.
"I think any time there is time before games or extra time before games, to build intrigue, anything can be viewed as to add some more value or slant as to why this particular game has significance. It's really just two good teams playing as hard as they can. In terms of anything rivalry-wise, that's certainly not viewed from our perspective. We're just preparing for a really good team."
So that leads us to the real storyline in this game: SDSU's running attack versus BYU's staunch defense. The Aztecs (9-3, 7-1 MWC), playing in a third consecutive bowl game for the first time in school history, are paced by running back
Adam Muema
. He's a top-20 runner nationally with 1,355 yards and 16 touchdowns while averaging 6.4 yards per carry. He faces a BYU squad that ranks third nationally in total defense, fifth in scoring defense and second against the run. The Cougars (7-5 as independents) pushed Boise State and Notre Dame to the brink (worth noting that SDSU beat Boise) and they topped Utah State, which finished the season 11-2 and ranked 22nd.
Long and Mendenhall also have a history. Mendenhall was Long's defensive coordinator for four seasons at New Mexico and the two remain good friends. But like the imaginary rivalry, we shouldn't read too much into that, either.
"All the other stuff doesn't mean a thing," Long said. "Bronco isn't going to catch any passes. I'm not going to carry the ball. It's going to come down to the only people who matter. And that's the players on the field. We're glad the fans are into it. But the combatants, they are just going to go out and play football."
December, 2, 2012
12/02/12
10:03
PM ET
BYU Cougars (7-5) vs. San Diego State Aztecs (9-3)
Dec. 20, 8 p.m. ET, San Diego (ESPN)


BYU take from Big East blogger Matt Fortuna:
Defense has carried the Cougars throughout this 7-5 season, bringing the program to a Dec. 20 matchup with San Diego State in the San Diego County Credit Union Poinsettia Bowl. BYU boasts the nation's No. 3 overall defense (266.33 yards per game) and No. 5 scoring defense (14.67 ppg).
Cody Hoffman
leads the way offensively for a team that put up 40 or more points in three of its final four games. The receiver has 90 catches for 1,134 yards and 11 touchdowns, nearly half of those scores coming in his five-touchdown, 182-yard performance in a regular-season ending win at New Mexico State.
BYU came within an errant fourth-quarter pass of upsetting No. 1 Notre Dame on Oct. 20, falling by three. The Cougars have won three of four since.
---

San Diego State take from Pac-12 blogger Kevin Gemmell:
The Aztecs are enjoying one of the best seasons in school history -- locking up a piece of the Mountain West title for the first time since joining the league. Signature wins on the road at Nevada and Boise State brought them into the Top 25 conversation.
After a 2-3 start, the Aztecs have won seven straight and backup quarterback
Adam Dingwell
, who replaced
Ryan Katz
midway through the year after an injury knocked him out for the season, has guided SDSU to four of those wins (including the Boise State upset).
Adam Muema
has emerged as one of the nation's top rushers with 1,355 yards and 16 touchdowns. Not too bad for a team that lost its quarterback, running back and best defensive player to the NFL from a season ago. There's no love lost either between longtime rivals SDSU and BYU. This is a dream matchup for the Poinsettia Bowl.