NCF Nation:

Polo Manukainiu
August, 31, 2013
8/31/13
8:52
PM ET
COLLEGE STATION, Texas -- There are several reasons Texas A&M was so highly thought of and had lofty expectations coming into the 2013 season.
The No. 7 Aggies, who were ranked in the top 10 of both preseason polls (they were No. 6 in the coaches' poll), returned a Heisman Trophy-winning quarterback, a plethora of running backs and an All-America caliber tackle, and play a style of offense that many SEC teams -- defending champion Alabama included -- find hard to defend.
And while there were several positives to take away from Texas A&M's season-opening 52-31 win over Rice on Saturday at Kyle Field, the win also illustrated that the Aggies still have a long way to go in several areas if they plan on fulfilling championship expectations.
[+] Enlarge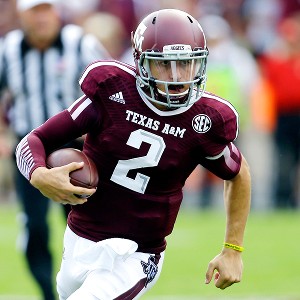 AP Photo/Eric GayThe good news is Johnny Manziel looked like his Heisman Trophy winning self once he got in the game. The bad news is the Aggies look like they still have lots of work to do if they want to win titles.
One of those areas is maturity. Head coach Kevin Sumlin discussed that after the game, and while he was specifically addressing it in relation to the ejection of freshman defensive end
Daeshon Hall
and the unsportsmanlike conduct penalty drawn by quarterback
Johnny Manziel
after a touchdown pass, Sumlin's words can apply across the board.
The Aggies had eight players miss at least the first half of Saturday's game. Four were suspended for "violating Texas A&M athletics department rules and regulations." Three were suspended after offseason arrests and Manziel was suspended for the first half after "inadvertent violations" that occurred as a result of signing autographs after the conclusion of an NCAA investigation.
That was also part of Manziel's message, according to Sumlin, to his teammates when he addressed them on Friday as part of the requirements of restoring his eligibility.
"Actions just like today and just like other guys on this team, those actions may be actions that you think just hurt you, but they end up hurting the whole football team," Sumlin said. "That was the real gist of [Manziel's] message to the team. That everybody's individual acts affect the team. When that happens, it's not good."
Of the suspended players, five were defensive starters (defensive tackle
Kirby Ennis
, cornerbacks
Deshazor Everett
and
De'Vante Harris
, linebacker
Steven Jenkins
and defensive end
Gavin Stansbury
). Another, Floyd Raven, is a key player expected to contribute this fall and was one time projected to start at free safety before
Clay Honeycutt
wound up first on the depth chart after a strong training camp.
As a result, the Aggies' defense was filled with true freshmen and newcomers getting significant playing time on Saturday and ended up surrendering 509 total offensive yards. Now, Rice is a good team in Conference USA that could contend for the league title, but it's not nearly the caliber of opponent Texas A&M will see on its SEC schedule. The Owls ran for a whopping 306 yards -- six yards a carry -- and appeared able to run right at the Aggies' defense.
The Aggies struggled with missed tackles and missed assignments, which are to be expected when you have a significant number of 18- and 19-year-olds on the field.
"We played 20 guys out there that had never played before," Sumlin said. "Is that an excuse for our play? No. I think we learned from today."
The Aggies regain the services of Ennis and Raven next week, though Everett will again have to sit out a half, by rule, because he was ejected in the second half after being called for a targeting penalty. The other four suspended -- Jenkins, Harris, Stansbury and receiver
Edward Pope
-- won't return until Sept. 14 when the Aggies host No. 1 Alabama.
But there were plenty of positives to be seen as well, most notably in the win column. Backup quarterback
Matt Joeckel
showed he was capable of moving the offense, leading the Aggies to 28 first-half points while putting up more than respectable numbers (14-of-19 passing, 190 yards). Joeckel's lone touchdown pass was a 71-yard catch-and-run completion to an apparent star in the making, 6-foot-5, 240-pound true freshman receiver
Ricky Seals-Jones
.
Players who are considered to be among the team's leaders, running back
Ben Malena
(100 total offensive yards, two touchdowns) and
Mike Evans
(84 receiving yards, two touchdowns) played their roles aptly. The kicking game was consistent as
Taylor Bertolet
was perfect on all his kick attempts, something he struggled with last season. And as Sumlin noted, the positive to having so many young players on the field on defense means they'll have a chance to learn from their mistakes and develop. Though there were struggles, they came up with turnovers and still did enough to win.
Most importantly, the Aggies got their quarterback, Manziel, back on the field in the second half and he looked like the player who captivated the nation a season ago. He was 6-of-8 passing for 94 yards with three touchdown passes and showed his trademark scrambling ability, though Rice did a solid job of keeping him from running too wild.
This is a team that has encountered a lot this offseason. From the headlines Manziel made and the NCAA investigation, to the suspensions and most importantly, the death of a teammate --
Polo Manukainiu
-- the Aggies have already dealt with their fair share of adversity.
The Aggies honored Manukainiu on Saturday by wearing decals with his number, first name and a Tongan-inspired design on their helmets and electing sophomore defensive tackle
Alonzo Williams
to wear Maunkainiu's No. 90. The team will elect a different defensive lineman to do so each week as a nod to Manukainiu and his family that he is "still out there with us," senior defensive back
Toney Hurd Jr
. said.
This team has lofty goals. Hurd mentioned Saturday the team would wear the Manukainiu decal "each and every week, leading [up] to the national championship." If they plan to get there, they have a lot of work still to do.
August, 29, 2013
8/29/13
12:00
PM ET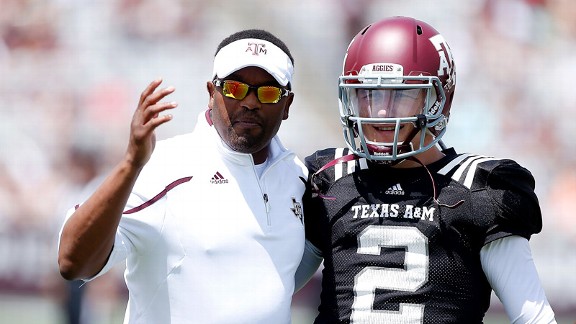 Scott Halleran/Getty ImagesIt's been a long offseason for Texas A&M, with Johnny Manziel's eligibility status and the death of Polo Manukainiu, so Kevin Sumlin and Co. can't wait to get back to playing football.
COLLEGE STATION, Texas — Since joining the SEC, Texas A&M football has been building.
Take one walk in front of the Bright Football Complex and evidence is everywhere. While you can hear the echo of quarterbacks barking commands, coaches making critiques and whistles blowing, those familar sounds are sometimes overshadowed by the sound of moving construction vehicle or the engine of an 18-wheeler.
Last year, it was a 20,000-square foot, $9 million football-only weight room. This year, it's a $4 million expansion of the Bright Complex's lobby and the addition of $12 million nutrition center where athletes can dine. Over the next two years, Texas A&M will renovate Kyle Field to the tune of $450 million.
On the field the Aggies are building for what they hope is a special season. With a preseason top-10 ranking, a Heisman Trophy winner returning at quarterback, a handful of returning starters in key spots and a plethora of talented newcomers added to a squad that was 11-2 in its first SEC campaign, hopes have been high for the Aggies this offseason.
When news came to light about an NCAA investigation into allegations that
Johnny Manziel
profited from signing autographs for brokers, dreams of that historic season required a brief pause. With his eligibility in question, it was uncertain how much field time -- if any -- he would miss. If he missed too much, the Aggies' hopes of an SEC West title, an SEC title, and perhaps even a BCS title, would likely be dashed.
But Wednesday the saga was resolved. The NCAA and Texas A&M released a joint statement indicating that Manziel has a few things to do to restore eligibility, including serve a suspension in the first half of Saturday's season opener against Rice.
What that means for the Aggies is that fans can go back to dreaming about what could be. Since the redshirt sophomore quarterback won't have to miss an extended period of time, he'll be on the field when the Aggies host No. 1 Alabama in a Sept. 14 showdown and every game thereafter as the Aggies attempt to do something they haven't since the last century: win a conference championship, and perhaps a national championship.
August, 10, 2013
8/10/13
8:00
AM ET
COLLEGE STATION, Texas -- Just days before the start of preseason training camp, the Texas A&M defensive linemen gathered at the home of position coach Terry Price for one of his signature backyard cookouts.
Price, a former Texas A&M defensive lineman himself, considers his group a family. So when the steaks and ribs hit the grill and his linemen gather, it's often a happy, joyous occasion.
The latest such reunion was missing one family member:
Polo Manukainiu
.
Manukainiu, a redshirt freshman defensive lineman for the Aggies, was one of three teenagers killed in a single car accident in northern New Mexico on the night of July 29. The crash also took the lives of Utah incoming freshman defensive tackle Gaius Vaenuku, 18, and 13-year-old Andrew Uhatafe.
Price's cookout, which took place just two days after Manukainiu's death, was a welcome occurrence as the Aggies mourned the loss of their teammate.
"I believe we needed to have that," sophomore defensive end
Julien Obioha
said Friday. "Come together as a family and celebrate [his life]. That's the one way we can always celebrate, is go over to Coach Price's house and eat some steaks. That's what we needed to do."
Today, the entire Texas A&M football team will turn its hearts and minds towards Manukainiu's family as the squad heads to the Church of Jesus Christ of Latter Day Saints in Colleyville, Texas for Manukainiu's funeral. Texas A&M head coach Kevin Sumlin plans to speak at the funeral.
On Friday, Sumlin welcomed Bill Johnston, the area director of the Brazos Valley chapter of the Fellowship of Christian Athletes and Mikado Hinson, the team chaplain at Houston where Sumlin coached previously, to speak to the team.
"[They talked] about reality, not ducking away from it but getting some things out in the open," Sumlin said. "It'll be an emotional situation for a lot of different people. For us to be able to deal with it openly as a team and to give support to each other and that family [today] is very, very important."
Teammates remember the 19-year-old Manukainiu as a hard-working young man of high character.
"He was a great guy, a very humble individual," senior defensive back
Toney Hurd
Jr. said Monday. "We were looking forward to him playing for us this year. It's extremely emotional going into camp but we'll dedicate our hard work and dedication to Polo throughout the season."
Defensive coordinator Mark Snyder joined the Aggies' staff around the time the Aggies began recruiting Manukainiu. He was rated as a four-star defensive tackle by ESPN and committed to Texas A&M on Jan. 29, 2012, following in the footsteps of a pair of relatives who also played at A&M, Semisi Heimuli (1996-99) and Lee Foliaki (2004-05).
"He's from a very strong family, a very tight family," Snyder said. "When I was in the home [for a recruiting visit], I had just got hired when we started recruiting Polo. I know how tight-knit they are and what a great kid he was. It's a little bit of a struggle [to cope with] to be honest with you."
Snyder remembers a pleasant Manukainiu.
"He always had a smile on his face," Snyder said. "Polo was a kid that liked to joke around quite a bit. He brought a smile to everybody's face....For a young guy, he brightened up a room when he walked in."
At 6-foot-5 and 275 pounds, Manukainiu was expected to be involved in the defensive line rotation after redshirting last season. He was a product of Texas high school powerhouse Euless (Texas) Trinity, the same school that Vaenuku attended.
"We talked [Friday] as a team about what time means to you and not taking time for granted," Sumlin said. "Everybody thinks that they have plenty of time. You never know."
Sumlin said it means a lot to be able to speak about Manukainiu at the funeral.
"For me to be able to talk and show our support to the family, to Polo's immediate family, is a big deal," Sumlin said. "He was a part of our family for a year-and-a-half but that's a son for 18, 19 years. For us to show our support, that's about all we can do at this point and it's a big deal for us to be there at that time."
Price said the last week and a half has been difficult for him and his defensive linemen.
"One thing I try to tell all of our guys, all of our group is that 'We're all a family,'" Price said. "Not only is the team a family, but the D-line group is a family. Any time you lose a family member, it hurts everybody. It's tough for everybody included, including myself, because I'm the leader of the group.
"We're all going to go up there together and try to help the family get through this tough, tough time and take part in the funeral. Then we'll come back and go back to work, but we're definitely going to miss Polo."
January, 31, 2012
1/31/12
9:00
AM ET
The big day is so, so close. National signing day will get started bright and early Wednesday morning, but it's time to take a look at where the Big 12 teams sit with one day left before players can officially sign.
This will change quickly in the next couple days, but here's how they look before things get real crazy. Here's
how the rankings looked two weeks ago, when we last updated the Big 12 scorecard.
This scorecard is written in pencil. Tomorrow, players will sign in ink.
1. Texas Longhorns
National ranking:
No. 3
Total commits:
27
ESPNU 150 commits:
11
Key commits
: RB
Johnathan Gray
, DT
Malcom Brown
, WR
Cayleb Jones
, QB
Connor Brewer
Latest news:
Texas recently added the nation's No. 1 inside linebacker, former Tennessee commit Dalton Santos. That may help its national ranking, which fell from No. 2 to No. 3 since our last update. The Longhorns also added No. 14 ATH Daje Johnson, a former TCU commit. Both were ESPNU 150 prospects. Texas also added defensive end Bryce Cottrell, who had previously been committed to Oregon.
2. Oklahoma Sooners
National ranking:
No. 10
Total commits:
20
ESPNU 150 commits:
5
Key commits:
RB
Alex Ross
, WR
Sterling Shepard
, WR Durron Neal, OL Ty Darlington, WR Trey Metoyer
Latest news:
Oklahoma surpassed Texas A&M since our last update, and added Sam Grant, the nation's No. 18 TE. David Smith, the nation's No. 124 ATH, also joined the fold for the Sooners. One of the nation's top juco offensive tackles, Will Latu also pledged to Oklahoma and could make an immediate impact. Oklahoma swiped Zack Sanchez on Monday, a cornerback who had been committed to Baylor since July.
3. Texas A&M Aggies
National ranking:
No. 12
Total commits:
22
ESPNU 150 commits:
5
Key commits:
OLB
Jordan Richmond
, RB
Trey Williams
, ATH
Bralon Addison
, QB
Matt Davis
Latest news:
The nation's No. 33 defensive end,
Polo Manukainiu
, became a late addition to the Aggies' class, and the nation's No. 30 safety, Edward Pope, also gave new coach Kevin Sumlin a commitment.
4. Texas Tech Red Raiders
National ranking:
No. 17
Total commits:
26
ESPNU 150 commits:
3
Key commits:
WR
Reginald Davis
, WR Dominique Wheeler, OT
Michael Starts
, QB Clayton Nicholas
Latest news:
The Red Raiders added juco cornerback Ola Falemi to their class, but look out for Tuberville on signing day. Switches on the big day are no surprises with him at Tech.
5. Baylor Bears
Total commits
: 22
ESPNU 150 commits
: 0
Key commits
: ATH
Corey Coleman
, OT Kyle Fuller, DT Javonte Magee, OLB Brian Nance
Latest news:
Baylor swiped Kansas QB commit Seth Russell, No. 47 nationally at the position, to make a big wave across the Big 12. It also grabbed cornerback Patrick Levels out of Dallas. Nance and Magee both pledged to Baylor after the new year.
6. Missouri Tigers
Total commits:
18
ESPNU 150 commits:
1
Key commits:
OG Evan Boehm, QB Maty Mauk, ILB Donavin Newsom, OLB Torey Boozer
Latest news:
Missouri may be in the lead in the DGB sweepstakes after hosting the nation's No. 1 receiver on a visit on the final weekend of the recruiting season. The nation's No. 105 ATH John Gibson and No. 151 DT, Harold Brantley, are the latest additions to Mizzou's class.
7. Oklahoma State Cowboys
Total commits:
21
ESPNU 150 commits:
1
Key commits:
TE
Dominic Ramacher
, OLB
Jeremiah Tshimanga
, OT Michael Wilson, QB Wes Lunt
Latest news:
OSU has added five commits since our last update, including Wilson, the nation's No. 22 offensive tackle. Receiver Chance Allen (No. 141) joins the squad as well. CB Kevin Peterson came to OSU after originally committing to Oklahoma. OSU also added receiver Jhajuan Seales. Juco offensive tackle Chris Grishby committed on Jan. 22.
8. Iowa State Cyclones
Total commits:
21
ESPNU 150 commits:
0
Key commits:
OT Daniel Burton, WR P.J. Harris, WR
Quan West
, ATH Damien Lawry
Latest news:
The Cyclones have two fewer commits than the last time we checked in, but added Devlyn Cousin, the nation's No. 154 defensive tackle.
9. Kansas State Wildcats
Total commits
: 18
ESPNU 150 commits
: 0
Key commits:
WR
Vernon Vaughn
, DT Travis Britz, RB Jarvis Leverett, QB Tavarius Bender
Latest news:
Kansas State added five commitments in the last two weeks, highlighted by Demonte Hood, the nation's No. 111 DT. RB Charles Jones is headed to Manhattan via Louisiana, too. S Donovan Starks is coming from Crosby, Texas, and receiver Judah Jones is a Wildcat after wrapping his high school career at power Evangel Christian in Louisiana. OT Ellwood Clement gave K-State five juco players in this class, low by Bill Snyder's standards.
10. Kansas Jayhawks
Total commits:
18
ESPNU 150 commits:
0
Key commits:
TE Jordan Smith, OG Brian Beckmann, S Gregg Allen, DT Tyler Holmes
Latest news:
New coach Charlie Weis has added four commits since our last update. QB Seth Russell, the team's top commit, is gone, but the Jayhawks have the QB spot settled for the next three years with transfers Dayne Crist and Jake Heaps. Greg Allen (No. 89 safety) is the top new addition, and Charles Brooks gives the class a second tight end. The Jayhawks also added a pair of juco defensive tackles that figure to have immediate impacts, Chaquil Reed and Jordan Tavai.