NCF Nation:

power rankings 112513
November, 25, 2013
11/25/13
9:00
AM ET
The Power Rankings have a new team at the top, and a not-so-new team back at the bottom:
1. Oklahoma State (10-1, 7-1 Big 12, last week 2):
If the College Football Playoff era had come a year earlier, Oklahoma State would be a serious contender for inclusion. The Cowboys have been on fire for more than a month now, and could ascend to as high as fourth in the BCS going into Bedlam should Auburn, Missouri or Clemson fall in rugged games this weekend. Either way, there might not be a better one-loss team in college football right now than the Cowboys.
[+] Enlarge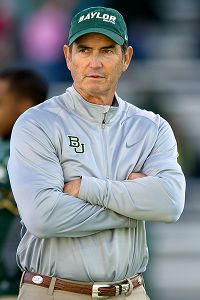 Cooper Neill/Getty ImagesDespite a tough loss to Oklahoma State, Art Briles' Bears still have some key goals to accomplish this season.
2. Baylor (9-1, 6-1 Big 12, LW 1):
The national championship is no longer in the cards. But this has still been a tremendous season for Baylor, which even after its disappointing performance in Stillwater has a chance to set a school record for victories and win its first conference title, either shared or outright. Even a BCS bowl berth is not out of the realm of possibility. But first coach Art Briles will have to get his team refocused, which won't be a cinch.
3. Texas (7-3, 6-1 Big 12, LW 3):
The Longhorns still have a shot at an outright conference title, but they have to play much better than they did against Oklahoma State, which thoroughly whipped the Horns in Austin. Then again, Oklahoma State has been whipping everybody lately. Baylor no longer looks so invincible. And Tech, Texas' next opponent, hasn't won a game in November in seemingly forever. This season hasn't gone the way the Horns had hoped. But the chance remains for a special finish that, at the very least, would close the Mack Brown era with a good taste in everyone's mouth.
4. Oklahoma (9-2, 6-2 Big 12, LW 5):
Did the Sooners uncover -- well, re-uncover -- their QB of the future in Manhattan?
Trevor Knight
was splendid in his first career road start, with his running, decision-making and, in several cases, throwing. If Knight plays this way in Stillwater, Bedlam could get interesting.
5. Kansas State (6-5, 4-4 Big 12, LW 4):
The Wildcats squandered an opportunity to show they belong in the upper tier of the Big 12 against OU. Now they're all but locked into the National University Holiday Bowl, which isn't so bad for a team that once was 2-4.
6. Texas Tech (7-4, 4-4 Big 12, LW 6):
The Red Raiders have a prime opportunity to get off this 1-10 November slide on Thanksgiving in Austin. Tech played well in Arlington against Baylor, except for the turnovers. If the Red Raiders can limit the turnovers at Texas, they should be in the game in the fourth quarter with a chance for a huge victory to end the regular season.
7. West Virginia (4-7, 2-6 Big 12, LW 7):
This season will end without a bowl. But at least the Mountaineers can hang their coonskin caps on what might wind up being the upset of the season in college football.
8. TCU (4-7, 2-6 Big 12, LW 8):
Since TCU failed to qualify for a bowl, the Horned Frogs have turned their season finale against Baylor this weekend into a de facto bowl. TCU has talent coming back in 2014, with only six seniors graduating. If the Frogs can play Baylor tough, that will leave them feeling even better about their prospects for 2014 after a disastrous season.
9. Iowa State (2-9, 1-7 Big 12, LW 10):
The Cyclones gave their fans a reprieve from a miserable season with a solid performance in a shutout of the Jayhawks. After throwing for 300 yards and two touchdowns,
Grant Rohach
might have taken command of the QB spot over the injured
Sam Richardson
going into 2014, too.
10. Kansas (3-8, 1-7 Big 12, LW 9):
Back to the cellar.
November, 25, 2013
11/25/13
9:00
AM ET
It has been a very exciting year in the SEC, and the final weekend has the potential to be epic for the Power Rankings:
1. Alabama (11-0, 7-0 SEC; last week: 1):
The Crimson Tide had no trouble gobbling up Chattanooga on Saturday. The Tide got a shutout, almost reached 50 points and didn't sustain any serious injuries. Great, because Alabama finishes the season with a trip to Auburn to decide the SEC Western Division.

2. Missouri (10-1, 6-1 SEC; LW: 3):
Once again, Mizzou made me look foolish. The Tigers are now 2-1 when I pick against them. Even in an elimination game in the Eastern Division race, the Tigers showed zero nerves in their dominating 24-10 win at Ole Miss. Mizzou improved to 3-1 versus ranked opponents and 5-0 on the road. A win over Texas A&M this weekend clinches the East for Mizzou.
3. Auburn (10-1, 6-1 SEC; LW: 2):
The Tigers were off and dropped only because of Mizzou's major win in a hostile environment against the 24th-ranked Rebels. Auburn got some much-needed rest and relaxation before ending the regular season with a colossal Iron Bowl matchup with archrival Alabama. Something will have to give when Auburn's spread rushing attack (320.3 yards per game) meets Alabama's rushing defense (91.3 yards per game).
4. South Carolina (9-2, 6-2 SEC; LW: 5):
In what could have been a sloppy outing for the Gamecocks in a tuneup against Coastal Carolina before rival Clemson heads to town, South Carolina was utterly dominant. The Gamecocks rolled 70-10 behind 639 yards and three takeaways. It has been a fun season for the Gamecocks, but now they become part-time Aggies fans this weekend. An A&M win over Mizzou would lock up the East for South Carolina.
5. LSU (8-3, 4-3 SEC; LW: 7):
Just when we think LSU might stumble with the nation's best player and the SEC's best offense in town, the Tigers pull what should be considered a shocker in a 34-10 win over A&M. The most impressive part was how the LSU defense contained Johnny Manziel for the second straight year. Manziel totaled just 278 yards of offense, threw two interceptions and completed 16 of 41 pass attempts. A win over Arkansas on Friday could put the Tigers in line for an appearance in the Allstate Sugar Bowl.
6. Texas A&M (8-3, 4-3 SEC; LW: 4):
The Aggies' 24-point loss in Death Valley stopped a nine-game road winning streak for A&M. Manziel was again bested by Les Miles and that LSU defense. Once again, the Aggies had few answers on defense as they surrendered 517 yards, including 324 rushing, and allowed LSU to convert 11 of 17 third-down attempts. The Aggies had the ball for less than 20 minutes.
7. Ole Miss (7-4, 3-4 SEC; LW: 6):
Sure, Missouri was the better team in Vaught-Hemingway Stadium, but some baffling play-calling really cost the Rebels at key moments in their 14-point loss to the Tigers. You can't get cute near the goal line, and you can't get only three points on three trips to the red zone. Quarterback
Bo Wallace
really struggled in the second half and was battling illness all night.
8. Vanderbilt (7-4, 4-4 SEC; LW: 9):
Coach James Franklin has won eight straight games in the month of November and now has beaten Florida, Georgia and Tennessee in the same season (first time in school history). For the third year in a row, the Commodores are going bowling and could win nine games for the second straight season. A fake jump pass to win with 16 seconds remaining? Wow!
9. Georgia (7-4, 5-3 SEC; LW: 9):
The Bulldogs took care of a struggling Kentucky team, but lost their best player in
Aaron Murray
to a torn ACL. It had to be a bittersweet senior night in Athens. While Georgia registered 602 yards and 59 points, the loss of Murray is absolutely heartbreaking. He has been more than just a great player during his career and will be greatly missed. The
Hutson Mason
era officially begins at Georgia.
10. Mississippi State (5-6, 2-5 SEC; LW: 12):
And just like that, these Bulldogs are back in the bowl hunt. It might have taken overtime against Arkansas, but Mississippi State is now a win over Ole Miss in Thursday's Egg Bowl away from making it back to the postseason for the fourth year in a row. The Bulldogs certainly have momentum going into Thursday, but the situation at quarterback is still concerning with
Tyler Russell
's injury issues.
11. Tennessee (4-7, 1-6 SEC; LW: 11):
It had to be gut-wrenching for the Vols on Saturday. A last-second, fake jump pass by Vandy stunned a team that is now eliminated from the postseason for the third straight season. Tennessee hung tough and dealt with a little late controversy, but it's good to see that this team isn't afraid to fight. The Vols lost to Vandy in consecutive years for the first time since the 1920s.
12. Florida (4-7, 3-5 SEC; LW: 10):
It has just gone from bad to worse in Gainesville. The Gators were officially knocked out of bowl contention with a stunning 26-20 loss to FCS foe Georgia Southern, which failed to complete any passes. It was easily the worst loss in school history and it's obvious this team has quit. This is Florida's first losing season since 1979 and the Gators' 22-year bowl streak is over.
13. Arkansas (3-8, 0-7 SEC; LW: 13):
The Razorbacks put up a good fight in their overtime loss to Mississippi State, but eight straight losses will keep you behind a Florida team coming off an embarrassing home loss. This is the first time the Hogs have ever lost eight straight and they are very much in danger of suffering their first winless SEC season with the year ending Friday at LSU.
14. Kentucky (2-9, 0-7 SEC; LW: 14):
The Wildcats have now lost 15 straight SEC games and a loss to Tennessee this weekend would give Kentucky back-to-back 0-8 records in league play. The Wildcats mustered only 211 yards of offense and converted just 3 of 12 third-down attempts against Georgia's young defense.
November, 25, 2013
11/25/13
9:00
AM ET
Sorting out the ACC after Week 13:
1. Florida State (10-0, 8-0 ACC; LW: No. 1):
The Seminoles were their usual dominant selves in an
80-14 dismantling of Idaho
, leaving little doubt their on-field performance this season makes them worthy of playing for a national championship. They will try to close their first unbeaten regular season since 1999 against sinking in-state rival Florida.

2. Clemson (10-1, 7-1; LW: No. 2):
As expected, the Tigers had
no problems against The Citadel
. This week will not be so easy as they try to end a four-game losing streak to South Carolina.
Tajh Boyd
has thrown 12 touchdown passes to two interceptions in his past three games, and is completing 78.3 percent of his passes in that span.
3. Duke (9-2, 5-2; LW: No. 3):
We could be on the verge of witnessing history. After
beating Wake Forest 28-21
on Saturday, Duke wins the Coastal with a victory over North Carolina on Saturday.
Anthony Boone
had his best game since returning from a collarbone injury, and the defense had another stellar fourth-quarter performance. Duke has won nine games for the first time since 1941.
4. Virginia Tech (7-4, 4-3; LW: No. 4):
While it is true the Hokies have not looked so hot recently, they are the best positioned after Duke to make the ACC championship game. If the Blue Devils lose to the Tar Heels and the Hokies beat Virginia, there are several scenarios that favor Virginia Tech for a spot in the ACC title game. Plus, they own a 4-1 record in the Coastal and victories over Miami and Georgia Tech.
5. Miami (8-3, 4-3; LW: No. 5):
The Canes ended their three-game losing streak with a
much-needed win over Virginia
thanks to their maligned defense, which came through with four turnovers -- two returned for scores. Concerns remain about an inconsistent offense and a struggling
Stephen Morris
, who was off once again in the win over the Hoos.
6. Georgia Tech (7-4; 5-3; LW: No. 6):
No surprise at how soundly the
Jackets dispatched Alabama A&M
for a second win over an FCS opponent this year. Now comes the best opportunity in years to beat in-state rival Georgia, heavily handicapped because of injuries. Coach Paul Johnson has beaten Georgia only once in five meetings, and that came in his first season as head coach.
7. North Carolina (6-5, 4-3; LW: No. 7):
The surging Tar Heels have won five straight and are playing some of the best football in the ACC. You could make an argument they deserve to be ranked higher. But they did lose to the three teams ahead of them in the power rankings, and their victories have come against UVa, NC State, Pitt and Old Dominion. Not exactly heavyweights there.
8. Boston College (7-4, 4-3; LW: No. 8):
A bit of fortune helped Boston College beat Maryland on Saturday, along with a lot of
Andre Williams
. The senior running back has now topped 2,000 yards on the season, and folks across the nation are taking notice. Expect him to earn a few more votes in the
ESPN.com Heisman Watch
on Tuesday. BC now has a chance to win eight games for the first time since 2009.
9. Pitt (6-5, 3-4; LW: No. 11):
The Panthers secured bowl eligibility following a
17-16 win over Syracuse
, despite being outgained, losing the turnover battle and falling short in time of possession. Special teams was the reason.
Aaron Donald
came up with a blocked extra point, and a timeout call just as Syracuse was about to fake a field goal were the two big turning points.
10. Maryland (6-5, 2-5; LW: No. 10):
There is no way around it. Maryland lost a heartbreaker to Boston College on senior day. Coach Randy Edsall decided to call timeout to ice kicker
Nate Freese
, who ended up missing the 52-yard attempt. When he got his second shot, Freese nailed the kick to win the game. The Terps did lose head-to-head to Syracuse but they are bowl eligible, so that gives them the spot ahead.
11. Syracuse (5-6, 3-4; LW: No. 9):
Talk about losing a heartbreaker. Syracuse did, too, and now the Orange's bowl hopes are on life support with a game against former Big East rival Boston College to close the season.
Terrel Hunt
played better, but injuries have really taken a toll on this team defensively.
12. Wake Forest (4-7, 2-6; LW: No. 12):
The Deacs put forth a great effort in a loss to Duke, jumping out to a 14-0 lead before ultimately coming up short. They will not make a bowl game for the fourth time in five seasons, putting a damper on a season that began with postseason expectations.
13. NC State (3-8, 0-7; LW: No. 13):
Hard to say what the low point has been this season for new coach Dave Doeren.
Losing to East Carolina
certainly did not seem like a certainty when the season began. But everything has unraveled for the Wolfpack, who went 0-4 against teams from North Carolina this season. They will try to avoid their first winless season in ACC play since 1959 against Maryland this weekend.
14. Virginia (2-9, 0-7; LW: No. 14):
The Hoos have lost eight straight, and have only one win over an FBS program this season. Virginia has now allowed 35 or more points in seven losses this season, and
Greyson Lambert
has come in to finish the last three games.
November, 25, 2013
11/25/13
9:00
AM ET
There's only one debate in the Power Rankings: Who's No. 2?

All the top teams held serve in Week 13, and the Big Ten championship matchup is set for Ohio State and Michigan State to meet Dec. 7 in Indianapolis. The Buckeyes remain atop the league, but which team comes next: Wisconsin or Michigan State?
Although most polls have Michigan State ahead of Wisconsin, we've been keeping the Badgers at No. 2. It's extremely close between the two, and it's too bad the Spartans and Badgers won't face one another this season, especially given their recent history.
We're actually split on the No. 2 spot. Brian is keeping Wisconsin ahead of MSU on his ESPN.com power rankings ballot, while Adam has flipped the two this week, noting Michigan State's superior quarterback and special-teams play.
A second-place tie doesn't really work in the Big Ten rankings, so Wisconsin remains at No. 2 by the slimmest of margins.
Elsewhere, Iowa and Minnesota trade places, and so do Illinois and Northwestern.
Here's one last look at the
Week 12 rankings
.
Now, for the newest rundown …
1. Ohio State (11-0, 7-0; last week: 1):
Another easy afternoon at The Shoe for Urban Meyer's Buckeyes, who set a program record with their 23rd consecutive victory. Quarterback
Braxton Miller
(144 rush yards, 160 pass yards, 4 TDs) and running back
Carlos Hyde
(117 rush yards, two TDs) both hurt Indiana early and often, and linebacker
Ryan Shazier
(20 tackles) sparked a stout defensive effort. Ohio State is very much in the national-title hunt as it prepares to visit rival Michigan this week.
2. Wisconsin (9-2, 6-1; last week: 2):
A BCS at-large appearance looks likelier for the Badgers, who won their fifth consecutive game Saturday and their 10th straight against Minnesota. The running backs might grab the spotlight, but it's time Wisconsin's defense received some credit for an exceptional season. Linebacker
Chris Borland
led the way Saturday with his NCAA record-tying 14th career forced fumble and two fumble recoveries, as the Badgers shut out Minnesota's offense. Wisconsin finishes the regular season against Penn State at Camp Randall Stadium.
3. Michigan State (10-1, 7-0; last week: 3):
Quarterback
Connor Cook
and running back
Jeremy Langford
continue to sparkle in Big Ten play, as both men performed well in a win at Northwestern. The defense surrendered 224 yards but shut out Northwestern in the second half and recorded two takeaways. Michigan State is headed back to Indianapolis for the second time in three seasons to face Ohio State on Dec. 7. Can't wait.
4. Iowa (7-4, 4-3; last week: 5):
Thanks to linebacker
Anthony Hitchens
and a much-improved defense, Iowa overcame four turnovers to rally past Michigan. Quarterback Jack Rudock (two TDs, three INTs) had an erratic day, but Iowa dominated the second half, erasing a 21-7 deficit to win 24-21. The Hawkeyes will be going to a decent bowl game, and they have a chance for a very nice finish if they can beat Nebraska on the road this Friday.
5. Minnesota (8-3, 4-3; last week: 4):
The Gophers are modeling themselves after Wisconsin, which is good, but they're simply not there yet. Minnesota's flaws on offense, especially at wide receiver, showed up Saturday as the Gophers scored no offensive points on their home field. The defense kept the game relatively close, but Minnesota never seriously challenged Wisconsin in the second half. Things don't get any easier this week, when the Gophers visit Michigan State.
6. Nebraska (8-3, 5-2; last week: 6):
A horrendous personal-foul call didn't doom the Huskers, who found a way to beat Penn State in overtime and showed some grit along the way. Running back
Ameer Abdullah
had his typical brilliant game, and quarterback
Ron Kellogg III
did a nice job in relief of
Tommy Armstrong Jr
. Kicker
Pat Smith
stepped up in the clutch as Nebraska won for the third time in four games. The Huskers host Iowa on Black Friday.
7. Michigan (7-4, 3-4; last week: 7):
We'd normally move Michigan lower, but there's no place to put the Wolverines because Penn State and Indiana both lost, too. Linebacker
Jake Ryan
and the defense came to play at Iowa, forcing four turnovers and converting one into points. But the offense remains embarrassingly bad, especially in the run game. Michigan finished with 10 first downs, 60 rush yards and 158 total yards as the heat continues to rise on coordinator Al Borges. Things will likely get worse this week, when Ohio State storms into the Big House.
8. Penn State (6-5, 3-4; last week: 8):
This time, Penn State had no late-game heroics because special-teams miscues and other problems resulted in an overtime loss on senior day. The Lions received a big performance from running back
Zach Zwinak
(149 rush yards) and quarterback
Christian Hackenberg
accounted for three touchdowns, but the team's limitations in all three phases showed up in the loss. Penn State ends the season with a trip to Wisconsin, which likely won't be pretty.
9. Indiana (4-7, 2-5; last week 9):
The lingering defensive issues are there, but Indiana has a new problem: The offense isn't showing up. IU once again felt the absence of injured running back
Tevin Coleman
against Ohio State, recording just 122 rushing yards. Indiana actually had more first downs than the Buckeyes (24 to 22) but didn't score for three and a half quarters and couldn't stop Ohio State's big-play offense.
Kevin Wilson
's team finishes the season against Purdue at home.
10. Illinois (4-7, 1-6; last week: 11):
Tim Beckman and his Illini players can finally stop talking about The Streak, as Illinois won a Big Ten game for the first time in 777 days (Oct. 8, 2011). There was some typical sloppiness, and the defense struggled early, but Illinois made enough plays down the stretch to get out of Purdue with a four-point win. The
Nathan Scheelhaase
-
Steve Hull
connection produced 169 yards and two touchdowns as the close friends are ending their careers on a good note.
11. Northwestern (4-7, 0-7; last week: 10):
The unthinkable has happened, the worst-case scenario amazingly eclipsed: Northwestern's bowl streak is over at five seasons after a 4-0 start and a fourth-quarter lead against Ohio State on Oct. 5. The Wildcats actually moved the ball well against Michigan State but repeatedly stalled in plus territory and took no risks despite a winless mark in Big Ten play. Northwestern has its longest losing streak since 1998, and Pat Fitzgerald has some serious work to do in the offseason, which will begin next week.
12. Purdue (1-10, 0-7; last week: 12):
Darrell Hazell is looking for any sign of progress and saw some against Illinois, as the Boilers played their first competitive game in the Big Ten. Purdue finally ran the ball a little, as
Akeem Hunt
eclipsed 100 yards on the ground, and the defense forced four turnovers. Ultimately, Purdue couldn't do enough offensively or slow down Illinois' pass game. The Boilers wrap up the season this week with the Bucket game in Bloomington, Ind.
November, 25, 2013
11/25/13
9:00
AM ET
If you don't like where you are in the Power Rankings, play better.
Click here for
last week's Power Rankings
.

1. Stanford:
It seems in some ways that Stanford eclipses Oregon in the Pac-12 North based on the teams' head-to-head result. The Cardinal, by the way, could do the conference a favor by beating Notre Dame on Saturday. Otherwise the Fighting Irish, with wins over Stanford, Arizona State and USC, could claim their own Pac-12 title.
2. Arizona State:
You can't undersell what Todd Graham has done in Tempe. If the Sun Devils beat rival Arizona on Saturday, they will play host to Stanford in the Pac-12 title game. So there are considerable stakes outside of pride. And we know how well the Sun Devils play at home. The result earlier this season at Stanford might be meaningless.
3. Oregon:
It has been a long time since the Ducks weren't Nos. 1 or 2 in the Power Rankings. After getting blown out at Arizona, coach Mark Helfrich said there needed to be some "inward" looking inside the locker room. Can the Ducks regain their mojo? The Civil War against Oregon State will be a pretty grumpy affair, without substantial external stakes for either team for the first time in a long time.
4. USC:
The Trojans, as expected, improved to 6-1 under interim coach Ed Orgeron after whipping Colorado. Yet, much of the present goodwill would be surrendered with a second consecutive loss to UCLA. If Orgeron delivers a victory, however, his candidacy to become the next head coach takes on substantial legitimacy.
5. UCLA:
Losing at home to Arizona State hurt, but the Bruins know exactly how to turn their frowns upside down: Beat USC. That also would boost their bowl options, of course.
6. Washington:
While there has been a lot of hyperventilating about Steve Sarkisian and the inconsistent Huskies, the ultimate story will be written over the next two games, starting with Friday's Apple Cup. If Washington beats Washington State and then wins a bowl game, it will finish 9-4, and that would represent a strong step forward after three consecutive 7-6 seasons. On the downside, anything less would cap a disappointing season, and certainly wouldn't cool Sarkisian's coaching seat.
7. Arizona:
While Arizona's friends up North have taken a solid lead in the battle of second-year head coaches between Rich Rodriguez and Graham, the Wildcats can take back a lot with an upset win in Tempe. Not only would they boost their bowl prospects and make Rich Rod 1-1 versus Graham, they'd force the Sun Devils to travel to Stanford for the Pac-12 title game, which would substantially reduce their Rose Bowl chances.
8. Washington State:
The Cougars are bowl eligible, but they could become bowl eligible with a bang -- as well as positively giddy -- with a second consecutive upset win over the hated Huskies in Seattle. An added consolation would be seeing Sarkisian's seat heat up substantially and seeing a potential shift in the balance of power in the state.
9. Oregon State:
That was a dreadful performance against Washington. The worst I've personally witness from the Beavers. Coach Mike Riley is a class act and a heck of a guy, but he needs to answer for that. It wasn't about losing to the Huskies. It was about how it went down at home, with a listless, uninterested effort.
10. Utah:
While there are legitimate excuses for how Utah's season has gone, the loss at Washington State, even without QB
Travis Wilson
, delivered a resounding thud to Year 3 in the Pac-12. The Utes are 1-7 in conference play. A loss at home to Colorado on Saturday would make coach Kyle Whittingham's seat hot heading into 2014.
11. Colorado:
While the Buffaloes were brought back down to Earth after getting pounded by USC, they showed admirable fight in the second half. Concluding the season with a road win over Utah would bode well for the future. And it would mean the Buffs finish 10th in the Pac-12 Power Rankings, not 11th.
12. California:
The best news for the Bears is the season is over. Little went right in Sonny Dykes' first season, and he took the blame upon himself after the blowout Big Game defeat to Stanford. There is plenty of justifiable fan frustration. Dykes' first question is his staff, particularly on defense. He probably needs to make some changes. And then he needs to look at his roster and decide who cares about winning and who doesn't.