NCF Nation:

Prentiss Waggner
September, 16, 2012
9/16/12
1:31
AM ET
KNOXVILLE, Tenn. – Good thing the Knoxville Police Department put out that warning earlier in the week about fans rushing the field at Neyland Stadium.
The next time, somebody might want to instead put out a warning about expecting a different ending to a movie we've all seen over and over again for much of the last decade.
In this case, it's eight years and counting.
That's how many times Florida has beaten Tennessee in a row after the latest flop on Rocky Top,
a 37-20 romp
by the Gators on Saturday night that spoiled what the Vols had hoped would be their breakout party.
The buildup was as loud as Tennessee's shade of orange.
ESPN's "College GameDay" was in the house. The Vols were ranked nationally for the first time since the beginning of the 2008 season, and Tennessee defensive end
Darrington Sentimore
even went semi-Joe Namath on us earlier in the week when he said, "I think people want to wait and see how we do against Florida, but I'm here to tell them that we're going to beat them."
For a while, it looked like Sentimore might be a prophet and that the Vols would make the splash they were looking for on this big stage.
But a 20-13 Tennessee lead midway through the third quarter turned into one big Gator-chomping party. Florida reeled off 24 unanswered points to rudely remind the Vols of their place in this rivalry, which really hasn't been much of a rivalry at all for a long time.
Since the SEC's divisional split in 1992, Florida has won 16 of the 21 meetings between the schools.
"They're front-runners. They talk a lot," Florida running back
Trey Burton
said of the Vols. "As soon as we got up, their fans started leaving. It's a big win for us."
Indeed, the anticipated rush of the field became a rush of the aisles, as frustrated Tennessee fans scurried to the exits.
Afterward, the Vols' coaches and players sounded equally frustrated. They talked about crumbling under the pressure, not responding to adversity, not making the proper checks on defense and being confused at times by what the Gators were doing on offense.
[+] Enlarge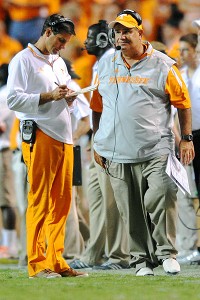 Randy Sartin/US PresswireCoach Derek Dooley and the Vols brain trust couldn't find any answers during the second-half meltdown.
"Once you get in the heat of battle and once adversity hits, you've got to respond to adversity and not crunch under adversity, and that's what we did," Tennessee linebacker
Herman Lathers
lamented.
The Vols' defense was torched for 555 total yards, including 336 rushing. Burton's 80-yard touchdown run out of the Wildcat package tied the game at 20-20. Then came a three-play, 70-yard drive by the Gators with
Jordan Reed
catching a 23-yard touchdown pass from
Jeff Driskel
.
The Gators' third touchdown in the decisive spree was
Frankie Hammond
gathering in a short toss when the Vols came on a corner blitz and then sprinting through the Tennessee secondary for a 75-yard touchdown.
"You can't give up those in this league and expect to win the football game. You just can't," said Derek Dooley, who dropped to 0-11 against nationally ranked teams as Tennessee's coach.
The truth is that the Vols didn't do much of anything it takes to win in this league.
Getting gashed for 336 rushing yards is one thing. But the Vols looked slow in trying to recover when they were out of position, and there were more than a few orange-shirted players with their hands hanging for much of the fourth quarter.
"We've got to go to work on that and keep guys motivated for 60 minutes," Tennessee cornerback
Prentiss Waggner
said.
It wasn't all on the Tennessee defense, either.
The Vols melted on offense after Florida tied the game at 20-20. They managed just five total yards in the fourth quarter. Quarterback
Tyler Bray
, who threw a pair of touchdown passes in the first half, was 1-of-10 in the fourth quarter and wasn't helped much by his two star receivers.
Cordarrelle Patterson
couldn't pull in a deep pass down the left sideline that might have been a touchdown, and
Justin Hunter
dropped one over the middle on the next possession that would have been a first down.
"It looked like we lost a little juice at the end, on both sides," Dooley said. "When the ball broke out, it looked like we were lumbering on both sides."
The Vols also seemed to panic in the play-calling department. They had 67 rushing yards at the half, but forgot about trying to run the football in the second half. In fact, after Florida tied the game at 20-20, Tennessee threw the ball on 11 of its next 13 plays.
"We weren't responding well," said Bray, whose intentional grounding penalty after the Vols snuffed out a Florida fake punt in the third quarter was when the game turned in the Gators' favor.
"We knew that we were going to be the ones that stopped us. We just fell apart."
Dooley did his best to emphasize that it was just one game. But this was more than just one game for the Vols, who get Akron at home next week before starting a grueling stretch that includes away games at No. 7 Georgia, Mississippi State and No. 9 South Carolina and a home game with No. 1 Alabama.
Nope, this was a chance for Tennessee to make some real noise with the rest of the country watching and serve notice that the Vols were at least on their way back.
The only thing they're back to is the proverbial drawing board, and Dooley didn't sound like he had a lot of answers.
"We felt like we were equipped to go toe-to-toe with them for four quarters," Dooley said. "There's no excuses. We didn't get it done and give Florida the credit. They did what they needed to do. I don't know what else to say."
January, 27, 2012
1/27/12
3:06
PM ET
Everyone wants the five-stars. No recruiting collection would be complete without them.
But as we've seen over the years, not all of them really pan out, leaving fans and coaches pouting along the way. However, when one of those five-stars busts, there's always an unheralded recruit that finds a way to steal the scene.
Today, we'll look at some of the best signing class steals from the past few years. We'll use ESPN's player rankings and since the ESPN rankings go back to 2006, we'll only go back that far.
These are players who might not have been so highly recruited coming out of high school, but were stars at the college level. We could have gone on for days with this list, but it had to be shortened.
Here they are:
[+] Enlarge

Kevin C. Cox/Getty ImagesNick Fairley was unheralded but broke out during in 2010 and was the nation's best lineman that season.

Jake Bequette, DE, Arkansas: He was unranked in the 2007 class and was actually a tight end prospect. He received a grade of 40, but finished his Arkansas career as a top pass rusher, with 24 career sacks, 31 tackles for loss and forced eight fumbles.

Vick Ballard, RB, Mississippi State: He was a junior college transfer who wasn't highly sought after at all. But it didn't take Ballard long to make a name for himself as he quickly became a star for the Bulldogs in his two seasons, rushing for 2,157 yards and 28 touchdowns.

Ahmad Black, S, Florida: He came out of high school as the No. 49 safety and wasn't ranked in his region. He started off as a cornerback for Florida, but moved to safety and became quite the player. Black finished his career with 244 tackles and 13 interceptions. He also returned three interceptions for touchdowns.

Brandon Boykin, CB, Georgia: He was rated the No. 41 corner and No. 267 in his region in 2008. At Georgia, he was a dangerous return man, ranking second all-time in the SEC in kickoff return yards (2,593) and is the only player in SEC history with three 100-yard plays of any kind. He was also a tremendous corner, recording nine interceptions, 18 pass breakups and 152 tackles. He was a semifinalist for the Jim Thorpe Award in 2011.

Randall Cobb, WR, Kentucky: Cobb was ranked as the No. 86 athlete back in 2008 and was overlooked by just about everyone. He played just about everywhere in college and finished his Kentucky career with 1,661 receiving yards, 1,313 rushing yards, 689 passing yards and 1,700 return yards. He also had 42 total touchdowns.

Nick Fairley, DT, Auburn: The JUCO transfer signed with Auburn in 2007, but didn't qualify and finally made it to the Plains in 2009. He wasn't a highly rated JUCO prospect and was actually the No. 32-rated OT in 2007. He was an absolute star in 2010, setting the Auburn single-season record with 24.0 tackles for loss and had 11.5 sacks. He also earned the Lombardi Award for the nation's best lineman.

Jerry Franklin, LB, Arkansas: He was a relative nobody coming out of high school as an unranked wide receiver. All he did in his four years was lead the Razorbacks in tackles each year and finished second all-time at Arkansas with 376 total tackles in his career.

Casey Hayward, CB, Vanderbilt: He was unranked and received a grade of 40 as a safety prospect in 2008. He turned into one of the SEC's best cover corners with the Commodores and left Vanderbilt tied for first in school history with 15 interceptions.

Brandon James, RB/KR, Florida: He was ranked as the 111th running back back in 2006 and ranked 345th in his region. James made his mark as a return man, as he finished his Florida career with four SEC and 11 Florida records for kickoff and punt returns. He is still the SEC career leader in return yards (4,089) and had five touchdowns on returns.

Barrett Jones, OL, Alabama: He was ranked as the No. 28 offensive tackle back in 2008, but enters his senior year with the Crimson Tide as arguably the nation's best offensive lineman. His versatility really showed in 2011 when he played just about every position on Alabama's offensive line and won the Outland Trophy as the nation's top interior lineman.

Tyrann Matheiu, CB, LSU: He was the No. 36 cornerback in 2010 and was unranked in his region with a grade of 77. LSU was his only major offer, but he's been one of the most exciting -- and dangerous -- players to watch on defense and in the return game the last two seasons. He was a Heisman finalist in 2011, led LSU in tackles (71), has forced 11 fumbles in two seasons and has 10 career takeaways.

Dexter McCluster, RB, Ole Miss: He was ranked the No. 71 running back back in 2006 and was No. 189 in his region. McCluster became an all-purpose star in the SEC during his four years, totaling 1,703 receiving yards, 1,955 rushing yards and 23 offensive touchdowns.

Eric Norwood, LB, South Carolina: He was ranked the No. 99 defensive end back in 2006 and was No. 387 in his region, but he had quite the career at South Carolina, leaving with the all-time record in tackles for loss (54.5) and sacks (29). He finished his career with 255 tackles as well.

Danny Trevathan, LB, Kentucky: He was an unranked linebacker with a grade of 40 coming out of high school in 2008. He became one of the league's top linebackers in his final two seasons, leading the SEC in tackles both seasons. He finished his career with 372 tackles.

Prentiss Waggner, DB, Tennessee: He was the No. 50 corner in 2008 and was 305th in his region. Waggner has really been one of Tennessee's best defenders the past two seasons, playing both safety and corner. He has defended 11 passes, recording seven interceptions. He can be a shutdown corner and a ball-hawking safety.

Jarius Wright, WR, Arkansas: He came out of high school as the No. 44 wide receiver in 2008 and was ranked 115th in his region. His 2011 season, in which he led the SEC in receiving, gave him the single-season records in receptions, receiving yards and receiving touchdowns. He is also the Arkansas leader in career catches (168) and receiving yards (2,934).
October, 20, 2011
10/20/11
10:55
AM ET
Four SEC teams are taking the week off, including Florida, Georgia and South Carolina in the East. Mississippi State also has an open date in the West.
Here's a look at what to watch in Week 8:
[+] Enlarge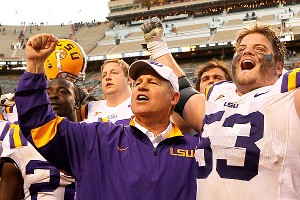 Kevin C. Cox/Getty ImagesFollowing the suspension of three players, LSU coach Les Miles has his work cut out for him this week.
1. Suspensions on the Bayou:
LSU coach Les Miles refused to confirm anyone was suspended for Saturday's game against Auburn. Rather, he said there was an internal disciplinary matter that he was not inclined to share with external forces. The translation, when you get through the Les-speak, is that running back
Spencer Ware
and cornerbacks Tyrann Mathieu and Tharold Simon won't be playing for the No. 1 Tigers this weekend. They reportedly tested positive for synthetic marijuana, which is par for the course when you consider how chaotic off the field it's been for LSU going back to the preseason. Maybe this is a team that thrives on drama, although losing key players has a way of catching up with you.
2. The replacements:
The good news for LSU is that it keeps on winning despite all these distractions, suspensions and injuries, and one of the reasons the Tigers do is because they're so deep.
Michael Ford
and
Alfred Blue
have shared the carries with Ware at running back and already have 10 combined rushing touchdowns between them. In the defensive backfield, there's a chance you might see senior
Brandon Taylor
move to cornerback. If Taylor does move, Craig Loston would probably step in at Taylor's safety spot. Ron Brooks and Derrick Bryant can also play corner.
3. Miles' call:
The Tigers are going to play two quarterbacks the rest of the way, and Miles said everybody might as well get used to it. He said
Jarrett Lee
remains the starter, but that the Tigers will continue to look for ways to get
Jordan Jefferson
in the ballgame. "As imperfect as I am, that's going to be my call," Miles said. "It's not going to have to do with critics, and it's not going to have to do with personality and what somebody sees as his due. … We have our two quarterbacks, and we like the way they play, and we'll play it that way."
4. Another new quarterback:
For the third straight week, LSU will be facing a quarterback who didn't open the season as the starter. This week, it's Auburn's
Clint Moseley
, who takes over for
Barrett Trotter
. Moseley played the second half, and the Tigers threw only 16 passes all game. One of the reasons Auburn is going with Moseley is to try and generate more of a downfield passing attack, which has pretty much been nonexistent lately. Auburn offensive coordinator Gus Malzahn likes Moseley's ability to make plays down the field. Last week, LSU went up against Tennessee quarterback
Matt Simms
, who was filling in for the injured
Tyler Bray
. And in the Florida game, LSU went up against true freshman
Jacoby Brissett
, who took his first college snaps in that game after
John Brantley
sprained his ankle the week before against Alabama.
5. Stingy with the ball:
Not only have Alabama and LSU won 14 straight games between them, they've also gone a combined 98 offensive possessions without a turnover. The Crimson Tide have yet to commit a turnover in four SEC games this season. They haven't thrown an interception in 77 possessions, dating back to the third quarter of the season opener against Kent State. LSU has just three turnovers all season. The Tigers' last turnover came in the fourth quarter of the Mississippi State game the third week of the season.
6. Banged-up Bama:
Alabama's consistency in the offensive line this season speaks for itself, but right guard Anthony Steen has not practiced this week after suffering a concussion in the 52-7 win over Ole Miss last Saturday. Also, left tackle Barrett Jones has been slowed by a nagging hip injury, although coach Nick Saban said Jones would be fine for the Tennessee game. It took a while earlier in the season, but Alabama was able to settle on its best combination up front. Jones moved around and played four of the five positions on the line, including center. It's been a unit that's been rock-solid, as evidenced by the fact Alabama is the only team in the league averaging more than 200 rushing yards per game (241.6). There's also some depth. Senior Alfred McCullough has experienced and could step in at guard or tackle, and true freshman tackle Cyrus Kouandjio may be the most physically talented of the bunch.
7. Cranking up the run:
Once Arkansas got its running game cranked up during the second half of the season a year ago, the Hogs took off and won six straight games. Granted, that was with
Knile Davis
, but the Arkansas coaches and players feel a lot better about the running game coming out of the bye week. For one, outside of Davis, the Hogs are a lot healthier at running back.
Broderick Green
's return has added that power dimension to the running game, and
Dennis Johnson
is one of those guys who gives you a little bit of everything. Arkansas is still looking for that home run threat in the running game, which was supposed to be Ronnie Wingo's role. Wingo injured his toe and didn't play in the last game against Auburn, but Arkansas coach Bobby Petrino said Wingo should be back for Saturday's Ole Miss game. The Hogs will be without freshman running back
Kody Walker
the rest of the season. He underwent surgery to repair a stress fracture in his shin.
8. Shuffling in the secondary:
Tennessee coach Derek Dooley noted this week what has become painfully obvious to Vols fans. "We need to play better at the corner position," Dooley said. Tennessee is tied for last nationally with just one interception through its first six games and is ranked last in the SEC in pass efficiency defense. The Vols plan to move junior Prentiss Waggner from safety back to cornerback this Saturday against Alabama. Waggner has gone back and forth between the positions during his career. It's been a struggle for junior Marsalis Teague at cornerback this season, and with true freshman Brian Randolph playing as many snaps as he has, there are always going to be growing pains. The Vols have also taken a look at junior college newcomer Byron Moore this week at the nickel position. Moore hasn't made much of impact to this point on defense.
9. Trevathan Tornado:
There hasn't been a whole lot that's gone right for Kentucky this season, but senior linebacker Danny Trevathan hasn't slowed down one bit. In fact, he's gotten even better and leads the SEC with 72 total tackles. Trevathan finished with 144 last season to lead the league, and even though the Wildcats are just 2-4, opposing coaches are all coming away from their games with Kentucky saying the same thing: Trevathan is the real deal. He's averaging 12 tackles per game, which is sixth nationally, and his consistency has been remarkable. He's recorded double-digit tackles in five of Kentucky's six games and is a shining example of how you go out and play the game every Saturday regardless of how well or how poorly your team is playing.
10. Rodgers to start for Commodores:
After playing extensively a week ago in the Georgia game,
Jordan Rodgers
will make his first start at quarterback this Saturday against Army, taking over for senior
Larry Smith
. Rodgers, the younger brother of Green Bay Packers quarterback Aaron Rodgers, led Vanderbilt on three touchdown drives in the second half against Georgia. He made several plays with his legs and rushed for 80 yards. Rodgers probably would have played a good bit last season, but redshirted after having shoulder surgery. Vanderbilt coach James Franklin said the decision to start Rodgers this week was based on a combination of Rodgers' playmaking skills and how the team responded to him when he entered the game last week. "I think we kind of fed off that, so we'll keep going with it and see what happens," Franklin said.
September, 10, 2011
9/10/11
1:47
PM ET
AUBURN, Ala. -- After a bit of a lull, we've got ourselves a pretty exciting game again in Auburn.
The Bulldogs reeled off 21 straight points, with the most recent being a 27-yard interception return for a score by Johnthan Banks on a terribly telegraphed pass by
Barrett Trotter
.
Oh, but the Tigers, who entered their last drive with just 15 yards passing, came right back with a 46-yard touchdown pass over the middle of the field from Trotter to
Emory Blake
to tie the game.
Right when you think the Bulldogs' pass defense is dominating, Trotter finds a weakness and exploits it. Blake didn't do anything special on the route, he just hit his spot and the middle of the field was free of Bulldogs. After that, it was a foot race to the end zone -- one that Blake easily won.
That was the only real mistake Mississippi State's defense has made all day. Neither defense has been perfect, but both have gotten on the board with touchdowns.
An interesting note brought to you by Mississippi State officials: Banks now has three career interceptions returned for a touchdown. That ties him with teammate Corey Broomfield and Tennessee's Prentiss Waggner for the most in the nation.
August, 3, 2011
8/03/11
9:29
AM ET
Tennessee was the first SEC team to open preseason practice on Tuesday, and the
UTsports.com website
has a complete rundown, including video of Derek Dooley's post-practice comments and links to stories from different media outlets around the state.
It sounds like sophomore Daniel Hood is serious about making an impact at defensive tackle. Hood, who's listed at 293 pounds now, made the switch from offensive line and is one of the players Dooley complimented.

Junior safety Janzen Jackson also made a big impact in his first day back. He missed all of spring practice after withdrawing from school last semester to deal with personal issues.
"I think what benefits the team is just his energy level," Dooley said of Jackson. "It rubs off on people. He's first in everything. He has good enthusiasm. He's active. He loves competing. He's everything you look for in a competitor on the field."
After suffering his second torn Achilles tendon, senior defensive end Ben Martin was back on Haslam Field for the first practice. The Cincinnati native missed last season after his first torn Achilles suffered in August 2010. Then in February, he suffered the same injury on the foot causing him to miss spring practice.
"It felt really good to be back on the field with the guys," Martin said. "It felt good to be a part of the team again, going through the drills and getting yelled at by the coaches, it felt good again."
Martin took a moment to collect himself when asked about what `the moment' was that he felt like he was back.
"Probably when we were going through the first set of drills and I realized I was tired -- this is what football is supposed to feel like," Martin said. "I had my helmet, my mouth piece, that's what football is. I wasn't hesitant -- that's how you get hurt. I do think about limitations and have to know what my limits are .... But I am a football player, I just want to get back out there and play."
Sophomore quarterback
Tyler Bray
said he's up to 202 pounds, and one of the battles to watch this August will be at safety. Junior Prentiss Waggner, who had five interceptions last season, will be vying with Jackson and Brent Brewer for one of the starting jobs. It could be that Waggner settles in as a nickelback. He's also played some at cornerback, so his versatility should come in handy for the Vols this season.
They also have junior college newcomers Byron Moore and Izauea Lanier, both of whom are expected to contribute right away in the secondary.
July, 6, 2011
7/06/11
1:35
PM ET
Tennessee coach Derek Dooley had been optimistic all along, but now it's official: Junior safety Janzen Jackson has re-enrolled for the second session of summer school, paving the way for his return to the football field this fall.
[+] Enlarge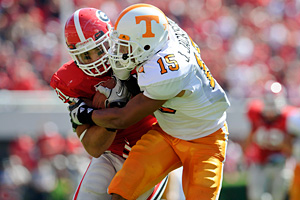 Paul Abell/US PresswireTennessee is counting on a big season from safety Janzen Jackson.
Jackson has been dealing with personal issues and withdrew from school during the spring semester. He didn't participate in spring practice, but stayed in Knoxville and got a job. Dooley has been extremely patient with Jackson and left the door open the entire time. The second-year Tennessee coach said the reason he went out of his way to help Jackson was because Jackson has been committed to helping himself.
Of course, it doesn't hurt that Jackson is a key component on defense. He's the kind of safety that makes everyone around him better and is a big-time hitter.
The Vols have some potential in the secondary, and getting Jackson back will help to solidify things back there. Junior Prentiss Waggner, a second-team All-SEC selection last season, can play both cornerback and safety, while sophomore safety Brent Brewer just started to scratch the surface of how good he can be last season after playing four years of minor league baseball.
Tennessee also brought in a pair of heralded junior college defensive backs -- Byron Moore and Izauea Lanier. Moore, who spent a season at USC before transferring to Los Angeles Harbor Community College, will compete for a starting cornerback job right away.
Jackson, though, is the one who makes it all go back there, which is why this will be a huge fall camp for him and the Vols' defense. He's been working out on his own, but he hasn't had any contact since the bowl game last December.
The other factor to consider is his emotional state. He's run into several issues off the field during his career, and this is his final chance to show that he's matured.
Tennessee's defense will be looking for playmakers and leaders this fall. The Vols need Jackson to be both.
June, 22, 2011
6/22/11
9:44
AM ET
We head into high-flyer mode as we discuss defensive backs today. They are athletic as ever this season, and some teams return a bevy of secondary talent in 2011.
Here's how the teams look:
[+] Enlarge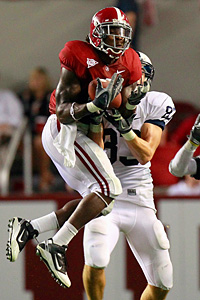 Kevin C. Cox/Getty ImagesMark Barron decided to return to Alabama instead of making himself eligible for the NFL draft.
1. Alabama:
This was an area of the team that was a problem and it wasn't so much the yardage given up but the lack of consistency, especially in big games (see the Auburn game). This year, the Tide should have one of the best defensive backfields in the country. Safety Mark Barron could have entered the NFL draft, but stayed. And while he was in a non-contact jersey this spring, he'll be one of the top safeties around this fall. Robert Lester is another solid safety who is also making everyone's short list of top safeties for next year's draft. At corner, everyone knows Dre Kirkpatrick, but DeQuan Menzie could be Alabama's best weapon in the secondary. Dee Milliner is still in the mix at corner and there is a lot of good young talent as well.
2. LSU:
No Patrick Peterson? No problem. The Tigers are once again loaded in their secondary with corners Morris Claiborne and Tyrann Mathieu. Both are All-SEC material and Claiborne led the Tigers with five interceptions last season. Mathieu found a way to get to the ball often last season and both should make it tough for any quarterback to throw on LSU this fall. Sophomore Tharold Simon made strong improvements at corner this spring as well. Safety Brandon Taylor is another top player at his position and he should be fine after suffering a foot injury at the end of last season. Youngsters Eric Reid and Craig Loston look like stars in the making at safety.
3. Mississippi State:
The Bulldogs return five players who started at some point in 2010. Johnthan Banks, Corey Broomfield and Nickoe Whitley each recorded three interceptions and had 50-plus tackles last year. Broomfield should be the Bulldogs' top option at corner, while Banks can play both corner and safety. Charles Mitchell returns at safety and was third on the team with 93 tackles last season. All of Mississippi State's defensive backs not only have a knack for making big plays down field but they can each play efficiently in the box.
4. Arkansas:
This group is a little inexperienced, but there is a lot of talent to go around. Things start with safety Tramain Thomas. Thomas was fourth on the team in tackles last season and grabbed four interceptions. Thomas looked even better this spring, making play after play. Fellow senior Elton Ford should get time at safety, and converted corner Eric Bennett should get reps as well. Hybrid linebacker Jerico Nelson enhances the group when he drops back with the safeties and Isaac Madison returns at one of the corner spots and should team up with Darius Winston. The two have 27 career starts under their belts.
5. South Carolina:
The Gamecocks' secondary has to improve after underachieving a year ago, and South Carolina has the weapons to do it. Corner Stephon Gilmore wasn't at his best last year, but has tremendous cover ability and speed to be tops at his position. Akeem Auguste moved from safety back to his more natural position at corner and should give the Gamecocks one of the top corner tandems in the SEC. DeVonte Holloman moved to the Spur linebacker spot, so there are still questions at safety, but D.J. Swearinger really impressed this spring and some think he's the most gifted defensive back in Columbia. Replacing Holloman's spot is going to be tough, and the coaches have yet to find someone to solidify that position.
6. Vanderbilt:
This is the strongest part of Vanderbilt's team. The Commodores return a heap of talent, starting with senior corner Casey Hayward, who was a second-team All-SEC pick a year ago. Hayward led the SEC with 11 pass breakups and had six interceptions. Safety Sean Richardson led the team with 98 tackles and would start on a lot of teams in the SEC. The other safety spot is occupied by Kenny Ladler, who was one of the top safeties in the league last season, even as a freshman. Junior Trey Wilson had a great spring and could move past last year's starter Eddie Foster on the depth chart.
7. Georgia:
Like most positions at Georgia, there's no shortage of talent. However, there are still questions. Senior Brandon Boykin is solid at one of the corner spots with his natural corner instincts, great speed and is the defensive leader. Sanders Commings is talented and has the best size, but he'll have to battle Branden Smith at the other corner spot. Smith is a total athlete, but he has to improve his coverage skills. Bacarri Rambo is solid at safety, but he needs to return to the form he had as a freshman. Finding someone to line up next to him is important. With Alec Ogletree moving to linebacker, there is a hole at safety and one of Georgia's newcomers might have to step in this fall.
8. Florida:
The Gators would have been higher on this list had it not been for the dismissal of All-SEC corner Janoris Jenkins. There's a gaping hole at corner, and the hope is that junior Jeremy Brown can help fill it. He finally played after a severe back injury kept him out for two years, and while he struggled at times, Florida's coaches were very impressed with his play this spring. Sophomore Cody Riggs was a pleasant surprise at corner last season and is battling unproven senior Moses Jenkins. There is nothing but youth and inexperience behind them. At safety, Matt Elam had a good spring at strong safety, while free safety wasn't totally locked down by Josh Evans. The good news is that Florida signed six defensive backs this year.
9. Tennessee:
This group could be decent, but there are so many questions. We aren't sure if star Janzen Jackson will return after leaving school this spring. Prentiss Waggner moved from safety to corner last season, where he was an All-SEC performer, and then back to safety when Jackson left. But he might be back at corner this fall. If Waggner is a corner and there's no Jackson, there's an enormous hole at safety. If he stays at safety, then there's one at corner. Fortunately, Brent Brewer, a former minor league baseball player, is a solid safety, and corner Marsalis Teague returns after converting from receiver last season. Incoming junior college transfer Byron Moore should compete immediately for time at corner.
10. Kentucky:
There is a lot of experience with four senior starters returning, but the unit has to show that it can be consistent in big games. Safety/linebacker hybrid Winston Guy leads the group with his speed, strength and athleticism, and will move down into the box as the nickel linebacker. Seniors Randall Burden and Anthony Mosley are back at corner after combing for 11 pass breakups and two interceptions. Junior Martavius Neloms began the spring as the starter at corner, but could see more time at safety this fall. Mychal Bailey will line up at safety and was second behind Guy with two interceptions last season. Inexperience behind this group is still a problem.
11. Auburn:
Things started off poorly when senior safety Michael McNeil was one of the four players arrested for robbery and later dismissed this spring. McNeil, who started seven games last season, was supposed to be one of the stars of the Tigers' defense this fall. Now he's gone and former corner Neiko Thorpe is moving over to safety. The move actually benefits the hit-first defensive back. T'Sharvan Bell is at corner and has the speed and tight cover skills to be one of the best at his position. After that, it's a free-for-all. Incoming freshman Erique Florence should get an opportunity to come in and play immediately at safety.
12. Ole Miss:
This group had to hear about how it was the goat of last season's 4-8 campaign after allowing 246 passing yards a game. It was a motivational tool this spring, but there's a lot of work to do. New defensive backs coach Keith Burns was pleased with the spring progress and really liked how JUCO transfer Wesley Pendleton played at corner. He's competing to take one of those spots from either Marcus Temple, who missed spring with injury, or Charles Sawyer, who had to be pushed at times this spring. The reliable Damien Jackson is back at safety and could line up next to Brishen Mathews, who got good playing time last season, but is still unproven. JUCO transfer Ivan Nicholas and freshman Cliff Coleman will compete for time at safety and corner, respectively.
January, 27, 2011
1/27/11
12:29
PM ET
We're not going to completely turn the page on the 2010 season.
I've spent much of this week compiling the 10 players that I thought were the most improved players in the SEC this past season.
We'll name it the All-Nick Fairley Team, which ought to tell you who the captain of the team is.
Here goes:
1. Auburn junior defensive tackle Nick Fairley:
He went from two starts and 3.5 tackles for loss as a sophomore to the Lombardi Award winner and most dominant interior defensive lineman in college football as a junior. He led the SEC with 24 tackles for loss and 11.5 sacks and could end up being the No. 1 pick overall in April's NFL draft.
[+] Enlarge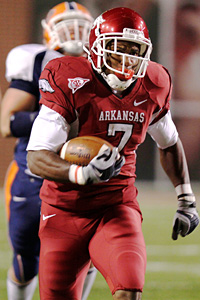 AP Photo/Danny JohnstonKnile Davis scored 14 touchdowns last season.
2. Arkansas sophomore running back Knile Davis:
He had trouble overcoming injuries and a crowded Arkansas running back stable earlier in his career. But after rushing for only 163 yards as a freshman, Davis exploded this season to lead all SEC running backs with 1,322 yards.
3. Mississippi State junior quarterback Chris Relf:
He got better all season, but saved his best game for the Gator Bowl when he passed for three touchdowns and ran for one in the 52-14 rout of Michigan. Relf finished with 13 touchdown passes and only six interceptions and was second on the team in rushing with 713 yards to go along with five more touchdowns.
4. Alabama sophomore safety Robert Lester:
After playing mostly on special teams as a redshirt freshman, Lester was presented with a huge opportunity this season with the Crimson Tide losing just about everybody from their secondary on the 2009 national championship team. He responded by tying for second nationally with eight interceptions.
5. Ole Miss junior offensive tackle Bradley Sowell:
Remember Sowell trying to block South Carolina's Eric Norwood early during the 2009 season? It was a mismatch, but Sowell came back strong later that season and even stronger this season, settling into his left tackle spot and earning second-team All-SEC honors from the Associated Press.
6. LSU junior running back Stevan Ridley:
What Ridley really needed was a chance, and he got one this season. He finished with 1,147 rushing yards and 15 touchdowns and was the heart and soul of the LSU offense. That's after combining for 57 carries and 272 yards in his first two seasons. Ridley entered his name in the NFL draft following the season.
7. Kentucky senior quarterback Mike Hartline:
The suspension for the bowl game was unfortunate, but it doesn't diminish what was a brilliant senior season for Hartline. He'd been plagued by inconsistency throughout much of his career and had the knee injury as a junior, but passed for 3,178 yards and 23 touchdowns while completing 66.2 percent of his passes this season.
8. Kentucky senior receiver Chris Matthews:
In his first season at Kentucky after coming over from junior college, Matthews showed flashes. But this season, he emerged as one of the most productive receivers in the league. He was second only to South Carolina's
Alshon Jeffery
with six touchdown catches against SEC competition.
9. Tennessee sophomore cornerback Prentiss Waggner:
He moved from safety to cornerback midway through the season, developing into one of the best ball hawks in the league. Waggner intercepted five passes, returning three for touchdowns, on his way to second-team, All-SEC honors by the Associated Press. That's after finishing with six total tackles and no interceptions as a redshirt freshman.
10. Arkansas senior linebacker Anthony Leon:
A position change made a world of difference for Leon, who seemed a step slow at safety, but was a disruptive force at outside linebacker. He was one of the chief reasons the Hogs improved so much this season on defense and finished second on the team with 12.5 tackles for loss.