NCF Nation:

Prescott Line
June, 11, 2013
6/11/13
9:00
AM ET
There are plenty of first-year players to watch in the soon-to-be renamed Big East this fall. Here is a quick look at those with the potential to have breakout seasons.
[+] Enlarge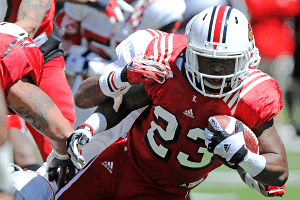 Jamie Rhodes-USA TODAY SportsLouisville Cardinals running back Brandon Radcliff really stepped up in the spring game.
Brandon Radcliff, RB, Louisville.
With
Senorise Perry
out this spring, Radcliff got an opportunity to show what he can do. Radcliff ended up with 56 yards on five carries in the spring game and seems poised for more. Perry's status for the start of the season remains up in the air, so watch for Radcliff and
Dominique Brown
to carry the load early on.
Prescott Line, RB, SMU.
His brother, Zach, was a constant in the Mustangs' backfield over the last several seasons but now he's gone. That leaves big shoes to fill. Line is next in line to help carry the load, as he had a good spring and should see plenty of action this year with Traylon Shead in the backfield.
Chris Muller, RG, Rutgers.
Muller was a huge get for Rutgers when he signed back in 2012, and now he is poised to see some serious game time as a redshirt freshman. He is listed on the post-spring depth chart as the co-starter at right guard with veteran
Antwan Lowery
.
Averee Robinson, DT, Temple.
Robinson, the younger brother of former Owls standout Adrian Robinson, enrolled in January and made his presence known in the spring, earning reps with the second team. He had a great performance in the spring game (four sacks) and certainly will be in the Owls rotation come fall.
Luke Adams, DE, UCF
. Adams was easily one of the bright spots for the revamped Knights' defensive line in the spring and finished camp penciled in as the starter.
April, 17, 2013
4/17/13
2:00
PM ET
Traylon Shead arrived at Texas back in 2010 with great expectations already attached to him as one of the most highly touted recruits in the country.
But Shead never really got his career going with the Longhorns. After two seasons, he decided to transfer. His stat line when he left? Empty.
Shead landed at Navarro Junior College and vowed to himself that he would prove all his doubters wrong when he got his next shot in Division I.
Now here he is, with his next shot.
[+] Enlarge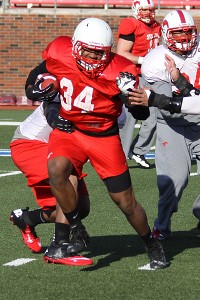 Photo/SMU AthleticsSMU running back Traylon Shead embraces the high expectations.
Shead arrived at SMU in January with great expectations, deja vu for a player already used to the pressure. With
Zach Line
gone, all eyes have turned to Shead as the next great running back for the Ponies. He has spent the spring learning the system and preparing himself for his moment in the spotlight come August.
"Because I have high expectations here, the biggest transition is to come in and try to have a big impact because, to live up to those expectations," Shead said in a recent phone interview. "That means I have to work a lot harder, study the playbook and be a good student.
"Being compared to Zach, it's an honor. But also there's a lot of pressure. If you don't live up to it, you have a lot of criticism. In the back of my mind, this is my last go around in D-I and I really need to buckle down and prove all those doubters wrong and prove to everybody who gave me a chance that they gave the opportunity to the right person."
The comparisons between Line and Shead are easy to make. Both are bigger backs with deceptive speed. (Line is 6-foot-1, 230 pounds; Shead is 6-2, 225 pounds). Both excel at catching passes out of the backfield. Both are also good blockers. Shead, however, comes into SMU with much bigger expectations. Line was recruited to SMU as a linebacker. Shead was a Parade All-American.
Things just did not work out for him at Texas. When asked for his reasons behind transferring, Shead mentioned wanting to be closer to his daughter, Aniya, who turns 2 next month. Dallas is much closer to his hometown of Cayuga, Texas, than Austin. Shead saw that Line was about to end his SMU career so he had it in his mind that he wanted to play for the Mustangs after spending a year in junior college.
What a year it was. Shead ran for 1,194 yards and 17 touchdowns for Navarro in 2012. He signed with SMU in December and has been taking first-team reps for the past several weeks of spring practice, alternating with
Prescott Line
-- Zach's brother. Aniya and her mom -- Shead's girlfriend -- stay with Shead in Dallas for a majority of the week.
When asked for how he looks back on what happened at Texas, Shead said, "I take it as a learning experience but I appreciate the coaches for giving me the opportunity to come there and to leave in such a good way. Just not being able to play much there, I have a lot of doubters here and there. That's my mentality since I was at Navarro, to get back to D-I and I appreciate SMU for giving me the opportunity. Now that I'm here, it's time to prove those doubters wrong and prove I can play at D-I even though I came from a small school in East Texas. That and going home and seeing my daughter, are the two biggest factors that motivate me."
Shead says he feels as if he has picked up the offense well this spring, but has plenty more work to do in the offseason. He wants to work on his pad level, stamina and footwork, all while trying to pattern his game after Falcons running back Steven Jackson.
"Seeing how big of an impact he had in college and in the NFL -- that's what I'm trying to work toward," Shead said. "He has speed and power, and he's also a big back. We're similar in size so that's what I'm trying to get my game level to."
March, 25, 2013
3/25/13
9:00
AM ET
SMU opens spring practice today with lots of holes to fill on both offense and defense. I had a chance to catch up with coach June Jones to ask him about some of the biggest questions surrounding his team.
You are losing so many starters. How do you envision the spring playing out for you, knowing you have to replace your productive guys while moving into a new conference?
JJ:
There's definitely a lot of unknowns. The competition we're playing -- everybody's getting better. The Big East plays a very good brand of football, the schools that are left in there are pretty good. We have some positions to replace, but we think we have on campus a lot of good, young players who have been waiting for an opportunity. We have some kids that maybe, two or three of the freshmen kids will be an upgrade from what we've had the last four or five years, too. I think we'll be OK.
[+] Enlarge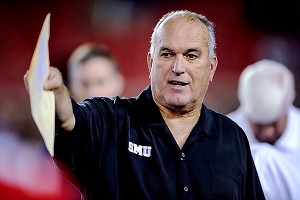 Jerome Miron/USA TODAY Sports"I think sometimes when people don't expect you to be what you are, you have your best seasons," SMU coach June Jones said.
The biggest losses offensively:
Darius Johnson
, a very productive player for us. A receiver has to step up and take that lead. But
Der'rikk Thompson
has started for three years, and he'll take that lead as we go forward. And then we have a transfer running back, Traylon Shead, that I think is going to be a really good player that was recruited by Texas, one of the best running backs in the state after his freshman year left and went to Navarro and he is with us and this spring will help him. But I think he's a big-time runner off what I've seen on his JC tape. And so that solves our two questions. Those two kids have to step up. We have some other kids on campus.
Prescott Line
, Zach's brother, looks like a prototype of his brother. He's going to be a redshirt freshman so he understands what we're doing. I think he'll be productive. From that standpoint, I think we're very good for filling it but until you do it game day you just never know.
The other question on offense surrounds your quarterback, Garrett Gilbert. How are you going to work with him to improve on his accuracy?
JJ:
Any time you're in a system more than one year you get better, you just get more comfortable with it. I think that will help Garrett. I really was happy with his competitiveness as a player. He did a lot of different things for us, running the ball, competing that way when things broke down to get first downs, things like that. He showed that he's a competitive winner. So as long as he keeps getting better in the passing game, he's got a shot to be a step up from where he was last year. We have a kid on campus,
Neal Burcham
, who is very accurate passer and will compete with Garrett. Both Garrett will make Neal better and Neal will make Garrett better. Competition does that.
Along the same lines, how are you going to work on just being a more consistent offense this spring?
JJ:
You have to be or you're not going to be very good. We have to be able to throw the ball more effectively. I'm not really worried about the run part of it. We will get the runs when we have them. The thing we have to be able to do if we're going to be able to be successful, we have to throw the ball effectively. We're in a pass offense. If you're not completing 68 to 72 percent of your passes, that's probably not getting the job done. That's what we have to be able to do.
Defensively, you have to replace guys like Margus Hunt, Taylor Reed and Ja'Gared Davis. Who are the next guys up?
JJ:
We have some kids on campus that played pretty well last year for us. We have a kid named
Zach Wood
and
Beau Barnes
that split time with Margus, they rotated in. Probably the most underrated guy we had was a guy name
Torlan Pittman
, and
Darrian Wright
will replace him. Darrian played as a true freshman and really played pretty well for us. We have some depth and we have some really good kids coming in. The best lineman we ever recruited named Zelt Minor from Lamar will compete right away for a starting job. He's one of those kids that we've never had come to our school, since I've been here anyway, from a talent standpoint. We have some guys here, we have another kid,
Elie Nabushosi
that I think may be really, really great d-lineman. He redshirted last year. We couldn't block him in practice.
We're replacing two pretty productive linebackers in Taylor Reed and Ja'Gared Davis but we have some kids who might be bigger and more talented than them on campus right now, in a kid named
Jarvis Pruitt
and
Lincoln Richard
being the other guy. We're going to be OK but they've got to learn the defense and play on game day. They'll make mistakes but talent wise I think we're going to be pretty good.
It sounds like you've got a lot of talent there, but you're young.
JJ:
Everybody's young. We open up with Texas Tech so obviously you better play pretty good to beat them, but at the same time I think once these kids get to Game 3 and 4 where they have a little game experience -- they'll make plays while they're learning -- but at the same time how you minimize your mistakes is really how you win the games. Who screws it up less is who wins games early so when you've got young kids, you're making mistakes. We'll make some big plays in there, too, because they are very talented.
What do you think when people say this is a rebuilding year and they're not quite sure what they're going to see out of you guys this year?
JJ:
I don't really pay too much attention to that. We were told when I was in Hawaii we were the worst team in the conference and we went 12-0. I think sometimes when people don't expect you to be what you are, you have your best seasons. That's just me. But I don't worry. You're coaching the kids up. You prepare them to win and they'll learn how to win. We just have to hang together until they do. That's how you turn it around.