NCF Nation:

Preview picks 083010
August, 30, 2010
8/30/10
9:08
AM ET
We're going on record with what we think will happen this season -- team-wise and player-wise. Who will shine? Who will surprise? Who will disappoint?
And feel free to disagree and
supply your thoughts
.
Conference winner
: Oregon
It took a while to re-warm up to the Ducks after the, er, departure of He Who Shall Not Be Named. But the Ducks have so much going for them, it's hard to go against the defending champions.
Offensive MVP
:
Jake Locker
, QB, Washington
Huskies fans: Know all those folks who constantly take shots at Locker and call him overrated? They will either apologize or look stupid at season's end.
Defensive MVP
: Akeem Ayers, LB, UCLA
Ayers gets the nod because he's the sort who's going to put up a lot of different numbers: tackles, sacks, tackles for a loss, interceptions, fumbles, etc.
Surprise team
: Stanford
Stanford might not be a surprise to those in the know, but if the defense steps up -- and here's a bet it will -- then the Cardinal will be in middle of the conference race.
Team most likely to disappoint
: USC
The Trojans will still trot out the most talented starting 22 in the conference. There's not a team on the Trojans' schedule that, at this juncture, rates as a "favorite" -- even Oregon because the Ducks must visit the Coliseum on Oct. 30. But with only pride to play for, USC could come apart at the seams.
Surprise player
:
Steven Threet
, QB, Arizona State
Threet is expected to be announced as the Sun Devils starter on Monday. He's going to be good enough to make the offense respectable.
Newcomer of the year (offense
): Josh Smith, WR, UCLA
If he stays healthy, Smith, a Colorado transfer, will be a big-play guy for the Bruins on offense and on special teams as a returner.
Newcomer of the year (defense
): Brandon Rankin, DT, Washington State
We hate to interrupt your mocking of Washington State, but Rankin, a JC transfer who stuck with the Cougars despite an offer from Alabama, is going to be a force on a surprisingly stout D-line.
Freshman of the year (offense):
Keenan Allen, WR, California
The touted true freshman won a starting job in camp. Expect him and
Marvin Jones
to inspire folks to start to saying, "You know that quarterback
Kevin Riley
ain't half-bad!"
Freshman of the year (defense):
(tie) Marquis Flowers, S, Arizona & Dietrich Riley, S, UCLA
Ladies and gentlemen, meet the next two great safeties in the Pac-10. These freshmen can really play.
Coach of the year
: Chip Kelly, Oregon
His Ducks should play in another Rose Bowl, even though they are replacing a quarterback who was projected to be in the Heisman Trophy hunt. If quarterback
Darron Thomas
shines, this one will be a gimme for Kelly to repeat. So that would be two years, two Coach of the Year trophies. One word: Raise.
Can't miss game
: Civil War, Oregon at Oregon State, Dec. 4
Oregon is the conference favorite. Oregon State is a consensus No. 3 pick. USC is No. 2 but ineligible. Expect the Civil War, for a third consecutive season, to decide who goes to the Rose Bowl.
August, 30, 2010
8/30/10
9:05
AM ET
The season is upon us.
Games begin Thursday, and we'll be full bore into college football by the weekend. So it's a final chance to make some predictions, and here are my picks for some various Big East 2010 awards/honors:
Big East winner:
Pittsburgh
The schedule is downright frightening. The Panthers have some question marks, particularly along the offensive interior. And the league is as balanced as it's ever been. But I've been picking Pitt all offseason, and this is a team with as much or more high-end talent as anybody in the Big East, led by
Dion Lewis
,
Jon Baldwin
and Greg Romeus. If the Panthers are who we thought they were, as Dennis Green might say, then they should be able to navigate their difficult schedule and win their first outright Big East title.
Offensive MVP:
West Virginia running back
Noel Devine
Lots of candidates here, including last season's winner (Lewis), Cincinnati's
Zach Collaros
, Rutgers'
Tom Savage
, et al. I just feel like Devine is primed for a huge year as a senior, eager to prove he can do it all to satisfy the NFL scouts. And with a more experienced offensive line and potentially a more consistent passing game, he could find even more running room for his explosive bursts. It's awfully tough to go against Lewis; then again, winning an award like this two years in a row is hard for any player because the expectation levels increase.
Defensive MVP:
West Virginia safety
Robert Sands
Again, I'm going away from conventional wisdom here in not picking Romeus, last year's co-defensive player of the year. Sands was a play-making monster in the second half of last season and should continue to build on that with a veteran defense around him. And if you're wondering why I would pick the offensive and defensive players of the year from West Virginia and then choose Pitt as the champion, there is precedent: last season, Pittsburgh had the offensive and both co-defensive players of the year, yet finished second.
Surprise team:
Connecticut
A strong season by UConn wouldn't surprise anyone who follows this blog or the Big East in general. Still, there are a lot of people who don't know much about the Huskies, and Randy Edsall's team could very well win the league's BCS bid for the first time. Remember that UConn gets West Virginia, Pitt and Cincinnati at home this season.
Team most likely to disappoint:
Cincinnati
Only because expectations have been built so high. It's pretty hard to top 12-0, especially when you change coaching staffs and play a schedule that includes road games against N.C. State, Fresno State, West Virginia and UConn and a home-away-from-home matchup with Oklahoma. The Bearcats are a definite Big East contender, but many of their fans might be disappointed with a 9-3 type of season.
Newcomer of the year:
Cincinnati receiver
Vidal Hazelton
Hazelton comes into an offense tailor-made for receivers to put up huge stats, and the talented former USC Trojan should be ready to make a major impact in his one and only season in the Big East.
Freshman of the year:
Rutgers receiver
Jeremy Deering
Taking a stab at a wild card here. With injuries to the Scarlet Knights receiving corps, there is opportunity for the speedy Deering, who can also make a major impact on special teams and with some Wildcat stuff. I also seriously considered West Virginia's
Ivan McCartney
and South Florida's Terrence Mitchell.
Coach of the year:
Randy Edsall, Connecticut
With Brian Kelly and his Vulcan death grip on the coach of the year award gone, Edsall will be the popular choice if he leads the Huskies to the breakthrough season many are predicting.
Can't-miss game:
West Virginia at Pittsburgh, Nov. 26
The Backyard Brawl is always an event, and this year it could be for the Big East title. Pitt and WVU enter the season as the only two ranked teams, and look at the scores of the past three years to see just how close this rivalry has been: 13-9 (Pitt in '07), 19-15 (Pitt in '08) and 19-16 (WVU in '09).
August, 30, 2010
8/30/10
9:05
AM ET
The wait is over. Week 1 of the 2010 season is officially here, and so are the conference predictions. Here's a look at how this season might unfold for the ACC:
Coastal Division winner:
Miami
The Canes have all of the pieces in place to win their first division title since joining the ACC. They've got experience and depth in all of the right places, and have finally been under the direction of the same coordinators for two years.
Atlantic Division winner:
Florida State
Jimbo Fisher has the advantage of starting his career in the weaker of the two divisions, and offensively, nobody else compares in the Atlantic Division. The Noles have a veteran offensive line and one of the league's top quarterbacks. Defensively, FSU can only get better.
ACC champion:
Loser of the regular-season matchup
Revenge is sweet, and the loser of the Oct. 9 rivalry game in Miami will get it. Final word? FSU redeems itself from last year's loss to the Canes during the regular season, but Miami wins it all in December.
Offensive MVP:
Florida State quarterback
Christian Ponder
He could be a legitimate Heisman Trophy candidate, and he's got plenty of surrounding talent to work with.
Virginia Tech running back
Ryan Williams
is also a legitimate candidate here, but he won't get enough carries with
Darren Evans
joining him in the backfield this season.
Defensive MVP:
Clemson safety
DeAndre McDaniel
He had eight interceptions for 128 yards and 102 tackles. The interception total was tied for third in the nation and he was the only player in college football last season with at least eight interceptions and at least 100 tackles. He was the first player in Clemson history to do both in the same season. He also had two sacks and a total of five tackles for loss.
Surprise team:
Maryland
The Terps have enough talent to rebound from their abysmal 2-10 season – particularly at running back and wide receiver, but they'll have to improve up front on both sides and will be under the direction of first-year starting quarterback
Jamarr Robinson
.
Team most likely to disappoint:
North Carolina
(If it hasn't already.) After back-to-back eight-win seasons that ended with losses to Big East teams in the Meineke Car Care Bowl, expectations have risen for Butch Davis in his fourth season. He has one of the best defenses in the country, a Top 25 team, and experience on offense. But the program has also been clouded by an NCAA investigation into possible improper contact with agents, and the university is investigating possible academic misconduct.
Surprise player:
Wake Forest quarterback
Ted Stachitas
He's tasked with replacing the winningest quarterback in school history, but he was recruited for this offense and will find a way to move the chains.
Newcomer of the Year:
Miami junior college transfer
Chase Ford
He has already drawn comparisons to Jeremy Shockey, and is expected to contribute immediately. He led the Southwest Junior College Football Conference with 32 receptions and 545 receiving yards. He was the league's MVP at Kilgore Junior College.
Freshman of the Year:
FSU cornerback
Lamarcus Joyner
The USA Today National Defensive Player of the Year is a bigger version of Greg Reid and might contribute as a kickoff returner as well. ESPN Recruiting services ranked him the No. 1 cornerback in his class and the No. 6 prospect overall. He could also see some snaps on offense.
Coach of the Year:
Duke coach David Cutcliffe
Last season's 5-7 record was the best the program has seen since 1994. If Cutcliffe is able to take the next step and win six games, it will be the Blue Devils' first bowl appearance since 1994. Cutcliffe has already made a case for his award.
Can't-miss game:
Virginia Tech at Miami, Nov. 20
These are the ACC's two highest-ranked teams heading into the season, and it's likely this matchup could determine the Coastal Division winner. The series is even the past two years.
August, 30, 2010
8/30/10
9:04
AM ET
After a historic summer in the Big Ten, it's finally time to get down to business. The season kicks off in 82 hours as Indiana, Minnesota and Ohio State all hit the field Thursday for their openers. On the heels of an outstanding bowl performance, the Big Ten is looking to take the next step.
It's prediction time, and while I'm certain most of these will look terrible by mid October, here we go ...
Conference champion:
Ohio State
It's not just the history of winning or sharing the last five league championships. Ohio State simply has fewer holes than Iowa and Wisconsin. Yes, the Buckeyes must travel to Madison and Iowa City, but they've been flat-out dominant on the road in conference play, winning 16 straight Big Ten road contests before the loss to Purdue last season.
Offensive MVP:
Wisconsin running back
John Clay
Someone needs to stand up for Clay. He's being completely overlooked in the Heisman Trophy race, and he was snubbed for Big Ten preseason Offensive Player of the Year in favor of Ohio State's
Terrelle Pryor
. In case you forgot, Clay is the reigning Big Ten Offensive Player of the Year, and he'll play behind the nation's best offensive line this fall. He should be more durable following offseason ankle surgeries. I expect big things from big No. 32 this fall.
Defensive MVP:
Iowa defensive end
Adrian Clayborn
This might be one of the nation's most competitive award races, as Michigan State linebacker
Greg Jones
, Ohio State defensive lineman
Cameron Heyward
and Purdue defensive end
Ryan Kerrigan
also are in the mix. But Clayborn makes more impact plays than any defender in the Big Ten, and he'll continue to have opportunities because of the overall strength of Iowa's defensive line.
Surprise team:
Purdue
The Boilermakers' injury situation leaves me a bit concerned about this selection, but I still really like the potential in West Lafayette.
Robert Marve
is a perfect fit for the spread offense, and will distribute the ball to a talented group of receivers. Kerrigan leads a veteran defensive front seven that should be better against the run. And the schedule is back-loaded, allowing Purdue to find its identity in the first six games before things get really tough. Indiana and Michigan are also possibilities here.
Team most likely to disappoint:
Penn State
There isn't an obvious choice here, but preseason No. 19 Penn State enters the fall with two major obstacles: virtually no experience at quarterback, and arguably the nation's toughest road schedule. Trips to Tuscaloosa, Iowa City and Columbus look daunting, and while Tom Bradley's defense should be solid once again, it won't be easy for this team to win 11 games for the third straight season. Iowa, Northwestern and Michigan also are possibilities here.
Surprise player:
Michigan State receiver
Keshawn Martin
We could see a
Devin Thomas
redux this fall, which would bring smiles to Spartans fans. Martin seemed to be hitting his stride toward the end of last season, and after averaging 18.1 yards per touch in 2009, he'll get the ball a lot more this season. Other potential surprise players include Northwestern quarterback
Dan Persa
, Ohio State defensive lineman
John Simon
and Michigan quarterback
Denard Robinson
.
Newcomer of the year:
Purdue quarterback
Robert Marve
Talent has never been the problem for Marve, and he's finally in the right situation to become a star. The Miami transfer owns a big-time arm in an offense that will feature it, and he has grown up a lot since his time at Miami. If Purdue's new-look offensive line can protect Marve, the offense will put up big numbers. Three junior college transfers in the secondary -- Indiana's
Andre Kates
, Minnesota's
Christyn Lewis
and Illinois safety
Trulon Henry
-- are also newcomers to watch.
Freshman of the Year:
Penn State quarterback
Robert Bolden
He might not start the opener against Youngstown State, but I expect Bolden to enter the mix in a big way for the Nittany Lions. He has impressive size and arm strength, and his ability to quickly pick up the offense and remain in the race throughout preseason camp tells a lot about his potential. Other candidates include Illinois quarterback
Nathan Scheelhaase
and Michigan State defenders
Max Bullough
and
William Gholston
.
Coach of the Year:
Ohio State's Jim Tressel
It's time. Tressel has dominated the league like few coaches in history, and yet he has never won the Coach of the Year Award. The odds are once again against Tressel because of Ohio State's status as Big Ten preseason favorite, but I have a feeling he finally gets what he deserves. Other potential winners include Michigan State's Mark Dantonio, Purdue's Danny Hope and, yes, Michigan's Rich Rodriguez.
Can't-miss game:
Ohio State at Iowa, Nov. 20
For the second consecutive year, this game likely will decide the Big Ten championship, as both teams enter the fall in the top 10. Iowa gave Ohio State all it could handle in 2009 despite playing without starting quarterback
Ricky Stanzi
. Ohio State has dominated the series with Iowa, but this game could be special. Other can't-miss contests include Ohio State at Wisconsin (Oct. 16), Wisconsin at Iowa (Oct. 23) and whenever Penn State's Joe Paterno goes for win No. 400.
August, 30, 2010
8/30/10
9:02
AM ET
The more things change in the SEC, the more they seem to stay the same.
If you've enjoyed watching Alabama and Florida tango each of the past two seasons in the SEC championship game, then why not make it a best 2-out-of-3 series with a third straight meeting in Atlanta this season?
Actually, it would be the fourth meeting, because the two teams clash in the regular season this year.
Alabama and Florida remain the class of this league, but defending their divisional titles will take some doing. The Crimson Tide lost nine defensive starters from their national championship team a year ago, and the Gators will be without nine players who were taken in the first five rounds of the NFL draft.
The rest of the field in the SEC is lining up to catch them. The chase begins this week.
What would a football season be without a few predictions?:
East champion: Florida.
The Gators have a standing reservation in Atlanta for that first Saturday in December. They'll make it back this season, but getting past Georgia won't be easy.
[+] Enlarge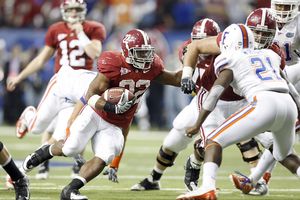 Marvin Gentry/US PresswireExpect Mark Ingram and Alabama to meet up with Florida in the SEC title game yet again.
West champion: Alabama.
A third straight perfect regular season might be too much to ask, but the Crimson Tide will ride a powerhouse running game to a third straight West title.
SEC champion: Alabama.
Just like Florida a year ago, until somebody proves differently, Alabama is still the team to beat. Don't let the personnel losses on defense fool you, either. The Crimson Tide still have more talent than anybody in the league.
Offensive MVP: Arkansas quarterback Ryan Mallett.
He can throw from the pocket. He can throw on the move, and he has great receiving talent around him. He's also become one of the Hogs' strongest leaders.
Defensive MVP: Alabama linebacker Dont'a Hightower.
Defense will always be what sets the SEC apart, and now that he's healthy again, Hightower will be a force, whether he's lining up at middle linebacker or putting his hand down and rushing the passer.
Surprise team: Georgia.
The Bulldogs will push Florida to the limit in the East, and in doing so, will re-establish themselves as one of the powers in the SEC.
Team most likely to disappoint: South Carolina.
Nobody's predicting the Gamecocks will have a lousy season, but history tells us they probably won't live up to those grandiose expectations in the Palmetto State.
Surprise player: Florida receiver Deonte Thompson.
He was known more for the passes he didn't catch last season. But with
John Brantley
looking his way early and often, Thompson will be known more for the passes he catches this season.
Freshman of the Year: South Carolina running back Marcus Lattimore.
The Gamecocks needed a burst of something in their running game. They got it in Lattimore, who has the speed, power and acceleration to be a great one.
Newcomer of the Year: Auburn quarterback Cameron Newton.
The way Newton describes himself is that he's a pocket passer who can scramble when he has to. Sounds like a perfect fit for Gus Malzahn's offense.
Coach of the Year: Georgia's Mark Richt.
Other than last season, the guy has been incredibly consistent. Finally, he gets some recognition for that consistency as the Bulldogs bounce back with a vengeance in 2010.
Can't miss game: Florida at Alabama, Oct. 2.
They've met in the past two SEC championship games and won the past two national championships. Their first regular-season meeting since 2006 is one nobody will want to miss.
August, 30, 2010
8/30/10
9:00
AM ET
Time to unveil my preseason picks for the non-AQ conferences:
C-USA East
: UCF
C-USA West
: Houston
C-USA champ
: Houston
Why
: What happens with UCF largely hinges on what happens with the quarterback. If
Rob Calabrese
and Jeff Godfrey are able to manage the offense, the defense will more than make up for any shortcomings. If they falter, Southern Miss could win the East. As for Houston, the Cougars should have a vastly improved defense to go with their high-powered offense and that should lead them to the conference title.
MAC East
: Temple
MAC West
: Northern Illinois
MAC champ
: Temple
Why
: Temple had one of the most surprising seasons in 2009, and should continue that momentum behind
Bernard Pierce
. Northern Illinois, with 15 starters returning, has a terrific running back of its own in
Chad Spann
. The Huskies get the edge here because of their overall talent.
Mountain West
: TCU
Why
: TCU returns a majority of its starters, including
Andy Dalton
and Tank Carder, and win another Mountain West championship. But the Horned Frogs to travel to play Utah on Nov. 6 with huge conference title implications sure to be on the line.
Sun Belt
: Middle Tennessee
Why
: The Blue Raiders are banking on
Dwight Dasher
to return in time for conference play. If he is reinstated by the NCAA, Dasher could conceivably miss the first four games of the year but return in time for Game 5 against Troy. If Dasher is out for the season, then Troy would be my pick to win the Sun Belt.
WAC
: Boise State
Why
: The Broncos are one of the best teams in the country, let alone the WAC, and have superior talent. One key conference game to watch comes Nov. 26 at Nevada, which is expected to be better this season.
Superlatives from all non-AQ conferences
:
Offensive MVP
: Boise State QB
Kellen Moore
. He should be up for Heisman consideration, especially if the Broncos go undefeated again.
Defensive MVP
: TCU linebacker Tank Carder. High impact player, one of the best defenders in the game.
Surprise team
: Kent State.
Spencer Keith
and
Eugene Jarvis
, along with Cobrani Mixon, give the Golden Flashes their best shot in recent memory at returning to a bowl game.
Team most likely to disappoint
: BYU. The Cougars have to replace six starters on offense, and their quarterback situation is up in the air, with both
Jake Heaps
and
Riley Nelson
slated to take snaps in the opener. They also lost their top rusher and receiver. The schedule is brutal, with games against Washington, at Air Force, at Florida State, and Nevada to open the year, and conference road games at TCU and Utah. Coach Bronco Mendenhall always has a solid team, but the schedule is brutal and there are many question marks going into the year.
Surprise player
: SMU WR
Darius Johnson
. With the run and shoot offense the Mustangs play, Johnson could join
Aldrick Robinson
as 1,000-yard receivers.
Newcomer of the year
:
Alex Carder
, Western Michigan. It's never easy to replace a history maker. In this case, it's Tim Hiller. But Carder has the ability, and should benefit with the team's top five receivers returning, plus four starters on the offensive line.
Freshman of the year
: San Diego State RB
Ronnie Hillman
. Reports out of San Diego have already started gushing about Hillman, a 5-foot-10, 175 pound back who should give the rushing game a much-needed boost. Last season, the Aztecs averaged 2.9 yards per carry, ranking 116th in the country.
Coach of the year
: Chris Petersen, Boise State. The Broncos should be the best of the non-AQs once again.
Can't miss game
: Boise State vs. Virginia Tech, Sept. 6. This one could go a long way toward determining whether a non-AQ team has a shot at playing for a national championship this season.
TOP 25 SCOREBOARD
Saturday, 12/21
Monday, 12/23
Tuesday, 12/24
Thursday, 12/26
Friday, 12/27
Saturday, 12/28
Monday, 12/30
Tuesday, 12/31
Wednesday, 1/1
Thursday, 1/2
Friday, 1/3
Saturday, 1/4
Sunday, 1/5
Monday, 1/6