November, 24, 2009
11/24/09
10:53
AM ET
Where have you gone, Andre DeSaussure, the Apple Cup turns its lonely eyes to you?
Before the 1998 Apple Cup, DeSaussure, a Washington receiver with a quirky personality,
announced to reporters
: "I think Pullman is a bunch of crap. But it's a place you can go and have a good time, as far as a lot of drunk people."
I've always thought it a cosmic injustice that quote predated me in Seattle by a year. For a reporter covering a rivalry game, that is spun gold.
The Apple Cup has mostly been devoid of good quality trash talk of late. Just like the good quality football.
But it appears Huskies tight end
Kavario Middleton
wants that to change -- first
the trash talk
, then, one would assume, the quality football.
Said Middleton: "We want to put up 50 points. Run the score up. Put on a show. We're just trying to make a statement that we are the real deal."
As for as trash talk ratings, that's about 12 clicks below DeSaussure's masterful effort, but it's all I got for you.
Obviously, the 3-7 Huskies are significantly improved from last year's 0-12 team, though early-season hopes for a bowl berth proved a mirage. The same could be said for the Cougars, who have been far more competitive week-to-week, despite their 1-10 record.
Still, in 2001, the Apple Cup matched teams ranked No. 16 and No. 9 in the nation. The next season, the Cougars entered the game ranked No. 3.
But since 2004, both teams have been sliding down the slippery slope of bad, the climax likely -- hopefully -- being last year's
Crapple Cup
.
Meanwhile, across the border in Oregon, the Civil War next week will be a big national show on ESPN, with the Rose Bowl being the reward for the winner. There was a time when that game was a quaint rivalry with zero national significance. Times change.
Bob Condotta
wryly noted
in his blog that Middleton won't be available to talk to reporters again this week. He wouldn't have been anyway, per media policy, but this apparently is a Steve-Sarkisian-approved double-no for his potential availability.
Still, the Pac-10 blog salutes Middleton. You poured fans a small cup of colorful with your comment. The divergent reactions it will inspire will remind fans there's a game Saturday.
Perhaps some day in the future, the stakes will be more than pride.
November, 12, 2009
11/12/09
5:54
PM ET
While UCLA and Washington State occupy the bottom two rungs in the Pac-10, they are really not that close.
The Bruins, despite a 1-5 mark in conference play, are still thinking bowl game. Wins over Tennessee and Kansas State demonstrate that if the Bruins didn't have the misfortune of playing in the Pac-10, they'd probably have clinched a postseason berth weeks ago.
UCLA (4-5) notched its first conference win last week -- a 24-23 nail-biter over Washington.
"Obviously we were elated," coach Rick Neuheisel said. "A big load off our shoulders."
Then there's Washington State, which is 1-8 overall and 0-6 in conference play.
After beating SMU in triple-overtime, the Cougars have lost six in a row by an average of 30 points. Their closest loss of the season was by 13 points against Arizona State.
So, it's been a tough year in Pullman.
And don't even get coach Paul Wulff started about injuries. The latest is promising true freshman quarterback
Jeff Tuel
, who dislocated his kneecap against Arizona and is doubtful for the game, meaning sophomore
Marshall Lobbestael
will start.
"Our team is kind of wounded right now," Wulff said. "We are playing hard. Our guys are trying. I'm very happy with their attitude. But we obviously want to be more productive on game day."
The Bruins are hardly a finished product. Just this week, they announced
Derrick Coleman
will start ahead of
Johnathan Franklin
at tailback.
[+] Enlarge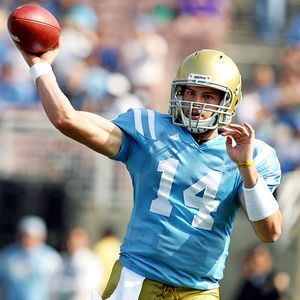 Charles Baus/Icon SMIKevin Prince has thrown for 1,264 yards and five touchdowns this season.
But they have made one major step forward. After much hand wringing, and probably too much discussion from Neuheisel on the matter, the Bruins seemed to have found a quarterback in exactly the place he was supposed to be: inside redshirt freshman
Kevin Prince
.
Prince has played well the past two weeks and seems to have secured the starting spot.
"I think we've got us a very exciting young player who is growing," Neuheisel said.
If he can stay healthy, that is. Prince was knocked out of action for two games after breaking his jaw at Tennessee. He struggled when he returned -- thus the ensuing quarterback controversy -- but seemed to find his rhythm while leading a comeback that ultimately fell short at Oregon State. He was playing well against the Huskies until he was knocked out of the game with a concussion.
Prince has been cleared to start Saturday.
He may not need an ice bag for his noggin. It's going to be chilly in Pullman on Saturday, with highs expected to hover just above freezing. There may even be a bit of snow and ice.
If there were any arguments in favor of the Cougars notching the upset, weather would be a major factor -- particularly against a warm-weather team like UCLA.
"It depends on how cold it is on the day you play," Wulff said. "It could. No question it could."
The Cougars are just glad to be home. They've played five of their last six games on the road against five ranked teams.
UCLA should be plenty motivated. If it should win -- and it should win-- it would only need to beat either Arizona State at home next weekend or USC on the road on Nov. 28 to earn bowl eligibility.
That, of course, would make things a bit lonelier for the Cougars at the bottom of the deepest conference in college football.