September, 7, 2012
9/07/12
4:00
PM ET
Arizona wide receiver
Austin Hill
provided us with one of the best plays in the country last week, laying out for a 30-yard touchdown catch in the second quarter of the Wildcats' 24-17 overtime win against Toledo. He finished with seven catches for 139 yards. This week he prepares for Oklahoma State -- a team that beat the Wildcats handily last year, though Hill produced season highs against the Cowboys. He took a few minutes to chat with the Pac-12 blog about the Week 1 win and the Week 2 challenge.
You had the catch of the week in the conference. Take us through that play and how it all unfolded.
[+] Enlarge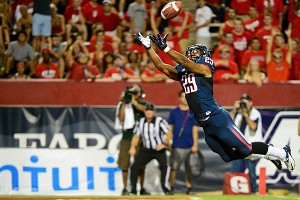 Matt Kartozian/US PresswireArizona's Austin Hill dives to catch a 30-yard TD pass against Toledo in the season opener.
Austin Hill
: Toledo gave us the coverage that we wanted. When I was running my route, the safety stepped down, so I took it over the top of him. It was more like a read. I put my hand up and was happy that Matt [Scott] saw it and threw it. I was a little scared, because I thought he overthrew me at first. When I saw the ball, I knew I was going to have to dive for it. I dove and it stuck.
You're 6-foot-3. If you're 6-foot-2, you don't make that catch.
AH
: Yeah. Very true, very true.
Overall, your assessment of the offense against Toledo. You put up some big yards, but you had some turnovers and put the ball on the ground a couple of times. What were your thoughts?
AH
: Overall, I think we were moving the ball well. We had over 600 yards, but not the points to show. There were a lot of mental mistakes. I put the ball on the ground, so that's something I need to work on. We were moving the ball fairly well. We had some missed opportunities that would have given us more yards. But overall, I think there were more better things than worse things. As an offense, we know what we need to improve on.
Is needing to take that next step a reflection of the youth of this team and still learning the system? Was it first-game rust, or are there some fundamentals that need to be cleared up?
AH
: There are some fundamental issues. We had a couple of dumb penalties. Coach [Rich] Rodriguez always emphasizes no dumb penalties. We've learned Rod's system well enough. We've had a long time and had a good camp. I'm comfortable in it. Matt's comfortable in it. He took over the offense last Saturday. I think it's just some fundamental issues and mental mistakes. And that's something you can always fix.
Last year against Oklahoma State you had your season highs. What was it about that team that you were able to find success against that defense. I assume you want to have a similar game this week.
AH
: Yes. I don't know if it was as much the other team as much as me just staying calm. That was my first start. I didn't know I was starting until right before the offense went on the field. It was kind of crazy. I feel like I was calm. I went out there and didn't think 'oh my gosh, it's Oklahoma State.' I just went out and played my game. I feel like that's what I need to do this Saturday. I can't be thinking that I played a good game last week or last year against them. It's a new game. It's like I've never played them before. I'll just go out and do the best I can.
So what you're saying is you didn't have time to panic last year?
AH
: Haha. Yeah. Basically. I appreciated that the coaches did that, too. Because if they would have told me I was starting I would have probably been in the hotel thinking about [it] the night before.
Fill in the blank for me. At the end of the season, Arizona football will be...?
AH
: Hmmm. Let me think of a good word. Arizona football will be relevant.
September, 7, 2012
9/07/12
3:07
PM ET
Arkansas middle linebacker
Tenarius Wright
is fresh off his first game at his new position. He moved from defensive end after linebacker
Alonzo Highsmith
went down with a hamstring injury.
The move started as a joke, but felt very natural once he moved. After making his linebacking debut with the Hogs against Jacksonville State, Wright took some time to talk with ESPN.com about his move and what he thinks about Arkansas' defense this season.
What was that move from defensive end to middle linebacker like for you?
Tenarius Wright:
Once Highsmith went down in the weight room with his shoulder injury, the coaches came to me and said, "We're going to move you to middle linebacker and see how it folds out." Before that, I was playing with the coaches, joking with them to just look at me [at middle linebacker]. It started off as a joke, but turned into a reality. I was joking, but I was actually serious, and once I moved to middle linebacker I said I'd step my game up. It demanded me to be a bigger leader for our team. Moving to middle linebacker wasn't hard at all. It was something I did in high school, too.
[+] Enlarge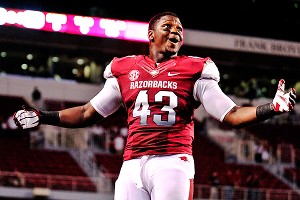 AP Photo/April L. BrownIndeed, Arkansas' Tenarius Wright is enjoying life at middle linebacker.
What's it like moving to turn into basically the quarterback of this defense?
TW:
At defensive end, when the play goes away, you have to check for the reverse, boot, cut back, but at middle linebacker, if the defense allows you to, you can go get it. I like to hunt the ball. Playing middle linebacker allows me to go left-to-right, sideline-to-sideline.
So, how did it feel to get out there and play your new position at linebacker? I know you were happy about it during the offseason, but how did it feel to move around in your new spot and get a game under your belt?
TW:
I feel great after the game. I feel like I made some mistakes, but at the same time I made some great plays. I have to keep going forward and keep getting better each week and improve myself every week.
Were there any moments on the field last Saturday when you got caught up thinking like an end and you tried revert to some of your old ways?
TW:
Yeah, I found myself reverting and going back to old habits, like taking off and going full speed on plays when I should have been sitting back and being patient. It's really something that I had to get on and since I missed some parts of camp toward the end I lost a couple of my fundamentals. I'm focusing on those now and regaining my steps and regaining the linebacker mentality.
How important is patience playing linebacker compared to defensive end, especially with all the moving around you're doing now?
TW:
Linebacker is really different from defensive end. I was used to coming off the ball and taking contact and being ready to just blow things up and get after it. At linebacker, the patience is the key because some plays develop and take longer than others. Not every play is downhill and headed right at you. And with the coverages that we run, all my help could be to the boundaries, so I have to play the role of being a cut-back guy. That's really the most important thing about playing linebacker -- knowing where your help is.
With one game under your belt at linebacker, what do you like more: defensive end or linebacker?
TW:
Well, both positions I can go line up at and play at during a game. I really don't have a preference, I just want to get out there and get after the ball carrier and play defense. Really, my mentality is that I'm a defensive-minded guy, so both positions work out well for me.
With this team, there has been a lot of talk about how you guys have no problem scoring points or putting up yards, but there are still questions about the defense. After the first game, what did you see coming from the defense?
TW:
We finally got a chance to get our legs and our feet wet on the field and in a game atmosphere. They got some good plays and some certain plays down the field. They were nick-knacking us and getting quite the yardage from just the small plays there were doing. That's something that we have to keep working forward on to stop those plays. We did try to limit the big plays, but we gave up the small plays that just pounded on and got first down after first down. After that performance, it let us know that the small areas that we've worked on need to be worked on and they can be fixed. They can be altered and turned into the right direction.
You've had two games with defensive coordinator Paul Haynes. What's the main difference you see in this style compared to Coach [Willy] Robinson's style?
TW:
We've had two different philosophies. I know for a fact that this year we are trying to step up our game and keep it as simple as possible and just go out and play our game in order to have a sound football game without thinking ahead of things and playing slow. That's really helping us out this year.
For this team to really make a run at an SEC title this year, how important is the defense going to be?
TW:
Oh, the defense is very important. We all know that it's a proven fact that defense does win championships and without a defense you can't beat nobody and you don't have the chance to win a championship. We know that the defense is going to play a big role in that big step to trying to win a national championship. The defense is going to have a great deal to do with winning us a national championship.
Do you guys like that there is pressure on this defense and that people are questioning and criticizing you all this season?
TW:
We take criticism daily, and we like to respond to criticism. I believe the adversity really gives us the edge and gives us the motivation to keep striving to get better every day. We just like to think of the criticism and think of the pressure as something that's needed, something that we should want. When you're having fun and playing defense and doing what you're supposed to do, there's no real pressure, especially when you're doing something you've done all your life.
September, 7, 2012
9/07/12
3:00
PM ET
Many people are projecting Ohio State junior defensive tackle
Johnathan Hankins
to become a first-round pick, and it's easy to see why.
Hankins is an imposing physical presence at 6-foot-3, 322 pounds, and he brings good athleticism to the position. He's a big reason why the Buckeyes have one of the top defensive lines in the country. I recently caught up with the rising star known as "Big Hank" for our Friday Q&A segment:
How do you think the defense played in the opener against Miami (Ohio)?
Jonathan Hankins:
We played pretty well. We kind of executed what we needed to do against a five-wide offense. It was kind of surprising that they went five-wide the whole game. We did as much as we could to keep pressure on the quarterback and keep him frustrated. I felt like we could have gotten a little bit more pressure, but the scheme they played made it kind of hard to get there at times. I think we did the best we could.
What challenges does this week's opponent, UCF, bring?
JH:
This is going to be a good challenge for us. They're one of those teams that does run the ball. They're not shying away from that. They have a good running back and a good offensive line. I feel like this is our type of game, and I'm really excited for this Saturday. We're expecting to see some power and zone reads, and whatever they show us, we just have to adjust and prepare for the next play.
[+] Enlarge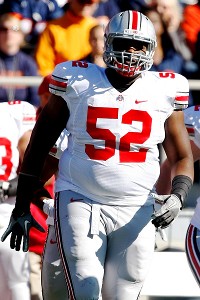 AP Photo/Scott BoehmThe massive Johnathan Hankins is a big reason why Ohio State has one of the nation's best defensive lines.
How did you feel like you prepared for this season, and how would you rate your Week 1 performance?
JH:
I feel like I prepared pretty well. The first game, I felt like I was kind of getting the rust off, but I felt I did pretty good getting some pressure and, when they did run, at stopping the run and holding my ground. I feel like this game [against UCF] will be a good opening for me because they run the ball. And getting after the quarterback, because they're going to run play action and hold the ball a little longer.
As a defensive tackle, do you really like playing against running teams the most?
JH:
Yeah, that's what I love to do, play the running game. And this year, I'm starting to get better as a pass-rusher. It's what I tried to improve upon this offseason, so I'm going to see how that goes with my pass rush. Hopefully, I'll accomplish what I want.
Some of the freshmen defensive linemen, like Noah Spence and Adolphus Washington, made their debuts last week. What do you see out of those young guys?
JH:
I feel like they're very athletic, and right now they're knowing our game plan very well. It's just going out and getting the feel of the game and not being so big-eyed and shy when there's 110,000 people out there watching them. I feel like they'll do well and definitely be a good fit for us this year.
How good was it to see Nathan Williams back in action?
JH:
It was amazing to have him back in there. It's been a year, and just having him back gives me more confidence and relaxation. I know that everybody on the line can do their job, and with him being the playmaker that he is, it gives us even more confidence.
You still have Michael Bennett coming back at some point, too. Just how good and deep can this D-line be?
JH:
I can't really explain how it's going to be. We've got so many guys -- with Nate, Michael, the freshmen -- it's kind of unique to see. Once everybody gets healthy and knows what to do, it's going to be a big edge for us.
Mike Vrabel is coaching the defensive line this year. What has he brought to you guys?
JH:
He definitely brings a lot of energy to our defensive line and always preaches going hard and relentless effort. I feel we're learning more techniques now and more about game formations and things like that. By him playing in the league, we can always relate to everything he has provided.
How many times has he mentioned his Super Bowl rings?
JH:
Every once in a while, when he wants to make a point.
You're from the Detroit area. How did you end up at Ohio State instead of Michigan?
JH:
It's kind of crazy, but Ohio State was one of the first teams that was interested in me. Michigan was one of those schools that was kind of in but not in on me. Once I took my visit here, I felt like the family atmosphere and all the coaches were a good fit for me. And I kind of wanted to be a little far from home but not too far.
Were you a Michigan fan growing up?
JH:
I was pretty much a Michigan fan until I got older, but then I started liking the
Florida Gators
. Michigan and Florida were my top schools.
So you rooted for the Gators when Urban Meyer was there?
JH:
Yeah. I took a visit there and thought about going there. And now that he's coaching here, it's kind of a funny situation. Everyone was thrilled when he got here. I knew when he came in that the offense would be amazing, and from what I've seen so far, I feel like it's pretty good. In the future, I think we'll probably be one of the best teams in the country.
You're a big guy. Did you always play football, and were you always put on the lines?
JH:
My freshman year, I played basketball, but once I realized it took up a lot of time, I stuck to football. This is my love and what I love to do. Actually, when I first got to high school, I played middle linebacker. As I got older and a little bit bigger, they moved me to defensive end and D-tackle and then offensive tackle. I was always a little bigger and athletic.
How much did you weigh when you were a freshman playing linebacker?
JH:
I'd probably say, 250, maybe 265.
So did you just put the weight on gradually?
JH:
Yeah, it was just mom's cooking and playing football. That blew me up.
What's your mom's best dish?
JH:
Lasagna. With her bread.
During the ESPN All-Access stuff, fellow defensive lineman Chris Carter complained about being on a restricted diet. Have you ever had to go through that?
JH:
I always try to eat healthy, but during camp it's kind of hard because there's always food, and they always want you to eat and hydrate. So it's kind of like a war with what you eat, to make sure you're ready for practice but don't eat too much and not be overweight. Once [new Ohio State team nutritionist Sarah Wick] got here, it made it much easier. She has helped me extremely, and I appreciate her.
Finally, your name popped up on a lot of preseason All-America lists and NFL draft talk. What do you make of all that?
JH:
It was good to hear. But I always think the more hard work I do and the more I put on the field, the more good things will happen. I'm just focusing on this year and winning as many games as I can for the seniors and just going out there and paying football. Because that's what I love to do.
September, 7, 2012
9/07/12
2:30
PM ET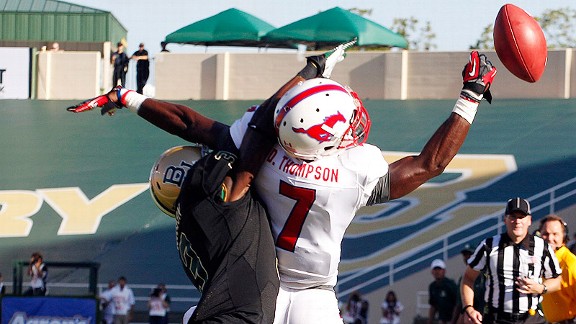 AP Photo/LM OteroDemetri Goodson turned a basketball life at Gonzaga into a football jumpstart at Baylor.
In today's Q&A, we introduce you to Baylor cornerback
Demetri Goodson
, who's got the most interesting story of any starter in the Big 12.
Goodson started for two seasons before coming to Baylor.
Started at point guard under Mark Few for Gonzaga's basketball team, that is. The Spring, Texas native's older brother is Mike Goodson, who ran for 1,964 yards in three seasons at Texas A&M, but Demetri Goodson bucked his brother's wishes to head to Baylor, where he earned a starting job at cornerback after sitting out most of last season with an injury.
In
Baylor's 59-24 win over SMU
last week, he made seven tackles and broke up a pass, adding a tackle for loss. He sat down with ESPN.com this week to talk about his incredible backstory.
What was it like making your first start last week?
It was very, very, very exciting. It was great to get back out on the field finally. I was kind of nervous a little bit, but after the first couple of plays, I kind of settled down.
I know this is your second year, but take us back. How'd you make the decision to leave Gonzaga hoops and come play Baylor football?
I just prayed about it one night. My dad, he had told me I should look into playing football for my future, and I started thinking about it. I was really, really good before I stopped playing, so I kept praying on it and one day I woke up and was like, "I'm gonna do it." I talked to my high school coach (Ronny Feldman of Klein Collins High School) and let him know I was looking to play football again and schools just started calling, so it made it easy.
[+] Enlarge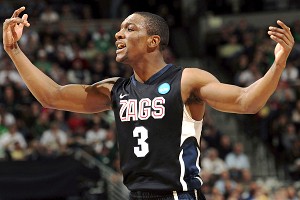 Doug Pensinger/Getty ImagesDemetri Goodson averaged 5.2 points a game in his final season at Gonzaga.
What was the toughest part about leaving?
The toughest part about leaving was just leaving all the close friends that I've made throughout the years at Gonzaga. That was probably the toughest part, but I was just ready to come back home and be closer to family, so that was a big part.
What do teammates think about your playing history?
They think it's crazy. Everyone tries to play me in basketball all the time, they always talk about how they can take me on the court and stuff. They're always giving me a hard time about basketball, but they just really think it's crazy how I switched sports like that.
I remember Robert Griffin III used to tell me he always got texts from (Baylor basketball coach) Scott Drew, half-jokingly asking him when he would come out for the team. How much do you hear from him?
I haven't even talked to him since I've been here. I told Coach Briles when I came that I was going to be all in to football, and I gave him my word I wouldn't try and go play basketball, so I've stuck to my word, just concentrating on football.
Your brother's a former Aggie. What'd he think about you coming back to play for Baylor?
He wanted me to go to Texas A&M, but throughout the years, watching him play there, I just wanted to go off and do my own thing. After coming up here and meeting the coaches like coach (defensive coordinator Phil) Bennett, I knew this was the place for me. I definitely think I picked the perfect spot.
Not too many guys have played two different sports at two different schools, and I'm sure there's tons of differences, but what's the biggest about starting at point guard for Gonzaga and starting at corner for Baylor?
Being a point guard, you really have to control your team like a quarterback playing football. Playing corner, you're really just doing a job. Everyone's got a job to do, and my job is to go out there and not let anybody catch the ball and hold down the corners. It's kind of similar, but it's definitely different. I feel like cornerback is more of a job, a team-type of position, more so than the point guard is. Cornerback is definitely tough, but I'm pretty good at it, I think.
Did you give your brother a hard time last year with Baylor winning 10 games and A&M struggling?
Oh yeah, definitely. I always talk mess. I think I got hurt the game before we played A&M last year and I was so mad, because I wanted to play against them so bad. He's always talking about Texas A&M this and Texas A&M that, so I was really disappointed I didn't get to play against them last year.
September, 7, 2012
9/07/12
2:00
PM ET
Brandon Jones
battled
Marcus Cooper
throughout the offseason for a starting spot at Rutgers. Jones made his mark in Saturday's
24-12 win at Tulane
, taking a fourth-quarter interception 14 yards for a touchdown to break the game open. It was the cornerback's first touchdown since high school.
Jones dropped two other would-be interceptions earlier in the game, but the fact he was in position to make those plays speaks to how far he's come since last season, when he played with a fractured tibia. Now, the fifth-year senior is hoping to close his college career by helping his school accomplish a program-first: win a Big East title.
How nice was it to reach the end zone Saturday?
[+] Enlarge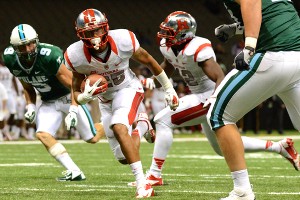 Chuck Cook /US PresswireBrandon Jones' fourth-quarter pick-six put the game away for Rutgers.
Brandon Jones:
It was good to get my first career touchdown. It felt really good. And for it to be at a crucial point in the game, it made it feel even better.
Did you remember the feeling from high school?
BJ:
Yeah, I remember it. It's nothing compared to high school; it's such a bigger stage. But I was happy to be able to help my teammates and help us win that game.
Did it make up for a couple of the earlier close calls?
BJ:
I try not to say it made up for it because I was just playing the game like I'm told to do: Come down with the ball and hopefully next time I'll be able to get it. But yeah, I would just say that it was a much-needed play and it helped the team and it kind of did make up for the ones I did drop.
You revealed this week that you played through last season with a fractured tibia. Why?
BJ:
I played because I knew my team needed me, and as long as the doctors and everybody said I was able to go, that's what I was going to do.
How much did that hurt?
BJ:
It hurt a lot, it hurt a lot. It was very painful. I would not wish it upon anybody.
What part of your game did it limit the most?
BJ:
I would say I wasn't able to break as fast as normal, and speed-wise, I couldn't get going as fast as I would like to. But that helped me mentally, because I had to get smarter in my game and I had to be there that much more mentally, because physically I wasn't as capable as I usually am.
When did you suffer the injury?
BJ:
It happened during the summer. It initially started in the summer, and it progressively got worse, and by camp it was fractured.
What was the offseason recovery like?
BJ:
I went into surgery with
Khaseem Greene
. We had surgery on the same day. And after that we just kind of grinded together in the training room and just made sure that we were doing the right things to get back as quickly as possible. And then once spring ball hit and I was able to go and I realized I was going to be back to myself, it was a good feeling.
How do you feel now?
BJ:
I'm 100 percent. I'm ready to go.
Marcus Cooper has made strides in the past year. How have you two pushed each other?
BJ:
Marcus is doing a great job right now and we're really close friends. We're best friends. We compete all the time. Not just on the field -- we're always together off the field. We're always competing with each other, so whether it's at the cornerback position or playing video games or while we're at the apartment, we push each other to try to make each other the best at everything.
How has Kyle Flood put his stamp on this program so far?
BJ:
Coach Flood's doing a tremendous job, and I hope people could realize that on Saturday because you can tell guys are out there playing for him and flying around, playing fast. And that's what we need to do if we want to reach our ultimate goal, which is a Big East championship. So he's doing a great job and he's keeping everybody focused on what the goal is.
Looking forward to coming home Saturday?
BJ:
Yeah, it was good to land back here in Jersey and practice here all week. And it should be exciting on Saturday. Hopefully we'll have a good turnout. I'm excited to see the fans show their support.
You've been there awhile. Any bucket list for this last hurrah?
BJ:
Oh that's an easy one, a Big East championship. That's the goal. And it would be great to end this season with that trophy with my brothers, with my senior class I came in with, and that's what the whole summer was for. We worked to pursue that goal and we're still working to get that goal now.
September, 7, 2012
9/07/12
2:00
PM ET
Duke receiver
Conner Vernon
had a record-setting performance in a 46-26 win over FIU last week. Vernon caught 10 passes for 180 yards and became Duke's all-time leader in pass receptions with 208, passing the previous mark of 207 held by Donovan Varner. Vernon now needs 25 receptions to set the ACC career record.
I had a chance to catch up with him this week as Duke prepares to play No. 25 Stanford. Here is what he had to say.
Did you ever think you would have a chance to set the school record out of the gate in Week 1?
Conner Vernon:
It wasn't on my mind at the time. I didn't know I was that many receptions away from it until late in the game when somebody told me you only need one more catch for the school record. I think they passed that on to Coach (David) Cutcliffe, and that's when he threw me back in there for that last catch.
[+] Enlarge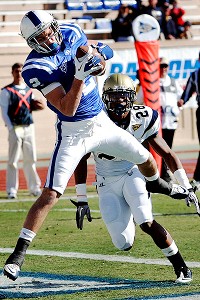 Mark Dolejs/US PresswireThe production of Conner Vernon is a key reason why Duke is optimistic heading into Saturday's game at Stanford.
So how did you feel when you got that last catch?
CV:
It was good. It felt great to know how many great receivers have played at this university, and just to have my name at the top was a moment I'll remember forever. It was a surreal moment.
Do you have the ball?
CV:
Yes, they let me keep the ball. I have it at my house here in Durham.
Coach Cutcliffe told reporters after the win he felt really encouraged by the overall performance. Did you feel a different vibe out there among the entire team?
CV:
Absolutely. We worked real hard this summer just trying to get guys right. We had a lot of young guys having their first snaps out there, that's something we worked a lot on, trying to get them game ready. And it was not only the amount of points we scored, but scoring in every phase of the game. We knew how good this team was and we showed that on Saturday.
You also had 12 players listed on your injury report and still managed to win by 20. What does that say about your team?
CV:
It goes to show the depth that we have on this team. We were missing a couple starters, and we love to have them out there, absolutely. But it's not something we want people to feel sorry for us about because we knew the guys behind them were very good, and they showed us what they can do out there.
So now that you won big, how do you avoid complacency against Stanford this week?
CV:
Just go out like we did in Week 1, take it one week at a time. That's something we preached a lot this offseason, and going in with the expectation of winning. That's something Coach has put on his players and staff, we're going to go in with the expectation of winning. Something he also told us last week was to let loose. Your biggest worry can't be about making a mistake. Just go out there and play football and have fun.
You obviously have a long trip. How do you best prepare for that intangible this week?
CV:
Just take it as another game. Stanford is a great team and they have the track record to show for it. They came down here last year, and in the second half we didn't come out to play. Going over there, I can't really describe what it's going to be like. I've never had to play a game with the time difference, so I don't know how much I'm going to feel about it. I know we leave on Friday and just kind of take it all in and enjoy the moment. A lot of guys haven't been out West. I've been to California but never to the San Francisco/Bay Area so I'm looking forward to seeing that and looking forward to taking it in. It's a neat experience and hopefully we can come out with a win and it will be that much better.
So what do you do for an encore performance?
CV:
Hopefully, just from a player perspective, whenever my number is called just make plays. That's what I did on Saturday, whenever (
Sean) Renfree
came my way, I did my best to make the play.