September, 14, 2012
9/14/12
4:02
PM ET
Tyler Bray
's arm strength and presence in the pocket jump out at you.
So do his eye-popping numbers in 14 career games as Tennessee's starting quarterback. He's thrown for 4,172 yards, 39 touchdowns and 13 interceptions.
What's missing in those 14 starts is a marquee win.
Bray gets his chance Saturday against No. 18-ranked Florida, which has won seven in a row over the Vols.
We caught up with Tennessee's talented junior quarterback earlier this week for a Q&A:
How do you want to be remembered here?
[+] Enlarge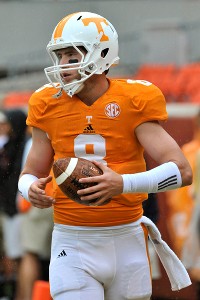 Jim Brown/US PresswireTyler Bray has put up gaudy numbers, but one thing missing from his resume is a signature win.
Tyler Bray:
By how many games we won and who we beat. I don't care how many touchdowns I've thrown, and nobody cares. As long as we're winning ballgames, that's all I care about. That's all the fans care about, and that's how it should be.
Is it fair to say that you need to win a big game before you can be considered as one of the top quarterbacks in college football?
TB:
We need to go out there as a team and get a win like this, because they're going to keep saying we haven't beaten anybody in the SEC that good. It's time to put all that behind us and move on.
Your coaches have talked a lot about you being a more mature quarterback. Where have you matured the most?
TB:
Last year, we were like, 'We're going to throw it deep regardless.' This year, if it's not open deep, we're going to check it down and let the running back make a play. That and the red zone and not thinking I've got to throw a touchdown on every pass. There's nothing wrong with throwing it away on first down if nothing's there. There's still going to be a second and third down."
What do you think the NFL scouts want to see in you or any quarterback other than the obvious skill set that it takes to play in that league?
TB:
They don't want a quarterback coming in that hasn't won a bunch of ballgames or doesn't know what it's like to win. They want a guy who's a winner, doesn't lose much and is a fierce competitor.
How do you like the no-huddle offense that you guys have shown some of this season?
TB:
Every quarterback, I think, likes the no-huddle. You saw Peyton [Manning] do it the other night. It's easier. You don't have to think as much. You get up to the line and see what the defense is running and run the play.
How much does it bother you that Florida has beaten Tennessee seven straight times?
TB:
It does bother us. This team's got a bit more maturity this year. Last year, we probably wouldn't have cared what the streak was. This year, we're taking some pride and taking some ownership. We need to beat them.
What do you remember about the last time Tennessee won in 2004?
TB:
I don't know. I wasn't watching Tennessee and Florida. That's for sure. I was probably watching the Pac-10.
How do you think Florida will try to defend you Saturday?
TB:
What they're probably going to do is blitz a lot and try to get after me and make me throw under pressure and throw bad balls.
Don't you like it when people come after you and dare you to beat them down the field?
TB:
Yeah, you get hit. I've been hit a million times. It doesn't hurt.
September, 14, 2012
9/14/12
2:30
PM ET
Virginia Tech receiver
Corey Fuller
has had an outstanding start to the season, leading the team in yards receiving with 126, and also got the first touchdown catch of his career last week. I had a chance to catch up with him earlier this week for our Friday Q&A.
What has been the biggest key to your early success this season?
CF:
Just doing a lot of work in the offseason with my brothers, and some of the corners on the team now. I did a lot of speed work on the track, and worked on different types of releases, ball drills, different things like that.
[+] Enlarge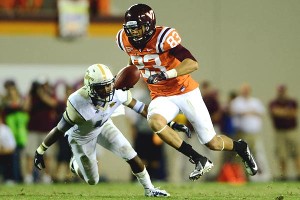 Andrew Weber/US PresswireWide receiver Corey Fuller says he's stepping up his game for the Hokies this season.
Do you knew you had the potential for a breakout season?
CF:
I knew I did. I just had to show it.
It obviously hurts losing a teammate in D.J. Coles, but how do you see this opportunity now with him being out for the season?
CF:
It's a big opportunity. With him out now, it's a big door that I just need to show what I can do.
Why did you decide to give up football out of high school and focus on track at Kansas?
CF:
When I was leaving high school, I wanted to do both football and track, and most of the football schools wanted me to go to a prep school to gain weight. I wanted to go college. The track coach at Kansas, Wayne Pate, coached a lot of Olympians in my event. So I went straight there out of high school.
What was it like giving up football?
CF:
It was tough. I still played a little bit. I was still working out with Kansas, with Vincent and Kendall, too. Once the season started, I wished I was still out there sometimes.
So what was the track experience like?
CF:
It was amazing. I got to travel plenty of places I would have never been if I didn't go to Kansas. I got to go to a lot of big meets, met a lot of great people, a lot of great track athletes, which was amazing. One of the biggest places I'm glad I got to go was the University of Oregon, where they call it Track Town USA, so that was one of the biggest things that I enjoyed going to.
Did you have aspirations to make the Olympic team?
CF
: Even when I transferred back to Tech, I still thought about making the Olympic team sometimes.
So why did you leave to come to Virginia Tech?
CF:
When I was at Kansas, the idea of playing football and track came up but nobody came to an agreement. The track coaches worried about me getting injured. When Kyle was getting recruited, it was an opportunity for me to come back and play football and an opportunity to get back to my family. My first year here, I didn't do track but this past year I ran indoor and I was just glad to be back out there.
What was it like to play again after sitting out two years?
CF:
It wasn't that bad. I had a lot to work on. The speed was obviously there. I had to work on staying low instead of running up so high, and I had to get back to catching the ball, looking it all the way in, getting more physical, getting off the jams, my releases. It was a little rough, but then it got easier and easier and easier.
You also had to make the transition to receiver after playing quarterback in high school, but you have made it look easy. How?
CF:
I knew I could do it. In high school, I played quarterback, but in different camps and combines, I also got some receiver reps so that was big for me. Transferring, starting all over I was up to the challenge. It was a little difficult. I was living by myself when I first got here, too. It was a little weird for me but it all worked out in the end.
We have heard all about the Fuller brothers. Vincent played there, now you and Kyle. Your youngest brother, Kendall, has committed. What was it like growing up in your house?
CF:
It was competitive. Everybody always wanted to win. I remember we had a little store up the street from our house, and we would walk to the store, get some chips or a soda and on the way back, we'd always say, 'The last person there is a rotten egg,' and race all the way home.
Who would win?
CF:
I don't remember, but I would say myself.
Good answer. So what about your goals for the season, have they changed now that you have gotten off to a good start?
CF:
I set little goals. I didn't set anything too high. Remember sharing them with my older brother, Vincent. He told me, 'I think you can shoot a lot higher, you can do better than these goals.' So now I'm I the process of getting goals higher. At least five catches a game.
Any yardage amount to go with that?
CF:
I feel as the catches come, the yards will get there.
September, 14, 2012
9/14/12
2:30
PM ET
Walter Stewart
made his presence felt in Cincinnati's opener last week against Pitt. The defensive end notched nine tackles, two sacks, 3.5 tackles for loss and a forced fumble. Here, Stewart talks about building off that performance, along with his goals for his senior season.
Was that about as good of an individual effort as you could have hoped for in Game No. 1?
Walter Stewart
: Yeah I think it was a good start, but I wouldn't have been able to make it happen if everybody else wasn't doing their jobs, so definitely a good start to the season.
Pitt's only touchdown came in garbage time. Is that a point of pride for you guys?
WS
: Aw hell yeah, man. Bottom line, the standard never changes, no matter who's on the field, no matter who's on the jersey. And you see young guys give up a big play or give up a touchdown at the end of the game that definitely attacks the pride a little bit, but it's just something to learn from and get it corrected.
Did it help having film on them after one week or did it hurt not playing the week before?
[+] Enlarge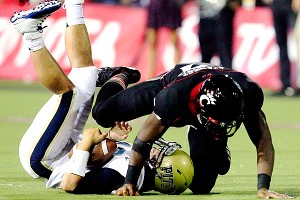 AP Photo/Al BehrmanTwo sacks against Pittt got Cincinnati's Walter Stewart a fifth of the way to his goal of 10.
WS
: It kind of helped because Coach [Butch] Jones was able to let us know a whole bunch of percentages and statistics on what happened in Week 1, and the mistakes that people made. And it also gave us more time to prepare and also gave us the advantage of not having anything on tape for Pitt to study. So it definitely helped being able to sit out one week and see everybody, then get an opportunity later.
Coach Jones has said you're one of the best leaders he's ever been around. What kind of challenge is that for you, and what does that mean to hear that from your head coach?
WS
: It just comes with being a senior and being a leader in general. You've just got to show up every day and just live right, put the game first and put your teammates first, be real selfless and just do it for them. And I guess it can be a challenge if you don't want to accept that role, but I fully accept it and just do what I've got to do to help the team win.
Why do you think he said that about you?
WS
: Just from the work that I've put in. I've been here a long time and I've played a lot of football here. And just putting in all the work over the years and earning it. A lot of people don't really earn their leadership roles. I guess I earned it. I do what I say. I walk it and I talk it.
Do you have a specific sack goal in mind for this season?
WS
: Yeah, my goal is 10. If I get 10 I feel like that'll be enough to help us get to where we need to get to. So if I can get at least 10 I feel like I did a good job this season.
Just 10?
WS
: Yeah, I mean, that's it (laughs). I'm always hoping for more but I've got to get to 10 before I get to any other number. So if I get to 10, anything else I'm all game for it.
How closely do you look at other defensive ends in the Big East and throughout the nation? Do you measure yourself against some of the better guys? How do you think you stack up?
WS
: There's a lot of good dudes out there, a lot of good pass-rushers, a lot of good outside linebackers and defensive ends out there. But I try to just go out there and produce on the field. I don't really worry about what everybody else is doing. I feel like I'm a good player, too. Every week is a chance to go out there and show who's a better player or who can make the most plays. So I just try to lean toward that and not try to number myself amongst everybody else.
What do you look to build off this week against Delaware State? Where can you improve?
WS
: We want to play a clean game offensively and defensively. Even though we won and kind of won big, we want to get back to running to the ball every snap, finishing plays, finishing drives and overall finishing. Because like you said earlier, they had a touchdown toward the end of the game. And small stuff like that, it won't hurt you in a game like that, but it'll hurt you later on. So we just want to make sure that we finish and that we play with good effort this weekend.
September, 14, 2012
9/14/12
2:00
PM ET
Big 12 commissioner Bob Bowlsby will be making his way to Lawrence, Kan. this week for new member TCU's first Big 12 conference game.
He's visited three campuses in each of the past two weeks, and has been to all 10 campus since July 1, but finally had some time back in the office this week.
Before heading north to KU, Bowlsby took some time with ESPN.com to talk Notre Dame, expansion, his conference's new individual school media deals with Fox, the Champions Bowl, and more. Be sure to check out part 2 of his Q&A this afternoon.
[+] Enlarge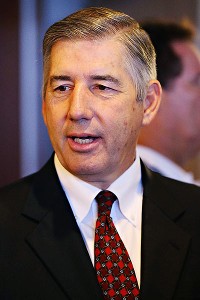 Kevin Jairaj/US PresswireBob Bowlsby says the Big 12's new television contract has provided a sense of relief around the conference.
Note: Parts of this interview were edited for length.
What were some of your major takeaways from this recent tour across the Big 12?
I think there are a lot of projects going on on campus, so I think the administrations are making good use of the revenue that we're going to be generating. I found a feeling of tremendous optimism and probably, in fairness, some relief that things have calmed down. Now, with the completion of the television contract and the grant of rights, it gives people a little more confidence that the 10 of us are moving forward together. It gets everyone thinking innovatively about what the future looks like.
You're getting together soon with (SEC commissioner) Mike Slive to talk about the Champions Bowl, right?
We've got a call on the TV deal on Monday and the following week, we're getting together in person. And it's not just Mike and myself. It's several staff members and lawyers on both sides. But we're progressing well on it.
Do you feel like it's something that needs to be in the Big 12 footprint?
No, I don't come into it with any preconceived notions as to where it's going to end up. We sent out 11 requests for (site) proposals. We got five returned, which is kind of what we thought we would get. I think all of the submissions are viable. There are three in the Big 12 footprint [Arlington, Houston, San Antonio] and two in the SEC footprint [New Orleans, Atlanta] and until we get in the room together, it's hard to know where we're headed with it. I think Mike is open-minded about where it can end up, and so am I.
When did you know Notre Dame intended to leave for the ACC?
I found out through media reports, whatever morning that was. I was certainly aware that the folks at Notre Dame and the ACC were having conversations.
What did you think when you first heard it?
I think it's a good fit for them, because of the private schools that are in the league, their past relationships with some of the personnel in the league, the fact they were aligned in the Big East with Pitt and Syracuse and BC and Miami. Those are all things I think that probably made it a little easier to grease the skids for this to happen, so I think it's a good thing for Notre Dame and a good thing for the ACC.
How does that move affect the Big 12's attitude toward possible future expansion?
Well, I think whenever we talked about it within our league, we looked at Notre Dame as being different than others, mostly because they made it clear that they weren't prepared to bring their football program into our conference or any other conference. We didn't consider them in the same offer with anybody else that may have expressed interest. I am unconvinced at this point -- and I can change my mind on it, especially if our members change their thinking on it -- but I'm unconvinced at this point that larger is better. I think there are situations where you could add members where you could get more than pro rata increases in revenue, but there aren't very many that will do that.
In the end, our various business relationships are intended to drive revenue for our members. We're distributing more than $20 million a year right now to each team in the Big 12, and with the Champions Bowl, and some of the other things we have going on, that revenue is going to do nothing but climb, so we feel very good about where we are right now.
More from Bowlsby on the possibility of ACC members jumping to the Big 12, the Big 12's new media deals (both individual and as a conference) and more Notre Dame talk in part 2 of Bowlsby's Q&A.
September, 14, 2012
9/14/12
1:00
PM ET
After missing all of last year with a knee injury, Stanford safety
Ed Reynolds
has come on strong with three interceptions in the first two weeks of the season and is tied for the FBS lead. The No. 21 Cardinal face No. 2 USC on Saturday and Reynolds took a few minutes to chat with the Pac-12 blog.
An obvious question to start, how frustrating was it to sit out the entire year?
Ed Reynolds:
It was definitely frustrating just because I put in a lot of work in the spring and felt like I made a lot of gains when it came to knowing the playbook and knowing what we wanted to do when it came to techniques and play calls. But injuries happen. That's the game we play. I put all of my effort into rehabbing. Just to be back now with my brothers and to play on this defense is a great feeling.
I don't need to tell you what you're up against this week. If I promise not to tell anyone, what's the plan for stopping Marqise Lee and Robert Woods?
[+] Enlarge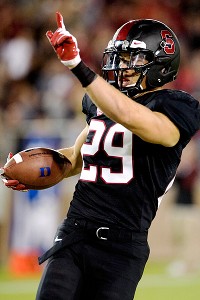 Ed Szczepanski/US PRESSWIREStanford's Ed Reynolds has three interceptions through two games.
ER:
It's going to be a full team effort. We don't feel like it's any type of one-on-one battle. We don't feel like it's our corners versus their wide receivers or our defensive backfield versus their passing game. We feel like we just have to play within our system, execute what our game plan is and swarm to the ball. That's the best wide receiver combo in the nation.
Matt Barkley
does a good job within their system, getting those guys the ball in space and letting them do their thing. We've been preaching getting 11 hats to the ball. That's how we play team defense. We won't leave a man out on an island by himself to make a one-on-one tackle in space. We want 11 guys to swarm and slow those guys down.
Nothing will ever top the Cal-Stanford rivalry. But in the past few years, this rivalry has blown up. Are the Trojans your secondary rival?
ER:
It's just another great game. You always have great athletes on both sides. I've only been a part of it for a couple of years. But the first two games were amazing. It could come down to the wire. It's a game I recommend tuning in to.
Last year, only seven interceptions for the season. You already have three by yourself and the team has four. What's the difference?
ER:
We put a lot of emphasis in the offseason on creating turnovers. You look at all the great defenses in the league and in college football, they cause turnovers. They put their offense in great field position and they give their offense extra possessions. We put an emphasis on being able to do that. Our front seven makes it easy on the back end for us by getting the quarterback a little frazzled and make sure he knows he's not playing seven-on-seven. We spent a lot of time catching balls. We told ourselves coming into this season we need interceptions and it's been going great so far.
One of the things coach David Shaw said before the season was that he wasn't sure what this team's identity was going to be. Have you guys found it yet?
ER:
As a defensive player, we spent the offseason saying we need to be dominant and get the offense in good position. Swarm to the ball. Team defense. The offense is coming along, but when you have young guys filling spots and trying to get comfortable, it's going to take some time. But I don't think the offense has strayed from what we are. We're a power running game. The identity hasn't changed just because our personnel has. We're just growing as a team.
You're one of several Stanford players who had an NFL dad. Is it tough being an NFL legacy, or are there some perks?
ER:
I never looked at it as being tough. There are more perks. My dad's career was over early on in my childhood. I don't remember a lot of it. But just being able to talk to him and get some of his football wisdom is amazing. I attribute a lot of my football IQ to him because he's helped me through a lot of my football growth since I started playing in the early middle school days. Just having someone you can talk to about the game who has been in similar situations is definitely a perk.