College Football Nation:

Q&A 092112
September, 21, 2012
9/21/12
3:00
PM ET
After two rough seasons, the arrow is pointed up for Minnesota football. The Gophers are one of just three undefeated teams left in the Big Ten, and they're already halfway to bowl eligibility, having matched their wins total (3) from each of the past two seasons. They're shown improvement along both lines. They've already intercepted more passes (5) than they did all of last season (4). They also survived an ankle injury to senior quarterback
MarQueis Gray
in last week's win against Western Michigan. Senior linebacker
Mike Rallis
, who made his first collegiate start as a freshman in the 2008 Insight Bowl, has lived through the losses and the transition, and he hopes to go out the program headed in the right direction again. The 6-foot-2, 245-pound Rallis has started the past season and a half and ranks second on the squad in tackles with 21 this year.
ESPN.com caught up with Rallis this week in advance of Minnesota's game against Syracuse.
Minnesota has had some tough times in recent years. What's it like being around the program and being around campus with the team at 3-0?
Mike Rallis:
It's an exciting atmosphere around the program, but we know we've got a long way to go still. We're just out here grinding every practice, trying to get better.
[+] Enlarge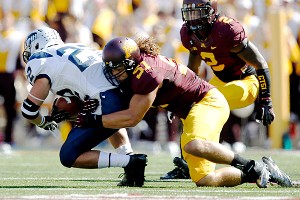 University of Minnesota Athletic CommunicationsMike Rallis wore No. 51 to remember his teammate Gary Tinsley who died suddenly in April.
Coaches talk about the challenges of dealing with success. How is your team handling it early on this season?
Rallis:
I think guys have stayed pretty focused and realize that we've got a long way to go. We're going to play a lot of good teams this year, it's a long season. The teams that do well at the end of the season are the teams that continue to build and get better, as opposed to staying the same throughout.
It looks like your teammates were having some fun and showing off their dance moves in this video. Why didn't we see you in it?
Rallis:
(laughs) I don't get too caught up in that stuff. When I'm around the football facility, I'm all business.
Where does Syracuse rank among the teams you've played so far this season?
Rallis:
I think they're the best team we'll have played so far. They've got a lot of good players out there, a lot of skill players on offense who can hurt you if you give them any kind of space, and the quarterback's a pretty good player, so we're definitely going to have to step our game up to beat this Syracuse team.
What's stood out to you when you've scouted [Syracuse QB] Ryan Nassib?
Rallis:
A lot of college quarterbacks stare down their targets, and Nassib will go through his progressions, through his reads. He'll look off a couple guys and move onto the next progression. That's a pretty good quality as a quarterback.
How would you evaluate the defense's performance through the first three games?
Rallis:
I think we've done a lot of good things. The main thing that's improved from last year is how fast we've played. Less thinking, less processing, more just going out there and playing fast, great effort running to the ball. But I think we've got a long way to go with some of our fits, some of our assignments and just being more consistent overall as a defense.
The defense already has more interceptions than all of last year. What do you attribute that to?
Rallis:
There's a couple things. We made a point of emphasis throughout the offseason of, when we get an opportunity to catch a ball or recover a fumble, we're going to do it. The other thing that I think has been big is the pressure the D-line has created on the quarterback to force some bad throws. It gets him a little weary in the pocket.
You've got a lot of experience at linebacker. How do you factor into leading the team, and where do you think the linebacker group is at right now?
Rallis:
We've got a lot of veteran guys who play in the rotation. We have a deep corps, and we look to ourselves to set the tone every practice, every game, come out with great energy, get everybody lined up and just play our roles on the defense.
Where did the idea of having a different player wear Gary Tinsley's jersey number every game come from (Tinsley, a former Gophers linebacker, died suddenly in April)?
Rallis:
Pretty soon after Gary had passed, we talked about different ways that we were going to honor him. Some of the players suggested that, and I think it's just been a great way to call attention to Gary and tell his story and honor him in front of a large audience. The TV and the media have to look every game and say, 'Why is so-and-so not wearing his regular number? Why is he wearing 51?' It's because of Gary Tinsley.
What was it like for you to wear 51 against New Hampshire?
Rallis:
It was really special. It was a little weird seeing it in my locker at first, but I put it on and I really felt like I had the power of two in me. I felt Gary's presence throughout the whole game, and I do every game, but especially when I put on that 51. After the game, I didn't really want to take it off. I wore it to the post-game press conference, and reluctantly gave it back the next day.
How meaningful was Gary's life to you and your teammates?
Rallis:
It's a great inspiration. Gary's a special kid, a very, very special person to me in so many different ways with his attitude toward life. I just try to emulate what he did every day, bring a great attitude, great energy and doing everything he can to win on the field.
A lot of people are asking if Minnesota can keep this going. In your opinion, what needs to happen for the team to keep the momentum?
Rallis:
It's all about preparation. We can't have one off practice for the rest of the year. We've got to keep building, we've got to keep getting better. We can't go through the motions. Every practice, we've got to have a sense of urgency to continue to improve.
September, 21, 2012
9/21/12
2:30
PM ET
Pitt had an impressive 35-17 win against Virginia Tech last week, and the offensive line played its best game of the season, allowing only one sack while opening huge running lanes for
Ray Graham
and
Rushel Shell
. I had a chance to catch up with center
Ryan Turnley
to get his thoughts on the team's performance. Here is what he had to say.
How much is the victory against Virginia Tech a springboard from the rest of the season?
RT:
If there's one thing we learned from the Virginia Tech game, it's that you have to come out every week at practice and every week during the game focusing on executing and playing together as a team and having fun doing it. I don't know if we're going to use it as a springboard, but we have the momentum going our way, and we have to fight as hard as we can to keep it on our side.
[+] Enlarge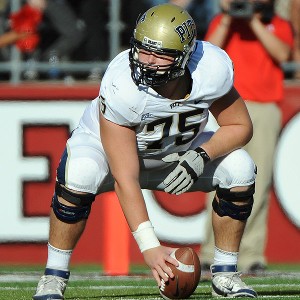 AP Photo/Tomasso DeRosaPittsburgh center Ryan Turnley says the Panthers have been through a lot together.
How did this team keep its head up after losing to Youngstown State and then Cincinnati?
RT:
This team's been through a lot together, and we've been through some things that people couldn't even imagine. We're never going to lay down. We're always going to stay together. That's one thing that can be trusted, no matter what happens. We do love each other and we've been through a lot together.
What was the mood like around the facility?
RT:
The mood was great. Coach (Paul) Chryst had us working hard. Tuesday, Wednesday and Thursday we had good work days and got after it. The mode of the week was pick one thing every day you're going to do better than you did the week before. Guys did that, bought into that and believed that. Every guy on the team got better.
How about the performance of the offensive line against the Hokies. That had to be one of your better games in a long time.
RT:
I think that we were extremely well prepared by our coaches. Coach (Jim) Hueber did a great job getting us ready. The whole coaching staff in general, we had a great game plan going into this week. We executed a lot better on Saturday, and I give all the credit to our coaches.
You had both the run and pass games working. That had to be gratifying.
RT:
It felt great. We know that the pass game feeds off the run game and vice versa. If you can get the run game going, you can slow down the pass rush. They're going to be in a different mentality than if they know you have to pass the ball. Everything feeds off each other, if we can get the ground game going, that makes our job easier in pass protection.
How about the game Rushel Shell had, running for 157 yards, and Ray Graham nearly getting there with 94 of his own?
RL:
They did a great job. With Ray back there, it's just fun to block for him. If you have a good game and Ray's behind you, then you have a great game, he fixes so many mistakes. He's a veteran guy. Rushel came in and was really just unbelievably physical running the ball. He turned runs that were 7, 8 yards, into 12, 20-yard runs in the fourth quarter. I'm used to watching him do it on the high school level -- we went to the same high school. For him to do it against Virginia Tech, it was f un to be a part of it.
How good did the team feel for Tino Sunseri after that game?
RT:
Every guy in our locker room feels the same way about Tino. Some of the things people say are just outrageous, and he's never complained about it one time, never said a word about it. He goes out there and leads us.
That was evident by the way he came back into the game after turning his ankle.
RT:
I think it goes back to him being a leader on this team and in the locker room. He didn't say a word about it. He said, 'We're going to get this ball and score and put this game away. You could see he was hurt. But he kept leading us down the field. The whole atmosphere was fun to be a part of, especially seeing Tino play as well as he did.
What was the scene in locker room after the win?
RT:
It was fun. To get your first win of your senior year and for Coach Chryst to get his first win, and all these coaches. All the players, we all believe he's a great coach and he's going to take this program where we want it to be. Everyone was just really was excited.
September, 21, 2012
9/21/12
2:00
PM ET
Heading into the 2012 season, it was hard to find a more well-rounded SEC defensive end than LSU's
Sam Montgomery
.
He could have left school early last year and headed for the NFL, and no one would have questioned him. But he decided to stay in Baton Rouge to not only become a better player but he wanted to earn his degree as well.
To him, the league could wait.
Through three games, Montgomery has registered seven tackles, with 2.5 for loss and a sack, and has three quarterback hurries.
Montgomery took some time out of his busy schedule to talk with ESPN.com about the season so far and how he really feels about turning down millions in the NFL.
You had kind of an awkward start to the year by not starting, but you've come on strong since. How have the first three weeks of the season been like for you?
[+] Enlarge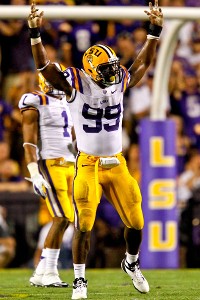 Derick E. Hingle/US PresswireSam Montgomery says his coaches love his energy come game time because the defense feeds off it.
Sam Montgomery:
This year, so far, has been like a roller-coaster ride for me. It's been up and down, up and down. But the one thing that's stayed consistent is that I've gone out there and played my hardest and played my technique. I try to get off my block and try to make all the tackles that I can and stay excited for the team, being as I'm one of the energy guys out there. They feed off my energy. My plays will come, but the overall thing is that I play my assignment with full effort, full technique and everything comes together for the team. The "W" is what's important.
What was going through your mind when the coaches came to you and said you wouldn't be starting the opener?
SM:
When I wasn't starting, I looked at it as we have the best, top 3 defensive ends in the country. It also gave my buddy Lavar [Edwards] a chance to show and display his talent, which he's been doing a great job of consistently. That will probably give him a higher chance at the next level and to pursue his career and dreams because he's a great defensive end. I have no problem with me, [Barkevious] Mingo or Lavar [playing] because I know they'll go out there and handle their jobs. All I know is that third man, no matter who it is, it's going to add on some extra pressure for that tackle coming in because we have three powerful forces, plus, the young guy
Chancey Aghayere
.
With all the hype and attention you got heading into the season, did not going out first in the opener motivate you?
SM:
Of course it did. Being a guy that doesn't really listen to what people say or look at where everybody ranks me at, I'm just trying to help and win games so I can make my memories with my teammates last a little bit longer. That's all that really matters to me. What other people think is all good, well and dandy, but, at the end of the day, it's all about LSU and all about my defensive line being able to play longer into the season together, so we can build our memories and our friendships that will last forever.
What does it feel like to play on a line with all that talent? You have to feel a little greedy at times, right?
SM:
Oh, greedy? No. Ready to get on plays quicker than anybody else? Yes. It's a team thing, but it turns into a stat battle. It's about who plays technique the best and who gets off the ball the fastest. Really, when it comes down to it on our defensive line, it's a technique battle and who gets to the play fastest. Everybody's good. Everybody's fast. Everybody finishes strong. So what is the key thing to me? It's everybody making plays. When your time comes, were you playing your hardest and were you playing with correct technique? That's the key for who makes the plays now.
How much fun do you have playing with those guys?
SM:
Too much. I have too much fun in games and I have too much fun in practice. Sometimes, my coaches have to tell me to shut up, but they love it in game time because when it's fourth-and-long or it's third-and-tight-inches, that energy boost is what the team feeds off. That gives them the energy to make those plays and get us off the field.
When I talked to you in New Orleans for the national championship you said you weren't ready for the NFL, but looking back at it now, is it tougher to think that you turned down the draft this year?
SM:
Of course it's tough. It's always going to be tough, but one of my main reasons for coming back and not going to the NFL was because of my degree. I refuse to be out here and let something happen and me not be close enough to my degree. I want to make sure that I have a complete alternate choice if something happens and I cannot play football. I want the right networking information if something happens in football. I had to make sure all ends were covered so if football does leave me early I'll still have income and I'll still have networking I can do and I want to do as far as being a human being working a 9-to-5.
On the field, what are some of the things you need to improve on in order to reach your goal of playing in the NFL?
SM:
I want to work on having more technique, using more hands, reading more plays and stuff like that. I just want to go into games and play with great effort and try to pick up on concepts, schemes and things like that from the offense. I still have a lot more to learn and as time grows, I'll become a great technician. Now, where I am is a guy who plays with all out effort and fights for his dreams in between the lines.
So, here's what everyone wants to know: Who's faster? You or Mingo?
SM:
Well, in the 40, Mingo's faster, but off the line, I'll have to give it to myself. I kind of come off the ball kind of crazy. I just think my want to beat him makes me faster. I know I have to get off that football or Mingo is going to get that sack first or the tackle first. It seems like a race.
September, 21, 2012
9/21/12
2:00
PM ET
Georgia Tech B-back
Zach Laskey
has made a huge impact since entering the starting lineup two weeks ago against Presbyterian. In his two starts, Laskey has 159 yards rushing and a touchdown, and also had his first career reception -- a 70-yard touchdown to open the game last week against Virginia.
I had a chance to catch up with Laskey this week as the Yellow Jackets prepared to play Miami. Here is what he had to say.
How have you been able to be productive right off the bat in your first starting opportunity?
[+] Enlarge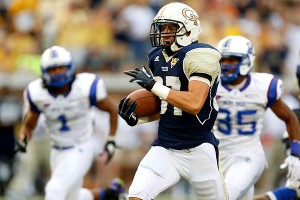 Josh D. Weiss/US PresswireIn the first start of his career, Zach Laskey rushed for 116 yards and a touchdown against Presbyterian.
Zach Laskey:
I'm just really blessed to go out there and just get a chance. I've made the most of it both times so far. But you can't get complacent, that's the big theme for the team. We just have to keep getting better each week,
What has worked well for you so far?
ZL:
Just everything, pretty much, from passing to running, blocking. As a team, as a unit, we're playing really well right now.
How did it feel to open the game last week with that 70-yard touchdown catch?
ZL:
We talked about it early on in the week. We put it in and Coach told me there was a possibility we were going to run in it early on it in the game. When we lined up, we got the matchup we wanted with the outside linebacker. That helps when you can come out and hit a big play like that and maybe take a little wind from their sails.
What do you think you have shown the coaching staff?
ZL:
I think I've shown that I can do it. I can do all phases of the game for this position and I think they trust me a lot, and that's always nice.
Before the season started, Orwin Smith told me you were really impressing him in camp. What did you do to put yourself in the position you are in now?
ZL:
The offseason was pretty big for me. I take football as a year-round sport, no time off, no breaks. I'll go home on the weekends and try to get in a little extra workouts to see if I can get ahead because in this day and age, if you're not working someone else is and they're going to get better than you.
What did you work on?
ZL:
I wanted to make sure I was in good shape. I did a good amount of running, worked on my explosiveness, did lifting, power squats and stuff like that. I also worked on my footwork and pad level. Those were big things for me.
What has the move to B-back been like for you?
ZL:
Coach told me after last season to get ready for B-back and I got on a weight gaining program. I got up to 213 but I'm about 208 right now. Last year, I was about 200, so I picked up about eight pounds.
What's the hardest part of playing the position?
ZL:
The biggest thing for me has been blocking and making sure I line up in the right area when I'm blocking. You can have big meltdowns when you're not there. I definitely think from the beginning of the season to where I'm at right now, it's gotten better. It's not where it needs to be but it's improved.
Miami has beaten you guys three straight, is that all the motivation you need going into this game?
ZL:
I think it helps with motivation. We know they're a very good team so right now we're just trying to stay focused and make sure we don't get complacent. We're trying to get better each day with what we do.
You have mentioned the complacency issue. Is that something that coaches mention a lot?
ZL:
Yeah, that's been a big trouble point since I arrived at Tech. Last year, we started out 6-0 and the whole thing was don't get complacent. This year, we're working hard to make sure each week we take a step forward and don't take any step backward. That's something they've emphasized.
September, 21, 2012
9/21/12
1:00
PM ET
The
USC Trojans
head home this week to face a Cal team that almost pulled off an upset against Ohio State. Saddled with their first loss of the season, the Trojans look to bounce back against the Bears. USC safety
T.J. McDonald
took some time to chat with the Pac-12 blog for our Friday Q&A. (Warning: There are zero questions about
Matt Barkley
and the Heisman.)
I suppose the first and most obvious question is how has the team responded this week?
T.J. McDonald
: We're responding well. We're anxious to get this taste out of our mouth, and the only way we can do that is to have good practices and play Trojan football -- the only way we know how. We have to give our best effort every play and make sure after this next game we have a better taste in our mouth.
Every time you and I have talked, you've always talked about "bigger goals" for this team. Are those goals still within reach?
TM
: Definitely they are still within reach. We still have a lot that we can accomplish. We still have more to accomplish than we've had here in our recent history and the last few years. I told the defense, there are only two types of football players: those who have been beat and those who will be beaten. We're not going to win every game this year. The only thing we can do is respond and still try to accomplish all those goals we set out to accomplish before the season.
[+] Enlarge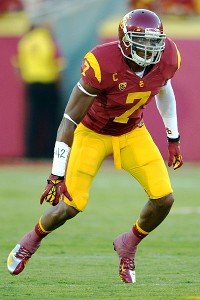 Kirby Lee/Image of Sport/US Presswire"When you lose a game," USC safety T.J. McDonald said after falling at Stanford, "you can never say you played good."
Assess your own performance against Stanford?
TM
: I felt like I played OK. I played pretty good. But there are a lot of things I can do to get better. I'm never going to be satisfied, no matter what. Even if I had a four-interception game, I still would look for ways to get better. When you lose a game, you can never say you played good. I know that I gave my best effort, but there is still stuff I want to get better at and there were plays left out there I need to make.
After two weeks on the road, how good is it to be back at home?
TM
: It feels good to be back on our field and back in front of our home crowd, and hopefully we go out there and play Trojan football the way we know how and get our fans rocking with us again. We've got a lot of support from our fans. That's always what you want, and you want to put on a good show for them.
You guys have a fairly veteran defense, but you're still the leader. How important was it for you to set an example this week and keep the guys on track?
TM
: Very important. We just have to make sure that all the young guys know what to do. All of this stuff happened so fast to us. As far as getting all of the hype and being rated so high -- it all happened so fast. We weren't even in the AP polls before because of probation. Just because of one bad game, not a lot of guys know how to respond. The only way I know how is to come back and go even harder for the rest of the season and make sure that we know what it feels like and to never feel like that again. The only way to do that is to go out, play our butts off, and make sure that we fly to the ball and we take everything from the practice field and transfer it to the field on Saturday.
Cal was a few missed field goals away from beating Ohio State. What did you learn about them from watching the Ohio State game?
TM
: They have a lot of fight in them. It was good for them because for them to come out to the Horseshoe and respond against a team like Ohio State and that atmosphere, we know they aren't going to be intimidated coming to the Coliseum. We just got to make sure we play our best game. As long as we are on our A-game -- and like I said before -- we transfer everything from the film room and everything from the practice field to the field on Saturday and play Trojan football, we'll be OK.