October, 12, 2012
10/12/12
4:30
PM ET
Trevor Reilly
, Utah's dynamic linebacker, took some time to chat with the Pac-12 blog this week about the Utes' postseason hopes, the challenges of transitioning to the Pac-12 and the joys of being a dad and a football player.
Give me a feel for the pulse of the team right now after the loss to USC.
Trevor Reilly
: I think as a unit, we're trying to come together and play better defense. We didn't play great defense last week. We gave up too many big plays and they did too well in the passing game. As a team, I think the attitude is forget about last week. One win can change the whole thing. We get back to .500 and get back in hunt for the South.
You guys have had so much adversity since joining the Pac-12. Is it fair to judge the program just based off what we've seen in the last year and a half?
TR
: The saying we have around here is nobody cares. We really don't. Yeah, we've had some bad breaks and if you want to judge us off of that, that's fine. Whatever.
You caught the tail end of the Mountain West era. What's been the toughest part about adjusting to the Pac-12 as a defensive player?
TR
: In the Mountain West, a bad team was a bad team. You rarely, rarely ever saw a bad team beat a good team. But in the Pac-12 it can happen any week. A team could have a bad record but they could still beat you. That happened to us last year against Colorado. I think that's the biggest difference. I don't want to call any [Mountain West] teams out, I'll just go out on a limb and say there's probably a little more talent in this league than in the Mountain West.
How confident are you guys that you can still make the postseason?
TR
: Pretty confident. If we win games we'll turn this ship around. We were in the same spot last year. We win some games like we did last year we'll be in it until the very end.
As a defense you guys are last in the conference in interceptions, second to last in pass efficiency. We're not used to talking about Utah being last in some defensive statistical categories. What has to change?
[+] Enlarge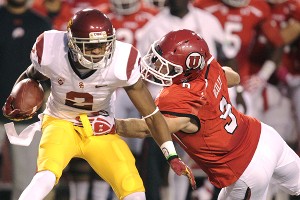 AP Photo/Rick BowmerTrevor Reilly has been unhappy with the number of missed tackles he's had.
TR
: I think we just have to make plays. We've had opportunities to have picks last game. We had two chances at interceptions and we dropped both of them. I think a better pass rush would help with efficiency. I think making plays for everybody, not just the secondary, but the linebackers putting pressure on the QB will help get us out of the cellar in some of the categories.
One thing about coach [Kyle] Whittingham is he doesn't let people get down on themselves. How has he kept you guys motivated so that one loss doesn't beat you two weeks in a row?
TR
: He's been staying positive. You can't do anything about what happened last week. So we stay positive and look at the next game like it's going to be the best one we've ever played. That attitude rubs off on the guys. We just have to make it happen. We have to make plays when they come.
Who gets the job of spying UCLA quarterback Brett Hundley this week?
TR
: Well, I'm sure we'll pass it around. I don't want to divulge too much information. Hopefully we'll have it covered.
For you personally, what are some of the things you like about your season and what are some things you want to improve on?
TR
: I've had too many missed tackles. That's something I've always prided myself on. I've had more this year than in my whole career. I need to improve on that. I think I'm getting to the quarterback OK. But I could do better. Hopefully you'll see me in the backfield a little more.
You just had baby No. 2. A big congrats from the Pac-12 blog. How challenging is it to do the dad-husband-football thing?
TR
: It's hard. But if you're going to do what I do and what [some of the other guys] on the team do that have families, you've got to have strong wives. And I think that's the case with a lot of the guys on the team that have familes. We're gone most of the day. My wife is really the strong one. She takes care of those two and takes care of the house so I can focus on football and then when I get home it's time to help out.
October, 12, 2012
10/12/12
3:26
PM ET
There hasn't been any shortage of great linebackers throughout Alabama's storied history, and junior
C.J. Mosley
is well on his way to being the next one to join that group.
He leads the No. 1 Crimson Tide in total tackles with 39 and also has an interception and a forced fumble through five games. Mosley's value goes much deeper than statistics, though. He's asked to wear a bunch of different hats on that Alabama defense and is one of the more versatile defenders in the league.
He's outstanding in coverage. He's an excellent tackler, and he has a knack for making big plays.
We sat down with Mosley earlier this week for a Q&A:
[+] Enlarge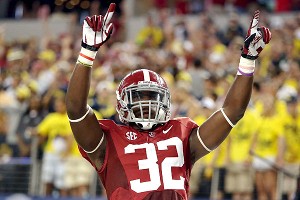 Ronald Martinez/Getty ImagesDespite splitting reps, linebacker C.J. Mosley still managed to top Alabama in tackles last season.
When you haven't been in a close football game for so long, really since your loss to LSU last season in the regular season, is it hard to know how much you're progressing as a team?
C.J. Mosley:
I wouldn't say it's hard. I'd say it's more of a process. It's just like when we played Ole Miss this year and got down (for 15 seconds) and allowed two touchdowns against them. That's the first time in a while we'd done that. It's just like coach (Nick) Saban tells us all the time. When we're faced with adversity, how are we going to react? When that close game comes, we'll be ready for it.
Has this team been as consistent as you'd like it to be to this point?
CJM:
We're a younger team, so the thing we still have to learn is that we need to play to our standard and not to the other team's level. We have to play Alabama football and Alabama defense no matter who it is.
With as much success as the program has had under coach Saban, it's almost to the point now that it's national championship or bust at Alabama. What's it like to play in a program that has that kind of standard?
CJM:
When I was being recruited here, my thought process was, 'I want to win a championship.' So that's how we practice. That's what the coaches preach, and that's how we basically live everyday. That's Alabama football, to practice and play to be champions.
Is there anything that gets past coach Saban on the practice field?
CJM:
Nah, he gets onto you for the little things as much as anything, and he makes sure you fix those little things. He's a perfectionist, and that's what makes him a great coach.
How much of a sense of urgency did you feel in terms of stepping up and being a leader at linebacker with Dont'a Hightower and Courtney Upshaw both gone?
CJM:
I knew I had to be more vocal than I was the past two years here. I'm also playing a lot more this year (on every down) and am happy about that. But my main goal was to be more vocal so I could affect people both on and off the field.
What's a must for a player if he's going to be successful in this defensive system?
CJM:
You have to be coachable and have to be able to let the little things go. Being on defense and playing under coach Saban, that's like a two-headed monster. You're going to make mistakes. You see some players when they first get here and they've got their head down and saying, 'It's just too hard. I can't do this.' But you've got to know that it takes time. You get your reps, and you're going to have to mess up in practice or the games. I learned half the stuff I know now because I allowed some big plays in the games. You've got to learn from it and know you can't keep doing it, and you have to mature really fast when you get here."
Can you think back to some times when coach Saban has really blown you up for mistakes you've made in games?
CJM:
We played Duke, and I let a wheel route go for about 20 yards, and he got onto me. But then I did it again in the Florida game, and I can tell you that I haven't been beaten on a wheel route since.
How complex is this defense?
CJM:
The thing is you have to be able to adapt. Our coaches expect us to be coaches on the field. If the offense checks, we have to check to a second play. We've got three calls on one play. If the offense shifts one person, we have to go to a whole different call. So we could have two, three or four calls on the same play. You've got to be smart, but you've got to be quick on your feet, too. You've got to be able to check and go back and check and go back. It's basically having 11 coach Sabans and coach (Kirby) Smarts on the field.
October, 12, 2012
10/12/12
3:00
PM ET
Most around the Big 12 pegged Oklahoma State's
Joseph Randle
as the Big 12's best back entering the season. Since it began, he's done nothing but confirm those suspicions. Randle leads the Big 12 in rushing despite playing just four games, and his 534 yards and six touchdowns have come on just 75 carries. That's an average of more than seven yards a touch, the fifth best average in the Big 12.
The Wichita, Kan., native has helped put OSU's offense at No. 1 in yards per carry nationally, too.
[+] Enlarge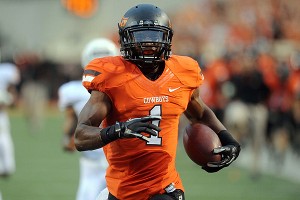 Mark D. Smith/US PresswireOklahoma State's Joseph Randle expects the Cowboys to return to their winning ways.
He sat down with ESPN.com this week to talk about the season and look ahead to this week's game at Kansas.
You've put up big numbers so far, but how would you grade yourself this season?
Mostly, I'm going to base myself off the team's success, so we have some work to do. We'll get things together, sooner than later.
What kind of work needs to be done?
Winning. That's the main thing. When we get back and get our next win, I think we'll be OK.
Since you've been at Oklahoma State, you guys haven't lost a whole lot of games. What's it been like for you to start 2-2?
It's alright, it's not over yet. We're going to go out there and win the rest of our games and see where that leaves us.
We've seen so much talk about Geno Smith and the passers and receivers in this league. Do you feel like the running games in this league and you as a player have been overlooked a little bit?
Nah, I'm not really a selfish guy, so I think the right people are noticing the right things. It's OK. I'm not really looking for all the individual stuff.
What was the Texas game like, to put up the kind of numbers you did (25 carries, 199 yards, 2 TDs) and still not come out with a win?
I felt like I can only control the things that I can control, and that's my effort. But as a team, I think we just came up a little short. That's all there is to that. We played hard and we could have won the game, we just didn't. On our side of the ball, we played a pretty good game. We just have to bring that same intensity to the next game.
What are you looking forward to most about heading back to your home state?
Going down there and getting the win. My family's always at the games, no matter where we play most of the time.
What do you remember most about last year's KU game?
I guess we beat them pretty bad. It's exciting.
It looks like they've given up a lot of rushing yards so far this year, but how much attention do you pay to those kinds of raw statistics looking across at opponents the next week? Does that sort of get you excited?
Nah, it's always exciting to have the opportunity to play. I think I put the same amount of attention into every game I've played.
What does this team need to do to get back in the Big 12 race?
Put everything all together. We haven't had a complete game as a team yet, one where not just one side does good and another side -- we've got to put a total game together in all three phases of the game.
October, 12, 2012
10/12/12
3:00
PM ET
Minnesota junior
A.J. Barker
ranks fifth in the Big Ten in receiving yards per game, with 19 catches for 357 yards and four scores. If you saw that kind of success coming for Barker this year, you must be a psychic. He was a little known commodity coming into the season, having played in only six games and boasting one career catch before 2012. And he's a walk-on.
I recently caught up with the St. Paul, Minn., native to find out his story for this week's Friday Q&A:
How have things been going up there with the bye week last week?
A.J. Barker:
It was good. We've gotten a lot of fresh legs under us, gotten healed up and are ready to go.
[+] Enlarge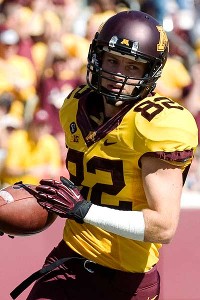 Marilyn Indahl/US PresswireA.J. Barker has made a name for himself at Minnesota this season, racking up more than 300 yards receiving and four TDs.
How quickly were you able to bounce back from the loss to Iowa before the bye?
AB:
It was tough. You never want to lose any game but we've got a really good, consistent coaching staff, and they got us refocused really quickly and the guys just bought into that. We had a great week of practice last week and a great week of practice this week, so I think we bounced back real well.
Let's talk about your background. Did you grow up a Gophers fan?
AB:
Yep. With it being the only D-I school in Minnesota, it's kind of tough not to.
What kind of recruiting interest did you draw out of high school?
AB:
I had some lower Division I schools, some FCS schools, that showed some interest. But I made it pretty clear early on that I was going to try and walk on in the Big Ten, and when I got that opportunity I wasn't going to miss it.
So did you have any actual scholarship offers from FBS schools?
AB:
It's hard to say whether any would have offered me or not. I was pretty honest in the process and told them, "Hey, I'm going to come to Minnesota." And once I got into school that's what I did. Around my junior year, I was thinking about whether I wanted to try to play basketball or football in college. I thought I could be a great football player, and I wanted to go after it. I wanted to stay home and come to Minnesota. And I was able to execute that plan, which has been awesome.
You redshirted your first year, played a little the next year and then got hurt, right?
AB:
Yeah, last year, my redshirt sophomore season, I tore my hamstring in camp. It set me back. It was a slower recovery than I wanted it to be.
So it's safe to say that you were a little under the radar coming into this season.
AB:
I knew people had no idea who I was. I know this is a little thing, but I remember seeing a poll about Gophers receivers, and there were 12 receivers listed and I wasn't even listed as one of the 12. So I was like, "Huh. All right, well, we've got to prove them wrong."
Jerry Kill said a couple of weeks ago that you play with a chip on your shoulder. Do you agree?
AB:
Oh yeah. I'm a hungry competitor. I feel like I've played that way my whole life. Yeah, I do feel like I play with a chip on my shoulder but I've always really competed with a chip on my shoulder.
How much does being a walk-on and not getting much recognition motivate you?
AB:
It's a big driver. You know, not having anyone in the outside world -- my family and my friends trust me -- but in the outside world, you're really kind of ridiculed. It's kind of like, "Oh, you're a walk-on. Good luck." You just sit there, and you really can't say anything either, because the reality is that most [walk-ons] don't pan out. You just bite your tongue and let it fuel you. Just go to work and chip away. The hardest part is when you're going to work, you don't see those rewards. Even when you're doing good things, you don't get that positive feedback. It's a struggle. But luckily for me, it just kept fueling and fueling me. I got angrier and more aggressive about it and was able to control that aggression through it. So it's paid off.
You went out in the opener and had a 100-yard game against UNLV. How good did it feel to do that?
AB:
It felt real good. It's what I thought I could do. I'm not going to say I never doubted myself. But getting to the point where it was actually happening, it was awesome. It was awesome for me, awesome for my family It just seemed like there was so much time where you were like, "Man, I want to believe it will work out but it doesn't look right." You can't really see the light at the end of the tunnel. Then it comes on quickly like that, because it really comes on fast. I mean, we're flying to UNLV and I don't know if I'm even going to play and all of a sudden, I'm making plays and it's like,"boom." This is what I had hoped for, and now it's here, so now you've got to run with it. It's been a rollercoaster.
How has that changed things for you? Are you recognized a lot more on campus now?
AB:
I get a lot more texts, from tons of people. But I like to be pretty low key when I'm going to class, so I don't get much attention. I prefer it that way.
What parts of your game have improved the last couple of years?
AB:
I just think in terms of processing the game, everything goes hand in hand. You can't just process, and you can't just be fast. So the combination of my game speed, my strength and my processing has all been able to raise. Just getting everything to come up is what's brought me up the most.
There were lots of questions about the offense and the receivers in particular this offseason. How do you think you guys have come along so far this season?
AB:
I think the offense is coming along really well. We're developing and getting a feel for what we can do and what some of our limitations may be, and I feel really confident about what we're going to be doing going forward. There have been some rough patches, but you chip away and right now we're in a very good position going forward with the offense. I think we can do a lot of damage.
MarQueis Gray got hurt and Max Shortell came in at quarterback. Gray might be back this week. What's it going to be like when both guys are healthy?
AB:
It will be interesting to see. It's not a secret that it's been tough for schools in the past to handle two quarterbacks, and that's for the coaches to decide which one plays or whether they both play. I think we as a team need to take that on as a new challenge, as if we have to discover the answer, discover a positive answer. That's going to be a huge sign of our team's maturity. Hopefully, we take that on and run with it.
Finally, has there been much discussion about putting you on scholarship?
AB:
No, it doesn't come up. I've read some things in the newspaper, but other than that, no. I'm just here to go to work.
October, 12, 2012
10/12/12
2:30
PM ET
North Carolina running back
Giovani Bernard
had a monster game against Virginia Tech last week, running for a career-high 262 yards. So what does he have in store Saturday against Miami? I checked in with him to find out.
Do you feel like you're back?
Giovani Bernard:
Definitely. You expect the most out of yourself and you expect to do good things. That was the game I expected to do a lot. Against Miami, I expect another great performance. My offensive line had a great performance, they did a great job up front, and all the credit goes to them. They're the guys in the trenches and working hard for me. I'm appreciative of those guys.
How were you able to average 11.4 yards a carry against Virginia Tech?
[+] Enlarge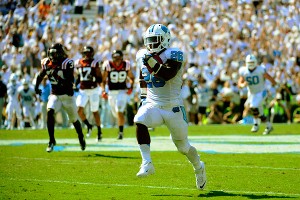 Bob Donnan/US PresswireFresh off a 262-yard performance, Giovani Bernard faces a Hurricanes defense this Saturday that surrendered 376 rushing yards in its last game.
GB:
My key was just the offensive line. They had an amazing game. They did an amazing job. The entire game, they opened holes, gave Bryn [Renner] passing lanes.
A.J. Blue
had a great game, too. The line, they did a real good job, and I'm sure they're going to do a great job this Saturday coming up.
So you are completely healthy?
GB:
I feel perfectly fine.
How frustrating was it to sit on the sideline earlier this year?
GB:
As a football player ,you know things happen for a reason. I've had my fair share of injuries, but this first game, I felt nagging in my knee, and I sat out two games. I came back strong and that's what I've continued to do. I don't know why it happened. You never know why things happen in life, but it was just a matter of getting better and staying focused.
You said you expected to do a lot against Virginia Tech. Why?
GB:
My mentality. I have a lot of support around me and expectations of myself to do great things. It was another opportunity to do it. I hope this Saturday is another opportunity where I can be productive again. Hopefully, it will go well and we'll get this win and hopefully take this Coastal Division.
Miami just gave up 376 yards rushing to Notre Dame. So does that mean you guys have the potential to put up big yards on Miami?
GB:
It's not so much what they're doing wrong or what's opening up. If our offense can click, and we're on the same page -- the offensive line, receivers, running backs and quarterback -- if we can do that, the sky's the limit for this team. We always knew that coming into the season we had so many playmaking abilities in this offense. It was just a matter of clicking.
Is everyone feeling comfortable now?
GB:
Right now, each and every single game we're getting smarter, faster and more physical. We've set out our goals, and our big goal is to win the Coastal, even though we have the bowl ban. It's not about that for us. We set a goal and that's what we hope to achieve.
So how do you stay motivated to win the Coastal knowing you can't play in the postseason?
GB:
We know what we want to achieve. That's one of the things we want to achieve. OK, we may not be able to play for the ACC championship, but we still have an opportunity to win the Coastal. That's what we set out to do, and that's what the season's revolved around. Whatever happens this Saturday happens. I hope we win. Hopefully, we can put up big numbers, lock in and things will go real well for us.
October, 12, 2012
10/12/12
2:30
PM ET
Temple linebacker
Tyler Matakevich
had a pretty dazzling debut as a starter last week in a win over USF. Matakevich led the Owls with a career-high 15 tackles, including a career-high 12 solo stops and two tackles for loss.
I caught up with him earlier this week to find out about his terrific performance.
Take us through your performance last week. Did you anticipate having such a big game?
[+] Enlarge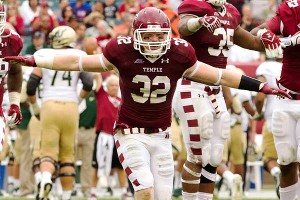 Cal Sport Media/APTemple's defense got a boost after freshman LB Tyler Matakevich cracked the starting lineup.
TM:
I didn't expect that. I was fortunate enough to make the plays and as we kept going on, I felt more comfortable. We started paying better as a unit. We were playing really well as a group.
When did you find out you would be starting in place of Olaniyi Adewole?
TM:
Right before kickoff. Olaniyi, he came out for warm ups. I even thought he was going to go. But coaches told me I was going in, so I had to switch everything up.
What was your reaction?
TM:
Very excited. That's always been my goal, and I was fortunate enough to get it.
So did you have to flip a switch mentally, from somebody who had not played on defense to all of a sudden being a starter?
TM:
Well, mentally I was getting ready for whatever was going to happen during the week of practice. I knew he was banged up a little bit, so mentally I was ready to go whenever. I didn't know if it was going to be in the beginning or late in the game.
Did you know you were having a great game?
TM:
I guess so. Throughout the game I started getting confident. I felt a lot more comfortable out there, and all the older kids were helping me out on the field.
How did they help?
TM:
They told me, 'Just don't think about other plays, whatever happens, take one play at time. Just do your job on that one play.' It also helped having (Adewole) on the sideline. He's the backbone of the defense. He knows the defense inside and out, so having him right there helping me out, I was very fortunate to have him.
That was your most extensive action on defense, so how were you able to make plays?
TM:
Coach (Chuck) Heater puts in a great game plan. It's all about everyone doing their responsibility and their job. I was fortunate enough to do my job and make the plays when they came at me.
Did you anticipate playing your first year?
TM:
No. you always want to. It's definitely your dream and your goal but I just knew that I had to work as hard as I possibly could and get better each day. Each day is a learning experience. I still have a lot to learn, so I'm going to keep working hard.
What do you think the coaches saw in you that gave them the confidence to put you in?
TM:
I think it's just learning the defense well and trying to get better each and every day, going as hard as I possibly can. That's what coaches try to focus on, give everything you have.
What's your best attribute?
TM:
Just being around the ball. I have a nose for the ball, and I love this defense, the schemes and stuff. It just lets me play football and do my job.
How much of a confidence lift was that game?
TM:
That was tremendous, coming off a loss to Penn State. That was a tough one, so we definitely wanted as much momentum and confidence as we can going into UConn. Beating South Florida, they're a very good team. Our first Big East win is a tremendous win. We have a lot to prove after getting kicked out of the Big East. We need to keep it rolling, to keep up the momentum.
Are you starting again this week?
TM:
No clue. We'll see what happens.