October, 19, 2012
10/19/12
4:30
PM ET
UCLA quarterback
Brett Hundley
is off to a pretty good start in his college career. He ranks fourth in the Pac-12 in passing efficiency with 14 touchdowns and seven interceptions and is one of the most exciting young players in college football. During the bye week (and in between classes) he took a few minutes to chat with the Pac-12 blog about his play so far, his expectations moving forward and what play tops his personal highlight reel.
What's your personal assessment of your play through the first seven games?
[+] Enlarge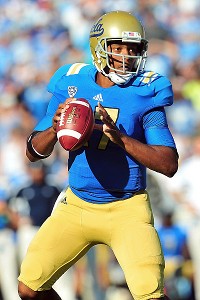 Gary A. Vasquez/US PresswireBruins QB Brett Hundley has used the bye week to concentrate on the fundamentals.
Brett Hundley
: I've done all right. I honestly feel I can do a lot better. But I have a lot of growing to do and a lot of work to put in. I'm not where I want to be yet and I understand that I have a lot of room to grow and improve.
What's been the toughest part of the job?
BH
: Time management, man. It's crazy. Before school started we had our first four games there was still a little bit of time. But once school started, man, it was hard. Time management is huge. You have to get it down to every single minute of the day.
What are you doing really well?
BH
: Just being coachable and learning every week and being able to progress each week. Regardless of the outcome -- whether we won or lost -- I think I'm able to learn and take constructive criticism and learn from it and try to get that much better.
Is there something specific you're focused on in the bye week?
BH
: Probably getting back to fundamentals. That's the big thing. Making sure my footwork is correct. Making sure my reads are correct. Basically going over all the little things and fundamental things.
How much of the offense are you running? Has coach [Noel] Mazzone pretty much opened up the playbook so you have access to every play in the offense?
BH
: Oh yeah, for sure. Coach Mazzone is a great guy and I trust him with everything and he trusts me with everything. The playbook is open. We're throwing in things he used to run with Brock [Osweiler]. There are a lot of different looks we can give. The playbook is open. We just have to be able to execute.
When you and I talked in the spring, you talked about how excited you were to operate this offense. Now that you've been at it for a while, is it as fun as you hoped it would be?
BH
: Oh yeah. I love this offense. Even when we were practicing in spring ball, I was loving it then and I'm loving it now. It's an offense where I can throw the ball around and get it into our playmakers' hands. And when I need to, I can tuck it and take off with the ball. This is a sweet offense. I love it.
If you were putting together a personal highlight reel so far this season, what would be the No. 1 play?
BH
: Ah man. I love the first play at Rice [a 72-yard touchdown run on UCLA's first offensive snap of the season]. That was one of my favorite plays of the season. Then there's another play -- which wasn't personally me. I was throwing a block. I love doing that. It was for
Johnathan Franklin
during the Nebraska game. Just being able to run and smack somebody and open it for Jet cutting it across the backfield. That was a blast.
October, 19, 2012
10/19/12
3:00
PM ET
Chris Borland
and his fellow Wisconsin defenders have been overshadowed so far this season, as most of the attention has been on the Badgers' transitioning offense.
Wisconsin's offensive production has dipped and spiked, while the defense once again has been steady. The Badgers rank in the top 30 nationally in total defense, scoring defense and rushing defense, and Borland, a fourth-year junior, not surprisingly is leading the way.
A first-team All-Big Ten selection in 2011 who won the league's Freshman of the Year honor in 2009, the 5-foot-11, 242-pound Borland once again is among the Big Ten's top defensive playmakers. He leads Wisconsin in sacks (4), forced fumbles (2) and fumbles recovered (2) and trails only fellow 'backer
Mike Taylor
in tackles (60) and tackles for loss (7.5). Although he has yet to record an interception this season -- he had two last year -- he ranks second on the team in pass breakups with five. Wisconsin has rebounded from a shaky start to record back-to-back Big Ten wins.
ESPN.com caught up with Borland before Wisconsin's home showdown with Minnesota
.
What's the team's mood like now versus a month ago, when things weren't going so well?
[+] Enlarge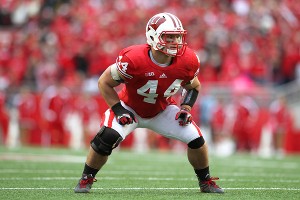 Brace Hemmelgarn/US PresswireAfter getting off to a slow start to the season, Chris Borland and the Badgers are 5-2 and look back on track.
Chris Borland:
I think guys are a little more comfortable. We've strung together some wins. Things around the locker room are a little different than when we struggled early on.
Being on the defense, what was it like to see the offense go through the transition it did earlier this year?
CB:
We didn't feel sorry for them or anything, and I don't think they felt sorry for themselves. We knew it'd be a transition with all the new coaches and some new players stepping up in new roles. We knew it was a matter of time [before they turned it around]. Too many good players, too many good coaches, and obviously, it's taken on that identity these last two games.
What have been the main points of emphasis for the defense this season, and where are you in terms of reaching them?
CB:
We always start with stopping the run, and we've been doing a pretty good job of that this season. We've let up some long run plays that have hurt the stat book, but for the most part, we've stopped the run well. And then creating takeways, that was slow coming early on this season, but over the last few games those have started to pick up, too, so I think we're on track. We have a lot of potential, but we aren't close to being where we could be by the end of the season.
How would you evaluate yourself here through the first half of the season?
CB:
I've done a decent job so far, been struggling with a few things injury-wise, but I've played through that pretty well and been able to make some plays. It was just my knee, but I'm getting healthy again, so hopefully I can make some jumps the rest of the season. I feel pretty good. For seven games in, I'm pretty healthy. I was kind of frustrated with how the beginning of the season went, but I'm starting to feel pretty good.
You've played alongside Mike [Taylor] for a long time. What has that been like, playing linebacker together all these years?
CB:
The familiarity is off the charts. We're both really comfortable with one another out there, and we both see things pretty well. We've been under the same tutelage for the last three years, so we communicate well and work well off one another. It's great to play next to him. He's a really instinctual and intelligent player, and it helps me a lot.
Are you two competitive?
CB:
Yeah, we are. I think Mike had me by seven tackles last year, and he's got a lead on me this season [Taylor has 72 stops]. We know exactly where we stand with one another, so it's a friendly competitiveness.
Do you put any extra emphasis on the forced fumbles or stats where you've shined in your career?
CB:
That's my contention. I always tell him, whenever he starts to brag about tackles, is our defense funnels some tackles to the [weak-side] linebacker, so he should have more than me. I ask him where his TFLs are at or where his sacks are at, just some good ribbing going back and forth.
You've played multiple linebacker positions at Wisconsin. Where are you most comfortable?
CB:
I've felt comfortable doing it all. Each one's different, and it took some time to adjust to [middle linebacker], but I feel like I could fill all three of the linebacker spots comfortably. I love coming off the edge, too.
You often get described as a throwback. Do any older fans come up to you and compare you to players 40 or 50 years ago?
CB:
I haven't gotten any people saying I remind them of anybody. I do get the old guy who puts his hand on your shoulder and says something nice. You always like to see that from someone who's been around the game for a while.
Any chance we see any more kicking exhibitions [Borland, who comes from a soccer family, made three extra points as a freshman at Hawaii]?
CB:
Coach B [Bret Bielema] promised I would if I scored a touchdown, but I haven't been able to get in the end zone during my career. The knee's better, so I'll be champing at the bit if that ever happens.
You're going to hold him to that promise, right?
CB:
[Laughs] Well, I'll see where we are in the game. I don't want to take away from our kickers.
You have Minnesota this week. How important is it to keep the axe another year?
CB:
It's huge. We have a little history lesson of the game every Tuesday of game week. I think we've had the axe for eight straight years now. Most importantly, it represents a win, so we'll go out there to keep the axe, keep it in our locker room for another year.
As a defense, where are you looking to get better down the stretch as some of the competition gets a little tougher?
CB:
We've given up some big plays that are really going to hurt us if we do it against better teams. We've got to limit big plays against explosive players and teams, and we're going to be seeing that really in all five of our games remaining. There's guys who show up on film that are dangerous. So we've got to cut down on big plays. That goes a long way to helping us be a great defense.
It's not your last year, but are you getting a sense of urgency from guys like Mike or Montee [Ball] as their college careers wind down?
CB:
To be honest, those guys have always had the same sense of urgency. We care about our senior class as a team, so guys are always working their hardest and putting everything on the line during games. I don't really see a change. We'll just continue what we've been doing the last few years.
It wasn't the start to the season that you wanted, but what would it mean to get back to the Big Ten title game with another shot at the Rose Bowl?
CB:
That's our goal. It's not really how you start, it's how you finish. We've had a great opportunity. I think we control our own destiny, so if we just continue to work and get better like we have throughout the season, we'll be where we want to be at the end.
October, 19, 2012
10/19/12
3:00
PM ET
Maryland linebacker
Demetrius Hartsfield
is a big reason why the Terrapins rank as one of the top defenses in the nation this season.
Hartsfield leads the team with 51 tackles, with three sacks and two fumble recoveries. Coach Randy Edsall has praised his senior leadership in particular as a huge key for the defense.
I had a chance to catch up with Hartsfield this week to ask about his play, and the performance of the entire defense headed into their big game against NC State on Saturday. This is a little of what he had to say.
What has been working so well for you in particular so far this season?
Demetrius Hartsfield:
I've played in the ACC a couple of years now, so that helps, and I think one of the things is I've been playing with more confidence and just knowing I've got to step up for the defense.
Did you put that on yourself, to step up?
[+] Enlarge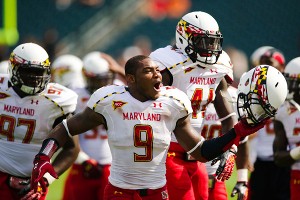 Howard Smith/US PresswireLinebacker Demetrius Hartsfield and the Terrapins defense are ranked No. 9 in the nation, giving up just 279 yards per game.
DH:
All summer, I just worked hard every day, and just led our team in workouts and practices throughout the summer and spring and just made it a goal to help my team and my defense to be the No. 1 team on defense in the ACC.
You are almost there, No. 2 behind Florida State. Why have you been so successful?
DH:
It starts with our coordinator. Coach [Brian] Stewart has done a good job implementing the new defense. He's done a great job also getting us as players in the right positions and just motivating us every week to play to higher standards. As players, we've done a great job at just playing consistently, going out and playing a full 60 minutes.
So what is the biggest difference between this year and last year, aside from the scheme and coordinator change?
DH:
We're playing with a lot more confidence, and having a lot more fun out there. I think it's evident when people see us playing that we're playing with a lot more fun, a lot more swag and just going out and believing in the system and playing an aggressive style of defense.
How fun has it been to be more aggressive?
DH:
I love it. There's nothing better than knowing at any point you can get a sack or a big TFL to change the game.
Where can the defense be better?
DH:
I think one of the things we have to improve is getting more turnovers. That's the No. 1 thing we've got to improve on. With having such a young offense, we have to get them the ball as much as possible.
Your team is alone in first place in the Atlantic Division. A lot of people are surprised; did you guys think you'd be in that spot?
DH:
Of course. That's one of our goals. I feel like if you're playing college football and you're expecting to lose, then there's no point in playing. Everybody has the same aspirations of going to the ACC championship and that was one of our goals. Right now, what we've got to do is take it one game at a time and make sure that each and every one of us gives it our all and does whatever we can to help out our team.
You are facing a good quarterback in Mike Glennon this week. What will it take to slow him down?
DH:
I think Mike Glennon is a pretty good quarterback. We've faced
Geno Smith
at West Virginia, so I think one thing we did with him is put a lot of pressure on him. We have to do the same with Mike because a quarterback like him, you can't give him all day to sit in the pocket or he'll eat you up all day. Our crowd is going to help us. We have to play with a lot of confidence also. That will help. If we do those things, we'll be fine.
October, 19, 2012
10/19/12
2:30
PM ET
Toben Opurum
is one of the bright spots for a Kansas team that's struggled to a 1-5 start under new head coach Charlie Weis this season. The former running back led the Jayhawks in rushing in 2009 before becoming a force at the line of scrimmage for KU under Turner Gill and again this season.
He's got four tackles for loss this season and 29 total tackles. He's also forced two fumbles, broken up three passes and has a sack.
This week, he took some time out to talk to ESPN.com.
How would you describe your play so far this season?
Toben Opurum:
I feel like I've improved drastically from last year. I'd like to continue to improve and make a couple more plays on the quarterback, but I think I've been distruptive a lot in the run game and passing game in different ways without the sack number being up there.
What are you most proud of from this season?
TO:
I think from me and the defense overall, we've done a really good job of tightening up as teams get closer to our end zone and kind of protecting our home as we call it, and not letting people get in. That's one thing we've improved on. For myself, I think I've done a much better job just understanding the whole defense that we're running and understanding my role, from bouncing around multiple positions to kind of finally understanding what's expected.
This season obviously hasn't started like you guys had hoped, but how would you describe the attitude of this team right now?
[+] Enlarge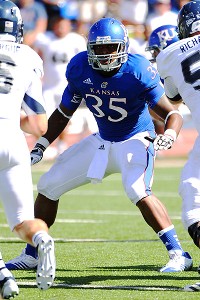 AP Photo/ David DurochikToben Opurum said he's finally getting comfortable on defense after starting his Kansas career at running back.
TO:
You would think that with our record we'd be down in the tank and dreading coming to practice, but guys are still coming in every day and enjoying practice and just doing everything we can to make sure we can turn this program around. Obviously, we're not in the position we want to be in right now, but I've got to play for these last couple games and also for the players who are coming after me.
You talked a little bit about it earlier, but where do you think this defense has improved the most from last year?
TO:
I would definitely say in the red zone again. I feel like we've done a good job of tightening up there. Teams have been able to move the ball a little better than we'd want them to between the 20-yard lines, but as soon as they get in there, the whole mentality changes and guys step up to the challenge of keeping people out of the end zone.
What's the biggest difference between the staff that was coaching you last year versus the staff you've got this year?
TO:
There's multiple differences. I really feel like the biggest change is the players more so than the coaches, though. Obviously, they've got coach Weis and coach (defensive coordinator Dave) Campo, who have got a lot of history in the NFL and coaching in the NFL and in college, so they bring a lot of experience and a big variety in their playbooks and they're able to adapt to multiple things, and that's not something we've always had available to us.
So, I think they've done a good job of being able to adjust to different offenses and defenses that we see in the Big 12.
That NFL experience you mentioned, for you as players, where does it come into play the most? Where do you see it?
TO:
They recognize talent when they see it. A lot of coaches get stuck on kind of putting players in based just off your reputation of what you can and can't do, and I think they did a good job of evaluating talent for themselves and putting players where they believe can have an impact and help us in the best way.
What has to happen for you guys to end this Big 12 losing streak?
TO:
For us to end this streak, it's going to have to start with us winning a game that no one believes we have a chance in. We've been in position to end it multiple times, against teams like TCU and even just last week against Oklahoma State. We've had opportunities to do so, but it's just something that we're not over that hump yet because we weren't able to finish.
I feel like if we were able to capitalize and do so, people would be talking about us in a different light than they are now, but it just shows that we've got a little further to go. I don't think the gap is as big as our record would indicate.
So how close is it, and what has to happen to get this team over that hump?
TO:
Hopefully, it's just a matter of days. Like I said, it's going to take us winning a game that no one believes we can win and obviously people have us losing to Oklahoma by 1,000 points, so this will be a good opportunity for us to get over that hump and it's going to take everything in our power to do so.
What has coach Weis done to change the attitude of this team and the mindset going into the season?
TO:
Well, you know he doesn't have a magic wand. He's still searching for the right way to change the attitude of every player. It's worked on a majority, but it takes everybody and you've got to have everyone with a winning attitude and guys trying to learn how to win, and not waiting for bad things to happen because that's what they're used to. You've got to get past it and be ready to step up and make the plays, rather than the guys sitting back and waiting for somebody else to do it.
October, 19, 2012
10/19/12
2:30
PM ET
Lindsey Lamar
has been one of the most pleasant surprises for the USF offense this season. So far, Lamar has 41 carries for 220 yards and two touchdowns, to go with nine catches for 115 yards and three touchdowns.
I had a chance to catch up with him earlier this week to ask about his performance so far, and the mindset of the team going into its game against Louisville on Saturday. Here is what he had to say.
Lindsey, you were supposed to redshirt this year but injuries forced you to play. How did you handle the sudden switch from thinking you would sit out to playing?
LL:
I was always ready to play. I came to work every day preparing to play because I never knew what was going to happen. I knew it was going to be tough to sit out the year, but I came to work like I was going to play, so the transition was good for me.
What went into the initial decision to redshirt?
LL:
It was a mutual thing decided during camp. I talked to a couple of the coaches, because I was worried about how I was feeling about a couple things. It was really my decision to do it. They wanted to do it for me to help me out for my future with school and all that and to bulk up some more for the next level so they let me do it. But they told me at the same time, if something were to happen, we'll need you to play. Something happened, and they called my number.
Did you expect immediate success?
LL:
I knew the coaches would always put me in a great position to have success. I'm just taking an opportunity and running with it. I didn't expect anything. All I expected was to keep working in practice and if it comes in a game, it comes.
You had bulked up in the summer, so now that you are playing bigger, how are you feeling?
LL:
I feel more explosive. I feel healthier knock on wood. I feel great all around, I run better. I can run in between the tackles. I feel great at running back. It's a blessing to be back here.
You guys have not gotten off to the start you hoped for this season. So what is the mindset of team coming out of your bye?
LL:
The mindset of the team is great. We're going to use the second half of the season to do well. We can't look back because the first half of the season is over. All we can do is look forward. The morale on the team is great. We all feel positive.
How have been able to keep morale up?
LL:
Staying positive. In life you have lessons, and we learned a lot of lessons through the first six weeks, lessons we can build on and learn from to grow. It's going to help us be strong through this stretch of the season.
What is the biggest lesson learned?
LL:
Don't stub your own toe. We've got to be disciplined, we've got to do the little things right. We have to play a 60-minute ball game.
Are you optimistic you can get back to a bowl game?
LL:
Definitely. I really believe we can, but we're taking it one day at a time, one practice at a time. We have to keep pushing, that's all.
October, 19, 2012
10/19/12
2:00
PM ET
Being one of the older guys at Ole Miss,
Charles Sawyer
has seen pretty much everything. From the highs of a nine-win season during his redshirt year of 2009, to the absolute lows of winning just six games over the next two years, Sawyer has gone through a myriad of emotions during his time in Oxford.
But with a new coaching staff headed by Hugh Freeze, excitement has been injected back into the Rebels' program. A team that trudged into the season with no real expectations has two more wins than it did last year and is two wins away from being bowl eligible.
The Rebels captured their first SEC win in 16 tries last weekend with a 41-20 win over Auburn, and Sawyer took time out during Ole Miss' bye week to chat with ESPN.com about Ole Miss' season:
Did this bye week kind of come at the perfect time for you guys? I mean, your emotions have to be running high still after that win over Auburn, but I'm sure it was time to take a little break, right?
Charles Sawyer:
Yeah, it definitely came at the perfect time. Everybody knows that it's a bye week, but we also need to do some work this week because Arkansas is working too on their bye week. We can't take any plays off or decrease our reps.
When you look at this team now compared to the team you had last year, what do you see that is really different?
[+] Enlarge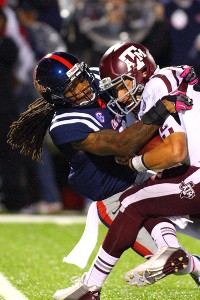 Spruce Derden/US PresswireCharles Sawyer has noted his teammates seem more driven and competitive this season.
CS:
Everybody's passionate and everybody wants to win and everybody is playing as a team and we have some different leaders in different regions of the team. Everybody has each other's back and now everybody is putting everything on the line. Everybody is trying to make each other better. Everybody is trying to outwork somebody else. When you have that on the team, you constantly get better and everybody wants to be a part of something great. Now that that's happened, everybody wants to be a part of it and everybody is putting 100 percent in.
Considering the attitude issues from last year, the obvious depth issues and the fact that you were breaking in a new coach, did you see this team getting to where it is right now this fast?
CS:
Honestly, the first season, I didn't know what was going to happen. When Coach Freeze got here, I didn't know who he was going to be and it was all a mystery when he got here. But when we went through all of the offseason and we went through camp, everything started to show.
Take me through your emotions when the clock runs out Saturday and you finally have that SEC win for the first time in almost two years?
CS:
It was a special moment. Everybody cherished that moment and now everybody knows what it takes and everybody knows what it feels like to win a big game like that. We have to keep that in our minds and during the hard stretches keep doing it.
Obviously, four wins isn't the goal and I'm sure you want more. How do you make sure this team, full of youngsters, doesn't get too high off this win and you keep going with the teeth of the schedule coming up?
CS:
You can enjoy the win, but you know we have Arkansas next week. We have a whole second half of the season to go and we know that. We have to take it one game at a time.
You said you weren't sure what was going to happen this year, but when you start 3-1 and you can tell things are changing mentally for this team, did you get the feel that this might be a special year for you?
CS:
Absolutely. Those two wins started and then when we played Alabama and Texas A&M, you could really see the team jelling together and everybody was putting in effort and wanting to win. Then, Auburn came at the perfect time and we did what we had to do and you start to see it.
That Texas A&M game could have been crippling for a team that has struggled so much for the last couple of years. You have that fourth-quarter lead and then it's gone. How did you find the right mindset to come out like you did against Auburn?
CS:
We just told guys that we have to finish the fourth quarter and we can't let that happen again. And that's what we did.
Was there some worry though that maybe some of the young guys could start to get down, or even the older guys who had been through this before?
CS:
No, nobody got down. We all said that we were going to get it the next weekend. Now, once you get that next one, you see that what you're doing works and you just keep doing it.
Now that you're looking toward the second half of the season, depth will be key. With a lack of depth in key areas, how do you make sure this team stays energized and ready for the final stretch?
CS:
We have to keep working and realize that everybody else is working and wants to get better. We have to keep pushing ourselves.
Do you still like having that underdog role, or do you think people are starting to look at you differently?
CS:
Some people may look at us differently, or some might just say, "Oh, that's still just Ole Miss," but until we play on Saturday and the clock hits zero, we'll see what happens on that day. You just have to take it one game at a time and one play at a time.