October, 26, 2012
10/26/12
4:30
PM ET
In the midst of a three-game losing streak and prepping for the No. 7 team in the BCS standings, Washington quarterback
Keith Price
took a couple of minutes this week to chat with the Pac-12 blog about his team's execution problems, confidence and his thoughts on being a more mature quarterback.
What's the confidence level of the team right now?
[+] Enlarge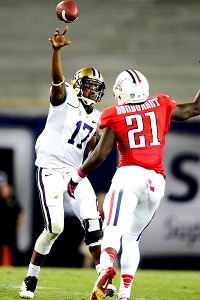 Mark J. Rebilas/US PRESSWIREWashington's Keith Price hasn't been playing the best football, but his confidence has not waivered.
Keith Price
: We're confident. We know that these next games are very winnable games. We just have to come out and play our type of football and not worry too much about everything else that has been happening.
Same question, only just you. How confident are you right now? I'm sure you're hearing some of the outside griping.
KP
: I'm fine. I'm fine. My confidence will never waver. Obviously, I haven't been playing the best football. But I know my confidence is fine. I know the results will start to show. It's just a matter of time.
There was so much emphasis on the first half of your schedule. How much were you buying into the fact that if you could get through the first half, things would come easier in the second half?
KP
: We all knew that every week was going to be a challenge and that you could get beaten by any team out there. Last week we got our tails whooped by a team that wasn't in the Top 25. Everybody is beatable. In this conference, you have to show up to play every week. We expect to win every week. We just have to come out and start proving people wrong.
How do you keep the negativity from creeping into the locker room?
KP
: We're a band of brothers. We're focused on the task at hand. We're not worried about what other people write or what other people say. We know how good we are. It's just a matter of executing. The last couple of weeks we've had a problem executing. That's our main focus. If we execute, we can play with any team.
What needs to happen to fix that execution?
KP
: More study. The smarter you are, the faster you play and we have to hone into the details of each play. And when we get the opportunity to make those plays, we have to make them. That's our main focus.
The numbers don't suggest it, but do you feel like you are a more mature quarterback this year than you were last year?
KP
: Definitely. I feel like a better quarterback than I was last year. The results aren't the results that I wanted. But it's OK. That's not what I'm here for. I'm not here to play for stats. I'm here to play for wins. And hopefully we can get this thing turned around in the second half of the season.
October, 26, 2012
10/26/12
4:30
PM ET
It's time to answer your questions before we get to the weekend:
Kirk in Little Rock, Ark., writes:
If Ole Miss can get to a bowl game this year does that warrant consideration for Hugh Freeze as the SEC coach of the Year? I mean honestly who thought Ole Miss had a shot at a bowl before the season? I can buy Will Muschamp if Florida keeps it up. I can buy Nick Saban if they roll undefeated. But if Ole Miss wins 2/3 between Arkansas, Vandy and Mississippi State and become bowl eligible I believe that is a good coaching job with the academic issues he started with and the lack of depth he has.
Edward Aschoff:
I think he definitely deserves consideration. If he takes Ole Miss to a bowl game, after this team won just six games over the past two seasons, I think Freeze will be right near the top of the list. That team had major attitude issues last season and entered this season with tons of depth issues across the board. Ole Miss has won the games it was supposed to win and has played tough in all of its games, and you didn't see that last season. This team quit in games last season, but it learned how to play for four quarters under Freeze. No one
really
expected the Rebels to be in the thick of the bowl race in Freeze's first year, but this team has really surprised people. Plus, that offense has really taken off. Freeze has done a heck of a job already with the Rebels. Kevin Sumlin at Texas A&M also deserves some love in this department, considering most of us thought that team would struggle in the SEC with all those missing stars from last season.
---
Jon in Chattanooga, Tenn., writes:
This Tennessee coaching situation is driving me crazy! I like Derek Dooley as a person and appreciate him trying to do what is right about Lame left us. But it just doesn't look like he can get us going anywhere. Do you think Tennessee is really in the running to get Jon Gruden? Afraid to get my hopes up.....what do you honestly think? And thanks for reading this.
Edward Aschoff:
If
Tennessee decides to make a coaching change, I think Gruden has to be at the top of athletic director Dave Hart's list. I think he'd fit in well in the SEC, and could be a heck of a recruiter with his personality. Gruden has ties to Tennessee -- he met his wife while working with Tennessee's staff -- and he knows East Tennessee very well. He's very close to that area, and I have no doubt he would be interested in the job if it came open. Now, he could be pretty expensive to bring in, and with Tennessee's financial issues, plus Dooley's buyout, it could be tough to swing it. But if there's a chance of being able to afford Gruden, and Hart believes it's best to sever ties with the current coaching staff, then I think Tennessee would go after Gruden. But Dooley isn't out the door. He could still guide this team to eight wins, and if he does that, he should be back in Knoxville next year.
---
Robert in Oklahoma City, writes:
My question is do you think
Zach Mettenberger
will start playing to the high expectation that was placed on him or will Mettenberger be another one of those high profile QB's that did not take advantage of the situation?
Edward Aschoff:
He certainly hasn't looked like the quarterback that we all expected, but he still has a long way to go before the season is over. He just has to regain the confidence he had earlier in the season. The zip on the ball that he showed against Washington just hasn't been there. He looks like he's lost confidence in his deep throws and he just hasn't stood very tall in the pocket consistently. Now, he did look better against Texas A&M, so that's a good sign. He needs his wide receivers to step up as well. That group has had a lot of drops this season, which haven't helped him. This bye week should help him regroup, and maybe it will help the coaches simplify things on offense a little. He has an extremely tough matchup with Alabama's defense coming up, so he can't afford to be timid or make mistakes in that one. He could either take some major steps forward or go in reverse next weekend.
---
Damontre Moore in College Station, Texas, writes:
I have asked both of you this and I haven't heard anything from y'all. Why is Clowney getting all the love. I have outplayed him all year long and I don't disappear in big games.
Edward Aschoff:
I'm going to go out on a limb and say this isn't the real Damontre Moore. Just a hunch. Seriously, I think it's because
Jadeveon Clowney
is one of the most dominant defensive players in all of college football. You have to double-team him or he's going to punish your quarterback. He can line up all over, and when his motor is going, it's tough to stop him. There are coaches in this league who think he's the SEC's best player, regardless of position. Now, Moore has been great. It will definitely come down to Moore and Clowney for the SEC sack title this season, but Clowney is just more versatile, in my opinion. Moore is going to make lot of money at the next level, but I just don't think he's the physical specimen that Clowney is. Few players really are, and I think that's why he's received more love.
---
Will in Cleveland writes:
Given the fact that South Carolina has shot themselves in the foot with their play the last two Saturdays, what is the best case scenario for the Gamecocks for the rest of the season? Is there any national respect left for this club?
Edward Aschoff:
There is national respect left for this group, and if you listen to ESPN.com colleague/BCS guru Brad Edwards, the Gamecocks could still make it to a BCS bowl game. Now, they obviously need help, like Florida losing at least two more games. Even if the Gators win Saturday against Georgia, if they were to lose to Florida State at the end of the regular season and then lose to the SEC West champ (presumably Alabama) the Gators might fall out of contention for a BCS bid. If South Carolina wins out, the Gamecocks could be right there to take that BCS spot away from Florida. The SEC championship might not be there, but a BCS bowl game would look great. There is still a ton for the Gamecocks to play for this season.
October, 26, 2012
10/26/12
3:00
PM ET
Florida State is No. 15 in the country and No. 2 in the ACC in rushing offense with 389.14 yards per game. The Seminoles' offense took a hit this week, though, when leading rusher
Chris Thompson
suffered a season-ending injury. Thompson's 7.5 yards per carry will be tough to replace, but there is no shortage of talent at the position. In the past two games, sophomore
Devonta Freeman
has led FSU with a combined 140 yards on 18 carries. Freeman's two fourth-quarter touchdown runs sealed the win against the Hurricanes last week. I spoke with Freeman on Thursday to get his take on the situation heading into Saturday's game against Duke. Here are the highlights of our conversation:
[+] Enlarge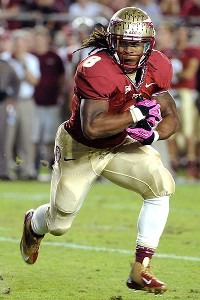 Melina Vastola/US PresswireFlorida State RB Devonta Freeman has made an immediate impact in place of injured star Chris Thompson.
Tell me about what happened from your perspective in the game when Chris went down.
Devonta Freeman:
Basically when Chris went down, I knew one of us had to step up. Actually, I wanted to be the guy to step up. I was just preparing myself when I wasn't playing. When he went down I knew this could be my opportunity so I couldn't take it for granted. I had to go out there and make something happen. I tried my best to contribute.
How has Chris responded? I'm sure it's been devastating for him, but how has he been in terms of being a part of the team as a leader and trying to help you guys?
DF:
He's a strong kid. He's been through a lot. He just continues to grow and learn. He's not complaining or nothing like that. He just knows that's God doing his job. All he's doing is praying knowing God has a plan for him at the end of the day.
How much pressure are you feeling now that he's out to step up and be the guy?
DF:
There's no pressure, nothing like that. Once upon a time I was the guy, I was a starting running back. I've played in a lot of big games, so these games, every game I play I just think of it as a regular game. I don't look at it as, 'Oh I need to prepare different than any other game.' I just look at it as the same game. No pressure.
What's it been like this week without Chris practicing?
DF:
When somebody goes down like that, you've just gotta move on. When we're on the field, we have to focus on our jobs and stuff. When we're off the field, we've got to try to encourage him the best way we can. It's been a little awkward he hasn't been out there, but we know our part. We know what we've gotta do. We know what time it is. We just have to contribute.
Have you and [James] Wilder [Jr.] been splitting reps with the first team? How has that been working?
DF:
Yes, actually we've all been rotating.
Lonnie Pryor
has been getting in there at running back,
Debrale Smiley
has been getting in at running back. All of us have been rotating. Me and Wilder have been splitting the carries. We'll get, like, two plays apiece with the ones. I'll even get two plays with the twos, he'll get two plays with the twos.
The running game has been so much better than it was a year ago. What's the biggest difference?
DF:
The biggest difference is the offensive line and the coaches. They've prepared them for this year in getting them where they need to be. They've been so dedicated to the team this year. They knew last year we were struggling in running so they went harder this summer. They'd be here early in the morning, every day, like 6 in the morning. They were here before everybody. And the running backs, we knew we had to make better reads, better cuts. We just got more patient and all of us got better.
Do you guys feel like you can keep it up without Chris in the lineup?
DF:
Yeah, of course. We can keep it up without him. We wish the best for him, wish he was healthy, but we'll try our best to average some good yards per game.
Are you taking these guys seriously, or is Duke still Duke to you?
DF:
I take them seriously. They put on one pants leg at a time, just like us. Anything could happen. Every team we play, I treat them like they're the No. 1 team in the nation. We've got to give it our all. We're not taking nothing for granted.
What have they done that leads you to believe they're better this year?
DF:
They're bigger, faster stronger. They look more technically sound. They're throwing the ball better, they're running the ball better and tackling. They're big up front, they have some great athletes on their team.
Is it hard for you guys to not look back at the NC State game and wonder what could have been?
DF:
I mean, we always look back at it and say, 'shoulda, coulda, woulda,' but it's something we had to learn from and move on from. Life is about learning and moving on. We just feel like we can't lose no more games.
October, 26, 2012
10/26/12
3:00
PM ET
Shane Wynn
is one of the smallest players in the Big Ten, but you'd never know it by his production. The Indiana sophomore is listed as just 5-foot-7 and 157 pounds but is tied for third in the league with 38 catches. Only Penn State's
Allen Robinson
has more than Wynn's five touchdown grabs, and Wynn is also a dangerous kick returner.
I recently caught up with the Cleveland native while he and the Hoosiers were preparing for this week's game at Illinois for our Friday Q&A segment:
You guys have lost five straight games, all of them close. How's the attitude of the team?
Shane Wynn:
The general attitude is the same. We've got to keep working. We're starting to play together as a team now. We've just got to put the pieces together and finish the game. A lot of times we come out and start fast but just don't finish. So we have to keep working on finishing games now and finishing second halves. The team is doing a lot of emphasis on that as practice goes, the first half and the second half, stuff like that.
[+] Enlarge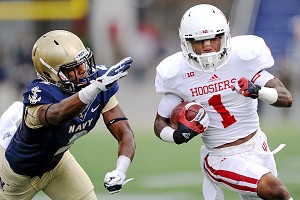 AP Photo/Cal Sport MediaShane Wynn and the Hoosiers are looking for their first Big Ten win this season.
Is there any one thing you can put your finger on for the inability to finish games?
SW:
Not really. We have a lot of three and outs. Our defense will get a stop and we give them nothing back and put them right back on the field. We can help with that, but at the same time, we need to keep working together as a team.
Where have you improved the most this year?
SW:
I've definitely improved on reading coverages and watching a lot more film. Knowing the opponent and what they like to do, what they do best and what their weakness is. I've also learned how to use my hands a lot more in the offseason and run a lot more sharper routes.
You're listed at 157. What do you weigh now?
SW:
I'm 160 now, but I've just got to keep holding it and maintaining it.
Is it tough playing at that size and taking hits?
SW:
I took a couple of shots this year. Like I say a lot, you can measure height, you can measure weight, but you can't measure heart. I just take the hit and get right back up. Knowing I'm little and I play slot, I know I've got to take some hits if I want to go to the next level. So I'm mentally tough when it comes to hits.
Do you find that defenses relish the chance to hit you?
SW:
Most of them realize I'm a little slot guy, so whenever they get a chance to hit me, trust me, they try to hit me. But if they don't, I'm going to try my best to run past them. They can't hit what they can't catch.
Who else recruited you out of high school?
SW:
West Virginia, Clemson, Oregon. I got a lot of mail from Tennessee, USC, teams like those.
Did Ohio State show serious interest?
SW:
Yes, they did. But I just felt like Indiana was home for me.
Why Indiana and not a team with more recent tradition, like Oregon?
SW:
I wanted to be part of something turning around. I didn't want to be a part of something that's already turned around. I would just be a another name in an Oregon uniform or a West Virginia uniform. But me,
Tre Roberson
,
Kofi Hughes
,
Cody Latimer
,
Nick Stoner
,
Stephen Houston
, people like those, we can change things around. We're trying to make this a football school even though we're known as a basketball school.
How much did Kevin Wilson's offense influence your decision?
SW:
Yeah, that was a big issue, especially when I learned that he coached Ryan Broyles [at Oklahoma]. I watch a lot of film on him. He's the same size as me, so I basically watch everything he does. I learned a lot from him and Wes Welker and De'Sean Jackson.
You were a track standout in high school. Any plans to continue that at Indiana?
SW:
I'd like to try, but at the same time I've been losing a lot of weight and I'm trying to maintain weight. I come in early for extra work, and do extra speed work because I know I can't run track. It hurts, but no pain, no gain.
Are you on an enhanced-calorie diet?
SW:
Oh, man, they try to make me eat whole houses. I'll be like come on, man. My little stomach! I can't eat all that! [Team nutritionist Amy Freel], [strength] coach [Mark] Hill and [assistant strength coach Will] Peoples look out for me. They sit at the table and eat with me, and I can't go anywhere until I eat something. I could be there all day.
You played for Ted Ginn Sr. in high school. How well do you know Ted Ginn Jr.?
SW:
I'm real close to Ted Ginn Jr. I didn't play with him, but I did a lot of track workouts with him.
What's the hardest part of returning kicks that people don't realize?
SW:
It's a full-out blitz for kickoffs. That's what people don't know. You can talk about all the speed that we've got at returner, but at the same time, it's a full-out blitz for the kickoff team. So basically, you just read one one hole and you've got to hit it full speed. You can't dance or try to do too many juke moves, because that's when you end up fumbling, or that's when you see people getting hit hard. I just try to find one crease and hit it.
Finally, the Indiana offense is much improved this year, especially in the passing game. Why is that?
SW:
Nobody missed a summer workout this year. Nobody missed weight lifting or workouts, and the receivers and quarterbacks were in the indoor facility at night time and in the mornings running routes. We just trust each other more as a team and we actually play as a team now. Once we do that for 60 minutes, we're going to be tough to stop.
October, 26, 2012
10/26/12
2:30
PM ET
Oklahoma safety
Tony Jefferson
is one-third of the so-called "Cali Trio," a collection of signees from the 2010 class who made big impacts as freshmen and have blossomed into leaders in 2012. Teammates
Kenny Stills
(receiver) and
Brennan Clay
(runing back) have helped pave the way for a miniature recruiting pipeline between Oklahoma and California, the latest of which featured starting running back
Damien Williams
, a fellow San Diego native.
Jefferson leads the Sooners with 48 tackles and has two tackles for loss, an interception and a pass breakup after moving to his traditional safety spot this season. He took some time this week to talk with ESPN.com about the Sooners' mammoth top 10 showdown with Notre Dame this week, the first time the teams have met since 1999.
[+] Enlarge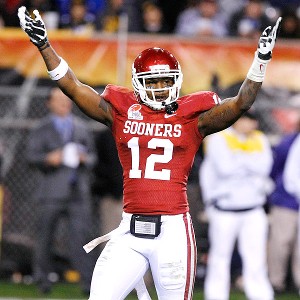 Rick Scuteri/AP ImagesSafety Tony Jefferson says the Sooners have refocused since losing to Kansas State.
Author's note: Portions of this interview were edited for length considerations.
What first comes to mind when you think about Notre Dame?
Tony Jefferson:
Tradition. Just another school kind of like ours with a bunch of history. They've got athletic players and great coaching as well.
I have to ask. Have you seen Rudy?
TJ:
(Laughs) Yes, I have.
What were your thoughts?
TJ:
It just shows how much prestige and history is behind that organization in South Bend.
From what you can see, what have the Irish done to reach this point without a loss?
TJ:
They find ways to win. They've got playmakers on both sides of the ball up front. On defense, they can get a push and they can get penetration on a very good offense. You've got to be aware of that. Obviously, they've got
Manti Te'o
, who plays with so much passion and has so much drive, just one of the most athletic linebackers you'll see across college football, and their secondary is pretty good.
Offensively, you have the tight end who's making amazing plays with his size and ability, and they're just good across the board on the offensive line.
You'll be focusing on the offense in game-planning of course, but you mentioned Te'o. What sticks out to you about what he brings to the table?
TJ:
I have to say he's smart. He's a smart football player. I've watched Manti Te'o since I was in high school and I'd been watching him play. Just to see him now, how he's grown in the game and how much better he's become, it shows he's committed to what he does. I don't know him personally, but you get the feeling he's one of those hard-working type of guys who feels honored to play college football and plays every down with some heart. You've got to respect a guy who respects the game that way.
Notre Dame is obviously a big name, but when you think about the excitement of this week, how does it compare to, say, the week of the Texas game?
TJ:
The OU-Texas rivalry is big and that rivalry's been going on for a long time, but I'm from California. The Oklahoma-Texas thing, that's what's been going on here. I grew up a USC fan and never really been a fan of Notre Dame too much. Once I saw we were playing Notre Dame, it definitely excited me, and I wanted to get after them a little bit, get 'em back for that game, the
Reggie Bush
Push.
How has this team looked so dominant the past three games, when the first three games, it looked like you were off to a bit of a slow start?
TJ:
It's come down to the point where you take a loss against Kansas State and there's no more room for error. You've got to go out there and play well. Our preparation leading into games has been tremendously better. Our focus has been tremendously better. We understand what's on the table for us. We understand that it's going to be up to us to go and get that. Our mindset has changed. Not that it wasn't in the right place before, but I think there's been an added punch to it.
By my count, this is the Big 12's best defense. That wasn't the case last year. Why have you seen so much improvement?
TJ:
I think last year we had a few guys in the wrong spot. Now, we're able to put some guys where they'll succeed best. From what coach Mike (Stoops) saw from the outside look is we've got the athletes, and he wanted to let those athletes be athletes and be more aggressive. Coach Venables is a very smart football genius. He was about schemes and doing different things. Our strength is being able to go out there and play our game as a unit, and as players. I think that's helped us out.
October, 26, 2012
10/26/12
2:30
PM ET
Alec Lemon
is coming off a season-best 166-yard performance in last Friday's win over UConn, though the one designed play for him at quarterback ended with the senior taking a 2-yard loss.
Nonetheless, the senior now has 161 career receptions, and he broke the Syracuse career record for catches four weeks earlier against Minnesota. Lemon has 55 more than his position coach, Rob Moore, who only played at Syracuse for three years. Moore still has the lead in yards (2,122 to 1,954; third and sixth in program history, respectively) and touchdown catches (his 22 are a school record; Lemon's 12 are tied for ninth).
Here, Lemon talks about his Orange career and goals for this season.
After the Rutgers game you said you felt 'misery' looking over the film. How did you turn that frustration into a big performance the next week?
[+] Enlarge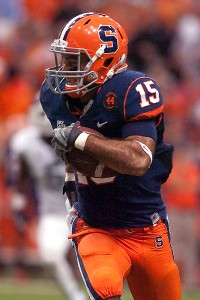 Mark Konezny/US PresswireAlec Lemon became Syracuse's all-time leader in pass receptions this season.
Alec Lemon
: Well after the game, came back, watched the film, critiqued myself -- I felt that tick in my stomach from how I played. My goal was to go out there and show not just my team that I let them down because that wasn't me, but the whole world the real Syracuse offense and the real things that we could do.
UConn has a very good defense. You've had a 100-yard game against them two years in a row. How?
AL
: I don't know. It's kind of funny. Everyone keeps telling me about that and I hadn't really realized it until they told me that I had career days against UConn. I guess it must be something about that white and blue I don't like. [Laughs.]
A lot of your yards come after the catch. What do you do during the week that helps you turn big plays into bigger ones?
AL
: One of our focuses is when we get the ball in any drill or during team period for practice, we make sure that we finish with a 10-, 15-yard burst. But it really doesn't come from practice. It's got to be your mentality that every time you get the ball you want to score. And that's one of the things I have in my head: Every time I touch the ball I want to take it to the house and go as fast as I can and break some tackles and take it to the house.
The run game really established itself early Friday. How does that open things up for you guys as an offense?
AL
: That helps us out a lot with the whole defense knowing that when the offense is going they can't just key in on [one part of] the offense, because the pass game will be open and when the passing game's going they can't just key in on the passing game because the run game will be open. We complement each other very well. We're a very balanced offense, and if one is doing so good the other will step up, and when that happens, like I said, they can't just key in on one area of the offense or one player because we have so many weapons on offense that we can use.
Speaking of the passing game: Is your QB career done after Friday?
AL
: [Laughs.] I don't know. Maybe I was hoping I could get a chance to throw it again. I saw them coming over there so I had to tuck and get some yards.
It's been a couple weeks but you recently became the all-time pass-catcher at Syracuse. Was that a goal of yours or is it something you'll look back on after your career before it resonates?
AL
: Yeah when I came to Syracuse that wasn't one of my goals. My goals were to get to bowl games, to win the Big East, win games when I'm here. I was fortunate enough to break a couple records on my way here but I really wasn't focused on that. But it's one of those things. Right now it hasn't hit me because we're still in the heat of the season. We're still trying to win the Big East. But definitely when I get older it'll be kind of nice to see my name back there on the Syracuse record books -- something I can tell my children about. But hopefully one of the receivers behind me breaks the record, because all records are made to be broken.
Nice to pass your position coach (Rob Moore) along the way for that record?
AL
: Yeah, I beat him. I gave him a little crap about that. It was pretty funny.
How's he taken that?
AL:
He took it good. I gave him a little crap about it, but he still claims that he's got more receiving yards and that his receiving average is higher than mine, so I've got to work on that. But it's something special to be a part of that list, to be mentioned with all those great receivers that came through here. Passing my coach Rob Moore is something special and I'm humbled to be a part of that, and I know he's happy that I did it -- a player that he coached, and he expected that out of me knowing that I'm capable of doing that.
You've got USF this week. A bit of a desperate team having lost five in a row. How do you ready for their best shot?
AL
: Yeah, definitely. South Florida is a very talented team, very athletic and they're dangerous. People say that they're down right now, but we feel we've got to come with our A-game. People have been saying they've been losing a couple games but we can't look at that. We've got to come out and play because South Florida, like I said, they're a very good team and they can exploit our weaknesses and make big plays. They can hurt us in a couple ways. We just have to go out there and play the game we know how to play.
October, 26, 2012
10/26/12
2:00
PM ET
Few players in the SEC have made an impact both on and off the field the way senior running back
Zac Stacy
has at Vanderbilt.
Last week, he became the Commodores' all-time leading rusher in their 17-13 win over Auburn and was given a victory ride afterward by his offensive linemen.
Stacy, who's third in the SEC in rushing with 668 yards, has a chance to put together his second straight 1,000-yard season. Over the past decade, only eight SEC players have accomplished that feat. Among them: Darren McFadden, Felix Jones, Carnell Williams and Knowshon Moreno.
[+] Enlarge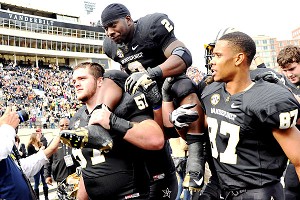 Frederick Breedon/Getty ImagesZac Stacy's 2,670 rushing yards is now the career record at Vanderbilt.
So Stacy would join some elite company if he can grind out 332 more yards this season.
Off the field, he's been an inspiration to a number of people, most notably his younger brother, Justin, who has Down syndrome. Stacy is majoring in special education and volunteers at Whitsitt Elementary School in Nashville as a student teacher. He works primarily with kids who are dealing with learning disabilities and/or behavioral issues.
We had a chance to catch up with Stacy earlier this week for a Q&A:
What went through your mind after you broke the record last week?
Zac Stacy:
I really didn't know I was that close to getting the record. I was just trying to get a 'W' and wanted to put my team in the best position to do that. We've faced some adversity this year, but we've gotten through it. I'm honored to break the record, but it's a reflection of the offensive line and a reflection of these coaches putting their trust in me to go out and get the job done.
How far have you come as a running back?
ZS:
I sort of got a head start playing running back. Growing up, I wasn't a big fan of playing football. I loved watching it, but I was more of a baseball guy. Baseball was a huge deal for me. But when I started playing football in Pee Wee, I always played running back. I didn't play anything else and was used to having the ball in my hands. I was still playing on raw talent when I got here, but coach [James] Franklin and his staff have done a great job helping me become a better student of the game. It's helped me play faster and a whole lot smarter.
Who are some of the running backs you grew up admiring?
ZS:
Being from Alabama, I idolized Kenny Irons when he was at Auburn and also liked to watch Knowshon Moreno at Georgia. Barry Sanders was one of my favorites, and even now, I like to watch Ray Rice.
What position did you play in baseball?
ZS:
I was a second baseman and actually had some offers from small schools and community colleges to come play baseball.
Given your 1,193-yard season a year ago, how much more conscious of you have defenses been this season?
ZS:
I knew defenses would load the box and key on our running game this year. But that's where
Jordan Matthews
has emerged and
Chris Boyd
has emerged. Whether I get five carries or 25 carries, I just want to take advantage of my opportunities every time I touch the ball and help my team win on Saturdays.
What's your day like when you're student teaching?
ZS:
I'm in the resource room with second , third and fourth-graders. Kids come in, and I help them with their reading or their math. It's mostly kids with learning disabilities. That's what I want to do, work with kids who have learning disabilities, behavioral problems or some type of language impairment. I've learned so much about the needs of those kids just being around my brother.
Justin's a fixture at all of your games with his No. 2 jersey. Talk about your relationship with him and what he's meant to you.
ZS:
The best feeling in the world after our games, whether we win or lose, is seeing him with that smile on his face and getting a big brotherly hug from him. He's taught me so many things about life and has helped me put into perspective what's important. Life's not about sports or football. It's about love and family and caring for each other.
It sounds like Justin has become quite the celebrity there in your hometown of Centreville, Ala. Who's a bigger star there -- you or him?
ZS:
I get phone calls from all my friends back home telling me how they all love him and how popular he is. He's at the high school there now. I got a call from my mom two weeks ago was telling me he got asked to the homecoming dance. I didn't even get asked to the homecoming dance. It's just amazing to see how he's touched so many people. I'm proud to be his brother.