November, 2, 2012
11/02/12
4:30
PM ET
Arizona linebacker
Marquis Flowers
, the reigning Pac-12 defensive player of the week, took a few minutes to chat with the Pac-12 blog about last week's win over USC, the team's work-in-progress transition to the 3-3-5 and his role in moving from safety to linebacker.
[+] Enlarge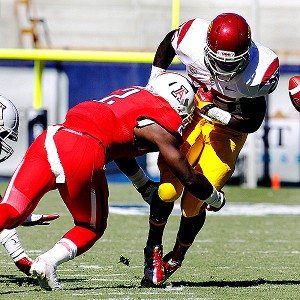 AP Photo/Wily LowArizona LB Marquis Flowers forced this fumble by USC's Silas Redd and had two interceptions in the Wildcats' win last Saturday.
How do you guys not get too high as a team after the kind of win you had last week?
Marquis Flowers
: You definitely have to take it one game at a time. This is Pac-12 football and anything can happen any Saturday. That's how we think of it. We just have to go out and play football because we've been through the tough losses. We've lost to two ranked opponents, one play away, and that always sits with us. I think we'll be alright.
I know there is a 24-hour rule to be happy with a win or frustrated with a loss. Did you take a few more hours to enjoy last week's win?
MF
: Nah. I treated it like every other game. It's a great win. It's one of those wins that's going to be on ESPN all week. But we have to focus on UCLA. We have to. My focus always turns to the next team right after the game. It was a great win and a great win for the program. If we can keep getting wins, better things can happen. That's our focus.
Two picks last week and a forced fumble. What's working for you?
MF
: I think I'm believing in what the coaches are telling me. We're working hard in practice. I'm working hard at tackling and putting my head on the ball. I'm watching a lot of film and trying to find my opponent's weaknesses. I'm just making attempts to get the ball and it's working for me right now.
How much have your safety instincts helped since moving down to linebacker?
MF
: It definitely helps. When the ball is in the air, I go up and catch the ball at the highest point. My body just does it without me even thinking about it. I see the ball in the air and I go up and get it. It helps me in coverage. I take pride when I have to cover a tight end in the slot. But I still need to learn a lot about being a linebacker and there's a lot I need to improve on.
What's been the toughest transition to linebacker?
MF
: Probably learning to play more downhill and using my hands. Sometimes I get caught in a safety mode where I'm back reading the play and that can hurt the defense. I need to keep attacking and going downhill and using my hands and holding plays to shorter yardage. It's a work in progress.
I know the 3-3-5 can be tough to learn because there are so many layers to this defense. How far have you guys come as a unit?
MF
: For the first year, I think we've picked it up well. There are still little things that we mess up on. And when you mess up the little things, sometimes that can go for a big play. We're still working on it. I think we do great against spread teams, but we have a little tougher time with the traditional power teams that line up in the I-formation and pound it down. But I think we're getting better. We're learning every game and we're believing in our calls and we're starting execute.
It's a pretty high-risk, high-reward defense and like you said, misses can lead to big plays. But it can also create some turnovers.
MF
: Definitely. And it gets you a lot of speed on the field, too, so that's always good. If something gets to the outside, we can get there. That's why I think we've been better against spread teams because the bubbles and outside screens, we have a lot of speed swarming to the ball. Overall, we're coming along.
November, 2, 2012
11/02/12
3:00
PM ET
Michigan fans are waiting for
Fitz Toussaint
to break out. Toussaint, the Wolverines' junior running back, is waiting, too. It has been a tough 2012 season for Toussaint, who surged down the stretch in 2011, rushing for 818 yards in Big Ten games and 1,041 for the season, which put him 44th nationally in rushing average. He sat out Michigan's season opener against Alabama after being suspended for a drunken driving arrest, and he has yet to record a 100-yard rushing performance this fall after notching five as a sophomore. The good news: there's still time to step up, and Michigan, which hasn't scored a touchdown for two games, could use a lift from No. 28 on Saturday at Minnesota as the teams play for the Little Brown Jug.
ESPN.com caught up with Toussaint earlier this week.
How would you describe how this season has gone for you individually and for the team?
[+] Enlarge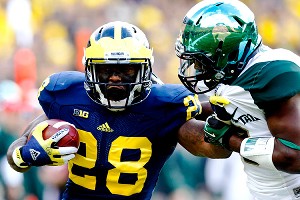 Rick Osentoski/US PRESSWIREMichigan's Fitz Toussaint rushed for 1,041 yards last season, but has only 321 yards in his seven games this season.
Fitz Toussaint:
We're having a little bit of success, but it's also been us beating ourselves. As long as we go out there and do what we have to do as a team, we'll be successful. For me, I look at it as being a running back, you always have to be patient. Hopefully, things will open up soon. I think we're getting to that point.
Are things developing that could get you closer to that big game? This is the time of year where you came on strong last season.

FT:
Definitely. It's slowly but surely developing. That's just part of going out there and doing what we have to do, day by day. I'm getting better every day, every week, and that's part of having good practices. If you don't have a good practice, you're going to play like you practice, so we really have to put the emphasis on having a good practice.
Why has it been such a struggle to get in the end zone lately, and how motivated are you to turn that around?
FT:
We're definitely motivated. That's on the offense. We have to get more points. The defense is doing their job, but we're working on something good on offense. We're going to do what we have to do. We have to get more points on the scoreboard, and that's on the running game.
This game with Minnesota wasn't close last year. What are you expecting this time from the Gophers on the road?
FT:
I'm not taking anything from Minnesota. They're a good football team, hard-nosed, a good group of kids. As long as we do what we have to do, watch enough film and practice the way we want to play, then we'll be successful.
You responded well from the losses earlier this season. What's going to be key for you to respond from the Nebraska loss this week?
FT:
Just staying positive, staying together as a team and as a unit. We have to do everything right on the practice field. We still have one focus, and that's the Big Ten championship. In order to get there, we have to do what we have to do from here on out.
How is Denard [Robinson] doing after his injury?
FT:
Denard's doing well. He's getting back, he's getting healthy. He's ready to go.
Do you as a team feel like you need to win out to get to Indianapolis?
FT:
We just want to play it game by game. We don't want to rush anything, just play Michigan football and do what we do.
What have you learned this season as a player?
FT:
I learned that you have to be more patient and trust the guys around you.
Are you naturally a patient person?
FT:
There's some things you have to learn along the way. But I'm doing pretty good with that. I definitely think I've grown up a lot. Honestly, I just want to win for the seniors because I know those guys want to win for us. That's part of being a great team.
November, 2, 2012
11/02/12
2:30
PM ET
Virginia has had its share of struggles offensively this season, a big contributing factor to the Hoos' 2-6 start to the season.
I had a chance to catch up with offensive coordinator Bill Lazor to get his thoughts on what has gone wrong, and what Virginia focused on during its bye to prepare for the stretch run, beginning Saturday against NC State.
What was your No. 1 priority to fix on offense during the bye week?
Bill Lazor:
I thought we had a really nice week as far as putting pressure on them. We made it a difficult week of practice, did a lot of blitz drill, a lot of two-minute drill, things you can do to put the most pressure on the quarterback. It isn't often in the game that you might go 20 or 25 plays in a row being blitzed and having to handle a blitz, but that's what we did in practice and you just feel like when you put a quarterback under those kinds of extreme conditions, it's like you're baking them in the oven, you're putting them under fire but that's how they grow. That's how they turn into quarterbacks. I thought we had a good week of doing that. We made a couple mistakes we'll learn from but at the same time, I saw our quarterbacks grow in that area. As we look at where we are at this point in the season, we know our No. 1 issue is turning the football over. That certainly leads to not scoring as many points as we'd like to, so we tried to deal with that.
How much has the quarterback change impact the consistency of your offense?
[+] Enlarge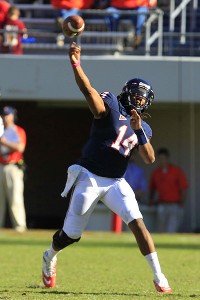 AP Photo/Steve HelberPhillip Sims took over the starting quarterback job, but has struggled recently, throwing four picks in the past three games.
BL:
There are a lot of changes that have been going on this year, but there aren't any excuses for not playing as well as we'd like to play. Coaches and players are very focused on what their job is and Coach [Mike] London and the staff, we're making what we believe are to be the best decisions for the team so I don't think we can look back and just say it's that. The guys that are playing, whether it be from injury or earned playing time or rotation -- whoever is on the field is who we feel is the best.
Why has the run game been up and down this year?
BL:
We've had some really good weeks. I think two weeks ago, we played Maryland. They come into the game as one of the top rush defenses in the country and I thought we ran the ball well enough to win that game. When you look at the first half of the game against Wake Forest, we did not run the ball in the first half at all. So it has been up and down. We're trying to stay true to what we think we're good at. We do play a number of different running backs, and I've got to make sure I'm putting each of the running backs in to do the things he does well. I feel confident that the young guys we've had play on the offensive line are ready to go now. Wake Forest will be a blip on the screen. The rushing offense you saw two to three weeks before that will end up being who we are the rest of the season. I feel we've developed that and we're on track.
How much have injuries at receiver impacted your passing game?
BL:
Tim Smith
returning to us shows why he is a key component to that group. When we looked at the kind of production we had last year and the big plays down the field, Tim was involved in a pretty high number of those. In the bye week as we looked at our explosive plays for the small amount of time he played for us, he gets a large portion of plays for us also. He's the only player in that group who's a junior or above so when Tim's missing, they're all freshmen and sophomores. It makes a difference, even to how the other guys play. Getting him back was very important for us. I think he'll be productive going forward. I'm really excited about the future. Unfortunately, we have to deal with the present and all these young receivers have to no longer be young receivers. We've really got to produce right now. It can be an exciting group because they've got some speed and some ability to make plays.
Did you see an increased sense of urgency this past week, because you guys need to win out to become bowl eligible?
BL:
I don't know if it was as much about how our record is or just getting back to the basics or fundamentals, giving guys an opportunity to compete in practice. I think the No. 1 thing you've got to teach players at this level is that it doesn't take a losing streak to make you motivated to practice. You need to come out every single day and be intense about getting better. You need to teach them to have a little bit of anger, to set a standard in practice that's going to be good enough to use that to win in the game. That's our job as coaches. We all know some guys get it faster than others and some have it inside of them and some you have to teach that. But I know this: An old coach taught me a long time ago a streak starts with one and so we're hoping to start a new streak. But we have to be focused on that one game and that's where we're focused right now.
November, 2, 2012
11/02/12
2:30
PM ET
Devin Street
is coming off a career best 140-yard receiving day in Pitt's
47-17 rout
Saturday against Temple. The redshirt junior has team bests this season of 50 catches, 695 yards and four touchdowns.
Street brings the Panthers into Notre Dame Stadium on Saturday with the chance to knock off the nation's No. 3 team. Here, he talks about that opportunity, along with what has been working so well lately for Pitt's offense.
Note:
Street spoke with ESPN.com on Wednesday. On Thursday, he and two other teammates were charged with simple assault and conspiracy in connection with an incident last month.
All three will play Saturday
at Notre Dame.
Saturday was a career day for you numbers-wise. What was clicking for you and how do you try to build off that this weekend?
Devin Street
: Just comfortable with the offense. Little concepts. Definitely our offensive line protecting
Tino [Sunseri]
and giving him time. We had a great scheme going into Temple and attacked some of the holes in their defense, and I think we were pretty successful in the passing game.
That's three out of four weeks now that you've had at least 100 receiving yards. Is this as good as you've felt in your career?
[+] Enlarge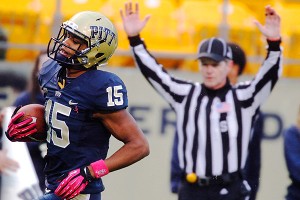 AP Photo/Keith SrakocicAn inexperienced Pitt offense will be counting on receiver Devin Street for guidance in 2013.
DS
: Yeah, I think so. I'm the most confident at this point. There's a lot of things thrown at me, different concepts, moving in the slot and everything like that. But the coaches are calling upon me and I just know in my mind I have to respond. But yeah, I'd say I definitely feel really comfortable right now.
When Tino Sunseri is playing the way he is, how much easier is it for you and everyone else?
DS
: I think it is easier for everyone else. I think Tino's more confident in me, but he's also confident in the offense, which allows us to click. And he has targets to throw to, especially with
Mike Shanahan
, too, throwing to
Ray [Graham]
out of the backfield. I just think we're all really comfortable with the new system, and I think it's coming together.
Is that as good as the offense has performed? What's the next step this week?
DS
: I think we definitely did some things well against Temple, but going back and watching the film I feel like we can improve on some things. I think we definitely are doing that this week, too, moving guys around to help, putting Mike at different spots and doing all different types of things. I think we can definitely do some different things, but at the same time I think we did a lot of things well against Temple.
It took longer than I imagine most fans and people outside the program probably wanted or imagined it would, but you guys are starting to click under a new coach right now. What has Paul Chryst done that has helped you guys ease into the flow and made the transition smooth?
DS
: Just with any coach I think it's different coming in with a new concept. And going out there and playing it and seeing it during the game is going be hard to adjust. Things are coming along, coach Chryst has put an emphasis on the little things and concepts -- we just keep going over and going over. Concepts that we need to refine, to think, our go-tos. We don't have a bunch of plays but we have a lot of plays that we're getting good at, so I think he's just definitely harping on that.
Notre Dame's defense is one of the best country. What do you see in the secondary that makes them so effective?
DS
: I think they're great athletic-wise. I think they have a great safety in
Zeke Motta
. He's a pretty good captain back there, doesn't let anything get behind him, can definitely come up and slow the run. I feel like their corners are definitely aggressive and athletic. I know they have a young corner [
KeiVarae Russell
], and he plays tremendously, like a veteran out there. I think they definitely do some things well. They're just a great group to complement their front three, who's tremendous.
What's the balance mentally for you guys as you go into a historic venue with the chance to ruin a team's national title hopes? How do you embrace that opportunity while sticking with the game plan?
DS
: I think we had a taste of it going into Virginia Tech, so we kind of know what it's like. That was another big opportunity, ranked opponent. So I feel like we know what it's like. We're just going to go out here and prepare -- not get too high, not get too low, like we always do. Just go out against Notre Dame and give them all we got. We know we have to play assignment football and can't get outside our element and start doing anything we want. We know we have to stick to the gameplan and give it 110 percent against those guys.
November, 2, 2012
11/02/12
2:30
PM ET
Cody Davis
has been one of the biggest pieces of Texas Tech's defensive renaissance this season, leading the Big 12 in solo tackles, with 57. He's broken up four passes and returned one of his three interceptions for a score, but he's made a big impact off the field, too.
His blog, "Student of the Game"
has made him of the league's most outspoken players, too, leading the way for the Red Raiders, who at 6-2 have already surpassed last season's win total.
He took some time out to talk with ESPN.com this week.
[+] Enlarge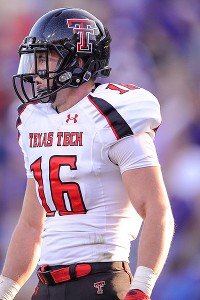 Jerome Miron/US PresswireSafety Cody Davis has been a reliable performer for Texas Tech this season.
Author's note: Portions of this interview were edited for length.
How would you describe your season so far?
It's been a great season so far. We've hit some rough bumps, definitely wanted to avoid some of the losses, kind of just shot ourselves in the foot those two games, but we're a much-improved team from last year,and we just want to keep improving as the year goes on.
You're up for the Campbell Trophy, also known as the Academic Heisman. What would winning that mean to you?
I'm really just truly honored to be able to be a part of that scholar-athlete class. There's definitely some great players going, and I just have to give credit to God and Texas Tech and family and friends for putting me in opportunities to get that award. Winning it would just be the icing on the cake, and a chance to get some recognition for all the hard work you put in as a student athlete.
What are you looking forward to most about that trip to New York as a member of the National Football Foundation's National Scholar-Athlete Class?
There's a lot to look forward to. The players that are going to be there, meeting some of them. The National Football Foundation -- I talked to (former Ohio State running back and 1995 Heisman Trophy winner) Eddie George this morning on XM Radio, so meeting some of those guys will be cool. Being in New York, too. I've never been before, so it'll be an exciting time.
You made some headlines with your blog post earlier this year that featured some frank reviews of the West Virginia players. What kind of response did you get from Tech fans and opposing fans for that?
It was a mixed response, as you'd probably figure. Most of it was positive, I think. A little misunderstanding on exactly what I was saying. I tried to clear that up, but it was mostly positive or neutral.
So what was your main message about that?
I was just saying the way they played was a little cocky and arrogant, just on the field and on film. I've never quite played against any team that was that ... let's just say "flamboyant" on the field as they are. Sometimes it can be a positive and sometimes it can be a negative, so I really wasn't trying to say anything too bad about 'em, but sometimes that can be good and sometimes that can be bad.
I remember another Texas Tech player, Baron Batch, had a blog that got pretty popular during his senior year. Where did your idea to start this [come from], and how have coaches responded to it?
Really, I've just been thinking about it the last two years, I guess. Just giving the players' perspective of things. You see all over the media what the team is doing and stuff, but a lot of people don't know how much time and effort is put in as a student athlete, and I really just wanted to give that perspective to the fans and an alternate source for information.
When you look at that student-athlete experience, what do you think is the biggest thing fans don't realize about you guys' lives?
I think the time and effort. It's a business these days, and it's kind of a job being a student-athlete. We're held to higher standards than most students and as well we should be, but just the time and effort and what goes into being a student-athlete and being successful on the field as well as in the classroom.
November, 2, 2012
11/02/12
2:00
PM ET
LSU safety
Eric Reid
has seen plenty of Alabama in his lifetime. Growing up in Baton Rouge, La., he couldn't escape all that crimson every other year, and now as one of the veterans on the Tigers' football team, Saturday will mark his fourth game against Alabama in three years.
A ton is at stake for an LSU team that was once a national championship favorite. A win will put LSU back on that path. The LSU All-American safety took some time to chat with ESPN.com about this weekend, among other things.
[+] Enlarge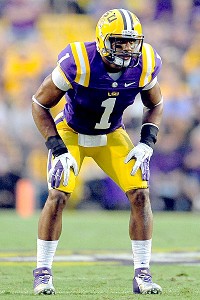 Stacy Revere/Getty ImagesEric Reid is looking forward to the rematch against Alabama.
Edward Aschoff:
Last year, you guys split 1-1, but lost in the national championship to Alabama. Saturday, you have a chance to not only get back in the title hunt but you could ruin Alabama's run. Is that more motivation for you guys?
Eric Reid:
Oh, yeah. We still control our own destiny so we have to go out there and fight hard. If we can come out with a win, then we'll put ourselves in great position to get to where we want to be in January. It's always great to be in a position to control your own destiny. We know that as long as we handle our business and do the things that we're capable of doing we'll still have a shot at the big one.
What's one moment that really sticks out to you in your mind about this game? Is it your interception in the first game last year?
ER:
The moment for me was just coming out with the victory the first time we played them [last year]. That was a huge victory for us at that point in the season. It set the tone for the rest of our season last year. It's just unfortunate that we didn't win the one that counted at the end, but we get a new, fresh opportunity this year and we need to take advantage of that.
You guys have been the poster child for teams dealing through distractions, and now you enter the weekend as underdogs in your own stadium. Are you guys fine with mostly being counted out this weekend?
ER:
We're fine with what people say, but you can't let that get in your head. You can't let the hype of the game distract you from your ultimate goal, and that's just playing football. At the end of the day, this is what we do and this is what we came to LSU to do -- play ball.
To do what you're doing on defense, considering the players you've lost from this unit, what does it say about both the talent and the character of this unit?
ER:
We're obviously young in the secondary, and everybody knows that. Those guys have done a wonderful job of handling their business and learning fast. They've developed a lot and we're counting on those guys. We've definitely grown since the beginning of the season and we're definitely getting better. We try to get better every week and we need that to happen again for us.
When you realized you were going to have to be more of a leader for this team, did you change anything about the way you prepare or play?
ER:
I didn't really have to change too much. I just lead by example and show the guys the right way to do things and hope that they follow. The only real major thing is I've become a little bit more vocal, as far as getting guys together when things are going the wrong way and trying to get people refocused. Other than that, I haven't changed too much. I'm honored to be a leader for these guys and I'll do anything to lead them in the right direction.
You get that interception against Auburn and then immediately fall to the grown afterward. Everyone thought it was a serious injury but then you got right back out there. Was that your Paul Pierce moment? Where was the wheelchair?
ER:
I don't know. I couldn't breathe and when I got up I was so excited and realized I couldn't get a breath of air. It wasn't too serious, but it was a enough to put a guy down for a little bit. The guys made fun of me a little bit because the way I got up I was so excited and celebrating and then I went right down when I realized I couldn't breathe. I took a little bit of flack for that, but it's all good.
You've seen basically everything during your time at LSU and you've collected a handful of accolades. What has your ride at LSU been like for you?
ER:
It's one I'll never forget. Growing up, you never forget the people that you've grown close to. These guys are really my family; I'll always remember them. I have memories that I'll have for the rest of my life. It's been an honor to be a part of this team. I don't take anything for granted. I've been blessed every day of my life and I live every day with that attitude.
And what do you think the atmosphere will be like Saturday?
ER:
It's going to be crazy. It was crazy in Alabama last year and I expect it to be better in Death Valley. Our fans always come and get up for it and get loud when we need them to be. I imagine it'll be one like I've never seen before. This team responds to big games. Whenever the game is big, we play big.