December, 21, 2012
12/21/12
2:00
PM ET
Virginia Tech defensive back
Antone Exum
made the move from safety to cornerback this year, and did quite well for himself, making the All-ACC second team. Exum led the Hokies with four interceptions and 15 pass breakups to lead the league with 19 passes defended.
I had a chance to catch up with him in a phone interview and discuss what disappointed him most about the Hokies' inconsistency this year, his position switch and the Russell Athletic Bowl matchup against Rutgers. Here is a little of what he had to say.
A lot of people have talked about your defense this year. Have you been able to point your finger at some of the problems that hurt you guys?
Antone Exum:
We just weren't consistent enough early on. Just as a team we weren't on the same page with our best games, being on our A-game every game. So I think it just comes down to consistency. I think down the stretch we started to put together really good games, but for some reason or another, the ball didn't bounce our way.
Did that come as a surprise to you that things didn't click right away given the fact that you had returned so many starters on defense?
AE:
Like I said, it definitely didn't go as planned. We thought we'd be in a better spot right now as far as our record goes, as far as wins and losses, you just kind of learn from it as the season goes on and just try to learn from the mistakes. One thing I'm proud of is we continued to get better down the stretch. We improved on some aspect in every game. Hopefully we can continue to have that improvement versus Rutgers.
What do you think was the biggest difference toward the end of the season?
[+] Enlarge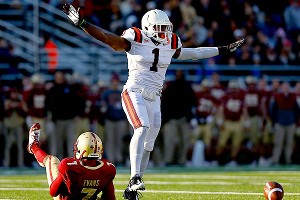 Jared Wickerham/Getty ImagesAntone Exum said that if the Hokies are disciplined, they "can definitely be one of the top defenses in the country."
AE:
I think guys just started playing more consistent and started making sure that everybody was doing their role, and trying not to do too much. We were just more disciplined down the stretch. With the talent we have on that side of the ball, if we're disciplined and everybody does their role, we can definitely be one of the top defenses in the country.
A lot of people are already talking about the possibility of the bowl game being a defensive struggle. Do you think this game has the potential for that?
AE:
I think so because they definitely have a stingy defense over there. We have a pretty stout defense over here. It definitely could go that way but hopefully it doesn't. We're confident in our offense. Just like our defense, they improved down the stretch as well. I'm confident they'll come out ready to play.
You guys have an opportunity to finish with a winning record. Is that something that motivates you, to not be the team that ends that streak of all the winning seasons?
AE:
Absolutely. The 10-win streak was ended this year. We definitely wouldn't like more streaks to be broken. We won versus UVa so we could become bowl eligible, that was another thing that could have gone another way and changed the history. But we definitely don't want to be that team that has a losing record. We will come out and play hard, and it definitely motivates us to get a victory.
What about for you making the move from safety to cornerback. You were a second-team All-ACC selection, tell us how you feel the transition went for you?
AE:
The transition was fine. Maybe from an outside perspective looking in it was a little rougher at the beginning. But for me, it felt pretty smooth. I never lost confidence or anything like that. I come out with a swagger every game, and that won't change. So I like the position, and hopefully I can continue to get better.
Which position do you like playing better?
AE:
I can't really say. Each position has its pluses. Safety is more physical, you're involved in more plays as far as tackling is concerned, but at corner I really loved that one-on-one matchup, that me-versus-you-type game.
What do you think it says about you, being able to make the transition as smoothly as you did?
AE:
I hope it says that I'm a very versatile player. A lot of people don't know I played nickel corner my freshman year, so a guy who can play nickel, line up at free safety or strong safety, line up outside on the island and play corner. I will do whatever I can to help my team and my defense.
December, 20, 2012
12/20/12
5:00
PM ET
Sonny Dykes has been California's coach for just over two weeks, and he's nearly filled out his coaching staff and made a dive into recruiting.
He also announced that he's
bucking a recent Pac-12 trend toward closing practices
. So that will earn him grins from fans and media.
[+] Enlarge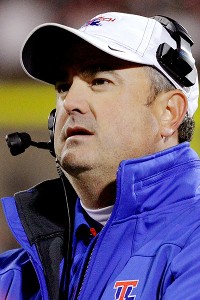 AP Photo/Seth PerlmanSonny Dykes went 22-15 in three seasons at Louisiana Tech.
It seemed like a good time to check in with the 43-year-old who went 22-15 in three seasons -- 9-3 this season -- at Louisiana Tech.
You guys had a great season at Louisiana Tech, but when the Cal job opened up, did you immediately raise an eyebrow and see it as an intriguing possibility?
Dykes
: Yeah, I think so. I didn't know much about Cal prior to getting in the Pac-12. But after my time at Arizona [2007-09], my eyes were opened to the potential. I don't know I knew that prior to that. Just from a recruiting standpoint, and then the name that Cal carries in the state of California and nationwide, the academic institution being as great as it is. To me, when you sit down and look at a place and you say, 'What do we have to sell?' You've got a lot to sell at Cal. The No. 1 public institution in the US. You've got the best area in the US to live in in the Bay Area. You've got $475 million worth of new facilities. You've got the Pac-12 conference and the state of California to recruit. So you sit down and look at the whole deal and this checks all the boxes. I think the place has tremendous potential. I'm really fortunate to be here.
Athletic director Sandy Barbour talked about how you had a great interview. What do you think so impressed her?
Dykes
: That's all about connecting with someone and having a shared vision. I think Sandy and I share the same vision. It all begins with understanding what Cal is and what the culture is and realizing it's a positive and not a negative. The fact that it is the No. 1 academic institution in the US, we view that as a positive, while some view it as a negative. I think it all started there. We shared the same vision in how we want to build the program and how we want to deal with people. How we are going to build this thing to reach its potential. I think that is the biggest thing you do when you interview for a job. A lot of it is, you get a feel for what they are looking for and they get a feel for who you are. If the two match, it's a great marriage. I liked Sandy personally when I met with her. I was impressed with her vision for Cal. To me, I walked away from the deal going, 'I'd like to work for her. I'd like to work at this institution.'
Have you reached out to Jeff Tedford?
Dykes
: I have. We've spoken. We talked about the uniqueness of Cal and the challenges that are here and also the opportunities. Jeff did a remarkable job with this program. He brought this thing so far and did an incredible job. It would be a bad decision on my part not to get his input. And it's like anything else: What would you do differently? What would you do if you had a chance to do it over again? Jeff was great. Jeff loves Cal. He loves the people here. Jeff obviously loves the players. It was a great conversation.
From what you gathered from him and from what you've heard from folks around the program and from your own assessment since you've been hired, what do you feel like went wrong, as far as the program falling off from its early surge under Tedford?
Dykes
: I think it was a variety of things. First of all, it's hard to sustain success in college football. Just look around the country. In good, competitive leagues like the Pac-12, it's hard to sustain something for 10 to 12 years. It's difficult to do. You're going to have your highs and lows. I think it all begins there. Then the other stuff, there are things that are unique to this situation. The thing we have to do is look forward and learn from the mistakes that might have been made in the program. Like I said, Jeff took this thing a long way and really built this thing. I think he did a good job. The thing we've got to do is address the academic side of it quickly and get that part fixed. I think there is a correlation with that. Jeff's best teams were probably the teams full of the best students as well. Looking from the outside-in, I think that's a good lesson for me.
Tell me about Andy Buh. Why was he the choice for defensive coordinator?
Dykes
: I'm a believer in fit. I've known Andy for a long time. I have a lot of respect for him. He's been successful everywhere he's been. He's been a part of really good defenses. I coached against him at Nevada and had tremendous respect for him there. I think he understands the Cal culture having been here and also coaching at Stanford. I think he's exactly what I want. He's passionate. He does a tremendous job teaching fundamentals. I think he understands how to adjust. When I brought him in to talk, the thing that was most impressive to me was his ability to adjust to different styles of offense in the Big Ten. I think that is important in this league because this is an unusual league. You are going to play against pro style one week against USC and the next week you are going to play Oregon, which is going to be fast-paced, then you're going to play against Washington State, which is going to be throwing every down. There's just unique offensive personalities in this league. I think Andy's ability to adjust is important. But it all starts with fundamentals. There's also his ties to California in recruiting. He's been recruiting here for a long time and has deep recruiting ties. This was a very important hire for me, and I have complete faith in Andy and the coaching staff we are going to put together.
He's a 4-3 guy. Are you guys going to switch from the 3-4 to a 4-3?
Dykes
: We'll transition to a little bit more of an even [4-3] front. But we'll have some odd elements, especially on third down.
In recruiting, what's been the pitch and what's been the reception so far?
Dykes
: I've been incredibly impressed and surprised to a degree about the name that Cal carries on the West Coas,t but also from a national perspective. We're able to get in on guys. We have name recognition, and to an academic kid, we're incredibly appealing. That gets in the door. We get them on campus, they see the Bay Area, they see the facilities, they meet the coaches. I think to a degree, Cal sells itself. I have been places that haven't necessarily done that in the past. I've had to do a lot of selling.
You're going to have a quarterback competition this spring. That's obviously a big deal anywhere, but QB play has been a problem of late for Cal. What are the key things those guys need to do to impress you and win the job?
Dykes:
The biggest thing is be productive. When they get their opportunities, move the offense, scoring points, protect the football and be a leader. Those are the things we'll judge those guys on. Who can command the attention of the team? Who does the team have confidence in? Who's the most productive? We're not big on 'This guy has the most potential. This guy has the biggest arm.' That stuff doesn't matter to us. We're most interested in who can complete the passes to our guys and who can get first downs. Who do the guys believe in? And who takes care of the ball? That's what it comes down to these days, how you win and lose football games. Turnovers. You take care of the ball you win. You don't, you lose.