August, 13, 2010
8/13/10
9:49
AM ET
Arkansas'
Ryan Mallett
is the prototypical pocket passer.
He's 6-foot-6 with one of the strongest arms in college football and an even sweeter release.
"Every Saturday, when you watch the video after the game, he makes two or three throws that you say, 'Wow, nobody else might make that throw in America,'" said Arkansas coach Bobby Petrino, who's been around a few good quarterbacks in his time.
[+] Enlarge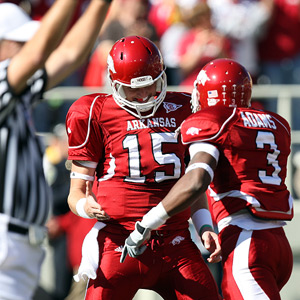 Nelson Chenault/US PresswireRyan Mallett is looking to improve upon his 3,627 passing yards from last season.
Here's the great irony with Mallett, though: He never has or never will be mistaken for a spread quarterback. Yet, the spread offense is one of the main reasons he's at Arkansas right now.
When Rich Rodriguez got the job at Michigan, it didn't take Mallett very long to figure out that he and Rodriguez's version of the spread weren't going to mesh.
So after playing his freshman season for the Wolverines, Mallett transferred and returned home to play for the Hogs, taking the keys to Petrino's pro-style offense and throwing 30 touchdown passes in his first tour around the SEC last season.
"I know what style of quarterback I am, and I'm trying to perfect that and keep working at all the things it takes to be the kind of quarterback I want to be," said Mallett, who's also plenty effective throwing the ball on the move. "I definitely haven't perfected it. The game changes. Every year, there's something different. Really, it's every week, every day.
"What you've got to do is become a student of the game no matter what kind of offense you're in, and that's where I feel like a lot of quarterbacks these days don't spend enough time. That's one of my favorite things to do. I'd rather watch film than go out to dinner."
The fans in Arkansas are hoping that Mallett is their meal ticket to a first-ever SEC championship.
He'd like nothing better than to deliver and makes it clear that's what the Hogs are playing for this season.
"Being able to control my emotions is one of the things I've worked on the hardest," Mallett said. "I'm a real intense guy. I want to win. I hate losing, and my passion for the game shows and sometimes it's too much. But the guys here know how I am, and I've worked on keeping it inside me, to make sure I don't get away from technique out there.
"We're here to win ballgames, to win championships. We're not here to just compete."
Mallett missed the spring and was also sidelined for much of the summer after breaking a bone in his left foot during conditioning drills in February. He underwent two surgical procedures as part of his recovery, including one in June to remove a screw.
But with the Hogs now in their second week of practice, Mallett said he hasn't held himself back or been held back one bit.
"I'm attacking it. I'm not trying to baby it," Mallett said. "I'm not trying to go slow. I'm out there playing and going full speed ahead. I have great protection, so I really haven't had to move around a lot. That's a good thing, if you ask me."
For all of his gaudy numbers last season (3,624 passing yards and 16 school records that he either set or tied), Mallett was just so-so with his accuracy. He completed 55.8 percent of his passes.
Just having been through the SEC once should help him make better decisions. That and having the poise to hit his checkdown man instead of trying to throw it 30 yards down the field every time.
That's a part of the Mallett persona that makes him so good. He's trying to beat you on every play. But as every great quarterback has learned, some quicker than others, sometimes it's best to throw the ball away or throw it short and then play the next down.
The Alabama game from a year ago still infuriates Mallett when he watches the film, and he's watched it a bunch.
"It seems like a million times," he said.
The Crimson Tide came after him, using some looks and blitzes that the Hogs hadn't really prepared for, and Mallett never really adjusted. He wound up 12-of-35 for 160 yards with one touchdown and one interception.
"I take responsibility for that, not hitting my pressure checks, and I was rushing a lot," Mallett said. "That's the film that hurts the most. I wasn't ready. The whole team was like that. We didn't come out mentally prepared to play the game."
A year later, Mallett vows it will be different, regardless of what defenses throw at the Hogs.
"We're comfortable. We understand what Coach Petrino wants," Mallett said. "The way we study film with each other, we're really on the same page. We're keeping it basic right now, but this offense is going to be really good at adjusting this year."
August, 13, 2010
8/13/10
9:46
AM ET
West Virginia coach Bill Stewart ran into Jim McMahon this summer at a charity golf outing and got to talking about how he should handle his young starting quarterback, Geno Smith.
Stewart mentioned typical coaching tropes like not wanting to turn the ball over, managing the game instead of winning it, etc. That's when McMahon stopped him.
"How many negative things have you said to that kid already?" the former Super Bowl-winning signal-caller asked Stewart. "I'll tell you one thing: Don't harness that youngster. You've got to control him, but you've got to let him play a little bit."
Almost every Big East coach will have to figure out how far he can let his young quarterback roam this season. It's a season of promise for several league teams, but it's also a season of uncertainty given the extreme lack of experience at the game's most crucial position.
Of the seven quarterbacks who have been named starters thus far, only one -- Connecticut's Zach Frazer -- is a senior. Injuries and ineffectiveness have limited his snaps the past two seasons. Five teams will start sophomores, and Cincinnati's Zach Collaros has four career starts.
Louisville might double the number of seniors under center if Charlie Strong chooses
Justin Burke
or Adam Froman as his No. 1, but don't be surprised if true freshman Dominique Brown plays a lot. He'd fit right in with the league's theme; the most experienced Big East quarterback in terms of starts is Rutgers true sophomore Tom Savage, who made 11 last season.
"It's amazing," Stewart said. "This is my 11th year in the league and I've never seen it be so young. It's going to be interesting to see how teams personify their attack."
Green quarterbacks usually turn a coach prematurely grey. Yet despite the pervasive inexperience, most Big East coaches feel comfortable with their situations.
Pittsburgh was the near-unanimous preseason favorite to win the conference even though redshirt sophomore Tino Sunseri has never started a game or played any high-leverage snaps. But Dave Wannstedt is a believer in Sunseri's natural gifts and moxie.
"It's Tino's time," Wannstedt said. "Even though he doesn't have playing experience, we can bring him along, and he does have some experience. He's not a freshman."
Savage proved to be a prodigy as a true freshman, and coaches say he carries himself with a maturity well beyond his years. Collaros completed 75 percent of his passes and set the Big East single-game total yardage record while subbing for the injured Tony Pike last season. Smith is a heady leader who called his own plays in high school and showed no nerves last season in two pressurized relief appearances.
Syracuse's Ryan Nassib split time with
Greg Paulus
a year ago after being named the starter last spring. All South Florida sophomore B.J. Daniels did in his first start was guide the team to victory at Florida State.
"Having B.J. Daniels gives me a chance to sleep well at night," South Florida coach Skip Holtz said. "He's like a sponge. He sits there in the meeting room with his book open and a pen in his hand like, 'Teach me.' "
Daniels was one of only two quarterbacks who were brought to Big East media day, where spots are typically reserved for upperclassmen. Then again, he already ranks second in the league in career starts with 10.
"That's strange," he said. "I've only been a quarterback for a year and I never even expected to play [last year] and I'm being looked at as a veteran in the league."
With so many young quarterbacks around, there are bound to be some growing pains and some mistakes. That makes an already unpredictable conference race even tougher to call.
"It's just so hard in college football for guys to come in when they don't have a lot of experience and play as a veteran with the defenses you see and the speed of the game," UConn coach Randy Edsall said. "I'm just glad we have some experience at that position."
Most teams don't. But watching these young quarterbacks grow and develop should be a lot of fun. Youth will quickly fade.
"It also means that for the next two or three years, we're going to be one of the best quarterback leagues," Holtz said.
August, 13, 2010
8/13/10
9:45
AM ET
Georgia Tech quarterback
Joshua Nesbitt
is not what he describes as a "normal quarterback."
You know, a drop-back passer, somebody who lines up in the shotgun and "everything else" those other so-called "normal" quarterbacks do.
No, Nesbitt is a runner.
[+] Enlarge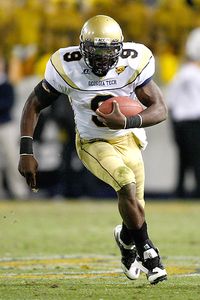 Kevin C. Cox/Getty Images Georgia Tech quaterback Josh Nesbitt is not one to stay in the pocket.
At 6-foot-1, 218 pounds, he's built like a F-150. He takes hit after hit and keeps on rumbling in coach Paul Johnson's run-based spread option offense. Nesbitt, a senior, carried the ball 279 times last year. He enters this fall with 2,069 career rushing yards and needs 692 more to break the ACC career record for rushing yards by a quarterback, which is currently held by Clemson's Woodrow Dantzler (2,761).
As Nesbitt enters his final season, he does so with the best grasp of the offense he has had since taking over the position three years ago. Although the Jackets lost their leading rusher and receiver from last year's ACC championship team, they retained the heart of their offense.
"Last year he ran the ball a lot more than the year before, partially because he knows that teams were trying to take away Jonathan (Dwyer), and they were trying to take away the pitches because of the home run threat," said A-back
Roddy Jones
. "He had to put the team on his back a couple of times, and just run it down teams' throats and he was willing to do that."
Despite Nesbitt's invaluable status, he's not high on the list of potential Heisman candidates. Part of that can be attributed to the fact he's the leader of the nation's 116th best passing offense. Then again, Georgia Tech only threw the ball 168 times last year. Only Air Force, Army and Navy threw it fewer times.
"In a way I am (at a disadvantage), but I don't sit back and wish I was in a different situation," Nesbitt said. "God put me in this place to do something great, and I'm taking advantage of it. I feel like in a way I'm getting more attention because of the physical pounding I take and showing that every time I get hit I can bounce back up and keep going."
He went for 103 yards and a touchdown against Clemson in the ACC championship game. His three rushing touchdowns against Florida State were the most the Seminoles had allowed since 1997. And his fourth-down conversion and game-winning touchdown in overtime against Wake Forest helped advance the program to its first ACC title since 1990.
It wasn't until the beginning of last year, Nesbitt said, that he began to play without thinking as much.
"It was very difficult," he said of learning the offense. "It really took me a whole year to understand what coach was trying to get me to understand. I'm very comfortable with it now.
"I used to approach practice or a game nervous, not really knowing what to do, just going out and winging it, really," he said. "Now I really understand what coach wants and what he sees."
What Johnson sees is Nesbitt getting better.
"Every time you get a year older you get physically more mature and stronger," Johnson said. "I think he's become a good leader for us."
Sounds like the very definition of any other "normal" quarterback.
August, 13, 2010
8/13/10
9:07
AM ET
Five teams across the Big 12 opened preseason camp without knowing who would start at quarterback in their season opener.
None opened camp with as much at stake or as much talent as Texas Tech -- who are hosting the conference's premier quarterback battle between a pair of seniors with expired redshirt years,
Taylor Potts
and
Steven Sheffield
. The two split time and starts because of inconsistency and injury a year ago, but competition that carried over to 2010 will be over just after a week from Saturday when coach Tommy Tuberville selects his starter and benches the other.
"That still gives us two weeks before the first game, and I want somebody for at least 7 or 8 practices. I want them to get all the reps with the first team. He knows he's the starter, the pressure's kind of of, and now he's got to get himself ready to play," Tuberville said. "The main thing is to let the entire team know who the quarterback is going to be."
Tuberville's repeatedly stressed he won't be pulling his quarterback like his predecessor Mike Leach did often last season, further raising the stakes for the preseason competition. But between now and his decision are two scrimmages on the next two Saturdays, which might as well be game days for both quarterbacks.
"You really kind of prepare for it like it's a game and have a firm, strong mindset coming in, and you have to be focused," said Potts, who began last season as the starter. "We understand everything, it's just a matter of being focused."
Tuberville and offensive coordinator Neal Brown are grading the quarterbacks on everything, from their on-field performance to presence in the film and meeting rooms, even grading the their performances at Big 12 media days outside Dallas last month.
"The No. 1 thing is that it's 50-50 and they made it clear and they followed through with it. There's been no biases anywhere on the field or in the film room or especially with the reps. They've kept it consistent and been fair with it to see what both of us have got," Sheffield said.
CoachNealBrown

Both QB's threw the ball really well today. Others who impressed were Batch, James, Franks, Torres, Stephens. Pleased with OL today.
One factor the quarterbacks haven't had to deal with is learning a different system. Brown is keeping a variation of Leach's Air Raid system with two key differences for passers: a faster tempo and freedom to tuck the ball and run if the opportunity presents itself.
"I can't lie, it definitely helps me," Sheffield said. "It's nothing but a plus in my corner, but at the same time, I can't rely on that, tucking the ball and running it when I don't need to."
Though he's far less mobile than his competition, Potts made some noise entering camp, winning the "Air It Out" skills competition at the Manning quarterback camp over quarterbacks like Texas A&M's
Jerrod Johnson
, Alabama's
Greg McElroy
, Boise State's
Kellen Moore
and Houston's
Case Keenum
.
But no moving targets on top of golf carts will be on the field for Texas Tech's first scrimmage on Saturday. It's back to real, live football where Tuberville can grade his quarterbacks on the quality he finds most important.
"You can't tell who can make good decisions until then," Tuberville said. "They know there's going to be a lot of pressure on them this Saturday."
August, 13, 2010
8/13/10
9:06
AM ET
CHICAGO --
Robert Marve
has had a lot of labels attached to his name in his 21 years on planet Earth.
[+] Enlarge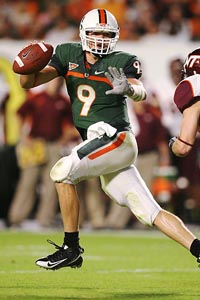 Doug Benc/Getty ImagesRobert Marve has been given a second chance at Purdue.
Blue chip recruit. Alabama verbal. Miami signee. Car accident victim. Unfocused freshman. Miami starting quarterback. Miami malcontent. Purdue transfer.
(Miami fans probably could add a few more that can't be printed here.)
But scholar-athlete? That might be the most surprising title of them all.
"I'm trying to hold on tight with it," Marve said. "Don't let it go."
The most surprising part about Marve's makeover at Purdue isn't what he has done on the field. From the moment he set foot in West Lafayette, he became one of the most gifted players in recent memory to wear the Old Gold and Black.
But Marve hadn't been a four-star student, not even close. That has changed.
"The one area that's foreign to him is the pursuit of academic excellence," Purdue head coach Danny Hope explained. "Academics was never his true passion."
At Purdue, Marve had to make it his passion.
He earned a 3.0 grade point average in his first semester at Purdue and elevated it to 3.4 in the spring semester.
After struggling academically at Miami, Marve had to make up ground after transferring. He took 18 credits during the 2009-10 school year and nine this summer. He nearly has caught up and will be on track to graduate after the fall semester in 2011, which coincides with his senior season.
"You kind of mess up your freshman year of college, and I knew I had to get in the right program," Marve said. "Once I got the ball going and started going in school, I started taking it personal a little bit, to a point where I wanted to do well for me. They always tell you it helps you out with football.
"It gives you a relaxed mind where you know you don't have to stress and worry about making grades to be eligible."
Marve didn't have those worries at Miami. That was part of the problem.
"You're not at home anymore, you're away, you don't have a curfew," he recalled. "Everyone has fun, and reading a book might not be your first priority."
LeBron James ditched the Midwest for Miami; Marve took the reverse route and found a home in a far less glitzy setting.
"[Purdue] presented less opportunities for any liabilities in some ways," Hope said, "but it doesn't matter where you're at, you can get into anything you want, anywhere, if you look hard enough. But certainly South Beach can be a distraction to an 18-year-old. It's a distraction to me, and I'm 50 something."
A torn ACL suffered last summer kept Marve off the practice in the fall, but the 6-1, 210-pound junior distinguished himself as Purdue's top signal caller this spring. Still, Hope didn't award Marve the top job after spring ball concluded.
He wanted to wait and see if the quarterback continued to excel in the classroom.
"That was one thing that was outside of his comfort zone that I wanted to see a commitment from him," Hope said.
Hope got the answer he wanted and
named Marve the starter in July
.
"I come there early in the morning and he's there, working out," Hope said. "I come back later in the afternoon and he's there, throwing and catching. And I come back in the evening and he's there with mentors and tutors. He pulls 12, 15 hours a day all summer long to get ready for the 2010 season. I'm really, really proud of what he's done from an academic standpoint."
When Marve arrived at Purdue, Hope didn't waste time rehashing the Miami situation. Marve knew the public perception, and Hope saw no need to humble the quarterback or rebuild his confidence.
"He'd had that talk with himself before he came here," Hope said. "He came to Purdue to do something special."
Academics weren't Marve's only obstacle at Purdue. He also had to recover from the knee injury, which still "felt horrible" four or five practices into spring ball.
Marve's nerves about the knee persisted through the spring game, but they went away this summer. He went through running and conditioning pain free and recorded a faster 40-yard dash time than he did before the injury.
"Just the happiest I've been," he said of his current state. "The best grades I've had, my knee's finally together, and everything is going in the right direction."
August, 13, 2010
8/13/10
9:05
AM ET
Dennis Erickson has been around a long time. He's seen a lot of quarterbacks. A lot of good ones, too. But Arizona State's head coach is not sure if he's seen anything like the Pac-10 in 2010.
"I've never been in a conference with this many good quarterbacks -- and they're legitimate to," he said. "That's how it used to be here years ago. It's starting to come back to be a called a quarterback conference. It's unbelievable."
[+] Enlarge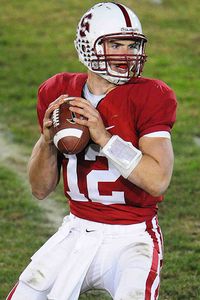 Kyle Terada/US PresswireAndrew Luck would be a first-round draft pick if he decided to leave after this coming season.
Before the 2009 season, the question in the Pac-10 was where did all the elite, future NFL first-round draft pick quarterbacks go? Turns out they were right under everyone's noses: Washington's
Jake Locker
and Stanford's
Andrew Luck
could be the top-two quarterbacks selected in the 2011 draft, if Luck opts to leave after his redshirt sophomore year. Either, in fact, could be the top overall pick.
"We think we got the best one the conference and in the country," Stanford's Jim Harbaugh said. "But to be fair, the other coaches in the conference probably believe they have the best one."
Then there's USC's
Matt Barkley
, the top-overall recruit in the nation in 2009, who became the Trojans starter as a true freshman, and Arizona's
Nick Foles
, who took over in the fourth game of the 2009 season and led the Wildcats to the Holiday Bowl.
Those four -- each already on the NFL radar -- were so highly thought of by Pac-10 officials that they were flown across the country in late July to meet the East Coast media in New York and to visit ESPN's home office in Bristol, Conn. Locker, in fact, made two trips to ESPN this summer.
Not everyone was thrilled with the promotional tour. Some felt distinguished players at other positions were slighted. Others felt their quarterback weren't getting enough credit. And some Pac-10 quarterbacks noticed their invitation got lost in the mail.
"I think I'm better than those guys," California's
Kevin Riley
said. "That's all that matters. Yeah, they are great players but I have more wins than all of them."
While some might think differently, Riley is correct about his record: His 15 wins is more than any of the four who were feted East.
That's another potential tweak for the touted foursome: None posted spectacular numbers last year. Luck led the conference in passing efficiency but that was only good enough for 21st in the nation. Locker tied for first in the conference with 21 touchdown passes, but that wouldn't even rank among the nation's top-25.
Most of the hype surrounding them is based on physical skills and upside. Still, that projected upside is considerable and there are few doubters as to whether it will be realized.
"Jake is a guy who can make plays with his legs that aren't drawn up," UCLA coach Rick Neuheisel said. "I think Luck is a guy with unique downfield accuracy. Jake is more about a guy who makes a 5-yard gain a 40-yard gain. And they've got all the intangibles of a person you can count on. Both those guys are high character guys. So you don't worry about the risk of how their life changes with that type of income [in the NFL]."
Neuheisel has his own returning starter at the position he's hoping will break through: Sophomore
Kevin Prince
. Washington State is pinning its hopes on true sophomore
Jeff Tuel
, who started five games in 2009 before a knee injury ended his season.
"Jeff just came in last August and he really was thrown to the wolves," Cougars coach Paul Wulff said. "But his freshman marks were better than Drew Bledsoe's stats as a true freshman at Washington State."
Three teams will break in new starters: Arizona State, Oregon and Oregon State. It's notable that the Ducks and Beavers were picked first and third in the preseason media poll despite lacking experience at the game's most important position.
Arizona State and Oregon are both in the midst of preseason competitions, but the Beavers already have their man in sophomore
Ryan Katz
, who may have the best arm in the conference.
"Ability-wise, he has a wonderful arm," Oregon State coach Mike Riley said. "He can throw all the passes. He is pretty much unflappable, so I don't think he'll be intimidated by anything. He has two years of experience in the program.
Yet then Riley adds, "The transition always provides a mystery."
Yep. New quarterbacks are a mystery. It's not only about ability. How will they react on the road when 50,000 to 100,000 of their newest enemies won't hush? Moreover, it remains to be seen whether Luck, Locker, Foles and/or Barkley live up to the preseason hype, earn All-American accolades and go on the become Pro Bowl quarterbacks in the NFL.
But having a talented veteran at the position is certainly a nice thing to have.
Said Washington coach Steve Sarkisian, "When your guy is the senior quarterback in this conference, your chances of winning a championship increase greatly."
August, 13, 2010
8/13/10
9:01
AM ET
SOUTH BEND, Ind. -- The most talked-about right knee in recent Notre Dame history made its fall practice debut wrapped inside a protective brace last week.

But after answering a few standard questions about the state of his leg, quarterback Dayne Crist was ready to put the issue to rest.

"I think we're past that," he said. "I'm worlds ahead of where I was from a confidences standpoint from spring to now. Structurally, physically, strength-wise, it's exceeded everything I wanted."

Crist is not just the heir apparent to Jimmy Clausen but the only real option for the Irish under center to start this season. That looked in jeopardy when he tore his ACL last year against Washington State in San Antonio, and he was limited this spring. But less than a year later, head coach Brian Kelly says the knee "isn't even a topic of conversation anymore."

So now the conversation changes to whether Crist is the guy who can lead Notre Dame back to glory.

He certainly looks the part, as a sturdily-built, 6-foot-4 former five-star recruit. Yet the fact remains that he's never started a game, has thrown only 20 career passes and now must take the reins of first-year coach Kelly's offense, which is highly demanding of its quarterbacks.

"I enjoy the fact that it's a challenge," he said. "I enjoy the fact that there's a lot of responsibility on the quarterback position here. It's something I try to thrive off."

Clausen was dogged by questions about his leadership ability in much of his time in South Bend. That's something Crist won't have to worry about. Crist is known for being actively involved in charity and community work -- he talked a group of 40 players to shave their heads for cancer research this offseason -- and he was nominated for the Allstate AFCA Good Works Team.

"Really what he had, and I didn't need to do a lot, was great innate leadership capabilities," Kelly said. "His parents did a great job there."

What Crist needs more work on is his fundamentals, particularly his footwork and the accuracy of his throws. He has superstar-caliber targets in Michael Floyd and Kyle Rudolph and just needs make sure he gets them the ball in the right spot for this offense to succeed.

Crist also has more mobility than Clausen and can run the ball. But given the recovery of his knee and the Irish's lack of any experience at all behind him, that's a skill that may need to stay on moth balls for a while.

"I've never coached scared," Kelly said. "We're going to be aggressive on offense. But we've got to be smart with him as well. We probably can't run him 22 to 23 times in a game. If we do, you know, we probably got some issues because he's running around for his life."

Crist is anxious to see what he can do on the field. But he's not too interested in talking about what he needs to do to protect himself from further injury.

"Those are tough things to think about," he said. "I've just got to go out and try to compete the best I can every day, do everything I can to make sure that I'm not the guy letting the team down."
August, 13, 2010
8/13/10
9:00
AM ET
Two dirty little words have infiltrated the college football vernacular. If you have the misfortune of being labeled a "system quarterback," then forget about convincing anybody about how good you truly are.
After all, system quarterbacks are a product of their offense. Anybody can throw for 5,000 yards when you pass 60 times a game. That means you, Timmy Chang and Colt Brennan and Graham Harrell.
Now that means you, too, Houston quarterback
Case Keenum
.
[+] Enlarge
Tim Heitman/US PresswireCase Keenum says he isn't bothered by the "system quarterback" label.
"The answer I always have to that question is this: Isn't every quarterback a system quarterback?" Houston coach Kevin Sumlin asks. "You better hope you have some sort of system offensively otherwise you don't have an offense."
Sumlin has it right. To label a player as a system quarterback is to diminish his true talent, his praiseworthy accomplishments and essentially marginalize him.
What is fascinating about the label is who gets stuck with it. Florida quarterback Tim Tebow is the epitome of a system quarterback in the spread offense. But because he put up equally impressive rushing and passing numbers, Tebow was praised for playing the system to perfection.
Yet if he played in Houston's offense, there is very little chance he would have won a Heisman Trophy.
What sets Chang, Brennan, Keenum and even Boise State quarterback
Kellen Moore
apart from Tebow is that they all play at non-AQ schools, where players have an increasingly difficult time being taken seriously. The schedules they play are not the same caliber as the ones players at Florida or Texas or USC play. So "system quarterback" seems to stick to those players who put up the really eye-popping passing numbers against lower-quality opponents.
Perhaps that is the reason no non-AQ player has won the Heisman since Ty Detmer in 1990. Houston's Andre Ware won it in 1989 after throwing for 46 touchdowns and 4,699 yards, and he played in a system just as pass happy as the current Cougars' offense. Of course, Ware and Houston played in the more powerful Southwest Conference then. There also is the fact that none of these prolific passers had any success in the NFL, adding to the perception that they can only play in a college system.
"For anybody who wants to call me a system quarterback, I'll say that I am a system quarterback. I'm whatever system you want to put me in," Keenum said. "Currently, I'm in the University of Houston offensive system and I think we're pretty good at it.
"I'll do whatever it takes to win a football game, whether it's throw the ball 70 times or hand it off 70 times. I don't pay attention to the people who try to tell me I'm not as good a quarterback as somebody else. I'm confident in my abilities and I know I'm going to go out there and compete and do my best to win each game and be successful."
What does he think when somebody calls him a system quarterback?
"I don't really understand it," Keenum said. "There's a lot of different ways to get the job done. If you look at different quarterbacks around the country, everybody has a lot of different skill sets and can do it a lot of different ways."
Even his opponents scoff at the label. "I don't believe all that system quarterback stuff," UCF linebacker Derrick Hallman said. "You've still got to make the throws. I don't care if a guy's wide open, you've still got to make the throw. He's an excellent quarterback."
Keenum threw for 5,671 yards, 44 touchdowns and 15 interceptions and completed 70 percent of his passes last season. That got him into the Heisman conversation, but he finished eighth. That was just behind Moore, who threw for 3,536 yards, 39 touchdowns and three interceptions and completed 64 percent of his passes.
Keenum did have three regular-season losses last season, and an off-kilter performance in the Armed Forces Bowl against Air Force, throwing for 222 yards and six interceptions, completing only 58.5 percent of his passes.
That is the last time anybody saw Keenum play, and he is eager to erase those memories. He goes into the season needing 4,123 yards to break Chang's NCAA career passing record. He needs 32 touchdown passes to break Harrell's all-time NCAA passing TD record.
Of course, if he sets those marks and throws for another 5,000 yards, the system quarterback label will continue to stick like flypaper. Unfortunately for Keenum, there is nothing he can do about that.