NCF Nation:

Quarterback rank 100813
August, 13, 2010
8/13/10
11:13
AM ET
It's time to rank the SEC's starting quarterbacks.
But first, here are a few things to keep in mind: This is not a ranking of the SEC's best pro prospects at quarterback. Rather, it's based on what they've done to this point in college football, their potential for this coming season and the overall impact they have on their teams.
The simplest way to look at it is if the SEC coaches were all sitting in a room right now and were going to choose a quarterback to go play with this season, in what order would they come off the board.
I'm not sure how scientific that is, but that's the way we're going to do it.
And as usual when we're doing these things, I'm sure there will be no disagreements.
Here we go:
1. Ryan Mallett, Arkansas:
He's got one of the strongest arms in college football, an NFL future and threw for 3,627 yards and 30 touchdown passes during his first season in the SEC. If Mallett improves his accuracy, those numbers may well go up in 2010 and make him even more of a household name than he already is.
[+] Enlarge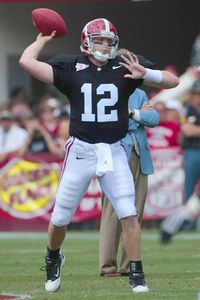 Dave Martin/Getty ImagesGreg McElroy is 14-0 since taking over as the Crimson Tide's starting quarterback.
2. Greg McElroy: Alabama:
What statistic do we all look at when judging quarterbacks? Well, McElroy is perfect in that category. He's 14-0 as Alabama's starter with a national championship. He also played lights out against Florida and with cracked ribs against Texas. He's just one of those bright, tough guys who gets it done.
3. Jeremiah Masoli, Ole Miss:
He still has to beat out
Nathan Stanley
for the starting job, and Houston Nutt is also banking that Masoli will stay out of trouble. If he does, he's proven that he was good enough to take Oregon to the Rose Bowl and can beat teams both running and passing.
4. John Brantley, Florida:
If Mallett is the best pure passer of the SEC quarterbacks, Brantley might be No. 2. He just has to prove it. The early returns have been promising. He's been ready to lead an offense for a while now, but had a guy named Tim Tebow playing in front of him.
5. Stephen Garcia, South Carolina:
The toughest thing for Garcia will be beating the rap that he doesn't work very hard, something we heard often this offseason from his head coach. Garcia's numbers last season were more than respectable. Perhaps this is the season he puts it all together.
6. Jordan Jefferson, LSU:
Jefferson didn't help himself any with a shaky spring game and admittedly was too hesitant last season. But having been through the league once now and being surrounded by the talent he has at receiver, look for him to be a more instinctive quarterback in 2010.
7. Cameron Newton, Auburn:
Here's another guy who could easily shoot up these rankings by the time we get to the end of the season. He's big, can run and has at least seen SEC defenses before when he was at Florida. We'll see if Newton's athleticism opens up more doors for the Tigers.
8. Aaron Murray, Georgia:
OK, I realize Murray has yet to play a snap in a college football game and that SEC defenses typically devour freshman quarterbacks. But Murray has been through two springs now at Georgia and is working on his second preseason. His teammates sure are believers.
9. Mike Hartline, Kentucky:
The quarterback battle at Kentucky is being closely watched by everyone. Hartline, coming off a knee injury, still has to win the job. His experience should be the difference. He probably gives the Wildcats the best chance to win right now.
10. Chris Relf, Mississippi State:
Dan Mullen has said repeatedly now that Relf became a much better passer and a much more polished passer this offseason. At 240 pounds, we know Relf can run over people. Ultimately, he and redshirt freshman
Tyler Russell
will probably end up sharing snaps.
11. Matt Simms, Tennessee:
The Vols don't have a quarterback on their roster who's ever taken a snap in an SEC game. They got Simms out of junior college, and it looks like he will be the starter. Simms has worked hard at setting the right tone and being a leader on this team.
12. Larry Smith, Vanderbilt:
It's no secret that the Commodores were dreadful on offense last season, but it certainly wasn't all Smith's fault. He's still trying to hold off Jordan Rodgers and
Jared Funk
for the starting job. Whoever it is, Vanderbilt has to find a way to throw the ball better this season.
August, 13, 2010
8/13/10
11:06
AM ET
Quarterbacks are in focus today on ESPN.com -- and really, when are they ever not in focus? You should have guessed we wouldn't let an opportunity like this pass us by without doing some rankings.
So today's task, and it's not an easy one, is to rank the quarterbacks in the Big East. As with any ranking system, you need some criteria to work with before you begin. I'm going to use a standard similar to this summers Top 25 player list -- past production plus potential for the 2010 season -- while giving heavier weight to this season's potential for this list.
Let the rankings, and soon after your criticism, begin:
1. Zach Collaros, Cincinnati:
Collaros was simply other-worldly in his four starts last season, completing 75 percent of his passes, setting the Big East single-game record for total yards and posting a 195.5 efficiency rating. (By comparison,
Tim Tebow
led the FBS with a 164.2 efficiency rating; Collaros didn't have enough passing attempts to qualify). Expecting similar or better results would be unwise, but Collaros is a dual-threat talent surrounded by great skill players who should thrive in Butch Jones's offense.
2. Tom Savage, Rutgers:
I had Savage just behind South Florida's B.J. Daniels in the Top 25 rankings, largely because I thought Daniels had a slightly better overall 2009 season. But I like Savage more for 2010, as he should have more to work with in the passing game and more options in the running attack. Losing Tim Wright didn't help, however, and the offensive line still needs to take shape.
3. B.J. Daniels, South Florida:
Daniels is adjusting to a new offense, has to work with a depleted receiving corps and missed significant time this spring. Still, he's a special talent who's capable of dropping 450 total yards in just about any game.
4. Tino Sunseri, Pittsburgh:
Sure, this is awfully high for a guy who's never made a start or play in anything but mop-up duty. But I'm impressed with Sunseri's mobility and arm strength. Throw in the fact that he has Dion Lewis and Ray Graham to take the pressure off in the backfield, and that he can throw to guys like Jon Baldwin and Mike Shanahan, and I'm sold.
5. Geno Smith, West Virginia:
Don't sleep on Smith. He's mature beyond his years and maybe already a more polished passer than
Jarrett Brown
or
Pat White
. As long as his foot stays in one piece, he should be just fine.
6. Zach Frazer, Connecticut:
UConn fans will no doubt think this is too low for Frazer, a senior who led the Huskies to four straight wins to close out 2009. Frazer certainly improved as last season wore on, and looked as good as ever this spring. But I still want to see more consistency out of a guy who has 15 career interceptions and only 12 career touchdown passes.
7. Ryan Nassib, Syracuse:
Nassib was like a bullpen guy for Greg Paulus last season, coming into the game for certain packages and situations. He was neither spectacular nor shoddy, completing 53 percent of his passes with three scores and an interception. The sophomore seems entrenched as Doug Marrone's starter, but will he have enough weapons with which to work?
8. Adam Froman/Justin Burke/Will Stein, Louisville:
Uncertainty about who will be the starter almost makes Louisville last by default. No one in this trio owns particularly impressive arm strength. I believe Froman will be the starter because of his leadership skills and mobility. If so, his 6-to-5 touchdown-to-interception ratio must improve significantly.
August, 13, 2010
8/13/10
11:05
AM ET
This is one of the most difficult positions to rank, and it's a good, veteran group in the ACC this year. The strength and experience at quarterback is a main reason why expectations are higher for the conference as a whole this year. Only three programs will introduce new quarterbacks this fall, and because of their inexperience, they rank last by default. The competition is still open at several schools. Here's how the ACC quarterbacks stack up heading into the fall:

1. Christian Ponder, Florida State: He averaged 321.8 yards of total offense in nine starts last year, a number that would have been the sixth best total in ACC history had he played one more game in order to have reached the NCAA minimum standard for games played.

2. Russell Wilson, NC State: He ranks fifth in school history in career passing yards (4,982), second in passing efficiency (141.94), and third in touchdowns (48). His 31 touchdown passes last year ranked fourth nationally and led the ACC.

3. Joshua Nesbitt, Georgia Tech: His 2,079 rushing yards are the most by a quarterback in school history and he needs just 692 more to become the top rushing quarterback in ACC history. He had over 1,000 yards rushing and passing last year.

4. Jacory Harris, Miami: He is the ACC's leading returner in passing average per game with 257.8 yards, and he completed 59.6 percent of his passes. He became the first quarterback since Ken Dorsey in 2002 to throw for 3,000 yards.

5. Tyrod Taylor, Virginia Tech: This should be his best season, as he made huge strides last year, leading the ACC with a 149.4 passing efficiency. He threw 13 touchdowns and five interceptions for 2,311 yards.

6. Kyle Parker, Clemson: He set freshman school records for touchdown passes (20), completions (205) and passing yards (2,526). He was also a first-round draft pick for the Colorado Rockies.

7. T.J. Yates, North Carolina: He ranked ninth in the ACC in both passing average per game and pass efficiency. He threw 14 touchdowns and 15 interceptions, but that should improve this fall as the players around him have improved.

8. Marc Verica, Virginia: He took over the starting job in 2008 and finished the year with 2,037 passing yards and completed 63.8 percent, but he threw eight touchdowns and 16 interceptions. He was much more accurate and made better decisions this past spring.

9. Dave Shinskie, Boston College: At 25, Shinskie was a freshman last year and he made freshman mistakes, throwing 14 interceptions along the way. Still, he set BC freshman passing records with 2,049 yards and 15 touchdowns.

10. Sean Renfree, Duke: He's tasked with replacing four-year starter Thaddeus Lewis, and has minimal experience. As Lewis' backup last year, Renfree completed 34-of-50 passes for 330 yards, four touchdowns and two interceptions before suffering a season-ending knee injury against Georgia Tech on Nov. 14.

11. Jamarr Robinson, Maryland: He takes over for Chris Turner, and should provide more options in the playbook because of his athleticism. Robinson ran for 129 yards against Virginia Tech, and in the two games he started last year threw for 459 yards and ran for 229 more.

12. Skylar Jones, Wake Forest: This competition is still ongoing, as it's the first time since 1957 that the Wake Forest has had zero passing attempts among its returning quarterbacks, but Jones entered fall camp atop the depth chart after spending some time at wide receiver last year.
August, 13, 2010
8/13/10
11:03
AM ET
If you haven't noticed just yet, Friday's college football content at ESPN.com is all about the quarterbacks. We've
ranked the conference's top 5 individual quarterbacks
, but now it's time to take a broader look at who's in good shape behind center and who's in trouble across the conference.
The discrepancy between the South's QBs and the North's is somewhat jarring, especially when you see it on paper (bandwidth?) like this. Only one North team made the top six, and the bottom five teams are all from the North.
Five schools (four in the North) still have their starters up in the air, and that makes this a little tricky, but here's how I'd rank them:
[+] Enlarge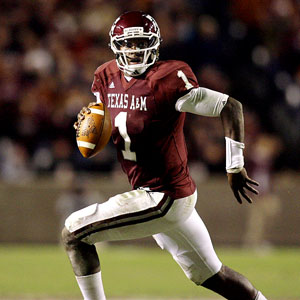 Brett Davis/US PresswireJerrod Johnson is not only the best quarterback in the conference, he's also the best player.
1. Texas A&M
: The Aggies boast the preseason player of the year at quarterback and the man at the top of our Big 12 player list from earlier this summer,
Jerrod Johnson
. I also got a few e-mail requests from some Aggies fans to stress -- once again -- that it's juh-RAHD, not Jared from Subway. Word has apparently not reached every corner of Big 12 country just yet. It might if the Aggies can win more than six games like they did in 2009. But Johnson broke out in a big way last season, throwing for 3,579 yards, 30 touchdowns and just six interceptions while also running for 506 yards and eight touchdowns.
2. Baylor
: Trust in
Robert Griffin
's knee lands the Bears here, significantly higher than they're used to considering the strong quarterback tradition across the Big 12 for the past decade. But Griffin will still have to regain his status as the conference's most electrifying player on a reconstructed knee after missing the final nine games of the previous season with a torn ACL. Baylor also has a nice situation at backup quarterback because of the injury with sophomore
Nick Florence
, who threw for 427 yards in Baylor's lone conference win -- at Missouri -- last season.
3. Missouri:
Blaine Gabbert
has a claim as the conference's best quarterback, and he'll try to snatch it as a junior after playing much of his sophomore season with a bum ankle, courtesy of a soggy Ndamukong Suh sack. Despite being hobbled for most of conference play, he still racked up 3,593 passing yards and 24 touchdowns. If he stays healthy, he might get a chance to showcase his underrated wheels, too. Freshman James Franklin is impressing in camp and hanging on to his job as Gabbert's backup over
Jimmy Costello
,
Ashton Glaser
and little brother Tyler Gabbert.
4. Oklahoma
:
Landry Jones
should benefit from his first full spring and preseason camp taking the first-team reps, but he'll need a second reliable target opposite
Ryan Broyles
to emerge if he wants to improve on his 26 touchdowns and 3,198 yards as a redshirt freshman. Jones also needs to limit his turnovers after throwing a league-high 14 interceptions in 2009, but it's worth noting that seven of those came away from Owen Field against top-tier defenses in Texas and Nebraska. He didn't play a good defense in Norman, but he threw 18 touchdowns to just four interceptions and helped the Sooners stretch their home streak to 30 games. Backup
Drew Allen
is untested and inexperienced, but has potential and wouldn't inspire panic if Jones finds injury in 2010.
5. Texas Tech
: No team has two quarterbacks with as much skill and experience as Texas Tech, but unlike receivers or running backs, the Red Raiders can't play both of them. Regardless of who wins the competition in Lubbock, Texas Tech will be in great shape with
Taylor Potts
or
Steven Sheffield
. You heard
a few hundred words on the details of this race
earlier this morning.
6. Texas
: This may look silly in November, but it's tough to put
Garrett Gilbert
on top of anyone else on this list who has already proven themselves. Clearly, the potential is there, and he's inspired a lot of confidence from his coach and team, but making good on that potential will mean finding a solid target to replace the only player he's ever thrown a real touchdown to: Jordan Shipley. If Gilbert goes down, Texas would have to rely on a pair of true freshmen: Connor Wood or Case McCoy, Colt's little brother.
7. Oklahoma State
: This won't be the last time you hear about the Cowboys 26-year-old former minor leaguer,
Brandon Weeden
. Just make good decisions, make easy throws to open receivers who make plays with the ball and he should put up big numbers in new offensive coordinator Dana Holgorsen's version of the Air Raid. Oklahoma State got to see Houston's offense in person last season and wanted it for themselves. Now they've got the man who coordinated the best offense in college football a year ago and an unquestioned, mature starter to run it. If he's injured, the Cowboys would have to rely on one of two freshmen,
Clint Chelf
or most likely Johnny Deaton, to run the offense.
8. Iowa State
: Coach Paul Rhoads says no player on his team has improved from Year 1 to Year 2 more than
Austen Arnaud
, but he'll need to prove it on the field to move up this list. He's probably likely to improve on his 2,015 yards passing to go with 15 touchdowns, but he's right behind Jones in the interception column, with 13. That number has to shrink for the Cyclones to get back to a bowl game. Talented sophomore Jerome "JT" Tiller led the Cyclones to their marquee win over Nebraska and should take the reins next year. The future looks bright in Ames.
9. Colorado:
Tyler Hansen
not emerging from preseason camp as the starter would be shocking, and he'll get a lot more help this year with a beefed-up receiving corps that's among the conference's most underrated. Newcomers Paul Richardson, Travon Patterson and preseason Big 12 Newcomer of the Year
Toney Clemons
will join the reliable
Scotty McKnight
. If Hansen goes down, at least they'll have an experienced vet behind him in
Cody Hawkins
. Freshman Nick Hirschman looked good in the spring and provides some hope for the position in the future.
10. Nebraska
: A two-quarterback system is never ideal, but it might work for the Huskers.
Zac Lee
is the best passer of the group competing for the starting job, but using the athletic
Taylor Martinez
or
Cody Green
in spot duty, similar to last year, could very well happen. But Bo Pelini would much prefer if one player -- most likely Lee, in my opinion -- would emerge and improve on his play from 2009, when he threw for 2,143 yards, 14 touchdowns and 10 interceptions.
11. Kansas
:
Kale Pick
is untested, and so are
Jordan Webb
and junior college transfer Quinn Mecham. Pick, however, seems like the favorite to win the job. The Jayhawks need a spark on offense, and Pick could provide it. He'll have some nice receivers to throw to in sophomore
Bradley McDougald
, senior
Johnathan Wilson
and tight end
Tim Biere
. Former cornerback Daymond Patterson looks ready for a good year in the slot.
12. Kansas State
:
Carson Coffman
needs to improve from his play last year that cost him his job early last season. Beating out
Collin Klein
and
Sammuel Lamur
won't be easy -- and the competition between the three is still pretty tight -- but Coffman's experience gives him a slight edge. Whoever wins the race will lean on the league's leading rusher,
Daniel Thomas
, and a revamped receiving corps with transfers
Brodrick Smith
from Minnesota and
Chris Harper
from Oregon. The Wildcats hope the duo will add the spark that was missing from the team's offense in 2009.
August, 13, 2010
8/13/10
11:03
AM ET
As you might have noticed, we're all about quarterbacks today at ESPN.com, and it's time to rank the Big Ten signal callers.
This hasn't been a Big Ten strength in recent years, but things could change this fall. Quarterbacks like Ohio State's
Terrelle Pryor
, Iowa's
Ricky Stanzi
and Wisconsin's
Scott Tolzien
all have proven they can win at a high level, and
Ben Chappell
(Indiana) and
Kirk Cousins
(Michigan State) put up some strong numbers last fall.
The criteria are the same I used for the top 25 preseason rankings:
past performance and 2010 potential
. You can gripe all you want about the top four choices, but you shouldn't be surprised because all four quarterbacks were ranked in the
exact same order in June/July
. The Big Ten blogger is not a hypocrite. One final note: These are individual player rankings, but I consolidated the quarterback candidates at Michigan and Penn State to make it easier.
I fully expect this list to be different in early January, but here goes:
[+] Enlarge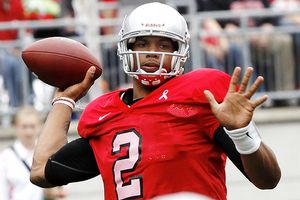 AP Photo/Terry GilliamTerrelle Pryor's performance in the Rose Bowl solidified his rank as the Big Ten's best quarterback.
1. Terrelle Pryor, Ohio State:
How can I rank Pryor at No. 1 based on one great performance? For starters, it took place in a huge game, the Rose Bowl, against a top 10 opponent in Oregon. Plus, I think Pryor will go forward rather than backward and become a more complete quarterback this fall. He has more natural ability than anyone else on this list, and while he'll never be a model passer, he only needs to improve a little to become a lot more dangerous.
2. Ricky Stanzi, Iowa:
It's very close between Stanzi and Tolzien, but Stanzi's 18-4 mark as Iowa's starting quarterback sets him apart. Yes, you can point to the mistakes, and there were a lot of them, but no quarterback in the country made more big plays in the fourth quarter than No. 12. I expect a smarter and more efficient Stanzi in 2010. Plus, he's a damn fine American.
3. Scott Tolzien, Wisconsin:
Simply stated, he's the perfect quarterback for Wisconsin. Tolzien is smart, extremely efficient and totally aware of his role in the offense. He executes the play-action well and can thread the needle when he needs to. Tolzien still needs to prove himself against the Big Ten's best defenses, but I expect a very strong senior season from him.
4. Kirk Cousins, Michigan State:
Take away a few late-game mistakes and a poor second half against Penn State, and Cousins turned in a very strong season as a first-year starter. His touchdown-to-interception ratio is strong (19-9), and he'll only get better with more experience. Plus, he has an excellent group of receivers and tight ends at his disposal this fall.
5. Ben Chappell, Indiana:
Chappell is the Big Ten's leading returning passer (2,941 yards in 2009), and he ranks second in completion percentage (62.6) among returning starters. He needs to cut down on his interceptions and make better throws in the red zone, but all that should come this fall. Chappell has some great receivers to work with, namely
Tandon Doss
, but would really benefit from a consistent run game.
6. Adam Weber, Minnesota:
Some Gophers fans have given up on Weber after a poor junior season, but I still have faith in No. 8, who happens to be a record holder at the U. It hasn't been easy with three offensive coordinators in as many seasons, and the system last year would have been tough for any quarterback to run. Weber still has a ton of talent, but he needs to regain the confidence we saw for most of 2008, when he earned second-team All-Big Ten honors. He also needs to prove himself without star receiver Eric Decker.
7. Robert Marve, Purdue:
Marve clearly doesn't grade high in past performance after struggling at Miami in 2008, but his potential this fall is very high. He'll benefit from working in Purdue's spread offense, and he'll have no shortage of targets in
Keith Smith
,
Justin Siller
,
Cortez Smith
and others. The ability always has been there with Marve, and we'll start to see results this fall.
8. Tate Forcier/Denard Robinson, Michigan:
No starter has been named, and while head coach Rich Rodriguez has a bit of evidence from 2009, he'll be selecting a No. 1 quarterback based on who he believes has greater potential in 2010. Both players can run, although Robinson is more explosive on the move. Forcier was far and away the better passer in 2009, but he struggled to make plays when he wasn't freelancing. Robinson should be a better passer this fall.
9. Dan Persa, Northwestern:
This isn't a knock against Persa, who has done everything right to prepare himself for this moment. I just need to see more from him in game situations, especially if Northwestern relies on him as much as it did Mike Kafka in 2009. Persa very well could be the most ideal fit for Northwestern's spread offense since Zak Kustok.
10. Kevin Newsome/Matt McGloin/Paul Jones/Robert Bolden, Penn State:
The
competition remains wide open
, and the group has virtually no game experience aside from Newsome. Talent shouldn't be a problem, as Newsome, Jones and Bolden all were highly-touted recruits, while McGloin, a former walk-on, has made significant strides in State College. Who can handle the pressure of quarterbacking in the Big Ten? We'll find out soon.
11. Nathan Scheelhaase, Illinois:
Again, not a knock against Scheelhaase, but his past performance is confined to practices and scrimmages. He's one of the
most mature redshirt freshmen
I've covered, but he's obviously got to prove himself in the game spotlight. Offensive coordinator Paul Petrino sees shades of Stefan LeFors in Scheelhaase. If that's the case, he'll soar up this list.
August, 13, 2010
8/13/10
11:02
AM ET
The easiest Pac-10 quarterback to rank? California's
Kevin Riley
.
He falls just after the talented foursome who comprised the Pac-10 quarterbacks tour of the East Coast and just ahead of the quarterbacks who's resumes are middling, incomplete or nonexistent.
[+] Enlarge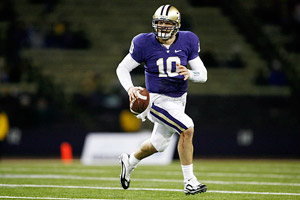 Joe Nicholson/US PresswireIs Jake Locker the best quarterback in the Pac-10?
Jake Locker
vs.
Andrew Luck
?A toss up.
Nick Foles
vs.
Matt Barkley
? Foles had more touchdowns and fewer interceptions; Barkley had a higher rating.
And how do you rank Washington State's
Jeff Tuel
? He turned in a valiant effort and flashed potential in 2009 as a true freshman with absolutely no support. Should he rank higher than Oregon's
Nate Costa
, who has started just one career game and still may not end up as the Ducks No. 1 quarterback?
And what about
Ryan Katz
at Oregon State? I saw him during the spring. He's a good athlete with a gun. But he's never played a meaningful snap.
It's a bit of a cop-out to say experience must play a key role when ranking quarterbacks in the preseason but ... experience must play a key role when ranking quarterbacks in the preseason.
1.
Jake Locker, Washington
: He's big. He's fast. He's got a strong arm. He's a high-character guy and a great leader. He will be a first-round NFL draft pick. He tied for the Pac-10 lead with 21 touchdown passes in 2009. Only issue is getting his completion percentage higher than 60 percent.
2.
Andrew Luck, Stanford
: He's big. He's fast. He's got a strong arm. He's a high-character guy and a great leader. He will be a first-round NFL draft pick. Only issue is how his production will be affected when the opposing defense isn't obsessing about stopping Toby Gerhart. Led the conference in passing efficiency as a redshirt freshman, but only threw 13 touchdown passes, which ranked seventh.
3.
Nick Foles, Arizona
: Word is that Foles' footwork and throwing mechanics will be much better in 2010, which likely means he'll throw more passes downfield. He's got the sort of supporting cast that could help him put up big numbers. While he faded a bit in 2009, he still threw 19 touchdown passes.
4.
Matt Barkley, USC
: Barkley is a major talent and he was nearly flawless during spring practices. But, though he was the conference's third-rated quarterback as a true freshman, he threw 14 interceptions -- most in the conference -- compared to 15 touchdowns.
5.
Kevin Riley, California
: Riley is 15-8 in 23 starts and is the conference's active career leader in touchdown passes with 37. He's had some nice games. And some that weren't so nice. The big issue: Consistent accuracy -- see a 54.2 career completion percentage. But senior Pac-10 quarterbacks often see the light in their final frame.
6.
Kevin Prince, UCLA
: The
Orange County Register noted
: "Over the second half of the 2009 season Prince's passing yardage, touchdowns-to-interceptions ratio and quarterback efficiency rating were actually better than Barkley's." Prince has the ability to be a first-flight quarterback. But there are still questions about how well he will run the new "Pistol" offense, which features a lot of options.
7.
Jeff Tuel, Washington State
: Tuel's first career action as a true freshman? At USC. His first start? At Oregon. Welcome to college football. Tuel started five games before a knee injury ended his season, but he still -- with little talent around him and terrible pass protection -- completed 58.7 percent of his passes with six touchdowns. In other words, he produced. Like when he completed 28 of 42 passes for 354 yards and two touchdowns at California, the second-highest yardage total by a true freshman in school history behind Drew Bledsoe.
8.
Nate Costa, Oregon
: Costa was nine-of-17 for 82 yards in a 24-10 win at UCLA in 2009, his only career start, but before the 2008 season he was the touted heir-apparent to Dennis Dixon. He's smart, he's a survivor -- see three knee operations -- and he looked good this spring. Coach Chip Kelly thinks folks underestimate his ability to be a threat out of the spread-option. Of course, sophomore
Darron Thomas
might end up beating him out.
9.
Ryan Katz, Oregon State
: Katz, a redshirt sophomore, has the arm and athletic ability to one day become an All-Conference quarterback. But it's impossible to know how he'll react when the lights go on. Further, recent Beavers quarterbacks have struggled in their first years as a starter, from Matt Moore, to Sean Canfield, to
Lyle Moevao
(you could even throw Derek Anderson in there).
10.
Brock Osweiler, Arizona State
: While the Sun Devils quarterback competition is hardly resolved, it appears that Osweiler, a true sophomore, might have a slight lead. He made one start and saw spot action in 2009, completing 43.6 percent of his passes for 249 yards with two touchdowns and two picks. He's huge -- 6-foot-8, 242 pounds -- has a good arm and is a good athlete. Needs to improve his accuracy.
August, 13, 2010
8/13/10
11:00
AM ET
1.
Case Keenum
, Houston. On pace to set the NCAA record for passing yards in a career. Keenum has averaged 5,345 passing yards the past two seasons.
2.
Kellen Moore
, Boise State. Threw an astounding 39 touchdowns to only three interceptions last season. Both he and Keenum are generating early Heisman buzz.
3.
Andy Dalton
, TCU. You could make a case that Dalton is one of the most underrated quarterbacks in the country. Last season, he threw for 2,756 yards, 23 TDs and eight interceptions (62 percent completion percentage) and ran for another 512 yards and three scores.
4.
Colin Kaepernick
, Nevada. Part of a trio to rush for 1,000 yards at Nevada last season, setting an NCAA record. Kaepernick threw for 2,052 yards, 20 TDs and six INTs while also rushing for 1,183 yards and 16 TDs. Look for him to pass a bit more this season.
5.
G.J. Kinne
, Tulsa. The Texas transfer had 2,732 yards passing last season with 22 TDs to 10 INTs and also led the team in rushing with 393 yards and five TDs. Expected to be one of the top QBs in Conference USA behind Keenum.
6.
Dwight Dasher
, Middle Tennessee. Dasher threw for 2,789 yards, 23 touchdowns and 14 INTs, while adding 1,254 yards and 13 TDs on the ground (5.2 yards per rush). His 23 TDs set the school record and his performance against Southern Miss in the New Orleans Bowl set an NCAA record -- 201 yards rushing is the most ever by a QB in a bowl game.
7.
Ricky Dobbs
, Navy. Broke Tim Tebow's NCAA record for rushing TDs by a QB last season with 27. He had 1,203 yards on the ground, leading the Midshipmen to a 10-win season.
8.
Ryan Lindley
, San Diego State. The potential is there for Lindley, who threw for 3,054 yards last season. But his TD-INT ratio was 23-16 and he only completed 54.7 percent of his passes. Lindley was transitioning to a new offensive style, so there are higher expectations this season.
9.
Trevor Vittatoe
, UTEP. Became the first UTEP quarterback to throw for 3,000 yards in three straight seasons. Last season he threw for 3,308 yards with 17 TDs to 13 INTs. With
Donald Buckram
joining him in the backfield, the Miners should be improved this season.
10.
Zac Dysert
, Miami (Ohio). Became the starter in the fourth game of last season as a redshirt freshman and threw for 2,611 yards while completing 62 percent of his passes. He had more interceptions (16) than touchdowns (12), but should be vastly improved as a sophomore.