NCF Nation:

Quentin Williams
September, 25, 2013
9/25/13
1:00
PM ET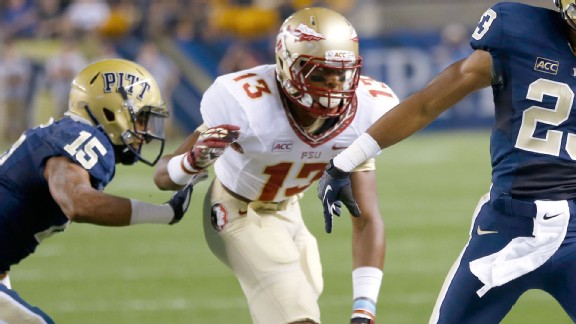 AP Photo/Keith SrakocicFreshman cornerback Jalen Ramsey jumped right in to a starting spot, beating out veterans Nick Waisome and Ronald Darby in the process.
TALLAHASSEE, Fla. -- Throughout the 68-yard dash,
Telvin Smith
never looked back. Seconds earlier, he'd stepped in front of a pass from Bethune-Cookman quarterback
Quentin Williams
, and a path cleared ahead of him as he charged to the end zone.
It was only after Smith crossed the goal line that he realized he wasn't alone. Two steps behind him was fellow linebacker
Matthew Thomas
, who'd kept pace with Smith step for step throughout the return.
"I turned around and he's standing right next to me," Smith said. "That's what the coaches and myself love about him."
That was hardly the only highlight of the game for Thomas, who dropped Bethune's quarterback in the backfield twice in a span of five plays in the third quarter. In a game in which Jimbo Fisher criticized his defense for ceding too much ground to an overmatched opponent, Thomas stood out.
That's been a theme of the early season for Florida State's defense. It's a unit in transition, having lost a bevy of veterans to the NFL draft and its coordinator to Kentucky. Changes have come at nearly every turn, and the youngest Seminoles are taking advantage.
"They're stepping up," Smith said. "The best man is going to play, and right now, they're proving themselves to be the best man. The young guys are coming. They're on our toes."
It's not just Thomas making an impact.
Jalen Ramsey
become the first FSU cornerback to start as a true freshman since Deion Sanders, then delivered the Seminoles' first interception of the season against Pittsburgh. He's sixth on the team so far with 12 tackles, including one sack.
Demarcus Walker got a start in the opener, too, and he's seen consistent work on the defensive line ever since.
Chris Casher
, a redshirt freshman, racked up 10 tackles -- including two for a loss -- against Bethune-Cookman and was named FSU's defensive player of the week. Second-year players
P.J. Williams
and
Mario Edwards Jr
. are now established starters, and a handful of other youngsters are getting regular reps on defense, too.
Fisher was so pleased with the work of his young defensive backs that he felt comfortable flipping veteran
Karlos Williams
from safety to tailback. Casher, Thomas and sophomore
Eddie Goldman
have helped pick up the slack for FSU's pass rush after its top three defensive ends all left for the NFL. Overall, nearly half of Florida State's tackles this season have come from defenders with zero previous starting experience.
"The platform is even because new [defensive coordinator], new philosophy, and you have to learn it," cornerback
Lamarcus Joyner
said. "Experience on the football field, those young guys haven't had it, but with their talent level and where they're coming in, it's good to see them playing and be able to play fast."
Of course, it's easy enough to chalk up the early success for the freshmen and sophomores to the lack of quality competition on the field, but Fisher said this isn't a passing fad. Florida State's schedule gets markedly tougher in October, and rather than shuffling the young defenders to the sidelines for the big games, he wants to ensure they're ready to play when it counts.
"Ability is never the issue," Fisher said. "It's about technique and assignments and getting playing time to be able to relax on the field and do what you do, taking it from the practice field to the game field. You see that more and more, you feel more comfortable. We're going to keep developing all those guys."
Ramsey already appears to have a starting job locked up moving forward, beating out junior
Nick Waisome
, who started all 14 games last season, and
Ronald Darby
, a freshman All-American in 2012. Fisher raved about Ramsey's combination of speed and physicality, but said it's the freshman's football acumen that has set him apart.
Thomas is a bit more of a work in progress. He's flashed potential, but he's spent much of his first few months on campus simply soaking in all he can about how to do his job.
"He's observing a lot of stuff," Smith said. "He's taking it in, and he's going to erupt when he gets the chance."
Fisher sees it coming, too.
Since arriving on campus in June, Thomas has already packed on nearly 25 pounds to his frame, but it hasn't slowed him down.
"He's gotten faster," Fisher gushed.
Walker and Casher are following a similar path, too, though they've had longer to learn the ropes.
Casher has been sidelined for the better part of the past two years -- first because of an eligibility issue his senior year in high school, then because of a knee injury that cost him nearly all of 2012. Walker arrived this spring to get a jump start on his college career, but an issue with the NCAA Clearinghouse meant he didn't practice with the team at all.
The down time might have been a blessing, however, as both were eager to learn.
"They came in with their eyes open and their notepad ready, listening to the older guys," Smith said.
That's been a trademark of the Class of 2013 in particular. When Joyner arrived in 2010, Florida State was in the midst of a culture change in the locker room that took a while to take hold. The latest batch of freshmen, however, look right at home from Day 1.
"Those guys are coming in here with the same talent level that guys took two to three years to develop," Joyner said.
That's exactly what Fisher wants to see. He doesn't promise playing time to his recruits, he said, but he offers opportunity. This latest crop of Seminoles was prepared when that opportunity arrived.
"When you get here, you get an opportunity, and if you're the best player, you're going to play," Fisher said. "A play don't care who makes it, and there isn't an age limit on being a good player."
January, 1, 2013
1/01/13
3:53
PM ET
The streak is over and the monkey is gone. Northwestern finally can celebrate a bowl win.
The Wildcats claimed their first postseason victory in 64 years after
downing Mississippi State
in the TaxSlayer.com Gator Bowl. Although the game didn't go as planned for either squad, Northwestern rode opportunistic defense (17 points off turnovers) and a big third quarter from Trevor Siemian to its first bowl win since the 1949 Rose. Surprisingly, there was little drama as Northwestern's defense clamped down.
Let's take a look at how it went down:


It was over when:
Mississippi State quarterback
Tyler Russell
threw his fourth interception, a wounded duck on third-and-10, and Northwestern's
Nick VanHoose
returned the ball inside the red zone with 9:54 to play. Northwestern led by only seven at the time but scored three plays later to take a 14-point lead with 8:10 left. To truly seal the win, Wildcats defensive lineman
Deonte Gibson
dropped Russell on fourth-and-20 with 1:42 left.
Game ball goes to:
Northwestern defensive ends
Quentin Williams
and
Tyler Scott
. Both of the Wildcats' top edge rushers stepped up in the bowl win. Williams set the tone for the game with an interception returned for a touchdown on the third play from scrimmage. He also had a sack and two tackles for loss, while Scott dropped Russell twice in the win.
Stat of the game:
Both teams entered the game among the nation's best at taking care of the ball, but things changed in Jacksonville. The Wildcats and Bulldogs combined for seven turnovers, including three first-half interceptions by Mississippi State's Russell, who threw four picks after throwing just six in the regular season. Northwestern came in with just 12 giveaways, tied for sixth-fewest nationally, while Mississippi State had 13 giveaways (tied for ninth). Both teams ranked in the top 10 in turnover margin but looked sloppy with the ball.
Stat of the game II:
Third-down efficiency played a huge part in the game, and Northwestern had a significant edge there. The Wildcats moved the chains 10 times on 19 third-down opportunities. The biggest conversion came with the game tied in the third quarter, when Siemian made a tough throw on the run to
Rashad Lawrence
to convert a third-and-10 in Wildcats territory. Northwestern scored the go-ahead touchdown three plays later. Mississippi State, meanwhile, was a mess on third down, converting just 1 of 11 chances.
Unsung hero:
Northwestern freshman superback (tight end)
Dan Vitale
. Mississippi State's defense did a good job taking away
Venric Mark
and
Kain Colter
, but Vitale, a freshman, gashed the Bulldogs for seven receptions and 82 yards. He provided the receiving threat Northwestern needed against a good Bulldogs secondary.
What Northwestern learned:
It can win a bowl game, for starters. After several near misses (2008 Alamo, 2010 Outback), Northwestern finally got over the hump in the postseason. Pat Fitzgerald and his staff did a masterful job coaching a young team not predicted to do much to just the school's third 10-win season. After blowing three fourth-quarter leads in Big Ten play, Northwestern made enough plays on both sides of the ball to hold off the mistake-prone Bulldogs. Northwestern needed this win to legitimize its program and should be right in the Legends division mix next fall, as most key players return.
What Mississippi State learned:
Russell can be rattled. The junior turned in a record-setting season for the Bulldogs but had a miserable performance in the bowl, completing only 12 of 28 passes for 106 yards with two touchdowns and the four picks. Mississippi State wins with discipline and Russell didn't have enough of it with the football. The Bulldogs played without star cornerback
Johnthan Banks
for most of the second half, and his absence showed. After a 7-0 start, Mississippi State had an extremely disappointing finish and lacked any decent wins on its résumé.
November, 6, 2012
11/06/12
9:00
AM ET
EVANSTON, Ill. -- Northwestern defensive end
Tyler Scott
seems like the last player a coach would need to challenge.
Whether he's in the weight room (where
Scott made his mark as a young player
), the film room (where Scott spends practically all his time) or the field (where he has excelled this fall), the Wildcats junior has taken the same thorough approach. It's all about the process for him.
"He's as low-maintenance of a guy as there is in the country," Northwestern coach Pat Fitzgerald said. "He just works. He doesn't know anything other than work. He doesn't want a sticker on his helmet, he doesn't want a special T-shirt, he doesn't want a steak dinner.
[+] Enlarge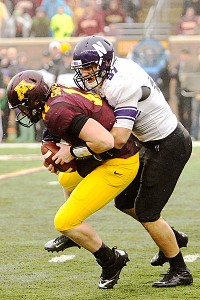 Brian Ekart/Icon SMITyler Scott leads the Big Ten in sacks with seven and is tied for the league lead with three forced fumbles.
"He just wants to work."
And that's precisely why Wildcats defensive line coach Marty Long challenged Scott in September. See, Long believes every player should be challenged, even ones like Scott who seem so easy to coach.
"He was playing well, but we needed him to play great," Long told ESPN.com. "I made a statement that we had one D-end that was playing at a Big Ten level, and that was
Quentin Williams
. Ever since that point in time, I think he's been playing Big Ten-level football."
More like All-Big Ten-level football. The 6-foot-4, 265-pound Scott leads the Big Ten in sacks (7) and is tied for the league lead in forced fumbles (3).
Scott has recorded four sacks and two forced fumbles in his last four games. He has recorded at least one tackle for loss in seven of nine games for No. 24 Northwestern. And he has played most of the season with a
club on his left hand
, the result of a broken finger.
"I didn't take it in a negative way, more of a motivational way," Scott said of Long's challenge. "I'm always going to give the most effort I can, but for him to say that, that's kind of taking a shot at my pride because I do work so hard."
Scott is hardly an overnight sensation at Northwestern. He had to redshirt the 2009 season because of a shoulder injury that required surgery. After a strong offseason, he worked his way onto the field as a reserve, appearing in all 13 games in 2010.
He moved into a part-time starting role last season and seemed to be turning a corner before a shoulder stinger shut him down for two weeks. During a five-game losing streak, Scott lost his grandfather and admits he "lost his edge a bit."
It was a season of what-ifs for Scott, who came close on a lot of sacks but recorded just one on the season for one of the nation's least effective defensive lines. He often got too far up-field on his rushes, and he spent much of the offseason working on becoming more active with his hands.
"I don't know exactly what it is," Long said, "He's making a lot of plays, but he's upset about the ones he doesn't make. I'm happy with his play right now. He'll look at me and say, 'I'm not happy.' That's the type of guy that you want to coach."
True to form, when asked about his spike in sacks, Scott barely acknowledges the ones he has recorded this season. Instead, he brings up a scramble by Iowa quarterback
James Vandenberg
that resulted in a Iowa first down in Northwestern's last game.
"I didn't get to the up-field shoulder," Scott said. "I definitely came through and totally missed, swung around and he escaped the pocket and got a first down, which kind of reminded me of last year."
Long says Scott embraces Kaizen, the Japanese philosophy of constant, continuous improvement, which
Fitzgerald introduced at Northwestern several years ago
. That may be true, but Scott links his approach a little closer to home -- to his parents, Bette and Rodney, both of whom played sports in high school.
"A big family value is to be humble," Scott said. "My mom always tells me it's not about you as a person, it's about how the team does. The goal is winning that week. If you played well, it's because your teammates helped you get there."
Northwestern has played better team defense this fall, making sizable jumps in categories like rushing defense, scoring defense and sacks from the 2011 season. But Scott has stood out up front, putting himself within striking distance of Northwestern's single-season sacks record of 12 set by Casey Dailey in 1997.
Long likens Scott to Joe Tafoya, part of the famed "Desert Swarm" defense at Arizona, where Long coached defensive line and outside linebackers from 1996-2003. Tafoya went on to a seven-year NFL career.
"I would say he's a better football player than Joe Tafoya," Long said.
Informed of Long's claim, Scott smiles, shakes his head and mumbles some cliché about just trying to improve and help the team win. Any praise for his play is going to come from others, like Fitzgerald, who this spring proclaimed Scott is, "on the cusp of being a breakout guy nationally."
His words have proven prophetic.
"A lot of times you look at guys and you go, 'If he just worked a little harder and his work ethic matched his talent, he'd be a great player," Fitzgerald said. "Tyler's that guy who does that. He's got outstanding talent, and he matches it with a terrific attitude and a terrific work ethic."
October, 13, 2012
10/13/12
3:28
PM ET
For the second consecutive week, Northwestern's defense looked to be on the ropes in the fourth quarter, trying to protect a lead on the road.
This time, the Wildcats stood their ground.


In a sloppy game where Northwestern's offense started fast on Saturday and then disappeared, the defense stepped up in the clutch and prevented Minnesota from scoring the potential game-tying touchdown. Northwestern
survived 21-13
to improve to 6-1, becoming bowl-eligible for the sixth consecutive season. Minnesota (4-2, 0-2 Big Ten) dropped its second straight Legends Division game and remains two wins away from bowl eligibility.
Northwestern had no pass rush to speak of last week at Penn State, but the front four stepped up in the fourth quarter. Defensive end
Tyler Scott
had a pair of sacks, including a forced fumble on the game's final play, and fellow end
Quentin Williams
also stepped up with a pass deflection that led to an interception. Northwestern gave up more yards (327-275) and first downs (21-13) but not points.
It could have been a different ending had Minnesota quarterback
MarQueis Gray
remained healthy. Gray returned from a high-ankle sprain that had kept him out two games and performed well in the first half, but he re-injured his left knee on a third-quarter run and didn't return.
Max Shortell
never really got in a rhythm, starting the game but exiting quickly for Gray before re-entering in the second half. He missed several open receivers, including
Isaac Fruechte
in the end zone, and held the ball way too long in crunch time.
The game looked like a shootout early, as Northwestern scored on the first play from scrimmage on a
Venric Mark
touchdown run after Minnesota fumbled the opening kickoff. Mark was masterful once again, racking up 151 rush yards and two touchdowns on 11 carries in the first half. Northwestern scored 21 points in the first 18 minutes but then began stumbling, committing a host of penalties and curious play calls. The quarterback rotation that worked well earlier in the season seemed to fizzle Saturday, as Northwestern couldn't convert third downs (1-for-9), its former trademark, and offensive coordinator Mick McCall didn't trust
Kain Colter
on any downfield throws. Colter certainly looked like the better option Saturday, going 10-for-10 on pass attempts and adding 26 rush yards and a touchdown.
Mark finished with 182 rush yards on 20 carries.
Northwestern definitely went conservative at the end, taking a delay of game penalty on third down, clearly concerned about the weather. While the approach paid off against a Minnesota team that made too many mistakes, it likely will cost the Wildcats down the line.
It rained for most of the game, and the outcome came down to key mistakes. Minnesota had two first-half turnovers that Northwestern converted for touchdowns. The Wildcats, while committing an uncharacteristic 11 penalties, didn't have a turnover.
Northwestern remains very much alive in the Legends Division race and returns home for two division contests (Nebraska and Iowa). The Wildcats need to be a lot better than they were Saturday but can take some positives with Mark and the defense.
Minnesota is a different team with Gray on the field and hopes the senior can return for next week's rivalry game at Wisconsin.
August, 30, 2012
8/30/12
1:30
PM ET
Every defense talks about the A-word -- aggressiveness -- and Northwestern's is no exception.
For the better part of the past two seasons, the Wildcats' defense too often has found itself in a, well, defensive posture. Opposing offenses have moved the ball too easily against the Wildcats, particularly on third down, which used to be a strength for the unit.
It's why Wildcats coaches place such a premium on the A-word entering the 2012 season. To get there, they bring up another A-word.
"It's an attitude," defensive coordinator Mike Hankwitz said. "It isn't just schematics. We're going to do things to try to be more aggressive schematically, but we're not going to blitz every damn play. We're going to pick our spots, and we're going to do things. But we said we want to have a more aggressive mentality getting to the ball and being more physical.
[+] Enlarge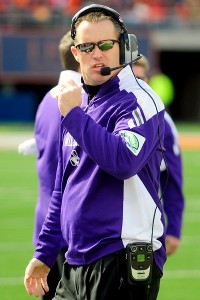 Reid Compton/US PresswireAfter ranking last in the Big Ten in sacks last season, Pat Fitzgerald's defense is looking to be more aggressive in 2012.
"They've embraced what our goals and objectives have been, and we're making progress."
Northwestern likely will decrease its use of an ineffective three-man rush that consistently led to third-and-long meltdowns last season and dropped the team to 114th nationally in third-down defense (50 percent conversion). Defensive end
Quentin Williams
is the lone returning player who recorded multiple sacks in 2011, so Hankwitz knows he can't rely too much on the line getting home on its own. The Wildcats ranked last in the Big Ten and 106th nationally in sacks last season (1.31 per game).
But at times, Hankwitz will lean on the front four and expect them to cause more problems than they did in 2011.
"We've got to be more aggressive with our calls, but we've got to also be more effective when we do rush the passer," he said. "You're not going to bring the perfect thing every time where somebody comes free, so you've got to beat guys one-on-one."
After communication breakdowns plagued the defense during a five-game losing streak, Hankwitz saw improvement in the final five contests. Players embraced the offseason objectives outlined in their first meeting in January, and the strong retention between spring practice to fall camp allowed coaches to build rather than work on reinstalling plays.
Although the defense is green at spots, namely the secondary, where redshirt freshman cornerback
Nick VanHoose
and two other new starters enter the mix, the unit features a number of familiar faces who had their pride challenged last season and in recent months.
"Our defense was very motivated through the positive talk they heard through the blog sites and wonderful articles they had to read all offseason," head coach Pat Fitzgerald said with just a hint of sarcasm. "And they lived it. They know they were not pleased with the way they performed, and preseason, for the first time I used some outside stuff for motivation. You get what you deserve, and we deserve everything that was said about the guys.
"And they took it personally. Guys like Bus [linebacker
David Nwabuisi
] that have been out there and Tyler [Scott] and
Brian Arnfelt
and Quentin Williams,
Damien Proby
,
Ibraheim Campbell
-- they were not pleased with the way they played, and we weren't pleased with the way we coached them and we performed. The great news is I'll be done talking about that crap [soon]."
Campbell, a safety who led the team with 100 tackles as a redshirt freshman, describes the aggressive mindset as never being satisfied.
"If you had a PBU [pass broken up], you should have had a pick," he said. "If you made a tackle, it should have been a TFL."
A defense with plenty to prove returns to the field Saturday at Syracuse, which ranked 90th nationally in offense last fall but boasts a veteran quarterback in
Ryan Nassib
and some good receivers. The Wildcats hope embracing the A-word can translate into more Ws this fall.
March, 6, 2012
3/06/12
10:30
AM ET
Spring football is under way at Northwestern, which returned to the practice field Saturday. The Wildcats say goodbye to a decorated senior class, which included quarterback
Dan Persa
, and must fill several key spots on both sides of the ball. Head coach Pat Fitzgerald has an emphasis on learning and fostering new chemistry on the team, as the Wildcats' leadership features several new faces. The 2012 season will be crucial for Northwestern, which has reached four consecutive bowl games but also seen its wins total drop every year since 2008.
ESPN.com recently caught up with Fitzgerald. Here are his thoughts:
What have been some of your emphasis points from the end of the bowl game and your objectives in spring ball?
[+] Enlarge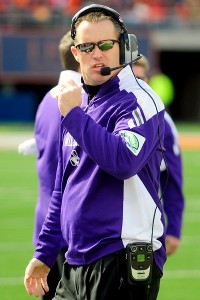 Reid Compton/US PresswirePat Fitzgerald, the Wildcats' coach since 2006, led Northwestern to a 6-7 record last season.
Pat Fitzgerald:
Every year you look for ways you can improve and build upon your past, but it's always a new team. Obviously, we've got a lot of young men that graduated who were very dynamic for us over the last four years, multiyear starters who laid a tremendous foundation of success for our program. Now you have to come together with this team and number one, we want to build better chemistry with this team. Eight of our 12 leadership council members, it's their first year, so it's kind of indicative of trying to forge the chemistry, player to player.
Is it a better chemistry or a new chemistry?
PF:
Every time you get to the offseason, you fall into that trap, is it better or worse? More importantly, it's always new. It's new guys jelling, guys assuming new roles and the natural progression. The guys have done a tremendous job. I look forward to watching to see how we do when somebody punches you back in football.
Were you surprised at how last season turned out? Some guys were talking about contending for a Big Ten title and you end up at 6-7.
PF:
Well, we had a tough five-game stretch. That overshadows anything else that we did. What we look at it is we stayed the course and fought through it. You can point back to multiple plays and calls on our end and what we did schematically as coaches, you vet through all that stuff and you look at how close we were. It's easy to point blame and point fingers. It's more important to create some solutions and through that, you always start with the way you're teaching and coaching, and what you're asking guys to do schematically. Are we playing to their strengths? Because of maybe a little youth and inexperience, are we asking them to try to do too much? And I thought we adjusted. Obviously, you don't want to go through what we went through, and it was our fault. You look back and say, we adjusted, but did we adjust fast enough? Hindsight's always 20-20, but you learn from it, you grow and then you educate the guys on why it happened and how we're going to be stronger moving forward. What did we win, four of our last six games? So we finished strong. Obviously, you'd love to have back the last one here at home. And in the bowl game, we played two really good quarters and two quarters that beat ourselves, so we've got a lot to learn from. I wouldn't say I was surprised. No matter what you predict, you never know how it's going to go.
What are some things you can do at this time of year from a communication standpoint, from a learning-the-game standpoint or a schematic standpoint to remedy some of the things?
PF:
Absolutely. We've taken the approach of Football 101 this whole offseason. Not only what we're doing schematically, but why we have things structured the way we do, going deeper into the why we do what we do to help guys understand and appreciate conceptually what we're trying to achieve as a program. Same thing schematically in all three phases. And then to build the team and build the chemistry. We've got to have a lot of things much further along at the end of spring ball. Then we've got to take another step at the end of the school year and in the summer.
How do you emphasize the why more? Not just what you're doing but why you're doing it.
PF:
Every resource you have capable of a teaching tool, you use. Each guy learns a little bit differently. Some guys can look at it on paper and get it. Most guys have to look at it on paper, see it on video, walk through it, go experience it, learn from it, fail at it, do well at it. It's a process. It's not just one cookie-cutter way to do it. You've got your structure, but then you've got to adjust it based on the way guys are picking it up. And as a teacher, you always have to make sure what you're doing is productive and you're seeing the result equal what you believe you're teaching.
What do you want to see out of your quarterbacks in spring ball?
PF:
Number one, I want to see them improve from where we were at the last time we were with them. All three guys were involved with bowl practice and all three guys improved throughout that month. I want to see them lead the offense. I want to see them manage what we do and how we want to do things as far as schematics. And then I want to see them take over the leadership of the team.
Kain [Colter] obviously has played more than the others. What are you looking for from him in the spring to emerge as the next guy?
PF:
Number one, let's focus on what's important and that's for him to go out and fundamentally execute. There's no, 'You're the starter, all of a sudden everything changes.' So obviously let's go out and fundamentally execute and improve on the things we identify after watching the cutups. Going through bowl prep, there are some little mechanical things he's got to work on. And as a quarterback, when he gets on the field he has to make all 10 around him better. When you look at him, he's got that personality that guys just want to be around Kain. He's got a great attitude, he's very driven, he's very focused but still he's got a lot of compassion. He's just a great teammate. And then you watch the experience Trevor [Siemian] had last year. Those two guys will be a little bit further ahead, especially early, than Zack [Oliver], just because of their experience level.
Defensively, what are some areas you feel that need to be improved?
PF:
Obviously, looking back to a year ago, it's limiting explosion plays by communicating and [being better] technically and execution sound. Being better on third down, especially third-and-medium, where we've been really good in the past, and same thing with our pressure totals. We took a step backwards in all those areas. Up until the last two games of 2010, we were actually statistically better in a lot of areas on defense. We've got a lot to build from. We've got some solid experience coming back, and some guys stepping up as leaders, especially up front with three guys who have played a lot for us. A couple of them are young,
Quentin Williams
and
Tyler Scott
, and
Brian Arnfelt
. The linebackers,
David Nwabuisi
has played a lot of ball for us, and
Damien Proby
. And I'm very pleased with the steps that
Ibraheim Campbell
made a year ago. The last thing is continuing to work hard to create turnovers.
Ibraheim comes back in the secondary but you lose three starters there. Who do you look at to emerge there, especially at cornerback?
PF:
We've got great competition there. You look at a group of guys coming back who have played a lot of ball for us in different roles. As you look at the group,
Demetrius Dugar
and DJ,
Daniel Jones
, who have started games for us. We're really excited about a couple of our younger guys,
Nick VanHoose
and
C.J. Bryant
, who has been a role player in the kicking game. And the same thing with
Jarrell Williams
, who we redshirted last year like Nick, who we think is an explosive athlete.
Kain told me he thinks you'll be a more athletic team overall. Do you see that potential?
PF:
Yeah, I think we've recruited well, and we take pride in the way we develop our guys. I feel we've got pretty solid athleticism top to bottom. Now we've just got to develop that depth. You'd hope by toward the end of spring, you'd start to have some guys work toward solidifying some starting jobs at least for the start of camp. And then you hope you solidify that depth for the long haul in Big Ten play. We have 26 guys graduating, 21 guys we signed, 22 with Kyle [Prater] and our walk-on class coming in. So we'll look very different in the fall than we do in the spring.
What's the status of Kyle's NCAA waiver?
PF:
We really can't proceed until he matriculates into school, until we start spring quarter. Nothing is going to move forward until he gets into class, he gets going, all that stuff. Is there a goal to have it done by the end of spring? No. The goal is to work through it, to vet it and work with Kyle and his family and then the NCAA. The priority now is he's going to a new school, so get him to class, get him into a new dorm, here's the lay of the land. Those things are all much more important, get him healthy, make sure everything checks out. I obviously want to have [the waiver process] done by August.
What do you want to learn about this team by the end of the spring?
PF:
The big thing is I want to see us execute through better teaching. I want to see more consistency and execution, and there's multiple parts there, communication, technique, and then obviously the overall execution. I want to see the chemistry in a better place April 14 than we are today from being tested through football. And I want to get stronger. We're going to continue to work hard in the weight room and continue to do the things you have to do. But our priority right now is just to increase our football knowledge, our schematic knowledge and then obviously our knowledge of each other.