NCF Nation:

Quincy McDuffie
March, 13, 2013
3/13/13
9:00
AM ET
UCF would appear to be the newcomer most ready to make its mark in the Big East. The Knights start spring practice Wednesday, and we recently caught up with their coach, George O'Leary.
A lot going for you guys right now between the conference switch, facilities and whatnot. How would you characterize the mood around the place heading into spring ball?
George O'Leary
: I think the real football fans, the schedule just came out, they're excited about the schedule and the competitiveness of the schedule, and I think they're looking forward to it -- national ESPN games. And I think that the schedule fell right in a lot of areas for us, and we have a great nonconference schedule with South Carolina at home and Penn State away, so I think the nonconference schedule, with the addition of the competitiveness of the conference schedule, I think it's probably the most attractive schedule we've had since I've been here.
What do you think of the USF-UCF game being played on Black Friday?
GO
: I think that's a grab. I've been saying that since we stopped playing them, that that should be a natural game every Thanksgiving weekend, because unless you're playing a rival-type game -- Alabama-Auburn, Georgia-Georgia Tech -- it's a tough weekend because kids go home. So I think it's a win-win for both schools, whether it's at our place or their place. So basically it's a nice little corridor game, and I think that's something that now we're in the same conference, I think it's a great game. And whether the game's played at night or daytime, I think it'll be a jammed house and I think there will be a lot of lot of interest in that game from both Tampa and Orlando.
[+] Enlarge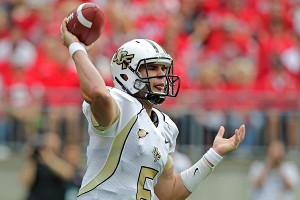 AP Photo/Jay LaPreteUCF coach George O'Leary is looking for more consistency out of quarterback Blake Bortles.
What are you looking for in Blake Bortles' development this spring?
GO
: Well I think the next step is basically just to continue improving technique and basically ball delivery. The timing that takes place with quarterbacks and receivers I think is something you're always looking to strive at, and I think he does a good job of taking a bad play and making a good play out of it. Now he has to be a guy that does it not almost all the time but basically every time, that he's got to make a positive play out of situations that don't have -- whether the coverage is bare or some type of blitz -- that he makes a positive play on every play. And that's what the goal is over time, and I think that's the next step I see him taking.
How do you replace a guy like Quincy McDuffie? Anyone you're looking at specifically?
GO
: Well, I think Quincy was a big factor in the kicking game, and the funny thing about it, Ranell Hall the year before was the all-conference kick returner. Not Quincy; the guy next to him last year. So Quincy had a great season returning. And I expect
Jeff Godfrey
to step up into that position this year from a standpoint of athleticism and speed; he's right in the same ballgame there. So that's one I expect to see done. And it's nice when you have players that can just fill the role that other people have played in past years.
We know about Storm Johnson. Who else is going to see time there?
GO
: Well, right now
Cedric Thompson
's been here -- he's a 6-1, 225-pound back right now, that's why we have two scholarship running backs that have played -- they can play one-back, two-back because they can protect. Then there's three other kids that I think the jury's still out on just with that. Plus we signed three running backs, too, with this class. So I think one of those running backs coming in is going to have to help us be a third-back type of guy.
You guys have traditionally been one of the most physical, best defensive teams in Conference USA. Do you feel that might give you guys more of an advantage over some of the other Conference USA teams joining the Big East?
GO
: Well, we've always tried to be stingy on defense, but I think the big thing is that we've got a bunch of kids back, but we also have a bunch of young kids I think I've been very pleased with when I watch them on the show team, and some of the second-teamers at the same time. I think we have more potential playmakers coming up through the ranks. I think that's what you look at on defense: to be sound in your fundamentals but also have the ability to make plays. I think that's where the emphasis will be in the spring as far as, need to get those kids on the field in some capacity. It may mean a position change, but it's something I want to keep all the playmakers with where we have them, where they can make plays on the field and not necessarily be a backup because they're sitting behind some guy that started last year.
Do you think you have everything in place now to be able to win the Big East title in Year 1?
GO
: I think our only goal is to win the conference championship. That's the only goal, and I'm sure it'll be the same goal next year again. Every game you've got to bring your A-game, but every game's a new adventure. We have one goal: to win the conference championship, because I think it gets you where you have to get to as far as the end of the season, and it won't change this year whether it's Conference USA or the Big East or whatever we're going to call it now -- I don't know what we're going to call it. But our goal is to basically win the conference and do as well as we can within the conference.
February, 27, 2013
2/27/13
10:12
AM ET
UCF KNIGHTS

Spring start:
March 13
Spring game:
April 13
What to watch:
Bortles' progress: Blake Bortles threw for 3,059 yards with 25 touchdowns and seven interceptions last season, and he figures to be one of the better signal-callers in a Big East that has few consistent returning standouts outside of Teddy Bridgewater.
Replacing Ishmael and McDuffie: UCF loses arguably its two best players in Kemal Ishmael -- who was the Conference USA defensive player of the year and team MVP, notching 124 total tackles and three interceptions -- and Quincy McDuffie, who was the C-USA special-teams player of the year and offensive team MVP.
Beginning the transition: You voted UCF as the newcomer most likely to succeed in the Big East in 2013, and the Knights do seem to be the most ready of the C-USA newcomers. They won 10 games last season, play arguably the toughest nonconference schedule annually of the newcomers, and will have the most natural rival in USF.
CINCINNATI BEARCATS

Spring start:
March 1
Spring game:
April 6 (open practice), spring ends April 13
What to watch:
The Tommy Tuberville era kicks off: Tuberville's stint at Cincinnati got off to an unceremonious start publicly, but Cincinnati got a proven coach who has had plenty of offensive success. The school has usually been a step up the ladder for coaches -- the past three of whom left after three successful seasons each -- but the Bearcats have gone in another direction this time.
The ground game: Cincinnati faced the same question last year upon losing Big East offensive player of the year Isaiah Pead. George Winn ended up outproducing Pead. Who will replace Winn this year? Ralph David Abernathy IV is the most proven returner, but he does not fit the mold of an every-down back. Regardless, with all five offensive line starters back, the transition figures to be relatively smooth, if not as productive.
Defensive line production: Cincinnati got used to playing without Walter Stewart, but it also loses Dan Giordano, who had five sacks in 2012. Although its 31 sacks as a team were good for second in the Big East, the production was down from the previous season.
CONNECTICUT HUSKIES

Spring start:
March 11
Spring game:
April 20
What to watch:
Offense under T.J. Weist: The numbers were ugly -- 110th nationally in total offense, 118th in scoring -- resulting in George DeLeone being stripped of his duties. (He's still the offensive line coach.) Weist comes over from Cincinnati, where he coached receivers the past three years.
Defense under Hank Hughes: Conversely, UConn must now replace defensive coordinator Don Brown, who lifted the Huskies to 10th nationally in total defense last season. Hughes enters his 13th season on staff but is tasked with replacing a number of standouts at each position -- Trevardo Williams, Sio Moore and Blidi Wreh-Wilson, to name a few.
Whitmer's growth: Chandler Whitmer returns after passing for 2,664 yards with nine touchdowns and 16 picks in 2012. He had little help up front, and there is more depth at the position this year with Scott McCummings and incoming recruits Richard Lagow and Tim Boyle, both three-star prospects.
HOUSTON COUGARS

Spring start:
March 4
Spring game:
April 12
What to watch:
Quarterback competition: David Piland is the returning starter, having thrown for 2,929 yards with 16 touchdowns and 12 interceptions in 2012, but he will be challenged by juco transfer Billy Cosh and three-star recruit John O'Korn.
Defense under David Gibbs: The Cougars' defense really has nowhere to go but up after a 2012 season that saw it finish 115th nationally, 107th in scoring, 92nd in rushing and 115th in passing -- numbers that resulted in the ouster of Jamie Bryant. Gibbs most recently worked with the NFL's Houston Texans.
Building depth: The Cougars bring back 43 players from 2012, 14 of whom were starters. Throw in a 26-man recruiting class -- five of whom are currently enrolled -- and Houston can begin to build depth needed to sustain its level of play in a new, better conference.
LOUISVILLE CARDINALS

Spring start:
March 20
Spring game:
April 13
What to watch:
Backfield options: Senorise Perry, last year's starter, will not be in full-contact practice after tearing his ACL late last season. His backup, Jeremy Wright, is not enrolled in classes. Dominique Brown, Corvin Lamb and Brandon Radcliff are the next three guys on the depth chart, although Brown is the only one to have proved much thus far.
Teddy Heisman continuing arc: Bridgewater went from conference-known to nationally known in 2012, and his strong finish against Rutgers and Florida will only amplify the hype heading into this season. If Bridgewater's improvement resembles anything like that of this past season, those Heisman whispers will become much louder.
Clint Hurtt's shadow: Simply put, this is an issue that isn't going away anytime soon. AD Tom Jurich stands behind the defensive line coach, whom the NCAA says provided false or misleading information during its investigation of Miami, and the situation figures to linger until this never-ending Hurricanes case is complete.
December, 21, 2012
12/21/12
11:00
AM ET
Three things to watch in tonight's Beef 'O' Brady's Bowl between UCF and Ball State:
1. Stopping the run:
Both teams have prolific offenses, and it all starts on the ground. Ball State ran for at least 220 yards seven times this season and is led by 1,300-yard back
Jahwan Edwards
. UCF tailback
Latavius Murray
has scored a touchdown in eight straight games. The key is whether either defense can make stops and force some third-and-long situations. The Knights have the much better defense statistically, ranking No. 22 nationally in total yards allowed and leading Conference USA in scoring defense. The Cardinals, meanwhile, gave up more than 200 rushing yards and 31.5 points per game, though their defense did improve as the season went on. This game could come down to a defensive stand or two in crunch time.
2. Special teams:
UCF has the nation's top kick return man in
Quincy McDuffie
, but special-teams breakdowns hurt the Knights in their overtime loss to Tulsa in the Conference USA title game. They allowed a punt return for a touchdown in the fourth quarter and had a field goal blocked in the first extra period. Ball State has some impressive specialists of its own. Kicker
Steven Schott
ranked second in the nation with 24 made field goals, while punter
Scott Kovanda
was a Ray Guy finalist. All eyes will be on the offenses, but big plays in the kicking game could make the difference.
3. Ball security:
Neither team likes giving the ball away. UCF set a school record for fewest turnovers in a season with just 15, while Ball State had only 16 giveaways. The Knights' Murray has gone 386 straight carries without a fumble. UCF was much better than Ball State this year at forcing turnovers, led by ball-hawking safety and C-USA defensive player of the year
Kemal Ishmael
, who had three interceptions and three forced fumbles this season. Ball State quarterback
Keith Wenning
was intercepted four times in losses to Clemson and Northern Illinois. In a game where every possession could matter, turnovers could turn the tide.
December, 21, 2012
12/21/12
10:30
AM ET
Ball State (9-3, 6-2 MAC) vs. Central Florida (9-4, 7-1 C-USA)


WHO TO WATCH:
UCF kick returner/receiver
Quincy McDuffie
. The 5-foot-10 McDuffie is one of the fastest men in the FBS and poses a threat to score every time he touches the ball. That's especially true on kickoff returns, where the senior has six career touchdowns, including three this season (and two in the same game versus Marshall). He led the nation in kickoff return average at more than 34 yards per attempt. While McDuffie doesn't often get involved in the offense, he did run for three touchdowns last month against UAB. Ball State would be wise to kick the ball out of the end zone as much as possible.
WHAT TO WATCH:
Quarterback play for both teams. Ball State's
Keith Wenning
missed his team's final six quarters with a right ankle injury that required surgery, though he did return to practice this week. His backup,
Kelly Page
, dealt with a concussion late in the season. UCF's
Blake Bortles
had a great year but went just 14-of-32 in the Knights' overtime loss to Tulsa in the Conference USA championship game. When right, both quarterbacks can slice up a defense. They have very similar numbers in passing yards (Bortles threw for 2,787, Wenning for 2,878) and touchdowns (both have 22).
WHY TO WATCH:
These are two mid-major teams that could play with a lot of big boys. Ball State won its final six games and lost only to Clemson, MAC champion Northern Illinois and MAC runner-up Kent State -- three teams with a combined record of 33-5. The Cardinals also beat two AQ teams in Indiana and South Florida. UCF very nearly won the C-USA crown, and its losses came to Ohio State, Missouri and Tulsa (twice). The Knights beat Georgia in the Liberty Bowl game two years ago. Ball State is still looking for its first bowl victory after coming up short five times since 1989. Though this is a football game in a baseball stadium (Tropicana Field), the score could resemble a basketball game. Both teams are averaging 35 points a game with well-balanced offenses. Cardinals coach Pete Lembo could soon become the latest MAC coach to get scooped up by a major program.
PREDICTION:
UCF 38, Ball State 30. Both teams will move the ball extremely well, but the Knights had one of the better defenses in C-USA while Ball State ranked 103rd in the nation in total defense. A poor run defense will doom the Cardinals as UCF's 222-pound back
Latavius Murray
rumbles for 150-plus yards. The Knights also own an advantage in playing only 120 miles from campus and should have more fans in the stands than the school from Muncie, Ind.
June, 2, 2011
6/02/11
9:00
AM ET
Houston quarterback
Case Keenum
makes his return from a torn ACL this season, ratcheting up expectations for the Cougars. Expectations are high for him as well.
Phil Steele has Keenum as a fourth-team selection on his newly released
All-America teams
, right behind
Landry Jones
of Oklahoma,
Andrew Luck
of Stanford and
Kellen Moore
of Boise State. This is a clear indication that there is some unfinished business left for Keenum, who remains on pace to break the NCAA career passing mark -- should he stay healthy.
Keenum needs 3,487 yards to break the mark of 17,072 yards set by Timmy Chang of Hawaii from 2000-04. There is another mark that Keenum has a chance to surpass -- career touchdown passes. Graham Harrell of Texas Tech has the record of 134. Keenum needs 28 to break that mark. Considering he threw for more than 5,000 yards and 44 touchdowns in each of his two full seasons as a starter, those records seem to be in jeopardy.
So Steele putting Keenum on his fourth team is his preseason projection that Keenum will get those records. Plus, there is plenty of uncertainty at quarterback around the country, and Keenum has delivered in bunches so this choice makes sense if you are projecting a healthy season. Steele also lists go-to Houston receiver
Patrick Edwards
on his fourth team, so his expectation is a big year for Edwards as well.
As for some of the other non-AQ players listed:
I agree with the selection of Moore on the third team. Teammate Nate Potter made the first team at tackle while Billy Winn made the second team on the defensive line.
No-brainers:
TCU linebacker Tank Carder, Tulsa kick returner
Damaris Johnson
and Southern Miss kicker Danny Hrapmann on the first team; Toledo kick returner
Eric Page
on the second team. BYU offensive tackle Matt Reynolds made the second team. I think he is going to be either a first- or second-team selection this year.
Surprises:
FIU receiver
T.Y. Hilton
made the third team, quite an impressive accomplishment considering he is known more for being an all-purpose player. Steele must think the Panthers have a chance to win another Sun Belt title and that Hilton will have an even better year than 2010, when he was Sun Belt Player of the Year. I think Louisiana tight end
Ladarius Green
has the potential to be better than a fourth-team selection. Same for Troy defensive end Jonathan Massaquoi and TCU linebacker Tanner Brock, both fourth-team selections. Another interesting choice: UCF kick returner
Quincy McDuffie
on the fourth team. McDuffie has made huge strides in special teams, but the Knights are eager to get even more out of him.
Omissions:
You can certainly make a case for San Diego State running back
Ronnie Hillman
, the top freshman back in the country last season with 1,532 yards. Same for Boise State running back
Doug Martin
, one of the most underrated players in the nation.
May, 10, 2011
5/10/11
7:30
AM ET
2010 overall record:
11-3
2010 conference record:
7-1, conference champs
Returning starters
Offense:
7, defense 4, punter/kicker 2
Top returners
QB Jeff Godfrey, CB Kemal Ishmael, RB
Ronnie Weaver

Key losses
DE Bruce Miller, LB Derrick Hallman, OL Jah Reid
2010 statistical leaders
(* denotes returners)
Rushing:
Weaver (186 carries, 890 yards, 11 TDs)*
Passing:
Godfrey (159-of-238 for 2,159 yards, 13 TDs, 8 INTs)*
Receiving:
Watters (47 catches, 651 yards, 2 TDs)
Tackles:
Ishmael* (93)
Sacks:
Miller, Darius Nall (8.5 each)
Interceptions:
Reggie Weams (five)
Spring Answers
1. Brynn Harvey is back.
Harvey looked like his old self in the spring, returning after a knee injury cost him all of 2010. His addition gives UCF a loaded backfield with Weaver and
Latavius Murray
also returning, giving the Knights plenty of options.
2. Troy Davis is a player.
Davis was impressive in the spring, with five sacks in the spring game, and should help fill the big shoes of the departed Bruce Miller, who left as the school-record holder in sacks. Davis, a rising junior, had 5.5 sacks last season and a big one at the end of the Georgia game, so he has experience. He showed he is more than capable of starting.
3. Godfrey showed improvement.
After an outstanding freshman season, Godfrey showed again in the spring why he is the future of the program. He looked poised, and more polished in leading the offense and will only get better as time goes on.
Fall Questions
1. Who will emerge as a playmaker at receiver?
O'Leary has often said he wants
Quincy McDuffie
to take it to the next level so the Knights can utilize his vaunted speed. Well now is his chance with
Brian Watters
,
Kamar Aiken
and
Jamar Newsome
gone. Aside from McDuffie,
A.J. Guyton
will also be counted on as a key contributor.
2. Which linebacker will step up?
Three starters are gone, making this a position that could feature a true freshman in Leilon Willingham making some plays. Two players who did well in the spring were not even at their positions at this time last year. Jonathan Davis is a converted running back and Ray Shipman played basketball at Florida before deciding to give football a try.
3. Leadership.
UCF lost a great deal of senior leadership with the graduation of players like Miller, Hallman and Reid, who helped lay the foundation for a Top-25 season and first-ever bowl win. Which players will step up and take on that role in 2011?
November, 22, 2010
11/22/10
5:00
PM ET
Here are the non-AQ Players of the Week, as selected by each conference:
Conference USA
Offense:
Southern Miss QB
Austin Davis
. Threw for 293 yards on 24-of-31 passing with two touchdowns and no interceptions and added his second career 100-yard rushing performance with 111 yards on 17 carries and four rushing TDs in a 59-41 win over Houston.
Defense:
SMU DB Richard Crawford. Had two interceptions and six tackles in a win over Marshall. The two picks were the most for any SMU player in 23 games.
Special teams:
UCF KR
Quincy McDuffie
. Returned the opening kickoff 95 yards for a touchdown in a 61-14 win over Tulane. It was his second kickoff return for a touchdown this year.
MAC
East Division
Offense:
Ohio RB
Vince Davidson
. Had 100 yards and two touchdowns on 16 carries in a 31-23 win over Temple.
Defense:
Miami DB Brandon Stephens. Had a season-high nine tackles in a 19-14 win at Akron. Stephens nine tackles were all solo and marked the first time this season he led the club in tackles.
Special Teams:
Bowling Green PR
Eugene Cooper
. Had a 71-yard punt return for a touchdown in a 33-14 loss at Toledo on Nov. 17. It was Cooper's second punt return for a score this season.
West Division
Offense:
Eastern Michigan RB
Dwayne Priest
. Ran for a career-high 192 yards on 35 carries and had three touchdowns in a 21-17 win at Buffalo.
Defense:
Western Michigan DB Jamail Berry. Played in his third different position on an injury depleted defense and racked up a career-high 17 tackles in a 38-3 win over Kent State.
Special Teams:
Northern Illinois LB Jordan Delegal. Blocked two punts in a 59-21 win at Ball State and the Huskies set a school record with three blocked punts in the game.
Mountain West
Offense:
Wyoming RB
Alvester Alexander
. Had 147 rushing yards and a school-record five touchdowns on 23 carries in a 44-0 victory over Colorado State.
Defense:
Wyoming DE Josh Biezuns. Had a career-high 3.5 sacks, four tackles for loss, a forced fumble and a pass breakup in the win over Colorado State.
Special teams:
Utah P/K
Joe Phillips
. Handled kicking, punting and kickoff duties in a 38-34 victory at San Diego State. Phillips made a 32-yard field goal and five extra points. In his collegiate debut as punter, he averaged 35 yards per punt, landing four of his five attempts inside the 20.
Sun Belt
Offense:
ULM QB
Kolton Browning
. Tied the school record with five touchdown passes in a 49-37 victory over North Texas. Browning completed 18-of-23 passes for 247 yards and also ran for 73 yards on 16 carries.
Defense:
Middle Tennessee DB Rod Issac. Western Kentucky led 26-13 and had the ball at the Blue Raiders 1-yard line on fourth-and-goal when Issac picked up a fumble and went 99 yards for a touchdown, matching the longest fumble return in school history. Middle Tennessee won 27-26.
Special teams:
Western Kentucky LB Bar'ee Boyd. Had two blocked punts against Middle Tennessee, the first blocks for the Hilltoppers in over two years. His second block was recovered in the end zone for a touchdown.
WAC
Offense:
Hawaii QB
Bryant Moniz
. Threw for a school record 560 yards on 32-of-44 passing and three touchdowns in a 41-7 win over San Jose State. He also moved into third place on the school's all-time passing list with 6,330 yards.
Defense:
Hawaii LB
Aaron Brown
. Made five tackles, including one for a loss, and made his first two career interceptions in the win over San Jose State. He returned the first interception 22 yards for a touchdown.
Special teams:
Boise State K Kyle Brotzman. Made all three of his field goal attempts (20, 20 and 50) and all six extra points in a 51-0 win over Fresno State. He broke the Boise State school record in scoring and now has 418 points in his career.