NCF Nation:

Quinshad Davis
December, 28, 2013
12/28/13
6:45
PM ET
The Belk Bowl unfolded quickly as North Carolina jumped out to an early lead over Cincinnati and never looked back Saturday, running away with a
39-17 win
. Here's how it all happened:


It was over when:
Can a game be over almost as soon as it begins? North Carolina started off as strong as conceivably possible, scoring the game's first touchdown on a 2-yard run from
Romar Morris
with 5 minutes, 40 seconds left in the first quarter. Just three minutes later, the Tar Heels delivered what proved to be a debilitating series of jabs as
Kareem Martin
got the sack-safety and
T.J. Logan
followed that up by taking the ensuing kickoff 78 yards for a score, resulting in a 9-point swing. Cincinnati showed some life in the second half, but the 16-point deficit was ultimately too much to overcome.
Game ball goes to:
Even without Blake Anderson calling plays, North Carolina didn't miss a beat.
Marquise Williams
executed the offense in perfect tandem with head coach Larry Fedora, who subbed in while his former offensive coordinator was off starting his own head-coaching career at Arkansas State. Williams, a talented sophomore, spread the ball around in the air, completing passes to seven different receivers while rushing for 46 yards. He finished the game with 171 yards, one touchdown and no interceptions on 19-of-33 passing.
Unsung hero:
Make no mistake, North Carolina won the Belk Bowl in the trenches. A tip of the cap should go to both the offensive and defensive lines. The Tar Heels wouldn't have jumped out to such a big lead without the defense providing four sacks and three three-and-outs in the first half. Cincinnati's line entered the game having allowed 12 sacks all season, but UNC wound up with five on the day. UNC's offensive line, meanwhile, allowed for a balanced offensive attack, with 171 yards through the air and 174 yards on the ground.
Stat of the game:
North Carolina got the monkey off its back by finally not rejecting some good old-fashioned home cooking. The Tar Heels won a bowl game in their home state for the first time after losing the three previous bowl games they played in Charlotte.
Ryan Switzer
, meanwhile, managed to tie an NCAA record by returning his fifth punt for a touchdown this season. Where many would have called for a fair catch in the third quarter against the Bearcats, Switzer hung in, caught the ball with a number of defenders in the vicinity and weaved upfield 85 yards for the score.
What North Carolina learned:
Fedora taught his Tar Heels that it's not how you start but how you finish. Ending the season with six wins in seven games was impressive. Getting above .500 after starting off the year 1-5 was incredible. The hope for North Carolina is that the momentum coming out of the Belk Bowl will carry over into next season and such a furious surge won't be necessary to reach the postseason again. With Williams, freshman tailback Logan, freshman receiver Switzer and sophomore receivers
T.J. Thorpe
and
Quinshad Davis
all returning to Chapel Hill, the future is bright.
What Cincinnati learned:
The Bearcats, on the other hand, end the season on a sour note. The momentum of winning six straight games late in the year was almost entirely wiped out after losing in overtime against Louisville on Dec. 5 and then getting blown out by North Carolina on Saturday. Next season will be tough for head coach Tommy Tuberville, as he will be without senior quarterback
Brendon Kay
and the quarterback of the defense in senior linebacker
Greg Blair
. But with the much-traveled redshirt freshman transfer quarterback
Gunner Kiel
entering the fold, there's reason for optimism. The former No. 3-ranked quarterback in the 2012 class has all the tools to do well in the Bearcats' spread offense.
To watch the trophy presentation of the Belk Bowl,
click here
.
December, 2, 2013
12/02/13
9:00
AM ET
Not much movement in the latest installment of the Power Rankings. As has been the case this season, there is a clear top and a clear bottom. The others can duke it out in the middle.

1. Florida State (12-0, 8-0; last week: No. 1).
The Noles are the new No. 1 team in the nation after they completed their regular season unbeaten and Alabama lost. All that is left to secure a spot in the BCS title game is a win over Duke in the ACC championship game Saturday. This FSU team has been utterly dominant all season long, beating its opponents by an average of 42 points per game.
2. Clemson (10-2, 7-1; LW: No. 2).
The same old problems plagued the Tigers in their fifth straight
loss to rival South Carolina
: turnovers. Six of them, to be exact, in a 31-17 loss. Though this team ends the regular season with 10 wins for just the fifth time in school history, losing to both Florida State and South Carolina has to be utterly disappointing for a group that went into the season with national championship aspirations.
3. Duke (10-2, 6-2; LW: No. 3).
The history-making season continues.
Duke beat in-state rival North Carolina
27-25 to post the first 10-win season in school history and win the Coastal Division outright. The challenge grows steeper now against Florida State in the ACC title game. Winning the Coastal is one thing. But now Duke will see how it measures up against the best team in the nation.
4. Virginia Tech (8-4, 5-3; LW: No. 4).
It was not pretty, but
Virginia Tech beat Virginia
yet again to close the season on a high note. There will be plenty of "what could have beens" spoken among Hokies fans, considering some of the ugly losses that ended up costing them dearly. Still, this season was an improvement over last even if it didn't feel that way at times.
5. Miami (9-3, 5-3; LW: No. 5).
Give the Hurricanes credit for finishing the season out the right way after a three-game losing streak threatened to derail them.
Miami soundly beat Pittsburgh
on the road and has won nine games for the first time since 2009. A win in the bowl game would give Miami at least 10 wins for the first time since going 11-2 in 2003. There is no doubt progress is being made.
6. Georgia Tech (7-5, 5-3; LW: No. 6).
What a heartbreaking way to end the season for the Jackets, who blew a 20-0 lead on in-state rival Georgia and
lost in double overtime
. This team can take pride in its effort, though it is little consolation today. Still, Georgia Tech did beat Duke soundly in September. It could not get out of its own way in losses to Virginia Tech and Miami, and that ended up costing it a spot in Charlotte.
7. North Carolina (6-6, 4-4; LW: No. 7).
The Tar Heels saw their five-game winning streak come to an end in a loss to Duke, but that should not take away from what this team accomplished in the second half of the season. There is not much doubt this team is playing some of the best football in the ACC right now and has rising stars on its roster in
Marquise Williams
,
Ryan Switzer
,
Bug Howard
,
Quinshad Davis
and
T.J. Logan
.
8. Syracuse (6-6, 4-4; LW: No. 11).
The Orange could not have waited any longer to become bowl eligible, running out all but six seconds on the season before
beating Boston College
with a last-second scoring pass. Though this was not as successful a season as last season, give the Orange props for standing on the verge of making consecutive bowl games for the first time since 1998-99.
9. Boston College (7-5, 4-4; LW: No. 8).
One week after winning a heart-stopper over Maryland, the Eagles lost a heart-stopper to Syracuse. Still, there is no way to look at this season as anything other than a rousing success. Boston College is going back to a bowl game and has instilled a toughness on this team that will be a signature as long as Steve Addazio is the coach.
10. Maryland (7-5, 3-5; LW: No. 10).
The Terps closed out their final ACC season with a 41-21
win over NC State
in another outstanding performance for quarterback
C.J. Brown
. Definite progress was made after two miserable losing seasons, but the Terps are headed into the unknown as they switch over to the Big Ten.
11. Pitt (6-6, 3-5; LW: No. 9).
The Panthers closed the season 2-4 and are lucky to be bowl eligible given the way they have played for a majority of the season. Special teams did them in again in a 41-31 loss to Miami to end the year. Among the myriad issues this team dealt with, it was an inability to run the ball that probably vexed it most.
Tom Savage
was simply asked to do too much.
12. Wake Forest (4-8, 2-6; LW: No. 12).
The Deacs closed another tough season with a
heartbreaking loss to Vanderbilt
. On the season, they lost four games by a touchdown or less. Wins in two of those would have gotten them to bowl eligibility again. Instead, coach Jim Grobe is facing another long offseason full of questions.
13. NC State (3-9, 0-8; LW: No. 13).
Nobody anticipated the Wolfpack would go from a bowl team to one of the worst teams in the ACC under new coach Dave Doeren. But injuries, scheme changes on offense and defense and instability at quarterback sent this team spiraling. The Wolfpack lost eight of their nine games by double digits.
14. Virginia (2-10, 0-8; LW: No. 14).
The Hoos completed their worst season since 1982 with a 10th straight loss to in-state rival Virginia Tech. Athletic director Craig Littlepage has given coach Mike London a vote of confidence headed into next season, but there cannot be any margin for error in 2014. London must win to save his job.
November, 24, 2013
11/24/13
9:00
AM ET
On a week in which Florida State and North Carolina scored 80, Duke tied its all-time record with nine wins, and Pitt and the Tar Heels gave the conference 10 bowl-eligible teams, there's plenty of love to go around. Here are our helmet stickers for Week 13.

Duke QB Anthony Boone:
After falling behind 14-0 to Wake Forest, the Blue Devils stormed back with Boone running the show. He completed 24-of-29 passes for 256 yards and three touchdowns with another seven carries for 57 yards on the ground. Two of Boone's TD passes landed in the hands of
Jamison Crowder
, who caught 10 passes for 121 yards in the game. It was win No. 9 for Duke, assuring the Blue Devils at least a share of the Coastal Division title. Another win next Saturday against UNC gives them a berth in the conference championship game.
North Carolina's offense:
My how things have changed for the Tar Heels. Granted, Old Dominion didn't present much of an obstacle, but North Carolina sure looks to be clicking on all cylinders with its fifth straight win.
Marquise Williams
threw for 409 yards and five touchdowns and ran for another 60, continuing to shine following
Bryn Renner
's season-ending injury.
T.J. Logan
ran for 137 yards and three TDs, and
Quinshad Davis
and
Ryan Switzer
combined for 242 yards receiving and three touchdowns.
Boston College RB Andre Williams:
Ho-hum, another 200-yard game for the nation's leading rusher. Williams' spot in the helmet stickers has become a weekly occurrence, and he was dominant once again in helping the Eagles to their seventh win. Williams rushed 32 times for 263 yards and two touchdowns, including a 72-yard scoring run in the fourth quarter that helped spark a late comeback. Williams also eclipsed 2,000 yards for the season -- the first FBS player to do so since UConn's Donald Brown in 2008.
Pitt DT Aaron Donald:
A front-runner for the ACC's defensive player of the year award, Donald was the catalyst in getting Pitt bowl eligible with a 17-16 win over Syracuse. Donald had nine tackles -- eight solo -- including 3.5 for a loss. He had two quarterback hurries, and his blocked PAT proved the difference in the game. For the season, he has a national-best 26 tackles for loss.
Miami's defense:
For the fourth straight game, the Hurricanes didn't look sharp offensively, but they managed a fairly easy win over Virginia thanks to a stellar defensive performance.
Tracy Howard
returned a pick for a score,
David Gilbert
rumbled 72 yards for a touchdown following a fumble recovery, and Miami's D finished with four takeaways in a 45-26 win.
November, 11, 2013
11/11/13
11:00
AM ET
Florida State is now in full control of its championship destiny. Miami needs to get its act together. Duke is delaying interest in basketball season in Durham (OK, probably not) and several surprise teams are making their pushes toward the postseason. All that and more in our ACC weekend rewind:
The good:
Let's face it: The ACC's surest path toward national respect is by winning it all, something it has not come close to doing in recent years. And, fair or unfair, the only way an ACC team was going to become a serious player in that title conversation this year was if Alabama or Oregon lost. So Stanford's Thursday night shellacking of the Ducks was surely celebrated by the folks of Tallahassee, Fla., who then watched their beloved
Florida State Seminoles
punctuate the weekend with a 59-3 stomping of Wake Forest. The formula is simple now for FSU: Just win, something the program has been doing with relative ease so far this season.
[+] Enlarge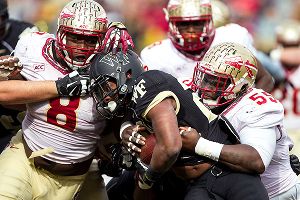 Brian Westerholt/Four Seam Images/AP ImagesFlorida State's defense throttled Wake Forest as the Seminoles continued their BCS title run.
The good, pt. II:
Play the way the Seminoles' defense did Saturday in Winston-Salem, N.C., and you get a second category in your honor. They held the Demon Deacons' quarterbacks to a total QBR of zero for the game, the first time that has happened for a team in a game this season. They forced seven turnovers, picking off six passes while returning turnovers for touchdowns on consecutive plays. Wake Forest's three quarterbacks combined to complete seven passes to their own players, which was just one more than they completed to FSU defenders.
As our David Hale noted
, from the 7:15 mark of the first quarter to the 10:31 mark of the second, FSU ran four offensive plays and scored 28 points.
The bad:
Miami entered Tallahassee last weekend as a top-10 team looking to make some noise if it could manage a respectable showing against the rival Seminoles. Two games later, and the Hurricanes have seen their Coastal Division frontrunner status fly away after consecutive losses to FSU and Virginia Tech, which turned three key Miami special teams gaffes into 21 points, resurrecting their own chances at making the ACC title game. Kudos to
Logan Thomas
for putting consecutive forgettable outings behind him by completing 25 of 31 passes for 366 yards with two touchdowns and no picks.
The ugly:
Virginia's 45-14 loss at North Carolina was its seventh straight loss, its most in a single-season since 1981. The Cavaliers had little margin for error to begin with, but did themselves no favors by surrendering a pick-six and a punt return for a score to the resurgent Tar Heels, who have now won three straight games and are knocking on the door of bowl eligibility at 4-5 after a 1-5 start. Craig Littlepage has voiced his support for Mike London so far this season, but you have to wonder how much that will change with each passing loss.
The clutch:
Sure, ruining Notre Dame's national title hopes in South Bend, Ind., last year would have been sweeter. But Pittsburgh's 28-21 home upset of the No. 23 Fighting Irish was nonetheless a high mark for the program, which recorded a signature win for second-year coach Paul Chryst and delivered the Irish's BCS bowl hopes an early knockout blow.
Ray Vinopal
keyed a strong defensive performance for the Panthers, coming up with a pair of fourth-quarter interceptions and forcing a fumble early. Now Pitt is just one win away from bowl eligibility with three games remaining.
The hat trick:
Andre Williams
outdid himself in Boston College's 48-34 win at New Mexico State, as he broke the 200-yard mark for the third time this season. Williams set an Eagles single-game record with 295 yards rushing on 30 carries, including a go-ahead 80-yard score and a game-sealing 47-yard touchdown on the next possession. What more can you say about the senior? He now leads the
nation
in rushing yards with 1,471. His 163.4 rushing yards per game are also a national best, nearly 11 full yards per game clear of the No. 2 man, Arizona's
Ka'Deem Carey
. BC is now 5-4, three wins past last season's total and, more importantly, a victory away from bowl eligibility.
The hat trick, pt. II:
Duke redshirt freshman
DeVon Edwards
had a day for the ages, recording two pick-sixes -- one of 25 yards, the other of 45 -- on back-to-back NC State plays within 16 seconds of each other and returning a kickoff 100 yards for a touchdown in the Blue Devils' 38-20 win, their fifth straight victory. Edwards became the first Duke player with two pick-sixes in a game since Leon Wright against Army in 2009 and became the first Blue Devil to return a kickoff for a score since
Jabari Marshall
against UConn in 2007. Edwards was named the national defensive player of the week by the Walter Camp Football Foundation for his efforts. He added 10 tackles, too.
The brick wall:
So, it's unlikely that anyone will confuse this year's Syracuse defense with 2011 Alabama, 2008 USC or any other greats of recent memory. But after losing to Georgia Tech 56-0 the Orange have been on a roll, pitching 113 straight minutes of shutout ball over the past two-plus games before
Brad Craddock
's 23-yard field goal got Maryland on the board with 1:10 left in the third quarter Saturday. That would be all the Terrapins could manage in a 20-3 loss to an Orange team now 3-2 in its first season of ACC play and 5-4 overall, just one win shy of bowl eligibility. Syracuse forced four turnovers and held Maryland to 292 yards of total offense, though the challenge gets amplified
just
a bit this weekend when it travels to Florida State.
The class act:
Hats off to
Marquise Williams
, who became North Carolina's starting quarterback for the rest of the season after
Bryn Renner
underwent season-ending shoulder surgery this week. Williams, normally No. 12, wore Renner's No. 2 in honor of the injured senior, and he completed 15 of 28 passes for 185 yards with two touchdowns and one pick while adding 46 rushing yards and another touchdown in the Tar Heels' win over Virginia. Oh, and he caught a 29-yard touchdown pass for good measure, with
Quinshad Davis
it to make Williams the first North Carolina quarterback to catch a touchdown pass since 1984, when Kevin Anthony did the same against Virginia.
The headaches:
Good luck trying to sort out the potential scenarios for a Coastal Division winner after Virginia Tech's upset of Miami and Duke's win Saturday, which helped leave the division with four teams with two losses apiece. And good luck trying to sort out all of the possible bowl destinations for a number of ACC teams after a week in which conference newcomers Pitt and Syracuse inched their way closer to postseason play with upset wins to get to five victories apiece. Boston College got to five wins, too, while Maryland remains at five after the loss to the Orange. North Carolina is making a push at 4-5 and on a three-game winning streak, and there are already six bowl-eligible teams. So yes, there could be 11 teams bowling in the ACC this winter. Not bad.
November, 10, 2013
11/10/13
9:00
AM ET
How about a few helmet stickers for a job well done:

Boston College running back Andre Williams.
The best rusher in the ACC topped himself in a 48-34 win over New Mexico State. Williams ran for a career-high 295 yards, setting the school single-game rushing record. Montel Harris set the old mark of 264 yards in 2011. Williams now owns two of the top three single-game marks in school history. His performance late in the game was outstanding. With the game tied at 34, Williams scored the game-winning touchdown on an 80-yard run. He added a 47-yarder on the next possession to officially put the game out of reach. Williams has three 200-yard games this season.
Duke safety DeVon Edwards.
The redshirt freshman became the only FBS player in the last 10 years with three non-offensive touchdowns in a game in a 38-20 win over NC State. Edwards scored on a 100-yard kickoff return and then returned two interceptions for scores on back-to-back offensive plays. The 100-yard kickoff return tied for the second longest in Duke history. His 218 total yards ranks second all-time among Duke freshmen in a single game (Desmond Scott, 259 yards against Wake Forest in 2009).
Florida State defense.
The Seminoles had perhaps the most dominating defensive performance in the ACC this season, forcing seven turnovers and scoring twice in a 59-3 win over Wake Forest. The Noles tied a school record with six interceptions -- one returned for a touchdown.
Jalen Ramsey
also returned a fumble for a touchdown, giving the Noles five defensive scores this season, tied for the most since 2007. Freshman safety
Nate Andrews
, making his first career start, had two interceptions (including the score) and forced the fumble Ramsey returned for the TD. Wake Forest had a Total QBR of 0, the only team this season with a team Total QBR of 0 in a game. Florida State has now forced a turnover in 14 straight games.
North Carolina QB Marquise Williams.
North Carolina players dedicated their game against Virginia to quarterback
Bryn Renner
, lost for the season with a shoulder injury. Williams paid the ultimate tribute, wearing Renner's No. 2. He then went out and had a monster game, with passing, rushing and receiving touchdowns in the 45-14 win. Williams completed 15 of 28 passes for 185 yards; rushed 16 times for 46 yards; and caught a 29-yard touchdown pass from
Quinshad Davis
. He is the first Carolina quarterback to catch a touchdown pass since Kevin Anthony in 1984 -- against Virginia.
Pitt safety Ray Vinopal.
The Panthers may not have beaten No. 23 Notre Dame 28-21 without Vinopal, who had two critical interceptions in the fourth quarter to key the impressive win. On the first, Vinopal intercepted
Tommy Rees
in the end zone to end one drive. On the second, he returned his interception down to the 5, setting up the game-winning Panthers score. Vinopal also had a forced fumble early in the game, making him solely responsible for all three Irish turnovers.
Virginia Tech quarterback Logan Thomas.
For the second straight week, Thomas had over 400 yards total offense. But in a 42-24 win over Miami, the number that stood out was zero. Thomas combined his terrific passing game -- 25-of-31 for 366 yards and two scores -- with no turnovers. That has been the familiar bugaboo the last two weeks, both losses. Thomas had eight turnovers next to his name. But against Miami, he had his best game of the season with his team's Coastal Division hopes on the line. Thomas came through big time.
August, 23, 2012
8/23/12
4:00
PM ET
Now that we are closing in on the start of the season, we have a much better idea of how many true freshmen could make an impact in the ACC this season based on preseason practice time and early depth charts.
Maryland could end up playing the most, and having players who make the biggest impact. You have quarterback
Perry Hills
starting in place of the injured
C.J. Brown
. Highly touted athlete
Stefon Diggs
has had an outstanding preseason camp. Don't forget about running backs
Albert Reid
and
Wes Brown
, who also have looked really good.
Here are a few young players to keep an eye on at each school.
Boston College: Justin Simmons, DB.
Defensive back is an area where Boston College needs help, especially after the loss of
Al Louis-Jean
, who's out six to eight weeks with a foot injury. Simmons already has made his presence felt. In a scrimmage last weekend, he had two interceptions. Also watch for defensive back
Bryce Jones
and linebacker
Steven Daniels
.
[+] Enlarge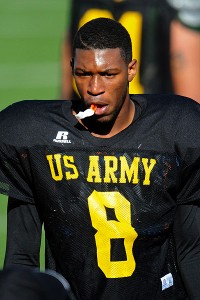 John Albright / Icon SMI The versatile Travis Blanks may line up at a number of positions on defense for the Tigers.
Clemson:
Travis Blanks, DB.
One of the top defensive backs in the country out of high school, Blanks enrolled early and had an impressive spring showing. He has followed that up with a great preseason, and will line up in a variety of positions -- nickelback, cornerback and some linebacker as well. On offense, watch for
Germone Hopper
, who has had some pretty explosive plays this fall.
Duke: Jela Duncan and Shaquille Powell, RBs; Ross Martin, PK.
Duncan and Powell have turned heads during the preseason, and coach David Cutcliffe said he would feel comfortable using both players in the opener against FIU. Martin is sure to get plenty of game experience as the starting kicker this year. Others to watch: receiver
Max McCaffrey
, tight end
Erich Schneider
and safety
Dwayne Norman
, who had an interception return for a touchdown in one scrimmage.
Florida State:
Ronald Darby, CB.
Do not be surprised if Darby ends up starting in the spot vacated by
Greg Reid
. Darby and
Nick Waisome
are competing for the starting job. Coaches like both players, but there is
something special
about Darby. Said coach Jimbo Fisher: Darby is "going to be a very, very good one." Also watch for defensive tackle
Eddie Goldman
and tight end
Christo Kourtzidis
.
Georgia Tech:
Anthony Autry and Micheal Summers, WR.
Georgia Tech only has four other scholarship wide receivers, so that increases the chances for Autry and Summers to play this season. Autry seems to have a slight edge over Summers. Others to watch: defensive back
D.J. White
.
Maryland:
In addition to Hills, Diggs, Brown and Reid, several others could make an impact this year. Punter
Brad Craddock
is competing for the starting position with redshirt freshman
Nathan Renfro
; and cornerback
Sean Davis
could be starting on opening day because he has done well, and there are some injuries on defense.
Miami:
Ereck Flowers, OL.
Flowers is listed as a starter right now at right tackle, helped in part because of
Seantrel Henderson
's absence. Offensive line coach Art Kehoe has been
extremely impressed
. Others to watch: defensive back
Tracy Howard
and running back
Duke Johnson
. Howard is listed on the two-deep behind
Ladarius Gunter
but has drawn raves so far and so has Johnson, who should also return kickoffs this year.
Deon Bush
is in the mix for a starting safety spot.
North Carolina: Quinshad Davis, WR.
Davis missed some early practice time because of a medical issue but has returned in the last week and has a big chance to make some noise. The Tar Heels are lacking depth at this position, and the way Larry Fedora likes to spread the ball around, he will take as many good receivers as he can.
NC State:
Charlie Hegedus, WR.
Receiver is a position of need for the Wolfpack, and Hegedus has seen more reps during fall camp with the injury to
Bryan Underwood
. One player NC State hopes you do not see this year is backup quarterback
Manny Stocker
, a true freshman behind veteran
Mike Glennon
.
Virginia:
Maurice Canady, CB.
Coaches are extremely high on Canady, who is in the mix to earn a starting spot in a secondary that has to be rebuilt this year. He has been working with the first team recently. Others to watch:
Michael Moore
at outside linebacker, and
Eli Harold
at defensive end.
Virginia Tech: J.C. Coleman, RB; Donaldven Manning, DB.
Both players enrolled in January and are virtual locks to play this season. Coleman has separated himself from another true freshman,
Trey Edmunds
, despite a hand injury. He has had an outstanding fall camp. Manning has had to deal with a hamstring injury, but his early enrollment works in his favor.
Wake Forest:
The Deacs rarely play true freshmen. But if there is one player who has a shot this year, it is defensive end
Tylor Harris
, who has stood out this fall for his pass-rushing ability -- something Wake Forest needs help improving this year.
February, 3, 2012
2/03/12
9:00
AM ET
First-year North Carolina coach Larry Fedora had some unique recruiting obstacles to overcome in his first class, namely a shortened recruiting calendar because of his hiring date, and the uncertainty of the program's ongoing NCAA saga. UNC is still waiting to hear back from the NCAA to find out if it will face further sanctions, but Fedora managed to pull in a solid, 23-member class with four four-star recruits. I spoke with Fedora on Wednesday about his first recruiting class. Here are the highlights of our conversation:
[+] Enlarge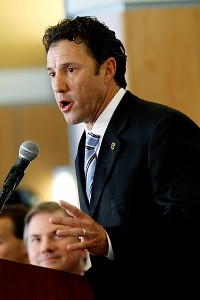 AP Photo/Jim R. BoundsUNC coach Larry Fedora did not have a lot of time for recruiting but landed a solid class.
What was the biggest challenge for you in this first recruiting class?
Larry Fedora:
I would say for us it was probably trying to dispel some of the myths that were being told to most of the kids about what was going to happen here at the University of North Carolina. That was one of the things we had to combat with each and every kid. It is what it is. You just do the best job you can, but the thing we did was be honest with the kids and once you come on campus, I think the university sells itself. That was the biggest struggle, though.
Did you think you would have more answers to give them by this point?
LF:
I had no idea. I had no idea, didn't know one way or the other. I don't know what the timeline is, I just know eventually there will be something said and we'll deal with it.
Where do you feel like you guys filled the biggest needs?
LF:
We only had two quarterbacks on scholarship here, so that was something that was a tremendous need. You've got to have a quarterback. We did that. Because of the style of offense that we're bringing in here, we have a shortage of wide receivers. We were able to bring more in and
Quinshad Davis
, the one today, was a huge one for us. The Gatorade Player of the Year out of the state of South Carolina. And then on defense, we signed three guys who are going to play in the secondary for us, and because we're going to a 4-2-5, we needed secondary guys. I really think we did a nice job in the secondary, even though we need more, I still think we did a nice job in that short period of time.
The timeline of what you had to recruit, was it enough to get done what you wanted to get done?
LF:
It's never enough time. There's not enough time in a day, there's not enough time in a week. When we got in here on the second day of January, you're in a dead period. And then you're out for four days, and then you're back into a dead period during the national convention. We were only able to see these kids three times face to face. That makes it tough when you're trying to build a relationship with a kid you don't know and you're trying to convince a kid you can be trusted.
Overall were you pleased with the way this class shaped up?
LF:
I'm extremely pleased. I really am. We've got 23 kids who are new Tar Heels, and I'll be honest with you, I don't know what the rankings are, I haven't seen any of that and don't really care. It's going to be about two years down the road that we're going to figure out if these kids can play or not.
How many did you have to retain?
LF:
I think there were 14 kids committed when we came in, give or take. They were a priority for us. We went after them as if, well, they didn't know us. So in our eyes, they weren't committed. They already had a love for the university. We had to sell them over as a staff.
As a coach coming in, how difficult is that, not to be able to handpick all of your guys?
LF:
Well, it is what it is, Heather. With the time constraint like that, unless you had been in that area recruiting all of those kids, you're not going to know them. So when we first get in, we just throw on the film like crazy and start evaluating and evaluating them, figuring out who can help us win. Once we determined that, we just went after them.
Do you think that you guys have enough in place to be a contender for the Coastal Division in 2012?
LF:
I would love to say yes, but I don't know. I really have no idea because I haven't even worked with the kids we have on campus right now. That's just too hard for me to answer.
Fair enough. What was the biggest surprise today for you?
LF
: It would have to be Quinshad Davis. He was the kid out of South Carolina. We really had no idea one way or the other, and he didn't do that until around noon today, so we were obviously sitting around on pins and needles. We tried to talk the kid into, 'Hey, sign the papers at 7, send them in, and then you can do your signing at noon at the school.' He said, 'Well, if I did that my mom would have to know.' He didn't even want his mom to know. I said, 'Well, blindfold your mom and have her sign it and send it.' He wouldn't do that (Fedora laughed). He didn't want anyone in his family to know."
How much are you really changing there? You're talking about 4-2-5, and the offensive philosophy, just how much of an overhaul are you undertaking there?
LF:
We're going to change everything, basically. We're going to change the culture. We're going to change philosophies on offense, defense and special teams. We're going to change everything and everything that's been done. We're going to do it our way, and it's going to be the North Carolina way.
How many of these recruiting classes will it take before you have the program where you want it to be?
LF:
That's a great question because for me right now, there's so much unknown. I can't even walk into a team meeting and tell you every person's name, much less tell you what kind of player they are. I haven't been on the field with them. That is so hard for me to say. I wish I could tell you one recruiting class, because that's my expectation. Let's win, and let's win yesterday -- not a year from now, not two years from now, not three years from now. I want to win now. That's the kind of effort and kind of work ethic I'm going to put into it.