December, 4, 2013
12/04/13
10:30
AM ET
Michigan State stands at No. 10 in the BCS standings, so it's obviously a strong contender for a BCS Bowl -- even if it doesn't knock off Ohio State in the Big Ten title game.

The Spartans (11-1, 8-0 Big Ten) must remain within the top 14 to qualify for a BCS bowl, so a loss wouldn't necessarily disqualify them. Orange Bowl officials were on hand during Saturday's game, and the Rose Bowl could always elect to stick with the Big Ten, even though it wouldn't be obligated if the Buckeyes move on to the national title.
There's obviously still quite a few "what ifs" to this postseason picture, but the fact is that Michigan State is in great shape right now. Here's a closer look at just how it's gotten here and how close it was from 12-0:
Where it all started:
Preseason expectations were all over the map. One media outlet would say the Spartans
belonged in the top 15
, and then the coaches' poll would put them
at No. 28
. Another actually predicted a
spot in the Rose Bowl
, while this blog labeled MSU as the sixth-best team …
in the conference
.
Everyone agreed on a few things, however. The defense would be among the best in the nation, while the offense would decide just how far this team would go. And that's exactly what happened.
The Spartans' offense started off slow -- incredibly slow -- while the defense shined. In the first two games, a four-way crisis at quarterback loomed but the defense picked up the slack by scoring four touchdowns to the offense's two. The dust eventually settled at quarterback,
Connor Cook
came out on top, and tailback
Jeremy Langford
emerged around Game 6. Together, the Spartans' offense was no longer a liability.
Where it went wrong:
If it wasn't the Sept. 21 loss to Notre Dame, the hype surrounding the Spartans might be nearly as large as the hype around Ohio State. That narrow
17-13 loss
is what stopped Mark Dantonio's squad short of perfection.
The Irish took advantage of a trick play in the second half, when MSU receiver
R.J. Shelton
tossed an interception that led to the go-ahead touchdown. Mistakes and penalties plagued the Spartans, and they just didn't have the offensive firepower at that point in the season to mount a comeback.
Where it got back on track:
After the Spartans' lone loss, they bounced right back against a tough Iowa defense on the road. Cook went 25-of-44 for what was then a career-high 277 yards, with two touchdowns and one interception against the nation's No. 9 defense.
Cook never looked back. At one point during the conference season, he even boasted a 93-plus QBR on third downs. The Iowa game was the turning point for the sophomore quarterback and, as a result, one of the turning points for Michigan State.
The heart of the Spartans' Big Ten schedule was at the very end, and they came out on top against Michigan, Nebraska, Northwestern and Minnesota. They wouldn't gotten nearly that far if Cook and the offense had continued to sputter.
September, 23, 2013
9/23/13
11:00
AM ET
The constant talk about the Big Ten's national perception and performance against other conferences can get a bit tiresome.
But there's also no denying that the league has an image problem that stems from a lack of noteworthy wins. And with nonconference play all but wrapped up (three nonleague games remain -- Illinois versus Miami (Ohio) and Purdue versus Northern Illinois this week, and BYU at Wisconsin in November), we can make a few judgments.
[+] Enlarge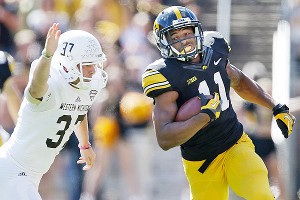 AP Photo/Charlie NeibergallIowa receiver Kevonte Martin-Manley returned two punts for touchdowns in the Hawkeyes' rout of Western Michigan.
The good news is that there weren't many total embarrassments, though Michigan certainly flirted with a couple the past two weeks. The not-so-good news: The Big Ten finished an underwhelming 9-8 against BCS AQ teams. That record is even less impressive when you consider the caliber of the competition.
The best win remains Michigan's Week 2 triumph over Notre Dame, which is the conference's only victory over a ranked opponent for now. Other BCS AQ scalps include California (twice), Cincinnati, Connecticut, Iowa State, South Florida and Syracuse (twice). The losses were to Arizona State (allegedly), Cincinnati, Notre Dame (twice), Missouri, UCF, UCLA and Washington.
The Big Ten went 3-2 against the AAC, 2-0 against the ACC (Syracuse), 1-0 against the Big 12 (Iowa State), 2-3 against the Pac-12, 0-1 against the SEC (Missouri) and 1-2 against Notre Dame. As you can tell, the league didn't exactly play the cream of the crop in the ACC, Big 12 or SEC. The Big Ten's slate was
low on marquee games
, and the conference didn't win any of the ones that were there, save for going 1-for-3 against what looks like a decent but not great Notre Dame team.
Luckily, conference play is almost here, and that will consume us for the next couple of months. But if the Big Ten wants to earn more respect nationally, it will have to wait until bowl season for another shot.
Take that and rewind it back ...
Team(s) of the week:
It's a tie between Iowa and Minnesota. The
Hawkeyes beat Western Michigan 59-3
in their most complete performance in ages, while the
Gophers dismantled San Jose State
and its NFL-caliber quarterback 43-24. Bring on Floyd of Rosedale!
Worst hangover:
Michigan State hoped that maybe, just maybe, it had found a solution to its passing game woes when
Connor Cook
and the offense rolled against Youngstown State two weeks ago. Instead, the Spartans' passing game looked just as bad as last year in a
17-13 loss at Notre Dame
. And the quarterback controversy is not even over, as coach Mark Dantonio strangely went with
Andrew Maxwell
on Michigan State's final possession -- which unfolded just as you would have expected, with three incomplete passes, two penalties and a Maxwell scramble that came up far short of the first-down marker on fourth-and-long.
The Spartans also killed the small momentum they had going in the second half by calling for a halfback pass from
R.J. Shelton
, who threw an interception into tight coverage. Apparently, Michigan State failed to learn from its rival last year, but how about everyone in the Big Ten agree not to call halfback passes in South Bend for a while? Dantonio said he made the Shelton pass call, and he likes to name his trick plays after kids' movies. Call that one "The NeverEnding Story," because that's what MSU's offensive disaster has become.
Big Man on Campus (Offense):
Minnesota QB
Mitch Leidner
made his first career start in place of the injured
Philip Nelson
, and he didn't disappoint. Leidner ran for 151 yards and four touchdowns against San Jose State. The 6-foot-4, 233-pounder showed off some speed when going around the edge and lots of toughness as he continually pushed forward for more yards after first contact.
Big Man on Campus (Defense):
Iowa cornerback
B.J. Lowery
had a pair of pick-sixes against Western Michigan.
Big Man on Campus (Special Teams):
This one's an easy call: Iowa's
Kevonte Martin-Manley
returned a pair of punts for touchdowns in the second quarter, piling up 184 total punt return yards. He became the third Big Ten player to have two punt return touchdowns in the same game and the first since 1983 (Ohio State's Garcia Lane).
Fun with numbers (via ESPN Stats & Information):
Your new Big Ten leader in Total QBR: Ohio State's
Kenny Guiton
, who's No. 10 nationally with an 86.7 rating (based on a 100-point scale). A fan asked on Twitter on Saturday night whether the Buckeyes' Guiton and
Braxton Miller
might be the best two quarterbacks in the league. A strong case could be made for that. ... Wisconsin's
Melvin Gordon
leads the nation in rushing with 624 yards. What's crazy is that the No. 2 rusher, Rutgers'
Paul James
, trails Gordon by 51 yards and has 25 more carries on the season. Gordon is still averaging just over 13 rushes per game. ... Michigan State in a nutshell: The Spartans rank third nationally in total expected points added by the defense at 74.32; the offense, meanwhile, has contributed negative-six expected points added. ... Four Big Ten teams (Wisconsin, Ohio State, Minnesota and Nebraska) rank among the top five in the FBS in rushing yards. Five league teams (Iowa, Nebraska, Minnesota, Northwestern and Ohio State) rank in the top 10 in number of total rush attempts, with the Hawkeyes leading the way at 218 (third nationally). ... Problem not solved: Nebraska has fumbled eight times this year, more than every team except Idaho. The only good news is that the Huskers have lost only four of them. ... Penn State's defense has allowed only 12.8 first downs per game, ranking fourth in the FBS, just behind Michigan State. ... An overlooked part of Minnesota's early success: Gophers opponents have started their possessions inside their own 25-yard line after a kickoff 17 times this season, the most in the nation. Thank kicker
Chris Hawthorne
and the coverage unit for that. By comparison, Michigan's opponents have started a drive after a kickoff inside their 25-yard line just five times this season.
Stern discipline:
Five days after the Pac-12 reprimanded the officials who botched the ending of the Wisconsin-Arizona State game and promised "additional sanctions" for that crew, the same group worked the Utah-BYU game on Saturday night. Yep, that's some punishment, having those officials call an intense in-state rivalry featuring a Pac-12 team on the road. BYU fans didn't like the calls that went against their team in the
20-13 Utes win
and
pelted the officials with trash after they left the field
. That was deplorable by those fans, but as far as we can tell, it was the only real punishment those refs received. The Pac-12 refs aren't the only ones who mess up, though. That was a Big Ten unit hosing Michigan State on those pass interference calls at Notre Dame.
Strangest moment(s):
San Jose State's
Harrison Waid
tried to get revenge for battered punters everywhere after
he got pancaked on a block by Minnesota's
Derrick Wells
. Waid hopped up and tried to go after Wells. Alas, that's a battle a punter will never win, and he got ejected from the game. Yes, a punter was kicked out for fighting.
Meanwhile in Columbus ... as if Ohio State needed any extra help against Florida A&M, running back
Jordan Hall
used umpire Jim Krogstad as a blocker and then a bowling pin
on his way to a touchdown. Maybe FAMU could let Krogstad wet his beak on some of the $900,000 Ohio State paid the school for that 76-0 steamrolling.
Say what?
: Remember when Penn State coach Bill O'Brien called his team a bunch of "fighters" on national TV at the end of last year's Wisconsin finale, but several people
thought he said a different "F" word
? Well, O'Brien appeared to almost use another "F" word
during his postgame news conference Saturday
before catching himself. O'Brien was then asked if he was going to say "fighters" again. "We do have a bunch of fighters," he said. "I don't know anyone who debates me on that. It's like my mom -- she still doesn't believe I said 'fighters.' Do I look like the type of guy who swears?"
September, 21, 2013
9/21/13
10:16
PM ET
SOUTH BEND, Ind. -- The end result, which is all that matters, looked dishearteningly similar for Michigan State.
Stop me if you'd heard it before: an impressive (yet takeaway-less) defensive performance wasted, a smattering of special-teams shortcomings, an offense unable to finish drives, catch enough passes or make enough clutch plays ... and a few points shy of a momentum-building win. Michigan State lost five Big Ten games by a total of 13 points last season, failing to make up the inches coach Mark Dantonio often talks about, the ones separating wins and losses.
It would be easy to file
Saturday's 17-13 loss to No. 22 Notre Dame
with last year's near misses. The Spartans couldn't quite overcome the Irish, some trigger-happy officials (more on them later) and, ultimately, themselves.
The outcome looked familiar, but it didn't feel that way.
"It does not feel the same," Dantonio said. "I don't know how it feels. You lose a close game, it's tough. Last year against Notre Dame, I felt like we were completely outplayed [in a 20-3 loss]. ... I felt like this time, we were [in the game] right down to the end."
The Spartans were more than in the game. They outperformed Notre Dame in several areas, finishing with more first downs (19-14) and more yards (254-224). A one-dimensional Notre Dame offense entered the red zone just once in the second half.
But the Fighting Irish held the edge in the only category that matters.
"Obviously Notre Dame won the game," Dantonio said, "so you have to say they outplayed us."
[+] Enlarge
Brian Spurlock/USA TODAY SportsMichigan State's DBs played tough in coverage, but that toughness too often resulted in pass interference penalties.
Michigan State's toughest opponent Saturday, other than the Big Ten officiating crew, was itself. The Spartans had four possessions reach the red zone but emerged with only 13 points.
Kevin Muma
hooked a 30-yard field-goal attempt on MSU's first series. After reaching the Irish 14-yard line early in the fourth quarter, Michigan State went backwards, losing five yards on a rush and another five on a false start penalty.
MSU's most painful SIW -- that's self-inflicted wound, for the coaching cliche-challenged -- came late in the third quarter, at a time when the offense seemed to have a rhythm, especially on the ground. Facing first-and-10 from its own 47-yard line with the game tied at 10-10, Michigan State went razzle dazzle, putting the ball in the hands of true freshman receiver
R.J. Shelton
, who threw deep downfield into double coverage. Irish safety
Matthias Farley
made the easy interception.
The Spartans lost possession -- and momentum.
No,
Michigan offensive coordinator Al Borges
didn't hack into Michigan State's playbook. The call actually came from Dantonio, who has a defensive background but has summoned some memorable trick plays in the past, including the "Little Giants" fake field goal to
beat Notre Dame in 2010
.
"We had a little bit of rhythm, but I also thought we needed a big play," Dantonio told ESPN.com. "We needed to be able to go down the field, which we had not been able to do. They were overplaying RJ because he's run some jet sweeps in the first three games. I thought it was the right time."
Michigan State fans will question the decision, but they have far more questions for the officials, who called 10 penalties on the Spartans, including four pass interference penalties and defensive holding.
Three of the fouls extended drives that led to Notre Dame touchdowns. One nullified a
Darqueze Dennard
interception. None of the P.I. penalties was an obvious mauling. Spartans defenders weren't out of position.
Dantonio didn't directly criticize the officials but defended the defensive backs' technique -- "We played the ball the way we teach them to play the ball," he said -- and their right to go after the ball.
Asked if he had ever seen so many P.I. calls, Dantonio said. "No, never. I guess that's why we should stop talking about it right there."
Notre Dame repeatedly challenged Michigan State with back-shoulder throws. Irish coach Brian Kelly felt if they weren't completed, a flag likely would fly.
"We'll continue to do what we do," Dennard said, "basically press, man up, and we do what we do."
Spartans defensive tackle
Tyler Hoover
admitted the penalties were tough to handle, but maintained that, "You've got to make plays. It's not the refs. It's going to be us, all the time."
Other than forcing turnovers, Michigan State's nationally ranked defense did enough. Three times, it forced Notre Dame punts in the fourth quarter, giving the offense a chance to drive for the game-winning touchdown.
The offense had a total of one first down and 20 net yards on those possessions. But the earlier drives, the ones that went deep into Notre Dame territory, stung more.
"We've got to score touchdowns," quarterback
Connor Cook
said. "It's the name of the game."
Cook was pulled for the game's final possession in favor of senior
Andrew Maxwell
, who threw three incomplete passes before trying to scramble on fourth-and-20. Although Cook had taken a hit to his shoulder, the injury didn't play a role in the decision.
"I was a little disappointed," Cook said. "They said I was a little inaccurate, but I would have wished that the coaches had faith in me to keep me in there in a critical situation like that."
Quarterbacks coach Brad Salem told Cook afterward that Cook remains the No. 1 signal caller. Dantonio was noncommittal.
"That's something we'll have to answer at a later date," he told ESPN.com. "The only thing I can tell you is you better do something with the football. At some point in time, 13's not enough."
Michigan State has two weeks to sort out its quarterback situation, two weeks to build on a surprisingly solid rushing performance, two weeks to clean up the kicking game and find ways to complement suffocating defense with takeaways after recording eight in the first three games. The Spartans can be a dangerous team in a wide-open Big Ten, especially without Ohio State or Wisconsin on their schedule.
Dantonio and his players were proud of Saturday's performance, despite the result. And it could be a springboard.
"All our goals are still in front of us," Dennard said. "We still can go to Indy for the Big Ten championship game."
Michigan State will have to get past Michigan, Nebraska, Northwestern and the rest of a formidable Legends division to reach Naptown.
Its biggest obstacle is still itself.
March, 1, 2013
3/01/13
9:00
AM ET
Spring practice has begun in the Big Ten, so let's take a look at what to expect from each Legends Division team this spring.

IOWA
Spring start:
March 27
Spring game:
April 27
What to watch:
1. Questions at quarterback:
The Hawkeyes played
James Vandenberg
for every snap last season, and now that he's gone, they have no quarterbacks on the roster with any game experience. Sophomore
Jake Rudock
has been viewed as Vandenberg's successor, but he's still a mostly unknown quantity who should get pushed in the spring by former junior college transfer
Cody Sokol
and redshirt freshman
C.J. Beathard
. Whoever wins the job will be tasked with improving an Iowa passing game that finished with a Big Ten-worst seven touchdown passes in 2012.
2. Skills competition:
While the quarterback race is vital, Iowa also needs standouts to emerge at the other skill positions to fix an offense that sputtered under first-year coordinator Greg Davis. The wideout corps, which struggled to get separation or make big plays, now is without departed senior
Keenan Davis
, who tied for the team lead with 571 receiving yards. There's a reason why Iowa signed five receivers in the 2013 class. The running back position has strength in numbers, with
Damon Bullock
,
Mark Weisman
,
Jordan Canzeri
and
Barkley Hill
all competing for carries this spring. The Hawkeyes just need to finally get some luck in the health and off-field departments at that position while hoping one player emerges as the go-to back.
3. Transition game:
Iowa long had one of the most stable staffs in the country. But coach Kirk Ferentz added three new assistants this offseason for the second straight year, giving the program some fresh voices but also causing some potential bumps in transition. The offense in particular didn't mesh well last season under Davis, who'll look for solutions this spring. Ferentz has new coaches overseeing the running backs (Chris White) and receivers (Bobby Kennedy) and a new defensive assistant who'll work with the linebackers (Jim Reid). The Hawkeyes hope they can inject some life into a program that has seen its fortunes dip the past couple of seasons, including last year's 4-8 disaster.

MICHIGAN
Spring start:
March 16
Spring game:
April 13
What to watch:
1. Devin Gardner as starter:
Denard Robinson
is gone and Gardner is the presumed Michigan starter for the first time. How he adjusts to that -- and how Michigan offensive coordinator Al Borges develops more of a pro-style offense around him -- are a major launching point for the Wolverines next season.
2. Offensive line play:
Michigan is replacing the entire interior of its offensive line and while there is a lot of young talent there, none of the potential candidates have any experience. Michigan offensive line coach Darrell Funk said he would like to have at least one of the three slots, if not two, settled by the end of spring.
3. Linebacker competition:
The deepest position on Michigan's roster also has the most competition.
Jake Ryan
at strongside linebacker is almost a given, but the middle and weak side slots are wide open. A bevy of freshmen and sophomores, along with returning starter
Desmond Morgan
, will vie for playing time in what will be a likely increased rotation in the fall.
--
Michael Rothstein, WolverineNation

MICHIGAN STATE
Spring start:
March 19
Spring game:
April 20
What to watch:
1. Still Maxwell's house?:
Senior
Andrew Maxwell
started all 13 games last season at quarterback but was pulled in favor of freshman
Connor Cook
for the deciding drive of the Buffalo Wild Wings Bowl. The Spartans will open up the competition under center, with
Tyler O'Connor
and eventually incoming freshman
Damion Terry
joining the fray. Though he has a big edge in experience, Maxwell will have to prove that he can greatly increase last season's 52.5 completion percentage to hold onto the job through the spring.
2. Replacing Bell:
Saying running back
Le'Veon Bell
was a big part of the 2012 offense is like saying Tom Hanks had substantial role in "Cast Away." Bell carried the ball 382 times last year, more than any back in the country, and gained 1,793 yards. There is no ready-made in-house replacement, as leading returning rusher
Nick Hill
had just 21 rushing attempts last year and may be too slight (5-foot-8, 190 pounds) to be an every-down back. Junior
Jeremy Langford
will move back to the backfield after seeing time at receiver. Signees
Delton Williams
,
Gerald Holmes
and
R.J. Shelton
might wind up with the job.
3. New playcaller in town:
Mark Dantonio has yet to officially announce a replacement for former offensive coordinator Dan Roushar, who recently left for an assistant's post with the NFL's New Orleans Saints. But reports are that former Ohio State offensive coordinator Jim Bollman has been tapped to lead the Spartans' offense. Can Bollman, whom Buckeyes fans criticized as being too conservative, find the solutions for what was a dreadful attack in 2012? The Spartans' defense once again enters spring ball with very few question marks. Michigan State's hopes rely heavily on how much progress it can make on the offensive side.

MINNESOTA
Spring start:
March 26
Spring game:
April 27
What to watch:
1. Defensive back end:
The Gophers lost two outstanding cornerbacks in
Michael Carter
and
Troy Stoudermire
, as well as starting linebackers
Mike Rallis
and
Keanon Cooper
. Jerry Kill has tried to address this during recruiting, adding a pair of well-regarded junior college linebackers (
De'Vondre Campbell
and
Damien Wilson
) as well as touted high school corner
Jalen Myrick
. But some holdovers from last season's roster will have to step into bigger roles this spring.
2. The full Nelson:
True freshman
Philip Nelson
took over the quarterback job midseason and now will enter practice as the starter. He showed flashes of immense potential but still has a lot of things to learn. Kill has said Nelson is no lock to start in 2013 and that he'll face legitimate competition from redshirt freshman
Mitch Leidner
and incoming freshman
Chris Streveler
. Nelson has the inside track for now but must hold onto it.
3. Receiving line:
The Gophers don't have a returning wideout who had more than 375 receiving yards last year, though
Derrick Engel
showed promise with a 100-yard day in the Meineke Car Care Bowl of Texas. You can blame some of that on the turnover and youth at quarterback. But Minnesota needs much better play at receiver to become a more balanced offense. Improvement by guys like
Devin Crawford-Tufts
and
Isaac Fruechte
this spring will help, as would some immediate contributions from recruits
Eric Carter
and
Drew Wolitarsky
.

NEBRASKA
Spring start:
March 2
Spring game:
April 6
What to watch:
1. Youth movement on defense:
The Cornhuskers lost eight starters from last season's defense and will hope that some athletic young players are ready to step in. Guys like
Charles Jackson
,
Jonathan Rose
and
Thomas Brown
will be given long looks this spring. Nebraska coaches are hopeful that what they lack in experience, they'll make up for in speed. There's no bigger key for Big Red than having its young defenders make great strides in the spring.
2. Safety issues:
The safety spot is an important one in Bo Pelini's scheme, and the Huskers lose both starters and a couple of top reserves from that position. Jackson will be given a look there, and the staff is high on
Corey Cooper
. But no starting jobs are locked down.
3. Martinez's progression:
Senior quarterback
Taylor Martinez
won't be involved in a lot of live drills, and the spring will be a time to get freshman
Tommy Armstrong
some reps. But Martinez still needs to fine-tune a few parts of his game, most notably his tendency to force throws in key spots. He made great progress last offseason through extra hours of hard work; a similar leap this spring would make Martinez one of the very best players in the country.

NORTHWESTERN
Spring start:
Feb. 27
Spring game:
April 13
What to watch:
1. The quarterback duo:
The Wildcats spent large parts of last season rotating
Kain Colter
and
Trevor Siemian
, using Siemian for more obvious passing situations. Will that continue this season? Colter needs to improve as a passer to become a better option as an every-down quarterback, and Northwestern's downfield passing game must get better. You can bet there will be a lot of eyes on Colter and Siemian this spring to see what offensive coordinator Mick McCall has planned.
2. Secondary concerns:
The news that cornerback
Nick VanHoose
won't practice this spring because of injury could be a blessing in disguise. The Wildcats' secondary struggled when he was hurt last season, so this may provide an opportunity for others to get better without him.
Jimmy Hall
and
Traveon Henry
are youngsters who should see plenty of reps this spring in the defensive backfield.
3. Offensive line makeover:
Three starters are gone from last season's offensive line, including both guards and left tackle
Patrick Ward
.
Jack Konopka
is the favorite to succeed Ward but will miss the spring with injuries, while 2012 signee
Adam DePietro
is among those who could step in at guard. Northwestern should have one of the best running games in the Big Ten in 2013 but will need its line to begin to take shape this spring.
February, 7, 2013
2/07/13
11:00
AM ET
Michigan State signed a relatively small class this year, with just 18 new players. And the Spartans were overshadowed a bit by the recruiting successes of Michigan. But Mark Dantonio and his staff have shown a knack for identifying their type of player on the recruiting trail and then developing them into All-Big Ten type performers. So you'd be wise not to sleep on this latest batch of recruits who are heading to East Lansing.
I caught up with Dantonio for a few minutes to discuss this year's class.
What were your main objectives with this class?
[+] Enlarge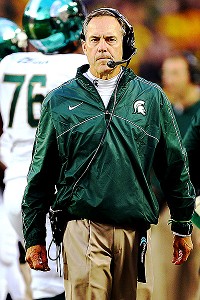 Mike Carter/USA TODAY SportsMark Dantonio has five state champions and 11 all-state selections in his 18-player recruiting class.
Mark Dantonio:
We didn't have a lot of seniors, and then we had a few guys go out early, so we had to adjust some thinking and needs. But I thought the needs we addressed were we needed to find a kicker to compete for the No. 1 position, and I thought we did that.
Michael Geiger
is ranked the No 1 kicker by Rivals, so that's exciting for us. You don't need a kicker until you need one. The two linebackers we signed were big-time recruits, four-star players, but more importantly state champions from excellent programs. Team leaders and very active, explosive players in
Jon Reshcke
and
Shane Jones
.
The tailback situation, with Le'Veon Bell going out, we added a lot of depth to that position by signing
Gerald Holmes
and
R.J. Shelton
and
Delton Williams
, who's really an athlete who can play a lot of positions. But he'll start at tailback. He reminds me a lot of Bell when he came in here. So three talented players there, and an excellent offensive lineman, a tight end and defensive linemen. Then I think in our secondary,
Darian Hicks
is an outstanding player and an extremely good athlete, and
Justin Williams
and
Jalyn Powell
are the same. Wide receivers are talented as well. I think we've got five state champions and 11 all-state players.
Damion Terry has gotten a lot of attention. He's a dual-threat quarterback, which we haven't seen much of lately at Michigan State. What were your thoughts on his recruitment?
MD:
Damion is a guy we started the recruiting process on last spring. He came to camp and did a tremendous job throwing the football. Great mechanics and very poised and composed. And then he has the ability to run around. He's 6-foot-3, probably 6-4, and 220 pounds. He has run the football on designated runs but also created in high school. He was a state champion player. He was the AAA player of the year in the state of Pennsylvania. Damion has thrown for 50 touchdowns and run for 12 more in one year. He's got tremendous upside. One of the biggest things is he seems like a great leader. Very calm. And extremely talented.
You haven't had to play many freshmen right away on defense the past couple of years. Do you see that continuing with this group?
MD:
Redshirting and playing, as a young freshman, is really determined by opportunity, timing and a lot with injuries. Can you stay healthy, can you pick up the defense the first two weeks of summer camp? The players in front of them, do they get injured and provide a window? But I think they're capable, from a physical standpoint, of running, of playing the deep ball, of explosiveness at the linebacker spot like we talked about. Those guys have the upside to be able to play early. It's just, can they stay healthy and will people in front of them stay healthy, and how do they pick up things? That remains to be seen.
With Bell gone, you don't have a lot of veterans at tailback. Do you see some of these young guys contributing there early?
MD:
Yeah, I do, just because of the nature of the position. We really only have three other tailbacks, and couple of guys are smaller in stature -- powerful, but smaller. I think these guys will all be 200-pound-plus guys, and they all have great skill. Their skill should allow them to be in a competitive situation. Now can they stay healthy and the things I just talked about? That remains true.
You've had a strong run at linebacker recently. Are these new guys in that same mold?
MD:
Yeah, I think they're very, very similar. They're guys that are explosive. Good blitzers who play downhill and can run very, very well. Both have great football IQs and come from great programs. They're used to playing on great stages. There is no bigger stage than the Cincinnati-area Catholic league, and there's no bigger stage in the state of Michigan than Brother Rice. They're state champions, both of them, and very, very successful players.
You also signed a defensive tackle transfer from the University of Toronto in James Bodanis. How do you see him contributing?
MD:
He's a young man who played college competition up there. It's similar to probably junior college football down here. He's got the skills, he's quick, he's explosive, he's big, he's very powerful. But it's going to be an adjustment to the game down here. And there has to be a window of opportunity. Can he adjust?
Did you have to be more selective this year because of the small scholarship numbers?
MD:
We're always going to be very selective. We try to take quality over quantity. We only took one offensive lineman, but he's an outstanding player in
Dennis Finley
. He's a big, long guy. I think he could be one of the best players maybe in the class. So it will be exciting to watch him grow and mature. We're excited about it. It's like New Year's Day for us. I think everything at this point starts fresh, and it's a new life and a new stage for these guys.
February, 7, 2013
2/07/13
10:00
AM ET
The fax machines are collecting dust again around the Big Ten as national signing day is in the books and all 12 classes are signed. Earlier Wednesday,
Brian Bennett
took a
look at the Leaders Division
and how teams did in filling their most pressing recruiting needs. Now it's time to take a look at the Legends Division.
IOWA

Needs filled:
Iowa's passing game needs a jolt after ranking 99th nationally last season, and the team signed five wide receivers. The Hawkeyes also were mindful that they'll lose all three starting linebackers after 2013 and flipped
Reggie Spearman
, an Illinois commit. Cornerback
Desmond King
should provide immediate help in the secondary.
Holes remaining:
Offensive line could soon be an issue as Iowa missed out on several targets in this year's class. The Hawkeyes also need some difference-makers along the defensive line and signed only two linemen in this class.
MICHIGAN

Needs filled:
The Wolverines got the running back they wanted and needed,
Derrick Green
, who could contribute immediately. They also continued to address the depth issues coach Brady Hoke inherited on both lines, adding five offensive linemen ranked in the ESPN 300. Although
Devin Gardner
solidified the quarterback spot late last season, Michigan needed to plan for the future and signed a solid signal-caller,
Shane Morris
.
Holes remaining:
There aren't many obvious weak spots, although Michigan could use a bit more help on the perimeter, especially at wide receiver. Top wideouts
Jeremy Gallon
and
Drew Dileo
depart after the 2013 season, and the depth in the secondary isn't quite where it needs to be.
MICHIGAN STATE

Needs filled:
The Spartans signed three running backs --
Gerald Holmes
,
R.J. Shelton
and
Delton Williams
-- who could compete for immediate playing time at a position with very little depth. They also brought in a likely quarterback of the future in
Damion Terry
and bolstered the linebacking corps with ESPN 300 selection
Shane Jones
and
Jon Reschke
.
Holes remaining:
Michigan State's offensive line depth still isn't where it needs to be, and the Spartans signed only one offensive lineman (
Dennis Finley
) this year. MSU signed only two defensive backs, although the coaches really like what
Darian Hicks
and
Jalyn Powell
bring to the field.
MINNESOTA

Needs filled:
The Gophers lose a lot at linebacker and filled the gaps with junior college players
Damien Wilson
and De'Vondre Campbell. They need more playmakers on offense and added some at receiver to go along with an intriguing dual-threat quarterback in
Chris Streveler
.
Holes remaining:
Minnesota loses some key defensive backs and will lose more after the 2013 season. The Gophers signed only two cornerbacks and no safeties in this class, so they could have some depth issues if current sophomores and juniors don't pan out.
NEBRASKA

Needs filled:
The Huskers continued to address their depth issues at linebacker with prospects such as
Marcus Newby
and added more depth to the offensive line with five players. They added a potential quarterback of the future in
Johnny Stanton
and continued to recruit well at all the offensive skill positions.
Holes remaining:
After missing out on several elite defensive linemen, Nebraska is still looking for disruptive players up front. Perhaps junior college arrival
Randy Gregory
fills the void. The Huskers could have used another elite secondary prospect.
NORTHWESTERN

Needs filled:
The Wildcats will need a quarterback after the 2014 season and found an absolutely perfect fit in
Matt Alviti
. They also addressed the running back spot for the second straight year. Offensive line recruiting continues to be a strength for Northwestern.
Holes remaining:
The class lacks an obvious difference-maker on defense, a unit where Northwestern improved in 2012 but still has a long way to go. Northwestern could have picked up another linebacker and another pass-rushing defensive end. Perhaps four-star prospect
Godwin Igwebuike
, listed as a running back, will contribute on the defensive side.
January, 3, 2013
1/03/13
12:30
PM ET
In probably the least surprising move by a Big Ten underclassmen, Michigan State junior running back
Le'Veon Bell
has
decided to enter the NFL draft
.
Not doing so would have been an insult to Bell's own body. He carried the ball 382 times this year, more than any other player in the country. And he did it well, producing 1,793 yards -- third best in the FBS -- and four games of at least 188 yards. His highlights included a 210-yard rushing game in the opener against Boise State, 253 yards versus Michigan State and 266 vs. Nebraska.
[+] Enlarge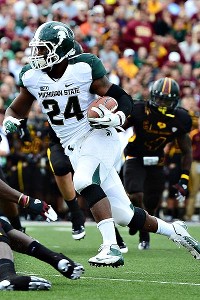 Andrew Weber/US PresswireLe'Veon Bell piled up 1,793 rushing yards while leading the nation in carries (382) this season.
In the Buffalo Wild Wings Bowl win over TCU, Bell showed just how much he meant to the Spartans offense, running for 145 yards and a touchdown and throwing a pass for 29 yards. Michigan State had only 227 yards as a team that game.
With the short shelf life for NFL running backs, Bell needed to go pro now instead of coming back and taking a whole bunch more hits at the college level. His stock likely will never be higher. And at 6-foot-2 and 240 or so pounds, Bell has the size and strength to take on NFL defenders, though he'll have to prove his speed at the NFL combine.
This, plus tight end
Dion Sims
' decision to skip his senior year, leaves Michigan State without its top two playmakers on offense from 2012, and in case you didn't notice, there weren't many other playmakers on that offense. The Spartans should still have an excellent defense, but its offense has a ton of question marks.
One major question: Who will run the ball? Can
Nick Hill
, who's at 5-foot-8, 190 pounds, step up and become an every-down running back? He averaged only 2.3 yards per carry this year.
Jeremy Langford
, who was tried at receiver this year but didn't make much of an impact there, likely will move back to the backfield and is one of the fastest players on the team. Redshirt freshman
Nick Tompkins
will get a chance to prove himself this spring. Michigan State also has two commitments from running backs, the highest rated being R.J. Shelton.
All the possible successors to Bell are wildly unproven. The battles for both running back and quarterback will be important ones to watch for Michigan State this offseason.