April, 4, 2014
Apr 4
10:00
AM ET
Brandon Allen
.
Nick Marshall
.
Bo Wallace
.
That's it. That's the list.
Only three quarterbacks who started double-digit games last season return to the SEC this fall, and one of them isn't even guaranteed to be a starter.
[+] Enlarge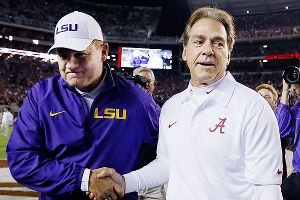 Kevin C. Cox/Getty ImagesLes Miles and Nick Saban are in no hurry to name their starting QBs for the fall.
Everywhere you turn in this league, there's a quarterback competition underway, from Alabama to Georgia, Arkansas to Kentucky, LSU to Texas A&M.
Maty Mauk
is surely the presumptive starter at Missouri, but even he's not a sure thing. Gary Pinkel says he wants competition, never mind that there were times when Mauk looked better than former starter
James Franklin
.
But not every coach in the SEC approaches the quarterback position the same way. A quick glance across the league shows a variety of opinions about how to pick a starter.
Mark Stoops is the most urgent-minded coach of the bunch, and given the inconsistency Kentucky had at quarterback last season, it's easy to understand why. Entering his second season, Stoops said: "I'd love to come out of spring with a clear-cut starter." That means everyone is in the mix.
Maxwell Smith
can't practice while he recovers from shoulder surgery, but
Jalen Whitlow
,
Reese Phillips
,
Patrick Towles
and even true freshman
Drew Barker
are in the hunt.
Barker, a four-star prospect according to ESPN, "has a very good opportunity to take control of it," Stoops said, praising his maturity for such a young quarterback.
"He's a guy [who] has high expectations [for] himself, and he's OK with the pressure that comes along with playing that position," Stoops said. "He's excited about the opportunity, and I'm excited to see what he can do."
Bret Bielema isn't outwardly putting a timetable on anything at Arkansas, but he's encouraging everyone to compete. Allen started 11 games last season but was up and down, with 13 touchdowns and 10 interceptions.
Bielema was about as no-nonsense as any coach gets about the situation.
"In theory, the first time we yell out for the [first string, Allen is] going to step out there," Bielema said before the start of spring practice. "But really, in our program, the competition brings the best out of people.
"So B.A. is going to be the first guy in with the ones, but there will be other guys who get opportunity," he continued. "Who is able to produce and run the offense effectively and who gives us the best chance to win next year's opener against Auburn will be at that position."
Similar to the case at Kentucky, Bielema isn't counting out his true freshman.
Rafe Peavey
, another highly-regarded four-star prospect, is going to be allowed to sink or swim. Bielema loves his talent and praised him as a "football junkie." But he's not pampering the rookie.
"It's no different between the right tackle or the quarterback or the safety," Bielema said. "It's all about what a freshman can handle, how they adjust to adversity and how they enjoy success.
"The quarterback gets a lot of attention. They're usually really pretty, really smart, and everybody likes them. But in reality, they're like everybody else. Those that play well will play and those that don't will sit."
While Bielema and Stoops are anxious for a battle, other coaches around the league are more inclined to sit back and wait.
[+] Enlarge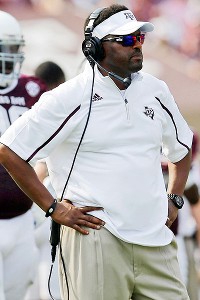 AP Photo/David J. PhillipWho will replace Johnny Manziel as Texas A&M's QB? Kevin Sumlin isn't saying anything right now.
LSU coach Les Miles said he has a good sense of the competition between
Anthony Jennings
and
Brandon Harris
. "But it always plays out," he said, harkening back to when Matt Flynn and JaMarcus Russell duked it out eight years ago. It looked like Flynn had the job in hand after winning a bowl game and watching Russell come into camp out of shape in 2006. But Flynn's body faltered down the stretch and Russell kept going, eventually winning the job.
"I want all the quarterbacks to know that it's going to be given to no one," Miles said. "[It's] earned by the one that plays."
Texas A&M and Alabama are taking similar approaches to replacing
Johnny Manziel
and
AJ McCarron
. In fact, both Kevin Sumlin and Nick Saban are somewhat defiant about holding the cards close to the vest.
Sumlin has gloated before that when people assumed
Jameill Showers
would beat out Manziel in 2013, "I didn't name a starter [after spring]; y'all did."
So while we watch
Matt Joeckel
,
Kenny Hill
and
Kyle Allen
jockey for position, don't expect a starter to be named until close to the season.
Saban, for his part, doesn't want to hear anything about it. His quarterback competition is essentially on hold until the fall, when Florida State transfer
Jacob Coker
arrives. Before the start of spring practice, Saban laid out his plan, saying, "Let me be very clear about this: We're not going to be in a hurry to decide who the quarterback is."
"You guys are going to ask me at least 1,000 times between now and the first game who's the first-team quarterback," he added, "and I'm telling you right now you're probably going to get a 1,000 'We're going to wait and see.' "
The only place in the SEC that doesn't have to be patient in the matter is South Carolina. Coach Steve Spurrier named
Dylan Thompson
the starter well before spring practice ever began.
Replacing
Connor Shaw
won't be easy, but Spurrier said that Thompson was the guy for the job, no question. A fifth-year senior with plenty of in-game experience, Spurrier didn't have a doubt in his mind.
"I didn't know there was any question about it," he said. "Someone said, 'You're just naming him the starting quarterback?' Well, I just said, 'Of course I am. Why wouldn't we?' "
Spurrier did it his way. Saban and Sumlin are doing it theirs. Stoops is anxious, and Bielema and Pinkel are only interested in the competition.
Recruiting a quarterback is the furthest thing from an exact science. Finding out who's ready to start is even more inexact.
This might be the season of new quarterbacks in the SEC, but everywhere there's a different sense of which way the wind blows.
March, 13, 2014
Mar 13
1:30
PM ET
You could hear the commotion in the background as Bret Bielema was handed the phone late Wednesday night. The
Arkansas
coach has been in the news lately as the most vocal proponent of the
now-tabled 10-second rule
. Not all of his remarks have gone over well, and he has come under fire for it, becoming a talking point in the media and at watercoolers around the country.
[+] Enlarge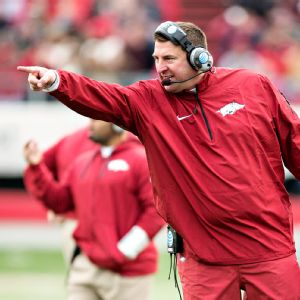 Wesley Hitt/Getty ImagesArkansas coach Bret Bielema wants competition at quarterback this spring, though junior Brandon Allen is the favorite to start in 2014.
But the noise on the other end of the line was clearly enthusiastic as Bielema left a Razorback Club event in Central Arkansas, loading into a vehicle that would take him to the airport and back to Fayetteville. He does a number of similar booster club gatherings during the spring, and Wednesday's event promised to be one of the final get-togethers before spring practice begins Sunday. The message that night: Last season wasn't a starting point, it was a launching point. Some 500 people filled the room for fried fish and football, a record draw for the event.
"It's always a little crazy, it just depends what kind of crazy," Bielema said of the road to spring practice. "But it's good. I'm excited. I know our kids are.
"A year ago at this time, we were getting to know these kids, trying to know their names. ... Now a year into it we have 88 kids who are going to partake in practice, and 84 of them you've seen before."
Bielema and the Razorbacks are putting last season's 3-9 finish behind them. In December, the team watched the SEC championship game and the second-year coach asked his players why they couldn't be there in 2014. Auburn and Missouri combined for two SEC wins in 2012 and now they were playing in Atlanta. Only a month earlier, Arkansas threatened a fourth-quarter comeback against Auburn, falling short despite getting almost 200 combined rushing yards from
Jonathan Williams
and
Alex Collins
.
"I really wanted to challenge them that it's not one but two teams that decided to make a stand," Bielema said. "And to do that, you need to change your actions. I knew they were going to work hard, they were going to listen, they were going to try and do the things we asked them to do. But maybe off the field they needed to dedicate themselves."
The results, Bielema said, have been positive. He has seen a number of players change physically since then, pointing out Williams in particular. The rising junior has put on 15 pounds and "is actually faster and more limber" than he was before, according to his coach.
Collins, who ran for 1,026 yards as a freshman last season, and Williams will once again make up Arkansas' tandem at tailback. Fellow tailback
Kody Walker
will play much more at fullback this spring, switching back and forth between the two positions much like
Kiero Small
did last season.
With
Hunter Henry
back at tight end, there's a good nucleus to build around on offense. Henry had his highs and lows last season, said Bielema, who is hoping for more consistency from his standout freshman. What he's seen from Henry this offseason has been promising.
"He's bigger. He's faster. He's stronger," Bielema said. "I think he understands what it means to play in the SEC in an eight-game schedule, and hopefully beyond that."
For Arkansas to go "beyond that" -- as in, the conference championship or a bowl game -- other players need to step up.
The defense got a boost from the return of defensive end
Trey Flowers
, who was second-team All-SEC last season. New defensive line coach Rory Segrest will "allow him to play faster and a little more aggressive," Bielema said. And with new defensive coordinator Robb Smith in place, expect a slightly different look from the defense as a whole.
"

We'll let him work through the process, feed him as much as he can be fed and see where he can go with it. He's a guy that if he can play we will. If not we'll give him a redshirt year.

"

Razorbacks coach Bret Bielema on early enrollee quarterback Rafe Peavey.
"If you're inside the huddle, you'll hear a lot of things change," Bielema said. "We're going to try and simplify it for our players and get them lined up quickly and put them in a position to play aggressively."
Despite its 12th-place SEC finish in points per game allowed last season, the biggest question facing the Razorbacks isn't defense. Instead, it's who will start under center.
Brandon Allen
started 11 games as a sophomore, ending the season 13th on the SEC leaderboard for passing yards per game (141.1). His double-digit interceptions (10) were the most troubling, though.
Bielema said he wants competition at quarterback this spring, all the while acknowledging that Allen has "gotten stronger" and is the favorite to win the job.
"In theory, the first time we yell out for the ones, he's going to step out there," Bielema said. "But ... there will be other guys who get opportunity. Who is able to produce and run the offense effectively and who gives us the best chance to win next year's opener against Auburn will be at that position.
"If it's B.A., that's great. If it's not, hopefully that next person is ready."
Watch out for
Rafe Peavey
. The four-star prospect enrolled in January and has the tools to push Allen. Bielema likes Peavey's talent and "football junkie" attitude, but Peavey is still just a freshman.
"We'll let him work through the process, feed him as much as he can be fed and see where he can go with it," Bielema said. "He's a guy that if he can play, we will. If not, we'll give him a redshirt year."
Peavey was just one of a handful of freshmen to enroll early, the four unknowns of the 88 players Bielema referred to earlier on the phone. When Bielema spoke to the Razorback Club that night, much of the talk surrounded recruiting, and with good reason. Approaching the second season of his tenure at Arkansas, Bielema is slowly putting his imprint on the program with the way he brings in players and the changes in attitude on the roster as a whole.
When Arkansas opens camp on Sunday, his message will be much as it was Wednesday night. The record is wiped clean, he'll say. It's time to launch forward.
"Don't worry about what happened yesterday and focus on getting great today. At the end of this stretch we'll all be better," he said. "We'll take where we're at, take all the things that were positive and all the things that were negative, evaluate it and move into the next phase."