NCF Nation:

Raghib Ismail
December, 10, 2012
12/10/12
5:00
AM ET
1. Texas A&M coach Kevin Sumlin, when asked Saturday night if Heisman-winning quarterback
Johnny Manziel
would be able to fit his head in his helmet next season, said: "I don't know. That's a growing process." But he pointed out that the Aggies have entered new territory this season (new league, top 10 and Manziel's sudden national prominence) and performed well. "Handling success is the best thing that we have done this year," he said.
2. Cincinnati scored quite a coup Saturday by spiriting Tommy Tuberville out of Texas Tech to replace Butch Jones. Tuberville is a veteran and a consistent winner and provides just the sort of ballast that the Big East has lacked in recent years. After USF fired Skip Holtz, the conference had one coach with more than 25 career victories: Paul Pasqualoni of UConn. Tuberville didn't come to Cincinnati as Indiana Jones, ready to save the league. He came because he wanted out of Lubbock.
3. Notre Dame didn't end its 25-year Heisman drought. But linebacker
Manti Te'o
became the first Irish player to finish second since Raghib Ismail did so in 1990. More importantly, Te'o is the third defensive player in the past four seasons to make it to New York as a Heisman finalist. Defensive players will always be dependent on excelling in a season in which no offensive player stands out. But the time is near when a defender will hoist the trophy.
June, 4, 2012
6/04/12
10:15
AM ET
"College Football Live" is taking a look this week at the top individual seasons of the past 50 years. Notre Dame has seen its share of great ones in the past half-century. Here's a look at some of the best.
[+] Enlarge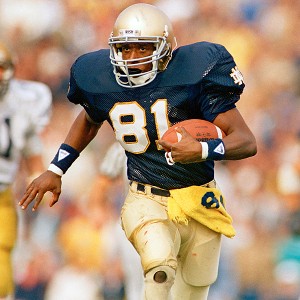 AP PhotoNotre Dame receiver Tim Brown won the Heisman Trophy in 1987.
1. Tim Brown, 1987:
Notre Dame's most recent Heisman Trophy winner notched 846 receiving yards and three touchdowns; rushed for 144 yards and a score; averaged nearly 20 yards per kick return; and brought back three punts for touchdowns. His 167.9 all-purpose yards per game were sixth-most in the nation.
2. John Huarte, 1964:
Huarte set 12 school records en route to winning the Heisman Trophy, completing better than 55 percent of his passes for 2,062 yards, 16 touchdowns and 11 interceptions. He added three more scores on the ground, and his 2,069 yards of total offense were third in the nation in 1964.
3. Raghib Ismail, 1990:
The Walter Camp Player of the Year rushed for 537 yards and three touchdowns; caught 32 passes for 699 yards and two touchdowns; averaged 24 yards per kick return -- one of which was returned for a touchdown -- and brought back 13 punts for 151 yards. The Rocket finished second in Heisman Trophy voting behind BYU's Ty Detmer.
May, 15, 2012
5/15/12
12:15
PM ET
The College Football Hall of Fame enshrinement festival will be getting some local flavor.

Former Notre Dame tight end Dave Casper will have the chance to return to South Bend, Ind., as part of the 2012 College Football Hall of Fame class, his second Hall of Fame induction in the past decade.

Casper, who was selected Tuesday to the College Hall, was also a member of the 2002 Pro Football Hall of Fame class after his 11-year NFL career with the Raiders, Oilers and Vikings.

Prior to those stops, Casper spent two years as an offensive tackle with the Irish before switching to tight end for the second half of his college career (1972-73). He also saw some time on the defensive line at Notre Dame, prompting coach Ara Parseghian to later call him the best athlete he ever had.

Casper was a consensus All-American, a team captain and Notre Dame's offensive MVP in 1973, helping lead the Irish to the national title that season. The 1973 campaign also included National Football Foundation National Scholar-Athlete honors, CoSIDA Academic All-American honors and an NCAA Postgraduate Scholarship.

The Chilton, Wis., native caught 21 career passes for 335 yards and four touchdowns before being picked by the Raiders in the second round of the 1974 NFL draft. Casper made five Pro Bowls in his NFL career and helped the Raiders win Super Bowl XI. He was selected to the CoSIDA Academic All-America Hall of Fame in 1993 before receiving the NCAA Silver Anniversary Award six years later.

Casper was the only one of the three former Notre Dame players on the College Football Hall of Fame ballot this year to be selected. Raghib Ismail and Jim Seymour were also on the ballot.
April, 6, 2012
4/06/12
9:00
AM ET
SOUTH BEND, Ind. -- As brothers growing up in California, the Atkinson twins competed in everything. Races, video games, school grades -- all was fair game for
Josh Atkinson
and
George Atkinson III
, who, much to their dismay, found themselves locked in stalemates more often than not.
"They would try to get me in that conversation that you've got me in now," their father, George Jr., said with a laugh. "But I've become quite elusive, as you see."
[+] Enlarge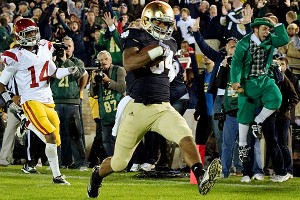 Matt Cashore/US PRESSWIREGeorge Atkinson returned two kicks for touchdowns in his first season at Notre Dame.
An all-pro defensive back for the Oakland Raiders three decades ago, George Jr. remains a busy man, broadcasting Raiders games on the radio and re-joining the AFL's San Jose Sabercats this season to coach the secondary. (He was on their staff from 2000-08.)
He talks with rising sophomores Josh and George III, the youngest of his nine kids, roughly three times a week. And though the father is careful to encourage and not place expectations on his sons' Notre Dame careers after coaching them in high school, the twins have a thorough vetting process that keeps them on their heels and their old man updated on their progress.
Josh goes to cornerbacks coach Kerry Cooks for a weekly letter-grade evaluation to pass along to his dad. George III, a running back, never needs to ask his position coach for one.
"He knows how he's doing because I let him know -- he doesn't have to come and ask," running backs/slot receivers coach Tony Alford quipped. "I'm pretty boisterous as far as what my expectations are."
For George III, the challenge this season is building off a freshman campaign that featured two kickoff returns for touchdowns, the first Irish newcomer to pull off that feat since Raghib Ismail. For Josh, it is becoming a regular in the secondary after seeing spot duty on an experienced unit last season.
"We always praise each other when we make plays and we get on each other when we don't make plays," Josh said of his brother. "And we give each other opinions on, 'Hey, if you do this, you'll get better at that.' Also we push each other all the time. If one of us has a bad practice or one of us is not catching the ball or things of that aspect, we're always on each other and making sure we get better each and every day."
Cooks called Josh a "level-1" corner, meaning he is making his way from the scout team to the two-deep while adapting to complex coverage schemes. Josh played just one coverage in high school, but, by Cooks' measure, has taken a proactive approach to learning the Irish's playbook.
[+] Enlarge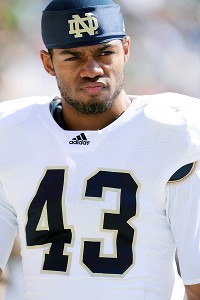 Jeanine Leech/Icon SMIJosh Atkinson is looking to make more of an impact in the secondary this season.
"You definitely can tell that he's been coached hard, definitely can tell that his dad has instilled hard work, effort, energy, 100 percent, yes-or-no-sir-type of kid -- you can see that in both his sons," Cooks said. "So you can see some of those characteristics of having an NFL dad and then having that background, and now it's translating into his play on the field."
George III is focusing on dropping his pads to run the ball lower, and he is hoping he will have the opportunity to help an Irish punt-return unit that averaged an abysmal 0.3 yards per return last season before their bowl game.
"I ran the fastest 40," he claimed of team testing, saying he clocked in at 4.43. "But 40s don't really mean much if you can't put it on the field, so that's what I'm working on first, using my speed on the field."
The identical twins ran on Notre Dame's track and field team this spring.
In May 2010, one month after winning the 100-meter event at the Arcadia Invitational in 10.61 seconds, George III suffered a season-ending hamstring injury trying to win the 100-meter event at the East Bay Athletic League championships. His second-place time of 10.70 seconds may have been more admirable had the first place winner not been Josh, who finished the event in 10.66 seconds.
Josh won the 100-meter event the next year at the Stanford Invitational, completing it in 10.85 seconds.
"It became controversial, I guess you could say," their father, George Jr., said. "George never won at Stanford and Josh did, and Josh never won at Arcadia and George did."
Whatever tension existed then soon evaporated, as it always has, before another fraternal clash eventually resumed.
"They compete. Those guys compete," Alford said. "And they come from a house where that was push, competition. That brotherly love, they got that, but boy they will compete with one another now. In track, in football. When we were recruiting they were talking about who could play 1-on-1 basketball, get out in the street and go run. They were talking about it [at practice] -- who was gonna win on the kickoff cover drill, who was gonna be the first to get down the field. So they compete, and that's a good thing."