NCF Nation:

Raiders-Wildcats-102712
October, 27, 2012
10/27/12
9:44
PM ET
MANHATTAN, Kan. -- Even when Kansas State is bad, it can't help but be very, very good.
Kansas State trailed by seven in the first quarter, and confusion along Texas Tech's offensive line left the Wildcats' best pass-rusher,
Meshak Williams
, unblocked. He took advantage and took Texas Tech quarterback
Seth Doege
for a ride, planting him into the turf before Doege even knew Williams was en route.
The ball popped loose, and the chase was on.
Jarell Childs
scooped it up and ran the rest of the way for an apparent game-tying touchdown.
It wasn't. Defensive end
Ryan Mueller
was flagged for an illegal block on the return, and the Wildcats were penalized 15 yards.
"It's still a touchdown in my book," Childs said with a laugh after the game.
Until a late hit when the Wildcats were up by 38 in the final minutes of a
55-24 win
, K-State had a total of 10 penalty yards and zero turnovers.
Even when it's bad, K-State can't help but be very, very good. The Wildcats simply don't make mistakes, and unless they start, a loss down the stretch looks unlikely.
"If we want to be successful, we have to do it in all three facets of the game, and if we play well across the board, we always have a chance," coach Bill Snyder said. "And if we don't, and if one group falls out, then we've got problems."
[+] Enlarge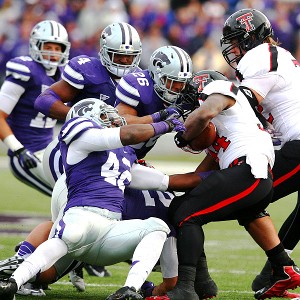 Scott Sewell/US PresswireK-State's defense handled a Texas Tech offense that scored 105 points in its previous two games.
In short, Kansas State controls its own destiny -- except just perhaps not in the BCS standings. The voters (and an undefeated record for Oregon) will tell us that. But on the field, it's more true for Kansas State than any team in the country. Play well for the next four weeks, the Big 12 title is coming back to Manhattan for the first time since 2003 and the Wildcats might have a shot at their first national title.
Snyder would never admit it, but Kansas State will enter its final four games as clearly the best team. Whether it leaves that way is up to the Wildcats.
"Success is fleeting in this world. There's bigger things at stake, but we and I recognize that we are human, we do make mistakes and are susceptible to complacency," said quarterback
Collin Klein
, who accounted for four touchdowns and 316 yards of offense to leave no doubt as to who's the front-runner for the Heisman Trophy. "Just knowing that is the first step. Identifying that and being able to attack it."
Snyder's program is founded upon daily improvement, and this team has yet to show any cracks, save a couple of slow starts that K-State made up for in big ways with fantastic finishes. The Wildcats managed to convert 6 of 10 third downs before sending in the backups, too, making the task of finding a way to beat them look even more impossible. Good luck finding any cracks in the foundation -- and look just about anywhere and you can see improvement. That starts with the final scores. K-State hadn't beaten a Big 12 team other than cellar-dwelling Kansas by more than one score in the past two seasons. In two weeks, it has completely obliterated two Top 25 teams.
"From the beginning to where we are at this point and time, we've become a much better football team," Snyder said.
He won't get any arguments from Lubbock or Morgantown anytime soon.
If cracks don't inexplicably start appearing in that solid Kansas State foundation, the rest of the season might look more like a victory lap while the BCS standings shake out around the No. 3 Wildcats.
It starts with Oklahoma State next week, but can the reigning Big 12 champs shake off some quarterback issues and prove they're better than the team that nearly lost to Kansas? TCU might be starting its third-string quarterback in Fort Worth, Texas, in two weeks if the knee injury
Trevone Boykin
suffered Saturday proves serious. The Frogs lost with Boykin last week at home anyway, to the same Tech team that K-State rolled over on Saturday. Baylor? The Bears have struggled to find their first Big 12 win. Texas in the finale? The same team that needed heroics to beat a KU team that K-State crushed by 40? On paper, the dominoes are all lined up for the Wildcats. It's up to them to knock them down. How forceful that push is might decide whether K-State fans can start booking flights to Miami.
"I don't think people want us to play in the game. We could be [left out]," receiver
Chris Harper
said. "We've got to go out there and play like we did today and put scores up there so we can't leave no doubt and people can't leave us out."
October, 27, 2012
10/27/12
7:14
PM ET
MANHATTAN, Kan. -- Check another game off the list for K-State, which looks more than capable of an undefeated run through the Big 12. It hosts Oklahoma State next week before trips to TCU and Baylor and a season finale at home against Texas. The Wildcats aren't invincible, but it'll take a very, very poor performance to lose to any of those teams.


Texas Tech got off to a quick start, but the Wildcats rallied and kicked off the second half with two quick scores and never looked back in a
55-24 win
. Time for some instant analysis:
It was over when:
Collin Klein
ran right through the middle of Texas Tech's defense for a 22-yard touchdown run midway through the third quarter. It gave the Wildcats a 34-17 lead and made it clear that Texas Tech's defense would only be able to claim a nice start on this day.
Game ball goes to:
Klein. Another week, another Heisman-worthy performance for the race's frontrunner. He ran for just 7 yards on five carries in the first half, but the second half was his playground. He was efficient both through the air and on the ground. He finished with 233 yards and two scores on 19-of-25 passing, and finished with 83 yards and two touchdowns on the ground. Both of those scores came in the second half, when he rushed for 76 yards on seven carries.
Stat of the game:
Kansas State scored two touchdowns in 59 seconds early in the third quarter. The whole game swung on that stretch, with K-State scoring on its opening possession of the second half and Texas Tech receiver
Eric Ward
fumbling a reception on Texas Tech's first drive of the half.
What Texas Tech learned:
Its first Big 12 title won't be coming in 2012. A pair of lopsided losses to Oklahoma and K-State make that crystal clear. Tech is a good team that's playing better than anyone thought it would before the season. The Red Raiders are easily a Top 25 team. Maybe a top 20 team. The on-field results make it clear, though: Tech can't hang with the best teams in the league this year.
What Kansas State learned:
Who says K-State is lacking in style points? It went on the road and beat a flashy West Virginia team by 41 last week. This week, another Top 25 opponent went down in flames at the hands of the red-hot Wildcats. K-State was outplayed in the first half, and still led. During a dominant second half, Texas Tech looked completely outmanned.
October, 27, 2012
10/27/12
1:00
PM ET
MANHATTAN, Kan. -- There are two games today in the Big 12 between top-15 teams, and the first will take place on a sunny but chilly day at Bill Snyder Family Stadium.
The family hasn't been this close in a while -- to each other or a Big 12 or national title.
It's my second trip this season up north to the land where every man is a Wildcat, but today should be a fantastic matchup of contrasting styles but two very, very experienced coaches.
Tommy Tuberville has thrown a big ol' bucket of ice water on his hot seat to begin the season, surpassing last year's win total (5) through just seven games, and now has his team with a chance to do what few thought possible before the season: Win the Big 12.
The Red Raiders will have a shot if they win today. Additionally, if
Seth Doege
outguns the dual-threat
Collin Klein
, he'll most likely find himself on the short list for the Heisman Trophy, quarterbacking a top-10 team entering the home stretch of the season. Plenty on the line today in the Little Apple.
I'll be here logging it all,
so follow along on Twitter.
Should be a hyped atmosphere, and despite the cold, the tailgating around the stadium was already hopping when I arrived earlier this morning.
Though the food and drinks have to stay outside, expect the energy to make it inside. Can't wait for today's game in one of the nation's most underrated atmospheres.