NCF Nation:

Rajaan Bennett
August, 25, 2010
8/25/10
6:56
PM ET
Vanderbilt's running back stable took another hit Wednesday when sophomore
Warren Norman
underwent arthroscopic knee surgery, making him questionable for the Sept. 4 opener against Northwestern.
Norman, the SEC Freshman of the Year last season, had some swelling in his right knee and underwent an MRI Wednesday. Vanderbilt coach Robbie Caldwell said doctors went in and cleaned out some loose cartilage, which was causing the swelling.
The Commodores were already without sophomore running back
Zac Stacy
and redshirt freshman running back
Wesley Tate
, although both players returned to the practice field on a limited basis Wednesday. Stacy had been out for two weeks after suffering a sprained MCL, while Tate had been sidelined with a foot injury. Senior
Kennard Reeves
has been getting the bulk of the first-team work at running back.
Caldwell thinks Norman has a chance to be back in time for the opener, although much of that will depend on his recovery. When Stacy hurt his knee, the initial diagnosis was that he, too, might miss the opener. But his returning to the practice field on Wednesday is a good sign that he may be back sooner than first expected. It would be an added boost to get Tate back and have him available for the first game.
With all three healthy, the Commodores have a chance to be very good at running back. Stacy was off to a fast start last season as a freshman until he hurt his ankle, and Norman obviously is as important to Vanderbilt's kicking game as he is to the running game after returning three kickoffs for touchdowns last season.
Sadly, the Commodores could really use Rajaan Bennett right now. The heralded running back signee from Powder Springs, Ga., was the victim of a murder-suicide two weeks after signing with Vanderbilt this past February.
February, 18, 2010
2/18/10
12:18
PM ET
Covering SEC football, you sort of become callused to coaches being fired, players being arrested and some of the other not-so-pleasant things that occur in college sports that we all shake our heads about and wonder where it all ends.
But then you run across a story like the one that rocked the Powder Springs, Ga., community and Vanderbilt football program early Thursday morning.
[+] Enlarge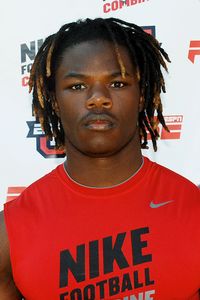 ESPN RecruitingVanderbilt recruit Rajaan Bennett rushed 1,857 yards and 28 touchdowns as a high school senior.
Rajaan Bennett -- 18 years old and his whole life in front of him -- was dead, shot and killed in an
apparent murder-suicide
.
So many thoughts run through your head.
You mourn for Bennett's family and that they find a way to get through this terrible time. You mourn for all of the people at McEachern High School who loved and admired Bennett. You mourn for Vanderbilt, which has to go through this horror all over again a little more than five years after former running back Kwane Doster was shot and killed in Tampa, Fla.
The real tragedy for the Vanderbilt coaches and the Commodores fans is that they will never get to know Bennett the way the people at McEachern High School did. He had touched so many lives there and would have surely done the same thing at Vanderbilt.
In a word, he was the rock of his family, the oldest of four siblings. His father, Charles, died tragically when Bennett was just in the sixth grade. He was forced to become the man of the house and did so willingly.
He helped care for his special-needs brother and was there to fill in the gaps for his mother any way he could. All the while, he maintained a 3.3 GPA in school and became one of the top-rated running backs in the state of Georgia.
"In these situations, all kids get propped up as being unbelievable kids, but Rajaan truly was," said Kyle Hockman, Bennett's high school coach. "He was a leader for so many people. As we met this morning with our team, there were 30 different guys who stood up and said that he was their best friend, their mentor, their big brother. He was just an incredible young man."
Hockman said it's his hope that even in death that Bennett will be able to inspire the McEachern community to always strive to do better.
"Just by the way he lived his life and the way he helped others," Hockman said. "He was mature beyond his years."
Bennett was recruited by several schools, including Kentucky and Tennessee. He was one of the highest-rated players Vanderbilt had ever signed under Bobby Johnson.
In choosing the Commodores, Bennett saw the big picture, according to Hockman.
"He felt like it was a family-oriented type of place, and he also knew that if he didn't make it in football professionally that Vanderbilt was the best place for him to succeed in life," Hockman said. "For a kid as young as he was with all the awards he'd received, the attention he'd gotten and all the other things going on in his life ... to make that kind of decision tells you what an incredible person he was."