October, 9, 2013
10/09/13
7:00
AM ET
ATHENS, Ga. -- One of the prevailing images from last Saturday's win against Tennessee was Georgia's players dogpiling on top of
Marshall Morgan
to celebrate his game-winning 42-yard field goal in overtime.
It capped a day where the sophomore claimed the SEC's special teams player of the week award for the second straight week after booting the longest field goal in Neyland Stadium history, a 56-yarder in the first quarter, and the game-winner in OT. But it wasn't much fun to be in Morgan's position at the time.
[+] Enlarge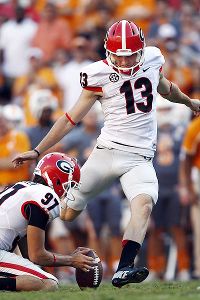 AP Photo/Wade PayneGeorgia kicker Marshall Morgan kicked a 56-yard field goal against Tennessee, the longest on the road in school history.
"I was trying to get them off me," said Morgan, whose Bulldogs (4-1, 3-0 SEC) host Missouri (5-0, 1-0) on Saturday. "That's a lot of weight. I've got asthma."
Otherwise, the Bulldogs' special-teams effort was memorable for the wrong reasons, continuing what has been a season-long trend.
Collin Barber
had a punt blocked for a touchdown -- the second time that has happened this season -- and
Blake Sailors
received a five-yard penalty for defensive delay of game after Georgia forced a third-quarter punt, giving Tennessee a fourth-and-1 that prompted the Volunteers to instead go for a first down.
Vols running back
Rajion Neal
then broke a 43-yard run that set up his game-tying touchdown run when Georgia's defense could have been off the field if not for the rarely-seen penalty.
"If you make a movement that it looks like you're trying to get somebody to jump offsides, if they jump offsides, it's on the defense. It's on us in that case," Georgia coach Mark Richt said. "I've never really seen that happen before and it was pretty crucial, obviously. We had a great stop and they were in a position to punt. I think it was a fourth-and-1 or less and they get the long run. A lot of bad plays happened after that point, and we learned a lesson. Can't do it."
Quayvon Hicks
-- one of three protectors in Georgia's punt shield lineup along with
Arthur Lynch
and
Josh Dawson
-- said there was a miscommunication on the play and accepted blame for the Tennessee block.
"I put that all on me," Hicks said. "I would say it was a miscommunication, but it was something that could have been prevented. It will be something that we're really working on, especially me as a player, to make sure that it doesn't happen in the future."
Hicks could have saved the day if he had blocked
Jalen Reeves-Maybin
before he darted through to deflect Barber's punt, but front-line blocker
Leonard Floyd
also barely got a hand on Reeves-Maybin.
Their collective whiff allowed the Tennessee rusher to break through, and Lynch said the decibel level in Neyland Stadium played a direct role in the miscommunication.
"It's so much easier going out and practicing and doing it, even if it's full-speed practice because you kind of have that communication barrier and it really was a lot louder than I think a lot of people thought," Lynch said. "
Lucas Redd
looked at me and was like, 'I had to read your lips.' That was one of the things that you just can't have those types of setbacks. I think we've cleaned it up."
A skeptic might point out that Georgia has vowed to clean up its special-teams errors several times recently, only to see another mistake lead to an opponent touchdown. Asked what he thinks the team needs to do to remedy those miscues, Hicks was direct in his response.
"It's really not what we think, it's what we're going to do," Hicks said. "Thinking, that's a part of football that really doesn't matter. I think Coach can only do so much. I know we're a very close team, so we're going to do what we have to do this week to make sure that not only in the Missouri game, but here on out, that that doesn't happen anymore. It's just something that could have been prevented. It could have cost us the game."
That seems to be the message that Richt is imparting to his club, as well. Georgia's errors in the kicking game are simply a quality-control issue, where a lack of attention to detail has allowed opponents to steal easy points.
A shaky snap might have cost Georgia the game in its lone loss. The Bulldogs are fortunate that their ensuing mistakes weren't so costly, but they know their luck will likely run out if they don't fix the problems -- and keep them fixed.
"Us as coaches, we've got to do a better job of simulating what's going to happen in the game and coaching and teaching properly where these guys can be more dependable," Richt said. "So it's a two-way street. Coaches gotta coach better, for sure, and the players have got to take on their responsibilities and take care of business.
"That's the way it is in life, so we're learning the hard way, and just by the grace of God the two times we had blocked punts, we still won the game. But the margin for error is just getting slimmer and slimmer."
May, 13, 2013
5/13/13
2:38
PM ET
The other day I was asked a question about the SEC that caught me off guard a little.
And no, it wasn't about Bob Stoops or scheduling.
I was asked if the league would be a quarterback or running back league in 2013. Obviously, when you think about the SEC, you think of pound-it-out, grind-it-out football. Games are won and lost in the trenches and running backs are usually a team's most coveted asset. The more the merrier, too.
But the SEC returns some pretty good experience at both positions.
At running back, the SEC will be without four of the league's top 10 rushers -- Eddie Lacy, Mike Gillislee, Zac Stacy and Kendial Lawrence -- from the 2012 season. The SEC will be without three of the top 10 passers -- Tyler Bray,
Tyler Wilson
and Jordan Rodgers.
Now, my math skills tell me that seven top players at a position is better than six, but the SEC is
deep
at running back this season. Of the seven top quarterbacks returning, six reached 2,500 passing yards, while only two made it to 3,000 yards --
Aaron Murray
and
Johnny Manziel
. Nine true starters return (Kentucky's
Maxwell Smith
missed most of last season and ended the spring behind
Jalen Whitlow
). So five teams are breaking in new starters.
The SEC saw eight running backs hit the 1,000-yard mark last season. There's a chance the league could not only reach that number again but it could eclipse it.
[+] Enlarge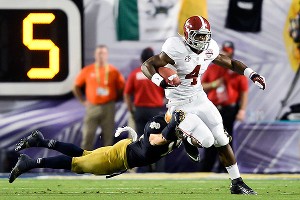 AP Photo/Romeo GuzmanT.J. Yeldon takes over for running back Eddie Lacy as "the guy" for Alabama.
Alabama lost Lacy -- and his 1,322 yards/17 touchdowns -- but rising sophomore
T.J. Yeldon
appears more than ready to take over as the lead back. He rushed for 1,108 yards and 12 touchdowns last year, and it sounds like he looked even better as
the guy
. He'll also have help from fellow sophomore
Kenyan Drake
, who played in 12 games last year, and
Jalston Fowler
and
Dee Hart
, who are both returning from season-ending knee injuries. Remember, Fowler had nearly 400 rushing yards in 2011. True freshman Derrick Henry, who was tearing it up this spring before his leg injury, should help once he's healthy this fall.
Oh, and Alabama will welcome three more backs this summer, including ESPN 150 member Alvn Kamara.
Texas A&M and Florida will also have the luxury of a packed backfield. The Aggies return leading rusher (for a running back)
Ben Malena
(808 yards), but will also have rising sophomore
Trey Williams
, and transfers
Brandon Williams
and
Tra Carson
. Brandon Williams might be the most talented of the bunch, and none of these guys should get too tired with all those legs to work with.
The Gators lost Gillislee, but sophomore-to-be
Matt Jones
had an excellent spring. He knew the playbook backward and forward and showed a more physical style. He already has the goal of getting 1,500 yards. But he'll have help from redshirt junior
Mack Brown
, who had a very solid spring, and freshmen Kelvin Taylor (early enrollee) and Adam Lane. The coaches feel very good about all four contributing a lot this fall.
Georgia is a little thin at running back, but with Gurley and
Keith Marshall
returning, the Dawgs could have the best running back duo in the SEC -- maybe the country.
Here's a quick look at how other SEC teams currently fare at running back heading into the summer:
Arkansas
The Razorbacks lack experience at the position, but sophomore
Jonathan Williams
made good strides this spring and looks poised to be the top back. He'll also have incoming freshman Alex Collins to help him this fall.
Auburn
Tre Mason
and his 1,000 yards return. He should have even more space to work with in Gus Malzahn's spread, which could spell trouble for defenses. Junior college transfer Cameron Artis-Payne had a solid spring, and
Corey Grant
returns.
Kentucky
Leading rushers
Raymond Sanders
(669 yards) and
Jonathan George
(504 yards) return with two talented youngsters to help out.
Dyshawn Mobley
had an excellent spring and
Josh Clemons
is back from a devastating knee injury he suffered in 2011.
LSU
Legal issues have
Jeremy Hill
's fall status unknown for the fall. If he returns, he gives the Tigers on of the top backs in the league.
Kenny Hilliard
and
Alfred Blue
return, but LSU will be thin at the position without Hill.
Mississippi State
LaDarius Perkins
returns after his 1,000-yard season. He's a complete back and can hurt teams running and catching.
Josh Robinson
returns after a productive year as the backup.
Nick Griffin
has a ton of skill, but still hasn't reached his potential.
Missouri
Lawrence is gone, but
Henry Josey
is back and says he's 100 percent after his devastating knee injury in 2011. He was one of the Big 12's best and most explosive running backs before his injury. The Tigers have plenty of bodies at running back and should get good use out of
Marcus Murphy
and
Russell Hansbrough
.
Ole Miss
Leading rusher
Jeff Scott
(846) is back and he'll be working with some solid sophomores in
I'Tavius Mathers
and
Jaylen Walton
. True freshman Mark Dodson had a productive spring as well. Along with the six returning lettermen, Ole Miss will have three more signees on campus this fall.
South Carolina
Mike Davis
isn't trying to be Marcus Lattimore, but he did a good job of taking his spot this spring. The rising sophomore can pound it or break out for that home run play.
Brandon Wilds
and
Shon Carson
are back from injuries and ESPN 150 member
David Williams
will be in town this fall.
Tennessee
Marlin Lane
's off-field problems didn't help things this spring, but Butch Jones was very happy with the play of
Alden Hill
and
Rajion Neal
this spring. Lane has every chance to come back and if he does the Vols will have a pretty solid three-headed rushing monster.
Vanderbilt
Stacy is gone, but
Wesley Tate
and
Brian Kimbrow
had good springs in Nashville.
Jerron Seymour
gives Vandy another body to use, as well. Tate and Kimbrow both have big-play ability, but they'll have to stay healthy because there isn't a lot of experience behind them.
April, 17, 2013
4/17/13
6:00
PM ET
An already thin running back stable has taken another hit this spring for Tennessee with the recent absence of junior
Marlin Lane
for disciplinary reasons.

Lane missed his fourth practice Wednesday morning, but first-year coach Butch Jones said the door remains open for Lane to return to the team, and expressed optimism that he would be back and able to play in the fall.
"He has some criteria that has to be met, and he's meeting that criteria," Jones said. "But as of right now, he's still out."
Lane and senior
Rajion Neal
were being counted on to handle the bulk of the Vols' rushing duties in 2013. Neal rushed for 708 yards last season and Lane 658 yards. Lane averaged 5.5 yards per carry.
Redshirt freshman
Alden Hill
has seen his workload increase this spring with Lane suspended. Jones said both Hill and Neal had performed well this spring, but it's obvious the Vols are going to need to build depth at running back.
Neal said he's remained in touch with Lane, who is still on campus.
"I know he's dealing with a sensitive matter," Neal said. "I see him, call him and talk to him. I hope that he gets back quick."
The Vols improved their running game by an average of 60 yards per game last season (160.3 ypg) after finishing 116th nationally in 2011 with an average of 90.1 yards per game.
February, 25, 2013
2/25/13
1:42
PM ET
Butch Jones' staff at Tennessee got a little smaller on Monday.
Running backs coach and former Vols running back Jay Graham has decided to
leave Tennessee and take a job as an offensive assistant at Florida State
. Graham's position with the Seminoles hasn't been announced.
Graham arrived at Tennessee in 2012 after spending three seasons coaching South Carolina's running backs. With Graham in control of the Vols' ground game, Tennessee greatly improved when it came to running the ball. After averaging an SEC-low 90.1 rushing yards per game in 2011, the Vols ranked eighth in the league last fall, averaging 160.3 yards per game. Running backs
Rajion Neal
and
Marlin Lane
combined for 1,420 rushing yards and seven touchdowns last season.
The loss of Graham is a big hit to Jones' staff. Not only did he do a very good job of restoring some respectability to the Vols' running game last fall but he's a top-notch recruiter. Before he even arrived at Tennessee, Graham made recruiting headlines by helping to get
Marcus Lattimore
to South Carolina. He then watched over Lattimore as he enjoyed a fabulous freshman campaign in 2010.
Graham was key when it came to recruiting Tennessee's most high-profile signees in the 2013 class. Most notably, he helped bring in wide receivers
Marquez North
, an ESPN 150 member,
Paul Harris
, who enrolled early, and quarterback
Riley Ferguson
.
Graham was the one coach Jones just couldn't afford to lose this early into his Tennessee tenure. Graham was the only coach from Derek Dooley's staff to be retained by Jones, and while he was slated to make $260,000 this year, he would have been the second-lowest paid assistant on Jones' staff. With how much Graham loved his alma mater and working with UT players, chances are that he'll see a significant raise and get more responsibility at Florida State.
Jones wrote on Twitter Monday that the process for finding a new coach was underway, but replacing someone like Graham will be tough for Jones, as he prepares for his first spring as Tennessee's head coach.
October, 20, 2012
10/20/12
6:07
PM ET
KNOXVILLE, Tenn. -- Greetings from Neyland Stadium!
The sun isn't really out, but the weather is just about perfect here. Tailgates were going hard for the Third Saturday in October.
Not a lot of people are giving Tennessee a chance in today's matchup with No. 1 Alabama, but don't sleep on the Vols' passing attack. The Tide's secondary came into the season younger and less experienced than last year's unit, and it really hasn't been tested this season. Now, the play up front has been a big reason, but this is easily the best passing game Alabama has faced to this point.
Tennessee quarterback
Tyler Bray
is passing for almost 300 yards a game and leads the SEC with 16 touchdown passes. He also has
Justin Hunter
and
Cordarrelle Patterson
to work with out there. Don't be surprised if he makes a few plays early on this secondary.
The key for Tennessee's offense is balance. If the Vols can't run the ball, Bray won't be able to be as affective throwing the ball against this swarming Alabama defense. That'll be tough for the Vols with running back dealing with an ankle injury. He's been listed as doubtful this whole week and hasn't done much during warmups. That leads
Devrin Young
and
Marlin Lane
to carry the load. Young and Lane have combined for 301 rushing yards compared to Lane's 500 on the season.
Alabama hasn't had to be flashy this year, and expect that again tonight. This team feeds off its running game and just pounds teams in the second half. Now,
AJ McCarron
might have the opportunity to throw it around a bit with Tennessee's defense reeling right now. McCarron has the ability to stretch the field, and he might get to more tonight.
Tennessee coach Derek Dooley will also be coaching down on the field today after hip surgery. He won't be moving around a lot, but he'll be down there.
October, 11, 2012
10/11/12
10:15
AM ET
We have a few exciting matchups in the SEC this weekend, so let's check out what to watch in Week 7:
1. Mettenberger's poise:
LSU quarterback
Zach Mettenberger
just hasn't looked comfortable in his two SEC starts. Granted, they were on the road, but we all expected a lot more from him. But in two SEC starts, Mettenberger has averaged 163.5 passing yards and has completed 50 percent of his passes with no touchdowns and an interception. It appears his confidence has been shot, and he has to get it back or this offense will be in trouble against such a talented South Carolina defense. Expect that Gamecocks front to put a ton of pressure on Mettenberger, which is something he's struggled against all year. If LSU can't balance its offense with the run and pass, it won't beat South Carolina.
[+] Enlarge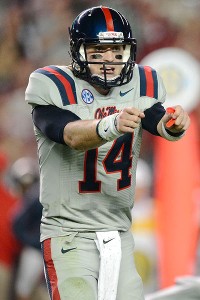 John David Mercer/US PresswireCan quarterback Bo Wallace get the Rebels a win against conference rival Auburn this week?
2. Chaney's patience:
Tennessee is in must-win mode against Mississippi State, but it has the tall task of putting its offense up against the Bulldogs' vaunted secondary. If Tennessee is going to best Mississippi State's defense, it has to be able to run the ball consistently. Offensive coordinator Jim Chaney said this week that balance is the key and he has to be more patient with his running game.
Rajion Neal
has been very impressive during the Vols' last two games, but he'll have to be on top of his game again in order to take some of the pressure off of quarterback
Tyler Bray
. Chaney wants to run the ball more, but he has a tendency to get too pass-heavy at times when things get rough. His patience in the running game will be important.
3. Ending an embarrassing streak:
Could this be the weekend Ole Miss finally gets over the SEC hump? The Rebels haven't won an SEC game in 16 tries and are fresh off a heartbreaking loss to Texas A&M. But the Rebels host an Auburn team that has struggled in every phase of the game this year. If Ole Miss is going to turn things around in SEC play, this is the weekend to do it. Auburn is giving up 409.8 yards of offense a game and is last in the SEC in total offense, generating a little more than 300 yards a game. The Rebels have one of the league's best offenses and shouldn't have an issue scoring.
4. Slowing down Marcus Lattimore:
South Carolina's running back appears to be getting stronger and healthier each week. He has rushed for 314 yards and five touchdowns in three SEC games and has to be salivating at the thought of facing an LSU defense that surrendered 146 rushing yards and two touchdowns to Florida's
Mike Gillislee
last week. Gillislee absolutely wore down the Tigers' front, and that's something Lattimore knows a thing or two about. LSU's offense kept its defense on the field and tired in the Swamp, and South Carolina's defense is capable of doing the same thing to the Tigers, so Lattimore could get plenty of chances to exhaust this unit with his pounding style.
5. South Carolina taking another step:
The Gamecocks are all the rage in college football. Steve Spurrier has this team ranked in the top five, and a win Saturday might propel South Carolina into the No. 2 spot. But with all the attention on the Gamecocks, can they keep their composure? Atlanta has been the goal all along, but even this team probably didn't expect to receive the attention it has this early in the year. LSU might be wounded, but this is South Carolina's first true road test. This team will be ready for South Carolina, and the Tigers haven't lost back-to-back games since 2008. If South Carolina is going to take the next step in its SEC journey this year, it has to beat LSU in hostile Tiger Stadium.
6. Scoreboard outage in Shreveport:
We know that Texas A&M can score points. The Aggies have averaged 51.5 points in four games since their opening loss to Florida.
Johnny Manziel
and his explosive crew have crippled defenses this year, but they might send Louisiana Tech's defense running. The Bulldogs rank 123rd nationally in total defense, giving up 531 yards a game. They are also giving up 35.8 points per game. Texas A&M has the ability to really light the scoreboard up against this team, but Louisiana Tech has a very talented offense as well. The Bulldogs actually average more yards than the Aggies and are scoring 53.2 points per game. We could have a Big 12 game on our hands.
7. Florida's focus:
The Gators are riding high off that emotional win over LSU last week. Coach Will Muschamp was celebrating like a little kid, violently pumping his fists and
crowd surfing
in the locker room. This was a huge win for him and his team, but now it's time to get back to playing football. But this group of Gators isn't used to success. Florida is ranked No. 4 nationally and is starting to get BCS love, but all that would come to a screeching halt with a loss to Vanderbilt on Saturday. The Commodores are feeling good after that road win against Missouri and are fighting for a bowl berth. Florida is on the road, and with South Carolina up next, the Gators can't get caught looking ahead this weekend.
8. Mississippi State's secondary vs Tennessee's passing game:
You have the SEC's top passing offense taking on one of the top secondary units around with arguably the best cornerback duo in
Johnthan Banks
and
Darius Slay
. Bray has an impressive set of receiving toys to play with, but he'll have his hands full against Banks and Slay, who have combined for seven interceptions and haven't allowed any touchdowns. As a whole, Mississippi State has allowed just three passing touchdowns, while Bray has tossed 14 touchdowns. He has six interceptions on the year, and has had an issue with pressing. He can't afford to force things against this secondary because it will make him pay.
9. Alabama's offensive attack:
There aren't a lot of glaring issues with No. 1 Alabama, but it will be interesting to see what the offense looks like this weekend against Missouri. Injuries have Alabama down to three scholarship running backs, while the Tide is looking for another deep threat with
DeAndrew White
going down with a season-ending knee injury. Players have said that execution issues have hurt the offense at times, and now that this team is down some bodies, the little things have to get cleaned up. The good news for Alabama is that Nick Saban got an extra week to prep and get this offense ready with the bye.
10. An Arkansas revival:
Don't look now, but Arkansas is slowly crawling out of the canyon it created with a terrible September. Bowl hopes were dashed, but last week's win over Auburn has given this team new life. You still don't know what you're going to get from coach John L. Smith, but his players showed a lot of pride last week. The Razorbacks are dealing with a ton of injuries, but face a Kentucky team riddled with injuries as well. A win for the Razorbacks would really put them right back in the bowl hunt.
October, 1, 2012
10/01/12
9:00
AM ET
Separation Saturday is approaching in the SEC ... but here are where our power rankings look to start the week:
1. Alabama (5-0; LW: 1):
The Crimson Tide's offense didn't look great against Ole Miss and the defense actually gave up
two
touchdowns, but Alabama left the weekend with a 19-point win. Alabama looked a little lethargic out on the field, but the Rebels put up a better fight than most expected. This team has talked about cleaning up execution issues on offense and will get an extra week to do that with the bye here.
2. LSU (5-0; LW: 2):
The Tigers are skating on thin ice in our power rankings. The previous week's sluggish win over Auburn was one thing, but the Tigers really struggled against Towson. What was most surprising about LSU's performance was how poorly the Tigers defended the run, as Towson gained 188 yards on the ground. One positive was that we finally saw more of a downfield passing game from
Zach Mettenberger
, and
Odell Beckham Jr.
stepped up in a big way at receiver.
3. Georgia (5-0; LW: 3):
The Bulldogs could be considered 2b after the way LSU played, but Georgia's defense really struggled against Tennessee. We all knew the Vols had the potential to hurt this group, but Georgia's defense was absolutely gutted for 478 yards and gave up 37 of the Vols' 44 points. Things have to be cleaned up, but with the way that offense is playing, it's going to be tough for teams to keep up in a shootout with the Dawgs.
4. South Carolina (5-0; LW: 4):
The Gamecocks gave their fans a bit of a scare after being down 10 to Kentucky at the half Saturday. All was forgiven after a dominating second half during which South Carolina outscored the Wildcats 31-0.
Connor Shaw
continues to throw the ball with splendid accuracy, while
Marcus Lattimore
is looking stronger and stronger out there. However, the Gamecocks can't afford a sluggish start against Georgia this weekend.
5. Florida (4-0; LW: 5):
The Gators were off this weekend, so players got some much-needed rest and time to heal. It also gave Florida a little extra time to scout No. 4 LSU, which travels to the Swamp on Saturday. Florida has to feel a little more confident about this weekend after watching another ugly win by LSU. But expect the intensity to be way up for the Tigers. Saturday should be pretty fun to watch.
6. Mississippi State (4-0; LW: 6):
The Bulldogs were on their bye over the weekend. Quietly, the Bulldogs have had a very impressive start to the season. Their past two games should have been won by bigger margins, but this team is still undefeated and has the potential to be a 6-1 or 7-0 team heading into the last weekend of the month. On the season, only five teams have trailed for less time than Mississippi State.
7. Texas A&M (3-1; LW: 8):
The Aggies just keep pounding away on offense.
Johnny Manziel
and his crew walked all over Arkansas' defense, racking up 716 yards of offense and 58 points in their blowout win against the reeling Razorbacks. We know that Texas A&M can score points and generate a lot of yards, but we saw a little too much bend out of A&M's defense against the Hogs, as they surrendered 515 yards to Arkansas.
8. Tennessee (3-2; LW: 7):
We saw a lot more fight out of Tennessee when Georgia went up 17 in the second quarter. The Vols had a couple of real chances to win in Athens, Ga., over the weekend, but late turnovers doomed them. Cue the questions surrounding
Tyler Bray
in big games. The defense looked overwhelmed and lost at times, but this team can take solace in one thing: It appears Tennessee has found a real SEC running back in
Rajion Neal
.
9. Missouri (3-2; LW: 9):
James Franklin
was better throwing the ball on Saturday, but this team has some offensive issues. The Tigers converted just 1 of 11 third downs and were outgained 395-346 against UCF on Saturday.
Kendial Lawrence
rushed for 104 yards, but Mizzou finished the day with a total of 89 rushing yards, thanks to Franklin's minus-18 yards on the ground. There are just too many athletes on this offense for the Tigers not to be explosive. Right now, they are hurting to find consistent firepower.
10. Ole Miss (3-2; LW: 10):
Yes, the Rebels lost, but it's clear this team is more invested and tougher than the past two teams Ole Miss has thrown out there. The Rebels gave Alabama a little bit of a challenge and made it to the end zone twice against Alabama's vaunted defense. This team has to clean up a lot on defense, but that offense has the ability to carry this team to a few more wins this season ... maybe even a bowl berth.
11. Auburn (1-3; LW: 11):
The good news for the Tigers is that they got to rest this weekend. The hope is that Auburn's defense takes the momentum it gained from its performance against LSU into this weekend's key game against Arkansas. Arkansas can move the ball, and Auburn's defense struggled mightily for most of September. This is a must-win for both teams and with the way Arkansas' defense has played, Auburn has to feel more comfortable with what its struggling offense can do.
12. Vanderbilt (1-3; LW: 13):
The Commodores were off as well, and extra time had to be devoted to tweaking some of the offense. Vandy enters its game at Missouri with the SEC's No. 11 offense and we haven't seen the kind of explosion we saw last year. It doesn't help that there's a quarterback controversy in Nashville. Despite what happened in the Georgia game, the Commodores still own one of the league's top defensive units and provide a tough matchup for Missouri this weekend.
13. Arkansas (1-4; LW: 12):
Things just get worse and worse for the Razorbacks. If
Tyler Wilson
thought his team quit against Alabama, you have to wonder how he feels after the way his Hogs were run out of College Station, Texas, over the weekend. That defense is dreadful and this team is just lost. The offense put up a lot of yards against Texas A&M, but couldn't finish drives and never developed any consistency running the ball. Losing to Auburn this weekend would pretty much end any ounce of hope for a bowl game this year.
14. Kentucky (1-4; LW: 14):
For two quarters, Kentucky was on top of the world. Then, things fell apart, and South Carolina scored 31 straight points on the Wildcats. Things just aren't clicking for the Wildcats, and quarterback
Maxwell Smith
is injured again. This time, he has an ankle injury. This offense just can't do much unless he's in, and he can't stay healthy. The defense has to get tougher, as well. Joker Phillips' hot seat in Kentucky isn't cooling off one bit.
September, 27, 2012
9/27/12
10:15
AM ET
Here's a look at what to watch in the SEC in Week 5:
1. Shouldering the pain:
A handful of SEC quarterbacks enter the weekend with shoulder issues. We already know about
Connor Shaw
and
James Franklin
and their highly publicized shoulder pain, so we'll keep an eye on them. But there are a couple more QBs dealing with shoulder injuries in Ole Miss'
Bo Wallace
and Kentucky's
Maxwell Smith
. Wallace injured his shoulder last week against Tulane and missed practice Tuesday, but returned Wednesday. Smith was injured against Western Kentucky and missed last week's game against Florida. He's expected to play.
2. Lattimore's strength:
We still haven't seen the
Marcus Lattimore
of old, but slowly he's starting to get stronger and stronger. He shed his knee brace last week and probably ran the hardest he has all season in the Gamecocks' win over Missouri. He carried the ball 21 times for 85 yards, scored two touchdowns and caught seven passes for another 60 yards. The hesitation we saw in some of his earlier runs seems to be disappearing and the more confident he is, the better he is. That has to be a scary thought for defenses, and Kentucky could be just another victim for Lattimore as he continues his comeback.
[+] Enlarge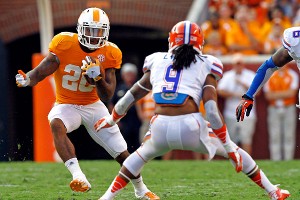 AP Photo/Wade PayneVols RB Rajion Neal needs to be a factor to keep the Bulldogs' defense from pinning its ears back and rushing Tyler Bray.
3. Tennessee's running game:
If the Vols are going to win at Georgia Saturday, they have to be able to run the ball. A one-dimensional offense won't beat Georgia and its defense. The Bulldogs will be trying to make quarterback
Tyler Bray
's day as miserable as possible by bringing pressure as much as it can. Bray hasn't done very well against the blitz, so Tennessee has to keep Georgia's defense honest through the running game. That means running back
Rajion Neal
has to run like he did against Akron. He has to get the tough yards, and he has to turn short runs into longer ones in order to extend drives. Bray can't do it all on his own.
4. Missouri's offensive confidence:
It's pretty obvious that Mizzou's offense has stalled. It lacks creativity and it's having trouble getting much push up front. Injuries to the offensive line have contributed to that, but this line has to get tougher in order to help create more time for quarterback James Franklin and his skill players.
T.J. Moe
went as far as to say Mizzou's performance against South Carolina last week was "embarrassing." If this team is going to survive its first year in the SEC, the offense has to step up. UCF's defense has been solid, so this will be a good test for the Tigers before getting back to league play.
5. Mettenberger's rebound:
Everyone is piling onto LSU quarterback
Zach Mettenberger
after his subpar play against Auburn last week. He was off for most of the game and seemed to lose his confidence after his fumble at the 1-yard line early in the game. But that was his first SEC start on the road, and Auburn's defense played its best game in a while. Towson won't provide the same challenges, and this game should help boost Mettenberger's confidence. One thing that will help is if he starts to develop more of a downfield passing game. This team has to find some explosion at wide receiver and this could be the weekend Mettenberger starts developing more chemistry with his wideouts.
6. Tennessee's second-half push:
Bray made it pretty clear this week that he wasn't very happy with the way the Vols played in the second half against Florida. He said earlier this week that the team "disappeared" in the second half and that the players met to discuss how they "crawled in a shell" in the last two quarters against Florida. That certainly can't happen in Athens this weekend. Georgia is built to play for four quarters and left Missouri behind in the fourth quarter earlier this season. Tennessee has to have a strong second half to keep up with the Bulldogs this weekend.
7. Aggies running wild:
Arkansas coach John L. Smith said Wednesday that the two things that aren't working for the Razorbacks' defense are stopping the run and stopping the pass. Well, that's certainly not good with Texas A&M up next. The Aggies have played back-to-back cupcakes, but with a completely new coaching staff and offensive system, they have averaged 526.5 yards and 59 points in their past two outings. Arkansas is giving up a league-worst 458 yards and 36.3 points per game. Players have really picked up Kliff Kingsbury's up-tempo offense and Smith said keeping up with that offense is a major concern for the Hogs.
8. Where will they line up?
Georgia coach Mark Richt is holding back from showing his cards when it comes to
Malcolm Mitchell
,
Bacarri Rambo
and
Alec Ogletree
. Mitchell has played all over the field for the Bulldogs this season, but he has received more reps on offense this week. He's listed as the starting boundary corner, but we could see more of him at receiver against the Vols. Rambo and Ogletree were suspended for the first four games, but are expected back this week. Richt isn't saying what their roles will be. Like the past four weeks, we'll have to wait until game time.
9. Manziel's maturation:
Talk about a lack of jitters. Texas A&M quarterback
Johnny Manziel
has been extremely fun to watch during his first season as a starter. After not taking a snap last year, Manziel has been one of the most productive quarterbacks in the league. He has passed for 641 yards with seven touchdowns and has carried the ball 32 times for 262 yards and five more scores. And what might be more impressive is that he hasn't thrown any interceptions. He'll face better talent this week than he has the past two, but Arkansas' defense is hurting, and Manziel has the ability to gut it.
10. Finding Bayou playmakers:
Some of the criticism that has been thrown Mettenberger's way should be directed toward LSU's receivers. We haven't seen a go-to option for Mettenberger like we saw with Rueben Randle last year.
Odell Beckham Jr.
was thought to be that guy, but he has caught only 11 passes for 158 yards and no touchdowns. He caught two passes against Auburn.
Jarvis Landry
leads LSU with 17 receptions and 160 yards, but has only one score.
Kadron Boone
leads the team with three receiving touchdowns. If this offense is going to progress, someone has to step up as more of a consistent receiving threat.
September, 24, 2012
9/24/12
9:03
AM ET
Another week and it still remains pretty clear Alabama is top dog in the SEC and nationally.
But has our No. 2 team fallen after a sloppy win on the road?
1. Alabama (4-0; LW: 1):
I feel like a broken record, but Alabama dominated yet again Saturday. It's hard to find any real weaknesses in this team. Although the backups did give up a touchdown to Florida Atlantic, so there's that.
2. LSU (4-0; LW: 2):
The Tigers looked pretty sloppy offensively in a tough 12-10 win against Auburn Saturday. LSU probably will have its name dragged through the mud after its play this weekend, but all good teams have those hiccup games. Quarterback
Zach Mettenberger
has to play better, but the defense still looks extremely dominant. The goal now is to not let that hiccup bleed into future games.
3. Georgia (4-0; LW: 3):
This Bulldogs offense has been really fun to watch through the first four weeks. Quarterback
Aaron Murray
has looked like a real Heisman candidate at times, while freshman running back
Todd Gurley
just gets better every time he gets on the field. Georgia completely overwhelmed Vanderbilt and heads into a fun showdown with Tennessee with a load of confidence.
4. South Carolina (4-0; LW: 4):
Connor Shaw
has proven he's a true player for the Gamecocks. He battled through a hairline fracture in his throwing shoulder to complete 20-of-21 passes in a blowout win against Missouri. You're starting to see more balance from this Gamecocks offense and that will be very important as SEC play continues. The defensive front is also getting stronger each week.
5. Florida (4-0; LW: 5):
The Gators seem to be growing up with each week. After back-to-back tough road wins, Florida shut out Kentucky at home and now has two weeks to prepare for LSU. This really has become more of the blue-collar team Will Muschamp wants, but we'll really find out how tough Florida is when LSU ventures into the Swamp.
6. Mississippi State (4-0; LW: 6):
Dan Mullen wasn't exactly pleased with the effort the Bulldogs gave in their lackluster 30-10 win against South Alabama, but a win is a win these days. This team can't be too happy with the way it has played in the past two weeks, but it's still undefeated. It's obvious players are losing focus against lesser opponents, and that should change with SEC play starting back up next week.
7. Tennessee (3-1; LW: 7):
There were some tense moments in the Vols' win over Akron Saturday, but the second half belonged to Tennessee.
Tyler Bray
showed off that cannon of a right arm, passing for 401 yards and four touchdowns. The running game also got going with
Rajion Neal
rushing for a career-high 151 yards. The key for this team is to duplicate those kinds of efforts against SEC opponents.
8. Texas A&M (2-1; LW: 9):
Man, the Aggies know how to use that football, right? In the past two games (both wins), A&M has averaged 526.5 yards and 59 points. Sure, you can point your nose up at the competition, but those are pretty good numbers for a team dealing with a brand new coaching staff and philosophy. Let's see how this offense performs with the SEC slate coming up.
9. Missouri (2-2; LW:8):
The Tigers just didn't put up much of a fight against South Carolina. Both the offensive and defensive lines got pushed around and it's looking more and more like the size up front is an issue for this team. Mizzou has too much talent offensively not to get the ball moving, but the Tigers failed to get big plays against South Carolina. You have to wonder what sort of offensive changes might come heading into the Central Florida game.
10. Ole Miss (3-1; LW: 11):
The Rebels really rebounded from that Texas blowout with a 39-point shutout of Tulane. Through four games, Ole Miss is third in the SEC in total offense (488 yards per game) and is averaging 36.8 points per game. This team has to cut down on the turnovers and the defense still needs some work, but the product on the field is much better than it has been the past two years.
11. Auburn (1-3; LW: 10):
The Tigers suffered a tough loss at home to LSU over the weekend. It was a game in which Auburn played its toughest ball of the season, but just didn't have anything going on offense. Like, absolutely nothing. The defense made strides, but the offense is still a major concern. Defense wins championships, but you have to put points on the board and move the ball, and Auburn has issues doing both, scoring only 20 points in two SEC games.
12. Arkansas (1-3; LW: 12):
Things just aren't working in Fayetteville, Ark.
Tyler Wilson
returned against Rutgers, but he couldn't help a defense that gave up 525 yards in the loss to the Scarlet Knights. Arkansas has now lost three straight -- all in the state of Arkansas -- and it's fair to say that leadership is lacking inside that locker room. There shouldn't be any smiling this week as the Hogs prepare for Texas A&M.
13. Vanderbilt (1-3; LW: 13):
The Commodores had nothing in the tank against Georgia. For a team that is supposed to have a different attitude, Vandy lacked any form of passion in its 45-point loss to the Bulldogs. The defense was shredded and the offense just never got into rhythm. This team is also dealing with quarterback issues. You never know who is going to be throwing the ball for the Commodores, and that's not a good thing.
14. Kentucky (1-3; LW: 14):
Nothing seems to be going right for the Wildcats.
Maxwell Smith
missed Saturday's loss to Florida with a bum shoulder and
Morgan Newton
did noting to help in Smith's place. Kentucky's offense has lacked any sort of consistency this season and the defense has been walked over. The bad news is that things get a lot tougher for the Wildcats with the teeth of the schedule coming up.
April, 6, 2012
4/06/12
4:55
PM ET
Revving up the running game is a priority this spring for Tennessee, so it was encouraging for the Vols to have some success running the ball Friday in their first full scrimmage of the spring.

Junior
Rajion Neal
rushed for 100 yards on 15 carries and had several explosive plays. It's one of the reasons the Vols moved Neal back to running back from receiver, his ability to pick up yards in chunks.
"I felt like we really showed a lot of improvement running the ball, and that's been our emphasis," Tennessee coach Derek Dooley said. "The line was coming off (the ball), runners were running good and we generated a lot of run yards."
Last season, the Vols averaged just 90.1 rushing yards per game and were the only team in the SEC that averaged fewer than 100 yards per game.
Dooley said he was also pleased with the way quarterback
Tyler Bray
managed the offense in the closed scrimmage. Bray finished 13-of-32 for 142 yards with an interception and a 5-yard touchdown pass to tight end
Mychal Rivera
.
The defense, according to Dooley, was playing very aggressive, especially in the secondary. Sophomore cornerback
Brian Randolph
had an interception and also blocked an extra point.
"There weren't a lot of mental breakdowns, which allowed them to play fast," Dooley said. "We have got to do a better job of stopping the run, but we're playing a lot more aggressively, playing more physical and denying the ball in the back end a little bit better. As long as you're playing with that kind of aggressiveness and toughness, all the other stuff will come."
A complete report on the Vols' scrimmage can be found
here
on their official web site.
February, 24, 2012
2/24/12
10:00
AM ET
Now that you've seen what to watch in the
SEC Western Division
, let's check out the East:

FLORIDA
Spring practice start date:
March 14
Spring game:
April 7
What to watch:
Finding offensive playmakers:
Year 2 of the Will Muschamp era begins with the team trying to find someone who can make a few plays for this fall. New offensive coordinator Brent Pease has a host of unproven offensive talent to work with. Wide receiver
Andre Debose
was Florida's best deep threat last year, and the coaches raved about receiver
Quinton Dunbar
's potential, but neither was consistent enough in 2011. Maybe Florida can finally turn to bigger backs
Mike Gillislee
and
Mack Brown
in the playmaking department.
Toughening up the offensive line:
The Gators' line struggled throughout the 2011 season. It wasn't always at 100 percent, but Florida's line also just wasn't tough enough -- mentally or physically. The Gators couldn't get the tough yards on the ground and didn't exactly protect quarterback
John Brantley
enough. The line should get a boost with early enrollees D.J. Humphries, who was the top offensive line prospect in the 2012 class, and Jessamen Dunker, but Florida will have to get improvement from players who return to a line that lost just one starter from last season.
Quarterback battle:
Brantley is gone, leaving rising sophomores
Jacoby Brissett
,
Jeff Driskel
and
Tyler Murphy
. Brissett replaced Driskel as Florida's No. 2 quarterback last year, while Murphy has yet to take a college snap. Brissett and Driskel had plenty of down moments last fall but should get a chance to reinvent themselves this spring with new leadership and more practice reps. This spring will be extremely important for all three quarterbacks as they try to improve a position that struggled mightily the past two years.

GEORGIA
Spring practice start date:
March 20
Spring game:
April 14
What to watch:
Isaiah Crowell's toughness:
Crowell has the talent to be a star in this league. He has the size and athletic ability to cause a lot of headaches for opposing defenses. However, his inability to stay healthy -- and in games -- became more of a headache for Georgia's coaches and fans in 2011. Crowell needs to get tougher and be more reliable. He said as much after last season, but it's time to make good on his word. Crowell could get a push from early enrollee Keith Marshall this spring, and we know coach Mark Richt isn't afraid to play multiple backs.
Position changes:
Richt made headlines recently when he said he'd be open to considering moving star freshman receiver
Malcolm Mitchell
to cornerback now that the Bulldogs are thin there. Maybe he'll play both ways. Also, rising sophomore
Ray Drew
could switch from outside linebacker to defensive end. He played both in high school. Georgia's offensive linemen also could play multiple positions up front.
The target on the Bulldogs' backs:
There will be a lot more attention paid to the Bulldogs this spring, as they will probably enter the 2012 season as the favorites in the SEC East. Georgia returns just about everyone from a team that reeled off 10 straight wins on its way to the SEC championship game. The Bulldogs aren't just considered the East front-runners -- they also are being viewed as national championship contenders. But the Bulldogs can't let the hype get to them. We've seen this team underachieve when the expectations were high before.

KENTUCKY
Spring practice start date:
March 21
Spring game:
April 21
What to watch:
Offensive line auditions:
The Wildcats must replace three offensive linemen this year. That process will begin this spring, and the good news is that veterans
Larry Warford
and
Matt Smith
return. Left guard
Kevin Mitchell
, who will be a junior this fall, started one game last year, while soon-to-be sophomore right tackle
Darrian Miller
started two games last fall, so there is some experience coming into the open spots.
Trevino Woods
, who didn't start a game last year, should be the favorite to play left tackle this spring, but he also can play guard. There's also a lot of depth to work with.
Defensive makeover:
Danny Trevathan
is gone, so Kentucky must find someone else to run the defense this season. There's no question that Trevathan was the heart of this defense, so replacing him won't be easy, but the Wildcats must find someone who can step up and be a player others can look up to. The Wildcats also lost six starters from their linebacking corps and secondary, meaning Kentucky will have to fill holes with youngsters.
Mikie Benton
and
Ridge Wilson
are the only returning starters not on the defensive line.
Maxwell Smith:
With fellow quarterback
Morgan Newton
sidelined this spring as he recovers from shoulder surgery, all eyes will be on Smith. He struggled at times last year, but Kentucky's offense was better when he was under center. Now, he'll have to make even bigger strides this spring if he wants to create a sizable lead in the race before Newton returns. Smith needs to work on his consistency, clean up his mistakes and develop better chemistry with his receivers.

MISSOURI
Spring practice start date:
March 6
Spring game:
April 14
What to watch:
Offensive adjustments:
Missouri might return some key pieces at skill positions, but the Tigers must replace three offensive linemen and will have to tweak some things to make their spread offense efficient enough to face SEC defenses. It helps that quarterback
James Franklin
is a runner and Missouri has speed and depth at receiver and running back, but the team must make subtle changes to combat the improved speed Missouri will see on defense, especially off the edge.
Rebuilding up front:
The Tigers will be without three starters on the offensive and defensive lines. That isn't exactly what any SEC team would like, considering games are won in the trenches in this league. Fortunately for Missouri, both sides saw multiple guys get playing time last season. Keep an eye on defensive end
Brad Madison
. He was viewed as a defensive player of the year candidate in the Big 12 last year but was limited by a shoulder injury.
Wide receivers:
Franklin had a heck of a 2011 season, but as he gets ready for 2012, he's still looking for a big-play threat in his receiving corps.
T.J. Moe
returns as the Tigers' leading receiver, while
Marcus Lucas
was fourth in receiving last year. Both have the potential to be elite in this league, but can one leave spring with the title of playmaker? Lucas showed flashes last year, but flashes only go so far. Missouri needs to find a definitive receiving threat.

SOUTH CAROLINA
Spring practice start date:
March 12
Spring game:
April 14
What to watch:
Marcus Lattimore's health:
His knee injury took place at the halfway point of the season, so he won't be 100 percent for a while. Still, the word is that he's ahead of schedule when it comes to rehabbing his knee. ACL injuries can be tough to manage, but with Lattimore's determination, he'll do everything possible to come back sooner than expected. He likely won't take contact this spring, but it'll be interesting to see whether the Gamecocks get much use out of him before summer.
Finding receiving options:
Now that
Alshon Jeffery
is gone, there's more pressure on South Carolina's receiving corps. Outside of Jeffery, the Gamecocks didn't have consistently reliable options in 2011. That has to change this year, and it starts with a productive spring.
Ace Sanders
should get more reps, and the coaches are excited about the big-play ability that speedster
Damiere Byrd
possesses. Also, keep an eye out for
Shamier Jeffery
, Alshon's little brother.
Connor Shaw's development:
Things couldn't have ended any better for South Carolina's quarterback last season. After an up-and-down start, he rebounded in the final three games with 896 combined yards passing and rushing and 11 touchdowns. Now, it's time for him to sharpen his passing skills and develop more confidence in his passing ability. Accomplishing that will help his receivers as well.

TENNESSEE
Spring practice start date:
March 26
Spring game:
April 21
What to watch:
New coaching feel:
The Vols enter spring practice with some new faces on the coaching staff. Six new assistant coaches will make their spring debuts this year. The most important might be defensive coordinator Sal Sunseri and running backs coach Jay Graham. Sunseri is working to make Tennessee more multiple in its approach, adding more 3-4 looks, while Graham will have to fix a struggling running game. Tennessee players will need to adjust to new coaching styles and buy in quickly this spring.
Running backs:
No group at Tennessee struggled quite like Tennessee's running backs last fall. The Vols were ranked 116th nationally in rushing offense and recorded just 11 rushing touchdowns (nine from running backs).
Tauren Poole
is gone, which means Graham will first turn to
Marlin Lane
and
Rajion Neal
, who combined for just 414 yards and four touchdowns last year.
Devrin Young
and
Tom Smith
will have to step up, while Tennessee will get some use out of early enrollee Alden Hill.
Justin Hunter's health:
Losing Hunter was the first of a few blows Tennessee's offense took last year. He's arguably Tennessee's best receiver and one of the best deep threats in this league. He suffered his ACL injury at the beginning of the season, and he's reportedly ahead of schedule but won't take any contact this spring. The goal is to have him running and cutting well at the end of the spring.

VANDERBILT
Spring practice start date:
March 16
Spring game:
April 14
What to watch:
Jordan Rodgers' confidence:
He enters spring as
the
quarterback for the Commodores, but he has to improve the mental part of his game. He let it get the best of him at times last year, especially in last season's bowl game. He can lose his rhythm quickly at times. He needs to work on improving his confidence and take more command of Vandy's huddle this spring. He has the skill to be a top quarterback in this league, but his head has to follow.
Warren Norman's health:
A knee injury forced the running back to redshirt last year, but the good news is that he spent the fall strengthening his leg by participating in each practice. The hope is that he'll be ready to go this spring, but you'd imagine that since this is his second knee injury, the coaches won't push him too much. Getting him to sprint and cut with ease will be important to his rehab this spring.
Keeping the edge:
James Franklin's first year as a head coach was a success, but it's important that the attitude and personality that made Vanderbilt so confident last year roll over to the spring. The loss in the bowl game might have stunted that personality growth a bit, but it's important that the Commodores get it back. It will go a long way toward keeping the progress going.
September, 29, 2011
9/29/11
10:34
AM ET
We are starting to learn more about every team in the SEC, but there is still room for growth on every squad.
We know that LSU and Alabama are the teams to beat in the conference and are setting up for a national championship knockout game in November.
We know that Florida's defense is better than we expected and the running game is very tough to stop with all that speed. We still don't really know much about the passing game, but it has been efficient enough to this point.
We know that South Carolina has the talent and the athletes, but the focus isn't always there. We saw tremendous improvement in the defense last week and something tells me that trend will continue. We also know that running back
Marcus Lattimore
won't be able to continue carrying the heavy load he has had through the first part of the season.
And we know that Arkansas just isn't the same team that it was last year. The defense is much-improved, but not having
Knile Davis
in the backfield has held the offense back at times.
We'll know even more after this weekend, and here's what to watch in Week 5:
1. Something has to give in Columbia:
Outside of ultimate workhorse Lattimore, South Carolina's offense looked awful against Vanderbilt last week. For most of the season, the Gamecocks have struggled to get anything really going on offense when Lattimore isn't touching the ball. Oh, and
Stephen Garcia
seems to be more mistake-prone than ever. Enter Auburn's defense. The Tigers are allowing 477.5 yards per game, which is most in the SEC and 110th nationally. So, maybe South Carolina's offense can rebound against Auburn. Or maybe it will be the complete opposite. Someone has to win this game and someone will. But which team will come to play for longer?
[+] Enlarge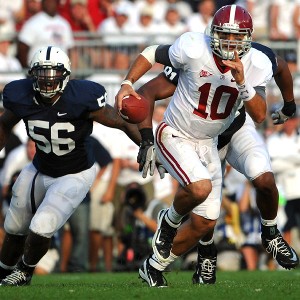 Jeffrey G. Pittenger/US PresswireAJ McCarron and his Gators counterpart, John Brantley, will need to open up their downfield passing games Saturday.
2. Downfield passing games:
Alabama and Florida have spent most of the season cramming the ball down opponents' throats with their running games. The two are first and second in the league, respectively, in rushing offense and are in the top three in rushing defense. Passing the ball, however, hasn't looked as pretty. Alabama ranks 64th nationally in passing (225.25 yards a game), while Florida is 79th (202.75). With two defenses that eat up the run like Cookie Monster does Chips Ahoy, Alabama's
AJ McCarron
and Florida's
John Brantley
might have to look downfield more in this contest. Those passes to the flat and check downs won't come as easily in this one for either team.
3. Jet lag:
If a rough start in Oxford, Miss., isn't bad enough, Ole Miss has to travel across the country to take on Fresno State. Last year, the Rebels hung 55 on the Bulldogs, but that was at home. Ole Miss hasn't been able to get much done offensively this season, especially with a quarterback shuffle on its hands. The running game doesn't have the same grit it has during the past three years under coach Houston Nutt and the offensive line isn't playing to its potential. This trip comes at the worst time for this team. It's a long flight and could be an even longer game with the way the Bulldogs score points, meaning the Rebels' offense will have to step up even more.
4. Arkansas' pass rush:
The Razorbacks will be without defensive end Tenarius Wright, who is out four to six weeks with a broken arm, and could have to play without end Jake Bequette for the third game in a row. During the two weeks in which Bequette was out, the Hogs had just three sacks. Arkansas' inability to consistently get to the quarterback really hurt it when Troy put up 373 passing yards and three touchdowns through the air. Arkansas was better against Alabama last week, but not having both these players won't help them against Texas A&M's
Ryan Tannehill
, who is averaging just under 300 yards a game.
5. Life without Justin Hunter:
Tennessee suffered a devastating loss when sophomore wide receiver Hunter tore his ACL very early in the Florida game two weeks ago. Now coach Derek Dooley will look to fill Hunter's spot at the "X" position by committee.
Zach Rogers
will get the first shot, starting in the X, but expect Dooley to call on a few other young receivers to help out quarterback
Tyler Bray
. Da'Rick Rogers also needs someone else out there to lessen the double-teams he's likely to see from here on out. Freshman
DeAnthony Arnett
, who had a breakout game against Florida, is listed as the backup to Rogers and so is former running back
Rajion Neal
, who has seven career catches.
6. Bounce-back Bulldogs:
Georgia hosts Mississippi State this weekend, and both teams are in must-win situations. Georgia is already behind the eight ball in the East with both South Carolina and Florida getting early conference wins. Two SEC losses won't kill Georgia, but this team is looking to build momentum to get through the heart of the SEC, and losing now could drain this team. Mississippi State just hasn't looked like the team that put up 93 points and 1,176 yards through the first two weeks. Since then, this pack of Bulldogs has averaged 266.5 yards in the past two games and has scored just 32 points. Mississippi State is 0-2 in conference play and desperately needs to get in the win column in conference play.
7. Teacher vs. student:
Will Muschamp might not know much about "Star Wars," but he definitely knows that people are extremely interested in seeing him take on his former mentor in Nick Saban. Florida and Muschamp are the underdogs at home, while Saban and his Alabama team will enter Gainesville as the villains. It's a great storyline for us in the media, but publicly neither cares too much about it. However, neither wants to be bested by the other. Expect Muschamp to unveil a few wrinkles that should frustrate Saban a bit. But don't think Saban won't have a few things up his sleeve to trick his former pupil.
8. Quarterback shuffle:
As we've said time and time again on the blog, Ole Miss' offense has really struggled this season. It's also had three quarterbacks line up and take snaps.
Barry Brunetti
started off the season as the Rebels' signal-caller, then he was benched for
Zack Stoudt
, and eventually
Randall Mackey
came in. Stoudt has taken the majority of the snaps, but Mackey took reps with the first-team offense during Wednesday's practice. Nutt said he would like to redshirt Brunetti, but there's a chance he could still play again this year. Nutt wasn't made available to the media after practice, so let the speculation begin on who will line up under center first in California this weekend. Regardless of who makes the start, if things get bad, you can bet there will be a quarterback switch at some point.
9. Even more SEC flare in Arlington:
Saturday's game between Texas A&M and Arkansas is a preview of even more to come from the Aggies and the SEC in the future. With Texas A&M officially making the move to the SEC in time to start athletic competition next season, expect to hear more than the normal amount of SEC chants echoing throughout Cowboys Stadium. In fact, you might hear it right when the Aggies take the field. Will that cause Arkansas players and fans to go easy on their future family members? Absolutely not. There will be handshakes and hugs early, but it will be all business after kickoff.

10. A youth jolt for Kentucky's offense:
Freshman
Josh Clemons
will continue to be the guy at running back for Kentucky this weekend when the Wildcats travel to Baton Rouge to take on No. 1 LSU. The youngster is healthy and ready to take on one of the most smothering defensive fronts in the entire country. Besting LSU's defense probably isn't going to be something Clemons and Kentucky do often Saturday, but coach Joker Phillips is hoping that he can generate some more consistency for Kentucky's offense. The Wildcats haven't moved the ball well, but Clemons has been a bright spot at times. Clemons is getting ready for a major road test, but it will be good experience for the frosh, who is in charge of this running game with
Raymond Sanders
sidelined with a knee injury.
April, 25, 2011
4/25/11
2:30
PM ET
With spring officially over in the SEC world, it's time to take another look at some of the guys who surprised this spring.
After the first weekend of spring games, guys like LSU wide receiver
Kadron Boone
and South Carolina offensive lineman A.J. Cann drew high praise from their respective coaches.
Here's a look at the players from the past two weeks of spring games who helped get their names out there:

Alabama
RB Eddie Lacy
-- Last season, Lacy's production was hindered because of a problem with fumbling. Lacy helped shake that stigma with a strong spring and appears to have secured the No. 2 running back spot. He finished the spring game with 74 yards (44 rushing, 30 receiving).
WR Brandon Gibson
-- The fifth-year senior had a productive spring not only at wideout, but he's becoming more of a leader for the Tide. He's always been a special-teams workhorse, but he's looking to make a name at receiver. He recorded five catches for 53 yards, including a long of 27, in Alabama's spring game.

Arkansas
S Eric Bennett
-- The sophomore from Tulsa, Okla., made it a battle this spring at the strong safety position with senior Elton Ford. Bennett was a quarterback in high school and has an edge to him that all coaches like. Whether he wins the starting job or not, he's proved that he can help the Hogs in the secondary in 2011.
RB Ronnie Wingo, Jr.
-- With the season
Knile Davis
had a year ago, a lot of people forgot about Wingo. But he came back this spring and showed his big-play capability both as a ball carrier and pass-catcher. He rushed for 62 yards on 11 carries in the spring game.

Auburn
DE Joel Bonomolo
– The junior college transfer was injured all of 2010, and while he's still a bit raw, he led the defense during the spring game with six tackles, three for a loss, including two sacks. He still has some things to learn, but he finished the spring on the right track heading into the offseason.
RB Anthony Morgan
-- Morgan has moved all over the field during his Auburn career, but seemed to make a statement at running back this spring. He finished the spring game with a team-high 57 yards on six carries, and if he continues to improve, coach Gene Chizik said he could earn playing time this fall.

Georgia
DT Kwame Geathers
-- The sophomore noseguard was one of the biggest surprises of the spring for the Bulldogs. He was named the defensive MVP for spring practice by Georgia's coaches and had four tackles, including two for loss, in the spring game.
RB Ken Malcome
-- Injured for part of the spring and seemingly buried on the depth chart, Malcome showed some of his bulldozing ability in the spring game. He's the kind of downhill runner the Bulldogs want in their offense, and if he's healthy he could contribute. He scored the game-winning, 12-yard touchdown and finished with 39 yards on the ground.

Kentucky
DE Collins Ukwu
-- A starter a year ago, Ukwu only had one sack all season and none in SEC games. Look for that to change in 2011. He's gotten bigger and stronger, adding to his great speed, and was a force this spring. He had two tackles for loss, including a sack, in the spring game.
WR Brian Adams
-- The Wildcats were looking for dependable playmakers at receiver following the loss of
Randall Cobb
and
Chris Matthews
, and even though Adams split his time between football and baseball, he was as consistent as anybody. He was the star of the spring game with seven catches for 121 yards and two touchdowns.

Ole Miss
WR Vincent Sanders
-- The redshirt freshman looked like the playmaker the Rebels had desperately searched for at times this spring. Like most of the other receivers, he was inconsistent at times, but finished the spring game with a game-high 96 receiving yards and a touchdown on four catches.
S Brishen Mathews
-- Mathews worked his way into the No. 1 strong safety spot exiting spring. He was a pleasant surprise for the Rebels' secondary and finished the spring game tying for a game-high eight tackles.

Tennessee
DT Daniel Hood
-- After spending last season on the offensive line, Hood moved to defense and exited the spring as one of the starters at tackle. The Vols are extremely thin inside on the defensive line, and Hood gives them another big, athletic body in there.
RB Rajion Neal
-- After carrying the ball just 46 times last season, Neal emerged this spring as a nice complement to
Tauren Poole
. Tennessee coach Derek Dooley is looking for two No. 1' at running back, and Neal showed some big-play ability the Vols were missing a year ago.

Vanderbilt
DT Colt Nichter
-- With the injuries the Commodores were forced to weather up front last season, Nichter stepped in and played very well. But this spring, he showed signs of becoming a star and was a disruptive presence in every scrimmage. He had two sacks and two pass breakups in the spring game.
RB Wesley Tate
-- The two big names in the Commodores' backfield last season were
Warren Norman
and
Zac Stacy
, but get ready to add a third name to that equation. The 225-pound Tate showcased power and speed this spring and will add a different dimension to the Vanderbilt running game now that he's healthy.