December, 27, 2013
12/27/13
6:28
PM ET
Marshall ended its season on a high note by upending Maryland
31-20
in Friday's Military Bowl presented by Northrop Grumman. The victory clinched the Herd's first 10-win season in more than a decade.
Here's how it went down:


It was over when:
Marshall completed a 28-yard pass on third-and-11 with about four minutes left in the game. The Herd were just out of field goal range before the play, with the ball at the Terps' 36, and that completion effectively put the game away. TE
Gator Hoskins
grabbed the catch near the first-down marker and rumbled for about another 14 yards. He caught a touchdown pass on the next play. That put Marshall up 31-20 with 3:42 left to play.
Game ball goes to:
Marshall QB
Rakeem Cato
. If Marshall was going to win, it was going to be with the arm of Cato. Coach Doc Holliday chose to pass nine more times than his team rushed, and Cato finished 28-of-44 for 337 yards, three TDs and no interceptions. Cato came up big when needed, converting 4 of 6 third downs in the final quarter, including two third-and-long plays on touchdown drives.
Stat of the game:
Maryland's average starting field position on its first 11 drives was its own 16. The Terps constantly had to drive a long field to get any points, as they didn't start a single drive past their own 28 until drive No. 12 -- when the game was already out of reach, and only after an excessive celebration by Marshall led to a 15-yard penalty. The Terps started within their own 5 on three occasions.
Unsung hero of the game:
Marshall punter
Tyler Williams
. The Herd won the field-position battle in a big way, thanks in big part to Williams. Three of his first five five punts landed inside the 5 -- four of his seven were downed inside the 10 -- and another bounced at the 1 before a teammate carried it into the end zone. Holliday stayed conservative on fourth down, but it paid off.
What we learned:
This win solidified the fact that Marshall is more than capable of playing with BCS-level opponents -- and that it will be a team to watch out for next season. Cato entered the bowl game as one of the better-kept secrets in the FBS, but with a national TV audience watching, that might not be the case anymore. He likely will surpass Chad Pennington's school record for career passing touchdowns (115) next season, and he's definitely a quarterback to keep an eye on.
To watch the trophy presentation of the Military Bowl,
click here
.
December, 27, 2013
12/27/13
9:00
AM ET
Maryland is hoping it goes out with a win against Marshall in its final game representing the ACC, but the Thundering Herd won't be a pushover in the Military Bowl presented by Northrop Grumman.
The two teams face each other at 2:30 p.m. ET on Friday (ESPN). Here's a quick preview:


Who to watch:
The quarterbacks. Marshall's 6-foot signal-caller,
Rakeem Cato
, is one of the better-kept secrets in the FBS. He has passed for 3,579 yards this season, in addition to 36 TDs and nine interceptions. He's a junior, but he has already solidified his status as one of the better quarterbacks in school history. He's third in career passing touchdowns (88) for the Thundering Herd and sits behind two other Marshall QBs whom you might recognize: former NFL players Byron Leftwich and Chad Pennington. Maryland isn't too bad at this position, either.
C.J. Brown
's numbers haven't been nearly as eye-popping, but the dual-threat QB has struggled with injuries throughout the season -- and he's finally healthy. He was instrumental in late-season wins against Virginia Tech and NC State, and he punished teams on the ground and through the air. He threw for 2,045 yards and 11 touchdowns and rushed for 538 yards and 12 TDs.
What to watch:
Marshall's offense vs. Maryland's defense in the red zone. The Terps' secondary should have its hands full with the Thundering Herd already, but the red zone presents a whole new set of problems. Doc Holliday's offense has been incredibly balanced inside the 20-yard line, as it has ended up with 26 rushing TDs to 22 passing TDs. Marshall is seventh in the nation in red-zone offense by scoring on 91.8 percent of its trips. Maryland's defense, on the other hand? Well, this could end up being quite the mismatch. The Terrapins haven't fared well at all by ranking 111th in red-zone defense. They've allowed scores on 89.6 percent of their opponents' drives inside the 20. Marshall is a high-scoring offense and can win in a shootout. If Maryland struggles in this area, it might not be able to catch up.
Why to watch:
Well, it's either watch this football game or no football game at all. This will be the only televised game for three-and-a-half hours, so that's a pretty big selling point. The matchup itself isn't the most intriguing --
Mark Schlabach ranked it No. 31 out of 35
, in terms of interesting bowl games -- but Maryland is still looking to end its final game as a member of the ACC on a high note. Third-year Maryland head coach Randy Edsall hasn't yet won a bowl game, while Marshall is trying to prove it can play with teams from the AQ conferences. Plus, the game is about only a 30-minute drive from Maryland's campus, so it'll be interesting to see how well the fans travel. It should be a nice sneak peek for Big Ten fans for what they can expect.
Prediction:
Marshall 38, Maryland 34
September, 23, 2013
9/23/13
11:00
AM ET
Here is one last look back at the week that was in the ACC.
The good
: Perhaps Clemson teams of the past would have faltered when adversity struck early Thursday in Raleigh, N.C. But the defensive line stood up, and the offense made plays when it needed to, turning a close contest into a more comfortable 26-14 win, allowing the Tigers to remain the ACC's most likely national title contender.
[+] Enlarge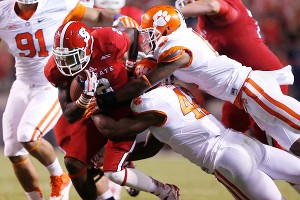 Ethan Hyman/Raleigh News & Observer/MCT via Getty ImagesThe Clemson defense played well in the win over North Carolina State.
The bad
: Pitt's defense avoids this distinction only because Duke's was worse. The Panthers escaped Durham, N.C., with a 58-55 win Saturday for their first ACC victory. The Blue Devils surrendered 598 yards of offense and did not force a single turnover, while committing four themselves. Duke coach David Cutcliffe said Sunday that he had never been a part of any game like it before.
The ugly
: Virginia Tech beat Marshall 29-21 in three overtimes to get to 3-1. The first two overtimes featured no scores. The game had five total turnovers. Marshall committed 11 penalties. Oh, and both kickers combined to go 0-for-5 on field goal attempts, with the Hokies'
Ethan Keyserling
going 0-for-3 while replacing
Cody Journell
, who was suspended for an unspecified violation of team rules. The one bright spot was
Derrick Hopkins
coming oh-so-close to a walk-off fat guy touchdown after a
Rakeem Cato
fumble in overtime No. 2.
The wake me when it's over
: The fourth quarter of Miami's 77-7 win over Savannah State was shortened to 12 minutes, as mutually agreed upon by both coaches. What more needs to be said about this matchup?
The wake me when it's over, Parts 2 and 3
: In case one FCS beatdown wasn't enough for you, Virginia beat VMI 49-0 and Florida State beat Bethune-Cookman 54-6. For those keeping count, that's a combined 180-13 margin for the three ACC squads against FCS foes this past weekend.
The rebound
: Wake Forest needed a win in the worst way, and the Demon Deacons came through Saturday at Army.
Josh Harris
had two second-half touchdowns and
Nikita Whitlock
notched 14 tackles, giving the Deacs a 25-11 win before they prepare to head to Clemson this week.
The statement
: Nice little stories don't force six turnovers and beat West Virginia 37-0. They don't hold the Mountaineers to six first downs and 175 total yards of offense. And they don't start 4-0. It may be time to take Maryland seriously after its rout of WVU, as the Terrapins are two wins shy of their previous two-year total under Randy Edsall, who refused to call the win a signature one but is surely pleased with his team's start this season.
The what-could-have-been
: Hindsight is 20/20. We don't know how ready
Terrel Hunt
would have been to start for Syracuse in the season opener. And Wagner and Tulane are not as good as Penn State and Northwestern. That said, the loss to the Nittany Lions was a winnable game. And Hunt's two starts after the Orange's first two losses with
Drew Allen
under center have been great, as he completed 16 of 21 passes Saturday against the Green Wave for 181 yards and four touchdowns. He added 39 yards and another score on the ground, and he did not turn the ball over. Hunt,
as Anish Shroff pointed out
, has the highest Total QBR rating in the country, though he has not played enough yet to qualify for the top spot.
The stand
: Georgia Tech improved to 2-0 in the conference with a 28-20 home win over North Carolina, and it did it with its defense. The Yellow Jackets trailed by 13 twice in the first half. But they held the Tar Heels without a point over the game's final 39-plus minutes and held UNC to just 319 total yards of offense.
September, 27, 2012
9/27/12
9:00
AM ET
Prediction time is here again, and at last, we can start forecasting some Big Ten conference games.
League play opens up at five Big Ten venues Saturday, while Purdue returns from an open week to wrap up its nonleague slate against Marshall. Week 4 was a rough one for Brian Bennett, who went 6-4 in predictions and fell three games behind Adam Rittenberg in the season standings. The good news: The entire Big Ten slate remains, so Bennett, like most Big Ten teams, has time to improve his record.
Let's get started ...
INDIANA (2-1) at NORTHWESTERN (4-0)
Brian Bennett: The Hoosiers are apt to hang around in this one, and their passing game could give the Wildcats' still somewhat shaky secondary a big test. But Northwestern has shown too much toughness so far this season to slip up now.
Venric Mark
rushes for two scores and
Kain Colter
throws for two more as Pat Fitzgerald's team moves to 5-0.
... Northwestern 35, Indiana 21
Adam Rittenberg: These teams typically play close games, and Indiana's passing game, led by quarterback
Cameron Coffman
, will challenge Northwestern's secondary more than the Wildcats' past few opponents did. Northwestern's offensive line is in a good rhythm, though, and Mark will record another 100-yard rushing performance and two touchdowns. The Wildcats open up their passing game a bit in the second half and improve to 5-0.
... Northwestern 34, Indiana 26
PENN STATE (2-2) at ILLINOIS (2-2)
Adam Rittenberg: Penn State is hitting its stride under Bill O'Brien, and the Lions will be fired up to face poacher coach Tim Beckman and the Illini. Matt McGloin and
Allen Robinson
connect for two more touchdowns, and running back
Bill Belton
adds another score in his return. The Lions bottle up Illinois' run game in the second half and win their third straight.
... Penn State 21, Illinois 17
Brian Bennett: The Nittany Lions' offense isn't going to give the Illini defense as many fits as the spread teams have this season. But McGloin is slinging it pretty well, and I don't know what the offensive identity is for Beckman's club. This one won't be pretty, but Penn State gets out to an early lead and hangs on with a defensive stand in the fourth quarter.
... Penn State 17, Illinois 10
MINNESOTA (4-0) at IOWA (2-2)
Brian Bennett: Somehow, Iowa is favored in this game. But even though it's at Kinnick Stadium, all the good vibes belong to Minnesota going into Saturday. The Gophers' pass defense has been strong, while
James Vandenberg
and the Hawkeyes' passing attack has sputtered.
Mark Weisman
will batter his way to 160 yards, but the Gophers come up with two picks and a special teams score to hogtie the Hawks.
... Minnesota 21, Iowa 14
Adam Rittenberg: I went against the Gophers last week and paid the price. Not happening again. The Gophers' defense contains Weisman and forces some mistakes from Vandenberg, while the run game surges behind
Donnell Kirkwood
. It'll be an up-and-down day for
Max Shortell
, but he finds senior tight end and Iowa native
John Rabe
for the game-winning touchdown in the fourth quarter.
... Minnesota 24, Iowa 20
MARSHALL (2-2) at PURDUE (2-1)
Adam Rittenberg: After dealing with a migraine in the Eastern Michigan game, Purdue quarterback
Caleb TerBush
bounces back nicely with a three-touchdown, zero-interception performance against the Thundering Herd. The Akeems run all over a woeful Marshall defense and Purdue pulls away in the second quarter and cruises to another easy win.
... Purdue 38, Marshall 21
Brian Bennett: The Thundering Herd lead the nation in passing, so they'll have a puncher's chance in West Lafayette. But they also have one of the worst defenses in the country, which should help TerBush and company enjoy a big day.
Kawann Short
and the Purdue defensive line are too much here, sacking
Rakeem Cato
five times.
... Purdue 48, Marshall 24
No. 14 OHIO STATE (4-0) at No. 20 MICHIGAN STATE (3-1)
Brian Bennett: At some point, the Spartans have to start catching balls thrown right at them. How about this week? This is a better matchup for the scuffling Ohio State defense, but I think Spartans defensive coordinator Pat Narduzzi will devise a plan to contain
Braxton Miller
. An actual touchdown pass from
Andrew Maxwell
and a 100-yard day from
Le'Veon Bell
will be just enough for Michigan State to escape at home. Next prediction.
... Michigan State 19, Ohio State 17
Adam Rittenberg: Ohio State looks like a team waiting to be beaten one of these weeks, but Miller Time refuses to lose. Miller starts slowly but turns in a big fourth quarter and breaks free for two touchdown runs to rally Ohio State for the victory. Michigan State's passing woes continue, and the Buckeyes' defense forces a key third-quarter turnover and starts looking a bit more like the silver bullets again.
... Ohio State 20, Michigan State 17
WISCONSIN (3-1) at No. 22 NEBRASKA (3-1)

Adam Rittenberg: Although Wisconsin started to look like its old self a bit at the end of the UTEP game, I don't see how the Badgers win this one. Nebraska has more weapons on offense, the home-field advantage and no shortage of motivation after being embarrassed last year in Madison.
Chris Borland
and the Wisconsin defense keeps this close for a while, but Nebraska quarterback
Taylor Martinez
goes off in the second half, and
Rex Burkhead
adds another long touchdown run.
... Nebraska 34, Wisconsin 21
Brian Bennett: I don't like where this is headed for the Badgers. They've got a quarterback making his first start on the road, a banged-up
Montee Ball
and injuries on their defensive line. These are all bad signs against a Huskers team that is averaging 54 points per game at home this season. Martinez (three touchdowns) and the Nebraska defense get redemption by pulling away in the third quarter. Call it an early retirement gift for Tom Osborne.
... Nebraska 35, Wisconsin 17
Michigan is off this week.
Season Records
Rittenberg: 36-10 (.783)
Bennett: 33-13 (.717)
September, 11, 2012
9/11/12
10:30
AM ET
One Big East quarterback has been as impressive as any signal caller in the country through two weeks. Another is the nation's No. 2 passer, though his team will need to win more games to pick him up.
Teddy Bridgewater, QB, Louisville
: All Bridgewater did was complete 30 of 39 passes for 344 yards and two touchdowns, one week after he completed 19 of 21 throws for 232 yards in less than three full quarters. Missouri State and Kentucky have not been top competition, but you can't ask for much more than what the sophomore has done through two weeks. I had him No. 3 on my Heisman watch this week.
Ryan Nassib, QB, Syracuse
: The Orange need to win games or Nassib will never get national recognition. Which is too bad, because he actually has the second-most passing yards in the nation, his 804 trailing Marshall's
Rakeem Cato
by just one yard through two weeks. His 37.5 completions per game are also second, behind Louisiana-Monroe's
Kolton Browning
(42). Nassib's 324 yards and two total touchdowns gave Syracuse a fighting chance against heavily favored USC. He should have a much easier time this week against FBS Stony Brook.
December, 20, 2011
12/20/11
11:40
PM ET
Marshall beat FIU
20-10
in the Beef 'O' Brady's Bowl on Tuesday night. Here is a look at how it happened:


How the game was won:
Marshall special teams. The Thundering Herd have been excellent all season at blocking kicks, and Tuesday night was no exception. With its offense stalling left and right, Marshall got the big play it needed with 7:35 left in the game. FIU set up to punt from its own 22, but Zach Dunston blocked the kick -- the seventh block of the season for Marshall (three kicks, four punts). The Herd appeared to score on the play, but the touchdown was negated because there was an illegal forward pass. A personal foul call on Tyrone Carper was tacked onto the end of the play. But Marshall was able to stay in field goal range, and Tyler Warner made a 39-yard kick that hit off the inside of the upright to put the Herd ahead.
Aaron Dobson
caught his second touchdown pass of the game on a fourth-down play with 30 seconds left to ice the game.
Turning point:
The block was a huge turning point for Marshall. For FIU -- it was the play of
T.Y. Hilton
. The Panthers were determined to get him going early, and he had some nice plays -- including their only touchdown of the game. But he bruised his thigh in the first half and was mostly ineffective when he returned to the game in the second half. After Marshall kicked its go-ahead field goal, Hilton had a costly play that ended up being a deciding factor. He fumbled after a catch near midfield with 4:24 remaining, and Marshall recovered. It was his second fumble of the game, though he recovered his first.
Player of the game:
Dunston. His blocked kick turned the tide in the game.
What Marshall learned:
The Thundering Herd won their seventh bowl game in the last eight appearances, and Doc Holliday led this team to a winning record in his second season. This win is huge for the momentum he is building at program eager to restore its past traditions.
Rakeem Cato
was inconsistent in the game, but playing as a true freshman can only help next season.
What FIU learned:
Without an effective quarterback, it is hard to win games. The Panthers decided to start senior
Wesley Carroll
, but he struggled. Backup
Jake Medlock
came in briefly in the fourth quarter but was equally ineffective. They had no downfield passing game, also hurt because of a hobbled Hilton. Now the question that looms is whether FIU coach Mario Cristobal returns next season. He is a candidate at Pitt.
December, 20, 2011
12/20/11
10:30
AM ET
You saw the preview and prediction, now here are three keys for FIU and Marshall in the Beef 'O' Brady's Bowl tonight:
FIU (8-4)

1. Block Vinny Curry.
There is a reason Curry has become one of the best defensive ends in the nation. "He disrupts offenses completely," FIU coach Mario Cristobal said. "We have got to find a way to block him and contain him." FIU has done an excellent job at protecting the quarterback this season, allowing just 13 sacks. Curry has 11 sacks this season, but he also has 21 tackles for loss and has forced six fumbles.
2. Get T.Y. Hilton loose.
There is no doubt Hilton is one of the most dangerous players in college football because he can hurt you in so many ways. He catches passes, he is used as a runner out of the backfield, and he can return punts and kicks. A hamstring injury bothered him for a good portion of the season, but Hilton says he is 100 percent, so Marshall is going to have a real threat on its hands. It was Hilton who helped lead FIU to its win in the Little Caesars Pizza Bowl against Toledo last season with his famous hook-and-ladder on a fourth-and-17. He also caught a touchdown pass and scored on a kick return.
3. Score touchdowns.
FIU has done a good job of converting red zone opportunities into points, but it has to do a better job of getting touchdowns and not field goals. In 45 red zone chances this season, FIU has kicked 18 field goals and scored just 21 touchdowns. Maximizing those opportunities is essential to winning this game.
Marshall (6-6)

1. Slow down Rhodes and Hilton.
In addition to trying to contain Hilton, Marshall also is going to have to slow down FIU running back
Kedrick Rhodes
. The sophomore finished the regular season with 1,121 rushing yards, 13 shy of breaking the FIU single-season record. But his yardage total is the most since FIU joined the FBS level, and he helped shoulder the load while Hilton was hobbled.
2. Don't ask Cato to do too much.
Tron Martinez
and
Travon Van
are going to have to do their part to take the pressure off quarterback
Rakeem Cato
, who has been up and down this season. Cato is back in the starting lineup and coming off a game in which he threw for a career-high 341 yards, but he also has a tendency to throw interceptions and take too many sacks. FIU is good against the run -- ranking No. 23 nationally -- so this will be a big test for the Herd.
3. Keep it close
. Marshall has done exceptionally well in close games this season -- 5-0 in games that are decided by a touchdown or less. Marshall has had a hard time blowing teams out, or even winning comfortably, for that matter. In fact, the Herd are one of seven bowl teams to have been outscored this season. Only UCLA has been outscored by a wider margin, according to ESPN Stats & Information.
December, 4, 2011
12/04/11
10:10
PM ET
Florida International Golden Panthers (8-4) vs. Marshall Thundering Herd (6-6)
Dec. 20, 8 p.m. (ESPN)

FIU take by college football blogger Matt Fortuna:
FIU's 8-4 this season was the best in school history, and it will look to punctuate that mark with a bowl win in its second-ever bowl appearance after beating Toledo last season in the Little Caesar Bowl. The Golden Panthers' Sept. 9 win at Louisville was its first against a BCS automatic qualifying opponent in school history.
Quarterback
Wesley Carroll
lost his job to
Jake Medlock
but won it back after Medlock injured his shoulder at Louisiana-Monroe. Carroll, a fifth-year senior, stepped back in and completed 16 of 34 passes for 213 yards and three scores, leading FIU to a 28-17 win.
T.Y. Hilton
has been the most explosive player for the Golden Panthers, though he has been hampered by a hamstring injury. Hilton has 950 receiving yards and seven touchdowns while rushing for another 101 yards on just 16 carries. His seven receiving touchdowns tied the school's single-season record. Hilton has also returned a punt for a touchdown and added a 77-yard kickoff return in the regular-season finale. FIU finished the season tops in the nation in punt returns.
FIU's banner season included wins over in-state opponents Florida Atlantic and Central Florida, and the Golden Panthers finished with tied with Florida State for most wins in the state this season.
---

Marshall take from college football blogger Kevin Gemmell:
Needing to win their final two games to become bowl eligible, Marshall clutched up with a win on the road at Memphis before pulling out a 34-27 overtime win at home over East Carolina.
Defensive lineman Vinny Curry is a beast that makes the defense go. He has 11 sacks and 21 tackles for a loss this season (second best nationally). Marshall still ranks in the lower half of the nation in rush defense, yielding 155 yards per game. But Curry makes offenses work for every yard.
In the secondary, senior defensive back Rashad Jackson has had a nice season with nine pass breakups and four interceptions -- including a pair in the ECU win.
Quarterbacking is once again an issue with true freshman
Rakeem Cato
and
A.J. Graham
splitting time. But Graham was hurt in the season finale, and with bowl eligibility on the line, Cato orchestrated the overtime victory. Cato has more touchdowns (13), but also has 10 picks on the year. Graham has a 7-4 touchdown-to-interception ratio.
Tron Martinez
paces the offense on the ground with 591 yards and an average of 4.1 yards per carry. In the overtime win against East Carolina, he scored the winning touchdown and also showed some versatility out of the backfield, catching three balls for 34 yards.
November, 28, 2011
11/28/11
1:00
PM ET
Let's take a look back at the non-AQs in Week 13:
Houston one step away.
The Cougars faced a tough task on the road at Tulsa, with a spot in the Conference USA championship game on the line. Tulsa jumped out to a 10-6 lead early in the game, and some had to wonder whether we were seeing the old Houston come back to life. But these are not the Cougars of 2009 or 2010. The Cougars reeled off 28 straight points in the second half to blow open the game and win 48-16.
Case Keenum
threw for 457 yards and five touchdown passes, and
Patrick Edwards
had 181 yards and four touchdowns as Houston won a school-record 12th game. Two of their touchdown connections came on fourth down. Edwards went over 100 yards for the 16th time in his career and also broke the conference record for career receiving yards. Houston now hosts Southern Miss on Saturday with a chance to make its first BCS appearance.
Coaching carousel starts.
Akron, Memphis and UAB all are in the market for new head coaches. The Zips fired Rob Ianello after he went 2-22 in his two seasons at the helm. The Tigers fired Larry Porter after he went 3-21 in two seasons. UAB fired Neil Callaway after he went 18-42 in five seasons with the Blazers. Athletic directors at all three schools essentially said they did not see improvement in their programs and decided to go in different directions. Callaway is the third Conference USA coach who has been fired this season, joining Bob Toledo of Tulane. New Mexico also fired coach Mike Locksley earlier this season, but already hired former Notre Dame coach Bob Davie. Meanwhile, Ianello was reportedly fired as he drove to his mother's funeral in Long Island, N.Y.
Going bowling.
Marshall became bowl eligible for the first time under coach Doc Holliday, after a 34-27 win over East Carolina in overtime. The Pirates sent the game into the extra period when
Dominique Davis
threw a 6-yard touchdown pass to
Justin Jones
with 14 seconds left in regulation. But Davis threw an interception in overtime, after
Tron Martinez
scored on a 1-yard run for the Herd. East Carolina will not be in a bowl game for the first time in six years. As for the Herd, they are one of several non-AQ teams to become bowl eligible after losing seasons in 2010:
Ball State improved from 4-8 to 6-6.
Western Kentucky improved from 2-10 to 7-5.
Wyoming improved from 3-9 to 7-4, with one game remaining at Colorado State.
Louisiana Tech improved from 5-7 to 8-4 and WAC champs.
Utah State improved from 4-8 to 6-5 with one game remaining at New Mexico State.
Arkansas State improved from 4-8 to 9-2.
Louisiana-Lafayette improved from 3-9 to 8-4.
As you can see, three Sun Belt teams made five-game improvements, and the league has four bowl-eligible teams this season.
Game of the week. FAU 38, UAB 35.
Howard Schnellenberger announced his retirement before the season, began but his final season was not exactly going according to plan. The Owls were the only winless team in FBS heading into Week 13. But alas, the football gods conspired to make sure the legendary program builder would not go out without a win. The Owls played inspired football Saturday against UAB, beating the Blazers 38-35 as Schnellenberger avoided his first winless season.
Alfred Morris
had a career-high four touchdowns, with a career-high 198 yards on 38 carries to notch his fifth straight 100-yard game. "I got the biggest and best kiss from [wife] Beverlee in a long time on the sideline," Schnellenberger said afterward. "And I'm expecting more when I get home."
WAC-ky WAC.
Nevada was in control of the WAC heading into last week's game against Louisiana Tech. But the Wolf Pack have now dropped two straight games, losing to Utah State 21-17 on Saturday. The Bulldogs had no such problems after their big win over Nevada last week and beat New Mexico State 44-0 to win their first WAC title since 2001. Louisiana Tech has won seven straight after starting the year 1-4. The team also accepted a bowl spot in the San Diego County Credit Union Poinsettia Bowl, the fifth bowl bid in school history. This will be first bowl appearance since an Independence Bowl victory over Northern Illinois in 2008.
Helmet Stickers
Rakeem Cato, QB, Marshall. Cato went 23-of-29 for 341 yards and two touchdowns in a 34-27 overtime win over East Carolina to get the Thundering Herd to a bowl game.
Bernard Pierce, RB, Temple.
Pierce had a season-high 189 yards and three touchdowns on 24 carries in a 34-16 win over Kent State. Pierce went over the 100-yard mark in rushing for the 17th time in his career and eighth time this season. Pierce has had three or more touchdowns in six games this year.
Bobby Rainey, RB, Western Kentucky.
Rainey had a season-high 227-yards and three touchdowns in a 41-18 win over Troy. Rainey also broke the school's single-season rushing record, ending the regular season with 1,695 yards. He now leads the nation for the second straight season in carries and broke his own school record with 369 attempts on the season.
Travis Stanaway, S, Boise State. Stanaway, making just the second start of his career for Boise State, had a career-high nine tackles, forced a fumble and had his first career interception as a Bronco in a 36-14 win over Wyoming.
Bobby Wagner, LB, Utah State. Wagner had a game-high 15 tackles in a 21-17 win over Nevada, and also had a critical fumble recovery on a fourth-and-1 in the final minutes of the game to preserve the victory.
September, 23, 2011
9/23/11
5:00
AM ET
1. Blaming commissioner Dan Beebe for the downfall of the Big 12 is convenient but has nothing to do with reality, save for besmirching a guy who tried to save the league's members from themselves twice in the past 18 months. Beebe cut a deal Thursday to leave. Who would want to replace him? If nothing else, think of all the tailoring that has to be done, retrofitting business suits so that they conceal the puppet strings.
2. Among the many attributes of Oklahoma State quarterback
Brandon Weeden
is his maturity. At the age of 27, hardened by his minor-league baseball career, Weeden supposedly has the even keel that's so difficult for college-aged players to establish. How, then, to explain that through three games Weeden has thrown six interceptions, tied for the FBS lead with true freshman
Rakeem Cato
of Marshall? Cato, by the way, is eight years younger than Weeden.
3.
Marcus Lattimore
is built for the long haul. That's why South Carolina head coach Steve Spurrier has loaded up the sophomore to move the chains. Lattimore leads the FBS not only in rushing yards (178-yard average) but in carries (29 per game). If that sounds like a lot, it is. Alabama has two tailbacks who each average more than 100 yards per game.
Trent Richardson
and
Eddie Lacy
together have nine fewer carries than Lattimore.
September, 5, 2011
9/05/11
11:00
AM ET
The good:
No.5 Boise State thoroughly and convincingly beat Georgia 35-21, picking up a critical first win over the SEC. But the Broncos were not the only to win a non-AQ vs. AQ game. Houston beat UCLA 38-34; BYU beat Ole Miss 14-13; Hawaii beat Colorado 34-17 and Ball State beat Indiana 27-20. The MAC now has eight wins over the Big Ten in the last three years. The Cardinals have also beaten Indiana twice since 2008, a huge first win for new coach Pete Lembo.
Speaking of firsts ...
New Temple coach Steve Addazio picked up his first win, 42-7 over Villanova.
Bernard Pierce
ran for 147 yards and three touchdowns in the victory. New Northern Illinois coach Dave Doeren also picked up his first win when the Huskies beat Army 49-26.
The great escape:
UTEP barely escaped Stony Brook, 31-24 in overtime. The Miners trailed 24-10 in the third quarter but
Nick Lamaison
keyed the comeback -- throwing three late touchdown passes, including the winner in overtime. Lamaison ended with 365 yards in his first career start. ... Wyoming also needed a last-second touchdown to escape Weber State.
Brett Smith
threw a touchdown pass to
Robert Herron
with 22 seconds left to give the Cowboys a 35-32 win. Weber State led for most of the fourth quarter before seeing its upset bid slip away.
The heartbreak:
Utah State and Middle Tennessee felt all sorts of heartbreak after their down-to-the-wire games came up just short for them on Saturday. The Aggies had the defending national champions down for nearly the entire game. But Auburn scored twice in the final 2:07, thanks in part to an onside kick the Tigers easily recovered. Utah State lost 42-38, but if anything came out of the loss -- the nation got its first glimpse of poised true freshman
Chuckie Keeton
, who impressed everyone with his play in the game. You can beat Auburn won't soon forget him. Meanwhile, Middle Tennessee had its game-tying 47-yard field goal attempt against Purdue blocked and lost 27-24. The Blue Raiders led 24-17 with 9:26 left in the game, but could not hold on long enough to win. Purdue scored 17 points and gained 192 yards in the fourth quarter. "It kicks you in the gut right now, you're sick to your stomach that you lost the game," Middle Tennessee coach Rick Stockstill said. ... New Mexico hung with Colorado State for the entire game but lost 14-10 because a familiar foe came back. Turnovers. The Lobos had three of them. Last season, New Mexico finished the season with a minus-12 turnover margin. ... Western Kentucky gave it a valiant effort against Kentucky, putting a scare into the Wildcats before losing 14-3. The Hilltoppers had more first downs and more total yardage, but also committed more penalties and turnovers in the loss. ... TCU also saw its win over Baylor evaporate when
Aaron Jones
kicked a 37-yard field goal with 1:04 left for a 50-48 win.
Casey Pachall
threw an interception to end the game. Much already has been made of the uncharacteristic defense TCU played. But contrast the end of this game with the Rose Bowl. TCU got a huge defensive play to help win the game when Tank Carder batted down the 2-point conversion attempt late in the game. But the Horned Frogs could not make one stop on Baylor's game-winning drive.
The young guns:
In the week leading up to the opener against Southern Miss, Louisiana Tech coach Sonny Dykes was asked who reminded him of his 17-year-old starting quarterback,
Nick Isham
. "Greg Brady," Dykes said. Isham, a true freshman born in 1993, asked the Bulldogs sports information director, "Who's Greg Brady?" Isham might be young, but he gained his first game experience against Southern Miss, going 20-of-36 for 176 yards in a narrow 19-17 loss. Keeton, Brett Smith of Wyoming and
Rakeem Cato
of Marshall were the two other non-AQ true freshmen to make starts and both looked poised behind center despite their teams' losses. Keeton went 21-of-30 for 213 yards, while Cato was 15-of-21 for 115 yards in a rain-shorted day against West Virginia. Smith went 27-of-41 for 294 yards and three touchdowns, but the first pass of his career was intercepted.
Helmet stickers
Boise State defense.
The Broncos absolutely dominated up front in a win against Georgia. The defensive line had six sacks and constantly harassed
Aaron Murray
. The Bulldogs had just 13 first downs and were never much of a threat.
Chandler Harnish, Northern Illinois.
The Huskies quarterback threw a career-high five touchdown passes and ran for another in a 49-27 win over Army.
T.Y. Hilton, FIU.
Hilton opened a win over North Texas with a 62-yard kickoff return that he almost broke for a touchdown. On the next drive, he scored on a 60-yard reception on the first play. He had 180 all-purpose yards in the first quarter and finished the game with 283 all-purpose yards, 12 shy of his own school record.
Case Keenum, Houston.
In his return from an ACL injury, Keenum looked like he was back to his old self, throwing for 310 yards and two touchdown passes in a win over UCLA. He went past the 300-yard mark for the 26th time in 38 career starts.
Bryant Moniz, Hawaii.
Moniz threw for 5,000 yards last season but he helped the Warriors beat Colorado with his legs. Moniz ran for 121 yards and three touchdowns -- the most rushing yards by a Hawaii quarterback since Glenn Freitas had 122 yards and four touchdowns against UTEP in 1995.
Kriss Proctor, Navy.
Much was made over what Proctor would face this season -- taking over for Ricky Dobbs at quarterback. But he did more than fine against Delaware, running for 176 yards and three touchdowns in a 40-17 win. He also threw his first career touchdown pass.
September, 1, 2011
9/01/11
5:00
AM ET
1. Texas A&M athletic director Bill Byrne,
in his Wednesday blog
, explained why the Aggies would leave the Big 12. The list didn't vary from what we suspected -- the departures of Nebraska and Colorado and the Longhorn Network. But here's what struck me: Byrne reminded everyone that he had been part of the group that assembled the Big 12 in the mid-1990s. Byrne did so as athletic director of Nebraska, which never liked the league's tilt toward Texas. Viewed from that perspective, it's fair to believe that Byrne was predisposed to bolt.
2. The bad news for Miami is that
Stephen Morris
, who will start at quarterback Monday in place of the suspended
Jacory Harris
, had the highest interception percentage (5.9) among quarterbacks in AQ conferences with at least 100 attempts last season, according to ESPN Stats & Info. The equally bad news for the Hurricanes is that Morris won't be much of a dropoff. Harris finished second (5.6 percent) to Morris last season. If offensive coordinator Jedd Fisch, can fix the quarterbacks, Miami's turnaround will quicken.
3. Morris had the excuse last season of being a true freshman. Yet he was talented enough -- and the Hurricanes depleted enough after Harris got hurt -- that he started the final four games. That provides perspective of the stiff task awaiting the three true freshmen who will start openers this week:
Brett Smith
of Wyoming against Weber State,
Nick Isham
of Louisiana Tech against Southern Mississippi, and -- God bless him,
Rakeem Cato
of Marshall, who debuts Sunday at in-state rival West Virginia.