NCF Nation:

Randall McCray
January, 20, 2012
1/20/12
11:00
AM ET
Bret Bielema made a rapid rise up the college coaching ladder.
Big Ten position coach at 26 ... Big 12 co-defensive coordinator at 32 ... Big Ten defensive coordinator at 34 ... Big Ten head coach at 36.
[+] Enlarge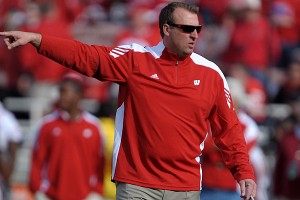 Kirby Lee/Image of Sport/US PresswireWisconsin coach Bret Bielema says he isn't upset after losing 11 assistants in the past three seasons.
Bielema's ambition helped put him on the fast track. And when he's hiring assistant coaches at Wisconsin, he wants to see the same qualities.
"When you talk to a coach, if he doesn't want to advance in this profession, we probably won't talk very long," Bielema told ESPN.com on Thursday. "I want guys that want to be coordinators, or guys that are coordinators who want to be head coaches. If they don't want to sit at the front of the room, we're probably dealing with the wrong type of coach. I want guys who want to advance."
Bielema has had plenty of assistants advance in recent years.
He lost two after the 2009 season, one of whom, Randall McCray, went from position coach to coordinator. He lost three after the 2010 season: defensive coordinator Dave Doeren became head coach at Northern Illinois, while running backs coach John Settle and nickel backs coach Greg Jackson both departed for posts in the NFL.
Wisconsin has lost six assistants in recent weeks, a number that has raised eyebrows in college football circles. The team is coming off of back-to-back Big Ten titles and back-to-back Rose Bowl appearances. Bielema's job is very secure. While one assistant (Paul Chryst) left for a head-coaching job and two others (Bob Bostad, Dave Huxtable) went from position coaches to coordinators, the exodus has left some wondering whether there's something wrong at Wisconsin.
Bielema views things differently.
"It's really not that unusual," he said. "It's unusual at a program that has as much success as we've had, where we're able to keep that continuity of winning in place. I take it as a compliment to what we've been able to do. All those coaches are moving on. Two of them didn't get coordinator jobs, but everybody else got coordinator jobs or titles that made it significantly better for them where they were going.
"To me, it's a tremendous challenge that I love, I embrace and I have a lot of fun with it."
Bielema has filled two vacancies with offensive coordinator Matt Canada and wide receivers coach Zach Azzanni. After an extensive interview process for the coordinator job, Bielema went with Canada, in large part because Canada has called plays in different systems (spread, pro style) and can adapt.
"I interviewed a lot of coaches of different levels: NFL, college, big college, small college," he said. "I'm not a résumé guy. I want a football coach. And as this thing gets moving forward, I kept coming back to him. I just think he's going to be a great fit for what we're going to blend together at Wisconsin. I'm going to hire four new offensive coaches that are going to come from different areas of the country and come together and play the style of football we like at Wisconsin."
Wisconsin's staff will be two-thirds new in 2012, but Bielema won't be surprised if he's doing more hiring a year from now.
"I have every year," he said. "Usually the NFL takes two, took two from me last year. It's just one of those things, the beauty of the beast here at Wisconsin."
March, 24, 2011
3/24/11
1:30
PM ET
As spring practice kicks into high gear around the Big East, here's your handy-dandy guide to all of the offseason coaching moves around the league. Clip and save: (Oh, wait. This is a blog. Do not clip your computer screen.)
Cincinnati
No changes
Connecticut
Out:
Randy Edsall, head coach (to Maryland)
Todd Orlando, defensive coordinator/inside linebackers (to Florida International)
Lyndon Johnson, outside linebackers/special teams coordinator (to Maryland)
Terry Richardson, running backs (to Miami)
In:
Paul Pasqualoni, head coach
George DeLeone, offensive coordinator
Don Brown, defensive coordinator
Clayton White, special team coordinator/running backs
Internal moves:
Former offensive coordinator Joe Moorhead is now quarterbacks coach
Quick take:
Pasqualoni, the Connecticut native, comes aboard with two new coordinators (three if you count special teams). But the rest of the staff stayed intact. Edsall took only one assistant with him to Maryland, which is strange. There should be more continuity in this coaching change than most. The trick will be getting the old and the new styles to mesh.
Louisville
Out:
Mike Groh, quarterbacks (to Alabama)
In:
Shawn Watson, quarterbacks
Quick take:
Charlie Strong scored a victory by keeping his staff almost fully together after a successful first year. Watson, the former Nebraska offensive coordinator, looks like a great addition to coach a position in flux.
Pittsburgh
Out:
Dave Wannstedt, head coach (forced resignation)
All of Wannstedt's assistants
In:
Todd Graham, head coach
Paul Randolph, executive associate head coach/co-defensive coordinator/defensive line
Calvin Magee, assistant head coach/co-offensive coordinator/running backs
Mike Norvell, co-offensive coordinator/wide receivers/director of recruiting
Keith Patterson, defensive coordinator/linebackers
Tony Dews, tight ends
Todd Dodge, quarterbacks
Tony Gibson, cornerbacks,/recruiting coordinator
Spencer Leftwich, offensive line
Randall McCray, safeties/special teams coordinator
Quick take:
It's certainly a sea change at Pitt, with an new staff and a whole new philosophy. The presence of several West Virginia assistants lends a little more spice to the Backyard Brawl, as well. Graham has done a good job of building some excitement after the whole Wannstedt/Mike Haywood mess.
Rutgers
Out:
Kyle Ciarrocca, co-offensive coordinator/quarterbacks (not retained)
Randy Melvin, defensive line (not retained)
Ed Pinkham, co-defensive coordinator/defensive backs (to Elon)
In:
Frank Cignetti Jr., offensive coordinator/quarterbacks
Brian Angelichio, tight ends
Jeff Hafley, defensive backs
Internal moves:
Phil Galiano moves from tight ends to defensive line
Robb Smith will coach linebackers as well as special teams
Quick take:
After a 4-8 season, Rutgers needed to make some major changes. Head coach Greg Schiano took advantage of the Pitt staff turnover to hire three former Panthers assistants. Hafley's ties in New Jersey already helped in recruiting. Cignetti will be charged with fixing a stale offense.
South Florida
No changes
Syracuse
Out:
Bob Casullo, assistant head coach/special teams (parted ways)
In:
Tim Daoust, defensive end
Internal moves:
Nathanial Hackett was
promoted to offensive coordinator
John Anselmo becomes assistant head coach and will work with linebackers
Dan Conley will concentrate on inside linebackers
Defensive coordinator Scott Shafer will work with defensive backs
Jimmy Brumbaugh will coach defensive tackles
Special teams will be divided among the staff
Quick take:
Casullo left before last season ended, so Syracuse had already moved on. The changes in responsibilities reflect the areas of concentration for the Orange this summer, as they have many young players who need tutoring.
West Virginia
Out:
Jeff Mullen, offensive coordinator/quarterbacks (not retained)
Lonnie Galloway, receivers (to Wake Forest)
Dave Johnson, offensive line (not retained)
Chris Beatty, running backs/slot receivers
(not retained)
Dave McMichael, tight ends/special teams (not retained)
In:
Dana Holgorsen, offensive coordinator/head coach in waiting
Shannon Dawson, receivers
Bill Bedenbaugh, offensive line
Robert Gillespie, running backs
Quick take:
The entire offensive staff was let go except for Galloway, who left for Wake Forest a couple of weeks ago. West Virginia hasn't named a replacement for Galloway yet, but Dawson and Holgorsen will likely coach the receivers, with someone coming on board for special teams. The defensive staff remains intact, and Bill Stewart will coach his final year before handing the reins to Holgorsen. It will be a fascinating chemistry test.
March, 2, 2010
3/02/10
9:00
AM ET
The Big Ten was the only major conference to avoid head-coaching changes this offseason, but the league certainly had its share of staff shuffling with assistants coming and going. Indiana's
hiring of Mo Moriarity as offensive line coach
on Monday marked one of the last turns on this year's Big Ten coaching carousel. Wisconsin still needs to hire a defensive assistant, but things are just about wrapped up.
Barring any late coaching changes, here's a look at who's gone, who's back and who's in new roles.
ILLINOIS
Offensive coordinator
Who's out: Mike Schultz (fired)
Who's in: Paul Petrino (previously offensive coordinator/wide receivers coach at Arkansas)
Defensive coordinator
Who's out: Dan Disch and Curt Mallory both were demoted to position coaches. Disch is staying on staff as linebackers coach.
Who's in: Vic Koenning (previously co-defensive coordinator at Kansas State)
Quarterbacks coach
Who's out: Kurt Beathard (fired)
Who's in: Jeff Brohm (previously quarterbacks coach at Florida Atlantic)
Tight ends coach
Who's out: Jim Pry (fired)
Who's in: Greg Nord (previously running backs coach/recruiting coordinator at Louisville)
Running backs coach
Who's out: Reggie Mitchell (left to become running backs coach/recruiting coordinator at Kansas)
Who's in: DeAndre Smith (previously running backs coach at UNLV)
Other moves
Mallory left his position as secondary coach to become defensive coordinator at Akron.
Special-teams coordinator Mike Woodford was fired along with Schultz, Beathard and Pry.
Ron West was hired as a defensive assistant. His official responsibilities have not been announced.
INDIANA
Offensive line coach
Who's out: Bobby Johnson (left to become assistant offensive line coach with the Buffalo Bills)
Who's in: Myron "Mo" Moriarity (previously served as head coach at Carmel (Ind.) High School
IOWA
No staff changes, but recruiting coordinator Eric Johnson was named tight ends coach. Wide receivers coach Erik Campbell previously had worked with the tight ends, while Johnson had helped Darrell Wilson with the linebackers.
MICHIGAN
Linebackers coach
Who's out: Jay Hopson (left to become defensive coordinator at Memphis)
Who's in: Quality control assistant Adam Braithwaite was promoted to outside linebackers/strong safeties coach. Defensive coordinator Greg Robinson will take a more active role with the linebackers in 2010.
Other moves
Secondary coach Tony Gibson will continue to work with cornerbacks and free safeties, and also serve as special-teams coordinator.
MICHIGAN STATE
Running backs coach
Who's out: Dan Enos (left to become head coach at Central Michigan)
Who's in: Brad Salem (previously served as head coach at Augustana College)
MINNESOTA
Offensive coordinator/quarterbacks coach
Who's out: Jedd Fisch (left to become quarterbacks coach with the Seattle Seahawks)
Who's in: Jeff Horton (previously served as quarterbacks coach with the Detroit Lions)
Wide receivers coach
Who's out: Richard Hightower (left to become assistant special-teams coach for the Washington Redskins)
Who's in: Steve Watson (previously served as associate head coach with the Denver Broncos in 2008)
Other moves
Running backs coach Thomas Hammock was named co-offensive coordinator
NORTHWESTERN
No coaching changes
OHIO STATE
No coaching changes
PENN STATE
No coaching changes
PURDUE
Defensive line coach
Who's out: Terrell Williams (left to become defensive line coach at Texas A&M)
Who's in: Gary Emanuel (previously served as defensive line coach at Rutgers). Emanuel also was named co-defensive coordinator with a focus on run defense.
WISCONSIN
Defensive backs coach
Who's out: Kerry Cooks (left to become outside linebackers coach at Notre Dame)
Who's in: Chris Ash (previously served as defensive backs coach/recruiting coordinator at Iowa State)
Other moves
Randall McCray, who served as Wisconsin's recruiting coordinator and assistant secondary coach, left to become defensive coordinator at Middle Tennessee. Wisconsin has yet to fill the vacancy.
February, 11, 2010
2/11/10
2:49
PM ET
Middle Tennessee has hired Wisconsin assistant coach Randall McCray as its new defensive coordinator.

McCray has spent the past four seasons coaching different defensive position groups including defensive line, outside linebackers and safeties for the Badgers. He also spent the past two seasons as the recruiting coordinator.

McCray replaces Manny Diaz, who left the Blue Raiders to become the defensive coordinator at Mississippi State.

Getting a name from a big school is a smart move for Middle Tennessee, but there have to be some red flags raised about the number of positions McCray coached during such a short time. He might have been versatile or he might have just been a great recruiter for whom they needed to find a position.

Now, Middle Tennessee can focus its efforts on finding an offensive coordinator. Tony Franklin, who was with the team for little more than a year, left for the same position at Louisiana Tech.