NCF Nation:

Randy Sanders
April, 22, 2013
4/22/13
9:00
AM ET
TALLAHASSEE, Fla. -- Over the past four months, Florida State won an ACC championship, a BCS game, reeled in another top-10 recruiting class and sent a handful of players into the NFL draft with first-round promise.
Given the recent spate of unsightly 7-6 seasons, Florida State seems to be in pretty fantastic shape. That, of course, is not the storyline that has taken shape since December. No, the convenient storyline has focused mainly on the coaching turnover that has left the Seminoles with six new assistants heading into the 2013 season.
What does the unusually large turnover say about coach Jimbo Fisher? What does it say about the program itself?
At this point, the storyline has become rote. Fisher already has his answers before the questions are asked, prepared to bat down the notion that this very strange offseason has been, well, strange.
He begins.
"You know," he says, "we were one of four teams in the entire country that did not lose a single assistant in my first two years here."
Pretty astounding, when you consider just how frequently assistants change jobs year to year. But what is more astounding is hiring seven different assistants in a two-month span. One of those assistants, Billy Napier, lasted a handful of weeks before moving on to Alabama.
As Fisher tried to defend the staff turnover, he proved the point others have made. Coaching change is common in this profession, especially at winning programs. But the type of coaching change Florida State just experienced is as rare as scoring a safety on consecutive plays.
[+] Enlarge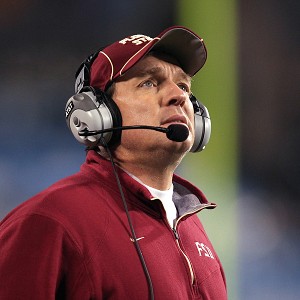 Streeter Lecka/Getty ImagesFSU coach Jimbo Fisher says he wasn't surprised by the amount of staff turnover this offseason.
Among programs that did not have a head coaching change, only Marshall had to replace more assistants than Florida State this past offseason. Point this out to Fisher and he shrugs.
"We took the attrition of three years and put it in one," Fisher says simply.
Was he surprised that he lost so many assistants?
"Not really. Last year was a big year," Fisher begins. "You go back and look at all the major jobs. When's the last time you saw four major SEC schools open?"
Not since 2004. His defensive coordinator, Mark Stoops, got the head coaching job at Kentucky and took assistant D.J. Eliot with him. Another assistant, Dameyune Craig, left for a co-offensive coordinator job at Auburn. Counting Napier, four assistants left for the SEC.
Fisher continues.
"The NFL has nowhere else to draw coaches from," he says. "And we had a lot of success. We're graduating players. Guys aren't getting in trouble. People want to know how you're having success. We had to have a proven commodity.
"We're the eighth-winningest team in the last three years. We were 30th the previous three years. We've jumped more than any team in the country. So people say, 'Wait a minute.' We all do research and look at who's doing good and ask, 'Why are they doing good? Are they doing something we're not doing?' People are saying, 'Let's get some of those guys and see why they're having success and are able to change the culture and change a program."
The other three coaches who left -- Eddie Gran (Cincinnati), Greg Hudson (Purdue) and James Coley (Miami) -- took coordinator jobs as well. Fisher points this out, too, and makes it clear he has never stood in the way of an assistant getting another job. After all, he allowed Stoops to interview at Kentucky in the middle of the season.
While all of the change may not look so great on the surface, the staff Fisher has assembled may in fact be better than the one he had his first two seasons with the Seminoles. When asked what he likes most about this staff, Fisher says, "No. 1, the experience. No. 2, their undaunting ability to work and put in hours. A lot of staffs you get recruiters or coaches. I think everybody on our staff can do both. We have a staff that's very solid recruiting and very solid coaching. It's hard to find nine guys capable that way."
Perhaps that is a slight dig at his past staff. But there is no questioning the credentials of the men tasked with elevating Florida State from ACC champ into yearly national title contender. All of them have won conference titles; three have won national titles.
Fisher keeps a running list of potential candidates with him, so he knew exactly whom to call when all these jobs came open. How they arrived in Tallahassee plays like a game of Six Degrees of Jimbo Fisher.
You have quarterbacks coach Randy Sanders, who crossed paths with Fisher when both were assistants in the SEC some years ago. He also coached new running backs coach Jay Graham at Tennessee in the 1990s. The two have known each other since Graham was 17.

You have defensive ends coach Sal Sunseri and defensive coordinator Jeremy Pruitt, who come from the Nick Saban tree that also produced Fisher. Sunseri and Fisher were on the same staff at LSU in 2000.

You have recruiting coordinator/tight ends coach Tim Brewster, who never worked with Fisher but recruited against him when he was at Texas and Fisher was at LSU.

Then you have special teams coordinator, linebackers coach Charles Kelly, who was a graduate assistant at Auburn in 1993 when Fisher was there. Kelly also played against Fisher the past several seasons while working at Georgia Tech. When Kelly was with the Jackets, and Pruitt with the Tide, the two shared ideas.
"Florida State has always been one of the schools I've always wanted to work at," Sanders said. "When I first got married and was first coaching, my wife asked me. I said this was one of the four schools in the country I'd love to work at some day. When the opportunity came along, I was excited to come to Tallahassee."
He echoed what all the other assistants said during their only media availability this spring: the desire to win a national title. Indeed, the intensity during spring practice seemed to be turned up a notch. Both Sunseri and Pruitt are quite boisterous and have no qualms about getting up close and personal with their players -- face to face mask.
On one particular afternoon last month, Sunseri kept getting after defensive end
Giorgio Newberry
. At one point, Newberry just slung his big arm around Sunseri's shoulder and chuckled.
"I give him a hug every once in a while," Newberry said. "I love Coach Sal. I love how he coaches me. He doesn't let us take plays off. We have to go hard every time, and we've got to do it his way. I like that. He'll chew me out and I'll be like, 'Yes sir' and I try to fix it."
Graham is not as in-your-face, but he demands excellence. That was not so easy to get adjusted to for some of the backs.
"He wants you to be great, so he has very high expectations,"
James Wilder Jr
. said. "It was hard getting used to it at first. He wants everything perfect."
Fisher has described the staff transition as seamless. He has veteran coaches that share his same philosophies and players who have embraced the changes. But the questions will linger on until kickoff in Pittsburgh on Sept. 2.
Perhaps even longer.
January, 15, 2013
1/15/13
1:18
PM ET
Florida State has hired former Clemson offensive coordinator Billy Napier as its tight ends coach and recruiting coordinator, and former Kentucky offensive coordinator Randy Sanders to coach the running backs. Offensive coordinator James Coley is now the quarterbacks coach.

"We're very excited to welcome Randy on board," coach Jimbo Fisher said in a prepared statement. "I've known him for a very long time. He's been one of the best coaches in the country for a while now. He's a tremendous running backs coach and also brings coordinator experience. He's a great recruiter and a great person and will be a tremendous addition to our staff.
"Billy is one of the bright young coaches in the game. He's coached some excellent tight ends. He's a big-time recruiter who also has some coordinator experience. He has great understanding of the big picture of the game. We're very excited to have him on staff as well."
From the release:
Sanders comes to Florida State from the University of Kentucky where he served as the Wildcats' offensive coordinator and quarterbacks coach since 2009. The Morristown, Tenn. Native has spent his entire coaching career in the SEC where he began as a volunteer assistant with the Volunteers in 1989. Sanders has served as the offensive coordinator at both Tennessee and Kentucky and has been a part of coaching staffs that have been to 21 bowl games in his coaching career, including the 1999 National Championship game at Tennessee where he served as the offensive coordinator for the Fiesta Bowl win that year.
"I am very excited to be at Florida State," said Sanders. "I have been coaching since 1989, the same year I got married. Right around that time I had a discussion with my wife on where I would like to coach and there were four schools on my list and Florida State was one of those schools. That was one of the first things she reminded me of when the opportunity came along. I have always wanted to coach here.
"I am getting the opportunity to coach with a group of guys, for the most part, that I have known a lot of them and that I have a lot of respect for. I get to work with some of the best players in the country at a school that has some of college football's greatest traditions. There's not a whole lot not to like."
Sanders joins another former offensive coordinator on Fisher's staff with the addition of Napier. The Chatsworth, GA native spent last season as Colorado State's Assistant Head Coach and quarterbacks coach after serving as Clemson's offensive coordinator from 2009-10. In just one year working with the Rams' quarterbacks, Napier helped bolster the CSU offense as the team ranked 17th in the nation in red zone scoring, cut the team's sacks allowed by nearly four per game over the second half of the season and saw the running game improve by 65 yards per game over the second half of 2012 as well. While running the Clemson Tiger's offense in 2009, Clemson established a school record for the most points scored in a season.
"When you get an opportunity to come to a program with the tradition and history of Florida State, you can't pass that up," said Napier. "Coaching for coach Fisher is really going to be a great opportunity for me to work with a great coach. The timing was right in terms of where this program is headed and it is a great opportunity. I am excited to be a part of the process of working with these players and continuing to build on the championships this group was a part of in 2012."
October, 20, 2010
10/20/10
5:10
PM ET
Kentucky quarterback
Mike Hartline
is playing the best football of his career.
Determined to make the most of his senior season, he's done that and then some.
After Hartline carved apart South Carolina's defense for career highs of 349 passing yards and four touchdowns last week in the Wildcats' 31-28 win, the Gamecocks' assistant head coach for the defense, Ellis Johnson, said Hartline might be the best pocket passer in the league.
[+] Enlarge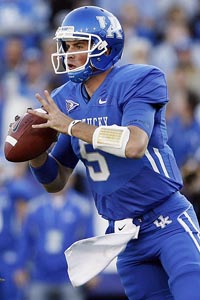 Mark Zerof/US PresswireQuarterback Mike Hartline has thrown 13 TD passes and just three interceptions this season.
This is the same guy who had to win the starting job in the preseason, beating out sophomore
Morgan Newton
and redshirt freshman
Ryan Mossakowski
.
When Kentucky coach Joker Phillips announced that Hartline had won the job, there was more than a little grumbling. Some of the fans wanted to see the Wildcats go the youth route.
But Hartline's consistency was what set him apart, and it was clear to both Phillips and Kentucky offensive coordinator Randy Sanders that he was the best choice.
Here's the other thing: Hartline earned the job, whereas he was pretty much handed the job the previous two seasons.
"This is really the first time he had to compete for the job," said Phillips, noting that Curtis Pulley was kicked off the team during Hartline's sophomore season, leaving Hartline as the only choice, and that Newton and Mossakowski simply weren't ready last season.
"I liked the way Mike competed. We played a lot faster when Mike was in there, and the rest of the team rallied around him when he was in there. So we went with him and are excited with what he's done with the position."
What Hartline has done is become one of the SEC's most productive passers. He's second in the league with 1,791 passing yards and tied for second with 13 touchdowns passes. His ratio of 13 touchdown passes to three interceptions leads all starting quarterbacks in the league.
And in conference games only, Hartline is the leading passer with an average of 277.8 yards per game, and his eight touchdown passes against SEC foes are tied for the league lead along with South Carolina's
Stephen Garcia
.
"Before, we used to ask Mike to manage the game," Phillips said. "Now, we're asking him to go win games, and he's doing that for us."
With Georgia coming to town this Saturday, Hartline said there's no doubt that he and the rest of the Kentucky offense are in a rhythm right now. The Wildcats are second in the SEC in scoring offense and third in total offense. Hartline said Sanders deserves a big chunk of the credit.
"He's made it easy for us by molding the offense around what we do best and scheming up plays for us to be aggressive," Hartline said. "Sometimes, we may not make those plays, but it doesn't change the way he coaches. We're always going to be aggressive."
That's the part of Hartline's game that has grown the most. He knows now when to take a chance and when not to and when it's time to try and squeeze one in a tight window and when not to.
He's matured tremendously as a quarterback and as a leader.
"You still have to manage the game well, but there are always going to be opportunities in games where you need to take risks," said Hartline, who's engineered five comeback victories in the fourth quarter during his career. "I'm not saying you go out there and start making a bunch of arrogant throws, but you give guys chances to make plays within the discipline of the offense.
"The thing you never want to do is put your team in a bind."
The 6-foot-6, 210-pound Hartline is also a testament to the power of perseverance.
He's been booed by the Kentucky fans during his career. He's been benched, and he's been injured. He was playing well a year ago when he went down with a knee injury against South Carolina that ultimately ended his season.
Through it all, Hartline never quit believing in himself, and he never quit believing that his best was yet to come.
He said his older brother and Miami Dolphins receiver, Brian Hartline, was a big influence on keeping his focus where it needed to be and not worrying about what people were saying on the outside.
"I've never been one of those guys to shy away from competition and tell myself that I wasn't good enough for something," Hartline said. "My whole life, I've been good enough. I wasn't going to settle for less here and was going to push myself to reach my full potential.
"My brother was a big motivator. He just said, 'Nobody's going to hand you anything, that you have to go out there and keeping fighting no matter what.'
"I really just took that to heart."
And in doing so, he's won a few hearts along the way in the Bluegrass.