NCF Nation:

Randy Spetman
June, 5, 2013
6/05/13
8:05
PM ET
Florida State has to get modern in its search for a new athletic director.
Modern ADs know how to connect to fans, to donors, to booster groups. Modern ADs know how to squeeze money out of places where there is no money. Modern ADs come up with innovative revenue streams, to augment the bottom line as programs compete every single day against each other for the biggest budget and, in turn, the biggest facilities.
Randy Spetman was simply not the picture of a modern AD. That is through no fault of his own. Spetman was brought in by another president, during a time of NCAA issues, and was never really seen as a strong leader. Today, athletic departments need strong leaders. Perhaps that is one reason why he is
taking on another role
, as senior advisor to the athletics department.
[+] Enlarge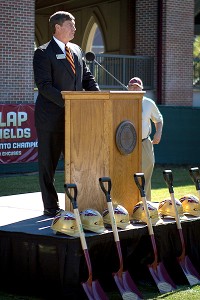 Courtesy of D'Vel PhotographyOne of Randy Spetman's achievements as Florida State AD: breaking ground on a new indoor practice facility.
From the moment he arrived, there seemed to be a general disconnect with the fan base, too. Then when new president Eric Barron arrived in 2010, there was a disconnect between them as well. Spetman was never Barron's guy. When the president and AD do not see eye to eye on many issues, well, you have problems. You kinda got the idea this day would become an eventuality when Spetman only got a one-year extension in February. He remains one of the lowest paid ADs not only in the ACC but in Florida as well.
Spetman, however, was putting together a five-year strategic plan for Florida State, to be presented Thursday at a board of trustees meeting. He believed in the plan, and thought that would give him more time. Give Spetman credit for his accomplishments. Florida State has had no NCAA issues since his arrival, a major plus considering the problems that predated him. He got the indoor football practice facility done. And the teams within the athletic department reached unprecedented heights.
But many times over the past several years, Florida State made headlines for issues a stronger AD may have handled better. And many of those issues surrounded one major problem -- money. The Noles had budget problems; they had home attendance problems; and, of course, they had conference problems caused by board of trustees members who saw more dollar signs in a different neighborhood.
Spetman handled the shenanigans over Big 12 speculation last year poorly, scurrying away from reporters while failing to attack the issue head on. It was Barron who took the lead in making sure the Noles were on board with the recently signed grant of rights, solidifying conference stability, not Spetman.
But that whole episode illustrated a great problem Florida State has faced under Spetman and will continue to face when a new athletic director arrives: The Noles make heaps of cash, yes. But not nearly as much as in-state rival Florida, nor other elite programs the Noles compete with for recruits and championships. Coach Jimbo Fisher has patterned his program after his experiences coaching at LSU and with Nick Saban. But he also knows reality -- he does not have the cash or the resources of a wide variety of those SEC schools.
How then to get there? Finding bigger, better more revenue streams. The best ADs today have mastered that. These days, a background in sales and marketing is almost a must. Having said that, the new AD must also be able to handle the big personalities both Fisher and Barron bring to their respective programs. Florida State needs an athletic director both coaches and Barron can listen to and trust. Fans need to believe in the new AD, too. There never was that belief in Spetman for a variety of reasons.
Essentially, Florida State now needs an AD everybody can rally around for this program to keep moving forward.
May, 14, 2013
5/14/13
4:30
PM ET
AMELIA ISLAND, Fla. -- Florida State coach Jimbo Fisher has no problem with quarterback
Jameis Winston
continuing to play both football and baseball, even now that it appears the highly touted redshirt freshman has the inside track to win the starting job.
Though Fisher maintains the quarterback competition remains open, Winston seemingly emerged as the front-runner to win the job following a spectacular spring game and the eventual transfer of veteran Clint Trickett.
"I'm not going to limit what he does," Fisher said Tuesday during ACC spring meetings. "If that's something he helps that team with -- he loves football, he loves baseball and we'll continue to monitor and do the same things we do."
He later added, "You don't put parameters on people just because somebody else didn't do it. Charlie [Ward] did it, Deion [Sanders] did it, Sammie Smith did it. Florida State's had quite a number of them. And [Jameis] continues to do it very well."
Winston juggled both sports throughout spring practice with no problems. He has appeared in 31 baseball games with 26 starts and is batting .293. He also has made 14 appearances as a relief pitcher with a 1.80 ERA.
Fisher has never had a quarterback play two sports. In fact, two-sport athletes are becoming increasingly rare as players become more specialized in one sport.
But Fisher says, "I think the relationship's gone very well. Testing the waters in spring I thought he handled it extremely well and did very well with it. It goes back to the individual. Is he capable of handling it? And he's handled it with ease. He's excelled in both things that he's done."
A few more notes from Fisher:
Fisher didn't want to publicly comment on signee Matthew Thomas, who made headlines last week when he said he wanted out of his letter of intent. Athletic director Randy Spetman told The Tallahassee Democrat the school wouldn't release Thomas. Coaches continue to have discussions with his mom to see whether they can get Thomas to come up to Tallahassee. "We're working behind the scenes and I'm not going to comment publicly," Fisher said.
Fisher also seemed a little surprised that receiver Marvin Bracy decided to quit football to focus on track. "We had a great conversation," Fisher said. "Just he was more undecided about what he wanted to do. I just wanted him to make sure if you're going to go pro track, is it what's best for you? Are you going to maximize the money you can make or the opportunity for your life or what's your education down the road, what's the big picture? I hope he's done that."
March, 7, 2013
3/07/13
5:00
PM ET
Head coaching salaries have been on the rise for years. So have assistant coach salaries, sparking a further separation between the programs that can pay and the programs that cannot.
Therefore, it should come as no surprise that athletic directors have seen their salaries grow as well.

USA Today, which annually compiles head coaching salaries, recently found FBS athletic directors make
an average of $515,000
. That is an increase of more than 14 percent since USA Today last reported on AD salaries in 2011.
The ACC beats that average. Of the
available salaries compiled by USA Today
, ACC athletic directors were set to make an average of $602,829 in 2013. All but two made more than $500,000 -- Kevin Anderson at Maryland ($499,490), and Randy Spetman at Florida State ($350,00).
That doesn't count incoming Louisville athletic director Tom Jurich, who makes a cool $1.4 million -- the highest paid athletic director at a public school. Only nine athletic directors make $1 million or more. The next highest paid public school AD is Dan Radakovich at Clemson, checking in at $725,000.
Boston College and Miami, two private schools, did not disclose figures.
While Spetman's salary has remained the same for the past several years, it still surprises me that the athletic director at one of the most high-profile football programs in the nation is the lowest paid in his league. And one of the lowest paid in the entire state of Florida. Florida AD Jeremy Foley makes more than $1 million; USF AD Doug Woolard makes nearly $500,000; Todd Stansbury at UCF makes just a smidge more ($375,000); and FIU AD Pete Garcia makes $441,832.
I know Spetman has faced his share of criticism, and the Noles have fought through some financial problems. They do pay Jimbo Fisher $2.75 million -- the highest paid coach in the ACC. But something seems off when the ADs at FIU, UCF and USF make more than the guy at Florida State.
Here are is the complete list of AD salaries in the ACC, thanks to USA Today.
Tom Jurich, Louisville: $1.4 million*
Kevin White, Duke, $906,536
Dan Radakovich, Clemson: $725,000
Ron Wellman, Wake Forest: $688,000
Mike Bobinski, Georgia Tech: $625,000
Jim Weaver, Virginia Tech: $621,529
Steve Pederson, Pitt: $596,595
Craig Littlepage, Virginia: $586,750
Daryl Gross, Syracuse: $570,057
Bubba Cunningham, North Carolina: $565,000
Debbie Yow, NC State: $500,000
Kevin Anderson, Maryland: $499,490**
Randy Spetman, Florida State: $350,000
Brad Bates, Boston College: NA
Blake James, Miami: NA
*Louisville expected to join ACC in 2014
** Maryland will depart ACC in 2014
December, 2, 2012
12/02/12
2:09
AM ET
CHARLOTTE, N.C. -- In a span of four days last week, Florida State lost three times.
On Saturday, the Seminoles lost a heartbreaker to rival Florida in the final game of the season on their home turf. On Sunday, they lost their leading tackler and star defensive end,
Tank Carradine
, to a torn anterior cruciate ligament. And on Tuesday, they lost their beloved defensive coordinator, Mark Stoops, to Kentucky. Never mind the constant swirl of rumors about head coach Jimbo Fisher following Stoops into the SEC for another head-coaching gig.
"There were a lot of distractions this week," FSU athletic director Randy Spetman said.
[+] Enlarge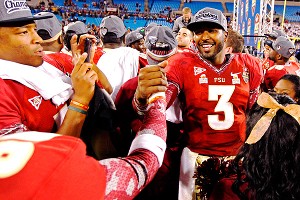 AP Photo/Chuck BurtonFlorida State QB EJ Manuel (3) celebrates the team's first ACC title since 2005 with teammates.
Despite it all, one thing Florida State didn't lose was sight of its goals.
With a
21-15 victory
over Georgia Tech on Saturday in the Dr Pepper ACC championship game, the Seminoles knocked any perceived distractions over like bowling pins. There was no sign of a hangover from the Florida game as FSU jumped out to a convincing 21-6 lead at the half. The news about Carradine and Stoops inspired the defense to a game-changing finish in the fourth quarter, as an interception by
Karlos Williams
sealed the ACC title with about a minute remaining. For a fleeting moment late Saturday night, as confetti scattered in the air and the Seminoles celebrated their first ACC title since 2005, the rest of the college football world was forced to pause and finally let the Noles enjoy themselves.
They earned it.
"We are still ACC champions, and that is one goal," FSU safety
Lamarcus Joyner
said. "We had a lot of goals and we met one of them. We have another one in front of us. That makes greatness, grasping opportunities in front of you."
In order to do that, they had to forget the missed opportunities behind them -- the loss to NC State, the loss to Florida.
There's no question there was a sense of relief from within the program Saturday night. This is a team that began the season ranked No. 3 in the country. The loss to NC State knocked the Noles out of the national title conversation and will continue to haunt them long after this season ends. Five turnovers in a loss to Florida was another statement opportunity squandered. And with Georgia Tech in position to put together a game-winning drive late in Saturday's game, NC State 2.0 looked like a very real possibility.
It was almost as if you could hear the entire city of Tallahassee exhale all the way in Charlotte when Williams snagged that pick.
"Oh man," defensive tackle
Timmy Jernigan
said. "Oh, man. We've been trying to get here for a long time. That's why I thank God for letting us win this game and I thank the seniors for helping this program get back to the top and get back into the national title conversations and winning these ACC championships and Orange Bowls and those types of games. We're Florida State. That's what's supposed to happen. It wasn't nothing miraculous. That's what we're supposed to do."
It wasn't easy, and it wasn't pretty, but it didn't matter.
Give 'em a break. In the end, Florida State is right where almost everyone predicted this summer it would be: heading to the Discover Orange Bowl. While many will continue to lament what could have been, Florida State is staring down what is: the possibility at a 12-2 season with an ACC title and a BCS win.
Not exactly a five-loss Rose Bowl team, now is it?
"I'm extremely happy for our players because I know how hard it is and how much flak they've taken: 'When are you going to be back, when are you going to win a championship, when are you going to do this,'" Fisher said. "... There's a point in time you point back and you look at it and you say, 'That was it.' That's the time that you got over the hump and you got there and you didn't let the circumstances blur your vision, and they did that."
It doesn't always have to be about playing in the shadow of the SEC or comparing what's happening in Charlotte to what's happening in Atlanta. It wasn't time to ask whether Fisher was the right man to replace Bobby Bowden. For once -- just once -- it can be simply about putting a trophy in the case and letting a group of players -- kids -- who have been through a lot enjoy it.
"I'll be extremely proud of it 10, 15 years from now," quarterback
EJ Manuel
said. "I'll be able to say I helped our team get back to where we needed to be as far as the BCS conversation, the national championship conversation and things like that. I want to see greatness from here on out. We have a lot of great players, a lot of great young players, and guys understand what it takes to get to this point, so I don't see us going back to where we used to be. I think Florida State is back in the conversation."
Thanks in large part to the defense, which held Georgia Tech and the nation's No. 3 rushing offense to just 183 rushing yards.
"You didn't want to work this hard for three years and not be able to finish this," Stoops said, "because our program, Coach Fisher and the players deserved this win."
And they deserve to celebrate it -- without any distractions.
May, 11, 2012
5/11/12
5:00
PM ET
Amidst a new wave of rumors this week that linked his school with the Big 12, Florida State athletic director Randy Spetman told the Orlando Sentinel that his school is "committed to the ACC."
From
Coley Harvey
:
"We're in the ACC. We're committed to the ACC," Spetman said. "That's where our president and the board of trustees has committed to, so we're great partners in the ACC.

"I don't know why people have written that," he later added. "I don't know how they can say that — and I don't mean to pick on the media — but how can the media person come out and say that there was a Florida State person in a meeting that wasn't true? How can they get away with that? To my knowledge, nobody from our organization was there. So I don't know how they can get away with saying that."
As Harvey
notes in a follow-up blog post
, yes, many are still skeptical about Spetman's comments. We've all seen similar steps throughout conference realignment chatter with the denials and non-denials, which eventually end up meaning nothing. There are plenty of pros and cons for FSU in each conference. I'd have to think right now, however, there is too much working against a move for the Seminoles any time soon.
February, 4, 2012
2/04/12
1:00
PM ET
First, the good news:
Jameis Winston
, the nation's No. 1 quarterback recruit according to Recruiting Nation,
has signed his letter of intent with Florida State
and faxed it in. Better late than never. Winston didn't sign on Wednesday, national signing day, because he was in Austin, Texas, at a high school all-star game. He returned home Thursday and made it official on Friday.
Now the bad news: West Virginia has officially backed out of its 2012 game with Florida State scheduled for Sept. 8 in Tallahassee. FSU athletic director Randy Spetman issued the following statement:
"We were informed in writing late Friday afternoon of West Virginia University's intention to cancel its 2012 football game with Florida State University scheduled for September 8 in Tallahassee. We are disappointed for our coaches, players and fans that this game will not take place as originally scheduled. We now face the challenge of completing our 2012 schedule just seven months before the start of the season. We will work quickly and diligently to fill the hole on our schedule and will communicate with our season ticket holders and fans as the process moves forward."
October, 30, 2009
10/30/09
10:00
AM ET
Posted by ESPN.com's Heather Dinich
Happy Halloween, ACC fans. Here's a look at some of the creepy things going on around the conference this year …
Haunted House:
Lane Stadium is the scariest place to play in the ACC -- especially on a Thursday night -- but the Hokies were the ones who got spooked in Thursday night's
20-17 loss
to North Carolina. Are you superstitious? Maybe it was the tweak to the entrance, with punter Brent Bowden's version of Enter Sandman throwing off the karma. Or, maybe it was that UNC's offense finally showed up. Either way, the loss to the Tar Heels will haunt the Hokies for a long, long, time.
| | |
| --- | --- |
| | |
| | Jeff Lack/Icon SMI |
| | Jonathan Dwyer and Georgia Tech's triple option offense have been scary-good the past four games. |
Black Cat:
Georgia Tech's triple option offense curses almost every defense in its path. And you thought it was going to be easier to defend in the second season under Paul Johnson, did you? The stats -- and the Jackets' 7-1 record -- prove otherwise. Over the past four games, Tech has averaged 454.5 yards of total offense, 321.2 yards rushing and 38.2 points.
Cursed Team:
Boston College. Former coach Jeff Jagodzinski was fired for interviewing with the Jets. Former starting quarterback Dominique Davis transferred. Linebacker Mark Herzlich was diagnosed with cancer. Linebacker Mike McLaughlin injured his Achilles. This week, backup quarterback
Justin Tuggle
and backup running back
Josh Haden
decided to transfer. Freshman running back
Rolandan Finch
has been out all week with a virus. And it's not even November yet.
Scary movie:
Virginia turned the ball over seven times. The Cavaliers' new spread offense didn't go anywhere. And Virginia lost to William & Mary, 26-14, in what was the Tribe's first win against an ACC team since it beat Virginia in 1986. Odds are this is some game tape that will still turn a few stomachs in Charlottesville - not to mention in the ACC offices in Greensboro.
Trick-or-Treat:
The trickiest game left for Florida State and Clemson will be when they play each other next week in Death Valley, especially if FSU wins this weekend. In the Coastal Division, Georgia Tech should be in for a treat with only Wake Forest and Duke remaining to win the division.
Boo (Boo):
NC State linebacker Nate Irving. The problem in Raleigh is the defense, and while one person doesn't make an entire unit, a player like Irving can make an entire unit better. It's hard not to wonder how much better this defense could've been with Irving in the lineup this year.
Graveyard:
It's time to bury Maryland's bowl hopes and Virginia Tech and Miami's BCS hopes. The Terps need to win their final four games to become bowl eligible, and Virginia Tech is one of them. Teams need to have nine wins and be ranked among the top 14 in the final BCS standings in order to be BCS bowl-eligible, and after losing to Clemson, No. 19 Miami's chances seem to have died. The same can be said for Virginia Tech, which should drop after its loss to UNC.
Night of the living dead:
Florida State and Clemson have both risen from the dead in the past week and have kept themselves alive in the Atlantic Division race. After starting out with the worst record in conference play since Bobby Bowden took over the program, the Noles earned what could turn out to be a season-changing win at UNC. And Clemson redeemed itself from a loss to Maryland with back-to-back conference wins, including an overtime upset at Miami. North Carolina now has new life after its upset of Virginia Tech. And, of course, Duke appears to have rejoined the land of the living after decades of losing.
Witchcraft:
C.J. Spiller
. He's got the magic to make a difference down the stretch. Spiller is a game-changer, and he's got what it takes to lead the Tigers to the Atlantic Division title and possibly their first ACC championship since 1991. It's why he came back for his senior season. Of course, that would mean the Tigers finally shake the Clemson curse.
Jack-o-lantern –
FSU athletic director Randy Spetman is the one man in the ACC who needs a light to go off in his head. It's his decision, according to outgoing university president T.K. Wetherell, as to whether or not Bobby Bowden stays or goes. Will Spetman let the boosters and trustees make the call for him, and turn Bowden into a pumpkin after the Florida game? Or will Bowden be allowed to determine his own retirement? Either way, it's a scary move.
October, 7, 2009
10/07/09
11:49
AM ET

Posted by ESPN.com's Heather Dinich
This just in: Florida State is playing Georgia Tech on Saturday.
It's been overshadowed, though, by
the other game
going on in Tallahassee -- the one being played in suits, not uniforms.
It's been the matchup of the century at Florida State, a prime-time war of words between the Bowdens (including an angry wife) and everyone who wants to see the legendary coach step down after this season. And right now, the only losers are the players.
| | |
| --- | --- |
| | |
| | Rick Dole/Getty Images |
| | The questions surrounding Bobby Bowden's future have taken the focus from Saturday's game. |
There have been at least two closed-door meetings this week that have resulted in little more than a distraction to the players' preparation for No. 22 Georgia Tech. The future of the program has been discussed by Florida State officials behind a cloak of secrecy, with no clear direction emerging for the fans, players or coaches to take comfort in. All that's being made public right now is what we already know -- Florida State has a succession plan in place for offensive coordinator Jimbo Fisher.
"Jimbo Fisher will be Florida State University's next head football coach," outgoing university president T.K. Wetherell said in a
prepared statement
released this morning. "We expect to work with Coach Fisher on a contract toward that end, and I will evaluate the program with the athletics director at the end of this season."
The truth is, those meetings were held this week to evaluate it now. Otherwise, why meet?
"If I was 40 years old I'd be shakin' in my boots," Bobby Bowden said on Wednesday's ACC teleconference. "But I'm 79. I've been through it. Most of my coaching is behind me."
There is an inner circle of those in the know right now, and that doesn't even include some of Florida State's staff members. It's money men like Wetherell, Jim Smith, the chair of the university's board of trustees, athletic director Randy Spetman, and Seminoles booster president Andy Miller -- men who don't know how to defend the triple option on Saturday, or who should cover
Demaryius Thomas
.
Georgia Tech does not have a base offense you can prepare for in four days. This is a tricky spread-option offense that Clemson and Miami began preparing for this past summer. It's an offense that requires disciplined defenders, and assignment football -- exactly what the Noles have been missing. The Jackets are No. 6 in the country in rushing offense. They have the ACC's defending player of the year in B-back
Jonathan Dwyer
. They don't throw it a lot, but when they do, they're No. 8 in the country in passing efficiency. And Florida State's defense is No. 98 in the country.
If there is one week on Florida State's schedule where coaching should be the priority, this is it.
There have been the usual position meetings and practices this week, but they've been overshadowed by two pow-wows between the heavy hitters. Bowden met on Monday with Wetherell, and there was another long meeting on Tuesday night to discuss the future of the program.
There's no need to meet to figure out it's going nowhere fast at this rate.
By all appearances, Florida State is in complete disarray. Spetman wasn't athletic director when this coach-in-waiting plan was drawn up, and he hasn't been able to assert himself with Wetherell's shadow still looming over the football building.
Bowden has never been the CEO type. Defensive coordinator Mickey Andrews has hinted at retirement at the end of this season, and Wetherell, who announced his retirement in June, will remain in office until his replacement is named. And how is Fisher to have any authority right now, when the head coach wants to hire Andrews' replacement?
In his statement, Wetherell, a longtime Bowden loyalist, put the burden on Spetman to make the toughest decision Florida State will ever have to make -- whether to renew Bowden's contract at the end of this season or usher him into retirement.
"Any coach can choose to retire at any time," Wetherell said. "However, it is the athletics director's responsibility to determine which coaches are hired and which contracts are extended."
For now, it's a moot point because Bowden isn't going anywhere this season. If any changes are made, it will be at the end of what's going to be a long, tumultuous season -- a season that could be Bowden's last. The program's first 0-2 start in the ACC since it joined the league has many thinking it should be, but what is the "right thing" for Florida State to do? Only those within the inner circle know whether Bowden will have a say in that.
"I have talked with him at length, and I know that he will do the right thing, as he always has done," Wetherell said. "I know the man and I know what's in his heart."
Bowden said that it's the "same old story."
"When the season's over," he said, "I'll let them know if I want to come back."
The question is whether they want him.
The Florida State officials who started these conversations this week had to know the ensuing distraction would take away from Saturday's preparation for Georgia Tech. If Bowden's future isn't going to be determined until after Florida State finishes its 2009 season, what possible reason would there be to even talk about it in October? Unless, the intent is to make it even more difficult for Bowden to turn this season around and subsequently increase the support for his early retirement.
"You heard the expression, 'You listen to your critics you'll be sitting up there with them?'" Bowden said. "So don't listen."
It's been hard to tune out the in-fighting this week, though.
Forgotten in all of this is a young, mistake-prone group of football players who are just trying to beat Georgia Tech this weekend -- something that's now seemingly impossible because the grown men who are supposed to care the most about this program are too busy drawing up their own game plan behind a closed door.
Good luck on Saturday, Noles, because defending the triple option just got even more difficult thanks to the distraction of a bureaucratic game in which it appears nobody will win.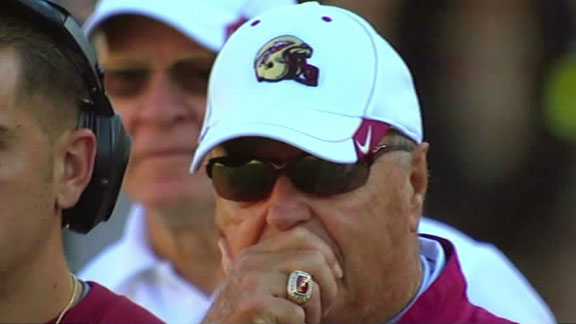 Posted by ESPN.com's Heather Dinich
Around the ACC we go ...
Posted by ESPN.com's Heather Dinich
Hang on for your daily trip around the ACC ...
December, 16, 2008
12/16/08
12:45
PM ET
Posted by ESPN.com's Heather Dinich
Virginia Tech coach Frank Beamer said he has no plans on changing his staff this offseason, and that means offensive coordinator Bryan Stinespring will be back, despite one of the nation's least productive offenses.
Offensive woes aside, here's an idea if you want to win the Orange Bowl: How about getting the players in their rooms BEFORE 2 a.m.?
Florida State AD Randy Spetman said he predicts coach Bobby Bowden will sign a new one-year contract and return for another season, but they won't discuss his contract until after the bowl game.
Florida State defensive end Everette Brown is focused on his next game, not the NFL draft.
Georgia Tech coach Paul Johnson is tweaking his offense before the Chick-fil-A Bowl, and safety Dominique Reese, who sprained his left MCL against Miami, is almost ready to go.
October, 22, 2008
10/22/08
12:14
PM ET
Posted by ESPN.com's Heather Dinich