NCF Nation:

Rashaan Evans
July, 7, 2014
Jul 7
9:00
AM ET
When a football coaching staff signs one of the top few recruits at any position, it's cause for celebration. Therefore, grabbing two of the top three prospects at that position might warrant an Animal House-style party.
Between 2006, when ESPN began assembling recruit rankings, and 2013, individual programs managed to sign at least two of the top three players at a position 16 times. In many cases, one -- and sometimes both -- of those players became instant stars as true freshmen. Think
Taylor Mays
and
Joe McKnight
at USC,
De'Anthony Thomas
at Oregon,
Laremy Tunsil
at Ole Miss and
Sean Spence
at Miami.
This was a relatively unique occurrence up until 2014, when it happened five times -- with four of the five instances occurring in the SEC: twice at Alabama, which signed the top two players at both center (No. 1
Josh Casher
and No. 2
J.C. Hassenauer
) and outside linebacker (No. 1
Christian Miller
and No. 2
Rashaan Evans
), plus at LSU (with No. 1 and 3 wide receivers
Malachi Dupre
and
Trey Quinn
) and Florida (with No. 2 and 3 defensive tackles
Gerald Willis
and
Thomas Holley
).
Clemson was the other school to accomplish the feat in 2014, signing No. 2 and 3 receiving tight ends
Milan Richard
and
Cannon Smith
.
In some of these cases -- particularly at LSU, which lost the vast majority of its receiving production from 2013 -- expectations are high that the star signees can immediately become valuable contributors as true freshmen. The Tigers have multiple alternatives at receiver, including
Travin Dural
and
John Diarse
, but Dupre and Quinn might rank among the leading contenders for playing time.
Judging by the long list of Freshman All-America and freshman all-conference honors won by those who previously signed as part of such a dynamic duo, perhaps it's not such a long shot that at least one of the newcomers will make a similar instant impact.
2006

Safety | USC
No. 2 Taylor Mays, No. 3 Antwine Perez
Mays appeared in all 13 games -- starting the last 12 at free safety after Josh Pinkard suffered a season-ending injury in the opener -- in 2006 and led the Trojans with three interceptions. Mays was fifth on the team with 62 tackles and tied for second with six passes defended, ending the season as Pac-10 Co-Freshman of the Year and as a member of multiple Freshman All-America teams. Perez played in seven games and recorded three tackles.
2007

Center | Auburn
No. 1 Ryan Pugh, No. 3 Chaz Ramsey
Pugh started six of Auburn's final nine games at left tackle and appeared in eight games overall. He also backed up Jason Bosley at center and earned Coaches' All-SEC Freshman team honors after the season. Like Pugh, Ramsey appeared for the first time in Week 4 and went on to start nine of the Tigers' last 10 games at right guard. He also made the Coaches' All-SEC Freshman team.

Running back | USC
No. 1 Joe McKnight, No. 2 Marc Tyler
McKnight played in all 13 games in 2007, ranked third on the team with 540 rushing yards and scored three touchdowns. He also caught 23 passes for 203 yards and a touchdown and served as the Trojans' primary punt returner, with his 8.4 yards per return helping him earn a All-Pac-10 honorable mention nod. Tyler redshirted in 2007 while recuperating from a high school leg injury.
2008

Inside linebacker | Ohio State
No. 1 Etienne Sabino, No. 2 Andrew Sweat
Sabino played in all 13 games and notched six tackles. He notched the only touchdown in the Buckeyes' 16-3 win against Purdue by returning a blocked punt 20 yards for a score. Sweat appeared in the last nine games and recorded five tackles, also contributing mostly on special teams.

Outside linebacker | Miami
No. 1 Arthur Brown, No. 2 Sean Spence, No. 3 Ramon Buchanan
Not only did Miami sign ESPN's top three outside linebacker prospects in 2008, it also signed No. 5 Jordan Futch. That's an outstanding haul for one year. At any rate, Spence emerged as the key member of this group from the get-go, ranking third on the team with 65 tackles and leading the Hurricanes with 9.5 tackles for a loss in 2008. He was ACC Defensive Rookie of the Year and made multiple Freshman All-America teams. Brown (who later transferred to Kansas State) played in 11 games as a freshman, notching four tackles and shifting from outside to inside linebacker. Buchanan had six tackles in nine games, playing mostly on special teams and also contributing at safety and linebacker.

Offensive tackle | Ohio State
No. 2 Michael Brewster, No. 3 J.B. Shugarts
Brewster played in 12 of the Buckeyes' 13 games in 2008 and started the last 10 at center, earning Freshman All-America honors in the process. Shugarts appeared in seven games at offensive tackle and missed six other games with a shoulder surgery that required offseason surgery.

Safety | Florida
No. 1 Will Hill, No. 2 Dee Finley
Hill played in 13 games and ranked sixth on the team with 48 tackles. He also picked off two passes and notched 1.5 sacks. He made the SEC All-Freshman team and led the Gators with 22 tackles on special teams. Finley did not qualify academically and spent the 2008 season at Milford Academy prep school. He eventually enrolled at Florida and shifted from safety to linebacker, but transferred away from Gainesville in 2011.
2009

Safety | South Carolina
No. 2 Stephon Gilmore, No. 3 DeVonte Holloman
Early enrollee Gilmore started all 13 games at cornerback, ranking fifth on the team with 56 tackles. He tied for the team lead with nine passes defended and ranked second with eight pass breakups, adding six tackles for a loss, three sacks, two fumble recoveries, two forced fumbles and an interception. The Freshman All-SEC and Freshman All-America honoree also averaged 10.1 yards per return as a punt return man. Another early enrollee, Hollomon also played in every game, notching 30 tackles, an interception (which he returned 54 yards against rival Clemson) and a tackle for a loss.
2010

Athlete | Florida
No. 1 Ronald Powell, No. 2 Matt Elam
Powell played in 13 games at strongside linebacker and recorded 25 tackles, three tackles for a loss and a sack en route to winning Freshman All-SEC honors. Elam also played in all 13 games, mostly on special teams and at defensive back, and notched 22 tackles, two tackles for a loss and a sack.

Defensive tackle | Florida
No. 1 Dominique Easley, No. 3 Sharrif Floyd
Easley recorded four tackles in six games. Floyd played in all 13 games, earning Coaches' Freshman All-SEC honors by making 23 tackles and 6.5 tackles for a loss.

Wide receiver | Texas
No. 2 Mike Davis, No. 3 Darius White
Davis ranked second on the team with 478 receiving yards and 47 receptions (a record for a Texas freshman). He became one of only three receivers in Longhorns history to post multiple 100-yard games as a freshman. White appeared in 10 games in 2010, but caught just one pass for 5 yards and eventually transferred to Missouri after two seasons, citing a need for a fresh start.
2011

Athlete | Oregon
No. 1 De'Anthony Thomas, No. 2 Devon Blackmon
The speedy Thomas earned Pac-12 Co-Offensive Freshman of the Year honors and was named an All-Pac-12 kick returner and a Freshman All-American. He was the only player in the nation to post at least 400 yards rushing, receiving and kick returning in 2011, ranking as the Ducks' second-leading receiver (595 yards on 46 catches) and third-leading rusher (608 yards and seven touchdowns). His 983 kickoff return yards ranked second in school history. Blackmon redshirted in 2011 and appeared in two games in 2012 before announcing his plan to transfer. He played at Riverside City College before signing with BYU as a juco transfer in 2014.
2012
Defensive end | Florida State
No. 1 Mario Edwards, No. 3 Chris Casher
Edwards became the only freshman to start all season for a loaded FSU defense when he replaced the injured Tank Carradine in the ACC Championship Game. He also started in the Orange Bowl win over Northern Illinois. In all, Edwards finished the season with 17 tackles, 2.5 tackles for a loss and 1.5 sacks. Casher played in two early games before suffering a season-ending injury and taking a redshirt in 2012.
2013

Offensive guard | Michigan
No. 2 David Dawson, No. 3 Patrick Kugler
Dawson and Kugler both redshirted in 2013. Dawson practiced during the spring at left guard and left tackle, while Kugler is among the candidates to start at center this fall.

Offensive tackle | Ole Miss
No. 1 Laremy Tunsil, No. 3 Austin Golson
Tunsil immediately became one of the better offensive tackles in the SEC, earning second-team All-SEC and Freshman All-America honors in 2013. He played in 12 games and started nine at left tackle, making him one of only two true full-time freshman starters at the position in the FBS. Tunsil allowed just one sack all season. Golson played in 12 games, mostly at guard, before missing the Rebels' bowl game because of shoulder surgery. He transferred to Auburn this summer, citing a family illness as the reason he wanted to move closer to his Alabama home.

Safety |
USC
No. 1 Su'a Cravens, No. 3 Leon McQuay III


A 2013 early enrollee, Cravens started 13 games at strong safety, ranked eighth on the team with 52 tackles and tied for second with four interceptions. He made multiple Freshman All-America teams and earned an All-Pac-12 honorable mention nod after the season. McQuay played in all 14 games, picked off one pass and recorded 19 tackles.
February, 7, 2014
Feb 7
9:00
AM ET
AUBURN, Ala. -- The ink is dry, and
Rashaan Evans
is headed to Alabama. It was the surprise of signing day. The local product left his hometown to play for the enemy, and the people of Auburn were stunned to say the least. It's a rivalry centered around momentum, and the Crimson Tide stole it back on Wednesday.
But just how close did Evans come to signing with the Tigers?
[+] Enlarge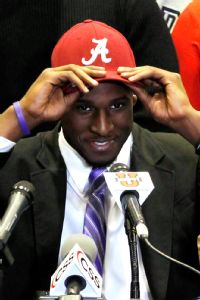 AP Photo/Butch DillAuburn feels good about its recruiting class even with Rashaan Evans headed to Alabama.
"When I was up there at the podium, I was thinking 'Man, maybe I should go to Auburn,' but then I really thought about it and Alabama was the best place for me," he said.
Apparently, Evans wasn't the only one who thought he should go to Auburn or who thought he had already signed with the Tigers. The school's athletic department put his bio on the website along with the other recruits who had signed that day. An embarrassing blunder no doubt, but it just goes to show how tight this battle really was.
Auburn signees
Jakell Mitchell
and
Stephen Roberts
made the short drive from their ceremony at Opelika (Ala.) High School to be at Evans' announcement. Roberts said he knew the outcome already, but Mitchell was just as surprised as everybody else, surprised and disappointed.
"I was looking forward to getting him in the Auburn family," Mitchell said. "But he made the best decision for him and his family. I hope he does great."
No hard feelings.
It wasn't easy for Evans' parents either. Both went to Auburn for a period of time, and both still live in Auburn. His father, Alan Evans, says he will still root for the Tigers in every game except the Iron Bowl. That doesn't change what happened, though. He still has to go around town with everybody fully aware that his son is playing for the school across the state.
"I know the Auburn people," he said. "They're the type of people that are going to take this with a grain of salt. They'll move on, and there will be another Rashaan Evans. I think Rashaan has to move on, and I think Auburn has to move on. I think they'll be OK."
The folks in town probably haven't moved on just yet, but the same can't be said for Auburn coach Gus Malzahn. According to Evans, Malzahn wasn't aware of the decision until the Alabama hat came out of the bag, but he didn't dwell on it. He and his staff had work to do.
"You recruit guys year-round, but we're very excited about the guys we have," Malzahn said, when asked about Evans. "We couldn't be happier. We've got some outstanding guys that are going to help us win a whole lot of games, and the future is very bright.
"We focus on the guys that are here. We've got one of the best classes in college football, not only talent-wise but everything else that goes with it."
Who can argue with that? When the smoke finally cleared, Auburn had signed 23 players including five early enrollees and finished with
the No. 8 class
on ESPN. It's a class that included 17 four-stars and 12 recruits ranked in the ESPN 300, and it's a class that features the No. 1 junior college player, the No. 2 pocket passer, and the No. 5 running back.
The loss of Evans might have left a sour taste on signing day if not for both
Braden Smith
and
Andrew Williams
, a pair of ESPN 300 prospects, choosing to sign with the Tigers.
"Sometimes you don't get a guy that maybe you thought you were going to get or maybe felt like you were going to get, but then you get two that you got in on late," athletic director Jay Jacobs said. "You just wish people well and know that we're real excited about what we've got going on here."
Sooner or later, that's what Malzahn and the people of Auburn will do with Evans. They'll wish him well until next November when he's on the opposing sideline.
February, 6, 2014
Feb 6
5:30
AM ET
1. Local recruits might be a program's bread and butter, but it sure seems as if more schools are looking outside their geographic comfort zone. UCLA signed five players east of the Rockies. National champion Florida State reached beyond the local bounty to sign players from 11 other states. Alabama signed recruits from 14 states, not to mention linebacker
Rashaan Evans
from enemy country (Auburn [Ala.] High). Evans narrowed it down to Alabama, Auburn … and UCLA.
2. Here's another way of making the same point: Jake Trotter, our Big 12 reporter, said on Paul Finebaum's radio show Wednesday that the best players in the conference states of Texas, Oklahoma, Kansas, and Iowa signed with SEC schools. Texas A&M's move into the SEC opened the doors of the state to the conference. Ten SEC schools, including every Western Division program, signed at least one Texas recruit.
3. It's great to see Ralph Friedgen return to coaching. The 66-year-old Fridge, after three years of golf and hanging around, will help Rutgers move into the Big Ten as the offensive coordinator for head coach Kyle Flood. Friedgen, who went 75-50 in 10 seasons at Maryland, returned for the same reason that Dennis Erickson and Tom O'Brien are now assistants: to coach young men. That's why these guys got in the business. After all the years and the money and the fame, that's why they're still here.