NCF Nation:

Rashad Fortenberry
March, 3, 2014
3/03/14
11:00
AM ET
With spring practice off and rolling, plenty of questions surround the league's programs. And while many of those won't be fully answered until the season begins in the fall, here are some of the biggest ones Oklahoma State, TCU, Texas, Texas Tech and West Virginia will face this spring:
Can freshman impact OSU's QB race?
Junior quarterback
J.W. Walsh
has made eight starts for the Cowboys over the last two seasons. But even with
Clint Chelf
now gone, Walsh still will have to fight for a job with freshman
Mason Rudolph
already on campus. Rudolph, who enrolled early to participate in spring ball, threw for more than 4,300 yards and 64 touchdowns his final year of high school and is one of the most highly-touted quarterback recruits ever to sign with the Cowboys. In high school, Rudolph played in an offensive scheme similar to Oklahoma State's, which is what first interested him in the Cowboys. That should ease his transition to the college level. Of course for now, the job is Walsh's to lose. But Rudolph has the talent and the skill set to begin applying pressure on Walsh as soon as this spring.
How will TCU adapt to the offensive overhaul?
TCU conducted its first spring practice over the weekend, and the exit polls suggested the Horned Frogs went through offensive drills fast. Like really fast. Tired of ranking near the bottom of the Big 12 in offense, Gary Patterson shook up his coaching staff and brought in Sonny Cumbie and Doug Meacham to install an up-tempo offensive system that resembled those of Texas Tech (Cumbie) and Oklahoma State (Meacham). As Patterson admitted after the first practice, there will be a learning curve for his players to picking up this new offensive style. But the quicker quarterback
Trevone Boykin
can adapt, the better off TCU will be going into 2014.
How will Texas look different under Strong?
The last time Texas had a coach other than Mack Brown running a spring practice, Bill Clinton was still president. The Charlie Strong era will begin in earnest with the start of spring practice in Austin. How will the players adjust to the new schemes of assistants Shawn Watson, Joe Wickline and Vance Bedford? How will the veterans react to their new position coaches? Who will thrive with the new staff? Who will falter? Those pivotal questions will begin to be answered this spring.
Can Texas Tech get by with only one scholarship QB?
With starting right tackle
Rashad Fortenberry
getting an extra year of eligibility over the weekend, the Red Raiders seem to be in good shape across the board offensively. Of course, that could change real quick should QB
Davis Webb
incur any kind of injury this spring. With
Baker Mayfield
at Oklahoma and
Michael Brewer
headed to Virginia Tech, the Red Raiders will be down to just one scholarship quarterback until
Patrick Mahomes
arrives in the summer. Though coach Kliff Kingsbury has said that Tech has a couple of capable walk-ons, an injury to Webb would hamper the spring development of an offense that will have big goals in the fall. Coming off a breakout performance in the bowl game, Webb also needs to continue developing this spring. But he also needs to remain healthy for the betterment of himself and the team.
Who will get carries for West Virginia?
Even with
Charles Sims
gone, the Mountaineers still enjoy a stable of capable of running backs. But where will Sims' carries go? After rushing for 494 yards last season,
Dreamius Smith
is starting out the spring atop the depth chart. But he'll have to fend off several comers to remain there.
Wendell Smallwood
came on strong late during his freshman season and finished the year averaging 5.7 yards per carry.
Rushel Shell
also joins the fray this spring after transferring over from Pittsburgh. Shell, who set a Pennsylvania high school rushing record, was formerly the No. 26 overall recruit in the 2012 recruiting class. There are still others.
Dustin Garrison
and
Andrew Buie
are still around after leading the Mountaineers' in rushing in 2011 and 2012, respectively. Oh yeah, West Virginia will also add four-star signee
Donte Thomas-Williams
in the summer. Good luck to the running back who dares to take a play off in this crammed competition.
March, 29, 2012
3/29/12
9:00
AM ET
Texas Tech's record stood at 5-2, but its hopes were much higher.
The Red Raiders had seen a close loss to what would be a 10-win Kansas State team and a five-point loss to top-25 Texas A&M, but bounced back for a season-making upset at No. 1 Oklahoma on Oct. 22.
The Sooners hadn't lost in Owen Field to a Big 12 team in 10 years, but Texas Tech did it, and the Red Raiders flew back home to Lubbock with smiles on their faces.
Those would be the last postgame smiles for the season's remainder. The Red Raiders didn't win again. What happened?
"I thought we were a decent team," coach Tommy Tuberville told ESPN.com this week. "and then the bottom fell out on injuries."
The bottom line about that bottom falling out? Texas Tech lacked the necessary depth for a Big 12 season — and it showed.
"When you don't have depth, that's when it starts showing up — when you have injuries," Tuberville said. "If we hadn't had injuries, we probably would have been a little bit better team, but those are things you can't control."
No side of the ball was spared. In the Texas A&M loss, the Red Raiders lost their leading rusher and best pass blocker, Eric Stephens to a serious knee injury. His backup, DeAndre Washington, suffered the same fate weeks later in a loss to Missouri. Receivers Marcus Kennard and Darrin Moore were hampered by various injuries throughout the season.
"There was one time last year we started five kids on defense that weren't on scholarship," Tuberville said. "We just didn't have them here. They hadn't been recruited."
There's no time to complain. Texas Tech had its first losing season in two decades, finishing 5-7 and sitting at home while half of college football prepped for bowl games.
This spring, the main goal was clear: Develop depth by any means necessary.
The Red Raiders signed nine junior-college prospects and half enrolled in the spring.
[+] Enlarge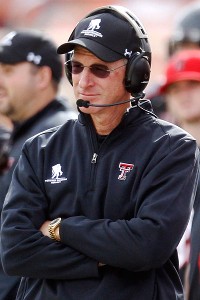 Sue Ogrocki/AP PhotoTommy Tuberville tapped the juco ranks for depth after Texas Tech unravelled last season.
"At our position as coaches, that's a coaching move, in terms of going out and finding not just starters, but depth players, and that's the reason we went out and took some junior-college guys," Tuberville said. "We had to have immediate help at some positions, whether it was starter or backup or third team. So, our depth chart looks better. I think 17 or 18 true freshmen coming in in June will enhance it."
The Red Raiders got help at running back in SaDale Foster, who finished atop the depth chart for Tech's depleted running back corps at the end of spring.
Linebackers Chris Payne and Will Smith established themselves as contributors; Smith was the team's best linebacker when spring practice concluded Saturday. Rashad Fortenberry, another junior-college signee from Mississippi, adds a solid tackle to an offensive line in need of help.
"Defensively, whatever we do is going to be better. We didn't coach, we didn't play, we didn't act like a good defense last year. We looked like we were in shell shock all year long in terms of playing against teams that had great players. This conference last year, offensively, was unbelievable from top to bottom," Tuberville said. "We knew we were going to be very short defensively experience-wise, and then we get people hurt. And then we're playing against some of the better players to play in this conference. I think we're going to be better in matchups. That's what you look for, is matchups in college football."
Tech hopes strategic decisions during a trying 2011 season pay off down the line.
"We didn't take the redshirt off a few guys because they probably wouldn't have been any better. But they've got the talent. We redshirted them and we saved them, and now they've got four years to play," he said. "It's going to help us in the long run. It didn't help us in the immediate future, but it'll help us in the long run. That's what we're building for. We're building to make this team start to be strong at a certain point."
That point hasn't arrived, but Tech should be well ahead of where it was in 2011 after top-25 recruiting classes in 2011 and 2012, combined with the quick-fix juco signings.
"We've just been a disaster in terms of depth. The parts hadn't been there to work with," Tuberville said.
He says Texas Tech is still one more recruiting class away from being where it needs to be in terms of athletic ability, but the talent necessary to win is on campus now.
The goal for fall is to develop the depth Tuberville and his staff have established.
"Are we ready to compete for a championship? No, not really, just because of inexperience. I think we're going to have some talent that can make some plays on both sides of the ball that we haven't had in the last couple of years," Tuberville said. "I think we're going to be much more competitive in terms of each position with a little bit more depth."