NCF Nation:

Rashaun Woods
February, 9, 2011
2/09/11
6:03
PM ET
Oklahoma State has finally found its new offensive coordinator.
The university announced that coach Mike Gundy will hand his offense to Todd Monken, who spent the past four years in the NFL as a receivers coach for the Jacksonville Jaguars. He previously coached quarterbacks for the Jaguars.
Before leaving for Jacksonville, he coached receivers at Oklahoma State from 2002-04, including Cowboys greats Rashaun and D'Juan Woods.
"Todd is a really good fit for what we need," Gundy said in a release. "He's been in the Big 12 and SEC, and he's coached at places that have won at a high level. He's an experienced, intelligent coach who will be able to come in and help us pick up where we left off. We're excited to have him join our staff."
His hiring ends a long wait for the Cowboys, who have been without an offensive coordinator since after their bowl game on Dec. 29. On Dec. 14, Holgorsen announced he would leave Oklahoma State to become the offensive coordinator at West Virginia, and take over as head coach for Bill Stewart in 2012. Holgorsen stayed on staff through the bowl game before leaving.
Monken won't bring the name recognition that Holgorsen did a year ago, but he's a coach that Gundy knows and clearly trusts. With the amount of talent Monken will have to work with, including five returning offensive linemen, All-Big 12 quarterback
Brandon Weeden
and Biletnikoff Award-winning receiver
Justin Blackmon
, he'll have the tools to make Oklahoma State a high-powered offense like it was in 2010.
November, 10, 2010
11/10/10
9:00
AM ET
All the pieces were in place.
Zac Robinson
was the senior franchise quarterback who would eventually leave as the program's all-time leader in total offense.
Kendall Hunter
was the running back coming off the All-American season and ready to run past his 1,555 yards as a sophomore. Receiver Dez Bryant was the playmaker like no other, one that would eventually leave as a first-round pick in the NFL Draft.
Best of all, they'd be operating behind an experienced offensive line headlined by a four-year starter protecting Robinson's blind side, Russell Okung, who eventually was selected sixth in the NFL Draft.
The next in a line of triplets at Oklahoma State that have included greats like Barry Sanders, Rashaun Woods and Mike Gundy looked ready to compete for a Big 12 title -- maybe more.
But Hunter suffered an ankle injury early on and didn't look like the same back until the season's final game. Bryant was suspended for the season after the third game for lying to NCAA officials about a visit with Deion Sanders. Robinson suffered a shoulder injury and wasn't himself in a shutout loss to Oklahoma to close the regular season, when a win would have sent the Cowboys to a BCS bowl.
They settled for 2nd in the South, the highest finish ever for the program, and an appearance in the Cotton Bowl.
[+] Enlarge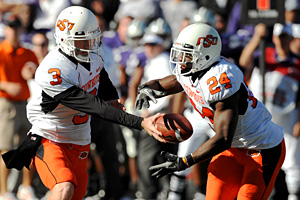 John Rieger/US PresswireBrandon Weeden and Kendall Hunter have given the Cowboys a shot at the Big 12 South title.
This year, a new group of unsuspecting triplets have emerged.
Brandon Weeden
, a 27-year-old first-time starter, leads the Big 12 in passing yards, completion percentage, touchdowns (his 26 are tied for No. 1 nationally) and passer rating. Hunter is better than ever as a senior, leading the Big 12 in rushing and ranking third nationally.
And
Justin Blackmon
, a sophomore with 20 career catches that no one outside the Big 12 had ever heard of before the season, has emerged as the favorite for the Biletnikoff Award and a possible Heisman finalist. He leads the nation in receiving yards per game by a wide margin, and is tied for the most touchdowns with 15.
Together, they have the No. 10 Cowboys (8-1) on top of the Big 12 South and in position to reach the Big 12 title game for the first time ever. With a win at Texas on Saturday, Oklahoma State would come home from Austin as winners for the first time in 11 tries since 1944.
"This is what you play for. Every game gets bigger as you go and this one is a big one," Weeden said.
Even an offensive line with four new starters has become a strength.
"I thought we had a pretty good product to work with," said new offensive coordinator Dana Holgorsen. "You never know how kids are going to develop, but that's why you get out there and practice every day and put guys in a position to improve."
The hype surrounding the team wasn't there when the season began, but attention on the Cowboys -- picked fifth in the Big 12 South in the preseason -- has grown as the wins have piled up.
"It's only a factor if you start to listen to it," Gundy said. "I've said this for four or five weeks now. If you start to think you're a pretty good player and that your team is better than they really are, you just need to look around the country every Saturday and you will see teams get knocked off. I'm a firm believer in that. We have some good players who have made a lot of good plays this year. And we have a good football team. But we're not beyond practicing well and keeping the right frame of mind in order to win our football game."
January, 22, 2010
1/22/10
1:57
PM ET
By
Tim Griffin
| ESPN.com
With all of the looking back we've done this week, I couldn't leave without picking my own All-Big 12 all-decade team.

It was a tough choice at several positions, but here's my all-decade team.

Please feel free to provide any changes you would make, and explain why you would make them.

Believe me, it's a hard choice. I spent more than an hour trying to choose between Darren Sproles and Cedric Benson and Jermaine Gresham and Chase Coffman.

OFFENSE

QB: Vince Young, Texas

RB: Adrian Peterson, Oklahoma

RB: Cedric Benson, Texas

WR: Michael Crabtree, Texas Tech

WR: Rashaun Woods, Oklahoma State

TE: Chase Coffman, Missouri

T: Russell Okung, Oklahoma State

T: Jammal Brown, Oklahoma

G: Duke Robinson, Oklahoma

G: Derrick Dockery, Texas

C: Andre Gurode, Colorado

DEFENSE

DE: Brian Orakpo, Texas

DT: Ndamukong Suh, Nebraska

DT: Tommie Harris, Oklahoma

DE: Dan Cody, Oklahoma

LB: Derrick Johnson, Texas

LB: Rocky Calmus, Oklahoma

LB: Teddy Lehman, Oklahoma

CB: Terence Newman, Kansas State

CB: Derrick Strait, Oklahoma

S: Roy Williams, Oklahoma

S: Michael Huff, Texas

K: Mason Crosby, Colorado

P: Daniel Sepulveda, Baylor

Ret: Wes Welker, Texas Tech
June, 16, 2009
6/16/09
8:48
PM ET
Posted by ESPN.com's Tim Griffin
Big 12 most memorable moments
Late OSU rally ruins OU's 2001 Big 12 South hopes
No. 19
Date: Nov. 24, 2001
Place: Owen Field, Norman, Okla.
Score: Oklahoma State 16, Oklahoma 13
Defending national champion Oklahoma was a heavy favorite heading into its regular-season finale, needing only to beat struggling Oklahoma State to wrap up its second-straight Big 12 South title under Bob Stoops.
The Sooners' hopes looked that much brighter after OSU starter Aso Pogi struggled in the first quarter, throwing two interceptions that sparked the insertion of freshman quarterback Josh Fields into the game.
One of the stories of the game was the transformation of the Cowboy defense, only a week after it was gashed for 517 yards by Baylor. But OSU repeatedly tormented Oklahoma quarterback Nate Hybl, who threw three interceptions and was sacked seven times.
Still, the Sooners led for much of the game. Quentin Griffin gave the Sooners an early lead in the second quarter on an 8-yard TD run. The Sooners held a 10-6 halftime lead after Tim Duncan added a 23-yard field goal sandwiched around a pair of field goals by Oklahoma State kicker Luke Phillips.
The two teams exchanged field goals early in the fourth quarter, setting the stage for Fields' late heroics. Phillips nailed consecutive 52-yard field goals to keep the Cowboys close.
After forcing its third consecutive three-and-out possession, OSU got the ball on the Oklahoma 35. Fields completed only three passes on the game-winning drive but he made them all count.
Fields first connected with Rashaun Woods on a 15-yard strike. He then kept the drive alive with a clutch third-down 31-yard pass to T.D. Bryant. On the next play, Fields hooked up again with Woods on a 14-yard game-winning TD toss with 1:36 left.
Oklahoma had one more chance, but Hybl's desperation pass was intercepted by Marcus Jones.
The victory touched off a wild celebration all across Texas after the Longhorns claimed an appearance in the Big 12 championship game. And it prematurely interrupted a barbecue celebration at the home of Texas defensive coordinator Carl Reese, who immediately went to work to prepare for the Longhorns' game against Colorado the next week.
The numbers: Woods produced eight receptions for 129 yards, giving him 80 for the season and breaking the then-school record of 74 set by Hart Lee Dykes in 1988. Oklahoma was limited to zero net yards of rushing on 27 carries. And the loss snapped a 19-game home winning streak for Oklahoma, including the first 18 home games under Stoops.
They said it, part I: "They are a good football team. They finally got an opportunity to show someone else," OSU coach Les Miles, describing his team's performance to reporters after the game.
They said it, part II: "I don't think we came into this game unprepared and looking ahead to next week. The team was outplayed and I was outcoached. That's really the only excuse I have for this loss," Oklahoma coach Bob Stoops, reflecting on his first-ever home loss with the Sooners.
They said it, part III: "Our two sons and my wife were screaming and shouting like they were on the sidelines. We had some unsportsmanlike conduct there I think," Texas coach Mack Brown, who described his reaction after the OSU victory to the Associated Press.
The upshot: The loss kept Oklahoma from the Big 12 championship game. Texas went in the Sooners' place, losing a 39-37 decision to Colorado in a game that will be described in detail later in this series.
The Sooners finished the season 11-2 with a 10-3 victory over Arkansas in the Cotton Bowl, wrapping up the season at No. 6 in the final AP poll.
The upset boosted OSU to 4-7 with victories in its final two games. That fast finish help set the stage for an 8-5 record the following season and a trip to the Houston Bowl - the first post-season appearance under Miles and the Cowboys' first bowl trip since 1997.
Since then, Stoops has lost only other home game, a 17-10 season-opening loss to TCU in 2005. Stoops is 60-2 at Owen Field, including a current 24-game winning streak.


The countdown:
20. It's never over until it's over: Texas Tech's 2006 Insight Bowl rally vs. Minnesota
21. Reesing to Meier. Again and again: Kansas over Missouri in 2008
22. A Texas-sized comeback: Texas over Oklahoma State in 2004.
23. A Border War unlike any of the rest: Missouri over Kansas in 2007.
24. Seneca Wallace's wild TD run vs. Texas Tech in 2001.
25. Baylor's "So Much for Taking a Knee" in final-play 1999 loss to UNLV.