June, 20, 2013
6/20/13
3:30
PM ET
Duke and Miami have the most returning experience on the offensive line in the ACC this year, according to the conference. The Blue Devils return four starters in tackles
Perry Simmons
and Tacoby Cofield, and guards
Laken Tomlinson
and
Dave Harding
, who have combined for a total of 100 starts.
Miami returns all five starters from last year's team: tackles
Seantrel Henderson
and
Malcolm Bunche
, guards
Jon Feliciano
and
Brandon Linder
, and center
Shane McDermott
. They have combined for 97 starts. (Um, yeah,
Duke Johnson
is set for another great year).
Here's a look at what the rest of the league has returning up front, according to the ACC:
Ouch, Virginia Tech. The Hokies are trying to rejuvenate their offense under first-year coordinator Scot Loeffler, and they've got to do it with one of the least experienced offensive lines in the conference. There are plenty of veteran linemen in the Coastal Division, but few in Blacksburg.
The league's top veteran is actually at Duke, where Simmons is a three-year starter at tackle and leads all returning offensive linemen with 36 career starts.
Here's a look at the returning offensive linemen in the ACC with the most career starts:
1. Perry Simmons, Duke, Sr., Tackle: 36
2.
James Hurst
, North Carolina, Sr., Tackle: 35
3. Brandon Linder, G, Sr., Miami: 31
3.
Morgan Moses
, Virginia, Sr., Tackle: 31
5. Brian Stork, Florida State, Sr., Center: 28
6. Dave Harding, Duke, Sr., Guard: 26
7.
Macky MacPherson
, Syracuse, Sr., Center: 25
7.
Luke Bowanko
, Virginia, Sr., Center: 25
9. Laken Tomlinson, Duke, Jr., Guard: 24
9.
Ray Beno
, Georgia Tech, Sr., Center: 24
11.
Ian White
, Boston College, Sr., Guard: 23
12. Jon Feliciano, Miami, Jr., Guard: 22
March, 25, 2013
3/25/13
9:00
AM ET
Georgia Tech opens spring practice today with a new defensive coordinator in Ted Roof, and a new starter at quarterback in
Vad Lee
. I had a chance to catch up with coach Paul Johnson to ask about his expectations of both headed into the spring. Here is a little of what he had to say.
I have to start off by asking -- how are you enjoying Twitter so far?
PJ:
My daughter, she said, 'You'll be good at that, Dad, you need to do it.' And, 'I'm like, I don't know about that.' She goes, 'Oh just try it.' So it's been interesting.
What is the No. 1 thing you want to see this spring out of your defense as it starts to get adjusted to playing a different scheme?
PJ:
It's the same regardless of scheme. You want guys that can play fast, play hard and understand what they're doing. The scheme is there to help them. We try to work the scheme around them rather than trying to fit them into the scheme. And I think our guys are excited about it. Ted's a fiery guy. He's going to have a lot of passion, a lot of energy and I think they're looking forward to that. And it's not that big of a change from what we did the last half of the season.
You guys showed major improvement the second half. Is the goal to build on some of what you were able to do?
PJ:
Yeah I think the second half we simplified things and tried to let guys play fast and understand what they were doing and basically we played a lot of 4-3 tenets the last six games. We got away from the 3-4 a little bit.
Jeremiah Attaochu is going to be playing more at defensive end. What are your hopes for him in that role?
PJ:
That's what he played last year. Very seldom did he drop. He was more our rush guy. We played a field boundary guy and it's going to be very similar in what we're doing now, so we'll try to play to his attributes and his strong suits. He's a really good pass-rusher and we'll try to utilize him in that area and line him up on some tight ends and some of that.
[+] Enlarge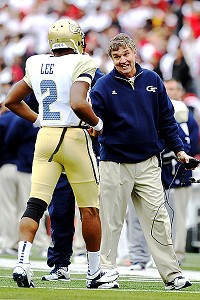 Mitch Stringer/USA TODAY SportsGeorgia Tech's Vad Lee is in a QB competition this spring, but coach Paul Johnson said there's no doubting Lee's leadership skills.
How do you see some of the competition playing out along the line with T.J. Barnes and Izaan Cross gone?
PJ:
We've got some good depth.
Euclid Cummings
is a guy I'm excited about. I think he's got a ton of ability.
Emmanuel Dieke
has played a lot.
Adam Gotsis
,
Shawn Green
played. We've got a couple guys, Pat Gamble, Rod Chungong,
Francis Kallon
that we redshirted so we feel like we've got depth there and some guys so we'll probably play six, seven guys up front.
Now that Vad looks to be your starter, have you seen him taking on more of a leadership role?
PJ:
Vad's always been a leader. It's in his DNA. Usually the good ones in that position are that way. He's a hard worker and I think that he's trying to develop a chemistry with everybody and we've got another guy named
Justin Thomas
that we redshirted at quarterback, and that ought to be a heck of a battle this spring. Clearly, Vad's in front but Justin's a good player in his own right, so that ought to be some pretty good competition between those two guys.
How will you work the reps?
PJ:
Well, Vad will start out at 1 but in the spring, you're going to run two teams anyway so they'll probably get an equal number of reps.
Any kind of scenario where you play both like you did with Vad and Tevin Washington last year?
PJ:
It's possible. It will be determined on how it turns out, once we get into the spring and we start playing how it looks and how it unfolds, but I think going into the spring you'd have to say Vad's the No. 1.
What about at A-back. Orwin Smith was able to do so much, what's the competition going to look like there?
PJ:
We've got a lot of guys back there who have played a lot.
Synjyn Days
played the last half of the season there, we moved from quarterback so we're excited about him.
Robbie Godhigh
is the starter that returns.
Deon Hill
,
B.J. Bostic
,
Dennis Andrews
is a guy we redshirted. We have a lot of guys there we feel can be pretty good players.
What are you looking for out of those guys to take the next step?
PJ:
Well Robbie's been a reliable guy, he played well all year and I think the other guys are very capable. I think the more Synjyn plays, hopefully the better he's going to be. He's 225 pounds so he's ideal. He can block, has good speed, hard to tackle. B.J. and
Tony (Zenon
) both are shifty littler guys, Deon's in the middle so out of that group of guys we just hope to find a rotation that fits what we need really.
What about Broderick Snoddy? Will he continue to run track this spring?
PJ:
Football will override the track part and so he'll be at practice. Whenever they have meets and those kind of things we'll try to work it out and let him do both.
Do you envision a bigger role for him?
PJ:
Yeah, I would hope so. Every time we got to the point last year where we were trying to get him in, he would get hurt or something would happen and it just didn't materialize but certainly we'd love for him to have a bigger role. But that's going to be up to him this spring to earn it.
Who are you looking at to replace Omoregie Uzzie on the offensive line?
PJ:
There will be some competition. We were able to redshirt a couple of classes of guys and we feel like we have some depth, so we'll just work it out. We'll end up with the best five playing if we have to move some guys around. With Jay (Finch) missing the spring,
Catlin Alford
,
Freddie Burden
will get a lot of reps. We'll slide some guys. We've got some guys,
Will Jackson
has played both guard and tackle. He can slide in there. He and Shaq (Mason) will probably be the starters and then
Morgan Bailey
and
Ray Beno
, who both started at tackle all year -- we could still have five guys who started a lot of games.
June, 24, 2011
6/24/11
2:00
PM ET
Ranking offensive linemen is not easy. But hey, either is being an offensive lineman. Here are your best "big uglies."

1. North Carolina:
Three starters and one part-time starter return from last year's team, and this line could be the biggest and best since Butch Davis was hired. Guard Jonathan Cooper (22 starts), center Cam Holland (20) and tackle James Hurst (12) have combined for 54 career starts. Travis Bond has four starts and is the leading candidate to take over at the other guard position.

2. Miami:
The Canes return nine of their top 10 offensive linemen including four starters from last year, and Joel Figueroa was granted a sixth season of eligibility. Even with the coaching change, the Canes should be strong up front. Center Tyler Horn is a veteran, Brandon Washington is a difference-maker, and there's enough competition that Seantrel Henderson spent most of the spring as a backup.

3. Clemson:
First-year offensive line coach Robbie Caldwell has four returning starters to work with in Landon Walker, Antoine McClain, Dalton Freeman and David Smith. They also have top reserve Mason Cloy, who has 19 career starts and has played in 38 games. There is plenty of depth for a dependable rotation.

4. Virginia Tech:
All four returnees started every game last year, and there is enough depth that the Hokies should be able to rotate the most players up front they ever have. It's a veteran group led by Blake DeChristopher, Andrew Lanier, Jaymes Brooks and Greg Nosal.

5. Florida State:
Despite the losses of Rodney Hudson and Ryan McMahon, there's experience up front. This fall, the starting lineup will consist of tackle Andrew Datko, left guard Bryan Stork or David Spurlock, center Jacob Fahrenkrug, right guard Spurlock or Stork, right tackle Zebrie Sanders. Just how good they'll be remains to be seen as the majority of them were out with injuries this past spring.

6. NC State:
The Pack lost Jake Vermiglio and will be without injured left guard Andrew Wallace for about half of the season, but Zach Allen, Camden Wentz and R.J. Mattes are returning starters. There's also a lot of talent waiting to emerge with young players like Duran Christophe, Rob Crisp, Tyson Chandler, Torian Box and Andy Jomantas.

7. Virginia:
Four players return with a combined 64 career starts in Anthony Mihota, Austin Pasztor, Oday Aboushi and Morgan Moses, who started the final seven games of the season as a true freshman. Pasztor is in his fourth season as a starter and has 32 career starts.

8. Boston College:
Despite the losses of Anthony Castonzo, Thomas Claiborne and Rich Lapham, the Eagles are almost settled up front, it's the experience behind the starters that's reason for concern. The No. 2 offensive line is comprised entirely of redshirt freshmen. Mark Spinney returns at center, the projected starting guards are Nathan Richman and Ian White, who started three games as a freshman, and the tackles are Emmett Cleary and John Wetzel.

9. Maryland:
It's been an injury-prone group the past two seasons and that didn't change this past spring. Left tackle Justin Gilbert, one of the top linemen on the team, reinjured the same knee he had ACL surgery on and will be out until October. R.J. Dill was also injured this spring, though he played in the spring game, and Justin Lewis was rehabbing from offseason surgery. Pete White also missed practices, so the group needs to solidify the two-deep roster.

10. Georgia Tech:
The Jackets return three starters in guard Omoregie Uzzi, guard Will Jackson and tackle Phil Smith. Sophomore Jay Finch played extensively last season and Ray Beno and Nick McRae were key reserves. Redshirt freshmen Catlin Alford and Morgan Bailey could also work their way into the rotation. Uzzi will be the leader of the line, but they were outplayed by the defense this spring.

11. Wake Forest:
Four starters are back, but the Deacs will sorely miss the experience and leadership of former center Russell Nenon. Garrick Williams started the final three games of 2010 -- two at guard and one at center, but he struggled with the snaps towards the end of spring and isn't where the staff needs him to be yet.

12. Duke:
The Blue Devils should take another step forward this season under offensive line coach Matt Luke, and they need to -- Duke's running game was last in the ACC last year and 104th in the country. Brian Moore replaces a three-year starter at center, but given his experience at right guard the past two seasons, it should be a smooth transition. That will leave a hole, though, at the right guard position, where Laken Tomlinson and John Coleman are the top candidates.