September, 26, 2011
9/26/11
5:30
PM ET
Here are the non-AQ players of the week as selected by each conference. The independent players are selected by a nationwide media panel.
Conference USA
Offense:
Reggie Bullock
, RB, East Carolina. Bullock rushed for a personal-best 169 yards and one touchdown on 24 carries to help East Carolina beat UAB 28-23.
Defense:
Jamie Bender, S, UAB. Had 11 tackles and returned one interception 35 yards for a touchdown in a loss to East Carolina. That was the first defensive score for the Blazers since 2009.
Special teams:
Danny Hrapmann, K, Southern Miss. Made three of four field goals (43, 35 and 27 yards), including two in the final quarter of a 30-24 victory over Virginia. He also converted a fake punt deep in the Golden Eagles' end zone and ran 31 yards for a first down.
Independent
Offense:
Tyler Eifert
, TE, Notre Dame. Eifert set a career-high with eight receptions for a game-high 75 yards and a touchdown in a 15-12 win at Pittsburgh.
Defense:
Kyle Van Noy, LB, BYU. Had eight tackles and a sack in a win over UCF.
Special teams:
Cody Hoffman
, WR/KR, BYU. Had a 93-yard kickoff return for a touchdown in a 24-17 win over UCF. That was BYU's first kickoff return touchdown since Oct. 17, 1998 -- a span of 161 games.
MAC
East Division
Offense:
Bernard Pierce
, RB, Temple. Ran for a school record and MAC record-tying five touchdowns in a 38-7 win at Maryland. Pierce eclipsed the 100-yard mark in rushing for the 12th time in his career and third time this season. He finished with 149 yards on 32 carries for five touchdowns.
Defense:
Luke Wollet, S, Kent State. Had two interceptions while matching his season-high with eight tackles in a 33-25 win over South Alabama.
Special teams:
Ray Hutson
, WR, Bowling Green. Blocked a punt and recovered a fumble on a kickoff return in the Falcons' 37-23 win at Miami (Ohio).
West Division
Co-Offense:
Jordan White
, WR, Western Michigan.
Eric Page
, WR, Toledo. White set his career record with 14 catches for 134 yards and a touchdown in a 23-30 loss at No. 24 Illinois. White became the fourth Bronco to have over 200 career catches and recorded his 14th 100-yard receiving game.
Page had a season-high 13 receptions and career-high 158 receiving yards in a 33-30 overtime loss at Syracuse. Page had 279 all-purpose yards, including 114 yards in kickoff returns.
Defense:
Sean Baker, S, Ball State. Had eight tackles, one tackle for loss, one sack and one interception in a 48-21 victory over Army. He was a part of a Ball State defense that tied an NCAA single game record by not allowing Army to complete a pass in the game.
Special Teams:
Jeremiah Detmer, K, Toledo. Kicked a 52-yard field goal in his first career attempt in a 33-30 overtime loss at Syracuse. The 52-yarder was the second-longest field goal in Toledo history.
Mountain West
Co-Offense:
Chris Nwoke
, RB, Colorado State,
Deon Long
, RB, New Mexico. Had 102 yards of total offense (85 rushing, 17 receiving) and scored two touchdowns in Colorado State's 35-34 double-overtime victory at Utah State. Nwoke tied the game with a 1-yard touchdown run with 42 seconds left in regulation, then provided the game-winner with a 2-yard run on CSU's second possession in overtime.
Long broke the school and Mountain West single-game record with 378 all-purpose yards in New Mexico's overtime loss to Sam Houston State. Offensively, Long caught nine passes for 209 yards and three touchdowns, and returned a kickoff 98 yards for a touchdown.
Defense:
Shaquil Barrett, LB, Colorado State. Had a team-high 14 tackles in a 35-34 double-overtime win at Utah State. He also added his first career fumble recovery for a touchdown.
Special teams:
Tanner Hedstrom
, LS, Colorado State. Hedstrom recovered two fumbles on muffed punts, including a critical takeaway to set up the game-tying score in Colorado State's 35-34 double-overtime win at Utah State.
Sun Belt
Offense:
Blaine Gautier
, QB, Louisiana. In just his fourth career start, Gautier totaled 307 yards (221 passing/86 rushing) and tossed three touchdown passes to lead the offense in a 36-31 upset over FIU.
Defense:
Chris Pickett, DB, Troy. Recovered a fumble and returned it for a 63-yard touchdown in a win over Middle Tennessee. Pickett finished the game with seven total tackles, including one for loss, and also broke up a pass.
Special Teams:
Brian David, K, Arkansas State. Set a new Sun Belt and school record when he made six field goals in a 53-24 win over Central Arkansas. His 23 points scored in the game also set a league and school record for points scored in a single game by a kicker.
WAC
Offense:
Bryant Moniz
, QB, Hawaii. Set a new school record and tied an NCAA record with seven touchdown passes in the first half of a 56-14 win over UC Davis. Moniz also set a new school record with 424 passing yards in a half. He was 30-of-40, and did not play in the second half.
Defense:
Travis Brown, LB, Fresno State. Made a career-high 11 tackles in Fresno State's 48-24 win at Idaho. Brown led the Bulldog defense that allowed just 55 yards of total offense in the second half and 44 yards rushing for the whole game.
Special teams:
Kevin Goessling, K, Fresno State. Made all six of his extra point attempts and both field goal attempts from 48 yards in the win at Idaho.
March, 23, 2010
3/23/10
1:45
PM ET
As Bowling Green continues spring practice this week, the search for a replacement for star receiver
Freddie Barnes
also continues.
[+] Enlarge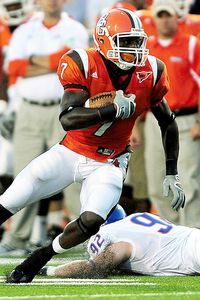 Andrew Weber/US PresswireReplacing Freddie Barnes' 155 receptions from last season will be a tall order for the Falcons.
Barnes set the single-season record for receptions last year with 155. But coach Dave Clawson said Barnes' record-setting effort was a surprise to everyone because the Falcons opened fall camp with more options at receiver.
"We did not go into the year last year thinking that Freddie Barnes was going to catch 155 balls," Clawson said. "That kind of came about because of necessity because we lost three [receivers] for the year and we lost a fourth one for half the year. We were thinking he was probably going to catch 90."
Seniors
Tyrone Pronty
and
Calvin Wiley
, and junior
Derek Brighton
were supposed to complement Barnes in the starting receiving corps last year, but during fall camp Wiley suffered a season-ending knee injury and Brighton suffered a season-ending foot injury. Pronty injured his foot during the season-opener and missed the rest of the year.
Junior
Ray Hutson
suffered a knee injury against Ohio midway through the season and was limited throughout the year.
"Those guys were starting last year and would have played 60, 70 plays a game," Clawson said. "So now we get those guys back."
Bowling Green returns three offensive starters from 2009 -- running back
Willie Geter
and offensive linemen Tyler Donahue and Ben Bojicic. Clawson said 43 of the team's 85 scholarship players would have four years of eligibility remaining entering the 2010 season. And while he thinks this will be a more talented, stronger and faster team that last year, getting all of those young, inexperienced players on the same page is going to be a process.
But in terms of wide receiver, Clawson is confident. Even though the Falcons don't return many starters or much experience on offense, all four of the receivers who were going to be counted on in 2009 will be back for 2010. And the Falcons return
Adrian Hodges
, who was the team's third-leading receiver last year.
Of course Clawson knows that finding another gem like Barnes will be difficult. Barnes caught more passes in 2009 than he did in his previous three seasons with the team combined. But the players believe in Clawson's system and have the ability to be a better receiving group than it was a year ago.
"Last year, we graduated some players that were very productive players for us, obviously Tyler and Freddie," Clawson said. "You're not going to replace their production with two people. It's going to have to be a collective effort.
"That's why our spring is so important. We have to come out of the spring a much more experience, a much more savvy football team than we go into it."