April, 26, 2011
4/26/11
1:23
PM ET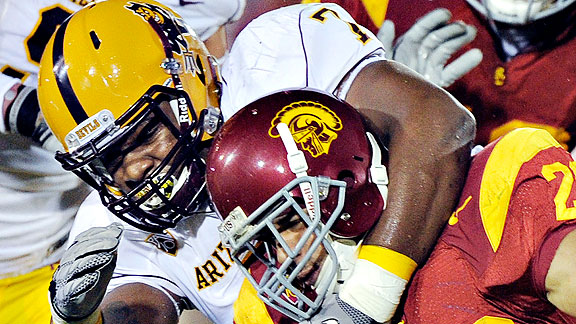 AP Photo/Mark J. TerrillThe Sun Devils are counting on Vontaze Burfict to be the leader of their defense in 2011.
TEMPE, Ariz. -- The question is about personal fouls, and the look on Vontaze Burfict's face suggests that he's tired of that sort of inquiry. He's not a chatty sort as it is, but this is not a successful pathway into figuring out what makes the fearsome Arizona State linebacker tick.
"It matters what times you're talking about," he said of the myriad flags he's drawn for extracurricular activity during games over the previous two seasons. "They are totally different times. Some calls are bull crap."
Fellow linebacker Brandon Magee, a Centennial High School (Corona, Calif.) teammate, is sitting nearby. He offers his take on Burfict, who may be the nation's best inside linebacker.
"I wouldn't trade the fouls. Personal fouls are going to come," Magee said. "The way he plays out there, it doesn't matter to me. That's the way he plays. Great players, you might not like everything about them. But the one thing you can say is he gives it his all on every down."
One analyst, Petros Papadakis, called Burfict the "scariest" player in the country last year. In a not unrelated matter, it seems like an opportune time to change the subject, so Magee is asked if he thinks some players are scared of Burfict.
"They better be scared," said Magee, with just a hint of Don King showmanship. "We're not trying to be nice out there. We're not your friends. We're nobody's friends out there. I hope they know that, too. We try to make enemies. We don't want friends."
Burfict cracks up while Magee is talking.
Magee is told that some folks in the Pac-12 think Burfict is crazy. Does Magee ever hear that in games?
Replied Magee, "Oh, yeah, and I say, 'Yep. See if you can stop him.'"
Few can stop Burfict, a speedy, instinctive 6-foot-3, 252-pound package of football fury. Burfict more often has stopped himself after the whistles with personal foul and unsportsmanlike conduct penalties. Coach Dennis Erickson took away his starting job -- briefly -- last season after Burfict head-butted Oregon State quarterback
Ryan Katz
. A few weeks later, in a tight game with Stanford, Burfict was called for a critical facemask penalty. The call, to use Burfict's term, was "bull crap," but Burfict couldn't resist the urge to point that out.
He was slapped with an unsportsmanlike conduct penalty on top of the facemask, which gave the Cardinal the ball on the Sun Devils' 7-yard line. Shortly thereafter, Stanford pushed in the game-winning score.
Burfict, you might have gathered, isn't a fan of interviews. He doesn't like the spotlight. He doesn't like to talk about himself. He just wants to bust heads and win games. At 4:30 p.m. ET -- 1:30 p.m. PT -- Tuesday, a video interview of Burfict will appear on the Pac-12 blog. You probably haven't seen many of those. Roy Firestone won't be jealous of its penetrating insights. It took a handful of takes to get through (hey, I messed it up once, too). But Burfict was a good sport and did what the folks at Arizona State asked. He's trying to take on a leadership role this season for a team with lofty aspirations, and that often includes stuff that isn't fun, such as being the superstar fronting the team for the media.
"I've got to lead by example, going to everything on time, being 10 minutes early," he said.
The public is probably not going to get to really "know" Vontaze Burfict, at least until he's ready to let them do so. But it's pretty clear that there's some distance between the Tasmania Devil on the field and the quiet, guarded dude off it.
"A lot of my friends from back home ask about him: 'How is Vontaze? Is he crazy? Is he a nice guy?'" offensive tackle Evan Finkenberg said. "He's actually really quiet outside of the football field. He's a really nice guy. He hangs out in my apartment sometimes."
The second-team All-Pac-10 selection earned a number of All-American honors last fall after leading the Sun Devils with 90 tackles, including 8.5 for a loss and two forced fumbles. His ability has never been a question since he was a touted recruit who was once committed to USC. More than a few folks will tell you a comparison to Ray Lewis, of whom Burfict said he models his game, is apt. But his big-picture development as a mature player has been a gradual process, learning self-control, becoming a leader instead of merely being a contact-seeking missile.
For Erickson, there's been a fine line between keeping Burfict from drawing too many flags while not muting his intensity, which is contagious for a defense.
"He's a boisterous guy on the field and in the locker room," Erickson said. "He is what he is. He's going to play with great enthusiasm and that sometimes gets you in trouble. During the spring, he was a real leader. He's matured."
And with the knee injury to first-team All-Pac-10 cornerback Omar Bolden, Burfict is the leader the entire defense will turn to.
Burfict can get better, and not just by staying on good terms with the officials. He sometimes misses his gap assignments. He could improve his drops in pass defense. But the expectation is the junior will enter the NFL draft after this season, when he'll likely be a first-round selection.
But, as for this season, Burfict wants to change the subject from himself and from the yellow flags of the past. What does he want to talk about?
Said Burfict, "Everybody is talking about national championships."
April, 19, 2011
4/19/11
10:00
AM ET
ANN ARBOR, Mich. -- It didn't take long for Greg Mattison to get the attention of his new players at Michigan.
"Within the first five minutes," Wolverines defensive end Ryan Van Bergen said, "all the guys on the defense bought into him, were going to listen to him and were going to take his criticisms."
Most coaches don't have it so easy. Then again, most coaches don't leave one of the NFL's best defenses to coach one of college football's worst.
Mattison had a pretty good gig as Baltimore Ravens defensive coordinator. But when a chance to return to Michigan surfaced, he left Ray Lewis, Ed Reed, Terrell Suggs and others to oversee a defense that had reached historic lows in the past three seasons. The Wolverines finished 110th nationally in yards allowed (450.8 ypg) and 108th in points allowed (35.2 ppg) in 2010, last in the Big Ten for both categories.
[+] Enlarge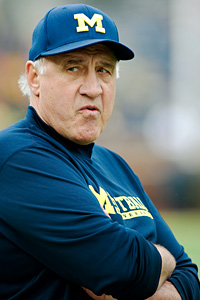 LON HORWEDEL/Icon SMIGreg Mattison came back to Michigan to join Brady Hoke, his "closest friend in the world," in resurrecting the Wolverines.
"I never would have left the Ravens for any job but Michigan and with coach [Brady] Hoke as the head coach," Mattison said.
Mattison had instant credibility among his new players.
Van Bergen lists the Ravens and the Steelers as his favorite pro defenses to watch. Even Michigan offensive players like receiver
Darryl Stonum
point out Mattison's connection to the Ravens and to recognizable stars like Lewis.
"You'd have to be pretty close-minded to not realize he had something great at Baltimore," Van Bergen said. "He was in a situation he didn't necessarily have to leave ever. For him to come here, to say this program means more to him, it shows he's got an emotional tie to what this program can do. It's not just a job for him. It's a passion."
Mattison doesn't spend much time discussing his time with the Ravens. Instead, he often tells the players about his previous stop at Michigan as an assistant from 1992-96.
He first coached the defensive line before serving as defensive coordinator in his final two seasons. In those two years Michigan held 19 of 25 opponents to 20 points or fewer and never allowed more than 30 points.
Mattison takes over a unit that allowed 34 or more points in nine games last season, hemorrhaging 65 against Illinois and 52 against Mississippi State in the Gator Bowl.
"I don't even think about what's happened [recently]," Mattison said. "We're here for a reason and on my side that's to get Michigan defense to a level that's accepted by Michigan defense."
What is that level?
"The winged helmet means excellence," Mattison explained. "It means toughness on defense. It means swarming to the football on defense. It means celebrating together when a good play is made. In our room, it means you don't run the football on that defense. Anything that is your benchmark on defense, that's what the winged helmet stands for because it always has stood for that.
"Nothing aside from being exactly right is acceptable."
Mattison's first step to restoring Michigan's defense takes place up front. He has installed his trademark 4-3 defense, a system he shaped under previous Michigan coaches Gary Moeller and Lloyd Carr and others.
Michigan will use more defensive linemen and most likely bigger defensive linemen than it did in recent seasons, a necessary change after the 2010 season. Size is already a focal point in recruiting.
"When we went against Wisconsin, we were giving up 60 pounds up front," Van Bergen said, referring to a
48-28 loss
that Wisconsin closed out with 29 consecutive run plays. "There were teams that outmanned us because of their size. We never overcame that."
The linemen received plenty of attention this spring. Mattison and Hoke, both who have spent most of their coaching careers with the defensive line, spent much of their time working alongside line coach Jerry Montgomery in practice.
"They've got three sets of eyes on them every play," Hoke said. "We ought to be able to be a little more physical at the line of scrimmage."
Other defensive position groups also are responding well to the system.
"I love everything they're bringing in," linebacker J.B. Fitzgerald said. "It feels like Michigan to me."
This spring, Mattison has focused heavily on third downs and red-zone performance, two areas where the Wolverines struggled in 2010, ranking 95th and 87th in the nation, respectively. He also stressed finishing plays.
Players are instructed to chase the football on every play, even after the whistle.
"If there's a ball on the ground, even if it's an incomplete pass and Denard [Robinson] overthrows it by 60 yards, all the defensive linemen are running to that football, and we're going to pick it up and bring it into the end zone," Van Bergen said. "[Mattison] emphasizes, 'If you go full speed through the whistle, good things will happen for you.'"
After three years where mostly bad things happened, Michigan's defenders, especially seniors like Van Bergen and Fitzgerald, are ready for a change.
"Those seniors on defense have heard enough about where we've been," Hoke said. "They have a lot of pride. When you have that kind of pride, you want to be accountable to the team and to the tradition of playing defense here."
May, 12, 2010
5/12/10
12:00
PM ET
Two rounds are in the books and four teams are left in ESPN.com's playoff to determine
college football's best NFL pipeline
.
Clemson, Oklahoma State, Nebraska, Florida, Tennessee, Michigan, Arizona State and Penn State were eliminated in Round 2.
Georgia, Notre Dame, UCLA and Ohio State were pushed aside in Round 1.
Only Florida State, Pittsburgh, Miami and the University of Southern California are left.
Based on recent history, it's a surprise the Panthers are still standing.
Next to college football's teams of the 1980s (Miami), 1990s (FSU) and 2000s (USC), the Panthers stick out as much as Lane Kiffin sitting at a table of Hall of Fame coaches.
But here's a brief history lesson to bring you up to speed on Pittsburgh football:
In the early 1980s, there probably wasn't a better NFL factory than the Steel City's university. Quarterback
Dan Marino
played there, along with fellow Pro Football Hall of Famers Russ Grimm and
Rickey Jackson
.
Who can forget Pitt's stellar offensive linemen like
Mark May
, Jimbo Covert,
Ruben Brown
and
Bill Fralic
or its menacing defensive linemen such as Hugh Green,
Chris Doleman
and
Sean Gilbert
? Former NFL running backs
Curtis Martin
and Craig "Iron Head" Heyward played for the Panthers. More recently,
Arizona Cardinals
receiver
Larry Fitzgerald
and cornerback
Darrelle Revis
starred at Pitt.
But if the survey were based on the last 10 to 15 years -- instead of the last three decades -- the Panthers wouldn't have a seat at the front table.
FSU, Miami and USC are far and away college football's best NFL factories during the last two decades.
The Hurricanes blessed us with alumni who won five NFL Most Valuable Player awards and made 100 Pro Bowl appearances. An alumni game at "The U." would include a defense led by safety
Ed Reed
, linebacker
Ray Lewis
, and defensive linemen
Warren Sapp
and
Cortez Kennedy
. Try scoring against that unit.
The Miami offense would include quarterback
Jim Kelly
, tailbacks
Edgerrin James
and
Clinton Portis
, receiver
Michael Irvin
, tight end
Jeremy Shockey
, and tackle
Bryant McKinnie
.
Only USC can match that kind of star power. Four of the former Trojans drafted by NFL teams since 1979 are already in the Pro Football Hall of Fame: safety
Ronnie Lott
, tailback
Marcus Allen
, and offensive linemen Anthony Munoz and
Bruce Matthews
.
It's probably only a matter of time before former Trojans
Junior Seau
joins his fellow USC alumni in Canton, Ohio.
Florida State, which won 10 games or more every season from 1987-2000 and won national championships in 1993 and '99, produced NFL stars such as
Deion Sanders
,
Derrick Brooks
,
Walter Jones
and
Warrick Dunn
.
But many of FSU's best players during the 1980s and '90s never found as much success in the NFL.
Brad Johnson
, the only former Noles quarterback to have sustained success in the NFL, didn't even start during his senior season at FSU. Quarterbacks like
Peter Tom Willis
, Danny McManus,
Danny Kanell
and
Casey Weldon
had a cup of coffee in the NFL, but not much more.
What was the biggest surprise in the first round? No. 12 seed Ohio State over No. 5 seed Tennessee.
Ohio State's lineup of
Orlando Pace
,
Cris Carter
,
Chris Spielman
,
Eddie George
and
Robert Smith
is as good as anybody's, but Tennessee's roster of NFL talent is arguably just as solid.
Besides, who doesn't know the Buckeyes are going to lose to an SEC team every time?