September, 8, 2014
Sep 8
11:00
PM ET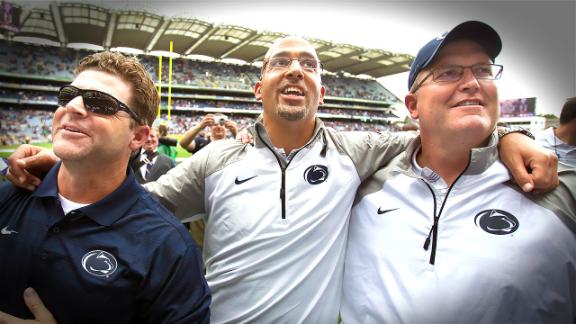 The Early Offer is RecruitingNation's regular feature, giving you a daily dose of recruiting news across the country. Today's offerings: James Franklin and Penn State was already building one of the best classes in the country, and Monday's news that the Nittany Lions were eligible for postseason play will help them build an even better class. Plus, recruits across the country agreed with the NFL and the Ravens' decision to distance themselves from
Ray Rice
, and we continue our tour of the top recruiting happenings on social media.
September, 8, 2014
Sep 8
2:40
PM ET
There is no escaping what has become the top sports story of the day: the release of video footage that shows
Ray Rice
attacking
his then-fiancée in an elevator
.
There are many angles to this story, the most important of which concerns domestic violence and the NFL's stance on it. But it's also an uncomfortable time for
Rutgers
, which has heavily promoted Rice in the past as its most famous football product.
During the week of perhaps the school's biggest game ever -- Saturday's Big Ten opener at home against Penn State -- Scarlet Knights coach Kyle Flood opened his Monday news conference by talking about Rice.
"Ray will always be a part of our family," said Flood, who became Rutgers' head coach in January 2012 and was an assistant when Rice was at the school from 2005 to '07. "The video I saw this morning was difficult to watch. As a husband and as a father, there's nothing that could justify what I saw on that video."
Rice holds almost every rushing record in Rutgers' history, and he is easily the program's most accomplished NFL player. As such, his image is plastered around the team's facilities. He was even included in a video shown during Saturday's home opener against Howard.
But should the Scarlet Knights be associating with Rice so closely -- or at all -- after the disturbing video?
"Family is family," Flood said, "but at Rutgers we hold ourselves to an extremely high standard. We expect a lot out of our players; we expect a lot out of the coaches and the staff members we have here in the Hale Center; and we expect a lot out of our alumni. I think because of those expectations, this is a sad day."
The Star-Ledger's Steve Politi says it should be an easy call: Rutgers
has to cut ties with Rice now
.
"It needs to take down the photos -- in the press box, in the recruiting lounge, in the locker room, in the Hale Center lobby, on its website. The university can't scrub Ray Rice from its history, but it sure can't try to celebrate it any more. ...

"All Rutgers can do is make sure Rice is no longer the face of its football program, which he has been from the moment he emerged as the star of that 2006 team that cracked the national rankings. Rutgers rode Rice to its best season ever and has been riding him ever since, as its unofficial marketing and recruiting ambassador."
Schools can be placed in tricky situations when their legends get involved in scandals, particularly long after their playing days are over. Rice has become toxic, and Rutgers doesn't need to be using his image right now in any kind of promotion. But the Scarlet Knights also preach family as one of their core values; aren't families supposed to embrace their own through tough times?
Rutgers' opponent this week can surely understand the delicacy of the matter, as the lack of Joe Paterno recognition at Penn State is a hugely divisive issue. There are few easy answers here. But for now, the Scarlet Knights have little choice but to distance themselves from their former star.
August, 4, 2014
Aug 4
2:00
PM ET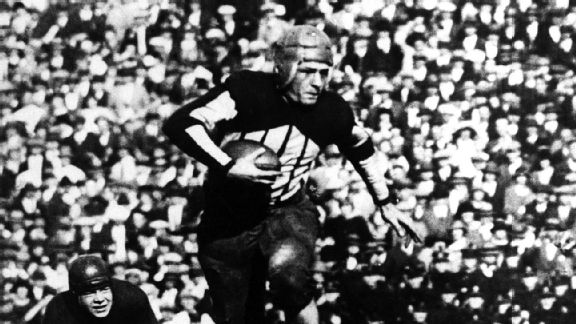 AP PhotoRed Grange (Illinois) had one of the Big Ten's four signature seasons that took place before 1940.
What constitutes a signature season in the Big Ten? We're not talking about good or very good or even great. These are the single best individual seasons in college football history.
And in the Big Ten, perhaps more so than in any other league, history matters.
My ESPN.com colleagues and I recently embarked on the virtually impossible task of identifying the greatest individual season for each FBS program. The project, appropriately called The Season, debuted today. Be sure and check it out all week.
The selection process involved several factors -- time period, statistical milestones, clutch plays/games and position, to name just a few -- and a heavy dose of subjectivity. But I would add "conference" to the list. Picking a defining season for a Big Ten team is different than one for a Pac-12 or ACC team.
The greatest individual Big Ten seasons, like leather or fine wine, seem to improve with age. In fact, I'd argue that age is a requirement in selecting signature seasons for Big Ten teams.
None of the Big Ten's signature seasons occurred in the past decade. Former Purdue quarterback Drew Brees and former Northwestern running back Damien Anderson provide the most recent selections, both in 2000.
The full list:
Illinois:
Red Grange, 1924
Indiana:
Anthony Thompson, 1989
Iowa:
Nile Kinnick, 1939
Maryland:
Randy White, 1974
Michigan:
Charles Woodson, 1997
Michigan State:
Lorenzo White, 1985
Minnesota:
Bronko Nagurski, 1929
Nebraska:
Mike Rozier, 1983
Northwestern:
Damien Anderson, 2000
Ohio State:
Archie Griffin, 1974
Penn State:
Lydell Mitchell, 1971
Purdue:
Drew Brees, 2000
Rutgers:
Paul Robeson, 1917
Wisconsin:
Ron Dayne, 1999
The selections from other conferences show a different picture. Five of the SEC's signature seasons occurred between 2007 and '13. The Pac-12 had five selections between 2002 and '12, the Big 12 had four between 2003 and '11, and the ACC had five between 2001 and '09.
Is it just a coincidence that the Big Ten's signature seasons occurred so long ago? Perhaps it's because the league overall has struggled in the past decade and failed to win a national title since 2002. Although we evaluated individual performances, certain players gained credibility for helping their teams win championships.
Nebraska has a limited Big Ten history (three seasons), while Rutgers and Maryland have no history in the league. But I'd argue that Nebraska's storied tradition puts it in the same category as several Big Ten programs when you're trying to identify superlatives. There's just more to consider with programs like Nebraska, Michigan, Ohio State and Penn State.
Does a Big Ten season need some age on it to truly represent a program? There is so much history in the league, and to minimize or gloss over the distant past in an exercise like this is wrong.
The longevity factor doesn't seem to be as strong in other leagues. The Big 12 includes only one signature season before 1963 (TCU's Davey O'Brien in 1938). The SEC includes no signature seasons before LSU's Billy Cannon in 1959, and the Pac-12 features none before Oregon State's Terry Baker in 1962.
The Big Ten, meanwhile, has four signature seasons that took place before 1940. Even most of the runner-up seasons in the Big Ten illustrate the historical differences: Only five occurred in the past decade, and two stem from newcomer Rutgers (Ray Rice in 2007, Kenny Britt in 2008).
I'd like to think a great season is a great season, whether it occurred last year or eight decades ago. I feel the same way about Baseball Hall of Fame votes. If a player merits the Hall on the first vote, he should get in. If he doesn't deserve it, why should he get in on the 10th ballot?
The fear here is that we're short-changing certain seasons because they occurred not long ago. Brian Bennett and I have written extensively about how Montee Ball's 2011 season at Wisconsin might not truly be appreciated for many years. Ball led the nation with 1,923 rushing yards, added 306 receiving yards and scored 39 touchdowns, which tied Barry Sanders' single-season NCAA record. Although he had 111 fewer rushing yards than Dayne in 1999, the season we selected, he also had 30 fewer carries and scored 19 more touchdowns.
But Dayne won the Heisman Trophy in 1999, while Ball finished fourth in the voting in 2011.
Nebraska's Ndamukong Suh finished fourth in the Heisman voting in 2009, despite putting together what many consider the most dominant season for a defensive player in recent college football history. Suh's ridiculous statistics -- 24 tackles for loss, 12 sacks, 10 pass breakups, 26 quarterback hurries -- don't fully illustrate how he controlled games.
And yet we went with 1983 Heisman Trophy winner Rozier instead. Nothing against Rozier's season, but would Suh have earned the top spot if his big year occurred in, say, 1969 or 1979? Will we view Suh's 2009 differently in 2024, when more time has passed?
It's hard to argue with our pick for Iowa: Heisman Trophy winner Kinnick in 1939. But quarterback Brad Banks had an unforgettable season in 2002 (AP Player of the Year, second in Heisman voting) and Shonn Greene was the nation's most dominant running back in 2008.
Even our Rutgers pick went way back, nearly a century, to Robeson, a fine player in his time. But Rutgers' renaissance under Greg Schiano (the Scarlet Knights' coach from 2001 to 2011) is much fresher in our minds, and performances from Rice (2,012 rush yards, 25 touchdowns in 2007) and Britt (87 receptions for 1,371 receiving yards in 2008) made it possible.
The Big Ten returns plenty of star power in 2014, and players like
Melvin Gordon
,
Braxton Miller
,
Ameer Abdullah
,
Randy Gregory
and
Shilique Calhoun
could produce special seasons this fall.
But to be recognized for signature seasons, the ones that represent historic programs in a historic conference, they will likely have to wait a while.
October, 3, 2012
10/03/12
10:30
AM ET
The comparisons aren't lost on
Jawan Jamison
, though he knows the season is still young.
Rice

Jamison
Rutgers is undefeated through the early part of its schedule, thanks in large part to a workhorse running back on a record-setting tear. So yes, of course, it's easy to draw on the Scarlet Knights' famed 2006 outfit as a blueprint for this year's squad.
Thus, the
Ray Rice
analogies have been coming at Jamison from all angles.
"Oh man, it feels good," Jamison told ESPN.com of being compared to the NFL's second-leading rusher from a year ago. "It's a big confidence boost, and that's what I pride myself off of. Confidence builds me up and gets me going."
At 4-0, Rutgers is ranked 22nd in the country. Jamison is rushing for 122.75 yards per game, good for eighth nationally. His 102 carries are the ninth-most among FBS players. Only three players are averaging more than his 25.5 carries per game.
Jamison's 41 carries in a Week 3 victory at South Florida broke a nearly 40-year-old school record, held by JJ Jennings. He is the first Rutgers player to eclipse the 100-yard mark in the first four games of a season since 2006, when Rice did it in his first five games. Jamison is on a five-game 100-yard streak of his own, dating back to last season.
In leading the Scarlet Knights to an 11-2 mark six years ago, Rice carried the ball 25.7 times per game, averaging 138 yards per game.
"I talked to him actually during the spring game," Jamison said of Rice. "He talked to me, gave me a little bit of advice, told me to stay humble, stay grounded, keep doing what I'm doing -- [that] my name's out there with everybody, and just build on what I've got going on."
Jamison credited strength-and-conditioning coach Jeremy Cole with helping him this offseason to prepare for the added carries, and he said he looks forward to getting back to the usual workload following his team's bye last week.
The redshirt sophomore finished 2011 with 897 rushing yards, and he entered this season saying that a 1,000-yard campaign would be just a start.
Currently on pace for 1,473 rushing yards this season, Jamison now says that 1,500 yards is his goal, a number he counts down to after every game. Only two Rutgers running backs have had 1,000-yard seasons since 1975, with Rice most recently doing it in 2005-07.
For now, Jamison is hoping his team's next effort is better than its last.
"Just being consistent," Jamison said. "Being consistent with our throwing game and our running game and our defense, that's what we're working on: consistency. It's a one-game season, we're taking each game one at a time, one week at a time. We're not looking ahead to the future. We're just staying focused on that one game."
January, 19, 2010
1/19/10
9:06
AM ET
It's not easy coming up with a list of the 10 best players of the past decade in the Big East.
You could almost make the list solely from Miami players between 2000 and 2003; the Hurricanes were that dominant with that many unbelievable athletes on the roster.
But there were several other outstanding players on other teams throughout the decade. When trying to pare down the top 10, I gave extra benefit to longevity. Many stars had amazing single seasons -- guys like Willis McGahee, Donald Brown and Elvis Dumervil -- but I leaned toward those who did it over a longer period of time. NFL production doesn't hurt one's case but is not a major determining factor; this is a list of the best Big East players, not top future pros.
So without further ado, here's my Top 10:
10. Brian Brohm, QB, Louisville:
Brohm held the league's all-time career yardage mark before
Matt Grothe
broke it this past season. He led the Cardinals to the 2007 Orange Bowl title, and he still owns Big East records for passing yards in a career (9,956), season (4,024) and a game (555).
9. Mardy Gilyard, WR, Cincinnati:
Gilyard's 3,003 career receiving yards rank just 40 yard behind the league's all-time leader, Rutgers' Kenny Britt. But he is also a two-time league special teams player of the year for his tremendous work on kick returns, and he was one of the main catalysts for the Bearcats' back-to-back Big East titles in 2008 and 2009.
8. Ken Dorsey, QB, Miami:
Dorsey is the only Big East quarterback who can say he won a national title in the aughts. He finished his career with a ridiculous 38-2 record, was a two-time Big East offensive player of the year award winner, a two-time Heisman Trophy finalist and the co-MVP of the 2002 Rose Bowl.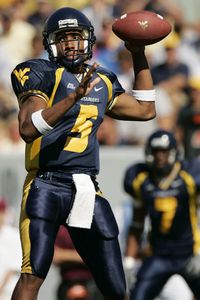 Ron Scheffler/US PresswireFormer West Virginia quarterback Pat White had a 4-0 record in bowl games.
7. Sean Taylor, DB, Miami:
Taylor was an incredible physical specimen who was as feared a defensive player as the league has ever seen. The hard-hitting safety had 10 interceptions while winning 2003 Big East defensive player of the year honors. Tragically, his life was cut short when he was killed in his home in 2007.
6. Dwight Freeney, DE, Syracuse:
Freeney was a holy terror on quarterbacks. His 34 career sacks ranks as the third most in Big East history, and he recorded 17.5 of them his senior year. He has gone on to stardom with the Indianapolis Colts.
5. Bryant McKinnie, OT, Miami:
It's easy to forget the big guys up front sometimes, but it's impossible to omit McKinnie from this list. The 2001 Outland Trophy winner and two-time All-American did not allow a sack in his college career. He finished eighth in Heisman Trophy balloting in 2001 -- for an offensive lineman, that's staggeringly high.
4. Ray Rice, RB, Rutgers:
Rice had two of the top three rushing seasons in Big East history and finished his three-year career with 4,926 rushing yards, only 113 yards behind all-time leader and four-year player Avon Cobourne of West Virginia. Rutgers' running game has sputtered ever since Rice left campus, and he has blossomed into a star at the next level.
3. Ed Reed, DB, Miami:
Reed's Big East record of 21 career interceptions may not be broken for a long, long time. The two-time All-American had nine picks and returned three for touchdowns in 2001 alone.
2. Larry Fitzgerald, WR, Pittsburgh:
Fitzgerald finished second in the 2003 Heisman Trophy race and ought to have won it. His incredible season saw him catch 92 passes for 1,672 yards and 22 touchdowns. He was almost as good in 2002, as well.
1. Pat White, QB, West Virginia:
White may or may not be the best player on this list, but his accomplishments put him above the rest. He finished his career as the NCAA's all-time leader in rushing among quarterbacks, led West Virginia to two BCS bowl wins and went 4-0 in bowls as a starter. Maybe more importantly, he helped save the Big East by leading the Mountaineers to a win over Georgia in the 2006 Sugar Bowl when the league's credibility and BCS status were in question. For pure impact and career achievement, White is the Big East's man of the decade.
Very honorable mention:
Andre Johnson, Kellen Winslow, Willis McGahee and Jonathan Vilma, Miami; Donald Brown, UConn; Kenny Britt, Rutgers; Elvis Dumervil, Louisville; Antonio Bryant and Darrelle Revis, Pitt; Mathias Kiwanuka, Boston College; DeAngelo Hall, Virginia Tech.
That's my list. Who's in your Top 10 of the past 10 years?
February, 3, 2009
2/03/09
7:50
AM ET
Posted by ESPN.com's Brian Bennett
National signing day is just a week away now. As teams scramble to fill out their needs and hold on to their commitments, it's a good time to look back at some of the most memorable moments in Big East recruiting over the past five years.
1. Ray Rice spurns Syracuse for Rutgers: The star running back committed to the Orange after his junior season. But after Paul Pasqualoni was fired in late December of 2004, Rice backed out of that pledge and cast his lot with the Scarlet Knights. He went on to become one of the best running backs in Big East history with three spectacular years in Piscataway, while Syracuse struggled offensively during coach Greg Robinson's tenure.
2. The 2004 quarterback coups: Louisville announced itself as a major player when it convinced local schoolboy legend Brian Brohm to stay home instead of going to Notre Dame or Tennessee. Brohm led the Cardinals to an Orange Bowl win his junior year and broke several school records. West Virginia got a quarterback in that class who was less heralded but turned out to be pretty good in his own right. Pat White pulled off a signing day surprise by switching from LSU to the Mountaineers, who told him he could stay under center instead of moving to another position. White ended his career as one of the most accomplished quarterbacks in NCAA history.
3. Pitt gets real McCoy: Pittsburgh coach Dave Wannstedt found some early success on the recruiting trail, but he really made waves by signing running back LeSean McCoy in 2007. McCoy had been recruited by all the top schools in the country before a senior-year injury prompted him to go to prep school, and then Wannstedt was able to beat out Penn State the following year. McCoy stuck around for only two seasons before bolting for the NFL, but his huge production and star power helped change the fortunes and the image of the program.

4. Cincinnati's super sleepers of '04 and '05: Nobody thought much of Mark Dantonio's first and second recruiting classes. One major recruiting service ranked the 2004 group 80th in the nation, while the following year's class was tied for 94th. But those unheralded recruits included such players as Mike Mickens, DeAngelo Smith, Dominick Goodman, Mardy Gilyard, Terrill Byrd, Trevor Canfield, Connor Barwin and the vast nucleus of a team that would win 21 games in 2007 and 2008, culminating in this season's Big East title and FedEx Orange Bowl berths. Just goes to show you what recruiting rankings are worth.
5. Louisville's 2005 and 2006 disasters: All seemed right in the world for the Cardinals on the field in 2005 and 2006. They were winning lots of games under Bobby Petrino and captured their first Big East title in '06. The recruiting classes Petrino signed were ranked among the highest in school history. But more than half of those two classes never made it to campus, suffered career-ending injuries, transferred or were dismissed for off-the-field transgressions. Several others never lived up to their billing. The program is still paying the price for those recruiting failures, having not reached a bowl game since and facing serious depth issues next season.