NCF Nation:

Raymond Sanders
May, 13, 2013
5/13/13
2:38
PM ET
The other day I was asked a question about the SEC that caught me off guard a little.
And no, it wasn't about Bob Stoops or scheduling.
I was asked if the league would be a quarterback or running back league in 2013. Obviously, when you think about the SEC, you think of pound-it-out, grind-it-out football. Games are won and lost in the trenches and running backs are usually a team's most coveted asset. The more the merrier, too.
But the SEC returns some pretty good experience at both positions.
At running back, the SEC will be without four of the league's top 10 rushers -- Eddie Lacy, Mike Gillislee, Zac Stacy and Kendial Lawrence -- from the 2012 season. The SEC will be without three of the top 10 passers -- Tyler Bray,
Tyler Wilson
and Jordan Rodgers.
Now, my math skills tell me that seven top players at a position is better than six, but the SEC is
deep
at running back this season. Of the seven top quarterbacks returning, six reached 2,500 passing yards, while only two made it to 3,000 yards --
Aaron Murray
and
Johnny Manziel
. Nine true starters return (Kentucky's
Maxwell Smith
missed most of last season and ended the spring behind
Jalen Whitlow
). So five teams are breaking in new starters.
The SEC saw eight running backs hit the 1,000-yard mark last season. There's a chance the league could not only reach that number again but it could eclipse it.
[+] Enlarge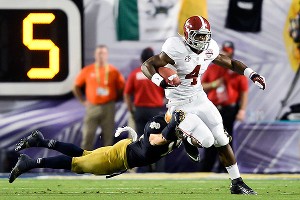 AP Photo/Romeo GuzmanT.J. Yeldon takes over for running back Eddie Lacy as "the guy" for Alabama.
Alabama lost Lacy -- and his 1,322 yards/17 touchdowns -- but rising sophomore
T.J. Yeldon
appears more than ready to take over as the lead back. He rushed for 1,108 yards and 12 touchdowns last year, and it sounds like he looked even better as
the guy
. He'll also have help from fellow sophomore
Kenyan Drake
, who played in 12 games last year, and
Jalston Fowler
and
Dee Hart
, who are both returning from season-ending knee injuries. Remember, Fowler had nearly 400 rushing yards in 2011. True freshman Derrick Henry, who was tearing it up this spring before his leg injury, should help once he's healthy this fall.
Oh, and Alabama will welcome three more backs this summer, including ESPN 150 member Alvn Kamara.
Texas A&M and Florida will also have the luxury of a packed backfield. The Aggies return leading rusher (for a running back)
Ben Malena
(808 yards), but will also have rising sophomore
Trey Williams
, and transfers
Brandon Williams
and
Tra Carson
. Brandon Williams might be the most talented of the bunch, and none of these guys should get too tired with all those legs to work with.
The Gators lost Gillislee, but sophomore-to-be
Matt Jones
had an excellent spring. He knew the playbook backward and forward and showed a more physical style. He already has the goal of getting 1,500 yards. But he'll have help from redshirt junior
Mack Brown
, who had a very solid spring, and freshmen Kelvin Taylor (early enrollee) and Adam Lane. The coaches feel very good about all four contributing a lot this fall.
Georgia is a little thin at running back, but with Gurley and
Keith Marshall
returning, the Dawgs could have the best running back duo in the SEC -- maybe the country.
Here's a quick look at how other SEC teams currently fare at running back heading into the summer:
Arkansas
The Razorbacks lack experience at the position, but sophomore
Jonathan Williams
made good strides this spring and looks poised to be the top back. He'll also have incoming freshman Alex Collins to help him this fall.
Auburn
Tre Mason
and his 1,000 yards return. He should have even more space to work with in Gus Malzahn's spread, which could spell trouble for defenses. Junior college transfer Cameron Artis-Payne had a solid spring, and
Corey Grant
returns.
Kentucky
Leading rushers
Raymond Sanders
(669 yards) and
Jonathan George
(504 yards) return with two talented youngsters to help out.
Dyshawn Mobley
had an excellent spring and
Josh Clemons
is back from a devastating knee injury he suffered in 2011.
LSU
Legal issues have
Jeremy Hill
's fall status unknown for the fall. If he returns, he gives the Tigers on of the top backs in the league.
Kenny Hilliard
and
Alfred Blue
return, but LSU will be thin at the position without Hill.
Mississippi State
LaDarius Perkins
returns after his 1,000-yard season. He's a complete back and can hurt teams running and catching.
Josh Robinson
returns after a productive year as the backup.
Nick Griffin
has a ton of skill, but still hasn't reached his potential.
Missouri
Lawrence is gone, but
Henry Josey
is back and says he's 100 percent after his devastating knee injury in 2011. He was one of the Big 12's best and most explosive running backs before his injury. The Tigers have plenty of bodies at running back and should get good use out of
Marcus Murphy
and
Russell Hansbrough
.
Ole Miss
Leading rusher
Jeff Scott
(846) is back and he'll be working with some solid sophomores in
I'Tavius Mathers
and
Jaylen Walton
. True freshman Mark Dodson had a productive spring as well. Along with the six returning lettermen, Ole Miss will have three more signees on campus this fall.
South Carolina
Mike Davis
isn't trying to be Marcus Lattimore, but he did a good job of taking his spot this spring. The rising sophomore can pound it or break out for that home run play.
Brandon Wilds
and
Shon Carson
are back from injuries and ESPN 150 member
David Williams
will be in town this fall.
Tennessee
Marlin Lane
's off-field problems didn't help things this spring, but Butch Jones was very happy with the play of
Alden Hill
and
Rajion Neal
this spring. Lane has every chance to come back and if he does the Vols will have a pretty solid three-headed rushing monster.
Vanderbilt
Stacy is gone, but
Wesley Tate
and
Brian Kimbrow
had good springs in Nashville.
Jerron Seymour
gives Vandy another body to use, as well. Tate and Kimbrow both have big-play ability, but they'll have to stay healthy because there isn't a lot of experience behind them.
May, 10, 2013
5/10/13
3:00
PM ET
The SEC welcomed in four new head coaches this spring. There are always awkward moments with new coaching staffs, but this spring saw a lot of positives from the four new faces.
Here's a quick look at how all four have done during their first few months on the job:
Bret Bielema (Arkansas)

The one thing Bielema wanted to instill in his new players was a more physical mentality. This team lost its edge early last season and never regained it. But under new management, Bielema made sure his tough, hard-nosed persona from Wisconsin rubbed off on his players. That seemed to be the case, especially with running back
Jonathan Williams
, who really toughened up this spring. Another positive from Bielema's arrival has been the increased confidence he's brought with his own bravado he showed at times.
There are still questions with depth, especially at linebacker, and true playmakers need to be found at wide receiver. Bielema also said goodbye to four players after the spring. The biggest loss was backup quarterback
Brandon Mitchell
, who could have been used in a few different ways in Arkansas' offense. Form an athletic standpoint, Mitchell is a big loss for Bielema. The good news is that he'll have some decent offensive weapons, including running back Alex Collins, to work with from this 2013 class in the fall.
Gus Malzahn (Auburn)

The big thing for Malzahn is that he was already very comfortable with the program after serving as the offensive coordinator under former coach Gene Chizik. But talk about having a lot more on his plate than he wanted during his first spring. Not only was he slowly trying to change the mind-set of a program that really has fallen since its 2010 national championship, he had to deal with allegations over past off-field incidents with that same 2010 team. Instead of making it a bigger deal for his staff and players, Malzahn didn't even bring it up. He said all the right things and made sure his players were focused on field issues, not the media. Major kudos to him for keeping his players on track.
It's obvious that the offensive players are more comfortable with Malzahn's spread, compared to Scot Loeffler's pro-style from 2012, so that was a big lift for this team. Malzahn's next goal is to find his starting quarterback. There are options, but it's really down to
Kiehl Frazier
, who is very familiar with Malzahn, and
Jonathan Wallace
. He also needs to find reliable receiving targets to help whichever quarterback emerges this fall.
Mark Stoops (Kentucky)

There certainly is a lot more excitement around Kentucky's program. That became very obvious when a record crowd of 50,831 showed up for the Wildcats' spring game. He really got things going with a strong closing in his first recruiting class and his personality is really rubbing Big Blue Nation the right way.
But Stoops has quite the uphill trek in front of him. While he has a very solid foundation along his defensive line, he's thin at linebacker and in the secondary. He also has to figure out who his quarterback is and where the production will come from at the wide receiver spot. Consistency is still an issue there. The good news is that he does like where his running game is with the return of
Raymond Sanders
,
Dyshawn Mobley
and
Josh Clemons
.
Butch Jones (Tennessee)

Like Stoops, Jones has a bit of a fight in front of him. He has some good experience coming back on defense, but he's thin in the secondary. Still, the front seven looked much more aggressive this spring with the Vols going back to a 4-3 scheme. This group was much more comfortable with the changes made on defense and as whole, this group is trending upward.
Jones' new up-tempo offense could bring some real growing pains to an offense that is breaking in a new quarterback and new receivers. There isn't a lot of experience at all at either position and there were some real shaky moments on offense this spring, especially in the spring game. Having a beastly offensive line back will help.
Jones has made a ton of noise off the field, though. He's recruiting like a madman and has injected some excitement back into this program. I think a lot of people are surprised at how well he's recruited in such a short amount of time, and it could only get better.
November, 18, 2012
11/18/12
12:47
AM ET
Kentucky's Joker Phillips went out a winner Saturday night at Commonwealth Stadium.


The players carried Phillips off on their shoulders following Kentucky's
34-3 win
over Samford, snapping the Wildcats' eight-game losing streak.
Kentucky athletic director Mitch Barnhart announced two weeks ago that Phillips would not return as coach, and his players urged him to finish out the season. Phillips played at Kentucky and was also an assistant coach at his alma mater before replacing Rich Brooks as head coach following the 2009 season. Phillips has been a part of the program in some capacity for more than 20 years.
It's been a rough couple of (football) seasons in the Bluegrass, for sure. But Phillips has been as classy as they come and deserved to go out a winner at home, even if it was over an FCS team.
The Wildcats (2-9, 0-7) rushed for 342 yards -- including a career-high 123 yards by
Raymond Sanders
-- and scored their first defensive touchdown of the season when
Tristian Johnson
returned a fumble 25 yards for a touchdown.
Kentucky closes the season next week at Tennessee in a matchup of teams winless in the SEC.
October, 3, 2012
10/03/12
2:05
PM ET
The injuries just keep piling up at Kentucky.

After losing starting quarterback
Maxwell Smith
indefinitely after he suffered a serious ankle injury, Kentucky is now down its starting running back, as coach Joker Phillips announced Wednesday that senior
CoShik Williams
is out for the season with a torn labrum in his hip.
Williams, who led the Wildcats in rushing last season, has battled injuries all season and only saw action on a total of 14 plays in just two games of work. He had rushed for 66 yards, including 62 in the opener against Louisville.
This is yet another blow to the Wildcats' running game. Sophomore
Josh Clemons
, who might be the most talented of Kentucky's running backs, has yet to play this season because he's still recovering from a knee injury suffered last season. Phillips said Wednesday that Clemons is still out, so the possibility of him redshirting this season has become more and more of a reality.
This season, Kentucky is 13th in the SEC in rushing, averaging just 119.6 yards per game.
So, the Wildcats will turn to junior
Raymond Sanders
, who leads Kentucky with 260 rushing yards and has two touchdowns on 40 carries. Junior
Jonathan George
, who has started the past two games, will also help. He's rushed for 182 yards and a team-high three touchdowns on 35 carries.
"Those two have played well," Phillips said of Sanders and George. "The thing that we must do is give them more opportunities.
"We're running the ball efficiently, just gotta get more opportunities."
Those opportunities haven't come because of offensive turnovers and the defense's inability to get off of the field, Phillips said.
Phillips is planning to give more reps to freshman
Dyshawn Mobley
and is considering stripping away
Justin Taylor
's redshirt if needed.
What you won't see are more designed runs for Kentucky's quarterbacks, as neither
Jalen Whitlow
nor
Patrick Towles
are fit to be effective runners, Phillips said.
September, 15, 2011
9/15/11
3:50
PM ET
Kentucky will be without sophomore running back
Raymond Sanders
for the next two to three weeks after he aggravated a knee injury in practice.

Sanders, who started the first two games, had surgery Thursday morning to repair a sight cartilage tear, meaning a door that had already been opened for true freshman
Josh Clemons
just got a lot wider. Clemons will move in as the Wildcats' starting running back Saturday against Louisville.
The Wildcats are looking for any help they can get on offense. They're 11th in the SEC in total offense, averaging 267 yards per game, and have scored just five touchdowns in their first two games.
One of the few highlights has been Clemons, who had an 87-yard touchdown run last week against Central Michigan. He's averaging 6.6 yards per carry, and coach Joker Phillips is committed to getting him more touches from here on out. Clemons carried the ball 14 times for 126 yards last week and might be adding some special teams duties this week. Sanders was also the Wildcats' kickoff returner.
"He's a guy we're going to continue to give a bigger role in our offense, and we're going to ask him to play some on special teams in the return game," Phillips said. "I haven't locked in on who our return guy will be this week, and we may give him an opportunity. His role needs to expand, definitely. He's a guy who can catch the ball out of the backfield, and we need to do a little more in that area with him. He's a talented guy and very mature for a freshman."
After Louisville, Kentucky faces Florida at home the next week. The earliest Sanders would probably be able to return is the trip to LSU on Oct. 1.
September, 1, 2011
9/01/11
10:21
AM ET
Can you hear that?
It's the sound of jerseys being carefully hung and neatly placed in lockers. It's the sound of last-minute helmet shines and play card lamination.
More importantly, it's the sound of the return to college football. Maybe, just maybe, these silly shenanigans that have taken our minds off the actually game will cease for a while.
[+] Enlarge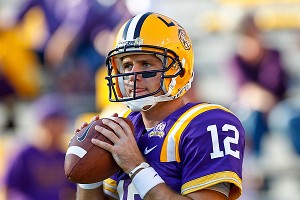 Derick E. Hingle/US PresswireLSU will turn to Jarrett Lee as the starting quarterback in the season opener against Oregon.
That sound is now transforming into the horns blaring and snares chopping. Soon, these sounds will be overwhelmed by that sticky, sweet smell of game day barbecue with a hint of fine fried snacks.
Let's get to what you should watch for in the SEC this week before I drool on my keyboard:
1. LSU's passing game:
Jordan Jefferson's
suspension for his involvement in a bar fight and
Russell Shepard
being ruled ineligible for discussing an NCAA inquiry with a teammate have the Tigers in a bit of an offensive bind to start the season. Veteran
Jarrett Lee
takes over for Jefferson, and while coach Les Miles believes Lee has what it takes to lead the Tigers against No. 3 Oregon, Lee has had a very rocky five years at LSU. Expect junior college transfer
Zach Mettenberger
, who has all the skill to be a special player, to get snaps as well. As far as receivers go,
Rueben Randle
will be the primary target and DeAngelo Peterson is a playmaking tight end. Miles said this week that freshman
Odell Beckham
could start, so expect the Tigers to use plenty of options.
2. McCarron vs. Sims:
This is one of the most exciting quarterback battles to keep an eye on this season.
AJ McCarron
and
Phillip Sims
are young and neither has separated himself from the other. However, teammates have said they wouldn't mind either one starting and trust both to lead the offense. But this isn't just any offense; it's the offense of a team that is a true national championship contender. Taking the reigns of this machine is a big deal, and the winner should be prepared for a load of pressure dumped into his lap. This is the first step toward someone pushing past the other, but this battle could bleed deeper into the season.
3. Fresh new faces:
There are two new head coaches making their SEC debuts this weekend. Will Muschamp takes over at Florida, after leaving Texas as its defensive coordinator, and James Franklin is in charge at Vanderbilt after being Maryland's offensive coordinator. Fortunately for both, their teams are favored this weekend, with Florida taking on Florida Atlantic and Vanderbilt squaring off against Elon. Muschamp has the tough task of replacing two-time national champion Urban Meyer, while Franklin has brought some much-needed excitement and confidence to a slumping program. Both programs are in need of some early excitement and both should provide plenty of that this weekend.
4. Marquee QB battle:
When Georgia and Boise State square off inside the Georgia Dome; they'll do so with two highly touted quarterbacks. Boise's veteran
Kellen Moore
, who has a thirst for big games, will look to keep his team in the national championship picture. Moore enters 2011 as the nation's active career leader in passing efficiency (166.74) and wins (38). He ranks second on the active career list in completion percentage (68.17), passing yards (10,867), passing touchdowns (99) and completions (831). Last season, Murray passed for a Georgia freshman record 3,049 yards (second in SEC history by a freshman) and 24 touchdowns. His 3,216 total offensive yards ranks him first in Georgia freshman history and second in SEC history. He also tied for first in school history for touchdown responsibility in a season with 28. Watching these two compete will be a lot of fun.
5. Wild runners:
The SEC brings back a stable of running back talent as five of the top 10 rushers from the 2010 season return. It would have been six, but Arkansas'
Knile Davis
suffered a season-ending ankle injury before the season. The SEC is loaded at running back, with South Carolina's
Marcus Lattimore
and Alabama's
Trent Richardson
making early Heisman Trophy lists. The scary thing is that Lattimore is only a sophomore and Richardson was a backup for two years. Auburn brings back the best rushing combo in
Mike Dyer
and
Onterio McCalebb
, who both have the potential to reach 1,000 yards. Ole Miss'
Brandon Bolden
is very underrated and should finally eclipse the 1,000-yard mark, while Mississippi State's
Vick Ballard
is one of the toughest runners around and is looking to pass his touchdown mark of 19 a season ago. Tennessee's
Tauren Poole
is another unheralded rusher, but he surpassed 1,000 yards in 2010. Expect others, like LSU's
Spencer Ware
and Kentucky's
Raymond Sanders
, to step up as well.
6. QBs getting their first shot to be the man:
The first week of football will feature a handful of new quarterbacks looking to prove they can lead their respective teams. McCarron and Sims will be battling it out against Kent State, while
Barrett Trotter
is taking over for Heisman winner Cam Newton at Auburn.
Barry Brunetti
makes his SEC debut at Ole Miss. Heck, Lee will have to prove he can be a solid short-term option for LSU, as well. There will be some growing pains and struggles around the league with these players, but they'll all be eager to get out there and show what they can do.
7. Houston Nutt as the underdog:
If history is an indicator, Houston Nutt does well when his team is counted out. Look at the 2006
Arkansas Razorbacks
, who made it to the SEC championship game and in 2008, Nutt's
Ole Miss Rebels
won their last six games, including the Cotton Bowl. Well, Nutt and his Rebels are being overlooked yet again and Ole Miss starts the season against a tough BYU team. Ole Miss isn't favored and it's fielding a slew of youngsters, including a new quarterback in Brunetti. A win would generate some valuable momentum for this team.
8. John Brantley's confidence:
The spread offense is gone in Gainesville and quarterback
John Brantley
couldn't be happier. He never fit in the spread, throwing more interceptions than touchdowns, but Muschamp and offensive coordinator Charlie Weis have rescued Brantley with a pro-style offense. Brantley set all sorts of records in high school -- some even held by former Florida star Tim Tebow -- but he was never able to play with much confidence in 2010. Now, Brantley has a chance to reinvent himself. Word out of Gainesville is that Brantley has more command in the pocket and has won his teammates over again. Saturday won't be a major test for Brantley, but it is a chance for him to play with confidence and maybe even some moxie, which should benefit him the rest of the season.
9. Kentucky's run defense:
Kentucky coach Joker Phillips made it perfectly clear that stopping the run is of the utmost importance when the Wildcats face Western Kentucky. When these two got together last season, the Wildcats' rush defense received what Phillips described as a "slap in the face" from Western Kentucky's
Bobby Rainey
, who ran for 184 yards and two touchdowns. For the rest of the season, Kentucky's rush defense struggled immensely, surrendering 177.1 yards per game and allowing a league-high 30 rushing touchdowns. For the Wildcats to develop some defensive confidence they'll have to shut down the Hilltoppers' running game.
10. Black bear sightings!:
Those of you who live in Oxford, Miss., or are traveling there for the weekend should be on the look out for black bears in the vicinity. Whether they're harmful or not is yet to be seen. Ole Miss is breaking in a new mascot in the "Rebel Black Bear" seven years after the university got rid of "Colonel Reb." The new mascot has received mixed reactions and expect Colonel Reb supporters to be out in full force for the bear's first home game. A loss to BYU could send this cuddly creature back into hibernation.
June, 15, 2011
6/15/11
10:35
AM ET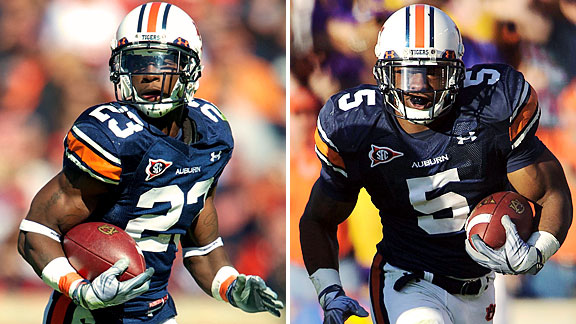 US PresswireMike Dyer (5) and Onterio McCalebb (23) give Auburn a powerful punch in the backfield.
We turn our attention today to the running back position in the SEC, which is always loaded.
The 2011 season will be no different:
1. Auburn:
Who do you put No. 1? How about the team with the best tandem in the league. Sophomore
Mike Dyer
can do it all -- run with power, run with speed and break tackles. He's coming off a 1,093-yard rushing season as a true freshman. The Tigers can also throw their version of "Lightning" at you in junior
Onterio McCalebb
, who's one of the SEC's best breakaway threats. He rushed for 810 yards last season, averaging 8.5 yards a pop, and his 70-yard touchdown run against LSU was the difference in that game.
2. Alabama:
Trent Richardson
alone gets the Crimson Tide into the No. 2 spot. He's that good and that dynamic, and he's going to make up for all those carries he didn't get the past two seasons while playing in the shadow of Mark Ingram. Simply, he's the kind of running back who can carry an offense. Sophomore
Eddie Lacy
would be a starter at a lot of places, and true freshman Dee Hart turned a lot of heads in the spring with his ability to make plays a number of different ways.
3. Arkansas:
The Hogs' depth is outstanding and would have been even better had the bruiser of the group,
Broderick Green
, not suffered a season-ending knee injury in the spring. Junior
Knile Davis
demonstrated just how special he was a year ago with 1,322 rushing yards. Bobby Petrino also thinks this might be the year that junior
Ronnie Wingo Jr
. truly blossoms after showing flashes the past two years, and do-it-all junior
Dennis Johnson
is back after missing all of last season with an injury.
4. South Carolina:
Sophomore
Marcus Lattimore
is right up there with Richardson when it comes to game-changing running backs who can carry a football team. Willing to tote it 35 and 40 times a game, Lattimore is an entire running back corps unto himself. But he will need some help, and that's where junior
Kenny Miles
comes in. Miles had an excellent spring, and it looks like junior
Eric Baker
is healthy again.
5. Florida:
From a pure speed standpoint, nobody can top Florida's backfield. The
Chris Rainey
-
Jeff Demps
combo figures to be a blur in 2011, and new offensive coordinator Charlie Weis is going to see to it that both players get plenty of work. Don't forget about junior
Mike Gillislee
, either, and sophomore
Mack Brown
was one of the highest-rated backs in the country when Florida signed him. The reason the Gators aren't ranked a little higher is that it remains to be seen if they have that power back who can get the tough yards in this league.
6. Mississippi State:
It's a crime to put the Bulldogs this low, but it goes to show you just how deep and talented the running position is in the SEC. Senior
Vick Ballard
just missed 1,000 yards last season and scored 20 touchdowns. Sophomore
LaDarius Perkins
has great speed and is also versatile. He had three receiving touchdowns in 2010. Senior
Robert Elliott
also returns, and coach Dan Mullen said freshman
Nick Griffin
might be the best of the bunch once he gets healthy.
7. LSU:
Losing a 1,000-yard rusher the caliber of Stevan Ridley is never ideal, but there's no shortage of returning talent in the LSU backfield. It starts with sophomore
Spencer Ware
, who's poised for a huge season. He was one of the best players on the field in last season's Cotton Bowl. Les Miles likes to use multiple backs, and sophomores
Michael Ford
and
Alfred Blue
will also be a big part of the rotation.
8. Ole Miss:
There's not a more versatile (or underrated) running back in the SEC than senior
Brandon Bolden
. The NFL scouts have had him in their sights for some time. He just missed 1,000 yards rushing a year ago and led the Rebels with 32 receptions. At 221 pounds, he also has a nose for the end zone and scored 17 touchdowns last season. The Rebels have a perfect complement to go with him, too, in speedy sophomore
Jeff Scott
, while senior
Enrique Davis
also returns.
9. Georgia:
Take Washaun Ealey out of the equation. He's decided to transfer. It's now or never for senior
Caleb King
, who's a more talented runner than he's shown to this point. Junior
Carlton Thomas
is still hanging around, and redshirt freshman
Ken Malcome
is one to keep an eye, too. But the running back everybody wants to see in Athens is incoming freshman Isaiah Crowell, who has all the tools to be a great one. He's going to get a chance to show what he can do right away and may get 15 to 20 carries in the opener.
10. Tennessee:
Despite
Tauren Poole
rushing for 1,034 yards last season, coach Derek Dooley came away saying the Vols left too many yards on the field. They finished last in the league in rushing. Nonetheless, Poole is a tough runner who's proved he can be productive in this league. Sophomore
Rajion Neal
came on in the spring, and the Vols hope incoming freshmen Marlin Lane and Tom Smith can help provide a few more explosive plays in the running game. Also, don't sleep on sophomore
Channing Fugate
, who's one of the better fullbacks in the league.
11. Vanderbilt:
The Commodores have the talent and the depth to really move up this list during the season. Of course, so much of what they do in their running game will hinge on how well the guys develop up front along the offensive line. Injuries derailed Warren Norman and Zac Stacy last season. Neither player topped the 500-yard mark. Both should be healthy in 2011, though, and first-year coach James Franklin was really impressed with sophomore Wesley Tate's blend of size, power and speed in the spring.
12. Kentucky:
Derrick Locke
had been the heart and soul of the Wildcats' running game the past couple of seasons, and now he's gone. The good news is that sophomore
Raymond Sanders
was one of the Wildcats' most-improved players in the spring and looks like he's more than capable of being their go-to back. Several other younger guys are also waiting for their chance, including redshirt freshman
Brandon Gainer
, and the Kentucky coaches are extremely high on incoming freshmen Marcus Caffey and Josh Clemons.
May, 25, 2011
5/25/11
3:30
PM ET
Workout numbers are always nice to look at, and he who wins the bench-press battle, usually wins a heap of respect.
But while cranking out the reps and stacking the weight might be the top priority for some athletes when they step into the gym, Ray "Rock" Oliver, who is in his first year with the Kentucky Wildcats as the director of strength and conditioning, likes to add emphasis to another area when the workouts begin.
The size he's most concerned about is the girth of is athletes' necks.
A neck doesn't help you run faster, jump higher or throw farther, but it does provide some extra safety in the violent game that is football.
[+] Enlarge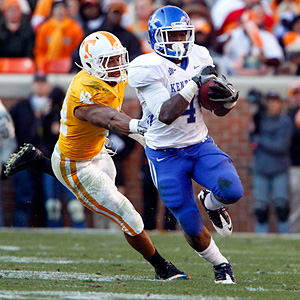 Mark Zerof/US PresswireKentucky is hoping Raymond Sanders' improvement in the weight room will translate to success on the field.
"The No. 1 mechanism that's absorbing a lot of the shock is the neck, so we need to get that bigger," said Oliver, who joined Kentucky's strength staff after spending the past six seasons as the associate strength and conditioning coach with the Cincinnati Bengals. "We're really proud of that. Ten years ago, I wouldn't have ever been talking about that. Ten years ago, I would have been talking about our bench [press] and our vertical jumps."
But Oliver -- and the rest of his staff -- is more concerned with protecting his players during head-on collisions.
Kentucky's staff makes the neck a gym priority by working it out every other day with lateral raises, shrugs and flexing exercises.
Oliver said his goal is to add one-half to three-fourths of an inch to each player's neck in the span of a year. That might sound silly to some, but Oliver said there's nothing foolish about wanting to strengthen and thicken the cylinder that holds the head.
"It's the No. 1 concern of mine," he said.
Oliver also prides himself on the amount of lean muscle mass his athletes have been able to put on each year during offseason training sessions.
"If you want to really want to find out if you're doing your job, put 15 to 16 pounds of lean muscle mass on a kid in a year," Oliver said. "That's where me and my staff take great pride in."
With a late bowl game, Kentucky's football team started lifting together four weeks before spring practice began, Oliver said. But when spring ball began, he could tell the gym work was paying off.
Some examples include defensive end Collins Ukwu making vast improvements to his playing shape, running back
Raymond Sanders
adding some needed bulk and center Matt Smith has increased his weight in 75 percent of his workouts.
As a whole, Oliver said the Wildcats entered spring in much better shape. That was a good and bad thing to Oliver. He was both happy and irked by the fact that 95 percent of the team passed the conditioning test.
The good news was that almost the entire team was able to beat the time needed to pass a test consisting of 16 grueling gassers -- that's 10 more than Oliver was told the majority of the team could get through a year ago.
The bad news was that the Wildcats were starting to become immune to Oliver's rigorous training.
"I was pissed off because we only wanted 5 percent to pass," he joked. "But we worked them extremely hard."
The Wildcats are undergoing a lot of changes in Lexington, and Oliver wants to make sure he does his part by making this one of the most well-conditioned and strongest teams in the SEC.
"The most important thing for us is to get guys to buy into a certain way of working and take pride in everything that we do and to take pride into the others that excel, as well as yourself," he said.
"We work extremely hard to make sure each individual gets his maximum full potential based off his varied potential."