NCF Nation:

Rebels-Gamecocks 092409
September, 25, 2009
9/25/09
2:36
AM ET

Posted by ESPN.com's Chris Low
COLUMBIA, S.C. -- South Carolina senior receiver
Moe Brown
called his teammates together Wednesday night at the team hotel and offered a brief history lesson that's been pure misery for anybody who's followed this program.
It's called the Chicken Curse, and it goes something like this: The Gamecocks are allowed to get close, many times agonizingly close, but they just can't seem to break through.
They entered Thursday night's game against No. 4-ranked Ole Miss having never beaten a top-5 team at home, and they'd lost 22 straight games overall to top-5 teams.
| | |
| --- | --- |
| | |
| | Paul Abell/US Presswire |
| | Steve Spurrier had to rely on his defense to defeat Ole Miss Thursday night. |
Brown's message to his teammates: We've been close to winning some of these. Let's finish this thing and get it done.
"We wanted to come in and show the world what we can do. Now they know," South Carolina safety Darian Stewart said. "This is the new Carolina."
New Carolina or old Carolina,
these Gamecocks are 3-1
and one play away at Georgia two weeks ago from being 4-0.
They're doing it with old-school defense, just enough plays on offense and a genuine belief that this is their time to finally break through in the SEC.
It was Steve Spurrier's biggest win at South Carolina since beating Florida his first season in Columbia.
"Our defense was sensational," said Spurrier, marveling over the Gamecocks' ability to hold the Rebels to 1-of-13 on third down. "We relied on our defense to win the game. It's as simple as that."
That may not be the ideal blueprint to win a game in the offensive-minded eyes of the Head Ball Coach, but he's not giving this one back, either.
Not after so many near misses that have defined this program long before he showed up in Columbia.
"It was good for our team to get a big win at home, especially for our fans," said Spurrier, who improved to 6-13 at South Carolina against nationally ranked teams.
The surest sign that perhaps this one was going to be different came in the second quarter when Ole Miss' Marshay Green took off on a punt return and cut back across the field on his way to what looked like a sure touchdown.
But South Carolina junior punter Spencer Lanning made a textbook tackle in the open field to save a touchdown. The Rebels ended up getting no points because they faked a field goal that was snuffed out by the Gamecocks.
"The biggest play of the game was our punter making a tackle. We're going to bring him over and let him show some tackling drills to our perimeter people," joked Ellis Johnson, South Carolina's assistant head coach for the defense.
Yep, it was that kind of night for the Gamecocks, the kind they expect to have many more of on down the road.
"College football is about being resilient," said senior outside linebacker Eric Norwood, who had two more sacks and leads the SEC with six. "We don't care about what's happened in the past here. It's about what's going on right now."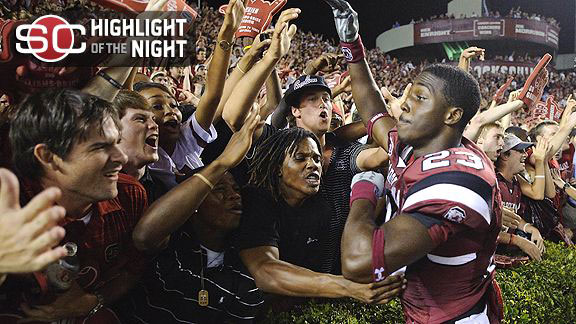 September, 25, 2009
9/25/09
1:56
AM ET

Posted by ESPN.com's Chris Low
COLUMBIA, S.C. -- Not only is South Carolina's Eric Norwood the best defensive player in the SEC right now -- maybe the best player period -- but he's also a stickler for getting right to the point.
His take on
South Carolina's 16-10 victory
over No. 4-ranked Ole Miss on Thursday night at Williams-Brice Stadium was short and sweet.
Almost as sweet as one of his blink-and-you-miss-it swoops to sack the quarterback.
| | |
| --- | --- |
| | |
| | Paul Abell/US Presswire |
| | Eric Norwood recorded a pair of sacks in the Gamecocks' victory Thursday night. |
"They had a lot of hype, but we weren't going to put them on a pedestal," said Norwood, who had two more sacks to raise his SEC-leading total to six and dominated the game for much of the night.
"This wasn't an upset. We beat them last year. If they had killed us 70-0 last year, then yeah, it probably would have been an upset. There was no reason we couldn't come in here and beat these guys."
And there's no reason to believe, after watching the Rebels' disjointed offensive effort Thursday, that Ole Miss was ever a bona fide top-5 team.
Top 5 in hype, maybe. But in substance?
This is a team that had a lot to prove coming into Thursday night's game and left with even more to prove.
One thing that will be different is that the Rebels -- whose claim to fame this season was beating up on Memphis and Southeastern Louisiana -- won't have to worry about dragging around a top 5 ranking for a while.
Probably a long while.
"I'm glad it's gone so we can get back to working and win some ballgames," said Ole Miss left tackle Bradley Sowell, who had the longest night of all the Rebels in trying to block Norwood. "You can't really pay attention to [the ranking] anyway. I'm glad it's over with so everyone can just stop talking about it and play ball."
Ole Miss coach Houston Nutt said he never sensed his club was feeling the pressure of being ranked so highly.
| | |
| --- | --- |
| | |
| | Streeter Lecka/Getty Images |
| | Jevan Snead never got on track Thursday night, completing just 7 of 21 passes for 107 yards. |
But it was clear Thursday that the Rebels (2-1) have a ways to go, particularly offensively. Junior quarterback
Jevan Snead
finished 7-of-21 for 107 yards and was sacked four times. Ole Miss has serious protection problems.
The Gamecocks hit Snead early and kept hitting him. It's the most Snead has been hit since he took over last season as the Rebels' starter.
"He had a little bit of the happy feet," Norwood said. "But when you've got guys like Cliff [Matthews], Ladi [Ajiboye] and Travian [Robertson] bringing it from the middle and then from the outside, it's going to make it hard."
The most curious part of Ole Miss' game plan Thursday was not getting
Dexter McCluster
involved until the fourth quarter. He only had four touches through the first three quarters.
"We felt like every time we had a plan to get him the ball, we'd look up and it would be third-and-15, and you just can't play that kind of ball," Nutt said.
Ellis Johnson, South Carolina's assistant head coach for the defense, has seen Ole Miss up close for several years now having spent some time at Mississippi State before joining the Gamecocks' staff last season.
He said the Ole Miss team from a year ago was as talented as he's seen. But this one may be missing a few key pieces.
"You lose a first-rounder in both fronts and a few little things like that, and I'm not sure they're hitting on all eight cylinders like they were last year," Johnson said. "It's still a really good football team, and they'll show back up.
"It just looked like they were a little out of sync or something."
And out of their element as a top-5 team.
September, 24, 2009
9/24/09
11:23
PM ET

Posted by ESPN.com's Chris Low
COLUMBIA, S.C. -- At last, Steve Spurrier has his signature win at South Carolina, and Ole Miss has problems.
Big problems.
The Gamecocks (3-1) held on to
beat the No. 4-ranked Rebels
16-10 on Thursday night at Williams-Brice Stadium. It was the first victory for South Carolina over a top-5 team since beating No. 3-ranked North Carolina in 1981.
The Rebels (2-1) looked nothing like an SEC contender most of the night, although they at least made things interesting in the fourth quarter after falling behind 16-3.
It was a nightmarish outing for Ole Miss quarterback
Jevan Snead
, who finished 7-of-21 for 107 yards and was hounded at every turn by the South Carolina pressure. The Gamecocks sacked Snead four times, and senior outside linebacker Eric Norwood had two of those in a dominant defensive performance.
September, 24, 2009
9/24/09
9:37
PM ET

Posted by ESPN.com's Chris Low
COLUMBIA, S.C. – South Carolina leads No. 4-ranked Ole Miss
6-3 at halftime
in a battle of field goals. Both teams have made a ton of mistakes.
Here's a halftime analysis from the game:
Best player of the half:
South Carolina senior outside linebacker Eric Norwood raised his SEC-leading sack total to five with a first-quarter sack of Ole Miss quarterback
Jevan Snead
. Norwood spearheaded a South Carolina pass rush that kept Snead bottled up and limited him to just 30 passing yards in the first half.
Turning point:
South Carolina punter Spencer Lanning saved a touchdown when he tripped up Ole Miss' Marshay Green in the open field in the second quarter. It looked like Green was gone as he cut back across the field, but Lanning made a shoe-string tackle at the South Carolina 31. The Rebels ended up not getting any points after a fake field goal was snuffed out by the Gamecocks.
Stat of the game:
The Gamecocks have six penalties for 45 yards in the first half, and all of them were costly. They had their fourth touchdown pass of the season called back on an ineligible man downfield penalty. Prior to that penalty, they had the ball first-and-goal at the Ole Miss 2, but senior center Lemuel Jeanpierre was called for holding, moving the ball back to the 12.
September, 24, 2009
9/24/09
6:45
PM ET

Posted by ESPN.com's Chris Low
COLUMBIA, S.C. -- Ole Miss tight end
Gerald Harris
, who's been plagued by a hamstring injury, didn't make the trip.
Fullback
Andy Hartmann
(knee) also won't play in Thursday night's game. But senior defensive end
Greg Hardy
is dressed and plans to play in the game. Hardy missed last week's game after spraining his ankle in the opener.
September, 24, 2009
9/24/09
12:29
PM ET

Posted by ESPN.com's Chris Low
COLUMBIA, S.C. – Ole Miss and South Carolina both have reasons to be confident about Thursday night's game (ESPN, 7:30 p.m. ET). Here's a look at the top three things each team has going for it as we count down to kickoff:

OLE MISS
Defensive line muscle:
Even without a fully healthy Greg Hardy, Ole Miss has one of the deepest defensive lines in college football. The Rebels hope to get a few plays out of Hardy, who sprained his ankle in the opener. They just don't know how many plays. Even so, look for Ole Miss defensive coordinator Tyrone Nix to be aggressive. Having a front four of Kentrell Lockett and Marcus Tillman at the ends and Jerrell Powe and Ted Laurent at the tackles opens up a lot of things for everybody else on defense.
Snead's due:
It's not like junior quarterback
Jevan Snead
has stunk up the joint in the Rebels' first two games. He's been just OK and finished strong against Memphis in the opener. The thing is: He's a lot better than just OK, and you know he's going to break out sooner or later with one of those games where he carves a defense apart. The Gamecocks are young in the secondary, so you can bet that Snead will take a few shots.
Running to glory:
The Rebels' running game is one of the more diverse running games in the league. They can line it up and come at you with more of a traditional approach with any combination of
Brandon Bolden
,
Enrique Davis
and
Cordera Eason
. But they also keep you off balance with
Dexter McCluster
and that Wild Rebel formation. Senior right tackle John Jerry is a devastating run-blocker, and Ole Miss likes to run behind him. Senior center Daverin Geralds is also solid up the middle, but the Rebels are hurting right now at fullback because of injuries. They may play 315-pound offensive lineman Mark Jean-Louis some at fullback against the Gamecocks.

SOUTH CAROLINA
Playing to the crowd:
The home-field advantage at Williams-Brice Stadium, especially in a night game, can be a huge factor. That is, if South Carolina will let it be a factor. Playing well early and keeping the crowd in it will be crucial for the Gamecocks, who would love to get ahead from the outset and put Ole Miss in a position where the Rebels are having to throw on every down. Making checks and making adjustments at the line of scrimmage can be pretty difficult when nobody can hear anything.
The Big 'E':
The SEC defensive MVP award through the first quarter of the season goes to South Carolina senior outside linebacker Eric Norwood, who leads the SEC with four sacks. He's not just a pass-rusher, either, as evidenced by his interception return for a touchdown against Georgia. Norwood and junior end Cliff Matthews are a handful for any offensive line, but they will be matched up against a left side of the Ole Miss offensive line that's been shaky this season. Sophomore left tackle Bradley Sowell is a first-year starter.
Stephen Garcia takes flight:
The Gamecocks' sophomore quarterback is improving weekly, which is music to the ears of the South Carolina fans who endured what had to seem like an eternity of Garcia making more news off the field than on the field. He's throwing the ball with more confidence, seeing the field better and will no doubt set his sights on an Ole Miss secondary that's the most unproven part of that defense. The Rebels will come after him, but Garcia is one of the best quarterbacks in the league when it comes to escaping pressure.