August, 1, 2012
8/01/12
1:00
PM ET
USC's offense was good at just about everything last year. Just about. But not
everything
.
One thing USC wasn't good at? Red zone offense.

In 2011, it ranked eighth in the Pac-12 in red zone offense. Its eight red zone rushing TDs were the fewest in the Pac-12 and ranked 114th in the nation. Its five fumbles were the most in the conference. It's 2.9 yards per rush inside the 20-yard line ranked ninth in the conference. It's red zone touchdown percentage -- 13.3 percent -- ranked 115th in the nation.
Ergo: Not good.
Trojans RB
Curtis McNeal
is a good running back. But he wasn't a good running back in the red zone.
Enter Penn State transfer
Silas Redd
, a tough-running 209-pound junior. Or should we say "Silas Redd Zone."
Redd, as noted by ESPN Stats & Information, scored seven red zone TDs in 2011, compared to two for McNeal. He averaged 3.8 yards per rush, compared to 2.9 yards per rush for McNeal. He rushed for 148 yards in the red zone compared to 79 for McNeal.
Now USC was pretty good passing the ball in the red zone. It had 23 red zone TD passes, which was third most in the Pac-12 behind Washington and Stanford. That boosted its red zone TD percentage to 60.8 percent, which ranked 59th in FBS.
Keep in mind that USC QB
Matt Barkley
is outstanding in play action, completing over 75 percent of his passes when using a play-action fake, averaging 8.7 yards per attempt with 13 TDs and just one interception. Adding another talented back will only continue to open up the passing game for Barkley.
Further, the notable downside to Redd -- after posting huge numbers in October, he fell off dramatically in November after getting banged up -- shouldn't be an issue for him if he's sharing the ball and not counted on to carry the offense, as he was at Penn State. He won't be asked to carry the ball 22 times per game as he was in the first nine games of 2011.
So the Redd transfer feels like a win-win for Redd and USC.
July, 31, 2012
7/31/12
6:44
PM ET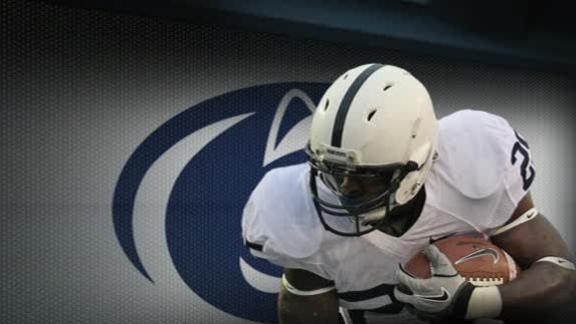 Go ahead and mount that dartboard with Lane Kiffin's (usually) smug mug on it.
Place it next to the one of NCAA president Mark Emmert or any others considered villains in the fallout from the severe sanctions placed on Penn State's football program. Ask how and why the NCAA cleared the way for a star player to transfer from one program on probation to another.
But don't blame
Silas Redd
. He's no Benedict Arnold or Brutus. He's an extremely talented football player who had to make the best decision for his future.
As expected, Redd confirmed Tuesday that
he's transferring from Penn State to USC
. The second-team All-Big Ten running back in 2011, who ran for 1,241 yards and seven touchdowns, will be eligible to play immediately for the Trojans, who, like Penn State, have quite a tradition at running back. While Penn State is just beginning its penalty phase, which includes no postseason play for the next four years, USC is emerging from some of its own sanctions and will be eligible to compete for a national title for the first time since 2009.
[+] Enlarge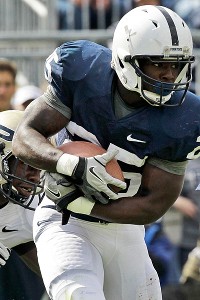 AP Photo/Gene J. PuskarSilas Redd, who rushed for 1,241 yards and seven touchdowns at Penn State last season, is transferring to USC.
The NCAA made it as easy as possible for Penn State players to transfer without penalty. Kiffin came calling, and Redd, after visiting USC's campus during the weekend, accepted the invitation.
Redd ultimately had two good options.
1.
Stay at Penn State, play in an NFL-style offense under new head coach Bill O'Brien, be the clear-cut featured back and have an excellent chance to turn pro after the season.
2.
Go to USC, compete for the starting job, play behind the nation's top quarterback in
Matt Barkley
and compete for a Pac-12 title and quite possibly a national championship.
You can't fault a guy for wanting to play for a championship. Redd has that opportunity at USC, which likely will be the preseason No. 1 team in the polls.
This isn't a case of a cocky kid looking for the next best thing. Any Penn State fan who knows Redd or has read about him knows he's humble, hardworking and extremely classy. He comes from a terrific family and has earned everything that has come his way. His decision was extremely difficult, and he's leaving behind many close friends in State College.
Here's the full statement
Redd issued about his decision
, and here's an excerpt:
"Playing football at Penn State has been a dream of mine since I was seven years old, and I will be forever grateful that this dream became a reality," Redd's statement reads. "This is the reason that the decision I have made is so difficult for me: I will transfer to USC to complete my education and my college football career, beginning in the 2012-2013 year. Penn State gave me a phenomenal opportunity to become part of a legendary football program. My teammates, my coaches -- past and present -- and the staff have provided me with a tremendous amount of guidance and support since I arrived on campus, and I can't thank them enough for their time, their advice, and their friendship. They have given me such a strong foundation from which I can continue to grow."
Sure, he could have echoed the pledge made by several of Penn State's older players last week. He could have stuck it out in State College. But the NCAA sanctions changed things at Penn State, and the liberal transfer policies opened doors everywhere, even to other programs on probation, like USC. Is that debatable? Highly.
"I think it is important to say that this situation is not something that I wished for myself, but it has happened, nonetheless," Redd's statement reads.
Redd also finds himself in a different situation from most Lions players. He has two years of eligibility left, and likely will face an NFL decision after the season. He also plays a position where a transition to a new team, even just a month before the opener, shouldn't be overly dramatic.
His departure certainly stings. If Redd isn't Penn State's best player, he's a close second behind first-team All-Big Ten linebacker
Gerald Hodges
.
Who takes over at running back for the Lions?
Bill Belton
will be a key player to watch in preseason camp. He ran the "Wild Lion" offense at times last season and possesses good speed.
Curtis Dukes
, a big back who missed spring ball because of academics, is
weighing whether or not to stay in State College
. Redd's decision could impact that of incoming running back recruit
Akeel Lynch
, who is considering Iowa as a possible transfer destination.
Running back suddenly has become a compelling position battle for Penn State, which kicks off fall practice Monday.
It'll be interesting to see the reaction to Redd's transfer. His exit is another setback for a program and a fan base dealing with plenty of them. More departures likely will come, including the possibility of linebacker
Khairi Fortt
heading to Cal.
But if you're looking for someone to blame, Redd isn't the answer.
July, 31, 2012
7/31/12
6:30
PM ET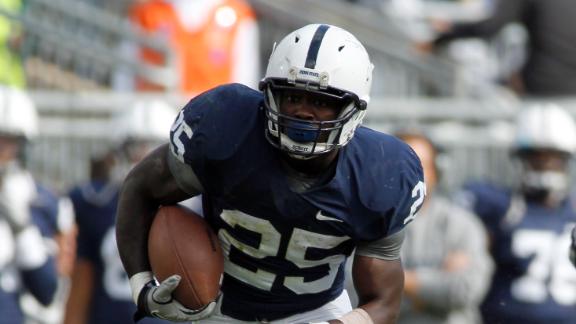 USC coach Lane Kiffin said depth at running back was his team's biggest concern at Pac-12 media day.
That concern was addressed Tuesday
with the confirmation that Penn State's
Silas Redd
will transfer west.
Redd, second-team All-Big Ten in 2011, rushed for 1,241 yards and seven TDs as a sophomore for the Nittany Lions. The explosive 209 pounder should pair nicely with
Curtis McNeal
, who rushed for 1,005 yards in 12 games and averaged a stout 6.9 yards per carry.
In fact, just like that, the Trojans transformed a questionable position into arguably the nation's best backfield tandem. The running backs should pair nicely with the nation's best wide receiver tandem (
Robert Woods
&
Marqise Lee
) and best QB (
Matt Barkley
).
A statement from USC athletic director Pat Haden:
"We welcome Silas Redd to the Trojan Family. He is an outstanding student and athlete. When the NCAA presented the option to transfer, Silas and his family put a lot of thought and research into making this decision.

"At USC, we've seen both sides of this issue, having lost a number of players to transfer due to our NCAA sanctions in 2010. But Lane Kiffin and his coaches would not be doing their job if they did not try to improve our team every single day. There is a specific need here for a player like Silas Redd, so Lane and our coaches recruited him within the guidelines set up in this instance by the NCAA."
Now... about that
defensive line depth
.
Redd, who has two seasons of eligibility remaining, has been allowed to leave Penn State without penalty -- he normally wouldn't be immediately eligible -- due to NCAA sanctions from the Jerry Sandusky child sex abuse scandal. Earlier this summer, he was named to the Walter Camp and Doak Walker awards watch lists.
USC will have to clear a scholarship spot for Redd -- it's not allowed to exceed 75 scholarship players, 10 fewer than the FBS limit, due to NCAA sanctions -- but it obviously will do what it takes to put Redd on the roster, even if that means yanking a scholarship. The most likely scenario is an existing player or incoming freshman not qualifying academically.