April, 23, 2014
Apr 23
11:00
AM ET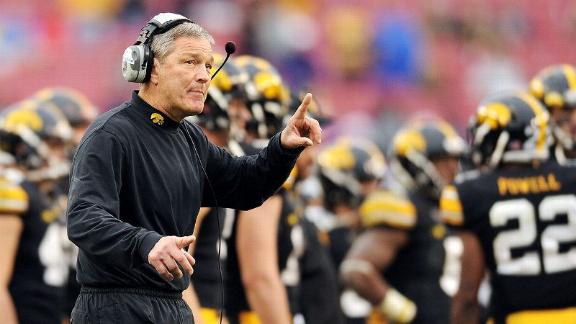 IOWA CITY, Iowa -- No Big Ten coach takes the temperature of his team in spring practice quite like Iowa's Kirk Ferentz. No Big Ten coach has lived in as many different climates.
The dean of the league's coaches knows the sunniness that surrounds teams after redemptive seasons such as the ones the Hawkeyes had in 2001, 2008 or last fall, when Iowa improved its wins total by four. He also knows the polar vortex that exists, at least outside Iowa's football complex, after poor performances like the ones the team delivered in 2007 and 2012.
Ferentz also understands how quickly the weather changes, like it often does on spring afternoons in the Midwest.
So at a recent team meeting, Ferentz detoured from the typical spring minutia -- replacing seniors, creating depth, finding leaders, building identities -- and addressed a macro item: the preseason polls.
"He said we might be ranked," running back
Jordan Canzeri
told ESPN.com, "and even if we are, no one is to keep that in their head. There were several teams that were ranked and didn't get to go to a bowl game this past year. You never want to be cocky. Even if the stats show you're good, you still want to prepare as you would with any other team, so you don't get satisfied and complacent."
Iowa likely will be ranked when the preseason polls come out. The Hawkeyes appear in some
way-too early versions
. They return eight offensive starters, including left tackle
Brandon Scherff
, a preseason All-America candidate, along with three of four starting defensive linemen from a team that flipped its regular-season record in 2013.
The quarterback uncertainty that hovered over the program last spring, when no signal-caller had taken a snap in a game, is no longer there, as junior
Jake Rudock
has established himself. An unprecedented stretch of running back maladies has subsided as Iowa returns three veteran options (
Mark Weisman
, Canzeri and
Damon Bullock
) and two promising young players (
LeShun Daniels
Jr. and
Barkley Hill
). There's
more explosiveness at wide receiver
, and the defensive line, led by senior tackles
Carl Davis
and
Louis Trinca-Pasat
, looks more like the elite units Iowa produced for most of Ferentz's tenure.
[+] Enlarge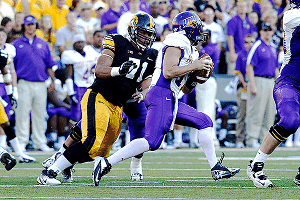 David Purdy/The Des Moines Register via USA TODAY SportsWith Carl Davis and others back, Iowa's defensive line should be the team's strongest unit.
"We are a more experienced unit, probably the most experienced unit on the team," defensive line coach Reese Morgan said.
There are enough internal reasons to indicate Iowa will take another step this season, but the biggest factors in the Hawkeyes favor are external. Their new division, the Big Ten West, lacks a clear-cut favorite or a flawless team. And their schedule is undoubtedly the most favorable in the league.
Not only does Iowa miss Michigan State, Ohio State, Michigan and Penn State from the East Division, but it hosts both Wisconsin and Nebraska. The Hawkeyes' toughest league road game should be a Nov. 8 visit to Minnesota.
"It's a pretty favorable schedule for us," wide receiver
Kevonte Martin-Manley
said, "but every week is going to be a challenge. Nothing that happened last year really matters."
Davis looks forward to visiting Big Ten newcomer Maryland, but he had hoped to play more of the league's traditional powers. The only way Iowa sees Ohio State, Michigan State or Michigan is in the Big Ten championship game.
"When the Big Ten started, those are the teams that dominated," Davis said. "You want to be able to play those teams and beat those teams. I really look forward to it.
"I definitely feel we're in contention for a Big Ten championship. Every team says it, but we're hungry."
Ferentz has seen Iowa go from good to great in 2002 and again in 2009. He also has seen the program fall short of expectations, as it did in 2006 and 2010.
The first step to building upon success, Ferentz said, is not taking it for granted. Take Iowa's group of linebackers, which loses three multiyear starters from last year's squad:
James Morris
,
Christian Kirksey
and
Anthony Hitchens
.
"If we're waiting for Morris, Kirksey and Hitchens to give us 300 tackles, that ain't gonna happen," Ferentz said. "Two years ago, we had a disappointing season. Last year was a new year and this year was the flip record-wise, but it's a new year again. This team has to form its own identity, and it starts with our experienced players. We're going to need them to play their absolute best, which is what those seniors did last year."
Iowa's linebacker reset has been a top spring storyline.
Quinton Alston
has stepped into the lead role, earning high marks from teammates and coaches.
Travis Perry
and
Reggie Spearman
, who played as a 17-year-old freshman last fall and doesn't turn 18 until August, are likely starters alongside Alston.
The biggest challenge could be replacing Kirksey, a converted safety who brought defensive back speed to outside linebacker.
"Chris had a different skill set than the guys we have out there now," defensive coordinator Phil Parker said. "It's been a long time since we had a guy who could run that fast and still have the power and explosion to play in the box, too, or at least on the tight end. We have three or four guys we're trying to look at with that position."
Other uncertainties include the cornerback spot opposite dynamic sophomore
Desmond King
, free safety and the second-string offensive line, which coordinator Greg Davis lists as the unit's biggest concern.
Iowa players understand that their margin for error remains slim.
"The determining factor is going to be winning those close games," Martin-Manley said.
Iowa won several such contests in 2009, its last truly special season. The 2014 team also could reach rarefied air, but Hawkeyes won't get caught with their heads in the clouds.
"That's what we do here; we work hard," Davis said. "That's something you get used to the longer you're in this program. The grind becomes normal, and I feel like all our hard work will be able to pay off."
August, 15, 2013
8/15/13
9:00
AM ET
There will be a point this season when we'll know whether Iowa defensive tackle
Carl Davis
has turned a corner.
It won't be after he mauls a quarterback or fills a rushing lane with his 6-foot-5, 313-pound frame. Davis already has shown flashes of being a dominant interior lineman. When Penn State guard
John Urschel
was asked on an ESPN.com chat last month to name the toughest lineman he blocked last year, he picked Davis, a backup for the Hawkeyes, ahead of players like Purdue's Kawann Short and Ohio State's Johnathan Hankins, both second-round picks in April's NFL draft.
Davis can deliver a great play or two. But the true gauge for the Hawkeyes junior will come when opposing offenses sustain drives. Davis will be on the field for Play 1 or Play 2. If he's still there for Play 8 or Play 9, Iowa will be a lot better off.
"I believe my best football is ahead of me," Davis recently told ESPN.com. "I had some problems with my knee, I had some mental work being an every-play guy, and I'm still working on that. You've got to do it every day. You can't come out here like, I had a good practice today,' and then slack off tomorrow. You try to put days back to back to back."
[+] Enlarge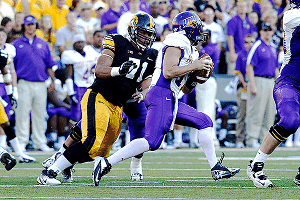 David Purdy/The Des Moines Register via USA TODAY SportsCarl Davis' size and strength have Iowa's staff optimistic on the defensive tackle's future.
Davis appeared in 11 games as a reserve in 2012, recording 14 tackles, including 1.5 for loss, to go along with a forced fumble. Hawkeyes defensive line coach Reese Morgan said the experience, even during a rough 4-8 season, bolstered Davis' confidence that he's built to last.
After being
limited by a wobbly kneecap early in his career
, Davis attacked conditioning and strength training during the offseason. He hang-cleaned 395 pounds -- a Hawkeyes defensive tackle record -- and boosted his squat max by 100 pounds.
Davis also shaved one-tenth of a second off of his 10-yard dash time, going from 1.7 seconds in 2012 to 1.6. He came into camp a little heavy at 313 pounds -- "I'm paying for it right now," he said with a laugh -- but hopes to get down to 310 before the season kicks off Aug. 31 against Northern Illinois.
"He developed a lot of strength and confidence with the records, the work ethic," Morgan said. "Being a big guy, sometimes they're worried about running out of gas and pushing themselves to get out of their comfort zone. Carl started doing that a little bit in the spring, worked hard through the summer, really did some diligent preparation."
Head coach Kirk Ferentz describes Davis as an "Iowa guy," meaning Davis didn't walk onto campus game-ready but has developed himself into a position to contribute significantly as an upperclassman. What stands out about Davis is his size. Iowa's recent defensive tackle standouts -- Mitch King, Matt Kroul, Karl Klug, Mike Daniels -- all played around 280 pounds. Only Christian Ballard (297 pounds) approached the 300-pound mark. Davis, meanwhile, was 295 when he signed with Iowa in 2010 and quickly went north of 300.
"We haven't had many guys like him," Ferentz said. "Colin Cole was never as big with us as Carl is currently. Carl's a guy who has a great attitude, he's got good ability, good size. We're all confident this is going to be his time to really step up and play well."
Cole is the gold standard for Iowa defensive tackles. He earned first-team All-Big Ten and second-team All-America honors for Iowa's 2002 co-Big Ten champion team, recording ridiculous numbers for a defensive tackle: 85 tackles, 18 tackles for loss, nine sacks, 16 quarterback hurries, one forced fumble and two fumbles recovered.
If Davis comes anywhere close to those totals, Iowa's line will be much improved.
"I want to have at least 40 tackles and eight to 10 sacks," he said. "If you shoot high, you see where you fall, and you might not be disappointed."
Davis is a big man with big goals. One of his challenges, somewhat ironically, is to use his size more to his advantage.
"He's a big guy who thinks he's a finesse guy, instead of being a physical guy," said Morgan, who attributes Davis' approach in part to his background as a basketball player. "Now he's starting to become physical. That's really what you like about Carl, understanding that assignment. He's really a caring, solid person. As a player, he's really grown a lot, and we're excited to see what he's going to do this fall."
A Sterling Heights, Mich., native, Davis grew up a Michigan fan and wanted to play for Lloyd Carr but didn't attract much interest. He actually became sold on Iowa after attending the Hawkeyes' 30-28 win against Michigan in 2009 under the lights at a geared-up Kinnick Stadium.
When Davis arrived, Iowa was enjoying arguably the most successful run of defensive linemen in team history (three were drafted after the 2010 season, and another followed after 2011). Daniels took Davis under his wing, and Davis admired the power Daniels generated despite being a smaller interior lineman (6-1, 280).
Davis still reviews practice clips from Daniels, Ballard and defensive end Adrian Clayborn, a first-round pick in the 2011 draft.
"I want to be one of those guys that can be the next name that pops up," Davis said. "Only time will tell, and I've got to put in the work."
December, 12, 2012
12/12/12
9:00
AM ET
Head coaches are like quarterbacks. They get too much credit and too much blame.
Assistant coaches are like nose tackles. They don't get nearly enough credit despite playing vital roles.
Today, we'll change it up and give some recognition to Big Ten assistant coaches who did exemplary jobs with their position groups or, in some cases, units in 2012. Each of these coaches fostered improvement this season. Some took units in bad shape and made them better. Others took units in decent shape and made them very good. Some entered the season with skeptics and quieted them.
We came up with 13 assistants who deserve recognition. Yes, we realize we're leaving out some quality folks, but we had to cap it somewhere and wanted to spread the love around to the different teams.
Here's the rundown in alphabetical order:
Chris Ash, Wisconsin, defensive coordinator/secondary:
All the attention on the offense's turbulent season took the spotlight away from the good things happening on the defensive side. Wisconsin finished in the top 25 nationally in total defense, scoring defense, rushing defense and pass efficiency defense. The Badgers held nine opponents to 21 points or fewer and gave an inconsistent offense chances to win every time out. Ash will be missed as
he joins ex-Wisconsin coach Bret Bielema at Arkansas
.
[+] Enlarge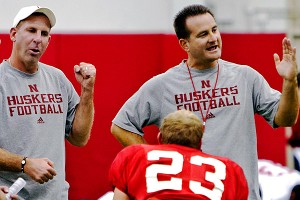 AP Photo/Nati Harnik, FileTim Beck, right, coordinated Nebraska's Big Ten-leading offense for head coach Bo Pelini.
Tim Beck, Nebraska, offensive coordinator/quarterbacks:
The second-year play caller oversaw the Big Ten's top offense, which averaged 462.2 yards per game (24th nationally) and 35.1 points per game (28th nationally). Junior quarterback
Taylor Martinez
made significant strides under Beck's watch, and Nebraska survived the loss of star running back
Rex Burkhead
for most of the season thanks to contributions from
Ameer Abdullah
and others.
Tracy Claeys, Minnesota, defensive coordinator:
An improved defense sparked Minnesota to a 4-0 start and eventually to bowl eligibility for the first time since the 2009 season. The Gophers pass rush showed life for the first time in years as senior end
D.L. Wilhite
and others put pressure on opposing quarterbacks. Minnesota was especially good against the pass, ranking 11th nationally and 20th in pass defense efficiency. Although the offense remains a work in progress, Minnesota should be pleased with the direction on defense under Claeys.
Adam Cushing, Northwestern, offensive line:
Cushing's recruiting ability always has stood out, but his coaching skills had been questioned as Northwestern struggled to convert promising line prospects into powerful blockers. The Wildcats went from a finesse offense to a power offense this season, blasting off of the line to the tune of 230.9 rush yards per game. Red zone offense went from a weakness to a strength as Northwestern tied for 17th nationally. Cushing's line paved the way for star running back
Venric Mark
.
Rich Fisher, Nebraska, wide receivers:
Nebraska isn't known for its wide receiver play, but things are changing under Fisher's watch. Led by standout sophomore
Kenny Bell
, the Huskers' top three receivers combined for 1,657 yards and 11 touchdowns on 115 receptions. Just as important, the receiving corps helped Nebraska's bread-and-butter run game with
effective blocking throughout the season
. Fisher's hiring after the 2010 season raised some eyebrows, as he had taken a break from college coaching, returned to the high school ranks and also served as a
golf instructor in Massachusetts
. But he definitely looks like a great addition to Bo Pelini's staff.
Patrick Higgins, Purdue, wide receivers:
Higgins played a significant role in Purdue's late-season surge, as he took over the offensive play-calling duties after coordinator Gary Nord suffered a severe back injury. Purdue won its final three games with Higgins and head coach Danny Hope handling the play calls. Higgins also did a nice job with Purdue's wide receiving corps, despite the fluctuating quarterback situation. Three veteran Boilers receivers eclipsed 40 catches and 300 receiving yards, and redshirt freshman
Dolapo Macarthy
showed promise.
Seth Littrell, Indiana, offensive coordinator/tight ends/fullbacks:
Head coach Kevin Wilson brought in Littrell to boost Indiana's passing attack, and Littrell delivered despite losing starting quarterback
Tre Roberson
in Week 2. Indiana went from 80th nationally in pass offense to 19th, leading the Big Ten with 311.2 yards per game. With help from assistant offensive coordinator/quarterbacks coach Kevin Johns, Littrell managed the quarterback situation pretty well as both
Cameron Coffman
and
Nate Sudfeld
had success. Littrell will go largely unnoticed because of Indiana's low profile and 4-8 record, but he was one of the Big Ten's best coaching additions for 2012.
Curt Mallory, Michigan, secondary:
Michigan's defensive line dominates the spotlight because that's where coordinator Greg Mattison and head coach Brady Hoke put their primary focus, but Mallory has done a really nice job with a secondary that struggled mightily under the previous regime. Despite losing promising cornerback
Blake Countess
to a
torn ACL in the season opener
, Michigan still finished second nationally (behind Nebraska) in pass defense (155.2 ypg allowed). Safety
Jordan Kovacs
has blossomed under Mallory's watch, and while the depth in the secondary isn't where it will be eventually, Mallory has managed things well.
[+] Enlarge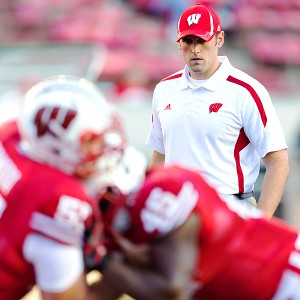 Jeff Hanisch/USA TODAY SportsBart Miller went from grad assistant to coach of a Wisconsin O-line that pummeled its way to Pasadena.
Bart Miller, Wisconsin, offensive line:
Miller began the season as a graduate assistant and moved into one of the team's top assistant roles in Week 3 after the surprising dismissal of veteran line coach Mike Markuson. Although Wisconsin's line didn't have its typical dominant performances every time out, Miller fostered obvious improvement and cohesion during the course of the season. The finished product showed up in the Big Ten championship game against Nebraska, as Wisconsin bullied the Huskers to the tune of 70 points, 539 rushing yards and eight rushing touchdowns.
Reese Morgan, Iowa, defensive line:
Iowa didn't have much to cheer about in 2012, and some of the staff changes Kirk Ferentz made led to some growing pains. Morgan faced a significant challenge in moving from offensive line to defensive line, which returned only a handful of players who had logged field time in 2011. Given the youth and inexperience along the Hawkeyes' defensive front, Morgan did a nice job in Year 1.
Joe Gaglione
had a nice senior season (9 tackles for loss, 5 sacks, 2 forced fumbles) and young players like
Louis Trinca-Pasat
showed promise. The line held its own in the first half of the season before struggling late.
Pat Narduzzi, Michigan State, defensive coordinator:
Many of these assistants took questionable units and improved them. Narduzzi led an elite defense that entered the season with high expectations and met them. Make no mistake: Michigan State's defense is the only reason the team found itself in every game this season. The Spartans had a few standouts, namely linebacker
Max Bullough
, but their overall team defense and stinginess stood out. Narduzzi is one of the nation's premier coordinators and should land a head-coaching job in the near future.
John Strollo, Penn State, tight ends:
Although O'Brien's offense is a tight end's dream, Strollo did a terrific job of developing young and unproven players this season. Redshirt freshman
Kyle Carter
emerged into one of the Nittany Lions' top passing threats, and junior
Matt Lehman
and true freshman
Jesse James
also stepped up at times. Of Penn State's top five receiving-yards leaders this season, three players are tight ends (Carter, Lehman and James).
Ed Warinner, Ohio State, offensive line/co-offensive coordinator:
Warinner took an underachieving Buckeyes offensive line with serious depth questions and turned it into quite possibly the best line in the league. The Buckeyes' front five turned a corner in Big Ten play and created lanes for
Braxton Miller
,
Carlos Hyde
and the Big Ten's top scoring offense. Warinner was the Big Ten's best assistant hire of the last offseason and earns our vote as the league's top assistant in 2012.
April, 5, 2012
4/05/12
1:45
PM ET
IOWA CITY, Iowa -- Reporters and fans aren't the only ones who struggle to squeeze information out of Iowa head coach Kirk Ferentz.
Ferentz's son, James, a senior center for the Hawkeyes, didn't fare much better this past winter.
When Iowa announced in early February that offensive line coach
Reese Morgan would move to the defensive line
, speculation immediately increased that Brian Ferentz, Kirk's oldest son and James' big brother, would return to his alma mater and coach the offensive front.
James Ferentz
heard the rumors, too. So he did some recon.
"I was trying to squeeze some information out of my mom, but she wasn't talking," James told ESPN.com. "Obviously, neither was my dad. He wasn't going to crack at all, so I knew my best chance was going to my mom. And when she wasn't talking, I knew I wasn't going to get any information."
[+] Enlarge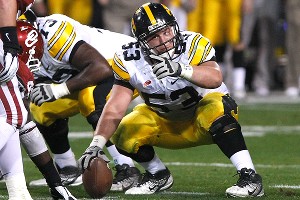 Rick Scuteri/AP ImagesJames Ferentz provides Iowa with stability at center, having started the past 26 games.
James didn't discuss the situation with Brian, not wanting to put his brother "in an awkward position." But when their mother, Mary, clammed up about the situation, James knew there was a decent chance his brother would be leaving his post with the New England Patriots to return to Iowa City.
James ended up getting the scoop, but only a day before Kirk informed the rest of the team.
"I was really excited to finally hear the news," James said. "It's going to be good for Iowa football and selfishly good for me."
It's not unusual to see FBS coaches having their sons on the roster. Ferentz has coached his two oldest sons and his youngest, Steven, might
walk on at Iowa
.
There are also examples of coaches hiring their sons as assistants, like Frank and Shane Beamer at Virginia Tech or Steve Spurrier Sr. and Steve Spurrier Jr. at South Carolina.
But for a head coach to have one son on staff and another on the roster -- and to have the older son directly coaching his younger brother -- is unique. Brian played guard and center for the Hawkeyes. Kirk coached Iowa's offensive line from 1981-89.
"It's been great on two fronts," Kirk Ferentz told ESPN.com. "On a personal level, it's been interesting and neat, not something I ever envisioned happening. So that worked out beautifully. But more importantly, he's doing a competent job, and that's what we brought him here for, to do a good job coaching the line.
"He's off to a great start."
Brian's hiring has been scrutinized because of his relationship to his boss. The University of Iowa has a policy against nepotism that states familial relationships should be avoided whenever possible during the hiring process. According to documents obtained by the Associated Press, Iowa considered more than 100 candidates for two assistant positions before hiring Brian Ferentz and promoting LeVar Woods to linebackers coach.
From the
AP report
:
Athletic director Gary Barta has said it was his decision to hire Brian Ferentz, he will act as his supervisor and that Kirk Ferentz recused himself from the interview process. The claim was undercut earlier this month when Brian Ferentz said he had spoken about the job with his dad and took it because "you can't say no to your father."
The documents released Friday do not mention the relationship between Ferentz and his son, or any special steps taken during the hiring process. In fact, they show Kirk Ferentz was a member of the search committee for both positions along with other assistants and athletic department officials. A department spokesman had no immediate comment Friday, and university spokesman Tom Moore said the school had "followed its policies throughout this process."
Asked about the response, Kirk Ferentz said, "Not surprised, especially in Iowa, you kidding me? Anything that happens, you have to consider it to be news."
Ferentz noted how Iowa wrestling coach Tom Brands hired his twin brother, Terry, as associate head coach.
"That was a pretty good thing for the wrestling program," he said. "I wouldn't have brought Brian back here if I didn't think it would be a good thing for our program. That was the first priority."
James hasn't struggled to view Brian as a coach, first and foremost. He has been impressed by Brian's knowledge and his ability to connect with each offensive lineman.
"I don't if he's harder on me than most guys," James said, smiling. "He's probably a little quicker to point out my mistakes, but I make plenty of them, so I leave the door open a lot."
Iowa is young up front. While Ferentz has started the past 26 games at center, left guard
Matt Tobin
is the only other lineman with significant starting experience.
Ferentz sees the need for the line to prove itself and come together. He's excited to do so with his older brother and father calling the shots.
"If you can't appreciate the uniqueness and the incredible opportunity," he said, "I think I'd be missing out on a lot. I'm really fortunate to be in this position."
March, 23, 2012
3/23/12
10:11
AM ET
Change is in the air this spring at Iowa. The Hawkeyes have two new coordinators for the first time in Kirk Ferentz's tenure, one from the outside (OC Greg Davis) and one from within the program (DC Phil Parker). Ferentz also hired two new assistants, offensive line coach Brian Ferentz and linebackers coach LeVar Woods, and moved offensive line coach Reese Morgan to defensive line. For an Iowa staff built on continuity, this represents a a major shakeup. The coaches also will be working with a very young roster, as evidenced by the
pre-spring depth chart
issued this week. It all should make for an interesting spring in Hawkeye Country.
[+] Enlarge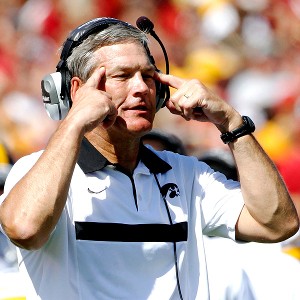 AP Photo/Charlie NeibergallCoach Kirk Ferentz and his Iowa Hawkeyes will enter the season with a revamped coaching staff.
The Hawkeyes opened practice Wednesday, and ESPN.com caught up with Ferentz on Thursday.
Here are his thoughts.
What is the atmosphere like this spring being on the field with this group after all the changes?
Kirk Ferentz:
Certainly we have a lot of learning to do for two reasons. Number one, our youth and inexperience, and secondly, with some of the staff changes. We have a lot of different elements involved. It's certainly different than when we finished up in December. It's a lot of positions, and some of it's schematically and that type of thing. We're all on edge a little bit, and that's good.
You made some of your hires fairly recently. How do you feel about where the offensive and defense schemes are at this point?
KF:
We're pretty well down the road that we need to be on. We've had some really good meetings over the last several weeks. A little bit more intensive on the offensive side with Greg being hired at the end of February, but I think we've had good meetings. He certainly has a good grasp of what he likes to do and what he's comfortable with. We've been able to blend and mesh things. I think we're pretty much on the same page right now. It's been fun actually, just invigorating to re-examine some things. And the players, they always pick it up faster than the older guys.
When you sat down and talked with Greg, how close was your offensive philosophy to his?
KF:
One of the things that really impressed me so much is his experience with various styles of offense. He's been with a lot of different types of players, quarterbacks, going back to Eric Zeier at Georgia, the guys he worked with at North Carolina, and at Texas, they ran several styles of attack. There was a lot of evolution when they got Vince Young. The thing is, he has a system that's been proficient and that he's comfortable with. It really is very flexible and adaptable. That part has all been good.
Very impressed with Greg, starting with all the recommendations I got, people who I have a lot of respect for in football who spoke so highly of him as a coach and so highly of him as a human being. And after a month of being with him, I can see why all of those things were said. He's really been tremendous. We've been fortunate to have great coaches here. You're always a little nervous when you lose somebody as good as Ken, but Greg has been outstanding.
I read your comments from the other day and wanted to clarify something. Did you expect to make some changes even if you didn't have the coordinators leaving?
KF:
Absolutely. I was entertained a bit reading the reports of the press conference. The headlines were a little bit overstated. But that was something Ken and I had talked about, and Norm [Parker] and I had talked about as the year went on last year. You're 13 years into it, and we're all feeling good about being here such a long period of time. The great thing about stability is we all know each other.
But the other point, too, and every year you look back at things, but I remember specifically in Cleveland one year in '94 where we looked back and went through our playbook step by step. Steve Crosby had become our coordinator after the '93 season. We went through everything. The advantage of doing it is if you've been somewhere for a while, you add this one year and then you add that, and things don't always mesh or make as much sense as they should, so there's a cumulative effect there. So it's a good exercise to do, and I think it was time for us to do that regardless. And in the case of getting new coordinators, you have to do that anyway. It's been really healthy, it's been invigorating, and hopefully we'll be a more efficient operating group here moving forward.
You've talked about wanting to see better execution. What can you stress in the spring to help you execute better as a team?
KF:
That's always the challenge in football. There were complaints about us. The perception is we're a conservative offense, and we threw the second-most amount of passes we had in 13 years last year, so I said they must have been conservative passes because we didn't get any credit for that. But overall, that's the name of the game, whatever you're doing, offensively, defensively or special teams, the key is how you execute those things. Certainly what you call can affect that, but at the end of the day, it's about the team that executes the best. That's the never-ending battle.
You have some guys out on the defensive line, but it's definitely one of the younger groups you've had there. With Reese Morgan moving over to that side, how do you see that group shaking out in the spring, and how will Reese's experience help there?
KF:
It's maybe not identical, but it's similar to what we went through in 2005. We graduated four guys that were all in NFL camps after that season. Three of those guys are still active players -- Jonathan Babineaux, who's done a good job in Atlanta; Matt Roth's had a nice career; Derreck Robinson continues to be rostered; and Tyler Luebke is the other guy, was with the Redskins as a free agent. That's the price you pay when you graduate some good players. The last two years we've had a high number of seniors go out both years, and some NFL players in that group. It's something we anticipated, we knew it was going to be a challenge, but all that being said, we're optimistic.
One of my motivating factors for moving Reese over to that spot is Reese is just a tremendous teacher. That's the No. 1 thing I saw in him when we hired him here. He took Pat Flaherty's spot. He's a real builder, and he's done that with the offensive line. You look at last year, we had
Riley Reiff
, who people are talking about, but we also had
Markus Zusevics
and
Adam Gettis
, who both I think are going to get drafted here. They were both roughly 225, 230 [pounds] when they came out of high school and built themselves into players. Reese was a key component of their development, and that's what he does a great job of. I think we've got the right guy with the right group. We've got a lot of work to do, but at the end of the day, that group will be fine, just like in '05.
What would you like to see out of James [Vandenberg] during the spring?
KF:
Just continued improvement. We expect him to play his best football next year and lead even better than he did. He played well last year and he led well, but he's going to have to do better. With a young team like this, it's going to be imperative that our most experienced guys play their best and lead our football team. It sure helps when you're playing better. And he's totally capable. We have confidence in James.
Is Keenan [Davis] another guy who fits into that category, needing to play his best as an older guy?
KF:
Most definitely. If you look at the improvement
Marvin McNutt
made throughout his career, from making a move [from quarterback] in the middle of the '08 season, to the records he set, it didn't happen just by accident or just by him hanging around. He worked hard, he got better each year, and his hard work and effort, certainly in production and yardage, that's what we need from Keenan. Marvin's not here, quite obviously, so Keenan has to be the guy and take a very prominent role as a receiver. And he's certainly capable, so we expect to see that growth from him.
What would you like to see from the running back group by the end of the spring?
KF:
Development and maturation. We have three guys that are working at that position who are talented enough. They're all capable, but they're young.
Jordan Canzeri
missed a significant amount of time last year with a hamstring issue.
Damon Bullock
, we moved him around enough that it probably rendered him ineffective. We'll let him settle at the running back position. And we think
De'Andre Johnson
has potential as well, but he's got to mature. He missed his first year because he was coming off an ACL injury from high school, so he's a little bit behind that way. But he's got every opportunity to develop and be a good player. It sure would help our football team.
When you're this young, are you more tempted to play freshmen if they come in and show that ability, or do you have to work with the guys who have some experience?
KF:
We'll have a better grip on where we are at the end of spring practice. We're going to need some help at some spots, that's a given. Bottom line is for the most part, the guys that demonstrate they can play and help us, they're going to get that opportunity. We had the case with Allen Reisner. Back in '07, we had to throw him in. He was a true freshman. He wasn't necessarily ready to go, but we ran out of guys, so he had to go in there. We hopefully won't be in that situation. But anybody [who] can help us win next year, if it's special teams or on offense, defense, we'll give them an opportunity.
Greg came in from the outside, while Phil Parker has been there. What's it been like seeing him in this role? Do you see him putting his personality on the defense?
KF:
We're early into the process right now. To the casual fan, it's not going to look a lot different, probably, but there will be some subtleties and some things not only Phil, but the entire staff talked about. It's like anything else, you're always trying to evolve and progress, move forward a little bit without losing your identity. That's probably what you'll see from that group. Phil's a veteran coach. He's had several chances to leave here for BCS coordinator positions and has chosen to stay here, so I don't think there's any question he's ready to go. He'll do a great job. He's very detailed and he's a good leader.
From a leadership standpoint, do you have some guys in mind, especially on defense, who you could see moving into those roles this spring?
KF:
Most definitely. The guys that we're really counting on, you start with
Micah Hyde
. He's probably our most experienced player on defense, most proven, so we're counting on that from him.
James Morris
and Chris Kirksey, they're only third-year students next year, but they've played a lot of football, too, and good football. They're playing a leadership position at linebacker. And up front, I'd say
Steve Bigach
's a guy we're really counting on to really help set the tempo of the group. He's already been doing that, and I think he'll do a good job.
February, 17, 2012
2/17/12
9:00
AM ET
The 2012 Big Ten season doesn't kick off for six-and-a-half months, but spring football is just around the corner. All 12 Big Ten squads will hit the field next month for the first of 15 spring practices. There are plenty of new faces, as the winter months brought an unprecedented number of coaching changes to the Big Ten. Should be a fun and exciting spring around the conference.
Let's take a quick look at the Leaders Division:

IOWA
Spring practice start date:
March 24
Spring game:
April 14
What to watch:
New coaching flavor: For the first time in the Kirk Ferentz era, Iowa will welcome new coordinators on both sides of the ball. Phil Parker isn't exactly new, having served as Iowa's defensive backs coach throughout Ferentz's tenure, but he now takes charge of the defense for the first time. Will he continue running Norm Parker's scheme or shake things up? Iowa also will have a new offensive coordinator (yet to be named) and several new position coaches, including Reese Morgan, who moves from offensive line to defensive line.
Running back auditions: Iowa once again needs to identify a featured back after Marcus Coker transferred to Stony Brook in January. Coker basically was the team's rushing attack in 2011, accounting for 77.3 percent of the rushing yards and 61.9 percent of the carries. Jordan Canzeri and Jason White will compete with several other unproven players this spring. The good news is Iowa has had little trouble developing backs. Keeping them is another story.
Reloading the defensive line: The running backs might get more attention, but defensive line is Iowa's most pressing need entering the spring. The Hawkeyes lose three starters from last season's squad, including NFL prospect Mike Daniels at defensive tackle. While D-line historically has been a strength for Iowa, the Hawkeyes haven't had so much uncertainty in quite some time. Morgan, who hasn't coached on the defensive side, has his work cut out this spring.

MICHIGAN
Spring practice start date:
March 17
Spring game:
April 14
What to watch:
Defensive line rotation: It's a good thing coach Brady Hoke and defensive coordinator Greg Mattison focus so much on the defensive line. The unit needs some extra attention this spring after losing standouts Mike Martin and Ryan Van Bergen. The defensive tackle spot will be particularly interesting. A lot of eyes will be on Will Campbell to see if the big man can finally blossom. Quinton Washington and others are in the mix.
Receiving orders: Michigan needs to develop more options in the passing game this spring. The team loses top wideout Junior Hemingway, and Darryl Stonum was dismissed from the squad in January following another legal issue. Roy Roundtree needs a big spring as he looks to re-establish himself as the team's No. 1 wideout after a production drop-off last season. Tight end Kevin Koger also departs, creating an opportunity for others.
Al Borges' offense, Take 2: The new offense had some highs and lows in Year 1, and Michigan will be looking to establish greater consistency this season. It'll be interesting to see how a full year in the system impacts quarterback Denard Robinson. Robinson must cut down on his interceptions after tossing 15 last season. The Wolverines also are looking for an offensive line anchor following the departure of All-American center David Molk.

MICHIGAN STATE
Spring practice start date:
March 27
Spring game:
April 28
What to watch:
Take it to the Max: Andrew Maxwell's time has arrived as he steps in for three-year starter and three-time captain Kirk Cousins at quarterback. It's a tall order, but Maxwell has been groomed for this moment and has shown good potential in practices. He'll be working with a new set of leading receivers, including Tennessee transfer DeAnthony Arnett, who hopes to be cleared to play for the upcoming season. Maxwell must establish himself as a team leader this spring.
We're not Worthy: All-American Jerel Worthy is gone, and Michigan State needs a replacement for the standout defensive tackle. While Anthony Rashad White returns at the other D-tackle spot, the Spartans don't have much overall depth at the position. It'll be interesting to see what the coaches do with Micajah Reynolds, who has bounced between defensive line and offensive line during his career. It's a big spring for Vanderbilt transfer James Kittredge and a host of players who redshirted last season, including Damon Knox.
Receiving orders: Arnett seemingly would be Michigan State's No. 1 receiver if he's ruled eligible by the NCAA, but there are no guarantees and the Spartans must identify other options this spring. Bennie Fowler showed promise in 2010 before being slowed by a foot injury last season. He needs a strong spring. Michigan State also is moving Tony Lippett back to receiver from cornerback, where he started several games last season. Lippett is an excellent athlete who can provide a boost on the edge. The Spartans also will be looking for more from tight end Dion Sims.

MINNESOTA
Spring practice start date:
March 22
Spring game:
April 21
What to watch:
The search for a pass rush: Minnesota should be improved on offense in Year 2 of the Jerry Kill era, but the team could sink or swim depending on the defense. It starts up front with a defensive line that hasn't generated much pressure for several years. Coordinator Tracy Claeys wants to be aggressive, but can he find difference-makers? The Gophers haven't had an elite pass-rusher since Willie VanDeSteeg in 2008.
Supporting cast on offense: Although quarterback Marqueis Gray had his ups and downs last season, he accounted for most of Minnesota's offense, leading the team with 966 rushing yards and six rushing touchdowns. Gray needs more help if the Gophers intend to take the next step this season. Minnesota will be looking for a featured running back this spring, as Donnell Kirkwood and others are in the mix. The Gophers also need more options at receiver after losing Da'Jon McKnight.
Troy Stoudermire: Stoudermire turned heads last spring with some big hits from the cornerback spot. After receiving an additional year of eligibility from the NCAA in January, he'll look to deliver more punishment. Minnesota desperately needs leaders and playmakers to emerge in the secondary, and Stoudermire's return could be huge after he missed most last season with a broken bone in his forearm.

NEBRASKA
Spring practice start date:
March 10
Spring game:
April 14
What to watch:
Star search on defense: No Big Ten defense loses more star power than Nebraska, which must replace linebacker Lavonte David and cornerback Alfonzo Dennard, the league's top performers at their respective positions. David's departure is especially critical, as Nebraska lacked depth in its defensive midsection last season. Although Nebraska played most of the past season without defensive tackle Jared Crick, it needs some difference-makers to emerge in all three levels of the defense this spring.
Papuchis takes over: Like Iowa, Nebraska promoted a position coach to defensive coordinator, as John Papuchis takes control of a unit that fell short of expectations last season. Papuchis is young and energetic, and his rapid rise mirrors that of his boss, Huskers head coach Bo Pelini. Although no system overhaul is expected, it will be interesting to see how Papuchis puts his imprint on the defense this spring.
Taylor Martinez's maturation: Despite two years as the starter and the support of his coaches, Martinez enters a pivotal spring. Although Martinez remained healthy last season and showed improved decision-making at times, he also completed just 56.3 percent of his passes and didn't break off as many long runs. A full year in Tim Beck's offense could pay off for Martinez this spring, but he needs to continue to make strides. It will be interesting to see if the coaches even entertain the possibility of a competition, or if backup Brion Carnes gets more reps.

NORTHWESTERN
Spring practice start date:
March 3
Spring game:
April 14
What to watch:
Colter and the QB race: Northwestern will have a quarterback competition this spring as it looks for Dan Persa's replacement, but the hope among many is for Kain Colter to take control. Colter stepped in for Persa last season and emerged as the team's best all-around offensive weapon. But he needs to improve his arm strength and his accuracy and show he can be a more complete quarterback at this level. Although Colter will be on the field no matter what in the fall, he has the opportunity in spring ball to solidify himself as the starting quarterback.
Young defenders: The defense has been a big problem for the past year and a half, and Northwestern needs to identify more playmakers before September. The good news is the Wildcats played a lot of young players last season, particularly late in the season. Northwestern needs its youth to mature, beginning in the spring. Keep an eye on players such as defensive end Tyler Scott, safety Ibraheim Campbell, linebacker Collin Ellis and cornerback Daniel Jones. Northwestern needs several of them to take the next step.
Spotlight on the secondary: Few Big Ten units struggled more than Northwestern's secondary did last season. Making matters worse, the Wildcats lose three starters, including All-Big Ten safety Brian Peters and cornerback Jordan Mabin, a four-year starter. If Northwestern ever intends to turn the corner as a program, it needs to build better depth in the secondary, whether it's through recruiting or from moving players from other positions. It'll be interesting to see how the group performs this spring.
February, 8, 2012
2/08/12
7:48
PM ET
Iowa fans grew antsy while waiting nearly two months for head coach Kirk Ferentz to name successor to Norm Parker at defensive coordinator. But Ferentz said Wednesday that he wanted to take his time with the decision, which resulted in defensive backs coach Phil Parker (no relation) being promoted on Tuesday.
"I just didn't see any advantage to moving quickly," Ferentz said at a news conference. "Unless you have to, there's no real advantage to that. So I just wanted to kind of sift through it, and I'm really glad that I did because my mind was in a couple different places. ... You want to take your time and feel really good."
Ferentz said he eventually settled on Parker -- who has spent the past 13 years coaching the Hawkeyes secondary -- as the best fit for the program. He said Parker has had opportunities to leave to go to other BCS teams, including a top-10 program that offered him a coordinator spot.
[+] Enlarge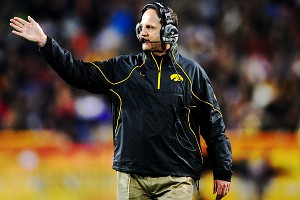 Mark J. Rebilas/US PresswireIowa coach Kirk Ferentz, after some deliberation, promoted longtime assistant Phil Parker, seen here in 2010, to defensive coordinator.
Ferentz did not announce a new offensive coordinator or any specific plans to fill the role vacated when longtime playcaller Ken O'Keefe left for the Miami Dolphins last week. He said he knew about O'Keefe possibly leaving as soon as Joe Philbin -- a friend of O'Keefe's -- got the Dolphins job. Expect Ferentz to take his time with this hire, too, even though current assistant Erik Campbell looks like a strong candidate to become another in-house promotion.
In some ways, it's understandable why Ferentz isn't making these decisions quickly. After all, O'Keefe and Norm Parker were the only coordinators he'd had at Iowa until this point.
"We probably cheated time here a little bit," he said. "I don't think anybody envisioned the head coach or two coordinators making it for 13 years. ... Right now, I'd settle for 10 out of the next two guys. That would be great if we could get 10 I'll be, what, 66. I'll have to figure that out then. Somebody will feel sorry for me and come join us at that point."
Some other notes from Ferentz's press conference:
He explained his surprising decision to move offensive-line coach Reese Morgan to the defensive line by saying Morgan is an excellent teacher. The Hawkeyes will be very young on the D-line next season, and Ferentz felt Morgan was the right guy to get that group up to speed. He pointed to Morgan's excellent work of developing offensive linemen, including projected 2012 NFL first-rounder Riley Reiff, who came to school as a defensive end prospect.

With the offensive line job open, speculation is rampant that Ferentz will hire his son Brian, currently a New England Patriots assistant, to coach that position. The elder Ferentz addressed that by saying he's "open to anything" but added that his son has a pretty good job right now.

LeVar Woods was elevated from administrative assistant to a temporary coach during recruiting, and most expect him to be named the full-time linebackers coach. "He's still the interim coach as far as I know, at least," Ferentz said. "He's certainly interested in working here, and we'll let him go through the process. Hopefully he'll do well in the weeks ahead here and we'll find a seat for him."

Ferentz said he didn't think the athletic department's budget would be an issue in hiring new assistants. But he also added, "I don't think we're going to try to sign a superstar coach or anything like that."

A lot of Iowa fans wanted some change in the staff and many criticized O'Keefe's conservative game plans. Ferentz didn't rule out a major change with the new offensive coordinator, but odds are more likely that Iowa's style of play will look mostly the same. Ferentz said his next coordinator has to "believe in blocking" first and foremost. "As a head coach what I'm interested in is we've got to block. We've got to make the make-able plays and make sure we're doing a good job in turnover ratio. I think that's really critical if you're going to try to get somewhere."

Iowa will move the start of its spring practice back a couple of days, and Ferentz would like to have the staff complete before the Hawkeyes get going in late March. But, again, moving fast is not his top priority. "Right now I think we've just got to make sure it's the right guy, certainly before we leave on spring break. ... Spring ball to me is about teaching the basics. It's about executing basic plays and just getting things taught. We have a very young team right now so it's not like we can be on page 7 anyway, so we really have to start at the beginning. So I think that gives us a little wiggle room there, too."
February, 7, 2012
2/07/12
7:05
PM ET
Iowa waited nearly two months to promote a position coach to a coordinator role. And that's not even the surprising part of the Hawkeyes' announcement Tuesday.

Phil Parker is Iowa's new defensive coordinator. After spending the past 24 seasons coaching defensive backs, the past 13 at Iowa, Parker now will lead the Hawkeyes' defense. He replaces Norm Parker, who announced his retirement in December. Although Phil Parker, who isn't related to Norm, had been mentioned as a top candidate when Norm announced his retirement, the likelihood of a promotion seemed to decrease as the days went on with no announcement from Kirk Ferentz.
Some Iowa fans had been gearing up for a big-splash hire, whether it was Mike Stoops back in December or former Michigan defensive coordinator Jim Herrmann in recent days. The big splash never happened, and Phil Parker gets the job. Expect him to maintain a similar defensive philosophy after working under Norm Parker for so long.
OK, so here's the surprising part: Reese Morgan, Iowa's offensive line coach for the past nine seasons, is moving to defensive line. He replaces Rick Kaczenski, who left in December for the same post on Nebraska's staff. Morgan has only coached offense at Iowa, working with the team's tight ends from 2000-2002 after serving as a high school coach in Iowa City.
Morgan's move is, well, odd. Defensive line is Iowa's biggest question mark entering 2012 -- yes, even bigger than running back -- so we'll see early how Morgan fares with the transition.
Ferentz also announced that Darrell Wilson will move from linebackers coach to defensive backs coach. Iowa has one defensive staff vacancy to fill, and administrative assistant LeVar Woods, a former Hawkeyes linebacker, likely will be named the team's linebackers coach. Woods' appointment makes a lot of sense.
"Phil, Darrell and Reese have all done an outstanding job in our program for a significant period of time," said Ferentz. "I am confident they will have a very positive effect on our team as we transition forward."
Ferentz, who has a news conference scheduled for 5 p.m. ET Wednesday, still must name an offensive coordinator to replace Ken O'Keefe, who left last week for a post on the Miami Dolphins' coaching staff. He also must name an offensive line coach to replace Morgan.
Tuesday's announcement increases speculation that Brian Ferentz, Kirk's son and a New England Patriots assistant coach, will return to Iowa City in an assistant role. Don't be shocked to see Brian Ferentz named Iowa's offensive line coach.
That leaves the coordinator role, which could go to wide receivers coach Erik Campbell, if Ferentz once again promotes from within.
Should Ferentz go that route, he would be reaffirming faith in his guys rather than outsiders. The moves likely won't go over well with Iowa fans, who have seen the same two coordinators throughout Ferentz's tenure. Many fans naturally want big-splash hires from the outside. Phil Parker certainly isn't, and Campbell would fit into the same category. I think promoting Campbell makes a lot of sense, as he has paid his dues as a position coach.
We should learn more about Iowa's coaching plans Wednesday, so stay tuned ...