NCF Nation:

Reggie Brooks
September, 2, 2013
9/02/13
5:15
PM ET
When Caroline Pla was younger, her grandfather brokered a deal with her and her three siblings:
If one of you goes to Notre Dame, I'll pay for your tuition.
So Caroline started watching Notre Dame games. And she watched her older brother's Pop Warner games. Intrigued, she started playing flag football as a kindergartener. She moved on to tackle in second grade. That eventually became a problem for some folks back in Doylestown, Pa., a Philadelphia suburb, where she was kicked off her local CYO team.
That didn't sit well with the Plas. Caroline and her family waged a campaign that drew national headlines, including a January spot on "The Ellen DeGeneres Show." There, Caroline said her favorite team across all levels of football was Notre Dame. As the segment ended she found out she would be a guest of the program for its 2013 opener. And seven months of anticipation commenced.
"It just seemed like the months went by so slowly whenever I thought about it," Caroline said. "And then last week came and I was like, 'Oh my gosh, I'm going to Notre Dame,' and I got excited and started packing and got stuff ready."
[+] Enlarge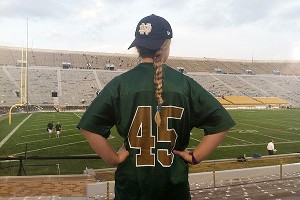 Courtesy of Pla familyCarolina Pla was awestruck on her visit to Notre Dame last weekend.
Caroline, her parents and two of her siblings arrived in town on Thursday, taking in Brian Kelly's radio show at Legends, where she was able to meet the fourth-year Irish coach. The next day, the family took in the Friday football luncheon before touring the Joyce Center and meeting former All-America running back Reggie Brooks, now the Irish's alumni relations director. Next came a locker-room tour, the obligatory tapping of the "Play Like A Champion Today" sign, a walkthrough of the football complex and a gift -- a regulation-size gold Notre Dame helmet, or as Caroline put it, "the greatest gift ever."
The pep rally followed, with the Plas then watching Saturday's tilt from seats behind the Temple sideline, near the stadium tunnel. Field passes allowed the family access to players afterward, where Caroline received autographs and a mini-pep talk from her favorite player, captain
TJ Jones
.
"Disney World on cleats," Seal Pla, Caroline's mother, said, describing her children's reactions to the weekend.
Caroline has more on her plate this weekend, as she will play her first game for the varsity Romans, composed of seventh- and eighth-graders. The Archibishop of Philadelphia gave co-ed ball the OK back in March, reversing course after putting the kibosh on Caroline's two-year career in the league on the junior varsity.
There, she was one of the tallest players among the younger age group. Now she will be trying her hand at offensive guard and defensive end against older, bigger players.
She will have a bit of a cheat sheet from her 15-year-old brother, George, who is now a high school wide receiver. Caroline first watched George take the field as a 5-year-old, when he first began to serve as her inspiration to shun soccer like most of her friends in favor of fall weekends on the gridiron.
Caroline is still only a seventh-grader, so she has five years before she has to live up to her end of her grandfather's bargain. Wherever she ends up, though, will likely pale in comparison to this past weekend's events.
"It was just so much fun, even from the first minute we got there, just seeing the campus for the first time," Caroline said. "I always wanted to see it in real life. It was bigger than I expected, and all of the buildings were older and pretty. And then we saw the stadium, and it was really loud and big and overwhelming."
August, 6, 2013
8/06/13
9:00
AM ET
SOUTH BEND, Ind. -- Casey Coy picked
TJ Jones
up from the Courtyard Tampa Downtown on July 12 and took him less than 2 miles to his workplace, the Florida Aquarium. There, the lifelong Notre Dame fan and Notre Dame's top receiver engaged in something of a experiment for both parties.
Coy, the aquarium's director of dive operations, had never instructed a job shadower with a background quite like Jones' -- an elite-level, team-sport athlete who is closing in on an NFL career. Jones, who tied for the team lead last season with 50 catches for the 12-1 Irish, had only one previous encounter with underwater animals.
[+] Enlarge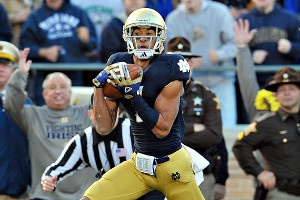 Matt Cashore/USA TODAY SportsTJ Jones, who tied for the Irish lead with 50 receptions last season, spent the summer working with marine animals.
At SeaWorld. On a family trip. As a 10-year-old.
"It's really just something that never left my mind," Jones said Sunday of that trip, some 11 years ago. "I don't know why, but I have a weird fascination with marine mammals, and when I go to SeaWorld I feel like a little kid. When I go watch the Shamu Show, I'm almost in awe of the creatures, their abilities, how those people get to work with them every day. It's just something that's never left my mind, that I wish or hope to do after I graduate."
So the film, television and theatre major reached out to football alumni relations point man Reggie Brooks, acting on an itch that he just could not shake. Brooks hooked him up with Coy, who welcomed Jones aboard last month for a 2-day venture that validated the senior's instinct, placing him in the path of sharks, turtles, eels and other sea creatures inside a tank.
Swimming eye-to-eye with some sharks that he said weighed 300 pounds, Jones was able to muster self-control, adapting early and re-enforcing the initial impulse that told him this could turn out to be something more than just a one-time foray.
Just ask the 19-year diving veteran who helped show him the ropes.
"His confidence, it's very rare," Coy, a Colorado graduate, said. "I've been diving since 1981, and I'm a pretty confident person. He was unique in that area. I put him in right away with the big sharks and with the surface supply training, which is not normal for a brand new diver and a brand new candidate to come in and be able to just do it in short order, and he was able to do that. So I think that speaks to his confidence in himself and also his pro-activeness in terms of knowing what he wants to do and knowing that if he wants to get into this field he needs to be able to do these things."
"Whatever anxieties he may or may not have had," Coy later added, "he didn't share them verbally."
Nor did he allow himself to think them.
"My thing was, 'Don't panic, you're in the water, you have every disadvantage to their advantage,'" Jones said of sharks. "So if I was to panic or if something was to go wrong, it's probably going to be over for me. I wasn't going to make it out with me being underwater and being at such a disadvantage, so regardless of how I was feeling or any jitters I may have had, I just tried my best to keep calm."
The Midwest has hardly been the ideal place to pursue a career in the field. So Coy put Jones in touch with Lindsay Huebner, a senior divemaster and dive trainer who just happened to be a 2008 Notre Dame graduate.
"I went through similar circumstances as him," said Huebner, who majored in biological sciences and interned with the Central Caribbean Marine Institute in the summer before her senior year. "While I was at Notre Dame, I was really interested in marine sciences, so you start looking for opportunities elsewhere. And it was a lot of fun having him here because he was really enthusiastic and was really excited to pick up as much as he could."
Jones grew to feel at home in the water by the end of his stay. He plans to keep in touch with Coy and Huebner, having emailed both in the days afterward to thank them for the introduction.
For now, though, those dreams are back on hold, as Jones tends to one last piece of business in the field that will likely soon become his business after Notre Dame.
"You figure if he is going to jump into a tank of sharks, he's going to go over the middle without any fear," said coach Brian Kelly, who anointed Jones as a potential first-round NFL draft pick. "I was pretty excited it was T.J. Jones in there."