NCF Nation:

Reggie Williams
August, 23, 2011
8/23/11
1:00
PM ET
CBSSports.com's Brett McMurphy looks at the biggest
AP preseason poll busts
since 2001, and three Pac-12 teams make the list.
2002: No. 9 Washington (finished 7-6)
2001: No. 11 Oregon State (finished 5-6)
2009: No. 12 Cal (finished 8-5)
Easy to remember each of those teams.
The 2002 Huskies featured quarterback Cody Pickett, who passed for 4,458 yards that season, and wide receiver Reggie Williams. The season began with a last-second loss at Michigan due to a
massive coaching blunder
that cost the Huskies the game. Said then-coach Rick Neuheisel: "We switched substitution groups, which we're going to kick ourselves about for a thousand years."
The Huskies seemed to lose their mojo, but they then rallied for three consecutive wins to finish the regular season -- Neuheisel memorably created the "Northwest Championship" -- over Oregon, Oregon State and Washington State to earn bowl eligibility.
That Oregon State team was touted -- Sports Illustrated ranked the Beavers preseason No. 1 -- after an 11-1 finish in 2000, with quarterback Jonathan Smith and running back Ken Simonton returning. Things immediately fell apart with a blowout loss at Fresno State. A 1-3 start, in fact, featured a 38-7 home loss to UCLA.
As for Cal, at least one writer [insert uncomfortable cough] celebrated the 2009 Bears as a potential national title contender. (They
were
stacked with talent: backs Jahvid Best and Shane Vereen, defensive ends Cameron Jordan and Tyson Alualu, linebackers Mike Mohamed and Devin Bishop, cornerback Syd'Quan Thompson, etc.) After a 3-0 start, the Bears headed to Oregon ranked sixth.
SPLAT! Cal goes down 42-3. The next weekend, just in case we didn't get the message, USC ripped the Bears 30-3 in Berkeley. Suffice it to say, there was nothing subtle about Cal's unmasking.
Here's this year's preseason top 10. So who becomes the bust this year?
1. Oklahoma
2. Alabama
3. Oregon
4. LSU
5. Boise State
6. Florida State
7. Stanford
8. Texas A&M
9. Oklahoma State
10. Nebraska
June, 30, 2011
6/30/11
1:53
PM ET
ESPN.com has been doing a series on great college players who didn't pan out in the NFL -- "
Simply Saturday
," -- which has featured a number of Pac-10 players, including Washington's Steve Emtman and USC's Matt Leinart.
Interesting stuff.
But ESPN.com's Bruce Feldman, who is always working the angles, decided to take a look at
NFL stars with so-so college careers
, and his list also includes some Pac-12 guys: USC linebacker Clay Matthews, Oregon State wide receiver Chad Ochocinco and California cornerback Nnamdi Asomugha.
He ranks Matthews No. 2. Notes Feldman:
No NFL player has better bloodlines than Matthews, but when he was coming up as a recruit he was a wiry, undersized, off-the-radar prospect who reportedly only weighed 166 pounds as a backup LB-TE for Agoura (Calif.) High. Matthews stared to sprout in his senior year, yet still only had one scholarship offer -- from former USC assistant Nick Holt at Idaho.
Sure, Matthews blossomed as a junior and senior. But he never really was seen as the brightest star in the constellation that was the Trojans' 2008 defense.
Still, Oregon's Nick Reed and Oregon State's Victor Butler were the first-team All-Pac-10 defensive ends. Matthews proceeded to wow scouts with his explosiveness and determination. Green Bay drafted the one-time walk-on 26th overall, and he has rewarded them with two spectacular seasons, going to back-to-back Pro Bowls and winning NFC Defensive Player of the Year honors, while helping lead Green Bay to a Super Bowl victory.
Ochocinco rates No. 4.
The Miami native didn't spend much time in the Pac-10 -- just one season at Oregon State. The receiver, then known as Chad Johnson, did flash some big-play potential during his time in Corvallis, catching 33 passes for 713 yards. He also flashed a lot of personality on his way to the draft, as you can tell if you read this old Q&A he did with Mel Kiper Jr., who at one point asks: "When all is said and done, how do you want people to remember Chad Johnson?"

Johnson's response: "As a very humble, nice person who had no off-the-field problems."

I'm not sure how many will recall the Cincinnati Bengals star as "humble," but he certainly has produced, notching seven 1,000-yard receiving seasons and going to six Pro Bowls. In truth, he'd be even higher on this list, but at 33, he has dipped some in the last three years.
Asomugha is No. 5.
Oakland certainly didn't whiff on this pick. Asomugha has emerged as a true shutdown corner, earning trips to the past three Pro Bowls. He's also as good as they come off the field, winning NFL Man of the Year honors, too.

He had a good but not great career for the Bears, getting chosen as an honorable mention All-Pac-10 pick as a senior. Some great individual workouts took a guy who some touted as a fifth-rounder all the way up into the first round when the Raiders selected him 31st overall.
On a personal note, I covered Asomugha's coming-out game: a 34-27 Cal win at Washington in 2002, which ended a 19-game Huskies winning streak in the series. In that game, Cal matched Asomugha, previously a safety, on All-American receiver Reggie Williams. Asomugha's physical style --
read here to see what Williams thought of it
-- threw the Huskies' passing game out of sync.
Bet more than a few Cal fans remember that game fondly.
January, 19, 2010
1/19/10
9:07
AM ET
The assignment: Rank the top-10 Pac-10 players of the decade.
Gulp.
The list of folks not on this list includes numerous consensus All-Americans, award winners and record-setting players. So feel free to disagree.
And, yes, NFL success sometimes functioned as a tiebreaker, which is why Reggie Williams, Mike Williams, Rien Long, Dave Ball, J.J. Arrington, Mike Hass and Derek Hagan, among others, are not on this list.
Every player on this list, other than Steven Jackson, was a consensus All-American.
10.
Troy Polamalu, S, USC
: Pete Carroll's first great defensive player, he was a two-time All-American. The 16th overall pick in the 2003 draft and five-time All-Pro is on track for a Hall of Fame NFL career.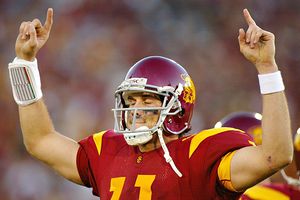 Christian Petersen/Getty ImagesUSC quarterback Matt Leinhart led the Trojans to three national championship game appearances.
9.
Antoine Cason, CB, Arizona
: The four-year starter grabbed 15 career interceptions and won the the Thorpe Award as the nation's best defensive back in 2007. He was the 27th pick (San Diego) of the 2008 draft.
8.
Haloti Ngata, DT, Oregon:
The 345-pounder was the best run stuffer the Pac-10 has seen of late. He blocked seven kicks at Oregon and piled up 17.5 tackles for a loss his final two seasons before becoming the No. 12 pick in the 2006 draft (Baltimore).
7.
Dwayne Jarrett, WR, USC
: What separates Jarrett from the conference's other All-American receivers is simple: His 41 career touchdown receptions are nine more than any other player in Pac-10 history.
6.
Steven Jackson, RB, Oregon State:
Jackson's NFL career has proven that he was ridiculously underrated in college. He finished with 3,625 career rushing yards, which ranks 11th on the Pac-10 career list, and 46 career touchdowns.
5.
Toby Gerhart, RB, Stanford
: The 2009 Heisman Trophy runnerup finished with 3,522 career yards and 44 touchdowns.
4.
Terrell Suggs, DE, Arizona State
: In 2002, he set an NCAA record with 24 sacks and Pac-10 record with 31.5 tackles for a loss. He won the Lombardi Trophy as the nation's best defensive lineman and the Nagurski Award as the nation's best defensive player.
3.
Reggie Bush, RB, USC
: He won the 2005 Heisman Trophy after finishing fifth the year before. He led the nation with 222.3 all-purpose yards per game and set the Pac-10 record for total yards from scrimmage with 513 (294 rushing, 68 receiving, 151 return) against Fresno State. And every time he touched the ball, everyone held their breath.
2.
Carson Palmer, QB, USC
: He won the 2002 Heisman Trophy and his 11,818 career yards passing is No. 1 all-time in the Pac-10.
1.
Matt Leinart, QB, USC
: He won consecutive national championships and the 2004 Heisman Trophy. In 2005, he finished third in the Heisman voting and lost the national championship game to Texas. He owns the Pac-10 single-season (38) and career (99) records for touchdown passes.
May, 12, 2009
5/12/09
2:30
PM ET
Posted by ESPN.com's Ted Miller
Son, if you really want something in this life, you have to work for it. Now quiet! They're about to announce the lottery numbers.