NCF Nation:

review/preview 2010
October, 25, 2010
10/25/10
2:19
PM ET
It feels a little like 2007 nationally. It feels kind of like 2004 in the Big East. Let's talk about more recent history: last weekend's games.
Team of the week:
Syracuse. The Orange have won this award a lot this season already, but never have they been more deserving. They registered the program's biggest win in years and shook up the Big East race with a 19-14 statement victory at West Virginia on Saturday. Look out, Pinstripe Bowl!
[+] Enlarge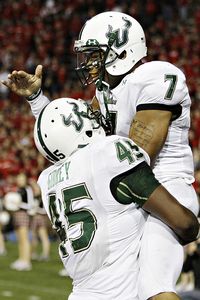 AP Photo/Al BehrmanQB B.J. Daniels [7] had a hand in four TDs during South Florida's wild win against Cincinnati.
Best game:
If nothing else, you can usually count on Cincinnati to deliver an entertaining shootout. The Bearcats oblige even if their opponent comes into the game with a sickly offense. That's what happened Friday night, when South Florida broke out of its shell for a 38-30 win at Nippert Stadium that included lots of big plays and a Cincinnati drive that fell just short at the end.
Biggest play:
Syracuse linebacker Doug Hogue intercepted West Virginia quarterback
Geno Smith
and returned it 49-yards to the Mountaineers' 12-yard line with about a minute left in the first half. That set up an Orange field goal that made it 19-14 at the half, gave his team all the momentum and forced West Virginia to go for the touchdown late.
Best call:
After Cincinnati was stopped on a fourth down in the third quarter, South Florida offensive coordinator Todd Fitch dialed up a sideline pass play from
B.J. Daniels
to
Faron Hornes
on the very next snap. Hornes got wide open, then raced past defenders for a 70-yard score and a 31-16 Bulls lead. I always love it when coaches go on the attack after a sudden change.
Big Man on Campus (Offense):
South Florida's Daniels. Amid heavy criticism, he responded with his best game, accounting for four total touchdowns and no turnovers.
Big Man on Campus (Defense):
Syracuse's Hogue. He had a pair of interceptions to go along with 10 tackles as West Virginia did not score in the final 46 minutes. Just call him Doug Huge.
Big Man on Campus (Special teams):
Louisville kicker Chris Philpott. A week after missing two crucial field goals in an eight-point loss to Cincinnati, Philpott responded by making all four of his tries against Connecticut, connecting on kicks from 39, 42, 26 and 24 yards.
Worst hangover:
West Virginia. From No. 20 in the rankings and feeling good about the season to losing to Syracuse at home while watching Pitt take over the Big East lead. Thank goodness the Mountaineers play on Friday night, because it's going to feel like an awfully long week for Bill Stewart.
Strangest moment:
South Florida brought heated benches and portable heaters to its sideline at Cincinnati. Game time temperature: 56 degrees. ESPN caught a funny pre-game moment when Cincinnati coach Butch Jones kidded USF's Skip Holtz about his team's overreaction to the weather.
Now let's peer into the immediate future of Week 9 (Games listed in descending order of interest/importance):
Louisville (4-3, 1-1 Big East) at Pittsburgh (4-3, 2-0):
Pitt will try to stay on top of the Big East standings against a feisty Louisville team.
(ESPN3.com, Noon ET)
Syracuse (5-2, 2-1) at Cincinnati (3-4, 1-1):
Can the Orange pull off yet another big road win? Can Cincinnati ever get it going?
(ESPNU, Noon ET)
West Virginia (5-2, 1-1) at Connecticut (3-4,0-2):
In the preseason, this looked like a game that could determine the Big East champ. Now it's a battle just to stay alive in the race -- or in UConn's case to stay alive for a bowl game.
(ESPN2, Friday, 8 ET)
Bye:
Rutgers, South Florida
October, 18, 2010
10/18/10
2:07
PM ET
There was nothing more significant that happened in Week 7 than the neck injury to Rutgers' Eric LeGrand. It's devastating, and fans from all schools have been sending in their prayers and condolences.
On to more trivial matters, as we review the games and action from the week.
Team of the week:
Pittsburgh. The Panthers haven't had much reason to celebrate this season, but a
31-point
road win against a Syracuse team that was jacked up on confidence will do the trick. Pitt fumbled away its nonconference opportunities, but it would be foolish to count this team out of the Big East race.
[+] Enlarge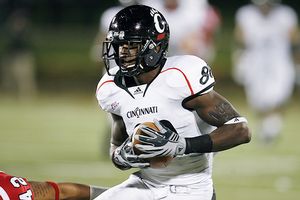 Jim Owens/Icon SMICincinnati receiver Armon Binns had three touchdown catches against Louisville.
Best game:
Cincinnati's
35-27
win against Louisville was far and away the most entertaining game of the week in the Big East. It was a shootout in the first half, as the Cardinals took a 24-21 lead into the locker room. The scoring slowed down in the second half, but there were many big plays, big performances and an exciting finish.
Biggest play:
Robert Sands' interception of South Florida quarterback
B.J. Daniels
in the final minute before halftime of West Virginia's
20-6
win on Thursday. The pick set up a Mountaineers' score right before intermission to make it 17-3 and put the game on ice. Lesson to USF coach Skip Holtz: Never let Daniels pass near the end of the half while in his own territory. That proved disastrous against both Florida and West Virginia.
Best call:
The touchdown set up by the Sands play was an exciting hook-and-ladder pass that
Jock Sanders
lateraled to
Noel Devine
. Gotta give credit to Bill Stewart and Jeff Mullen for that, especially after criticizing them for the double-pass play that failed against Maryland. But, actually, my award for best call involves the first West Virginia touchdown. The Mountaineers had their big-back look with
Ryan Clarke
and a fullback in the I, but
Geno Smith
faked the handoff and found a wide open
Brad Starks
for a 31-yard strike. West Virginia hadn't passed much out of that formation, and it clearly caught USF off guard.
Big Man on Campus (Offense):
Cincinnati receiver
Armon Binns
had eight catches for 175 yards and three touchdowns, including the game-clinching 62-yard score in the fourth quarter. Good to see Binns have a monster game after he'd been relatively quiet much of the year.
Big Man on Campus (Defense):
West Virginia cornerback Keith Tandy was burned repeatedly in last year's game against South Florida. On Thursday, he had 10 tackles, an interception and a forced fumble to prove he's no longer a weak link in the chain.
Big Man on Campus (Special teams):
Pitt's Dan Hutchins averaged 50 yards on five punts and had two downed inside the 20. He also made his lone field-goal attempt, a 24-yarder.
Strangest moment:
Rutgers seemingly had everything in place for a game-winning field-goal try against Army after rallying from a 17-3 deficit.
Chas Dodd
completed a pass to
Mohamed Sanu
at the Army 28 on first down. Then Dodd ran for a 2-yard loss, trying to get the ball to the middle of the field. Then Army called timeout, and Rutgers somehow got a delay of game penalty after that stoppage as Dodd couldn't find his helmet on the sideline.
Forced to run another play, Rutgers gave up a sack. And then Dodd threw an interception on fourth down, forcing overtime. Fortunately for the Scarlet Knights, they still went on to win.
"We fouled that thing up," head coach Greg Schiano said. "I've made a lot of really good, time-management decisions over 10 years, really good ones that have won games for us. That one could have lost the game for us. That's my job to take control, and that was a bonehead move by me."
Worst hangover:
Syracuse. The Orange kicked away a lot of momentum and fan excitement by losing 45-14 at home to Pittsburgh on Saturday. They surely thought they had improved to the point where they wouldn't get blown out at home like that in a conference game. You could sense the resignation by the home fans, many of whom headed for the Carrier Dome exits midway through the third quarter.
Now let's look ahead to Week 8, the first week when all eight Big East teams are squaring off head-to-head in conference play (Games listed in descending order of importance/interest):
Rutgers (4-2, 1-0 Big East) at Pitt (3-3, 1-0):
The only matchup featuring two teams with undefeated Big East records. Rutgers had owned this series until Pitt struck back last year. How will the Scarlet Knights react after the LeGrand injury?
(ESPN3.com, Noon ET).

Connecticut (3-3, 0-1) at Louisville (3-3, 0-1):
The past three games in this series have all been close, with UConn winning all three. One of these two teams will essentially be out of the Big East race by Saturday night.
(ESPNU, 3:30 ET)
Syracuse (4-2, 1-1) at No. 20 West Virginia (5-1, 1-0):
How do the Orange bounce back while taking on what looks like the best team in the league? Can the Mountaineers keep things rolling and avoid a letdown?
(ESPN2, Noon ET)
South Florida (3-3, 0-2) at Cincinnati (3-3, 1-0):
Two teams going different routes, as the Bearcats have turned it on offensively, while the Bulls continue to search for answers on that side of the ball.
(ESPN2, Friday, 8 ET)
October, 11, 2010
10/11/10
2:08
PM ET
The ever-living ghost of what once was ...
Team of the week:
(Tie) Syracuse and Rutgers. The Orange beat South Florida for the first time ever and did it on the road, no less, to move into a tie for first place ridiculously early into Big East play. And the Scarlet Knights, after receiving much criticism (including from this corner) for their performances against Tulane and North Carolina, rebounded to win their conference opener against Connecticut.
Best game:
The UConn-Rutgers game was close, as it almost always is, and it came down to a San San Te field goal with 13 seconds left as the Scarlet Knights escaped 27-24.
Biggest play and best call:
Rutgers quarterback
Chas Dodd
's 52-yard touchdown pass to
Mark Harrison
with a little over four minutes left tied the score at 24. Dodd faked a swing pass to
Jordan Thomas
and found Harrison all alone down the sideline.
Best drive:
Syracuse went 98 yards in the fourth quarter to score the game's lone offensive touchdown in its 13-9 win over South Florida. The drive included only two plays of longer than 8 yards as the Orange methodically matriculated the ball downfield.
[+] Enlarge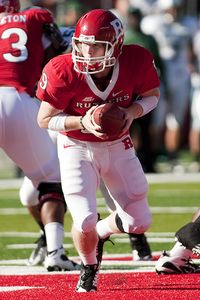 Duncan Williams/Icon SMIRutgers' Chas Dodd has performed well since earning additional playing time.
Big Man on Campus (Offense):
Dodd. Several players posted huge statistics this week in blowouts, but no one energized an entire fan base that so needed something positive like the true freshman quarterback. He had 322 yards passing and two touchdowns in his first start and may have Wally Pipp-ed
Tom Savage
.
Big Man on Campus (Defense):
Craig Marshall, DE, South Florida. It came in a losing cause, but Marshall was huge for the Bulls. He had eight tackles and tied a school record with three sacks.
Big Man on Campus (Special teams):
Nick Williams
, KR, Connecticut. His also came in a losing effort, but Williams delivered a 100-yard kickoff return for a touchdown for the Huskies.
Strangest moment:
Pitt's late-game strategy against Notre Dame. The Panthers took over at their own 10 with 4:45 left, trailing by six. They proceeded to call two straight running plays to
Dion Lewis
, followed by a short pass to
Jon Baldwin
that was batted down at the line of scrimmage. Then, facing a fourth-and-5, Pitt called one of its three timeouts -- in order to set up a punt. It is sequences like that which cause people to question Dave Wannstedt's coaching acumen and conservative philosophy.
Biggest hangover:
Connecticut. South Florida lost at home, which is bad. But no one really expected the Bulls to win the Big East this season. The Huskies were considered a contender, and they came into the Rutgers game with all the momentum on their side. Instead, they turned in a lackluster second half and failed yet again to beat the Scarlet Knights. Now at 3-3, the hopes for a breakthrough season have all but evaporated.
Now let's look at Week 7, which offers a short, but mostly meaningful slate (Games listed in descending order of interest/importance):
Pittsburgh (2-3) at Syracuse (4-1, 1-0 Big East):
Are the Orange for real? Can they really get to 2-0 in league play? And how will Pitt respond entering conference action? Lots of intriguing angles here.
(ESPN3.com, Saturday, Noon ET)
South Florida (3-2, 0-1) at West Virginia (4-1):
The Mountaineers begin Big East play against a team that has been their nemesis in recent years. It could be payback time.
(ESPN, Thursday, 7:30 ET)
Cincinnati (2-3) at Louisville (3-2):
The Cardinals are looking pretty feisty right about now, and this could be a real tug-of-war for the Keg of Nails.
(ESPN, Friday, 8 ET)
Army (4-2) at Rutgers (3-2, 1-0):
Army looks much improved and just waxed the same Tulane team that won in Piscataway two weeks ago. (Saturday, 2 ET)
Bye:
Connecticut
August, 30, 2010
8/30/10
8:42
AM ET
It's game week.

Man, that feels good to write, and I'm sure it sounds pretty good to you as well. As regular readers of this space know, on Monday mornings during the season we review the previous weekend and preview the coming week. Since there's nothing yet to review, this is simply a preview of the first slate of games involving Big East teams.

As always, games are listed in descending order of interest/importance (all times Eastern; all games Saturday unless noted).

Connecticut at Michigan (3:30 p.m., ABC regional): An intriguing matchup for both sides. UConn fans are as optimistic as they've ever been, while the Wolverines desperately need to start off on the right foot. And it will be in a bigger Big House.

No. 15 Pittsburgh at Utah (8:30 p.m., Thursday): Pitt puts its preseason ranking and Big East favorite status on the line right away at perennially strong Utah. A rematch of the 2005 Fiesta Bowl, which itself was a mismatch.

Cincinnati at Fresno State (10 p.m., ESPN2): The two-time defending Big East champions don't get an easy start to the Butch Jones era, as the Bearcats must travel across the country and take on a known giant killer. Cincinnati fans will need plenty of coffee on Saturday to stay up for this one.

Kentucky at Louisville (3:30 p.m., ABC regional): The Governor's Cup rivalry doesn't have the national interest it generated a few years ago, but it's still the first game for the Cardinals under Charlie Strong in their newly renovated stadium. And it's still one of the top Week 1 rivalries.

Syracuse at Akron (6 p.m.): Slightly tricky road game for the Orange, who can easily get off to at least a 3-1 start this season if they handle the opener.

Coastal Carolina at No. 25 West Virginia (3:30 p.m., ESPN3.com): Should be nothing more than a tune-up for the Mountaineers and a chance for new starting quarterback Geno Smith to gain confidence.

Stony Brook at South Florida (7:05 p.m., ESPN3.com): Of the three first-year coaches in the Big East, Skip Holtz has far and away the easiest debut. Then again, he has to go to The Swamp in Week 2.

Norfolk State at Rutgers (7:30 p.m., Thursday, ESPN3.com): Notable only because it's technically the first game of the year by a Big East team.