December, 12, 2012
12/12/12
9:00
AM ET
Head coaches are like quarterbacks. They get too much credit and too much blame.
Assistant coaches are like nose tackles. They don't get nearly enough credit despite playing vital roles.
Today, we'll change it up and give some recognition to Big Ten assistant coaches who did exemplary jobs with their position groups or, in some cases, units in 2012. Each of these coaches fostered improvement this season. Some took units in bad shape and made them better. Others took units in decent shape and made them very good. Some entered the season with skeptics and quieted them.
We came up with 13 assistants who deserve recognition. Yes, we realize we're leaving out some quality folks, but we had to cap it somewhere and wanted to spread the love around to the different teams.
Here's the rundown in alphabetical order:
Chris Ash, Wisconsin, defensive coordinator/secondary:
All the attention on the offense's turbulent season took the spotlight away from the good things happening on the defensive side. Wisconsin finished in the top 25 nationally in total defense, scoring defense, rushing defense and pass efficiency defense. The Badgers held nine opponents to 21 points or fewer and gave an inconsistent offense chances to win every time out. Ash will be missed as
he joins ex-Wisconsin coach Bret Bielema at Arkansas
.
[+] Enlarge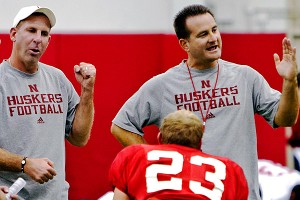 AP Photo/Nati Harnik, FileTim Beck, right, coordinated Nebraska's Big Ten-leading offense for head coach Bo Pelini.
Tim Beck, Nebraska, offensive coordinator/quarterbacks:
The second-year play caller oversaw the Big Ten's top offense, which averaged 462.2 yards per game (24th nationally) and 35.1 points per game (28th nationally). Junior quarterback
Taylor Martinez
made significant strides under Beck's watch, and Nebraska survived the loss of star running back
Rex Burkhead
for most of the season thanks to contributions from
Ameer Abdullah
and others.
Tracy Claeys, Minnesota, defensive coordinator:
An improved defense sparked Minnesota to a 4-0 start and eventually to bowl eligibility for the first time since the 2009 season. The Gophers pass rush showed life for the first time in years as senior end
D.L. Wilhite
and others put pressure on opposing quarterbacks. Minnesota was especially good against the pass, ranking 11th nationally and 20th in pass defense efficiency. Although the offense remains a work in progress, Minnesota should be pleased with the direction on defense under Claeys.
Adam Cushing, Northwestern, offensive line:
Cushing's recruiting ability always has stood out, but his coaching skills had been questioned as Northwestern struggled to convert promising line prospects into powerful blockers. The Wildcats went from a finesse offense to a power offense this season, blasting off of the line to the tune of 230.9 rush yards per game. Red zone offense went from a weakness to a strength as Northwestern tied for 17th nationally. Cushing's line paved the way for star running back
Venric Mark
.
Rich Fisher, Nebraska, wide receivers:
Nebraska isn't known for its wide receiver play, but things are changing under Fisher's watch. Led by standout sophomore
Kenny Bell
, the Huskers' top three receivers combined for 1,657 yards and 11 touchdowns on 115 receptions. Just as important, the receiving corps helped Nebraska's bread-and-butter run game with
effective blocking throughout the season
. Fisher's hiring after the 2010 season raised some eyebrows, as he had taken a break from college coaching, returned to the high school ranks and also served as a
golf instructor in Massachusetts
. But he definitely looks like a great addition to Bo Pelini's staff.
Patrick Higgins, Purdue, wide receivers:
Higgins played a significant role in Purdue's late-season surge, as he took over the offensive play-calling duties after coordinator Gary Nord suffered a severe back injury. Purdue won its final three games with Higgins and head coach Danny Hope handling the play calls. Higgins also did a nice job with Purdue's wide receiving corps, despite the fluctuating quarterback situation. Three veteran Boilers receivers eclipsed 40 catches and 300 receiving yards, and redshirt freshman
Dolapo Macarthy
showed promise.
Seth Littrell, Indiana, offensive coordinator/tight ends/fullbacks:
Head coach Kevin Wilson brought in Littrell to boost Indiana's passing attack, and Littrell delivered despite losing starting quarterback
Tre Roberson
in Week 2. Indiana went from 80th nationally in pass offense to 19th, leading the Big Ten with 311.2 yards per game. With help from assistant offensive coordinator/quarterbacks coach Kevin Johns, Littrell managed the quarterback situation pretty well as both
Cameron Coffman
and
Nate Sudfeld
had success. Littrell will go largely unnoticed because of Indiana's low profile and 4-8 record, but he was one of the Big Ten's best coaching additions for 2012.
Curt Mallory, Michigan, secondary:
Michigan's defensive line dominates the spotlight because that's where coordinator Greg Mattison and head coach Brady Hoke put their primary focus, but Mallory has done a really nice job with a secondary that struggled mightily under the previous regime. Despite losing promising cornerback
Blake Countess
to a
torn ACL in the season opener
, Michigan still finished second nationally (behind Nebraska) in pass defense (155.2 ypg allowed). Safety
Jordan Kovacs
has blossomed under Mallory's watch, and while the depth in the secondary isn't where it will be eventually, Mallory has managed things well.
[+] Enlarge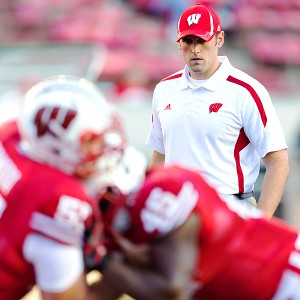 Jeff Hanisch/USA TODAY SportsBart Miller went from grad assistant to coach of a Wisconsin O-line that pummeled its way to Pasadena.
Bart Miller, Wisconsin, offensive line:
Miller began the season as a graduate assistant and moved into one of the team's top assistant roles in Week 3 after the surprising dismissal of veteran line coach Mike Markuson. Although Wisconsin's line didn't have its typical dominant performances every time out, Miller fostered obvious improvement and cohesion during the course of the season. The finished product showed up in the Big Ten championship game against Nebraska, as Wisconsin bullied the Huskers to the tune of 70 points, 539 rushing yards and eight rushing touchdowns.
Reese Morgan, Iowa, defensive line:
Iowa didn't have much to cheer about in 2012, and some of the staff changes Kirk Ferentz made led to some growing pains. Morgan faced a significant challenge in moving from offensive line to defensive line, which returned only a handful of players who had logged field time in 2011. Given the youth and inexperience along the Hawkeyes' defensive front, Morgan did a nice job in Year 1.
Joe Gaglione
had a nice senior season (9 tackles for loss, 5 sacks, 2 forced fumbles) and young players like
Louis Trinca-Pasat
showed promise. The line held its own in the first half of the season before struggling late.
Pat Narduzzi, Michigan State, defensive coordinator:
Many of these assistants took questionable units and improved them. Narduzzi led an elite defense that entered the season with high expectations and met them. Make no mistake: Michigan State's defense is the only reason the team found itself in every game this season. The Spartans had a few standouts, namely linebacker
Max Bullough
, but their overall team defense and stinginess stood out. Narduzzi is one of the nation's premier coordinators and should land a head-coaching job in the near future.
John Strollo, Penn State, tight ends:
Although O'Brien's offense is a tight end's dream, Strollo did a terrific job of developing young and unproven players this season. Redshirt freshman
Kyle Carter
emerged into one of the Nittany Lions' top passing threats, and junior
Matt Lehman
and true freshman
Jesse James
also stepped up at times. Of Penn State's top five receiving-yards leaders this season, three players are tight ends (Carter, Lehman and James).
Ed Warinner, Ohio State, offensive line/co-offensive coordinator:
Warinner took an underachieving Buckeyes offensive line with serious depth questions and turned it into quite possibly the best line in the league. The Buckeyes' front five turned a corner in Big Ten play and created lanes for
Braxton Miller
,
Carlos Hyde
and the Big Ten's top scoring offense. Warinner was the Big Ten's best assistant hire of the last offseason and earns our vote as the league's top assistant in 2012.
November, 14, 2012
11/14/12
11:00
AM ET
Whenever wide receiver recruits visit Nebraska,
Kenny Bell
doesn't try to sugarcoat the truth.
"I tell them, 'If you want to jog around and only work when routes are being run, then don't come here,'" Bell told ESPN.com. "'We only care about winning football games, and the best way to do that is by having a strong running game.'"
Nebraska might be the school of Johnny Rodgers and Irving Fryar, but for decades the first job of any Cornhuskers wide receiver has been to block. It's no coincidence that the team's current wide receiver coach, Rich Fisher, was a former star linebacker at Colorado. In the receivers' meeting room, Bell said, the stats that are featured on the walls relay which player has the most successful blocks and the most knockdowns.
[+] Enlarge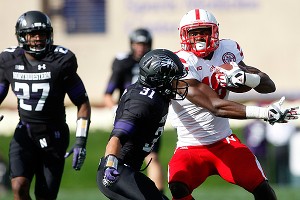 Jerry Lai/US PresswireQuincy Enunwa and the Nebraska receivers take as much pride in their physicality as they do in their playmaking.
"We don't care about yards after catch or receiving yards or receiving touchdowns," Bell said. "That's definitely at the bottom of our priority list. Coach Fisher always talks about being perimeter warriors, about wreaking havoc out there."
The receiving corps' ability to clear traffic on the outside is an underrated reason why Nebraska leads the Big Ten and ranks among the nation's best in rushing yards, at 269.3 per game. When
Taylor Martinez
or
Ameer Abdullah
turns the corner, they often have an open lane.
That's nothing new for the Huskers. What's different this year is that those receivers aren't just good blockers. They're also highly productive in the passing game.
Bell leads the way with 35 catches for 653 yards, which already ranks as the ninth-most receiving yards in team history.
Quincy Enunwa
, known as the most physical of the wideouts, has had some big moments himself, including a 110-yard game at Northwestern.
Jamal Turner
has come on of late, catching the game-winning touchdown at Michigan State and adding another score last week against Penn State.
Ben Cotton
and
Kyler Reed
have added playmaking ability at tight end; Reed hauled in a crucial 56-yard third-down catch late in last week's win.
"Every one of the skill players at Nebraska can take it the distance when they touch the football," Northwestern coach Pat Fitzgerald said. "That's pretty scary."
Last season, the Huskers' passing game was inconsistent as the receivers struggled with drops and Martinez reverted to some bad habits. Both Martinez and his wideouts have made great strides this season, turning Nebraska's offense into a truly balanced attack.
"They've given us a lot of big plays," head coach Bo Pelini said. "I think they've steadily improved as the season has gone on. … We play a lot of guys at the receiver position, and they've responded well and I think they complement each other."
Playing receiver in Lincoln is not easy. You have to be in good enough shape to line up repeatedly in the Huskers' hurry-up style, and strong enough to battle cornerbacks and safeties at the line of scrimmage. Enunwa, at 6-foot-2 and 215 pounds, relishes the challenge.
"When you're a big guy and you see those DBs who are much smaller, you have to take advantage of that," he said. "Then we get into the passing game, they're already worn out and we're running past them and getting touchdowns, so it just helps so much."
Offensive coordinator Tim Beck says he asks a lot of his wideouts, and several plays demand that a single receiver blocks two defenders. Bell took that to an extreme in the Michigan State game, disrupting four different Michigan State defenders to help spring a 71-yard touchdown run by Martinez.
"I knew I was going to get at least two, and I just got lucky with the other two guys who were flowing to the play," Bell says. "There wasn't too much praise that went around. I did my job. That's how we're coached."
It takes some coaching to get receivers prepared for Nebraska's style, as many wideouts don't do a lot of run blocking in high school. Divas need not apply. The program has not produced too many true star receivers over the years, and has never had a player post 1,000 yards receiving in a season. Heisman winner Rodgers holds the team record at 942 yards in 1972.
Running backs, mobile quarterbacks, the Blackshirts defense and even the offensive line are far more illustrious positions in Huskers history than receiver. Enunwa said he didn't know much about the history of the position group when Nebraska recruited him out of California.
"When I looked them up more, it was all about blocking more than it was passing," the junior said. "This year, we worked on making both those things big."
So far so good for the Cornhuskers' perimeter warriors.
February, 18, 2011
2/18/11
10:00
AM ET
Our Big Ten spring preview continues with a look at the Legends Division.

IOWA
Start of spring practice:
March 23
Spring game:
April 16
What to watch:
Succession plan for Stanzi: Remember James Vandenberg? The plucky young quarterback who nearly led Iowa to a milestone win at Ohio State in 2009 returns to the spotlight as Iowa looks to replace three-year starter Ricky Stanzi. Vandenberg had only eight pass attempts in 2010, so it'll be interesting to see how he adjusts to a potential featured role. John Wienke and A.J. Derby also will be in the mix.
A new-look defensive front: Iowa loses three multiyear starters along the defensive line, all of whom likely will go onto the NFL. Mike Daniels and Broderick Binns return, but Iowa must begin building depth around them after not playing a large rotation of linemen in 2010. It'll be a big spring for reserve defensive linemen like Lebron Daniel and Steve Bigach.
Rhabdo fallout: Iowa expects the 13 players hospitalized last month with rhabdomyolysis to be ready for spring ball, but there are questions about how the group responds to the rigors of practice. Expect the staff to take every precaution to make sure the players are ready to go. Iowa's internal investigation into what happened could reach its conclusion during the spring practice session.
MICHIGAN

Start of spring practice:
March 19
Spring game:
April 16
What to watch:
Hoke springs eternal: All eyes will be on new coach Brady Hoke as he oversees his first 15 practice sessions as the leading man in Ann Arbor. Hoke and his staff introduce new offensive and defensive systems, and Hoke likely will spend much of his time with a defense that reached historic lows during former coach Rich Rodriguez's tenure. An adjustment period can be expected, but Hoke wants to get things rolling as soon as he can.
Denard Robinson: The 2010 Big Ten offensive player of the year thrived in Rodriguez's spread offense. How will he be used in coordinator Al Borges' system? Will Robinson's unique talents still be maximized? After making major strides last offseason, Robinson must continue to grow as he adjusts to a new offense. This is also a big spring for backup quarterback Devin Gardner.
The move to the 4-3: Michigan is going back to a 4-3 defensive alignment under coordinator Greg Mattison, and the transition begins this spring. The defensive front has to lead the way, and the personnel is there to get it done. The Wolverines are a little thinner at linebacker, but saw some encouraging signs from Kenny Demens this past fall. Others must emerge at the position this spring.
MICHIGAN STATE

Start of spring practice:
March 29
Spring game:
April 30
What to watch:
Familiar face, new leadership: Dan Roushar takes over as Spartans offensive coordinator, and while you shouldn't expect many dramatic changes, the veteran assistant will put his personal touch on the system. Roushar wants to fully re-establish the run game Michigan State displayed in the early part of the 2010 season. It'll also be interesting to see how he works with quarterback Kirk Cousins.
Reloading at linebacker: Michigan State loses two of the more productive linebackers in recent team history in Greg Jones and Eric Gordon. Returning starter Chris Norman will take on an enhanced role, and the spring will be big for younger linebackers like Max Bullough, Steve Gardiner and Denicos Allen.
Elevating the O-line play: You can bet Roushar will have an eye on his old position group, the offensive line, as it replaces starters at both tackle spots and at center. If Michigan State can get its offensive line play where competitors like Iowa and Wisconsin have it, the Spartans will be Big Ten title contenders for years to come. Michigan State has some nice pieces like veteran guard Joel Foreman, but it must build depth this spring.
MINNESOTA

Start of spring practice:
March 24
Spring game:
April 23
What to watch:
A time to Kill. Jerry Kill conducts his first 15 practices as Minnesota's coach and he has no shortage of challenges. He and his assistants must install new systems on both sides of the ball and, perhaps more importantly, get across their expectations for the players going forward. Kill wasn't overly thrilled with his first impression of the squad, so he has a lot of work to do.
Gray back at QB: After a season playing primarily wide receiver, MarQueis Gray is back at his preferred position of quarterback. Kill and his assistants made no secret of the fact that they see tremendous potential in Gray, a dual-threat signal-caller who could end up being a terrific fit for Kill's offense. It will be interesting to see how much Gray can absorb this spring as he prepares to lead the unit.
Kim Royston's return: Minnesota's defense got a huge boost when the NCAA somewhat surprisingly granted safety Kim Royston a sixth year of eligibility. Royston, who had a strong season in 2009 before breaking his leg last spring, is ready to go and should provide some much-needed leadership in the secondary. New defensive coordinator Tracy Claeys will be on the lookout for playmakers and leaders this spring, and he'll find one in Royston.
NEBRASKA

Start of spring practice:
March 12
Spring game:
April 16
What to watch:
New vision on offense: Nebraska likely will have a championship-level defense in 2011, but will the offense bounce back from a poor finish to last season? Tim Beck is the man pegged to get things back on track. Coach Bo Pelini promoted Beck to offensive coordinator, and Beck will begin to implement his vision for the unit this spring. Nebraska figures to stick with the spread, but what version Beck wants to use remains to be seen.
The quarterbacks: Taylor Martinez stiff-armed the transfer rumors, and in January said he looked forward "getting healthy and getting my strength and speed back." The big question: Will he also get his job back as Nebraska's starting quarterback? Martinez can help himself with a strong spring, but Cody Green also is in the mix and things could get very interesting if Bubba Starling decides to stick with football rather than pursue a pro baseball career.
New faces on staff: In addition to promoting Beck, Pelini hired three new assistants: Corey Raymond (secondary), Ross Els (linebackers) and Rich Fisher (receivers). Raymond takes over a talented group that must replace three standout players, including cornerback Prince Amukamara. It'll be interesting to watch Fisher, who most recently coached in high school and also served as a golf teacher, as he transitions back to big-time football.
NORTHWESTERN

Start of spring practice:
March 7
Spring game:
April 16
What to watch:
Rebuilding the defense: Northwestern figures to have one of the Big Ten's top offenses this fall, but there are major issues on the other side of the ball. The Wildcats' defense flat-lined in the final three games, surrendering 163 points and getting dominated at the line of scrimmage. It's a big spring for coordinator Mike Hankwitz, who must fill gaps at spots like linebacker, but more importantly must restore the aggressiveness seen in 2008 and part of 2009.
The backup QB race: Dan Persa is still rehabbing his surgically repaired Achilles' tendon and won't do much in spring ball. It provides an opportunity for Northwestern to hold an extensive competition to see who backs up Persa this coming season. Kain Colter provided a spark in the bowl game and could be the answer. Evan Watkins needs a bounce-back spring, and Trevor Siemian will be in the mix after redshirting this past fall.
Here's the kicker: Northwestern loses four-year starting specialist Stefan Demos and will look to identify a replacement this spring. Neither Jeff Budzien nor Steve Flaherty has attempted a field goal in a game -- they have combined for two PAT conversions -- so the race will be wide open. Special teams has cost Northwestern at inopportune times over the years, but it could be an area of strength in 2011 if the kicker situation is sorted out.
February, 16, 2011
2/16/11
1:31
PM ET
It wasn't exactly a big secret in Husker country, but
Nebraska coach Bo Pelini has confirmed several staff changes
.
The biggest one is the promotion of running backs coach Tim Beck to offensive coordinator and quarterbacks coach. Pelini also tabbed Corey Raymond as secondary coach, Ross Els as linebackers coach and Rich Fisher as wide receivers coach. Veteran Nebraska assistant Ron Brown moves from tight ends coach to running backs coach.
UPDATE: Pelini also has confirmed the promotion of John Garrison to full-time assistant. Garrison will work with Barney Cotton and coach the offensive linemen.
Departing the program are offensive coordinator Shawn Watson and receivers coach Ted Gilmore. Nebraska announced the resignation of secondary coach Marvin Sanders two weeks ago.
The staff makeover means Nebraska will have a new look on offense as it transitions to its new league. Although the Huskers made two changes to their defensive staff, we know what to expect from the Pelini brothers on that side of the ball.
What does this mean for Nebraska's offense? Beck hasn't been a play-caller at the college level but served as Kansas' passing game coordinator during the Jayhawks' breakthrough season in 2007. He's a
terrific recruiter
and did an excellent job with the Huskers' running backs. Beck also
has a strong bond with Pelini
that should help them going forward.
It's safe to assume he'll stick with a spread system, but what type of spread? Will we see shades of Oregon's offense in Lincoln next fall? How will the system suit
Taylor Martinez
and the other quarterbacks?
To clear up any confusion, the spread can work in the Big Ten. We've seen it work at places like Purdue, Northwestern, Michigan and Penn State. But Nebraska's execution must be sharp against what I believe will be a superior group of defenses than it saw in the Big 12.
I'm looking forward to talking with Beck about his vision.
It's hard to fault Nebraska for changing things up on offense. After a blistering start to 2010, the unit took a nosedive in mid-November and didn't produce nearly enough in losses to Texas A&M, Oklahoma and Washington.
So change isn't a bad thing. But Nebraska has to know who it is on offense. Spring practice will be huge for the Huskers to figure out their identity and who leads the charge this fall.